Do you host/organize events and need a nice way to display them on your website? This is where WordPress event listings come into play. Let's have a look at how you can create them with the tool we're reviewing today.
WP Event Manager is a free WordPress plugin that makes any event look appealing on your site. With it, you can create events yourself and/or give a free hand to other people too.
In this post, you'll find out more about how this plugin works and what makes it so cool. Here's our hands-on review.
What is WP Event Manager

WP Event Manager is a plugin that lets you create WordPress event listings, which you can then display on the front-end of your site, so people can view and register for them. Additionally, your users can add their own events as well (everything under your control, of course).
The plugin is very easy to use and provides a simple interface. It was built so that you can quickly set the details of an event. You can choose to display the events on the page that's automatically created by the plugin (simply named "Events") or place them anywhere else on the site via shortcodes that WP Event Manager comes with.
Apart from the front-end listing, the admins will have an event dashboard, from where they can manage all the entries effectively: filter them and keep an overall evidence of what the most important events are (those you can mark as pinned or featured), the canceled ones, the expired ones etc. All those events are marked distinctively with a different color so you can notice them easily at a glance.

Key Features of WP Event Manager
What makes WP Event Manager stand out? Here's the shortlist of the main features:
Fully responsive.
Translation ready.
Built on Ajax for smooth browsing.
Adds, manages and filters WordPress event listings by keyword, location, date, and event type (also, there's an unfiltered list of all recent events).
Adds Ajax-powered WordPress event listings to your pages via shortcodes.
Lets the guests and registered users submit and manage WordPress event listings from the front-end.
Compatible with SEO plugins.
Lets you easily create custom event fields.
Customer support included.
Or simply check the 2-minute video for a more interactive presentation:

How to create WordPress event listings with WP Event Manager
First, you need to install and activate the plugin, as usual.
After that, the setup is very straightforward because it provides a wizard that guides you through the whole process in a simple way:

The plugin automatically creates three different pages to help you manage and showcase your events. You can always customize those pages later on by manually adding the shortcode wherever you want, but it's nice that the plugin does this work for you right from the start.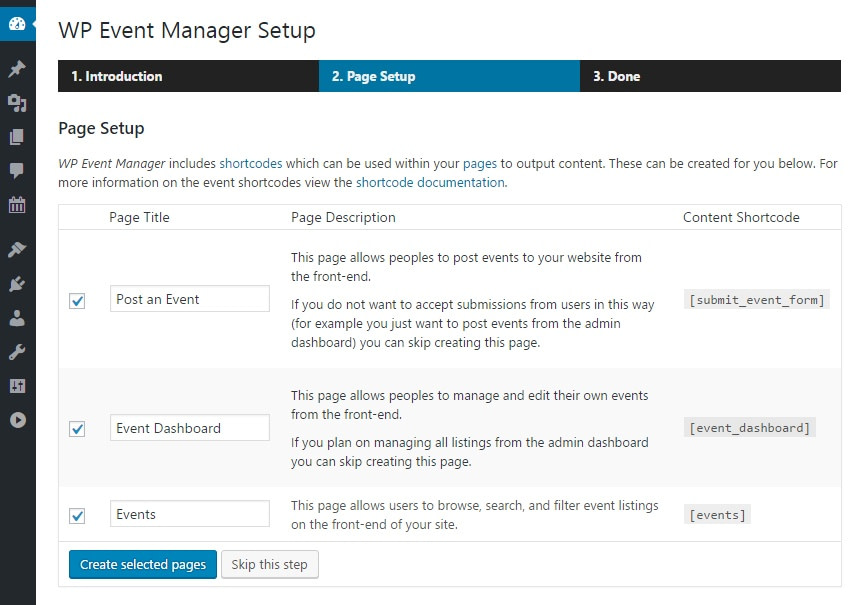 Next, you can adjust the plugin's settings if you wish to. There are three main tabs in the settings panel:
In the Event Listings tab, you can handle all the basic settings of your event listings, including things like the number of listings per page, how to handle canceled or expired events, as well as set up categories, event types, and ticket prices.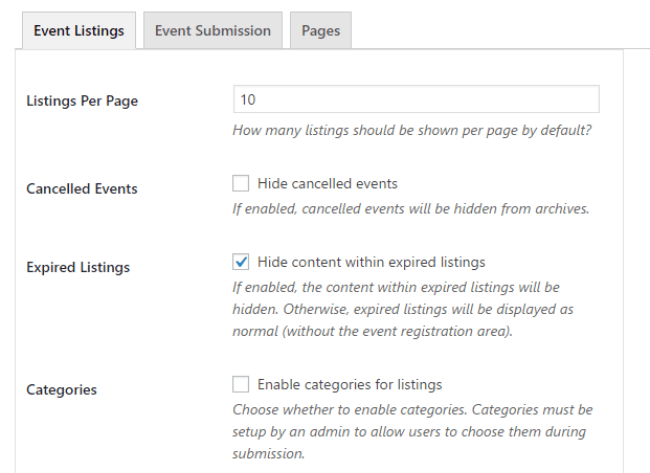 In the Event Submission tab, you can choose whether or not to allow anonymous visitors to create events, as well as how the account creation process works. Personally, I'd recommend against allowing anonymous submissions, but it's nice to have the option there anyway. You can also approve whether or not moderation is required before events are displayed.
Again, it's probably a good idea to always have moderation to ensure your listings stay high quality.
The third tab is about the pages where you'll be listing the events. In other words, if you want to use any of the shortcodes delivered with the plugin, this is the tab where you can set everything up.
After all these preferences are set, it's time to get to work and create some WordPress event listings. Click on "Event Listings" in the admin menu, then All Events -> Add New. A simple page will appear, giving you all the fields that usually show up with an event. Fill them out with your information.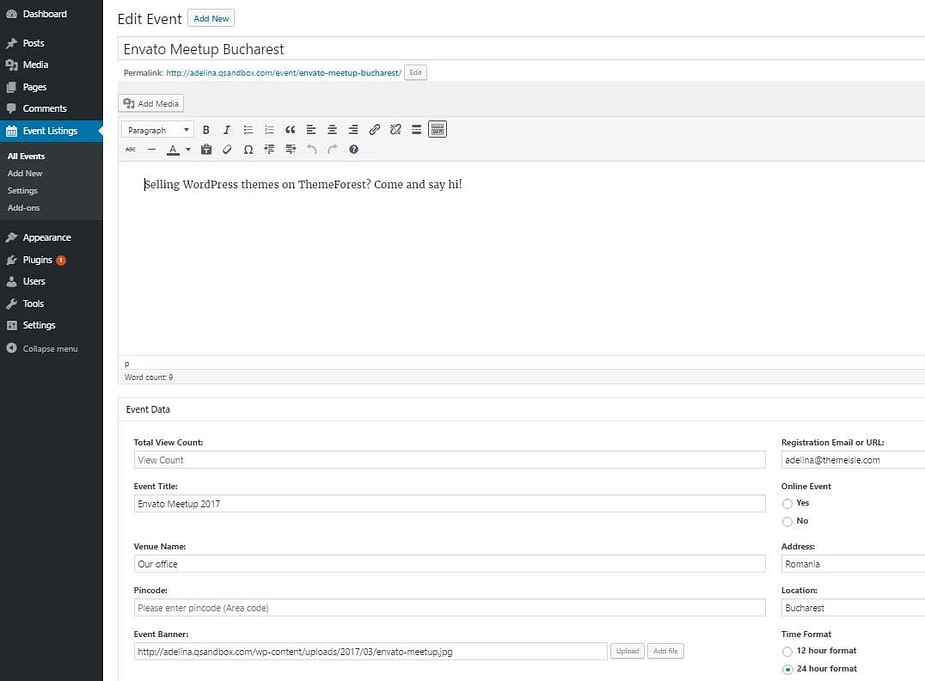 The plugin lets you add a lot of details about your events, such as title, venue, banner, organization logo, tickets, dates, expiration day, social media profiles, location, and more. Apart from that, you can also add custom fields like geolocation by city, country, latitude, longitude, etc.
The event type can also be set pretty easily. For instance, you can create your event to represent a concert or performance, convention, conference, party, competition, seminar, etc.
After you have the event details all ready, click "Publish," and your event is now live. An event form will be added to a page created automatically by the plugin, but if you want to put it somewhere else on the site, again, you can do so via a shortcode.
Now, after publication, when you go back to "All Events," your most recent item will be there on the list. You can always go back and edit it anytime you want. You can also mark an event as canceled or featured (if you want it to be always shown on top of the list).
And this is what the event looks like on the front-end: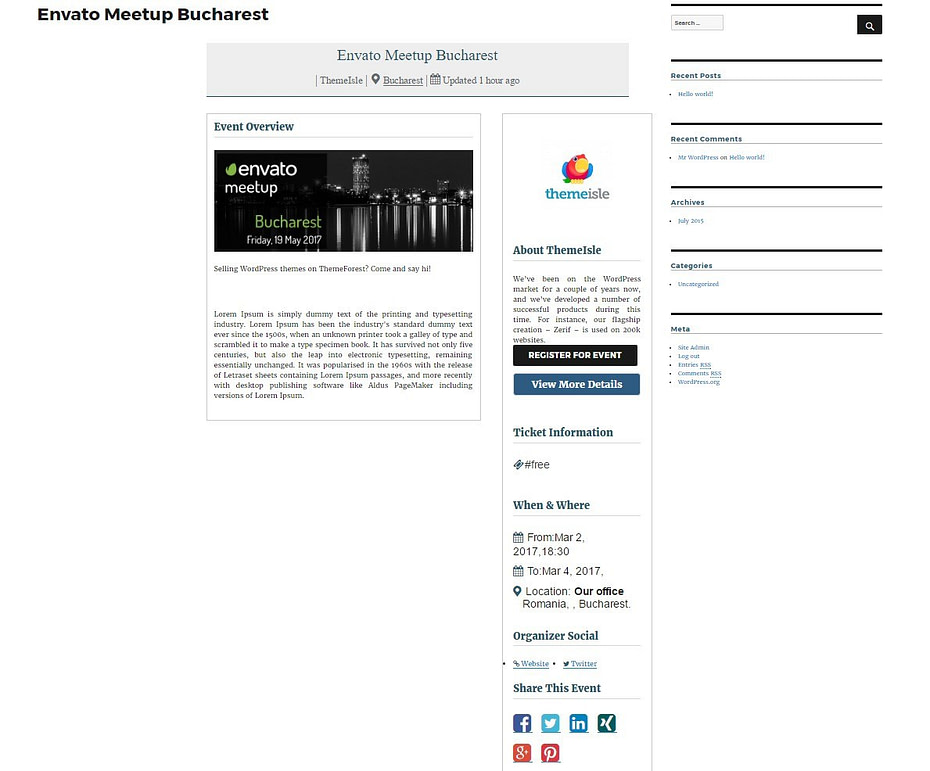 If your visitors are allowed to post events then they can do so through the event submission form field. The event organizers who need promotion can just go to the special page automatically created by the plugin ("Post an Event") and complete the fields with the details about the event. The events won't go live automatically if you chose to moderate them first.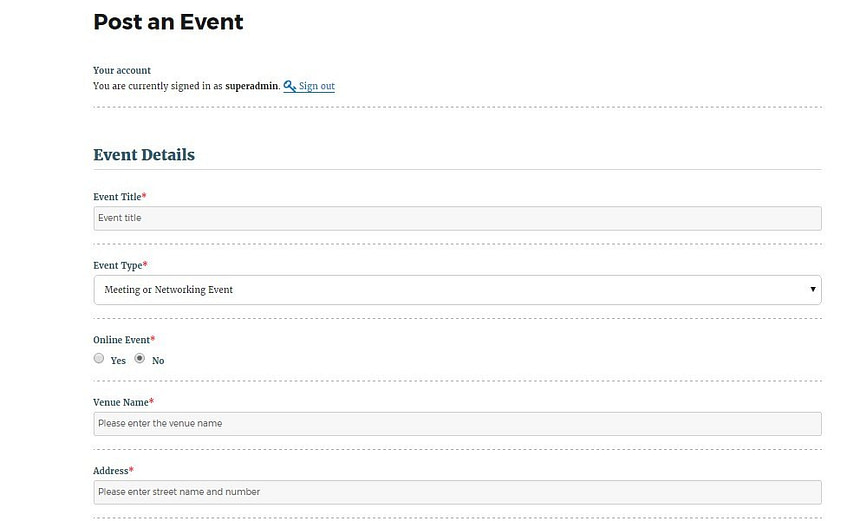 Your visitors can also view, edit, cancel, or delete their own events by entering the "Event Dashboard" page.

Add-ons
WP Event Manager is already cool enough for a free plugin. But, if you need something advanced, you have the possibility of choosing from lots of premium add-ons. Prices vary depending on your needs (developer and normal licenses available; $0-$99).
For example, there are add-ons for:
Who should use this plugin
First of all, if you need it for personal purposes, this plugin is just perfect. It can also be similarly useful if you run a small business and host various events from time to time.
Secondly, WP Event Manager should also be good for third-party sites that focus on listing/presenting various events from diverse fields/categories or businesses.
Why use this plugin? I would personally use it because:
It's extremely easy to create and customize events. You just need a few clicks and your event is live.
I think that the plugin already offers enough features for a free tool, but those add-ons are really awesome too, even though they can get a bit costly if you're buying many (yet it depends on what license variant you pick).
If you need a simple, not necessarily very detailed event page, WP Event Manager has it all.
The plugin is lightweight and it's compatible with every theme – which means that no matter where you want to install it, it will fit pretty well.
How to get WP Event Manager?
There's nothing simpler than getting this plugin. It's available – 100% free – in two places:
(1) Like any other plugin, you can get it via WordPress.org:
(2) You can go to the developer's official website and get it from there. There's a big download button in the center.
If you need any of the premium add-ons, the price tags on those are between $19 and $99. There are free add-ons available as well. You can see all of them here.
What do you think? Have you tested WP Event Manager yet?
Free guide
5 Essential Tips to Speed Up
Your WordPress Site
Reduce your loading time by even 50-80%
just by following simple tips.
* This is a sponsored post. As always, whether sponsored or not, the opinions presented are still our own and 100% honest.