Decided to finally start your own blog and considering WordPress as your platform? That's great! However, there are many WordPress plans available, so it can be challenging to pick the right one.
WordPress is by far the most popular way to make a blog or website, so it's no wonder there's an array of plans geared toward different types of users. First-time bloggers often consider WordPress.com because it's so easy to pick up. However, there are some limitations to this option that you should consider.
This article will give you an overview of WordPress plans and explain the differences between WordPress.com and the self-hosted version. Let's go!
📚 Table of contents:
First, let's talk about the main difference between WordPress.com and WordPress.org (or self-hosted WordPress).
WordPress.com is a fully hosted solution, which means you can sign up for an account, make a few tweaks to your theme, and launch your blog immediately. However, its features are limited, and you'll have to invest in more pricey plans to access many of the customization options.
On the other hand, self-hosted WordPress (WordPress.org) requires an additional web hosting service, so you can't use it on its own. However, even the cheapest hosting plan will grant you access to the platform's full set of features.
You can choose from several types of WordPress hosting plans. Most starting bloggers opt for shared hosting as it's the most affordable and sufficient for small sites. However, as your website grows, you might need to consider more powerful plans.
Many providers offer beginner-friendly WordPress services, including Bluehost, SiteGround, or Hostinger. They all feature one-click WordPress installation and intuitive dashboards, so even inexperienced users should be able to navigate them.
On the other hand, WordPress.com makes things simple by offering you an all-in-one solution. Apart from the free version, you can choose from four plans that are suitable for different kinds of websites:
Personal: Entry-level plan for users who want to use a custom domain.
Premium: More advanced features for professional bloggers.
Business: Access to custom plugins and themes.
eCommerce: Designed for online stores.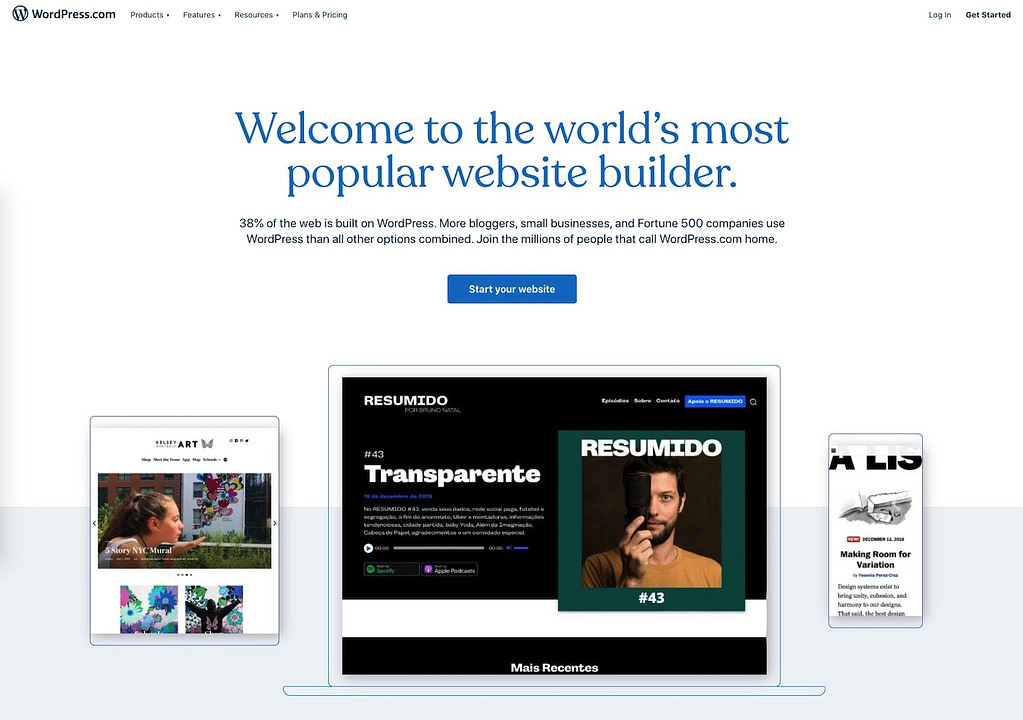 Let's look at some blogger-friendly options in more detail.
WordPress plans explained (four top options)
First, we'll give you an overview of WordPress.com. Note that the Business and eCommerce packages are not designed for bloggers. Therefore we'll focus on the free, Personal, and Premium plans. Then we'll explain the benefits of self-hosted WordPress for bloggers.
1. WordPress.com Free
If you don't mind a generic subdomain name (such as example.wordpress.com), you can opt for a free WordPress.com blog. This option includes:
The features are severely limited, so you won't be able to remove the WordPress.com ads or monetize the site yourself. You also won't be able to use plugins, and you'll be stuck with free themes. Plus, there's no customer support available with the free plan, so it may not be an appealing option for serious bloggers.
2. WordPress.com Personal
The Personal plan gives you 6 GB of storage and basic personalization options, such as a custom domain and the ability to remove WordPress.com ads. You can also create paid newsletters and subscriber-only content, which requires an additional plugin to set up with the self-hosted version of the platform.
However, you won't be able to do much else, and you can only reach customer support via email. This plan costs $4 per month.
3. WordPress.com Premium
To unlock extra features, you'll need to invest $8 per month for the WordPress.com Premium plan. This option gives you access to 13 GB storage and premium themes, which you can customize with CSS.
It also comes with handy monetization and marketing features such as Google Analytics integration, WordAds, the ability to accept payments via PayPal, and a social media scheduling tool. However, you still won't be able to install plugins or choose custom themes for your blog.
4. Self-hosted WordPress
As an alternative to using WordPress.com's plans, you can also take the open-source WordPress.org software and "self-host" it on your own web hosting.
With this approach, you will be able to use any widgets, themes, or plugins you like.
The only limitation you'll encounter will be your server's capabilities, but this shouldn't be an issue unless you expect abnormally high traffic. Plus, the WordPress software is free, so you're only paying for the web host of your choice.
Let's take Bluehost as an example. This provider gives you a choice of four shared hosting plans:
Basic: from $2.75 per month
Plus and Choice Plus: from $5.45 per month
Pro: from $13.95 per month
The cheapest option already proves superior to any WordPress.com blogging plan. You get a free custom domain, SSL certificate, 50 GB storage, and access to 24/7 customer support from Bluehost.
Plus, you get to enjoy any theme you like, including premium ones from third-party developers. You can even use visual, drag-and-drop page building tools such as Elementor to build a stunning website without coding experience.
The downsides are that self-hosted WordPress has a slightly steeper learning curve than WordPress.com due to the vast amount of features, and you'll have to take care of your website maintenance yourself. However, there are managed WordPress hosting options you can look into that will help mitigate these challenges.
Which WordPress plan is best for blogging?
Choosing a WordPress plan for blogging will depend on your goals and whether you need advanced customization options. For instance, if you just want a simple platform to write about your hobby, you can probably save your money and use the free WordPress.com plan.
On the other hand, if you want to appear more professional or monetize your content in the future, you'll have to consider other options. WordPress.com Premium might be the right choice for less tech-savvy users who don't mind a higher price point.
It comes with handy features out of the box geared towards professional bloggers. You can easily create members-only content, integrate Google Analytics, and earn money from ads. However, you should only go for this option if you're confident that you'll be happy with limited theme choices. You also won't be able to use any plugins to extend your website's functionality.
Otherwise, self-hosted WordPress is by far the most versatile solution. With providers such as Bluehost, you can easily start a simple blog and scale it up in the future as your website grows.
You'll have full control over the functionality and the branding of your site. You can also easily branch out and add a shop or portfolio if you like, which wouldn't be possible with WordPress.com. With hosting costs as low as $2.75 per month, it's an excellent value for money.
Conclusion
WordPress is a popular blogging platform that evolved into a powerful CMS. Most beginners are familiar with WordPress.com, which is a fully hosted solution. However, its features are limited, which is why you should consider self-hosted WordPress when deciding how to build your site.
To recap, we've discussed a few WordPress plans that are geared towards bloggers. If you want full control over your website and unlimited customization features, you should consider using self-hosted WordPress with a hosting provider such as Bluehost. Otherwise, go for the free WordPress.com plan if you want a simple hobby blog.
Do you have any questions about WordPress plans? Let us know in the comments section below!
Free guide
5 Essential Tips to Speed Up
Your WordPress Site
Reduce your loading time by even 50-80%
just by following simple tips.
* This post contains affiliate links, which means that if you click on one of the product links and then purchase the product, we'll receive a commission. No worries though, you'll still pay the standard amount so there's no cost on your part.