Without proper search engine optimization (SEO), it's unlikely that your website will reach a wide audience. Until recently, Yoast SEO was the go-to plugin for many users, with its helpful content suggestions and an easy setup process. However, Rank Math is quickly establishing itself as the new SEO powerhouse, which might make you wonder: how does Rank Math vs Yoast SEO compare?
Both tools are suitable for users with any level of expertise. Even if you're a complete beginner, you should have no problem following the provided tips and optimizing your posts for your focus keywords. However, if you want to dig deeper into your site's SEO, you'll find that Rank Math gives you many more options.
In this article, we'll introduce you to these plugins, and then compare Rank Math vs Yoast SEO in four key areas to discuss their differences. Let's go!
An overview of Rank Math vs Yoast SEO
Established in 2010 by Joost de Valk, Yoast SEO (which is how you pronounce the creator's first name) is a powerful yet user-friendly tool:
This plugin enables you to add your focus keyword to your posts, and include meta tags without touching a line of code. It also analyzes your posts for readability and gives you practical suggestions for improvement.
Yoast SEO is available for free with limited features. If you'd like to access more functions, you can purchase the premium version for $89 to use on one site. This gives you access to advanced options such as internal linking suggestions, a redirect manager, and many more.
Rank Math, on the other hand, is relatively new. Launched in 2018, it comes with smart automation features, helping you optimize your site with just a few clicks:
It's also integrated with Google Search Console and various keyword ranking tools, giving you an edge over your competition. Plus, it's lightweight, as you can disable the features you don't need.
The plugin is free to use, with premium plans starting from $59. The Pro version provides a powerful schema generator and enables you to track 500 keywords.
Both tools are excellent for SEO and make the process easy, thanks to their intuitive features. Still, there are a few slight differences, which we'll examine below.
Rank Math vs Yoast SEO: top features compared
Now that we've introduced both tools, let's look at how they compare in four key areas.
1. Keyword optimization
Any SEO plugin should enable you to optimize your pages for a focus keyword. Both Rank Math and Yoast SEO do this well.
By default, Rank Math lets you assign five keywords to your posts. However, you can easily increase this number to unlimited keywords by using a filter that you can add to your page editor.
Yoast SEO only lets you optimize your posts for one keyword, or up to five if you purchase the Pro version. While adding more keywords is not necessarily better for your SEO, it can increase your page rankings because you can include related keyphrase variations or synonyms.
Both tools give you suggestions for keyword optimization within your post editor, and show you a green light when it's good to go. For instance, they'll prompt you to include your focus keyword in headings, and monitor the keyword density within your text.
With Yoast SEO, you can find the SEO suggestions either at the bottom of the page or in the editor sidebar (if you click the Yoast SEO icon on the editor toolbar):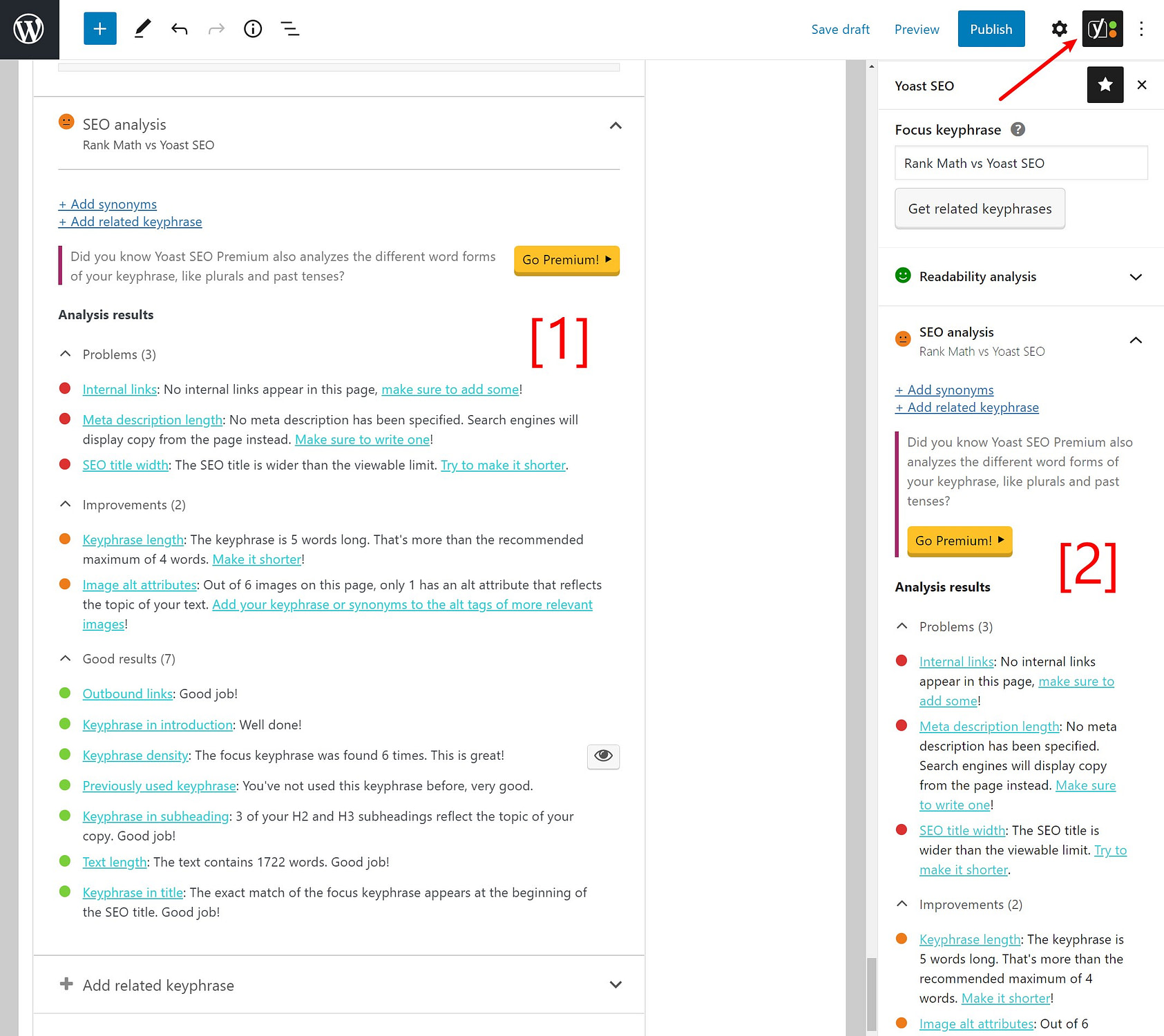 Rank Math only displays its features in the sidebar, which you can activate by clicking the Rank Math button on the toolbar: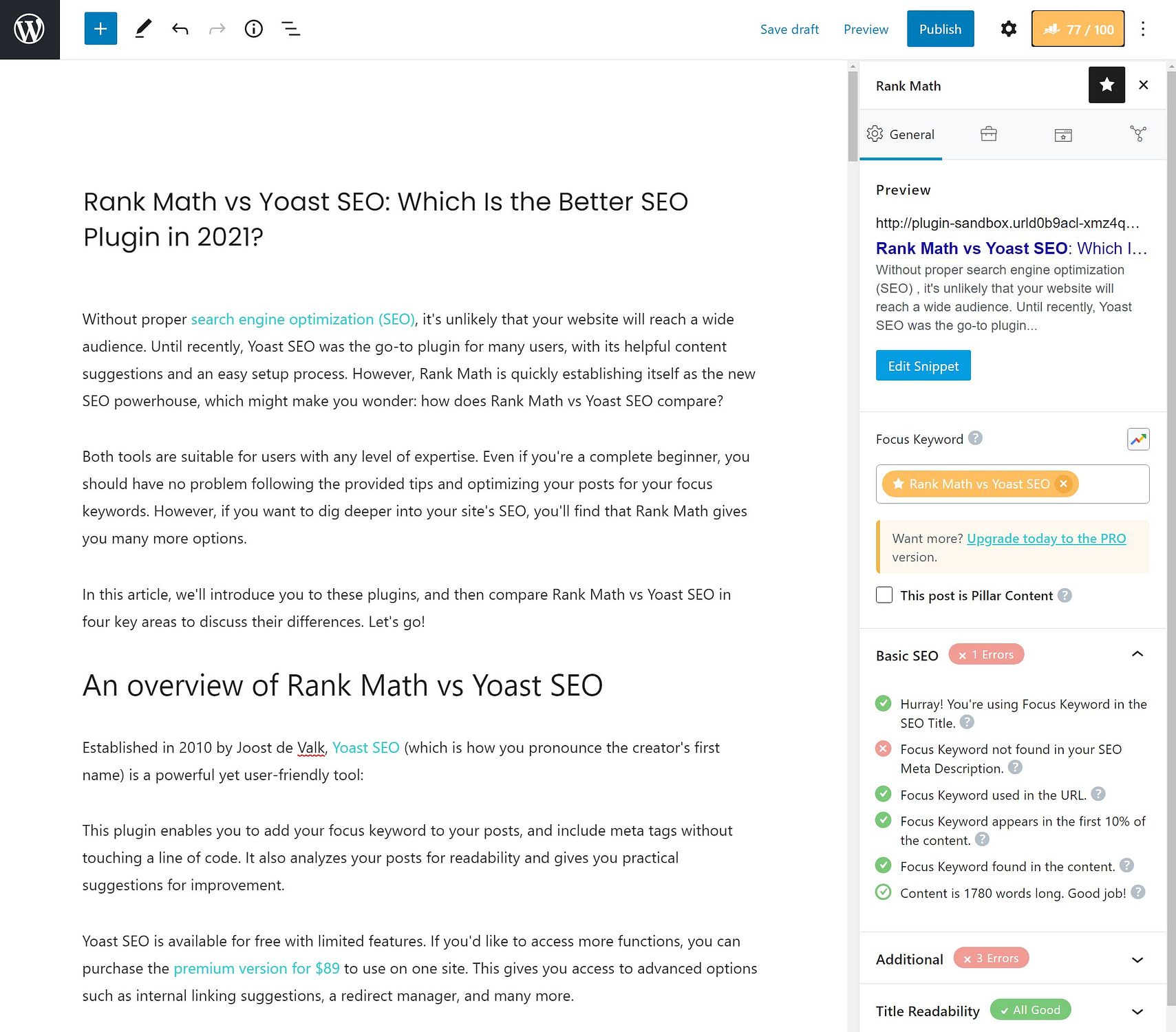 Overall, both tools offer similar suggestions. However, Rank Math gives you a numeric rating for your keyword optimization efforts, where a score above 80 is the most optimal. The Yoast SEO assessment is less specific, showing you an orange light when your content needs improvement or red when it's unacceptable.
Additionally, the placement in the sidebar is much more convenient when editing the post. For these reasons, we think Rank Math gets a slight edge in this category.
2. Content optimization
Content and keyword optimization go hand in hand. However, Yoast SEO gives you a readability analysis and helps you write better posts, further boosting your SEO efforts.
Similar to its keyword analysis, Yoast SEO shows you a green light if your article reads well to an average user. If there are problems, it will suggest improvements, with an option to highlight areas that need tweaking: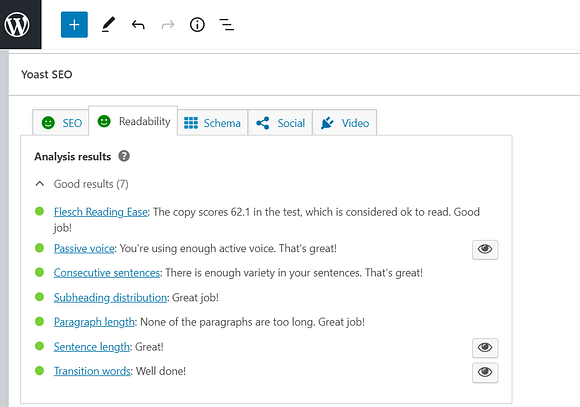 For instance, you might need to use more transition words or rewrite your sentences in active voice. Note that Yoast makes suggestions based on the Flesch reading score, which indicates how easy or difficult your text might appear to readers.
Rank Math gives you similar content readability tips. However, they're part of your site's overall SEO score (between 0 and 100) rather than a separate analysis: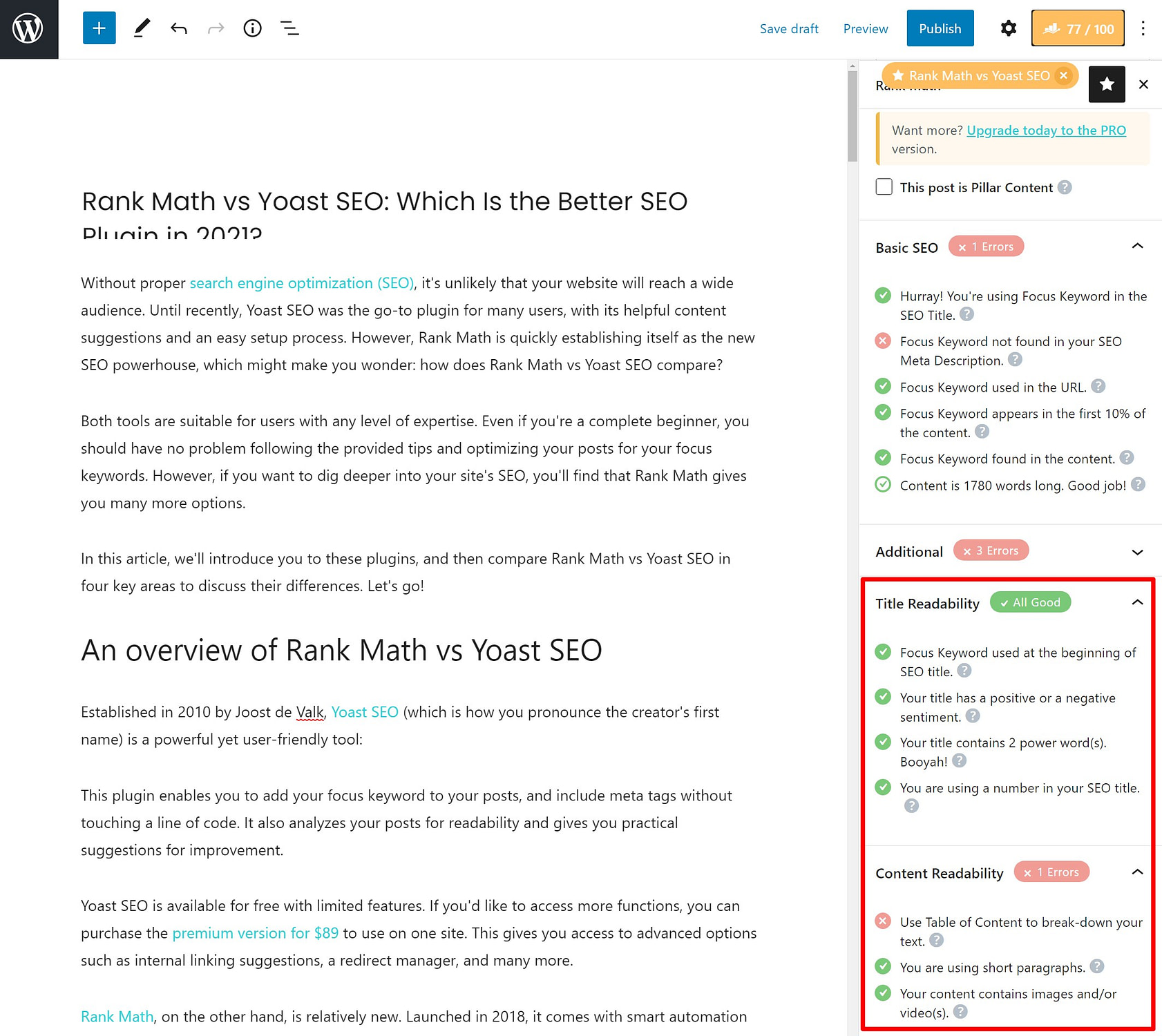 While it's unknown whether readability has a significant impact on your site's SEO, we do know that a positive user experience (UX) is a contributing ranking factor. Therefore, Yoast has an edge in this area, as it helps to improve the overall quality of your posts.
3. Other SEO tools
As your SEO knowledge progresses, you'll likely want to access tools that go beyond basic post optimization. For instance, both Rank Math and Yoast SEO offer:
Google Search Console integration
Automatic canonical URLs
Social media optimization
SEO breadcrumbs
Post preview
Site verification
Schema markup
However, Rank Math provides considerably more tools for free. For instance, features such as internal linking and high-performing keyword suggestions are only available to premium Yoast SEO users. Rank Math also enables you to redirect users to a new page, preview your social media shares, or access advanced keyword analytics –– all for free.
Furthermore, Rank Math includes features that aren't available with Yoast at all. For example, you get a keyword rank tracker, helping you monitor your site against the competition.
You can also analyze your highest and lowest ranking posts. You even benefit from an advanced schema generator, which enables you to choose from a list of pre-made templates or generate custom ones.
Some additional features you can enjoy with Rank Math include:
Google Trends integration
Image SEO
Automatic image captions
Client management dashboard
Advanced redirects (301, 302, 307, 410, and more)
404 log
Automatic video data fill for video schema
SEO warnings and failed tests
Advanced 'nofollow' link options
Role manager
For these reasons, we think Rank Math has the edge over Yoast when it comes to offering a broad range of SEO options.
4. Ease of use
Both Rank Math and Yoast SEO are intuitive and straightforward to set up. They provide interactive wizards that guide you through each step.
However, Rank Math comes with two modes: easy and advanced. The first one is helpful for beginners, who may find all of the settings too overwhelming. Rank Math will do all the work for you and apply its default options.
The advanced mode suits professionals and seasoned SEO specialists who want complete control over their sites: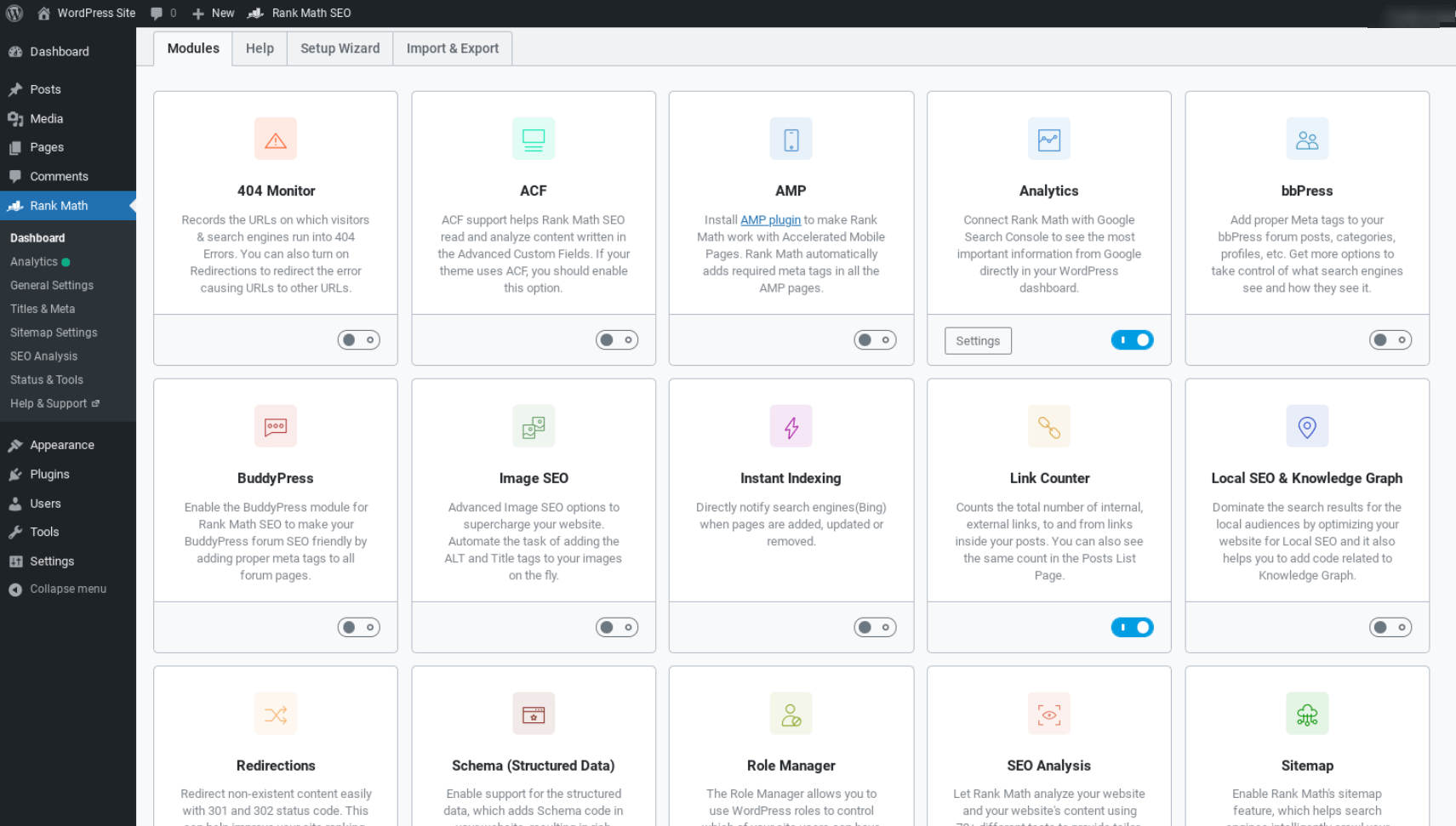 Rank Math also boasts a modern interface that enhances your UX. The dashboard is clean and colorful, making content analysis accessible even for first-time users.
On the other hand, Yoast SEO comes with its traditional dashboard that has barely changed over the years: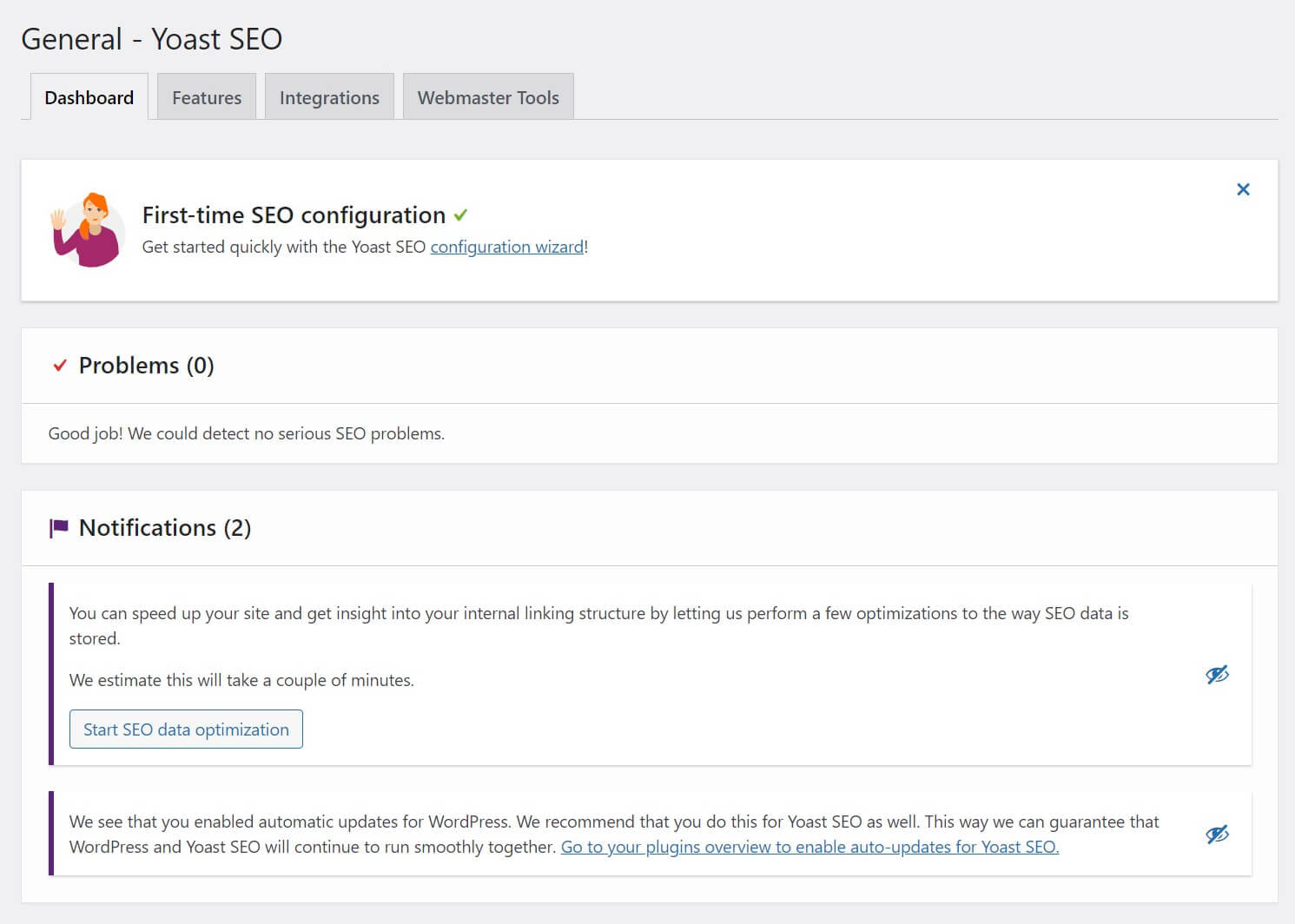 It might seem a bit dated now, but it's familiar to many users who stay loyal to the brand. Also, it's straightforward to navigate, and its suggestions are easy to follow. Overall, we prefer Yoast SEO's dashboard, but who wins this category is largely a matter of personal preference.
Rank Math vs Yoast SEO: which is better?
Both plugins are impressive, and it's fair to say that there's no wrong choice. However, if you're a power user, you'll undoubtedly be able to up your game with Rank Math.
It comes with advanced features that almost no other SEO plugin on the market can offer. For instance, you'll be able to:
Generate highly-customized schema
Leverage advanced custom fields
Monitor 404 errors
Go deeper into your keyword analysis
Gain full control over your redirects
Create custom XML sitemaps
Optimize your site for devices such as Alexa
All of these features are available for free, and you might be able to uninstall a few other plugins you use to achieve some of these tasks. Therefore, it's an excellent budget-friendly solution for professionals or anyone who's serious about their SEO.
Moreover, Rank Math is module-based, which means that you can pick and choose the features you need without overloading your site. Plus, the plugin is three times lighter than Yoast SEO, making it an optimal solution for performance-minded users.
However, if you need basic SEO on your site, Yoast SEO is still a solid choice. The free version is more than enough to optimize your content for your chosen keywords, with helpful suggestions that beginners will appreciate. Plus, Yoast SEO gives you access to free and premium SEO courses, so it's a valuable resource for first-time users who want to learn more about SEO.
Still, Rank Math's interface is easy to use, and you can automate most tasks even if you don't know much about SEO. Therefore, it's a robust, all-around tool for beginners and advanced users alike.
Conclusion
If you want to be visible online, SEO is necessary – which is why you need a specialized WordPress plugin.
Yoast SEO is still the market leader due to its comprehensive content analysis and ease of use. However, Rank Math has recently gained momentum, so it's worth exploring both options to ensure that you're choosing the best tool for your site.
In this article, we've compared Rank Math vs Yoast SEO and looked at their optimization options. To recap:
Yoast SEO is an excellent tool for beginners. It will help you write better posts and optimize your content for focus keywords. However, you'll have to upgrade in order to access any advanced settings.
Rank Math is a clear winner for SEO specialists who need to go deeper into analytics and content optimization. It also lets you add unlimited keywords and fully control your on-page SEO for free.
For some other options, you can check out our full post on the best WordPress SEO plugins or Yoast SEO alternatives. Then, follow our WordPress SEO guide to start ranking your site.
Do you have any questions about Rank Math vs Yoast? Let us know in the comments section below!
Free guide
5 Essential Tips to Speed Up
Your WordPress Site
Reduce your loading time by even 50-80%
just by following simple tips.