Struggling to choose between Bluehost vs Hostinger?
If you are looking for affordable but reliable hosting, then both Bluehost and Hostinger have probably caught your eye. These entry-level hosts both offer a range of hosting plans, features, and functionality at low prices, and are great options for those who own small blogs and business sites.
In this Hostinger vs Bluehost comparison, we will consider five criteria to see how these two budget hosts stack up: features, pricing, ease of use, support, performance. By the end of this post, you will have a good idea of which hosting provider is the best fit for your project. Let's get started…
TL;DR: Overall, if you want the best performance and best support, Bluehost is the winner; read more why and how both hosts compare against each other.
Bluehost vs Hostinger: Feature comparison
Both Bluehost and Hostinger offer a range of hosting types and packages. These include…
For this article, we will focus on the shared hosting plans that both hosting providers offer, and compare their features, pricing, and more. Let's start with Bluehost…
Bluehost shared hosting plans offer a range of impressive features and tools. These plans are aimed at website owners who are setting up or already running small to medium-sized blogs and websites:
Unlimited websites and storage (not available on the low-tier Basic plan)
Unmetered bandwidth
Free domain (for the first year)
One-click WordPress installation
Free SSL certificate (Let's Encrypt)
$200 Marketing Credits with Google Ads and Bing Ads
The Shared plans from Bluehost have lots to offer. It is particularly worth noting the 'unlimited resources' that are offered on all plans (other than the low-tier Basic package). This includes unlimited websites, storage, and bandwidth – ideal for those hosting multiple sites.
So how do these Bluehost features compare to those of Hostinger?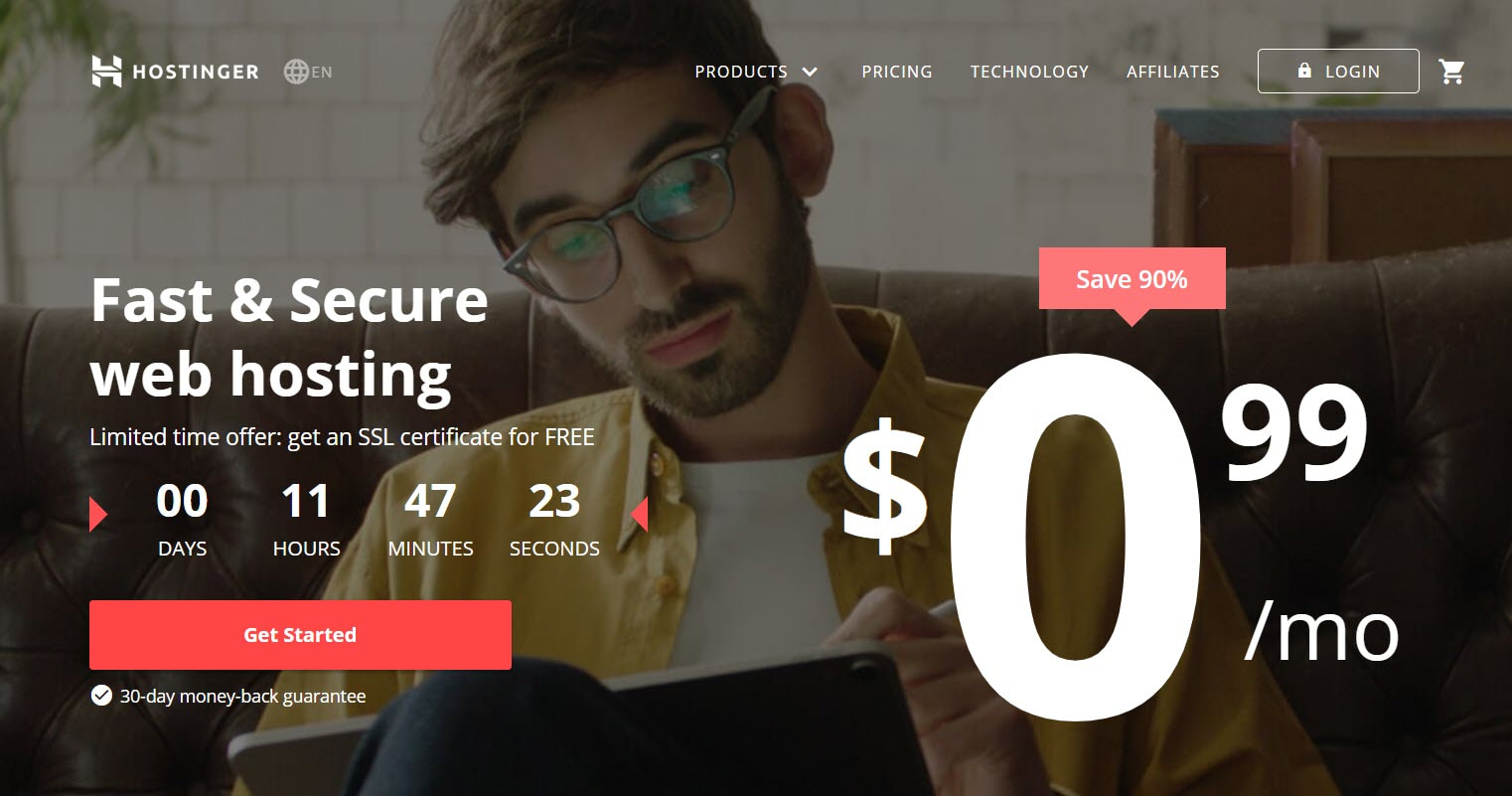 Hostinger's shared plans are a little cheaper than the Bluehost packages (we will cover pricing further on in this article). However, this is reflected in the features provided – if you want a plan with similar features to those offered by Bluehost then you will need to opt for the top-tier Hostinger WordPress plan:
99.9% uptime guarantee
Free site migration (Bluehost does not offer free migrations)
Free domain
Unlimited bandwidth (excluding the low-tier Single plan)
One-click WordPress install
Daily backups
Free SSL (on the top-tier Business plan)
The free site migration service, as well as the 99.9% uptime guarantee, are the real standout features here. So, if you are running a few small but important sites, then Hostinger may be just what you need, ensuring your sites are well looked after and consistently up and running.
Bluehost vs Hostinger: Pricing
Both Bluehost and Hostinger offer a selection of shared hosting plans, that range in price. However, there is also the extra dynamic of promotional pricing to consider, as the price you pay when you sign up with these hosts will change when your plan renews.
Let's start by taking a look at the prices from Bluehost, the more expensive provider…
Bluehost plans start from $2.75 a month
Bluehost plans differ greatly in price, depending on whether you sign up for a 12-month, 24-month, or 36-month contract. The longer the term length you select, the cheaper your chosen plan will work out.
In the above image, you can see the features offered with each plan. Below we have a table displaying the prices for each, including the renewal prices…
Bluehost WordPress Hosting Plans
36 Month Contract
12 Month Contract
Renewal Price
Basic
$2.75 a month
(Total = $99)
$4.95 a month
(Total = $59.40)
$8.99 a month
Plus
$5.45 a month
(Total = $196.20)
$7.45 a month
(Total = $89.40)
$11.99 a month
Choice Plus
$5.45 a month
(Total = $196.20 )
$7.45 a month
(Total = $89.40)
$16.99 a month
Although the prices are displayed as monthly, Bluehost makes you pay the total amount in full when you sign up. On the plus side, there is a 30-day money-back guarantee, so if you decide Bluehost isn't for you, you can request a full refund.
Hostinger is the cheaper host
Hostinger is the cheaper of these two hosting providers, with prices starting from just $1.99 a month (depending on current promos). Like Bluehost, the plans work out cheaper if you sign up for a longer contract – with 48 months securing you the advertised prices.
However, Hostinger does offer a monthly payment option, which although more expensive, will be tempting to some people. So let's now check out the prices…
Hostinger Shared Hosting Plans
48 Month Contract
24 Month Contract
12 Month Contract
One Month Contract
Single
$1.99 a month
Total = $57.02
(Renewal Price = $3.99 a month)
$2.49 a month
Total = $59.76
(Renewal Price = $4.99 a month)
$2.99 a month
Total = $35.88
(Renewal Price = $8.99 a month)
$11.99 a month
(+ $4.95 set up fees)
Premium
$2.99 a month
Total = $143.52
(Renewal Price = $6.99 a month)
$3.39 a month
Total = $81.36
(Renewal Price = $7.99 a month)
$2.99 a month
Total = $35.88
(Renewal Price = $8.99 a month)
$11.99 a month
(+ $4.95 set up fees)
Business
$4.99 a month
Total = $239.52
(Renewal Price = $8.99 a month)
$5.99 a month
Total = $143.76
(Renewal Price = $9.99 a month)
$6.99 a month
Total = $100.66
(Renewal Price = $11.99 a month)
$16.99 a month
(+ $4.95 set up fees)
As you can see, the renewal prices also work out cheaper than those offered by Bluehost. Therefore, if price is your deciding factor when it comes to selecting the right hosting provider for you, Hostinger is your best bet.
Bluehost vs Hostinger: Ease of use
Selecting a user-friendly host, that has a quick and easy website setup process, and an intuitive dashboard, is an important factor to take into consideration when choosing a web host.
Luckily, both Bluehost and Hostinger are extremely easy to get to grips with. Let's have a closer look at their ease of use…
Bluehost provides a great user experience
Bluehost provides a great user experience and includes a number of beginner-friendly features to ensure a quick and easy setup process.
Here's a quick tour of the Bluehost dashboard:
1) An intuitive dashboard where you can manage your account, websites, and more:

2) A one-click WordPress install tool: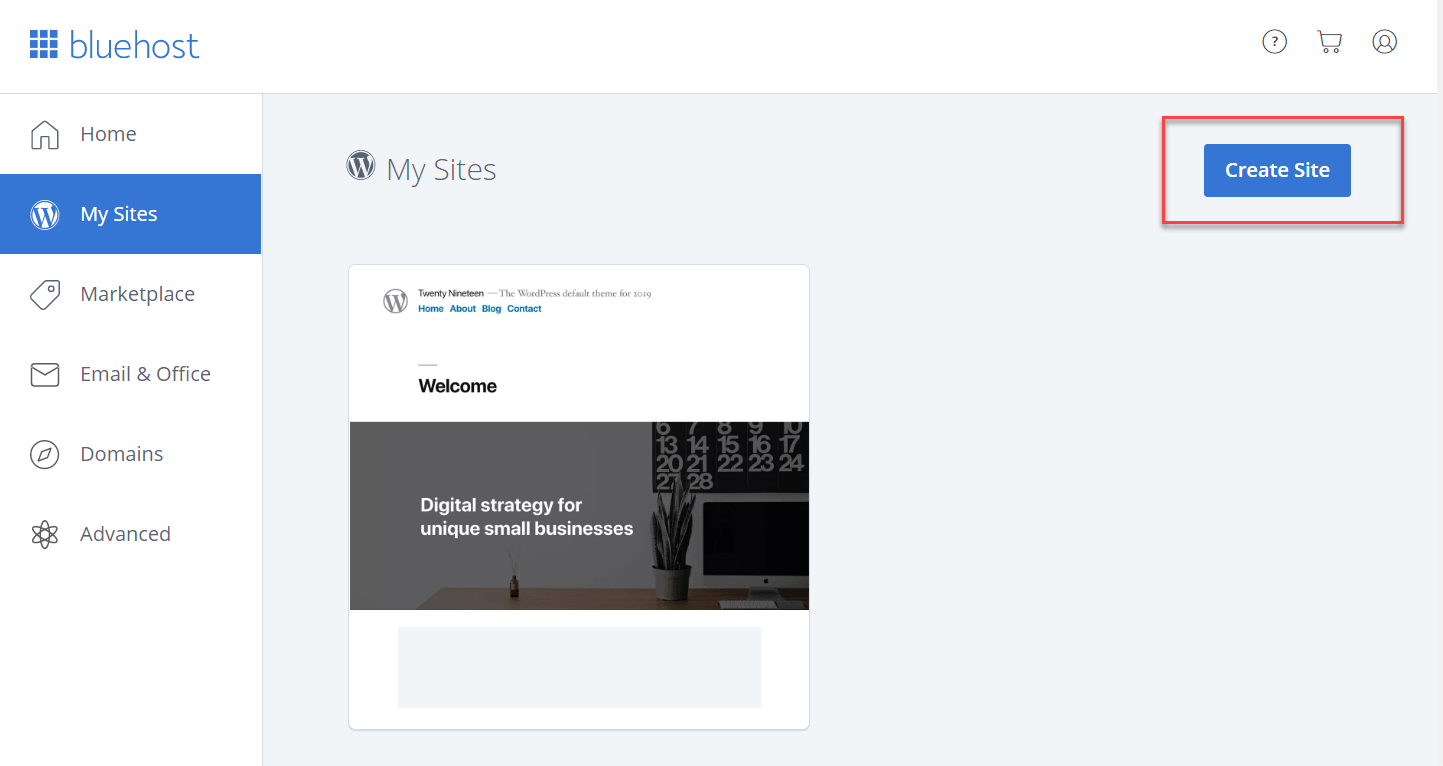 3) cPanel access for those who require it: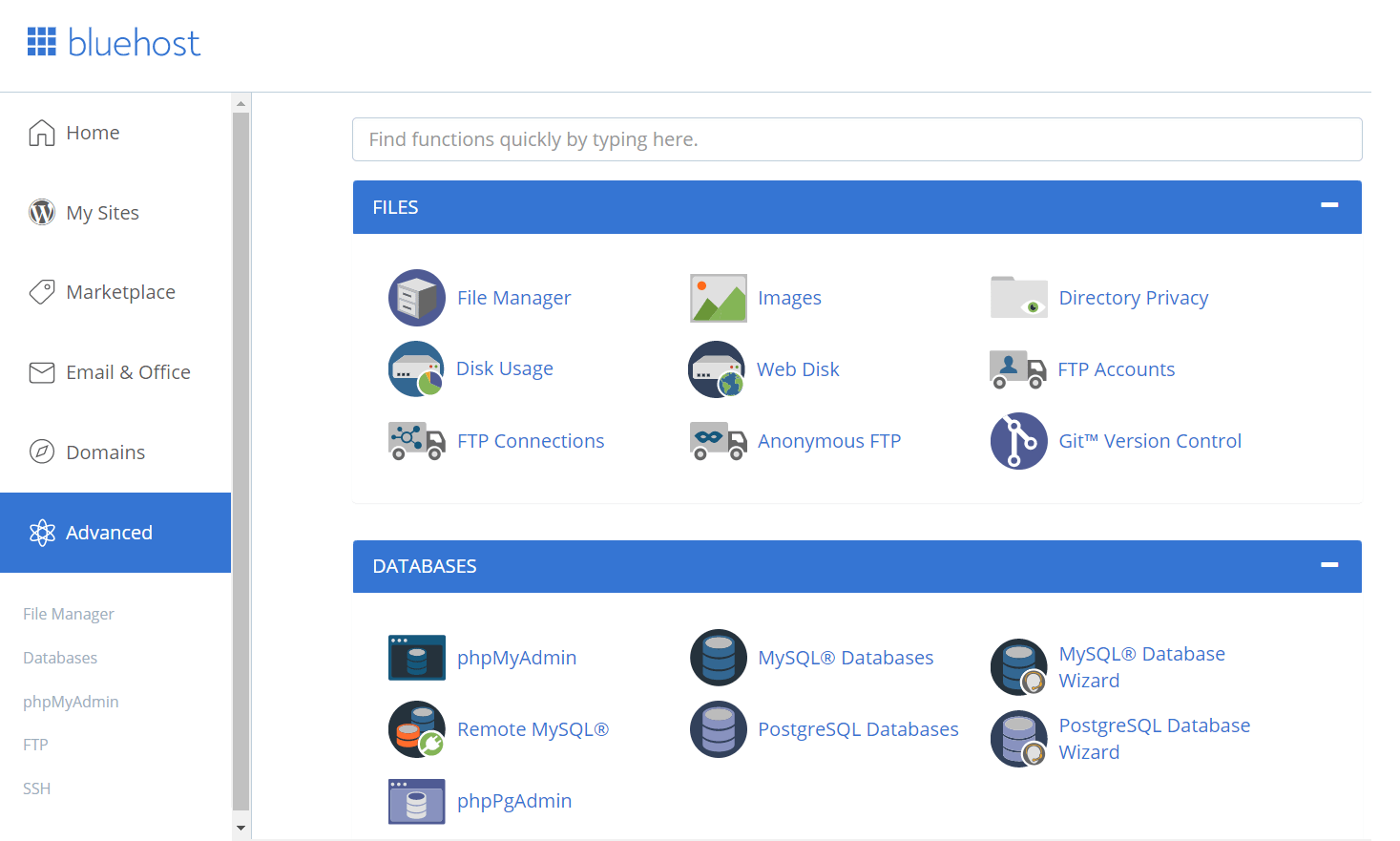 4) A pre-installed Bluehost menu within your WordPress dashboard to help streamline your website design process: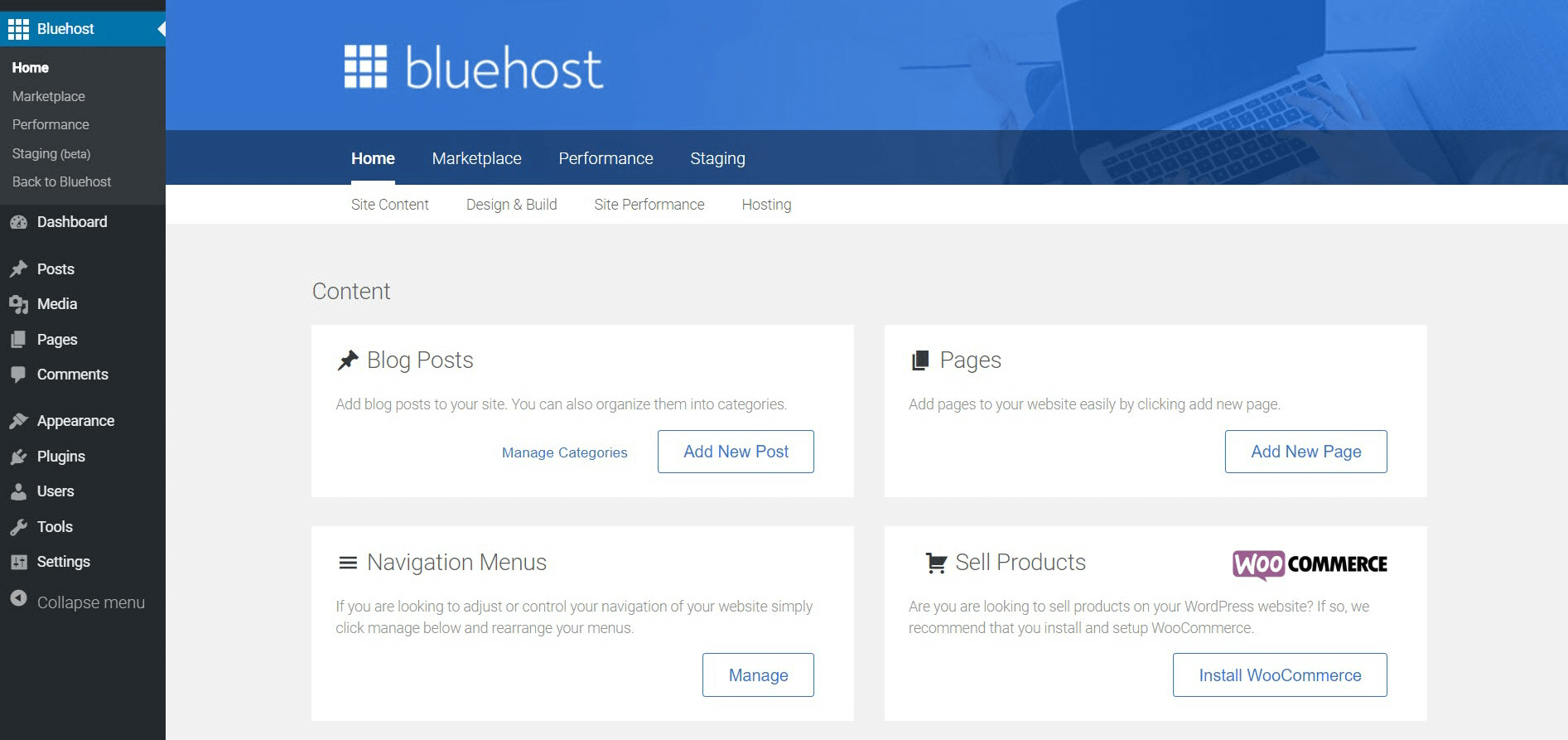 Bluehost has put a lot of thought and effort into creating an impressive user experience for its customers. So how does this compare to Hostinger?
Hostinger also offers a custom dashboard
Hostinger is also easy to use and offers a quick website set up. Let's have a look…
1) The Hostinger dashboard is stylish and minimal, enabling users to quickly find what they are looking for: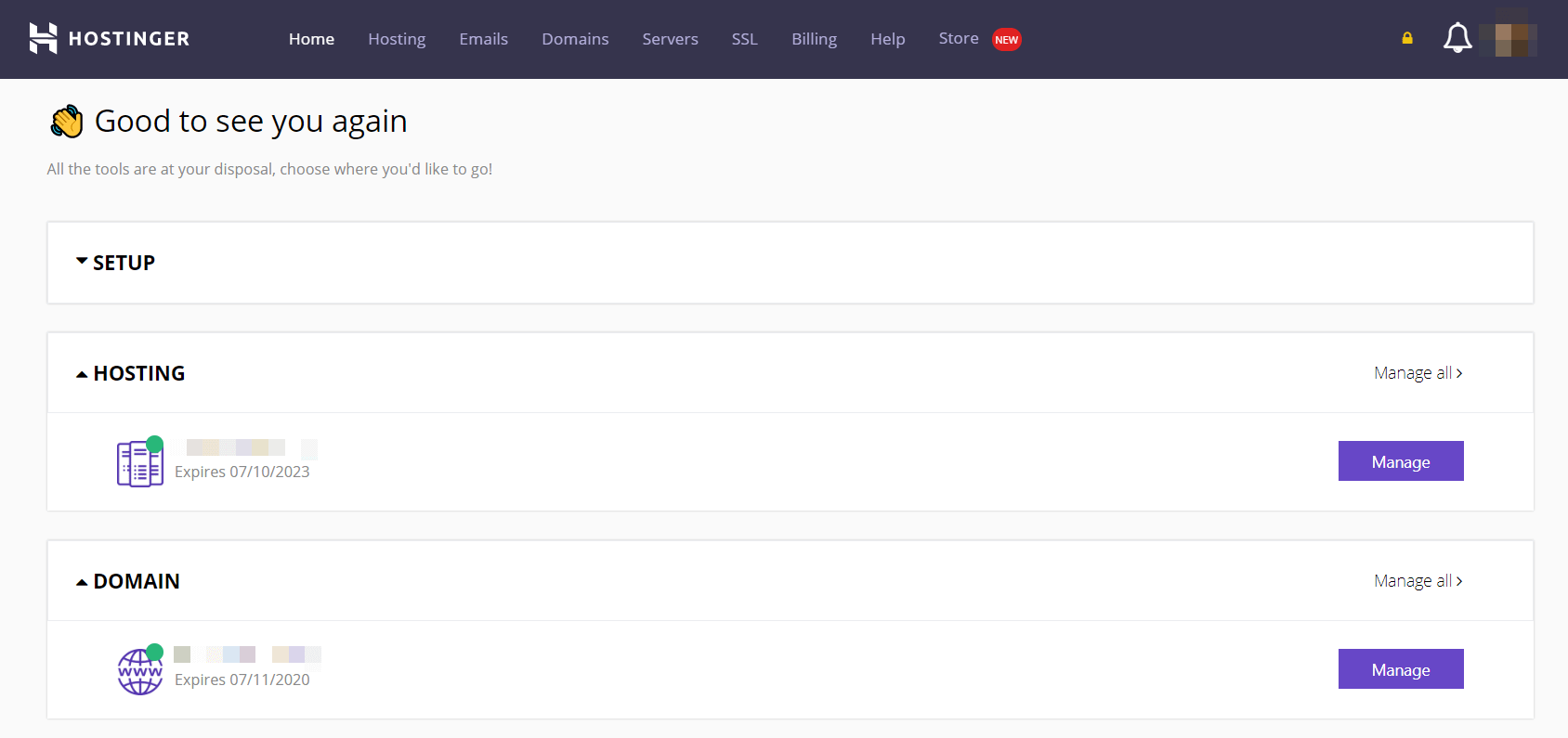 2) Hostinger provides its own custom dashboard that's similar to cPanel, where you can manage your websites: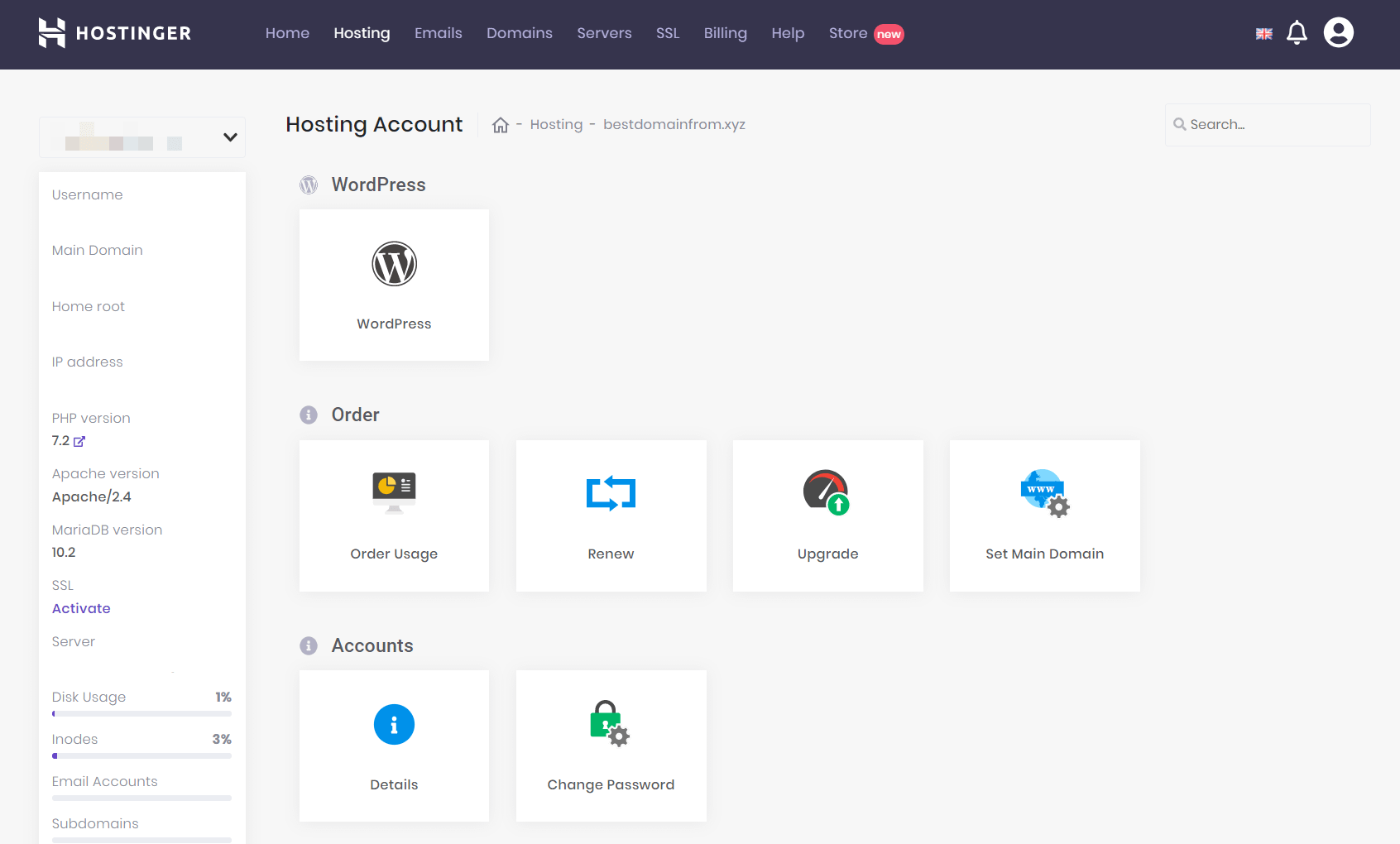 3) Hostinger's Auto Installer tool will let you easily install WordPress: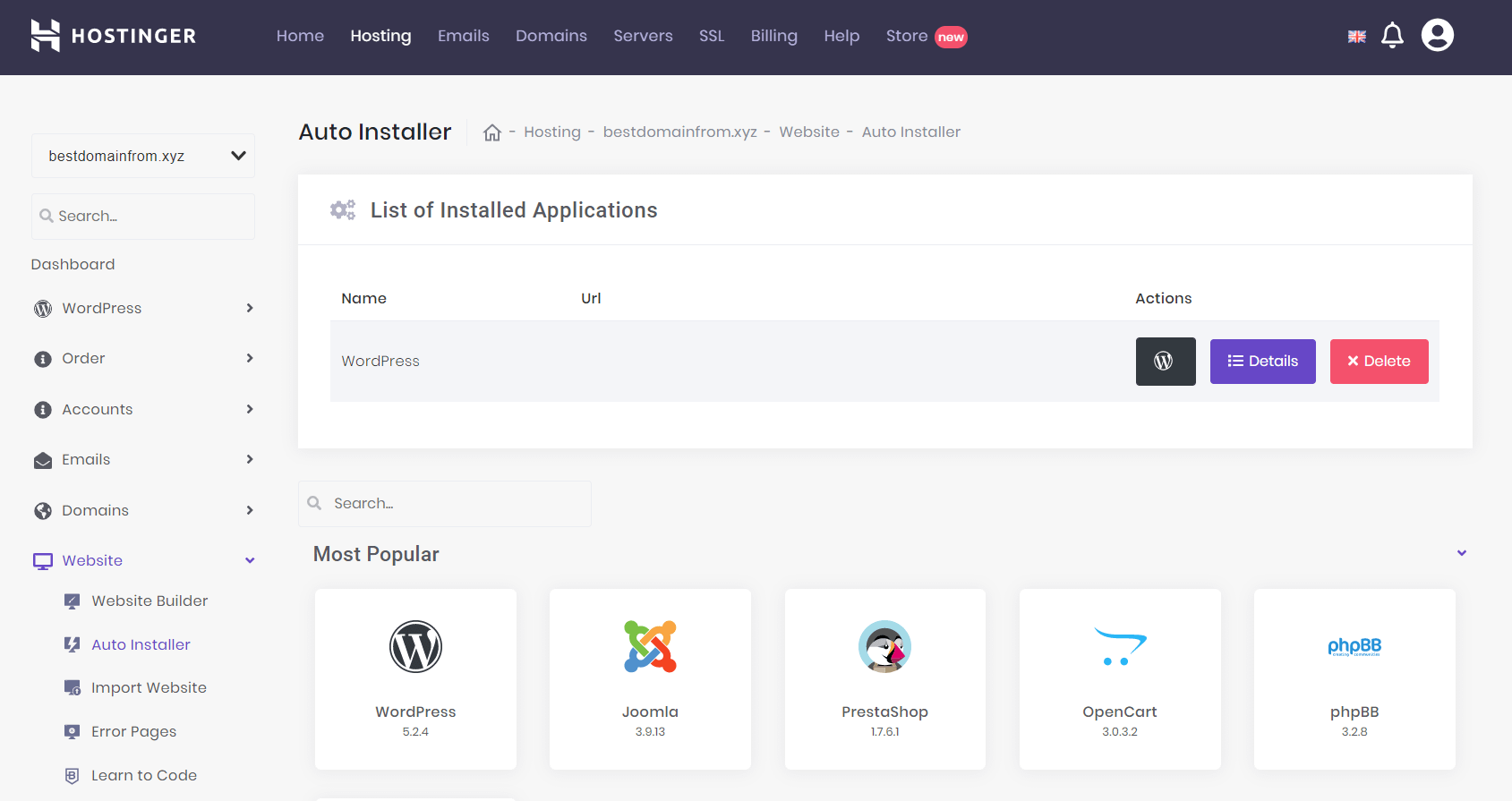 As you can see, there are a couple of differences between the user experience that Bluehost and Hostinger offer. The first is that Hostinger doesn't use cPanel – for some, this can be a big deal. However, its custom hPanel is an effective alternative.
The second difference is within the WordPress dashboard itself. Where Bluehost provides a useful setup menu, which is great for those who have no WordPress experience, Hostinger just installs WordPress as it is.
These differences between the two hosts are slight, and your preference will depend on your personal needs. However, ultimately both hosting providers offer a user-friendly service.
Bluehost vs Hostinger: Support
Both Bluehost and Hostinger provide support for new and existing customers, but for those who like immediate help with their queries, then Bluehost is going to be the hosting provider for you. Let's take a look at the support options that these two hosting giants provide…
Bluehost offers better support options
Bluehost provides a variety of support options to help cater for everyone's needs. So however you like to troubleshoot a problem, you will find Bluehost to be very accommodating. Here are its support options…
Knowledgebase – Bluehost offers an extensive and searchable knowledge base, consisting of how-to tutorials and guides, videos, instructions, and more.
Phone support – 24/7 phone support is available, enabling customers to speak directly to a team of hosting experts.
Live chat – Always a favorite of mine, live chat is not only available 24/7, but on the numerous occasions I have used it, the response time has pretty much been immediate.
If you are someone who needs a high level of support, Bluehost can provide this. So how does Hostinger's support compare?
Hostinger provides ticketed email support
To be honest, Hostinger's support doesn't compare to the service Bluehost provides. However, if you are someone who needs relatively little support, or you are happy to find what you need by searching the knowledge base, then Hostinger support will suffice. Let's take a look at what is on offer…
Knowledgebase – The Hostinger knowledge base has a selection of very useful and easy to follow tutorials and how-to articles. A particularly helpful 'getting started' section ensures that those new to Hostinger have all the information they need for a smooth set up.
Email support – Hostinger provides a ticketed email support option, where you can submit your query and then be contacted by a customer service representative who will help to solve your problem.
Live chat – Hostinger offers 24/7 live chat, which is helpful if you want a more real-time communication method.
Unfortunately, Hostinger does not offer telephone support, which may be difficult if you have an issue that needs immediate assistance and want to talk to a real person.
Bluehost vs Hostinger: Performance
The performance of a web host is one of the most important aspects to consider when choosing a hosting provider. If your website is slow to load, or repeatedly suffers downtime, not only will your visitor numbers be affected, but crucially you will lose leads and sales. Poor performance can also affect your site's SEO, making it harder for your content to gain exposure to a wider audience.
Hostinger provides faster loading times
Here at Themeisle, we set up two new test websites, one hosted with Bluehost and one with Hostinger. We then tested the loading times of these sites, using the online monitoring tool Pingdom. Here are the results…
Bluehost:
Washington D.C.: 2.75 s
San Francisco: 2.86 s
London: 3.43 s
Sydney: 3.73 s
Tokyo: 2.87 s
Hostinger:
Washington D.C.: 0.829 s
San Francisco: 1.06 s
London: 0.484 s
Sydney: 2.26 s
Tokyo: 1.92 s
As you can see, in these tests Hostinger provided a faster service, loading the website it hosted much faster than the Bluehost hosted site.
Bluehost recorded 100% uptime over the last 7 days
We also monitored uptime for Bluehost and Hostinger over the 7-day period before writing this comparison. We found that Bluehost provided 100% uptime, whereas Hostinger had an uptime percentage of 99.99%.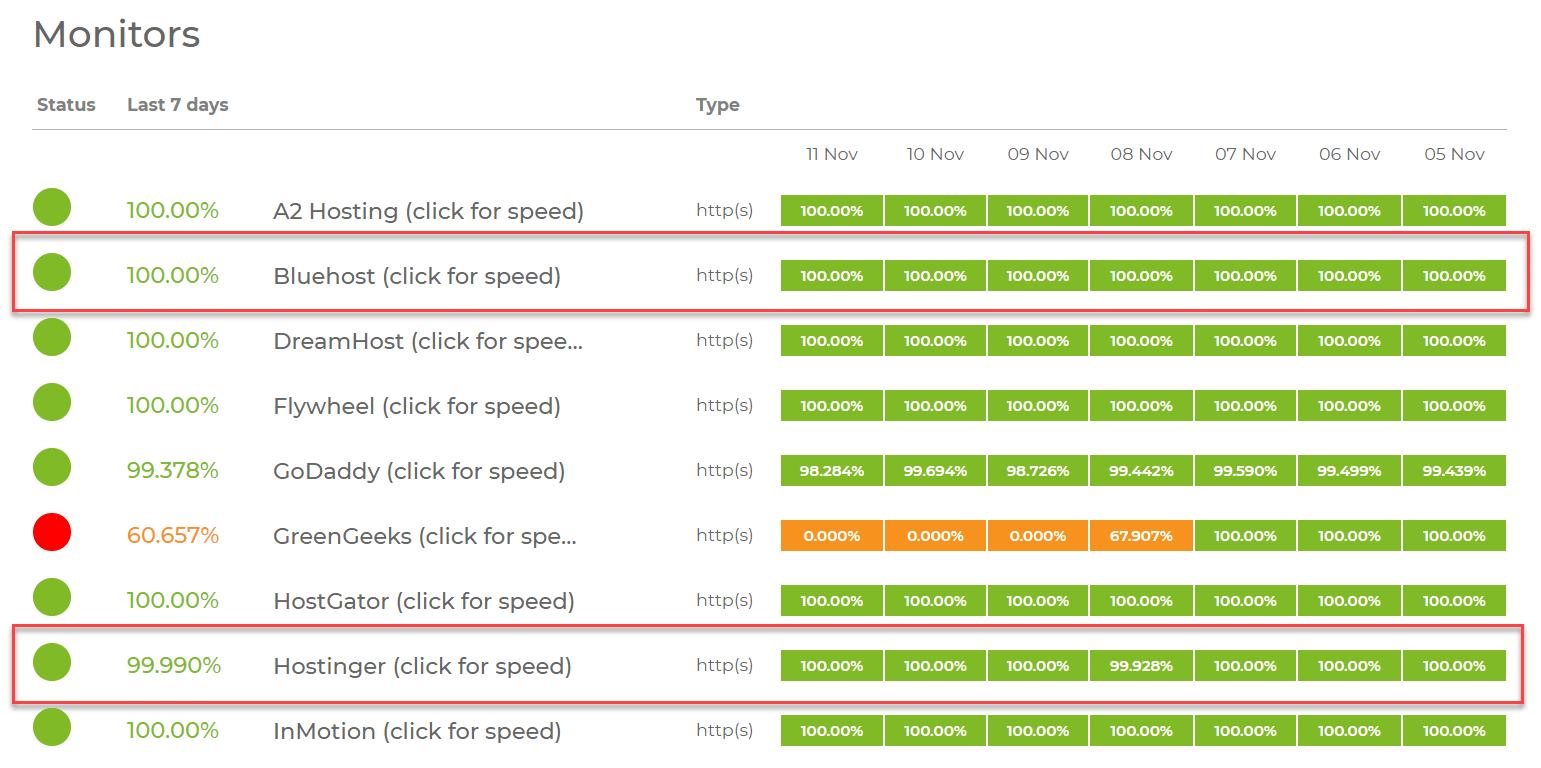 You can check out our current uptime data on all the major hosting providers over at CodeinWP.
Final thoughts on Bluehost vs Hostinger
Both Bluehost and Hostinger have much to offer, each with their own pros and cons.
To summarize, if you are looking for bargain prices and fast loading times, then Hostinger is your best option.
However, if you want unlimited resources (bandwidth, storage, and websites) or superior support, then Bluehost is for you.
For more information on these two hosting providers, we've written detailed reviews on both Hostinger and Bluehost:
We've also collected some other solid cheap hosting options if you'd like to learn about other quality web hosts in this price range.
Do you have any additional questions about choosing between Hostinger vs Bluehost? Let us know in the comments and we'll try to help.
Free guide
5 Essential Tips to Speed Up
Your WordPress Site
Reduce your loading time by even 50-80%
just by following simple tips.
* This post contains affiliate links, which means that if you click on one of the product links and then purchase the product, we'll receive a commission. No worries though, you'll still pay the standard amount so there's no cost on your part.