Choosing the right email marketing software for your business can be a daunting task. After all, many of these services offer similar features. Thus, when it comes to choosing between AWeber vs Mailchimp, it may seem difficult to determine which of these two platforms is more likely to help you succeed.
That's why we've put together a detailed review to help you out. By taking a closer look at the services offered by each company, you can get a clearer picture of which email marketing software is best for your needs.
In this article, we'll compare all the important details between AWeber vs Mailchimp including:
Features
Let's kick things off with an important factor: features.
We'll begin by sharing a comparison table of high-level features and then we'll dig into two specific areas – automation capabilities and analytics. We also have a separate section on templates and email editors next.
One high-level feature difference is that Mailchimp has merged into more of a full-service digital marketing platform, while AWeber is still primarily just an email marketing solution. You can see this in the comparison table below, where Mailchimp now offers features like a CRM, website builder, digital ad creation, and more:
AWeber vs Mailchimp

| Feature | AWeber | Mailchimp |
| --- | --- | --- |
| Drag-and-drop email builder | ✔️ | ✔️ |
| Pre-built email templates | ✔️ | ✔️ |
| Autoresponders | ✔️ | ✔️ |
| RSS-to-email newsletter | ✔️ | ✔️ |
| Email automation | ✔️ | ✔️ |
| Dedicated WordPress plugin | ✔️ | ❌ |
| CRM | ❌ | ✔️ |
| Tagging/segmentation | ✔️ | ✔️ |
| A/B testing | ✔️ | ✔️ |
| Analytics | ✔️ | ✔️ |
| Opt-in form builder | ✔️ | ✔️ |
| eCommerce integrations | ✔️ | ✔️ |
| Landing page builder | ✔️ | ✔️ |
| Full website builder | ❌ | ✔️ |
| Digital ad tools | ❌ | ✔️ |
| Transactional emails | ❌ | ✔️ |
Now, let's dig deeper into two areas – automation and analytics.
Automation capabilities
Automation can help you connect with your audience and boost your conversions in a more efficient manner. Therefore, it's an essential feature to consider when comparing email marketing tools.
AWeber refers to its automation features as 'campaigns'. These campaigns come with plenty of customizable options, so you can personalize your messages for your subscribers: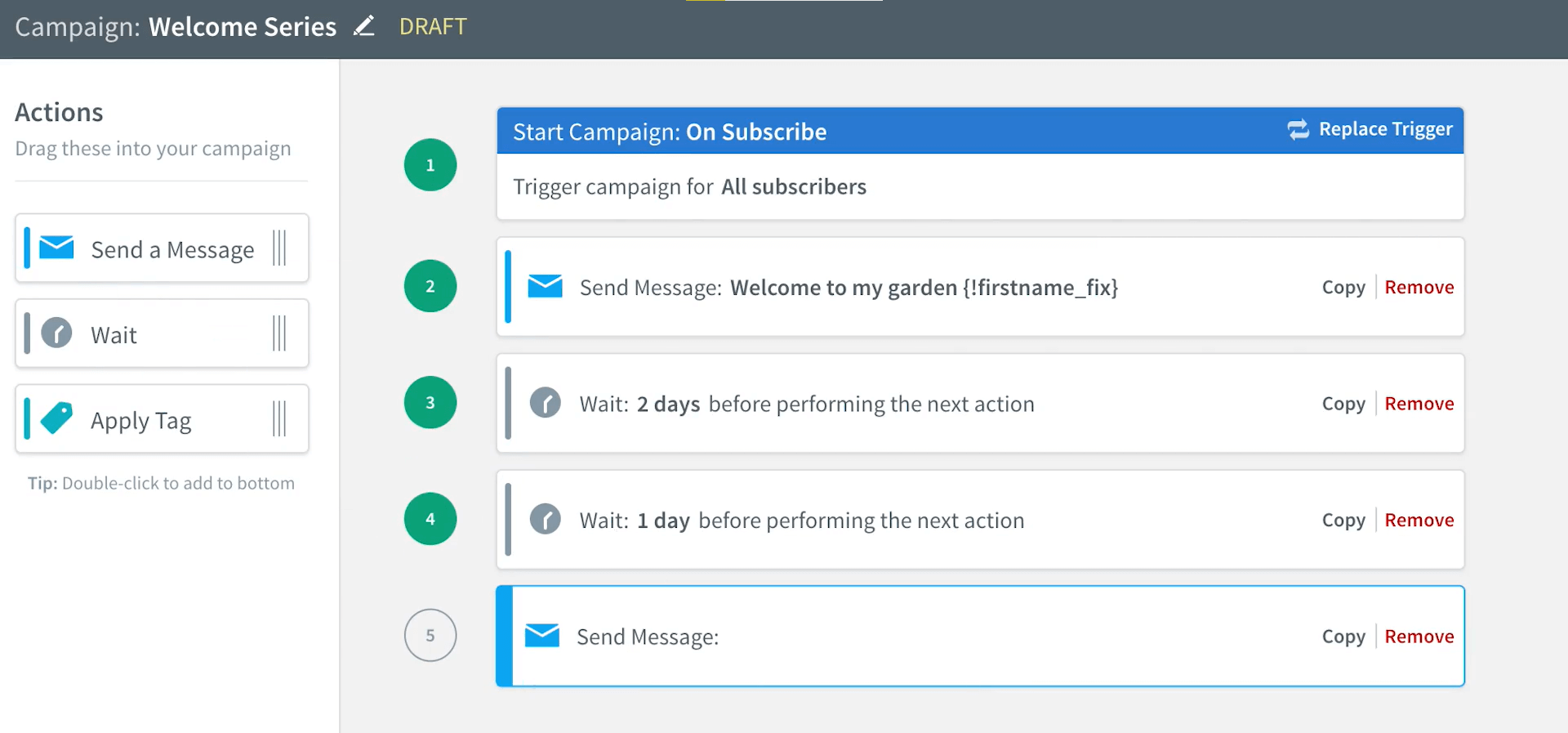 However, this automation feature lacks a few advanced options. For example, Mailchimp offers a 'customer journey' tool that uses conditional logic to send the right emails. All you have to do is drag-and-drop the tiles: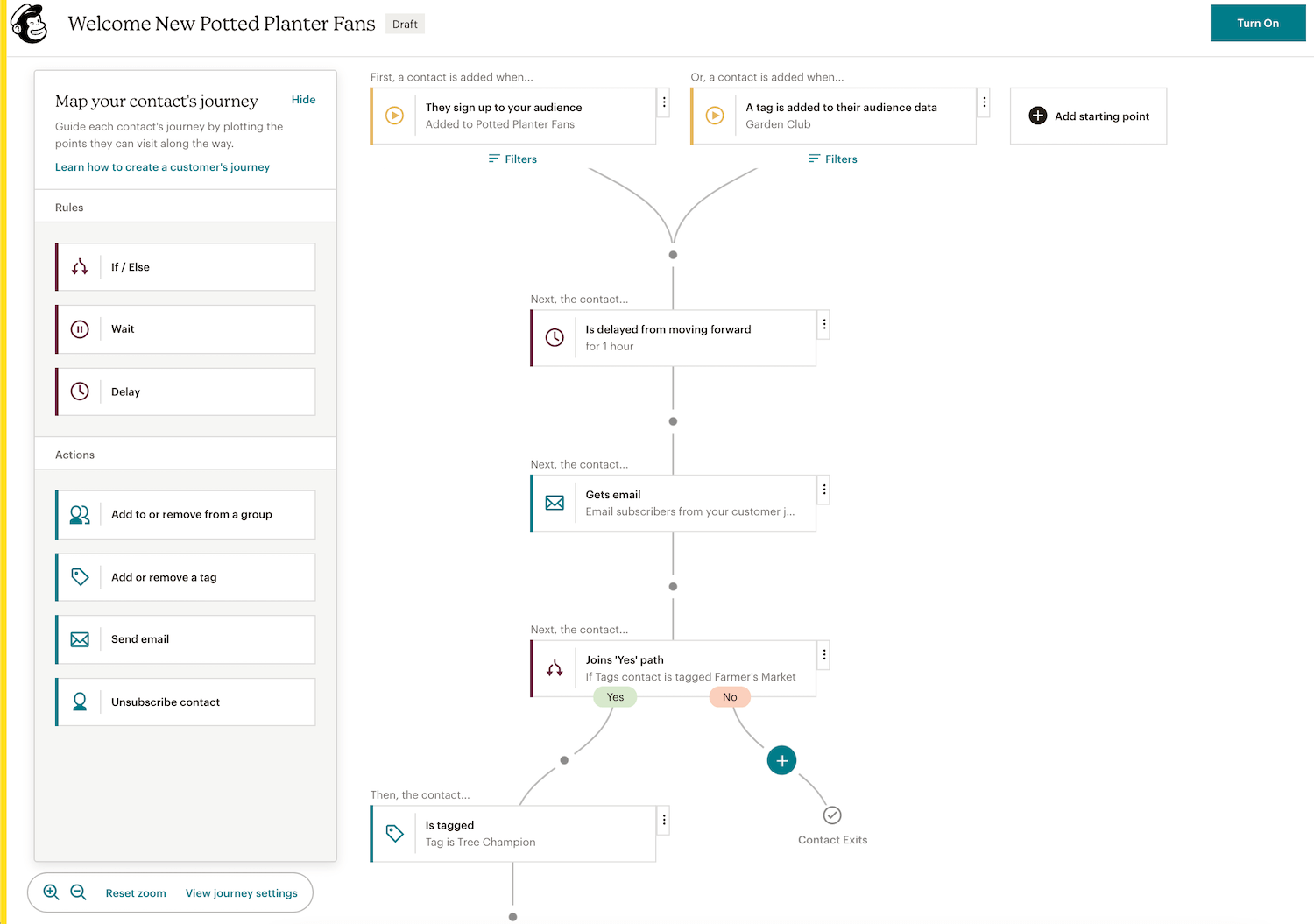 By contrast, AWeber only offers this kind of 'if x, then y' process in individual emails via its tagging system. As such, achieving the same level of detail offered by Mailchimp can be tedious.
When it comes to automation, Mailchimp offers a bit more sophistication. Meanwhile, AWeber could be a more suitable choice if you just want to set up a simple email marketing campaign. It provides basic, manual controls over these details. The tagging system works well, but you'll have to dedicate some time to learning the rules and adding the code.
Analytics
When you run a small business, every penny counts. Therefore, you may want to make sure that your email marketing campaigns are yielding positive results.
When it comes to analytics tools, AWeber focuses on simplicity. You'll be able to access a quick summary of your performance from your account dashboard: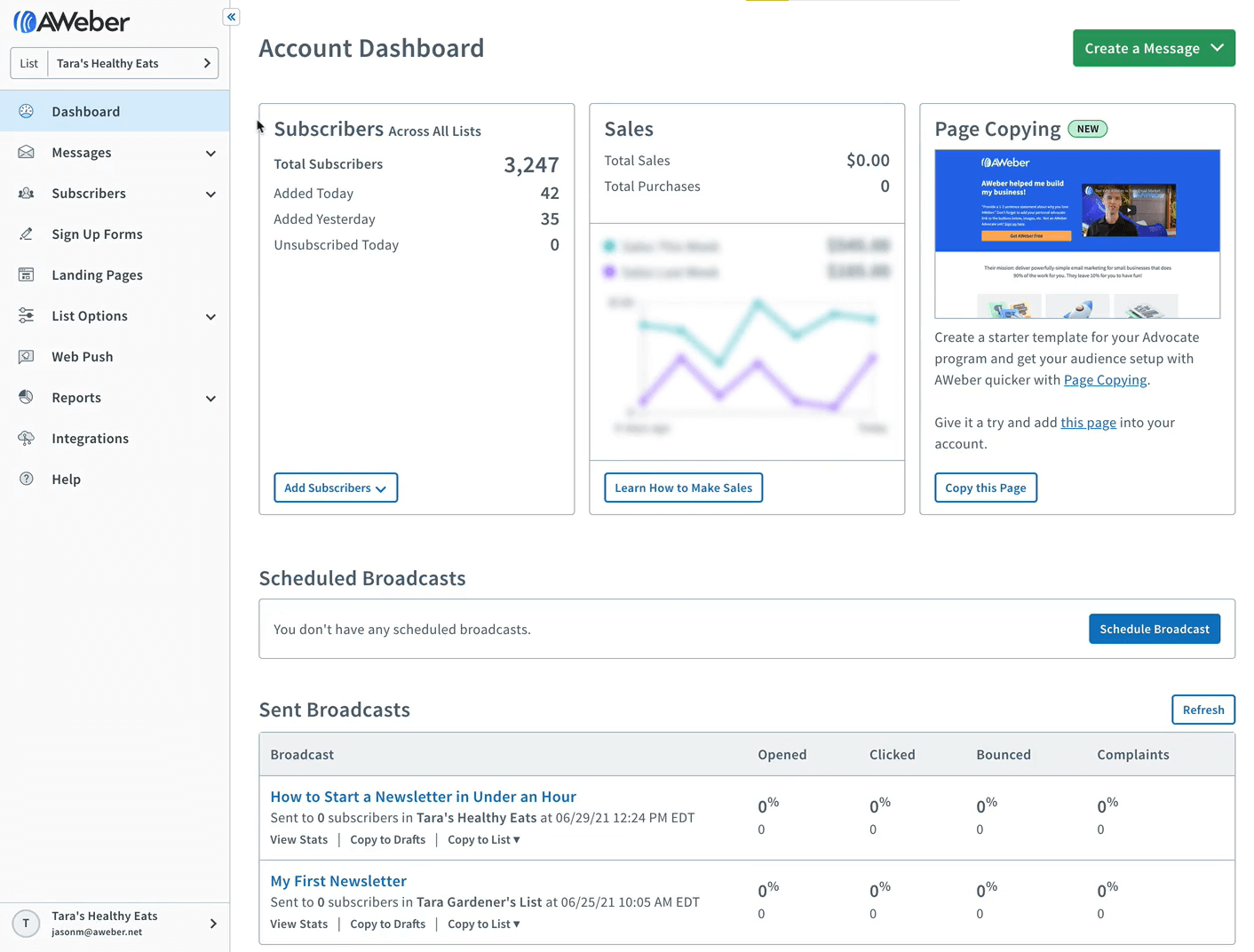 These reports cover the basics, such as your open rates. However, you may find them a little lacking if you want more in-depth data about your audience.
Meanwhile, Mailchimp gives you more information about your campaigns. It also integrates with Google Analytics to offer more complete reports: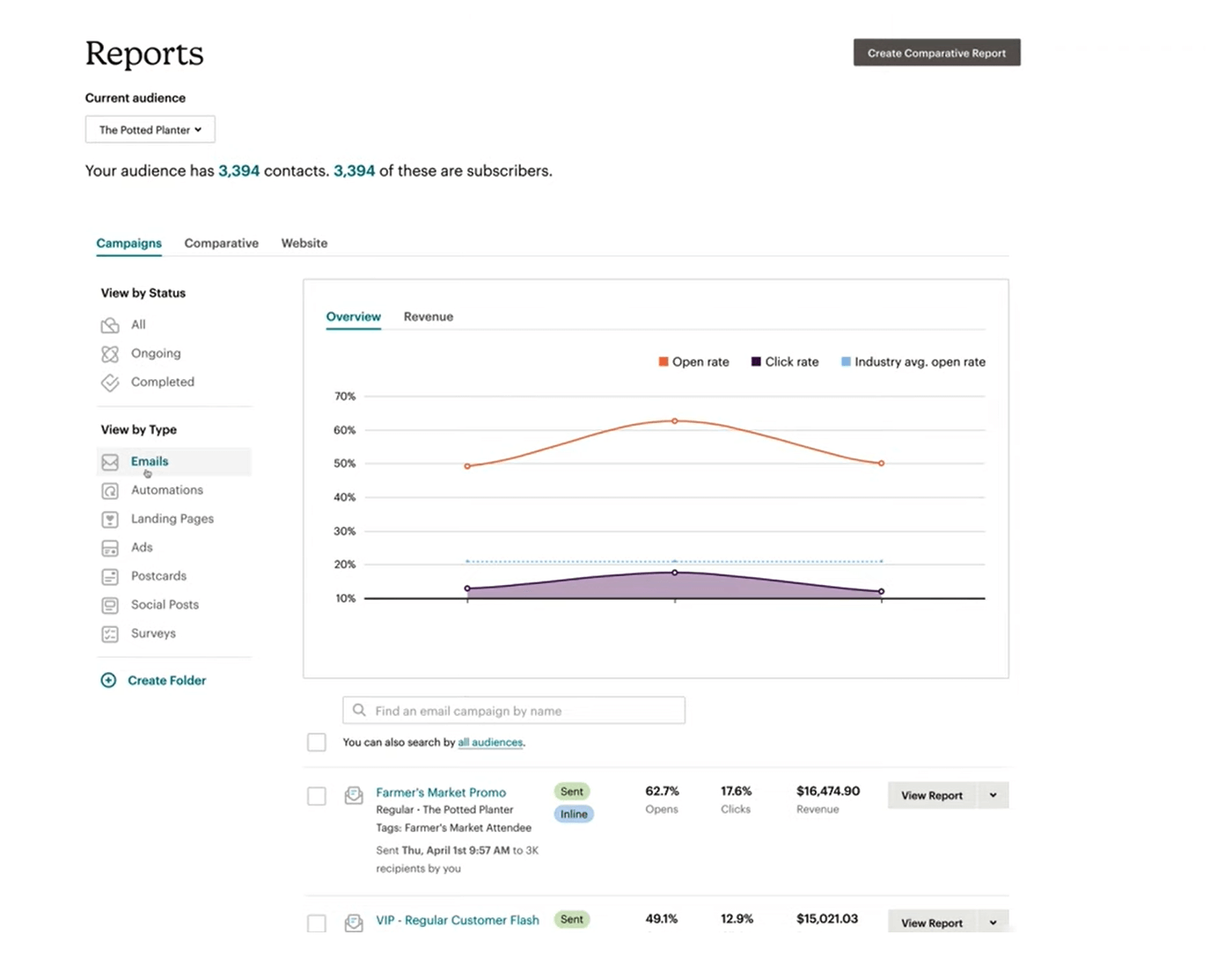 Unlike AWeber, Mailchimp will also break your data down into smaller groups. For example, you can analyze your results ranging from bounce rates to email providers.
If you're only interested in receiving basic reports, AWeber will get the job done. However, if you want access to more in-depth data that can help you optimize your campaigns, we recommend choosing Mailchimp.
Design and email templates
If you want customers to read your emails, you'll need to ensure that your content is presented in a neat and digestible format. For this reason, you might want to use premade templates for your newsletters.
However, you might also want the option to customize your emails' designs so they meet your needs. Let's take a look at the different design features offered by AWeber and Mailchimp.
Available templates
Templates can help you speed up your productivity and send beautiful emails that drive conversions. As such, you might want to consider the variety and quality of these resources when comparing AWeber vs Mailchimp.
AWeber has an impressive selection of templates, offering over 700 mobile-responsive options. Each template differs in color, layout, and feel: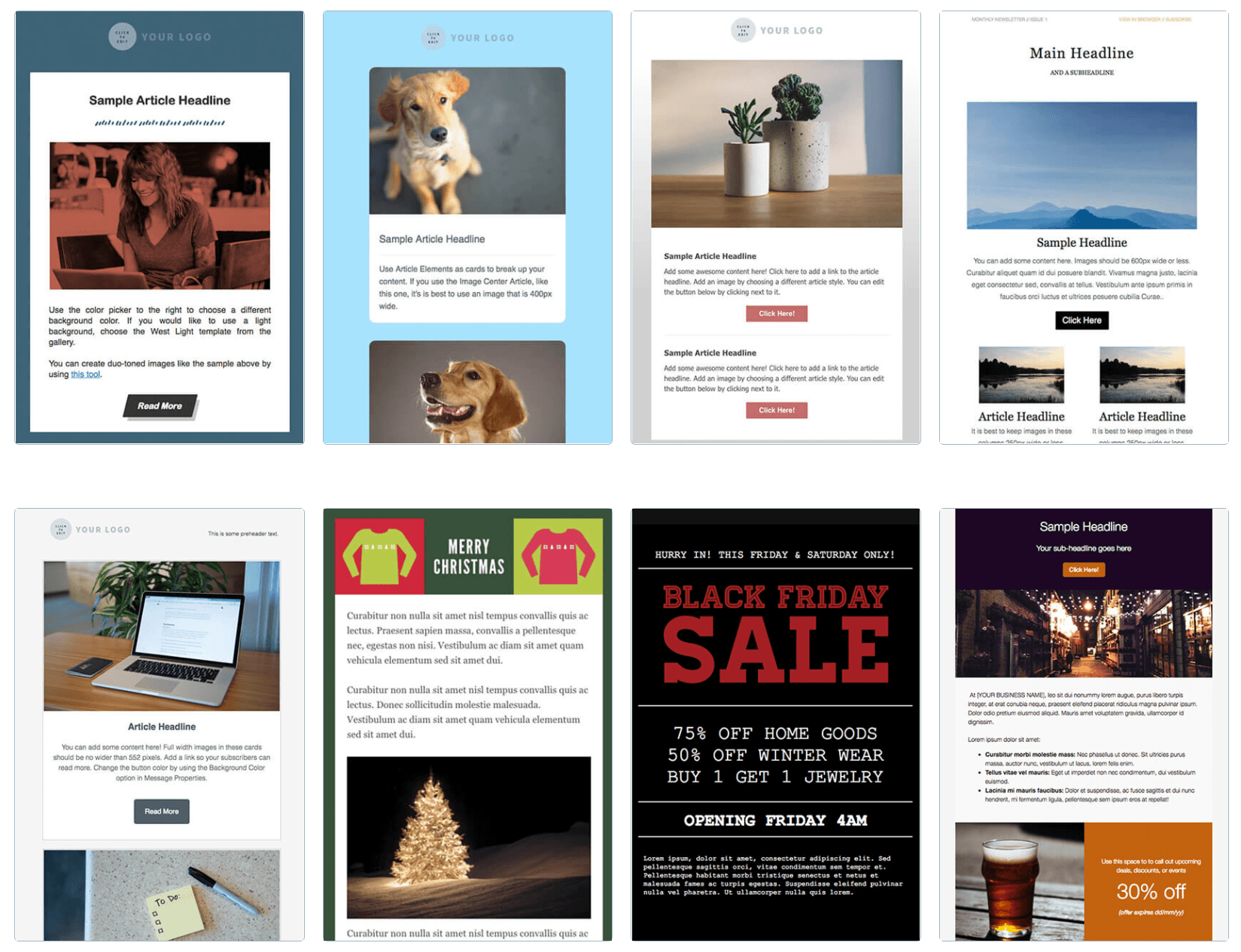 Furthermore, AWeber provides over 600 stock images that you can use in your emails. This means you won't need to spend hours taking your own photos, or sourcing them from other sites. You'll probably be able to find images that fit the topic of your email. If you can't, there's also a Canva integration that lets you easily insert Canva designs in your emails.
On the other hand, Mailchimp has a more limited template selection, with just over 100 options. While this number may seem small, it's worth noting that Mailchimp's designs are on par with AWeber's: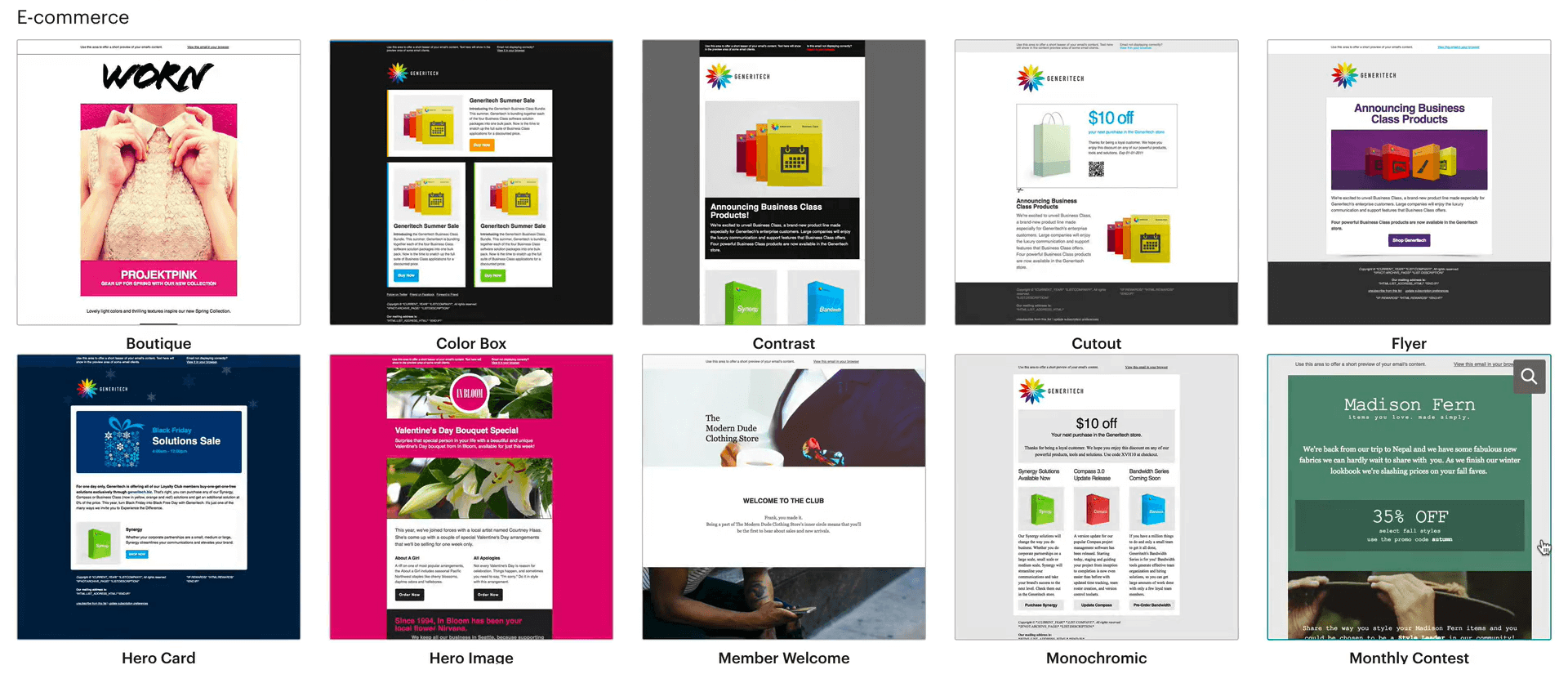 Moreover, Mailchimp's templates tend to have more drag-and-drop areas available. This means you can add more personal touches to your emails without putting in extra work.
While AWeber offers more template options, Mailchimp allows for more creativity. Thus, the top choice in this category relies heavily on personal preference.
Email editor
Templates are perfect for sending a quick email. However, you might also want to customize your messages so they align with your branding. To do this, you'll probably want a responsive email editor.
Both AWeber and Mailchimp offer a drag-and-drop interface. Nevertheless, there are some subtle differences between the two. Let's start with AWeber's editor: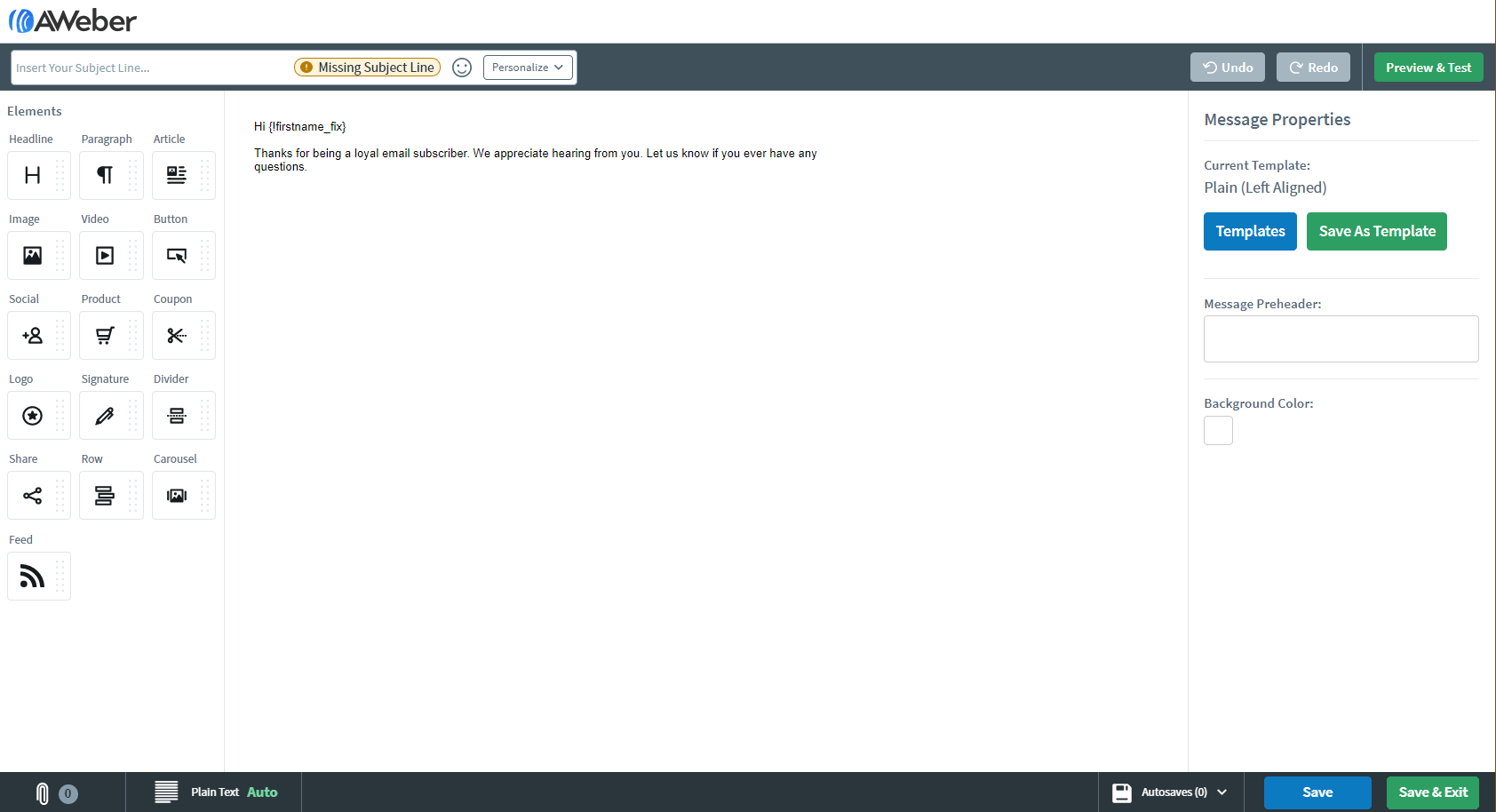 AWeber emphasizes a straightforward approach. You can drag elements such as videos or social accounts from the left-hand menu. Then you can select each individual module to customize the contents.
Admittedly, this interface can be a bit tricky. You need to be accurate with your clicks to place blocks exactly where you want them. If this bothers you, you may want to consider using a template. This makes it easier because the predetermined content areas are already blocked off for you.
In contrast, Mailchimp's editor is a bit more intuitive: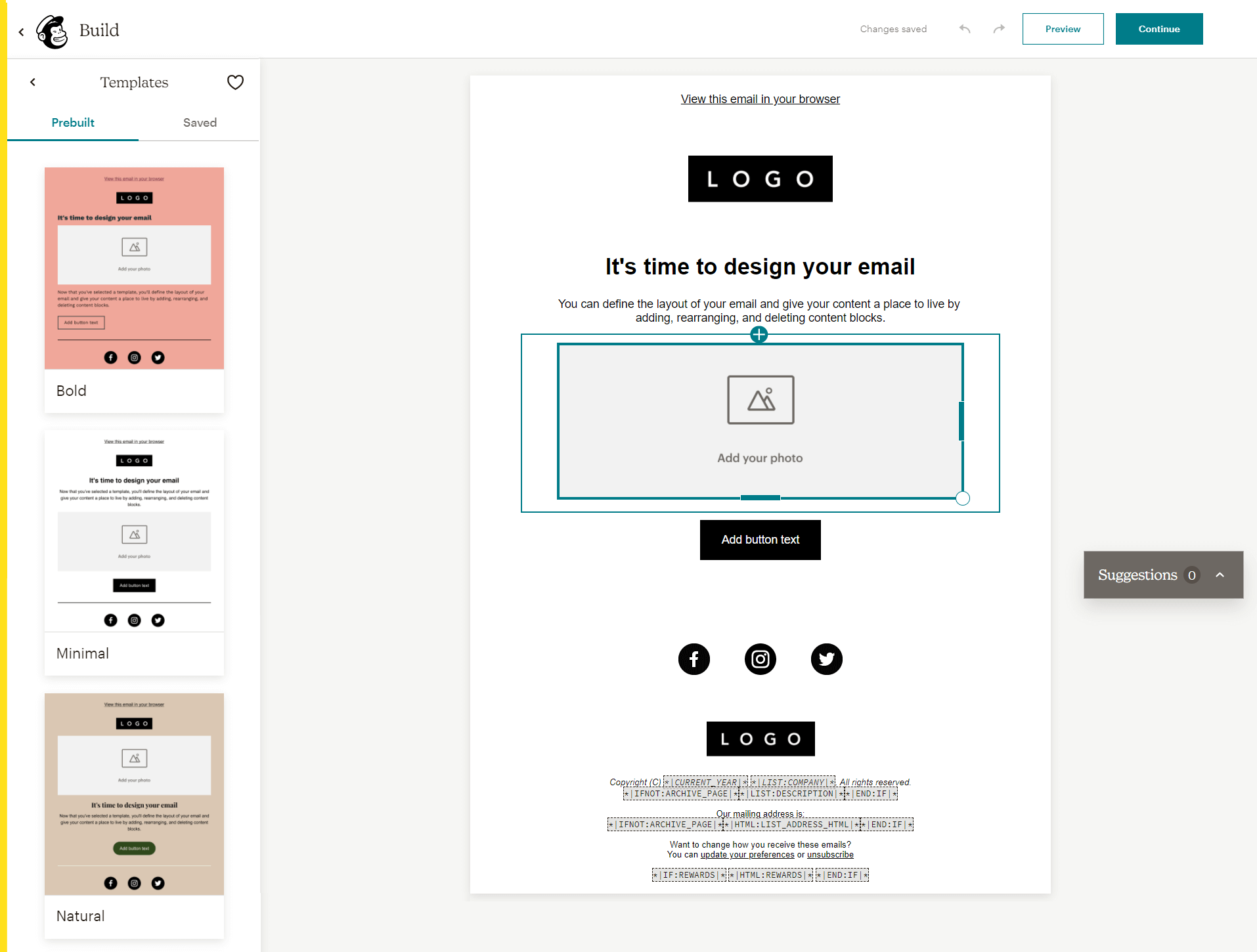 The descriptive on-screen text gives you a clearer idea of the final result. For example, the conditional logic tags near the bottom of this example are highlighted in gray to draw your attention during editing. This can make editing easier for those who are less experienced. AWeber offers no similar guidance.
All in all, both interfaces are well-organized. Even so, AWeber's lack of labels makes it a bit of a challenge to acclimate to. On the other hand, Mailchimp offers noninvasive yet helpful text to give your editing direction. Thus, Mailchimp takes the crown as the superior email editor.
Ease of use
Another important feature to consider is ease of use. This can lead to a more efficient workflow and a better user experience when crafting your email campaigns. With that in mind, let's see how usability stacks up between AWeber vs Mailchimp.
User interface
Your user interface is the place where you organize your emails and subscriber lists. Design and navigation choices can make or break your productivity.
AWeber has a more traditional interface. All options are clearly labeled and organized in a neat vertical menu. You're unlikely to face a steep learning curve with this program.
However, AWeber's editing function is a different story. While it uses a drag-and-drop editor, the interface can look a bit cluttered. It can also be hard to find the tools you need.
Meanwhile, Mailchimp's overall layout is more minimalist and stylized. For instance, you'll have to hover over menu options to find out where they lead: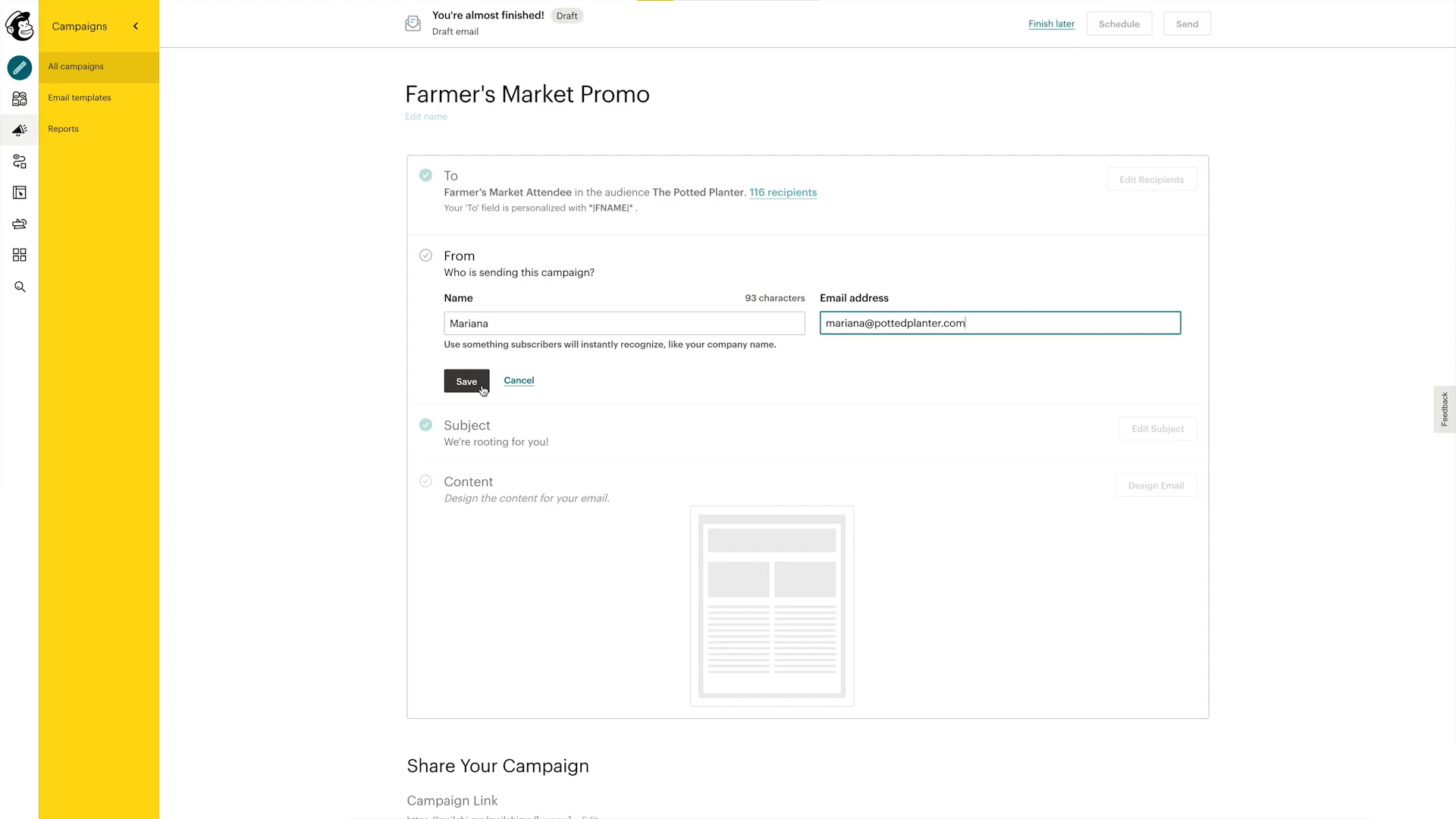 However, it probably won't take much time to learn your way around. Similar to AWeber, Mailchimp offers a drag-and-drop editor. Nevertheless, it comes with better labeling and has less cluttered options.
Each service has pros and cons when it comes to its interface. That's why the right option for you in this category will depend on your personal preference. For instance, you might want to opt for Mailchimp if you're a fan of minimalism.
Customer support
Next, we'll look at both platforms' support services. You never know when you'll need a helping hand to craft the perfect marketing plan.
AWeber covers all the bases in this area. You have access to a phone line, live chat, and email support. Furthermore, you can track the server status on the main page. If you'd rather not speak to a person, you can always consult the enormous knowledge base: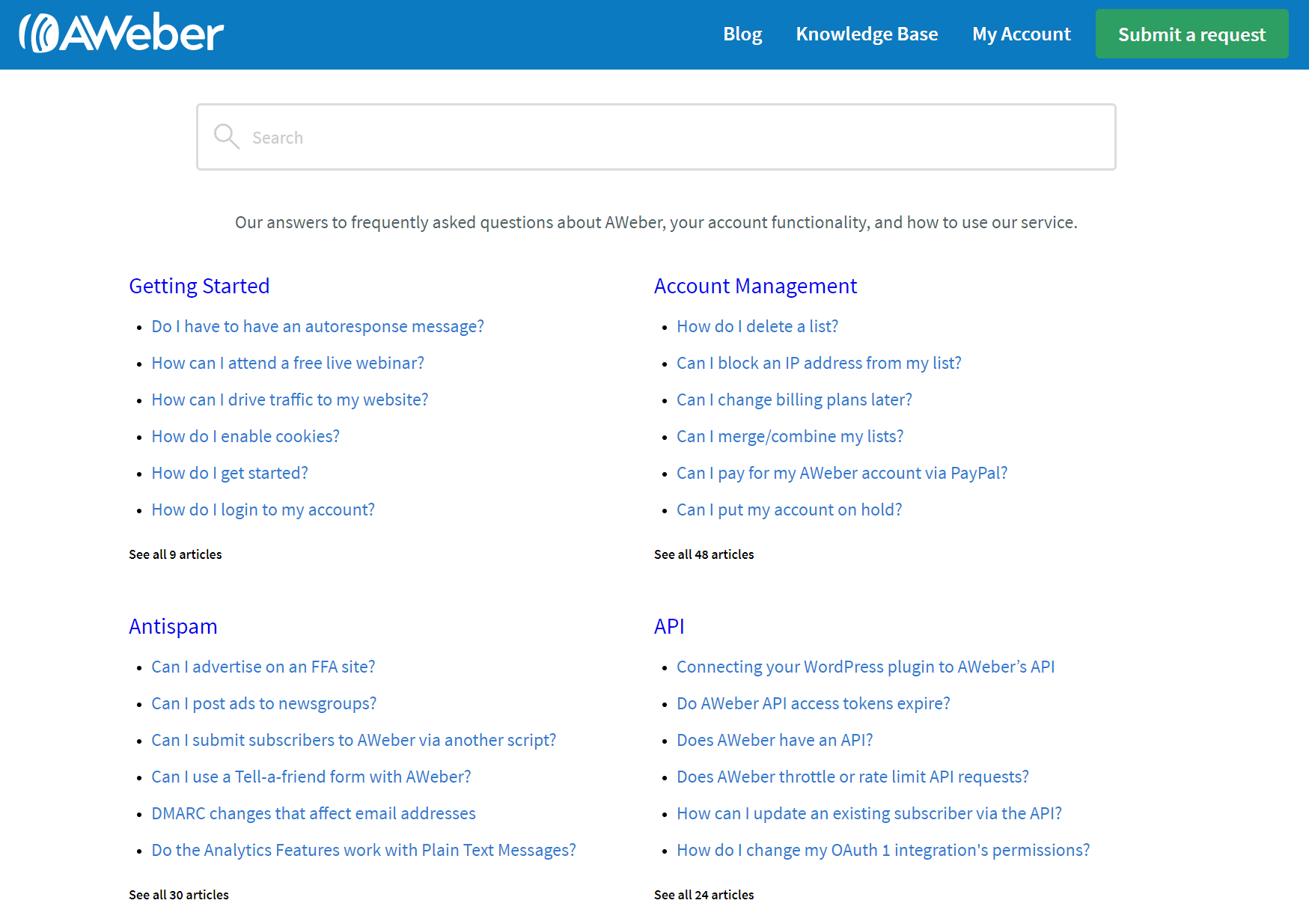 Mailchimp's options pale in comparison. If you're using the free option, you only have access to a chatbot as well as email support. Live chat is included with paid plans, and you'll need to top up your feature options for phone support. It's a lot harder to get hold of someone when you need help as a Mailchimp user.
As such, we recommend that you consider how important customer support is to you. If you're confident in your ability to figure things out independently, Mailchimp's customer service will likely be fine. However, if you'd prefer to receive more assistance, AWeber could be the better choice.
Pricing
Now that you know how Mailchimp and AWeber stack up in all the other areas, let's finish with a look at the price tags.
Here, we'll compare both the free and paid plans offered by AWeber and Mailchimp.
Free plans
If you've just set up your online business, a free plan can sound appealing. However, as you might expect, unpaid plans come with limited features.
With AWeber, you can start for free with up to 500 subscribers. The free plan also lets you send up to 3,000 emails per month. This may be enough for small business owners. However, your content will have AWeber branding on it. Moreover, you won't have access to split testing.
Meanwhile, Mailchimp's free plan comes with more features. For instance, you can contact up to 2,000 people and up to 10,000 emails per month. You'll also be able to use simple automation tools and easy social media integrations.
All things considered, Mailchimp is a stronger choice if you're looking for a free plan. However, as your business grows, you'll probably have to upgrade to a more advanced solution.
Paid plans
Both AWeber and Mailchimp offer a variety of packages and pricing options. However, AWeber's paid plans are a bit simpler. This is because the company sets its prices according to the number of subscribers you have.
If you opt for a Pro plan, scaling up will be a straightforward process. You can start by paying $16.15 per month for up to 500 subscribers. Then, as your email list grows, your plan can evolve up to $146.15 per month (for up to 25,000 subscribers).
Another advantage is that AWeber's paid plans don't have any sending limits – you can send unlimited emails every month.
Unfortunately, Mailchimp isn't as simple with its pricing options. It has several different tiers that charge users depending on the number of subscribers and features: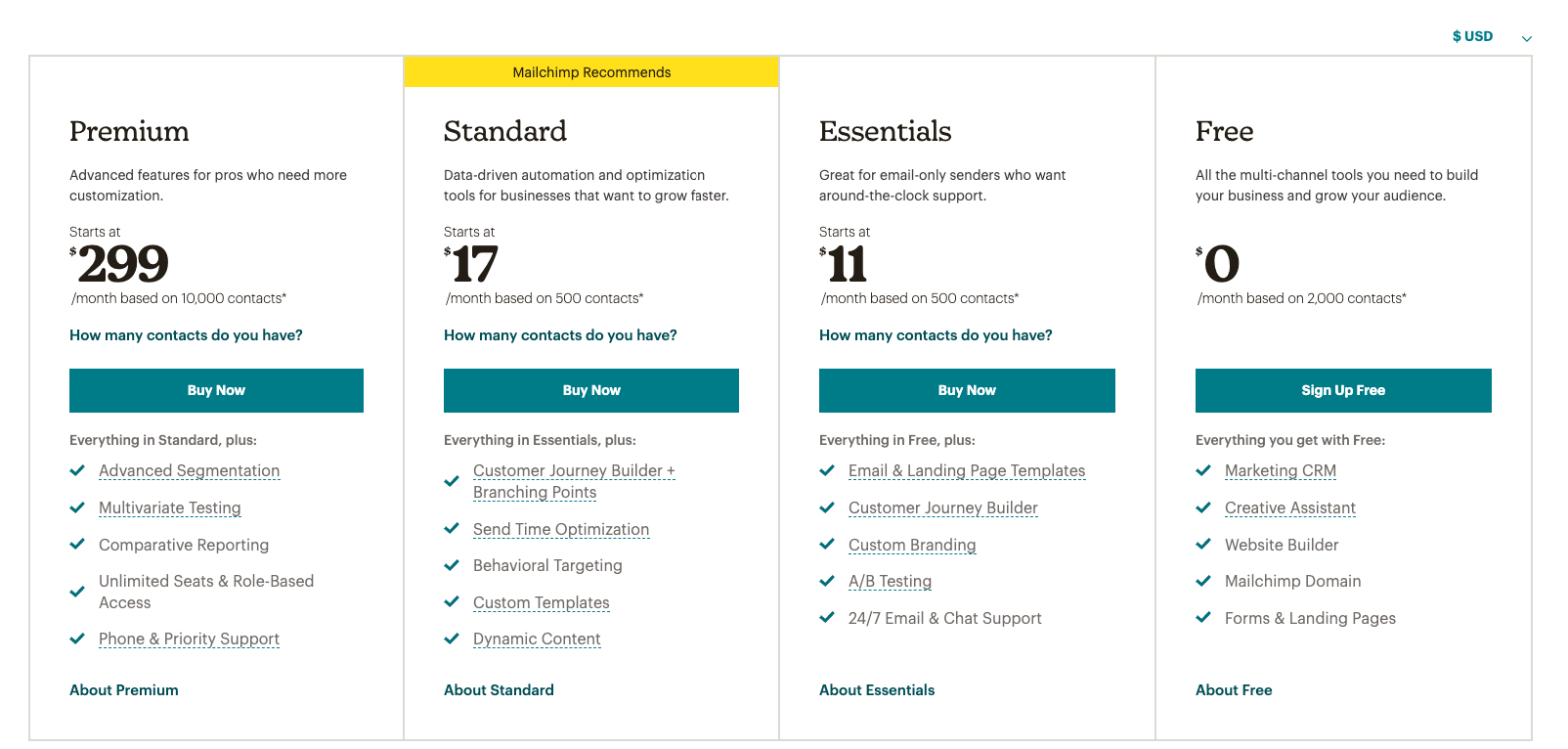 Each plan also has a monthly email sending limit that's a multiple of your contact limit:
Essentials – the sending limit is 10x your subscriber limit. For example, if your subscriber limit is 500, you could send up to 5,000 emails per month.
Standard – it's 12x your subscriber limit.
Premium – it's 15x your subscriber limit.
Fortunately, Mailchimp offers a handy calculator to help you estimate your total cost. For example, you might be paying $11.00 per month to serve 500 contacts. However, a plan with full premium features and up to 200,000 contacts will cost $1,300 per month.
All in all, we favor AWeber for its pricing plans. The company offers simple tiers that grow along with your business. It also doesn't apply any sending limits to the paid plans.
By contrast, if you opt for Mailchimp, you'll have to carefully pick the right pricing plan to get the features you need, while making sure you're not overpaying for the service.
AWeber vs Mailchimp: Which one should you choose?
Choosing a powerful email marketing service can be a crucial decision for your small business. If you're trying to decide between AWeber vs Mailchimp, you may want to take a closer look at the features offered by each company.
Although we highly recommend that you weigh the pros and cons yourself, we do feel that the best choice for most users is Mailchimp. Between its impressive feature set, intuitive editor, and analytics capability, Mailchimp is a smart marketing choice for virtually any small business.
Of course, these two providers aren't your only options. If you want to see some other solutions, check out our roundups of the best free email marketing services and the best cheap email marketing tools. We also have posts that share the best Mailchimp alternatives and the best AWeber alternatives.
Do you have any questions about choosing between AWeber vs Mailchimp? Let us know in the comments section below!
Free guide
5 Essential Tips to Speed Up
Your WordPress Site
Reduce your loading time by even 50-80%
just by following simple tips.