Finding it hard to pick between A2 Hosting vs SiteGround to host your next web project?
In our hands-on comparison, we'll help you pick the host that's best for your needs, budget, and knowledge level.
To accomplish that, we're going to compare these two hosts in five key areas:
For those in a hurry, here's a quick overview of this A2 Hosting vs SiteGround comparison:
SiteGround vs A2 Hosting
A2 Hosting
SiteGround
Price from
$2.99 /mo
$2.99 /mo
Traffic (mo)
Unmetered
10,000 visits (25,000 to 100,000 in higher plans)
Disk space
100GB (Unlimited in higher plans)
10GB (10-40 GB in higher plans)
Free domain
No
No
Email accounts
Unlimited
Unlimited
Site transfers
Free (contact support)
Free using plugin (one free professional migration on higher plans)
Support
24/7 chat, phone, and email support
24/7 ticketing, live chat, and phone callback
SSL certificate
Yes
Yes
No. of sites
1 (unlimited in higher plans)
1 (unlimited in higher plans)
Speed
East Coast, USA
2.14s
1.97s
West Coast, USA
2.67s
2.49s
London
3.85s
1.25s
Paris
2.81s
1.24s
Mumbai, India
4.98s
2.36s
Sydney, Australia
4.56s
3.23s
Now, let's get into the details:
⚙️ Which company offers the best features?
Both SiteGround and A2 Hosting offer a range of hosting packages – from various shared hosting plans and managed WordPress hosting to cloud hosting and dedicated servers.
A2 Hosting
A2 Hosting relies on the best hardware, software, and optimizations to achieve 20x faster speeds. It uses SSD drives for OS, databases, and files and offers specialized WordPress packages (both shared and managed). As far as shared hosting packages go, you can choose from four plans – StartUp, Drive, Turbo Boost, and Turbo Max. The higher plans are a better fit for speed, backup, and caching as they offer LiteSpeed server.
Since we're looking at entry-level plans in this A2 Hosting vs SiteGround comparison, let's see what the StartUp plan has to offer:
High-speed SwiftServer platform (higher-tier plans use the faster LiteSpeed server)
A2 optimized install provides auto-configuration for popular software like WordPress
WordPress auto-installed, or use Softaculous from cPanel
One website (unlimited sites in other plans)
100 GB website storage (unlimited in higher plans)
Automated and free SSL certificate by default
Unmetered bandwidth
Automated backup (only in higher plans)
Pre-configured static caching (only in higher plans)
99.99% uptime commitment and Cloudflare CDN
WP-CLI pre-installed on all accounts (helps you update WordPress/ add plugins from the command line)
Unlimited email accounts
Staging feature included
Free website migration
SiteGround
SiteGround offers three main plans for their shared hosting setups:
StartUp
GrowBig
GoGeek
If you need more than one website, more storage space and monthly visits, advanced caching, and on-demand backups, you should look up the higher plans.
Let's see what's in the StartUp plan:
Pre-installed WordPress, and access to a setup wizard
Free SSL certificate via Let's Encrypt
Automatic WordPress updates
Free automated backup and restore up to 30 days (on-demand backup in higher plans)
Free website migration, free professional migration of one site in higher plans
10 GB website storage (20-40 GB in higher plans)
One website on StartUp plan, unlimited sites in other plans
Integration with the Cloudflare content delivery network (CDN)
Built-in static file caching to make your site load faster. Higher plans also support server-level page caching
WP-CLI pre-installed on all accounts
Unlimited email accounts featuring your website's domain
Staging/restore (on GrowBig and GoGeek)
Analysis
Features-wise, there are differences between the two hosting platforms in the basic plans. SiteGround scores with built-in caching and free backups, though it doesn't offer unlimited visits. However, SiteGround's visit numbers are just estimated visits – it's not a hard cap like at many managed WordPress hosts.
A2 Hosting offers higher storage and unlimited bandwidth, which offers better value for your money.
A final choice would really depend on the exact features you're looking for. For newbies, SiteGround with built-in caching and automatic backups may tilt the scales. A2 Hosting with enhanced storage and bandwidth is a good choice too.
🙋 Is A2 Hosting or SiteGround easier to use?
Both SiteGround and A2 Hosting offer tools to make it easier to manage your websites and hosting.
A2 Hosting
A2 Hosting enables drag-and-drop site building using the A2 site builder. Not only that, the A2 optimized install provides auto-configuration for the most popular software such as WordPress, Drupal, and more.
Moreover, it offers cPanel, which is the familiar hosting management interface that many hosts use: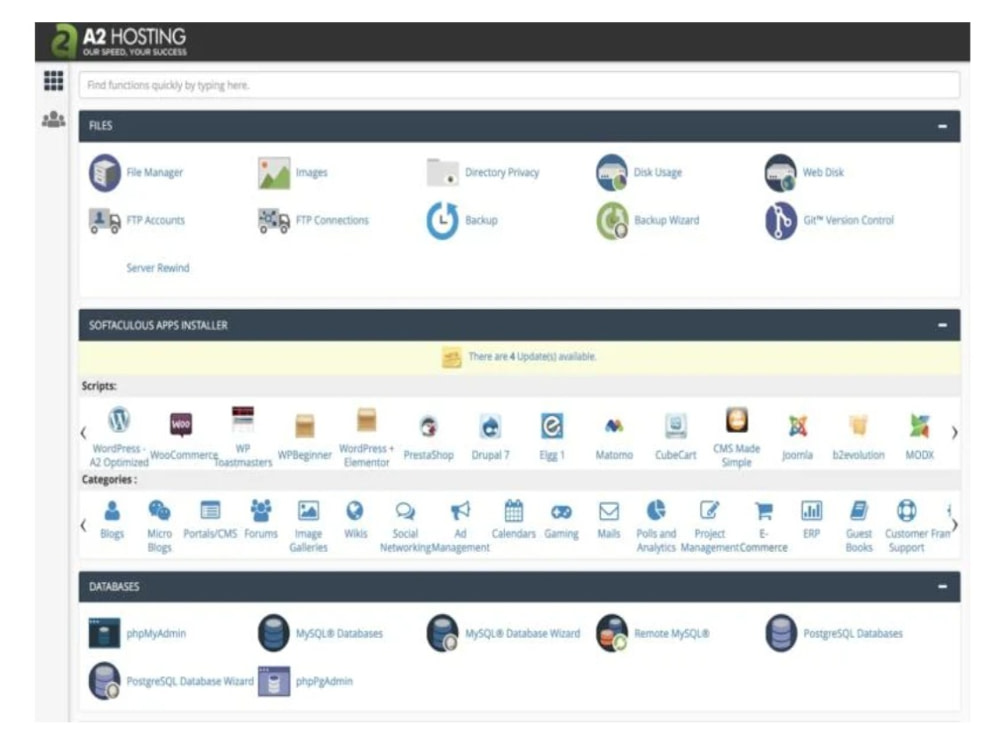 In addition, after logging into cPanel you'll find the Softaculous icon. You can use this to install the web's most popular software to your account with one click. That includes some of the web's most used solutions in various categories like blogs, content management systems, forums, wikis, and more.
Do you have an existing site? Just reach out to support to migrate it for free.
SiteGround
SiteGround doesn't lag behind when it comes to being user-friendly. However, it doesn't offer cPanel, instead offering its own custom Site Tools dashboard.
It offers site builders to start WordPress, Joomla, Drupal, or Weebly websites. Free WordPress installation is included in all plans.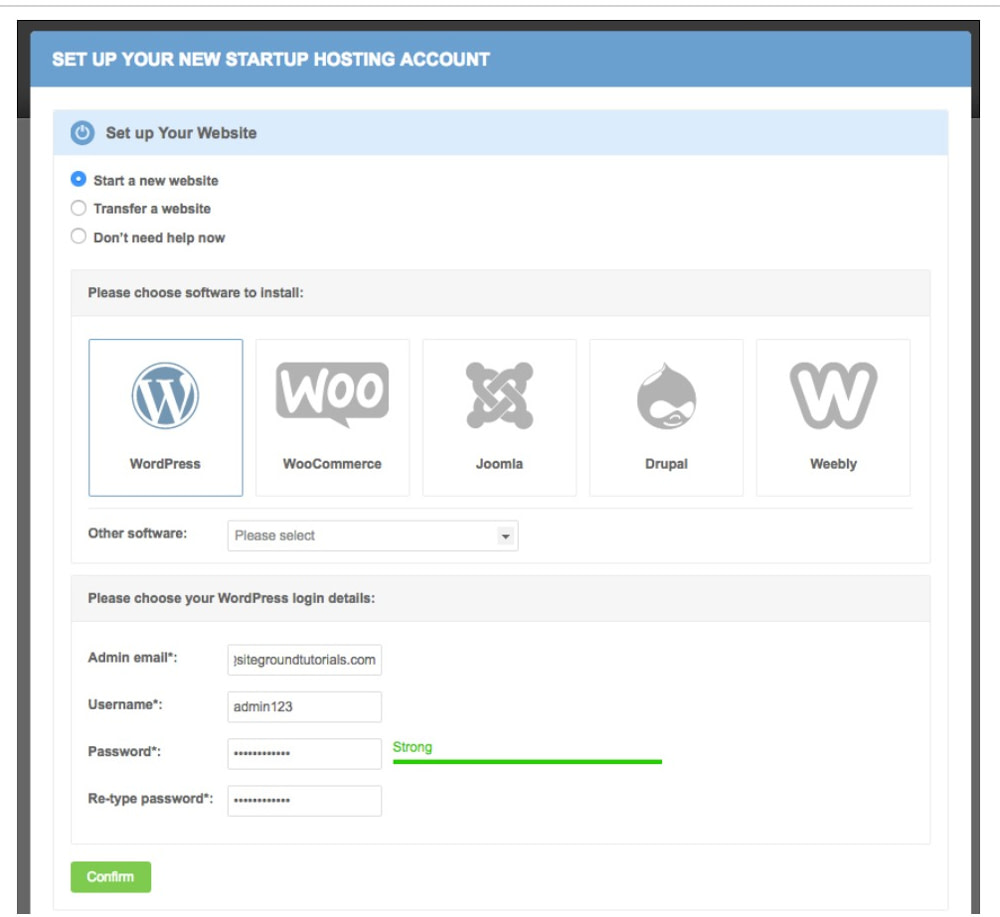 A range of one-click tools is available for common website administration tasks. You can use these tools to upload files to the server, create databases and email accounts, manage domains and DNS zones, and more.
Analysis
Overall, both hosts are user-friendly. If you like cPanel access, that's a big point in A2 Hosting's favor. However, SiteGround's custom Site Tools dashboard is well done, so you'll likely be happy at either.
🏎️ Who wins in A2 Hosting vs SiteGround performance tests?
One thing that you're surely going to check before you choose a host is uptime and loading times. We've made this easy for you by carrying out performance tests from various locations. Here are the results:
A2 Hosting vs SiteGround PERFORMANCE

| Location | A2 Hosting | SiteGround |
| --- | --- | --- |
| East Coast, USA | 2.14s | 1.97s |
| West Coast, USA | 2.67s | 2.49s |
| London | 3.85s | 1.25s |
| Paris | 2.81s | 1.24s |
| Mumbai, India | 4.98s | 2.36s |
| Sydney, Australia | 4.56s | 3.23s |
As you can see, A2 Hosting's speed doesn't really match up to that of SiteGround on the entry-level plans. However, if you upgrade to A2 Hosting's higher-tier LiteSpeed-powered plans, you would get much better performance.
With almost zero downtime, both hosts ensure that their servers are up and available to users constantly. Data from the last three months puts SiteGround at a nearly perfect record and A2 Hosting at full 100%!
A2 Hosting vs SiteGround UPTIME

| | October 2020 | November 2020 | December 2020 |
| --- | --- | --- | --- |
| A2 Hosting | 100% | 100% | 100% |
| SiteGround | 99.99% | 99.99% | 99.92% |
Analysis
SiteGround is the clear winner in this performance test. With A2 Hosting, you may need to opt for the higher packages to get better website speeds.
📞 Does A2 Hosting or SiteGround offer better customer support?
Both A2 Hosting and SiteGround are accessible to users 24/7/365 via chat, email and phone call back.
But to put a number to it, we asked 800+ respondents in previous surveys, to rate hosting services on the basis of overall support quality and WordPress-specific support quality. Here are the results (both scores are out of five):
A2 Hosting vs SiteGround CUSTOMER SUPPORT

| | A2 Hosting | SiteGround |
| --- | --- | --- |
| Overall Support | 3.7 | 4.7 |
| WP-specific support | 3.6 | 4.5 |
The survey results indicate that SiteGround is a clear winner here.
💰 How does A2 Hosting vs SiteGround pricing compare?
A2 Hosting and SiteGround both offer competitive entry-level shared hosting. But the features and benefits vary depending on the plan type and duration. This calls for a careful SiteGround vs A2 Hosting price comparison.
Keeping in line with the common practice in the hosting arena, both companies offer a promotional price for the first billing cycle. Subsequent billing uses standard prices, which increases quite significantly.
We're comparing prices looking at the cheapest options – which means a long-term contract. If you want to sign up for a shorter period, expect to pay more.
A2 Hosting
A2 Hosting PRICING PER MONTH

| | StartUp | Drive | Turbo Boost | Turbo Max |
| --- | --- | --- | --- | --- |
| Monthly Promotional | $2.99 | $5.99 | $6.99 | $12.99 |
| Monthly Standard | $10.99 | $12.99 | $15.99 | $22.09 |
SiteGround
SiteGround PRICING PER MONTH

| | StartUp | GrowBig | GoGeek |
| --- | --- | --- | --- |
| Monthly Promotional | $2.99 | $4.99 | $7.99 |
| Monthly Standard | $14.99 | $24.99 | $39.99 |
Analysis
Both companies are pretty affordable considering what they offer, but we have to give A2 Hosting a slight edge here. They're just a bit cheaper, and that's both in terms of the introductory promo prices and the renewal prices later on.
SiteGround has a 30-day money-back policy. A2 Hosting has a money-back policy, too.
Final thoughts on A2 Hosting vs SiteGround
Overall, A2 Hosting is more suited to budget-conscious webmasters who still want adequate features and performance, while those ready to spend a little more for enhanced performance and support should opt for SiteGround.
To learn more about either host, you can check out our dedicated reviews:
Still have any questions about A2 Hosting vs SiteGround? Ask us in the comments section!
Free guide
5 Essential Tips to Speed Up
Your WordPress Site
Reduce your loading time by even 50-80%
just by following simple tips.