Trying to decide between QuickBooks vs FreshBooks to handle your accounting?
There are tons of cloud-based accounting software solutions, but these two are especially popular among small business owners. That said, when it comes to choosing one of the two options, it becomes more difficult.
To put the topic to rest once and for all, we have compared QuickBooks and FreshBooks from different perspectives, including features, integrations, and pricing.
By the end, you'll be able to pick the tool that's best for your needs and budget.
So without further ado, let's start!
Introduction: QuickBooks vs FreshBooks 🧮
FreshBooks is accounting software with a focus on time tracking and invoicing. This company, founded in 2003, offers solutions that appeal more to entrepreneurs or small teams who want to spend less time managing their accounting.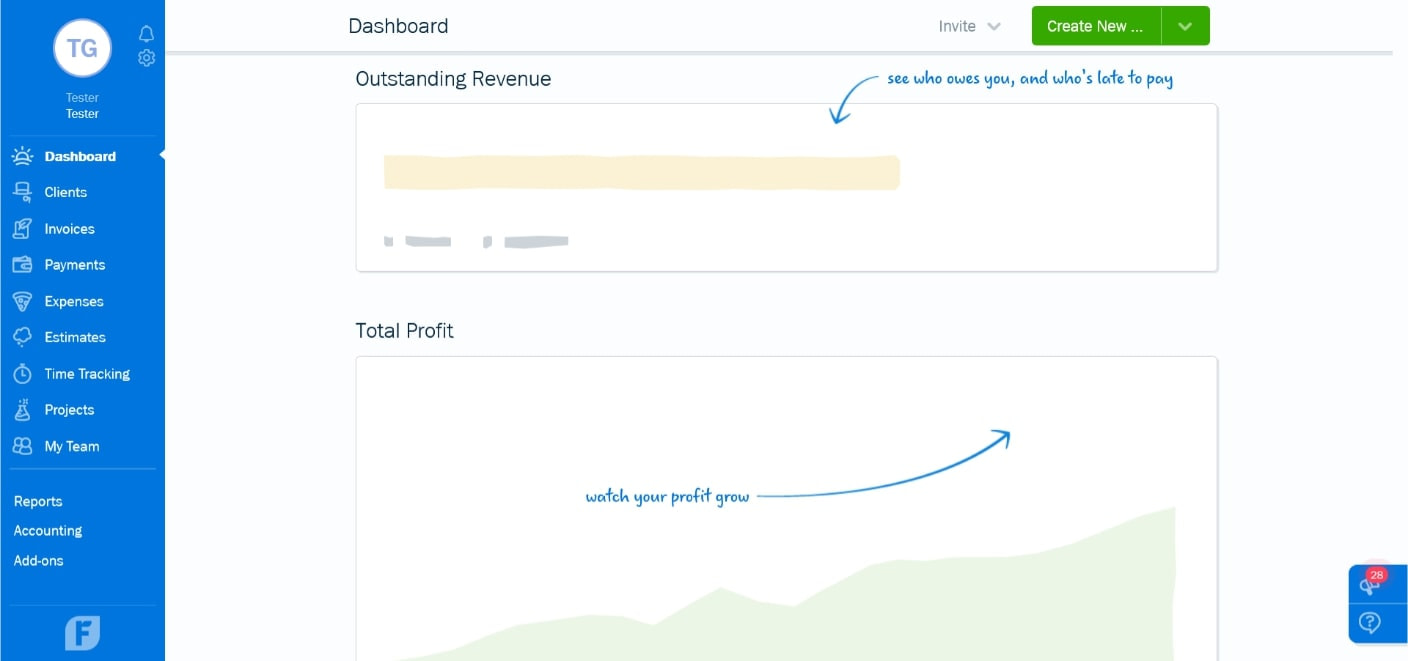 The user interface of FreshBooks is pretty straight-forward and you can get started with zero knowledge regarding software usage.
QuickBooks is a browser-based accounting application with extensive reporting features and pricing modules specifically designed for small-to mid-sized businesses.
It has a more detailed reporting panel and there is a bit of a learning curve.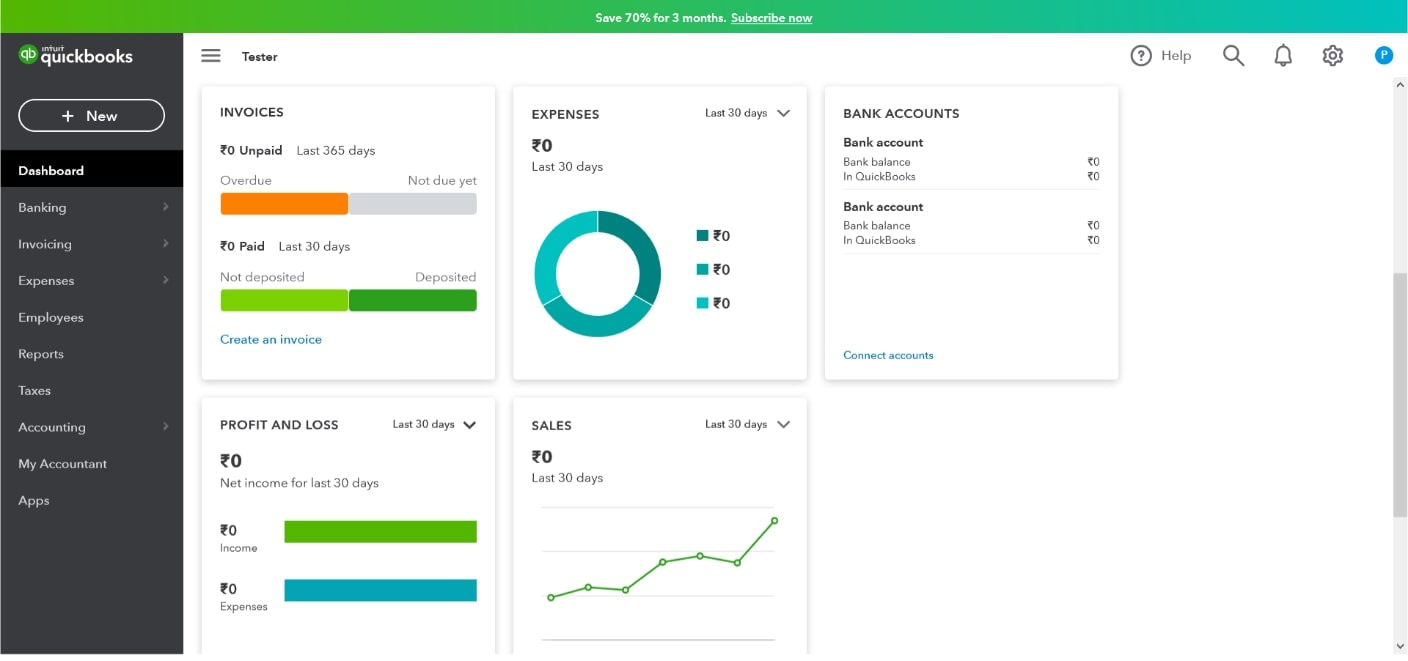 Key features of FreshBooks vs QuickBooks ⚙️
Now that you have an idea of what FreshBooks and QuickBooks are all about, let's dive deeper, and compare the two cloud solutions directly. We'll be considering five specific features:
Accounting
Invoicing
Time tracking
Expense tracking
Integrations
1. Accounting
FreshBooks is geared towards freelancers, and thus most of its features are focused on client billing. On the flip side, the QuickBooks accounting section is more for product billing.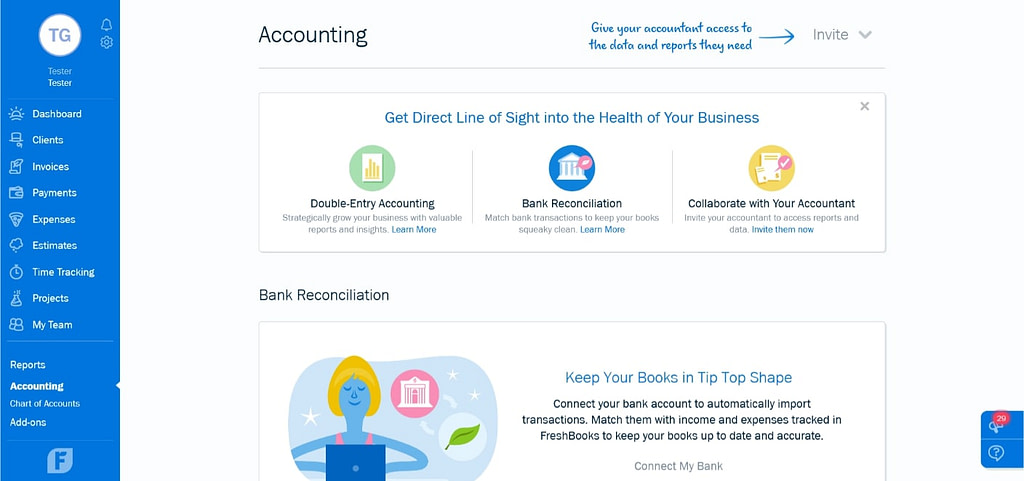 FreshBooks offers double-entry accounting tools for a precise profit and loss report.
Balance sheet
General ledger
Accounts payable
Accountant access
Trial balance
Cost of goods sold
Chart of accounts
Journal entries
QuickBooks offers deeper business insights from an accounting perspective. You can get a detailed cash flow report and make tax preparation easier. The built-in mobile app lets you maximize deductions and stay compliant with tax laws.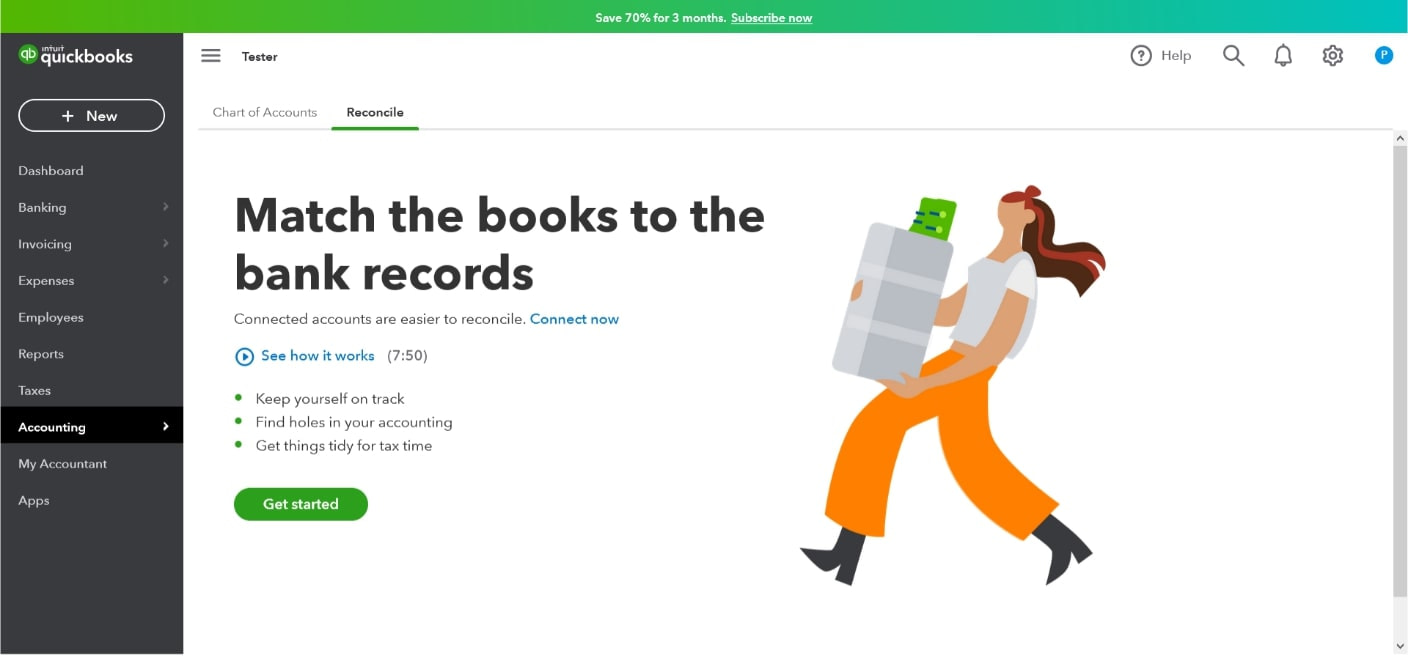 On top of that, there are accounting-specific integrations like inventory management, budgeting, forecasting, vendor billing and crediting, purchase orders, and 1099 reporting, which are otherwise absent in FreshBooks.
2. Invoicing
FreshBooks's invoice functionality offers an invoicing panel with two tabs – "from me" or "to me". This is so you can easily accept or make payments. The first one lets you create custom invoices, send out payment reminders, and accept credit card payments. The second one showcases a bunch of flashcards below the overdue accounts, so you can take a quick look for payments that have cleared.
Talking about the invoice structure, FreshBooks offers a bare-bones design in the trial mode. You can customize fonts and colors or set logos, but for additional features, you need to unlock the premium version.
FreshBooks takes data directly from timekeeping and creates invoices for hours that you marked billable.
QuickBooks, on the other hand, lets you create a more detailed invoice where you can enter the payment method, customer location, and even payment terms (i.e., net 30 – allowing the user to make payment in a 30-day window).
What's notable here is that, unlike FreshBooks, QuickBooks relies on third-party tracking apps like TSheets for recording billable hours and including them on the invoice.
3. Time tracking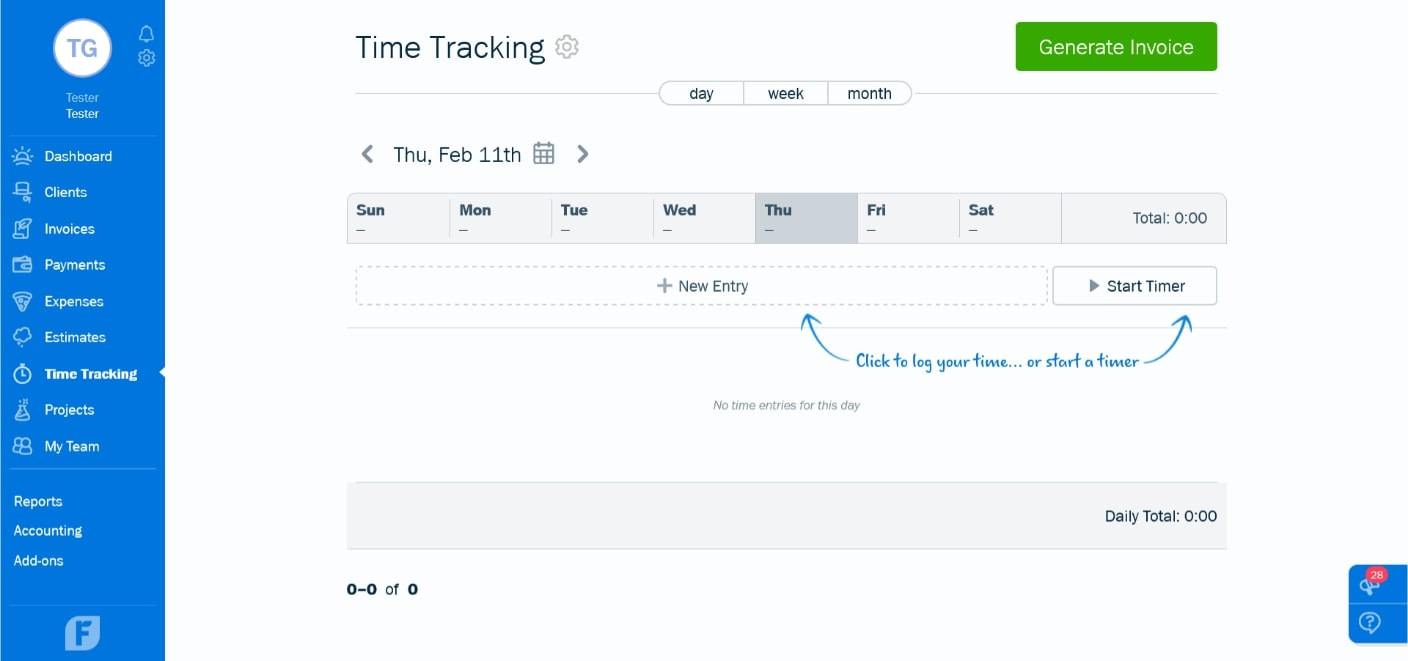 When it comes to tracking time, FreshBooks is definitely better than QuickBooks. FreshBooks offers a built-in system that is both beginner-oriented and accurate. You just have to hit the "start timer " button, and FreshBooks will start recording the time. Once you are done, you can use the generate invoice button, and it will automatically add the hourly data to your invoice.
QuickBooks, on the other hand, doesn't have that feature. However, you can use a QuickBooks app to add this function – TSheets time tracking. It offers additional features like accurate employee timesheets, paper timesheets (real-time work-check), and mobile access.
4. Expense tracking
Both QuickBooks and FreshBooks offer useful features when it comes to expense tracking. The FreshBooks expense feature is excellent for precise client billing. QuickBooks, on the other hand, offers additional supplier and contractor tabs for keeping expenses organized.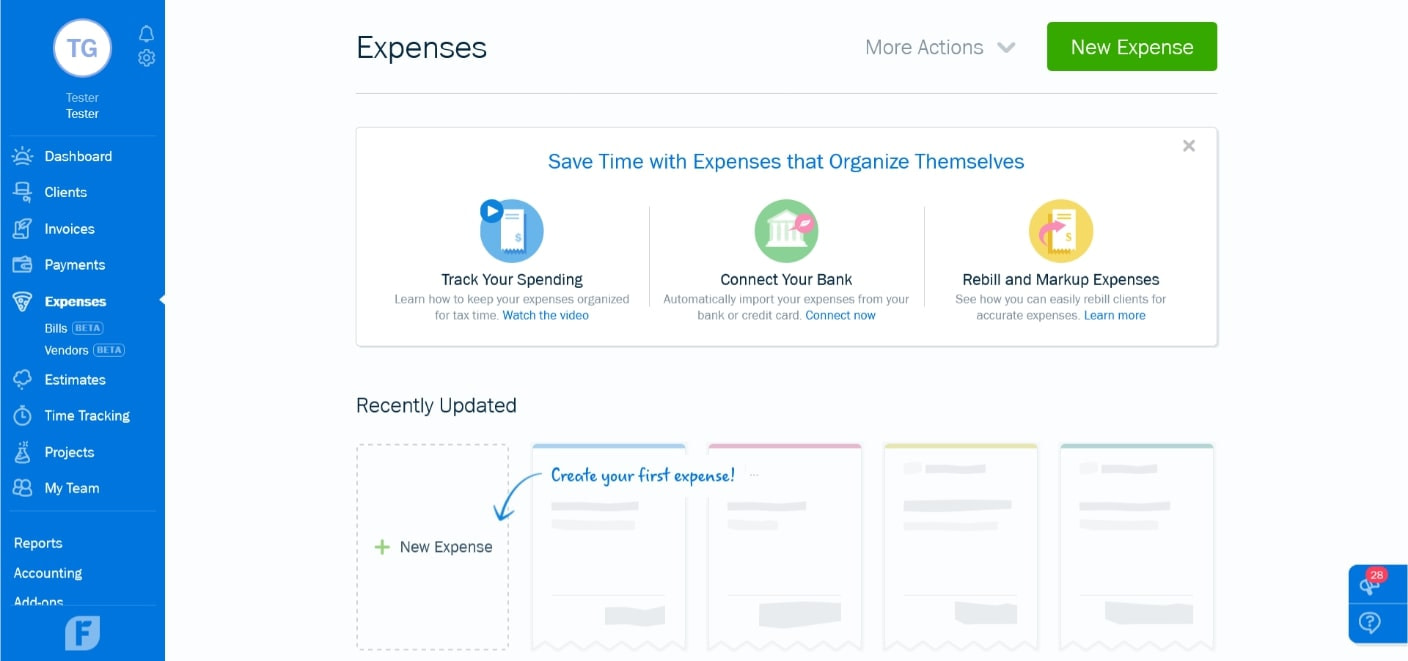 Here's everything you can do with FreshBooks expense tracking:
Connect your bank with your FreshBooks accounts for keeping updated records
Categorize your expenses on FreshBooks for easier tax preparation
Easily bill your clients for additional expenses by adding markups for billable expenses
Get real-time expense tracking data
Use multi-currency expenses for easier calculation
Assign recurring expenses for organized tracking
Quick snap invoice images via the mobile app
Securely store receipts in the cloud and access them from mobile and desktop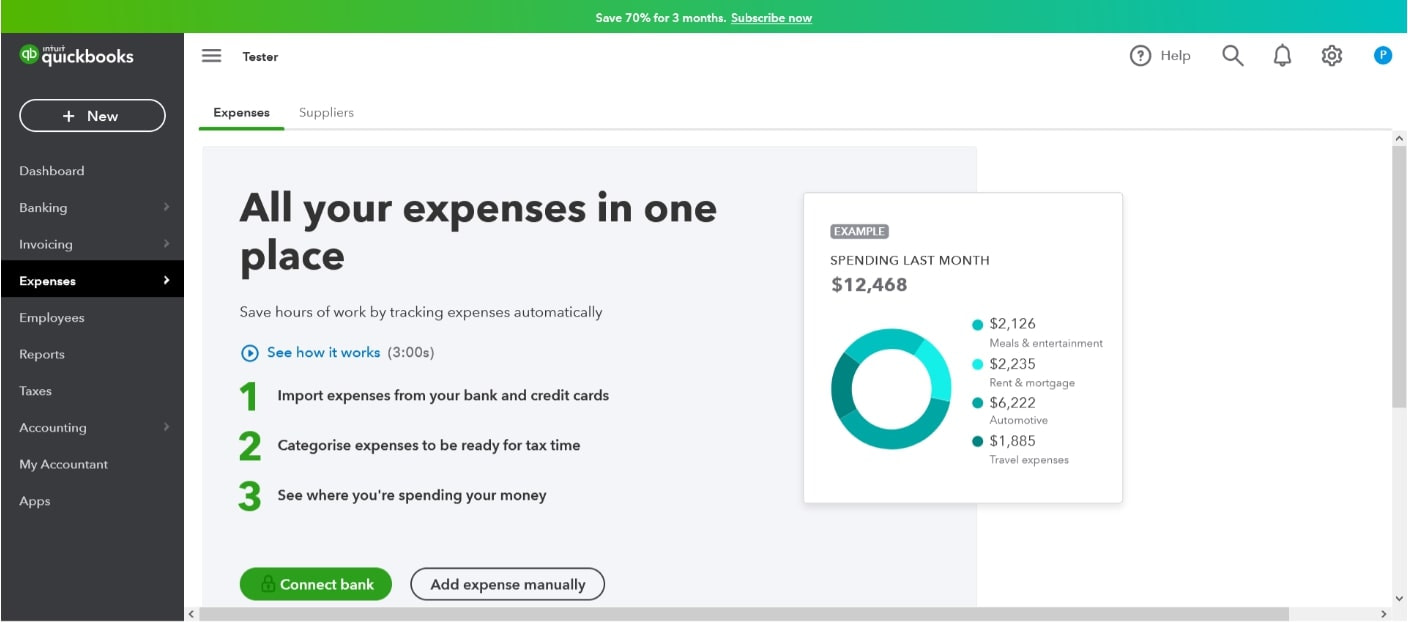 Here's everything you can do with QuickBooks expense tracking:
Link your bank accounts, credit cards, PayPal, Square, and other platforms
Import data from across various accounts and categorize your expenses automatically
Set custom rules for expense categorization
Snap and save photos via the mobile app, and run reports to see how you spend every dollar
Use a built-in cash flow statement for tracking how much money you have
Get valuable insights from powerful finance reports
Easily manage and assign vendor payments to 1099 contractors
5. Integrations
FreshBooks offers more than 70 unique integrations allowing you to use multiple platforms, including Shopify, WooCommerce, Google Workspace (G Suite), Stripe, HubSpot, and a lot more.
However, QuickBooks is way ahead of FreshBooks when it comes to integrations. There are over 650 amazing apps that swiftly integrate with QuickBooks.
Pricing of FreshBooks vs QuickBooks 💸
To finish things out, we'll compare FreshBooks vs QuickBooks pricing so you know how much you'll pay for each tool. In general, FreshBooks is a little cheaper, though it depends on the plan you need.
FreshBooks pricing
FreshBooks offers affordable pricing plans for freelancers and agencies. Their pricing modules vary based on the number of billable clients and additional tracking and reporting features.
Lite – $4.5 per month
Plus – $7.5 per month
Premium – $15 per month
Select – Talk to sales (for 500+ billable clients)
You can get a 10% discount if you pay for a full year upfront instead of using monthly billing.
There are also optional add-ons such as extra team members ($10/person/month), Gusto Payroll (based on Gusto Payroll's pricing), and advanced payments ($20/month).
You can also test it out with a 30-day free trial and FreshBooks also offers a 30-day refund window.
QuickBooks pricing
QuickBooks offers slightly higher pricing. The basic plan is only for a single user, while more advanced features like inventory tracking, profit projection, and time tracking would need higher-tier plans.
Simple Start – $25 per month
Plus – $70 per month
Advanced – $150 per month
In case you want to use QuickBooks as a freelancer, you can choose their Self-Employed plan costing $15 per month.
When you first sign up, you can either take advantage of a 30-day free trial or you can pay right away and get 50% off your first three months (you would need to pay full price after that).
If you want to add payroll, that's an additional fee starting at $45 per month for Payroll Core plus $4 per employee per month. You can also pay a one-time $50 fee for live bookkeeping setup, where a certified bookkeeper will help you set up a tailored QuickBooks experience for your industry.
Should you choose FreshBooks or QuickBooks? 🤔
Both are really amazing and beat most of the competitors.
However, if you are still not sure which one to go with, here's my final verdict on FreshBooks vs. QuickBooks.
FreshBooks is a good choice for freelancers and small-sized businesses who want client-specific features or who have a service-based business model.
QuickBooks is a good choice for small businesses to large companies who want a powerful accounting system for managing inventories, tax preparation, and more. Additionally, if you are not good with tax preparation, you can opt for the QuickBooks Self-Employed plan.
👉 If you want to see even more options for accounting, you can read our detailed comparison of FreshBooks, QuickBooks, Xero, Sprout Invoices, and more.
Do you still have any questions about choosing between QuickBooks vs FreshBooks in 2022 and beyond? Let us know in the comments!
Free guide
5 Essential Tips to Speed Up
Your WordPress Site
Reduce your loading time by even 50-80%
just by following simple tips.
* This post contains affiliate links, which means that if you click on one of the product links and then purchase the product, we'll receive a commission. No worries though, you'll still pay the standard amount so there's no cost on your part.