Trying to choose between Bluehost vs WordPress to launch a website?
Choosing the right platform to launch your website can be a tough decision. Bluehost and WordPress are both popular options for beginners due to their ease of use. However, there are some key differences you should consider before signing up for one or the other.
Both platforms aim their services at first-time website owners, and both can help you create a simple blog or professional site. However, WordPress may not be suitable for all projects, so it's smart to evaluate your needs first.
This article will discuss the differences between Bluehost vs WordPress. We'll look at their features, pricing, and customization options. Let's dive right in!
Understanding Bluehost vs WordPress
When comparing Bluehost vs WordPress, the most crucial distinction to understand is that Bluehost is a web hosting provider, whereas WordPress is a fully hosted content management system (CMS). This means you can publish your content on WordPress.com without having to purchase additional services.
Bluehost, on the other hand, is not a CMS. You'll need to install one such as self-hosted WordPress (WordPress.org) to build your website. Fortunately, Bluehost makes it easy thanks to its one-click installation feature.
It's important to note that WordPress.com and WordPress.org are not identical – WordPress.org is the home of the open-source WordPress software (which requires web hosting like Bluehost to use) and WordPress.com is one specific hosted implementation of the open-source WordPress software. In this comparison of Bluehost vs WordPress, we're looking into what WordPress.com has to offer.
Bluehost vs WordPress: Four key differences
It's possible to create a successful website using either Bluehost and self-hosted WordPress, or WordPress. However, there are some limitations you should know about. Let's take a look!
1. Features
Bluehost is a beginner-friendly provider that offers a range of shared, virtual private server (VPS), and dedicated hosting services. Shared hosting is often sufficient for simple websites or blogs that don't anticipate a lot of traffic. However, you can easily upgrade to a more advanced plan if your circumstances change: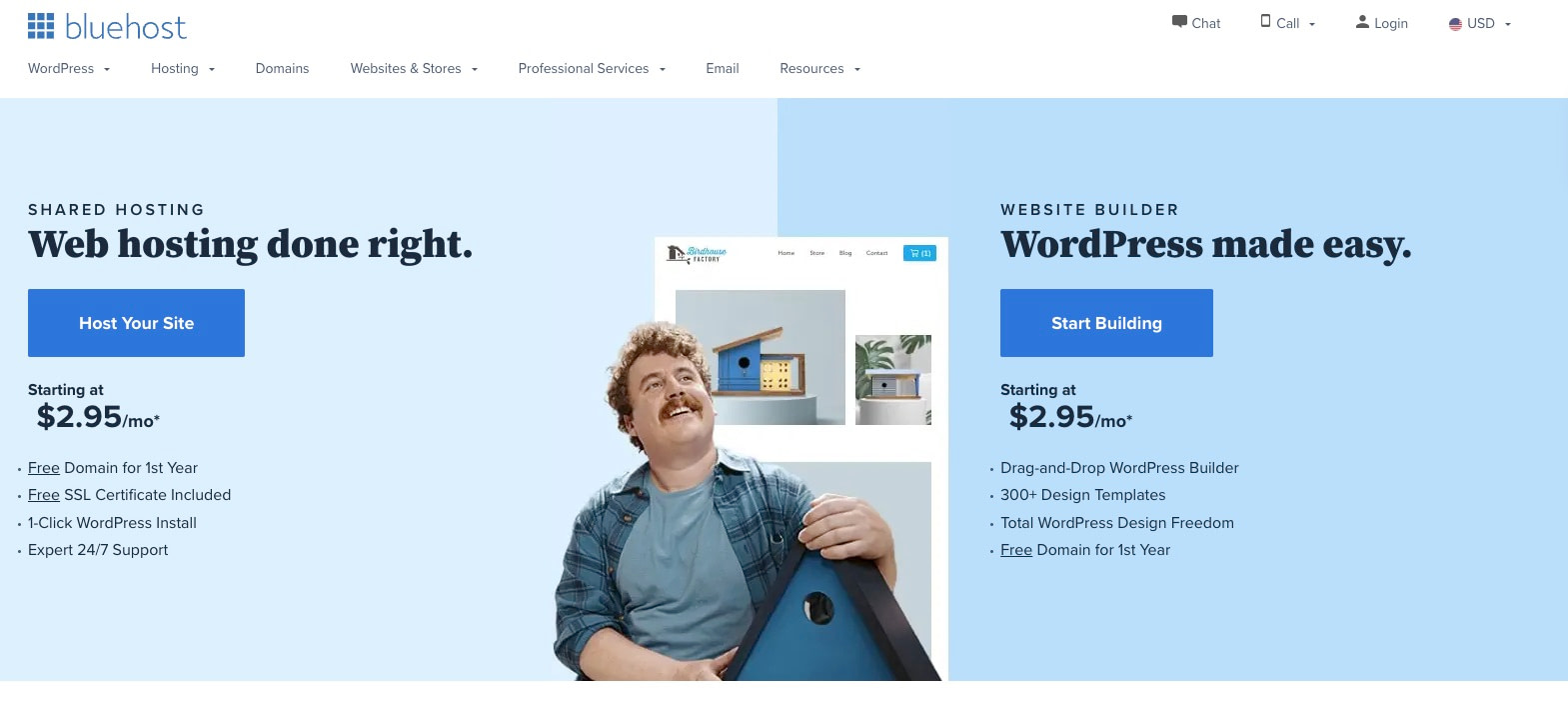 Bluehost's shared hosting plans include the following features:
Free SSL certificates
Unmetered bandwidth
Unlimited storage (except for the Basic plan)
Free domain registration for the first year
One-click WordPress installation
Email hosting included
Automatic WordPress updates
Access to free and premium WordPress themes
24/7 customer support
Marketing credits towards ads
In total, you can choose from 16 different hosting plans aimed at different users and their specific server requirements.
On the other hand, WordPress.com offers a free plan and four paid plans:
Personal
Premium
Business
eCommerce
The options are much simpler than Bluehost's. However, you have less control over your website's hosting, and the features are often limited: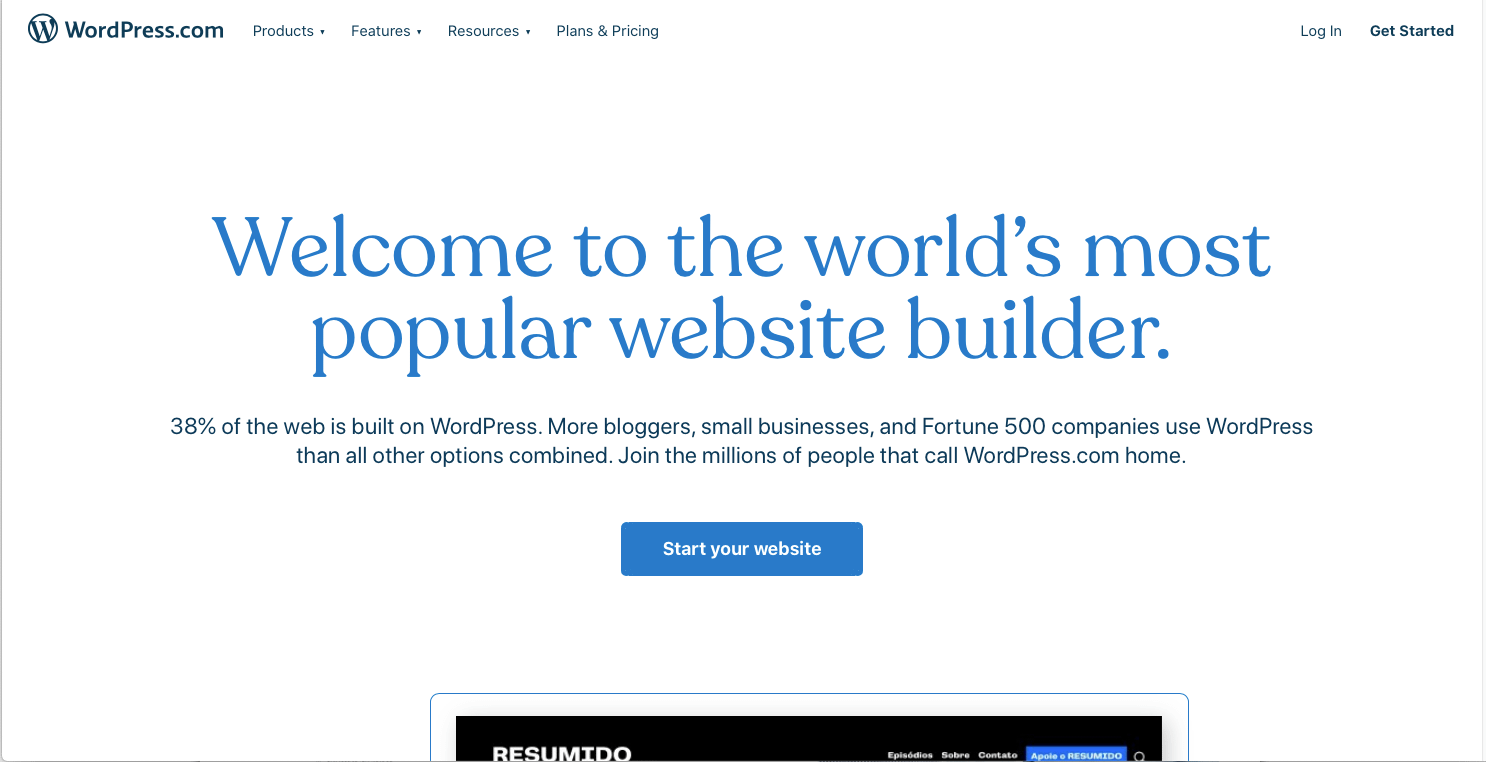 With WordPress.com, you get:
Free SSL certificates
Limited storage, ranging between 3 GB (free plan) and 200 GB (eCommerce plan)
Essential Jetpack plugin features
Free domain with advanced plans
Limited customer support
Access to free themes only, unless you opt for higher plans
WordPress.com also has a free version, which gives you free SSL certificates, essential Jetpack features, and free themes. However, once your website takes off, you'll likely need to invest in a more pricy plan in order to gain access to key personalization options.
2. Personalization
It's smart to consider the level of customization available to you on each platform. If you're trying to build a professional online presence, it's important to have complete control over your branding.
This is where WordPress.com's free plan starts to look less appealing. With this solution, your website's domain will be at WordPress.com (e.g., example.wordpress.com). Your pages will also feature WordPress ads that you cannot remove or earn money from. This may not leave a positive impression with visitors.
You can set up a custom domain for your WordPress.com site and remove advertising by opting for the cheapest Personal plan. However, you're still stuck with free themes and standard widgets, which may not offer much flexibility. To remove all WordPress.com branding and install your own WordPress plugins and themes, you'll need to upgrade to the much more expensive Business package.
On the other hand, installing open-source WordPress software on any Bluehost plan will give you access to the platform's unlimited features. This means you'll be free to add any plugin or theme to your site, including premium extensions built by third-party developers.
Plus, Bluehost comes with a custom domain from the get-go. You can even set up a professional email address, which you can use with Gmail or other popular services such as Office 365. You never have to worry about irrelevant ads on your website, and if you do choose to incorporate them, you'll generate revenue from them.
Basically – if you want to get the same level of personalization as Bluehost's cheapest plan on WordPress.com, you'll need to pay for at least the $300 per year WordPress.com Business plan.
3. Monetization
If you want to monetize your blog, WordPress.com comes with tools out of the box. For instance, the Personal plan enables you to create subscriber-only gated content and accept payments through your website with just a few clicks. With Bluehost, you'd need to build a membership site yourself, which is less straightforward.
Similarly, the WordPress.com eCommerce plan is geared specifically towards those who want to open online stores. While you can accomplish a similar outcome with self-hosted WordPress, Bluehost, and WooCommerce, you'll have to do a lot of your own configuration and admin work.
More advanced WordPress.com plans also let you generate income with ads. Plus, you get access to marketing tools such as an email newsletter, social media content scheduling, and Google Analytics.
You can set up all these features on your self-hosted website as well. However, you'll likely need to install several plugins and figure out the technical details yourself. In other words, WordPress vs Bluehost's monetization options are the same – it's just the level of effort involved that changes between the two platforms.
4. Pricing
If you don't mind a generic domain and limited features, you can use WordPress.com for free. Otherwise, the costs are:
Personal: $4 per month
Premium: $8 per month
Business: $25 per month
eCommerce: $45 per month
To launch a professional website, you'll need to consider the Premium plan or higher. It gives you 13 GB of storage, monetization tools, and some customization options.
And again, if you want to be able to install your own plugins and themes (like you can on any Bluehost plan), you'll need to pay for at least the WordPress.com Business plan.
To compare, here's an overview of Bluehost's shared hosting plans:
Basic: from $2.75 per month
Plus and Choice Plus: from $5.45 per month
Pro: from $13.95 per month
The Plus plan gives you unlimited storage and extra spam protection. You'll also be able to access the entire library of WordPress plugins and themes, many of which are free and enable you to achieve similar effects to the features provided by WordPress.com. This makes Bluehost a much better value for your money.
Bluehost vs WordPress: Which is better for your website?
When deciding between Bluehost vs WordPress, it's important to consider your goals. For instance, if you're primarily looking for a no-frills blogging platform, WordPress.com might be the better choice.
It's easy to set up, and you won't need much technical knowledge to use it. It comes equipped with blog-friendly tools out of the box, such as social sharing buttons and monetization options. It's also fully hosted, so you can start using it immediately.
On the other hand, if you're serious about your website and want to have full control over every aspect of it, you should definitely opt for Bluehost. Even the cheapest plan will let you create a professional site with your custom branding. At only $2.75 per month, it's a real bargain.
You'll be able to access the complete set of WordPress features, which gives you flexibility and near limitless options. You can also install another CMS if you prefer. Plus, you can scale your hosting package as your website grows, which is essential for optimal site performance.
Conclusion
Finding the right platform for your website is often challenging. Many first-time users consider Bluehost or WordPress due to their beginner-friendly features. However, there are key drawbacks to both platforms that you'll need to consider before committing.
In this article, we've discussed the main differences between Bluehost vs WordPress:
Use WordPress.com if you want a free blog without the hassle of web hosting, or if you don't mind paying extra for additional features.
Use Bluehost if you want to create a budget-friendly professional website with custom branding, flexible web hosting, and complete WordPress features.
Do you have any questions about Bluehost vs WordPress? Let us know in the comments section below!
Free guide
5 Essential Tips to Speed Up
Your WordPress Site
Reduce your loading time by even 50-80%
just by following simple tips.
* This post contains affiliate links, which means that if you click on one of the product links and then purchase the product, we'll receive a commission. No worries though, you'll still pay the standard amount so there's no cost on your part.