Trying to choose between Constant Contact vs Mailchimp for email marketing?
Both of these platforms are extremely popular and offer unique sets of options. The tool you use will affect which features you have access to, how easy it is to integrate your email marketing campaigns with your website, and a lot more. So how should you decide between them?
In this post, we'll help you answer that question.
Let's take a closer look at these two top email marketing solutions and see how they compare!
🧰 Features – what you get from Constant Contact vs Mailchimp
First, you'll need to know what features you're looking for and which platform provides them. That includes both basic functionalities that all email marketing platform should offer, as well as more advanced options.
There are plenty of features that Constant Contact and Mailchimp have in common. Both solutions offer:
The ability to build an email list and send out messages
Customizable templates for designing emails quickly
Options for segmenting your list to target specific audiences
Analytics reports to let you know how your emails are performing
Tools for creating landing pages, ads, social media posts, and forms
Access to a calendar for tracking your campaigns
A variety of support channels
Of course, both platforms have some unique options as well. However, Constant Contact's basic plan offers a fairly stripped-down set of features. It enables you to get started with basics such as creating emails, managing your contact list, and exploring templates right off the bat: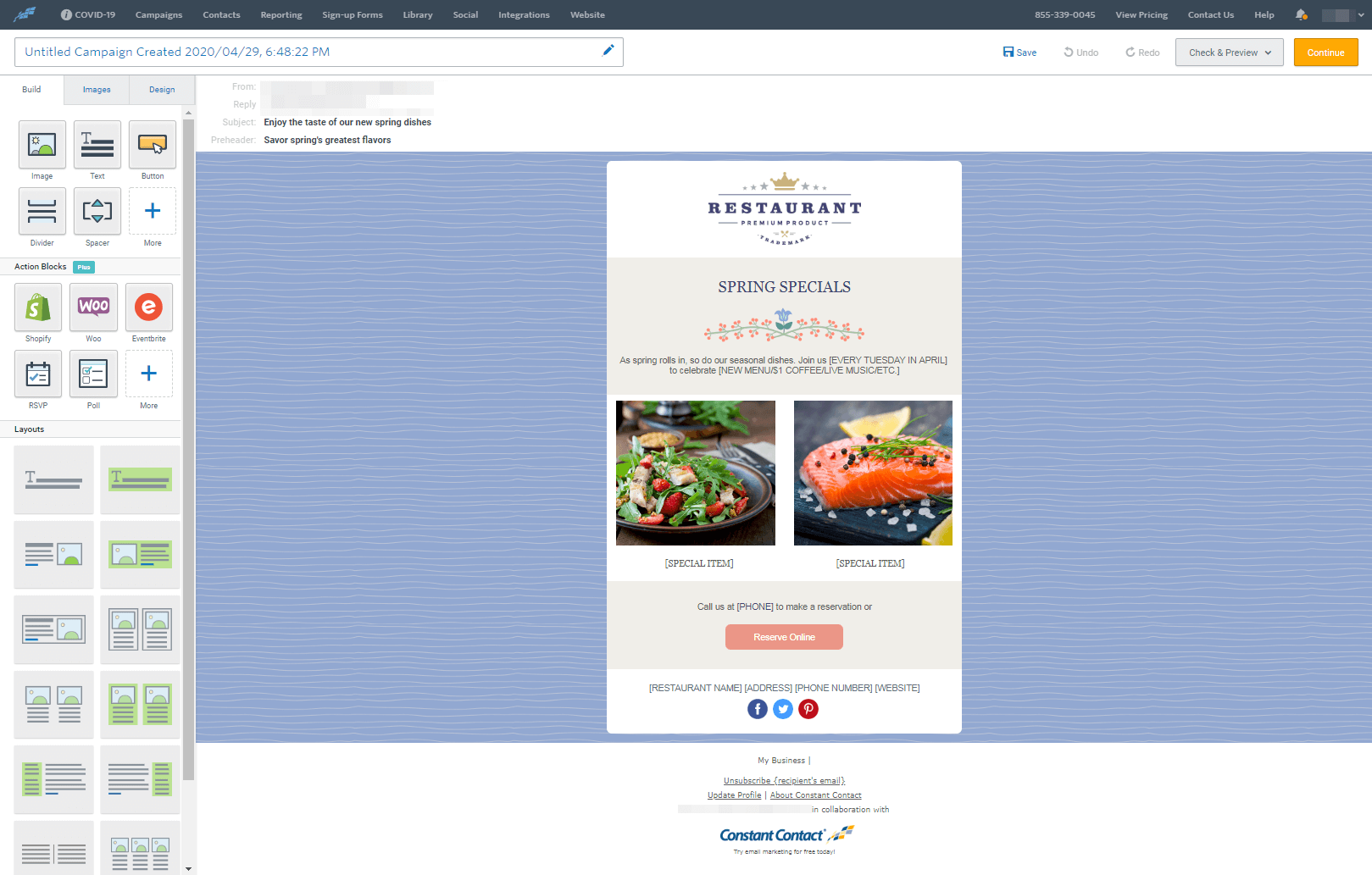 The main area where Constant Contact has more to offer (again, on the basic plan) is when it comes to eCommerce. Both platforms provide a simple website builder, but Constant Contact also offers options for easily creating an online store, along with various eCommerce marketing tools: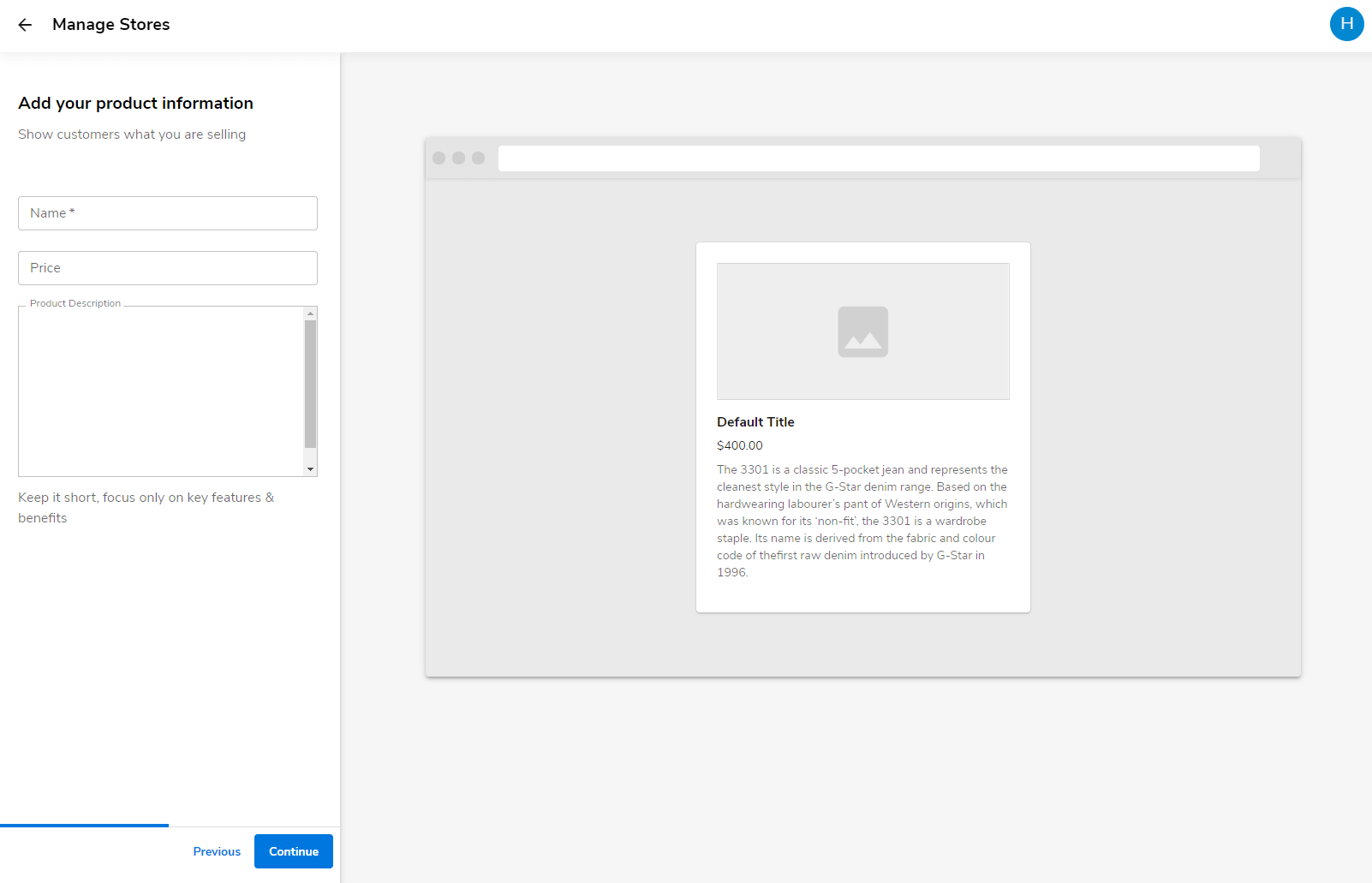 On higher-tier plans, you'll also gain access to automation functionality, tools for building surveys, polls, ads, and coupons, event marketing features, and even A/B testing.
Mailchimp's basic plan is a little more robust. You'll immediately have access to both automation options and behavioral targeting features: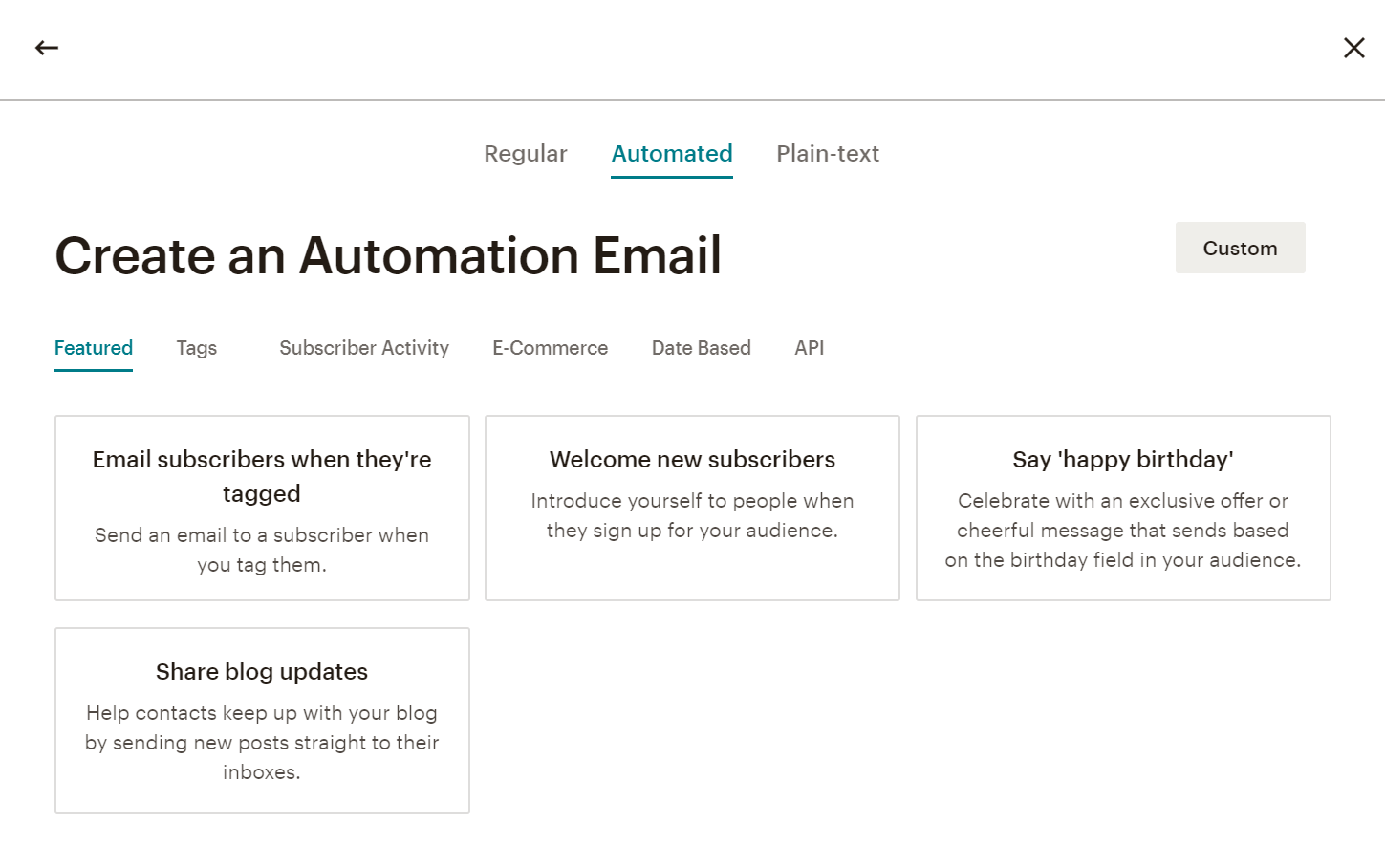 This platform also offers domain services. You can connect up an existing domain, or create both branded and custom domains: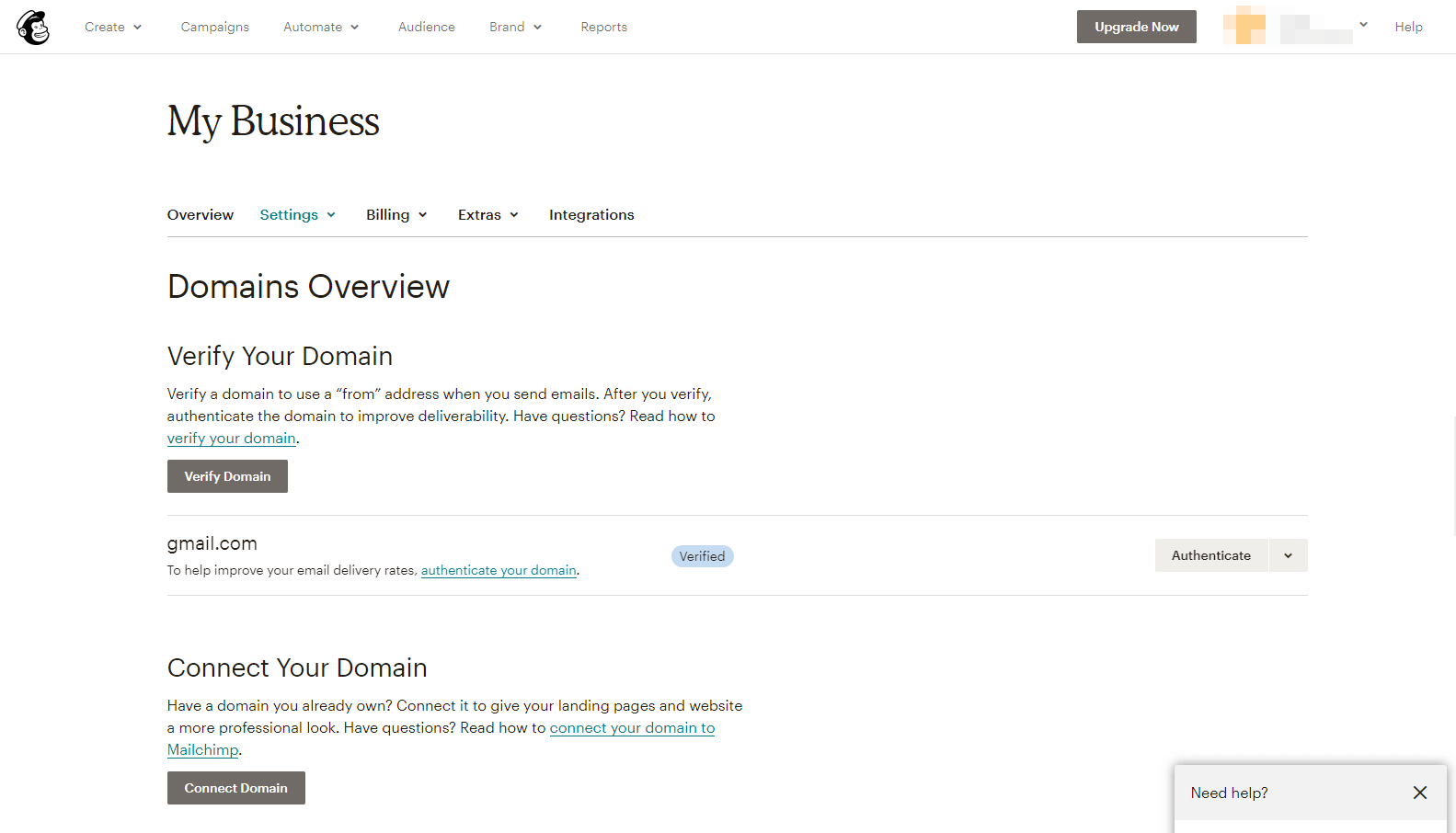 You can also easily put together surveys and conduct A/B testing. On higher-tier plans, you'll also get audience finder tools, custom-coded templates, and additional automation and analytics options.
All-in-all, both platforms offer more options than you're likely to need. Their feature sets also go well beyond just email marketing.
If you look at the highest-tier plans, you can get just about any functionality you require from either platform. However, Mailchimp offers a larger set of features on its lower-tier plans, while the chief selling point for Constant Contact's starter plan is its eCommerce capabilities.
💸 Pricing
Of course, when choosing between Constant Contact vs Mailchimp, you'll also need to consider both platforms' pricing structures. Constant Contact keeps things simple, offering just two plans.
As we mentioned earlier, the starter $9.99 per month plan is a little stripped down. Notably, it doesn't provide access to most of the platform's automation functionality. On the other hand, the $45 per month plan gives you access to everything Constant Contact has to offer (outside of its website builder).
However, these figures only represent the minimum pricing for these two plans, and allow for up to 500 contacts. Fees scale upwards depending on how many contacts you're managing. If you have between 500 and 2,500 contacts, for example, you'll pay $45 for the Email plan and $70 for the Email Plus plan.
Also important to note is that Constant Contact does not have a free tier. However, it does provide a 60-day free trial, which includes most of the platform's primary features.
Mailchimp's pricing is a little more complex: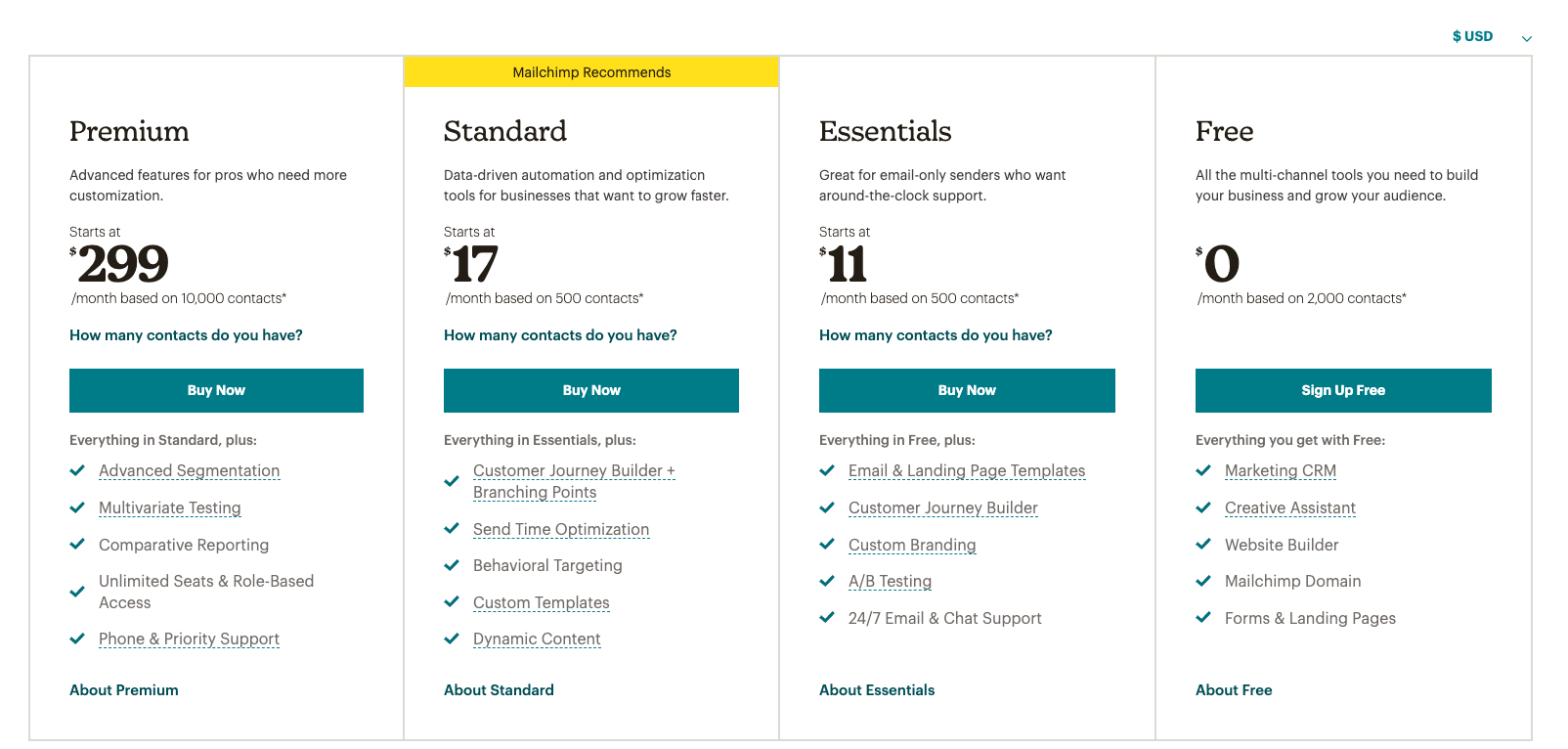 First and foremost, there's a free plan that gives you access to a lot of basic features. Beyond that, there are three plans with different advanced options.
Again, pricing is actually dependent on how many contacts you need to manage. At the cheapest level, you can get a plan with a maximum of 500 contacts for $11.00 per month. This scales all the way up to 50,000 contacts for $299 per month on the highest-tier plan (with custom plans available as well).
All of this complexity makes comparing the pricing for these two platforms a little tricky. However, in terms of value per dollar, Mailchimp does come out the winner. Its plans are far more scalable, and you get more features for a lower monthly cost. For example, you'll pay $34 per month for the Essentials plan with up to 2,500 contacts. Constant Contact's (roughly) equivalent plan is $45 per month.
It's also worth pointing up that Mailchimp is much more upfront about its pricing. You can easily see exactly how much your plan will cost right from the Pricing page. Constant Contact doesn't make it easy to find out how much a plan will really cost – you'll have to either enter billing information or contact support to get those details.
🎨 Design and email templates
Next, let's look more closely at a few of Constant Contact vs Mailchimp's key features. For instance, it's important to know what they offer in terms of templates and customization options. You'll want your email marketing campaigns to look their best and mesh nicely with your branding while still being easy to create.
First up, Constant Contact offers a wide variety of templates: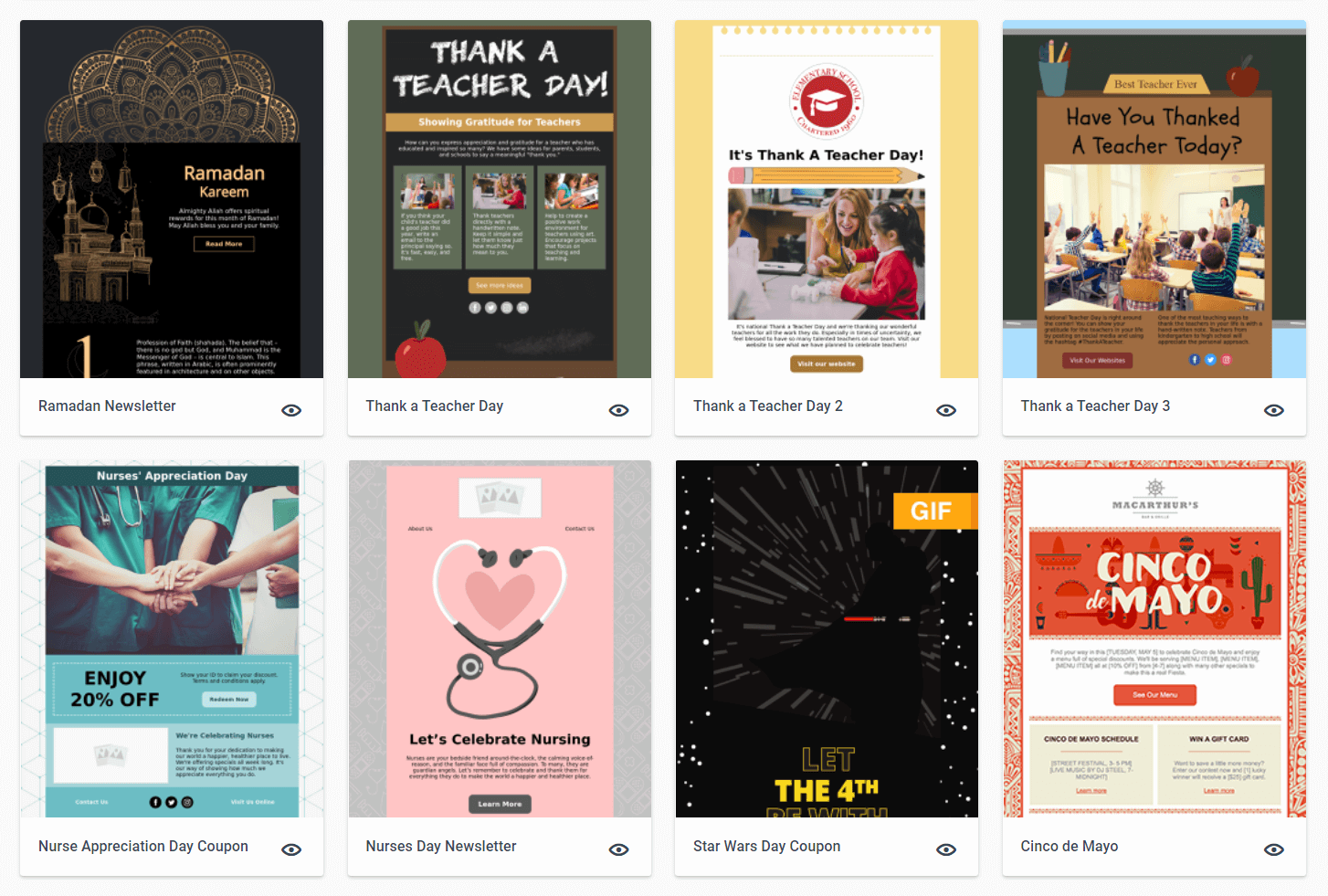 There are a few very simple options, along with dozens of templates with varying designs and layouts. Some are geared towards specific niches or use cases (such as fundraisers or birthday emails), while others are more general.
Mailchimp also offers a lot of template options. If you want something basic, there are a variety of layout choices, along with a few simple templates designed for specific use cases (such as announcements and follow-ups):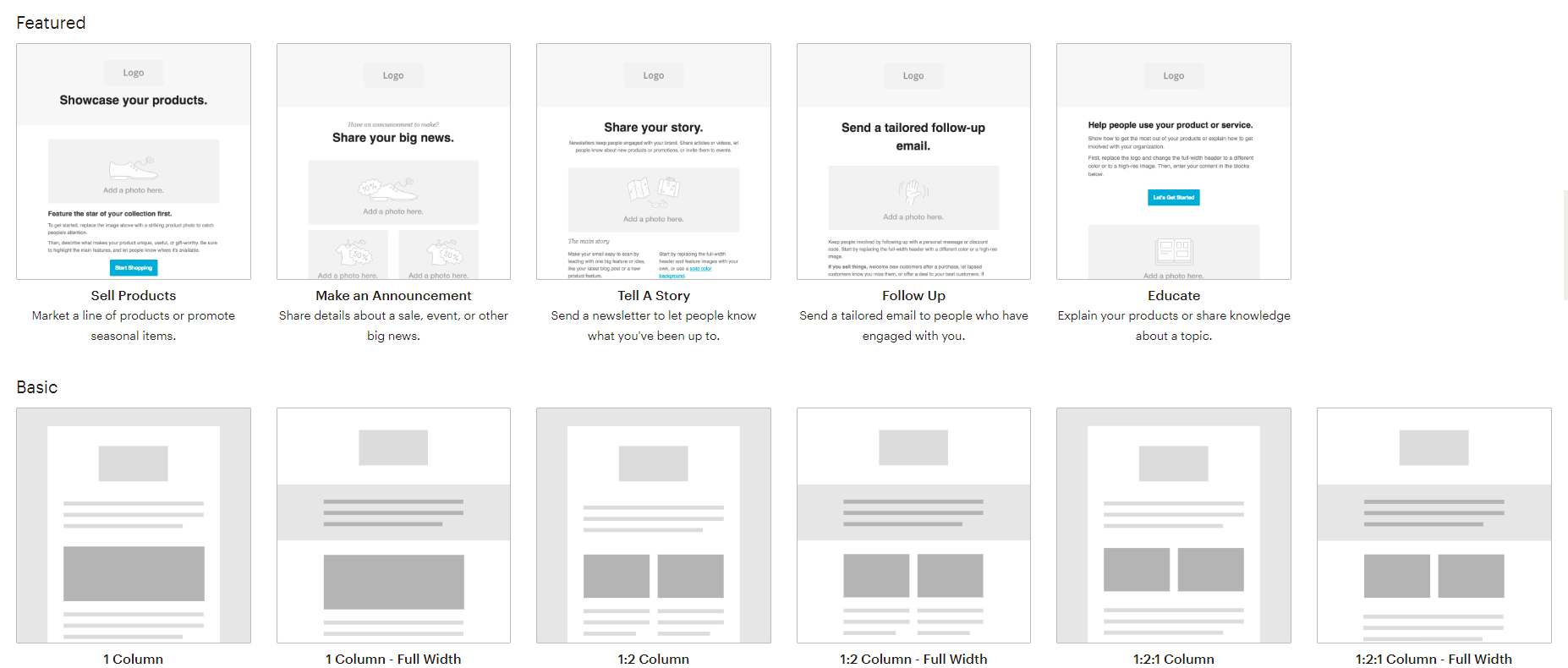 However, there's also a wide selection of 'themes', which are more robustly-designed templates akin to Constant Contact's: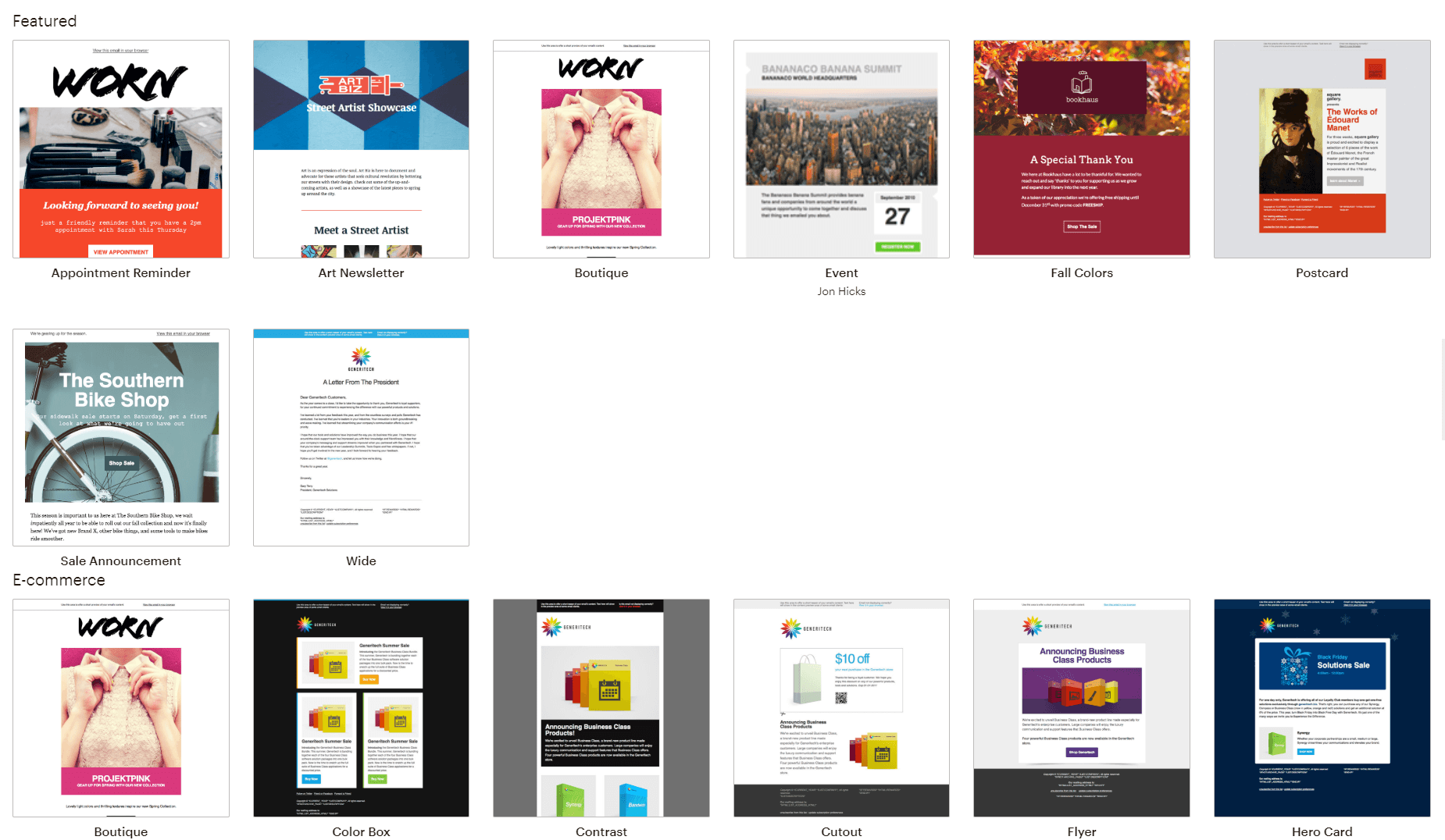 Again, no matter what niche you're working in or type of email you'd like to create, you're likely to find something appropriate here.
👐 Ease of use
It also matters what it feels like to actually use Constant Contact vs Mailchimp. Both offer custom dashboards, each with a unique workflow.
The Constant Contact dashboard is simple and straightforward, making it easy to navigate. You can jump right into creating a new email, for example, and start picking out a template in a single step: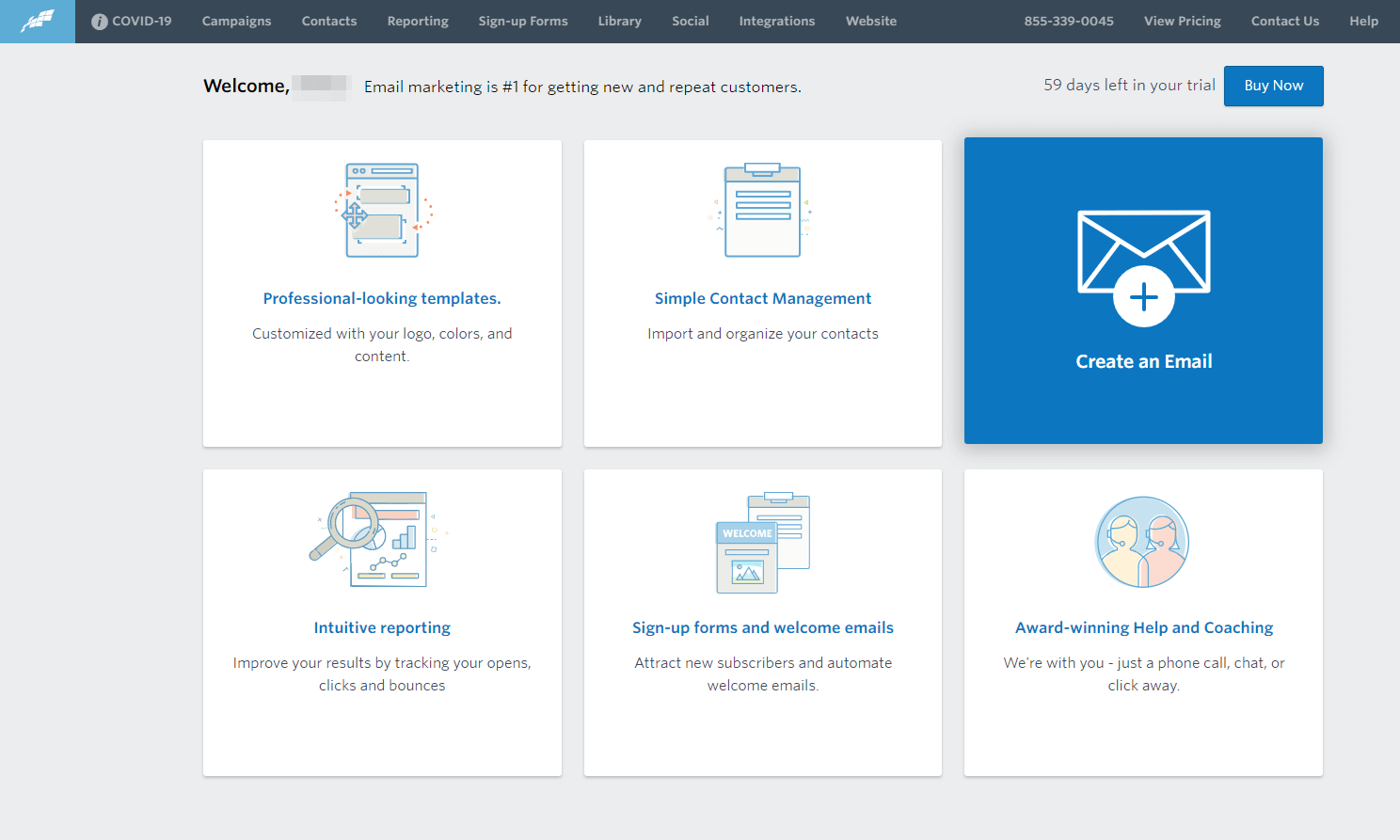 There are quick links on the dashboard homepage to the most basic functionality, such as analytics and form-building. The menu at the top offers access to more advanced features. It's not the prettiest dashboard in the world, but it's easy to understand.
Mailchimp's dashboard is more heavily designed: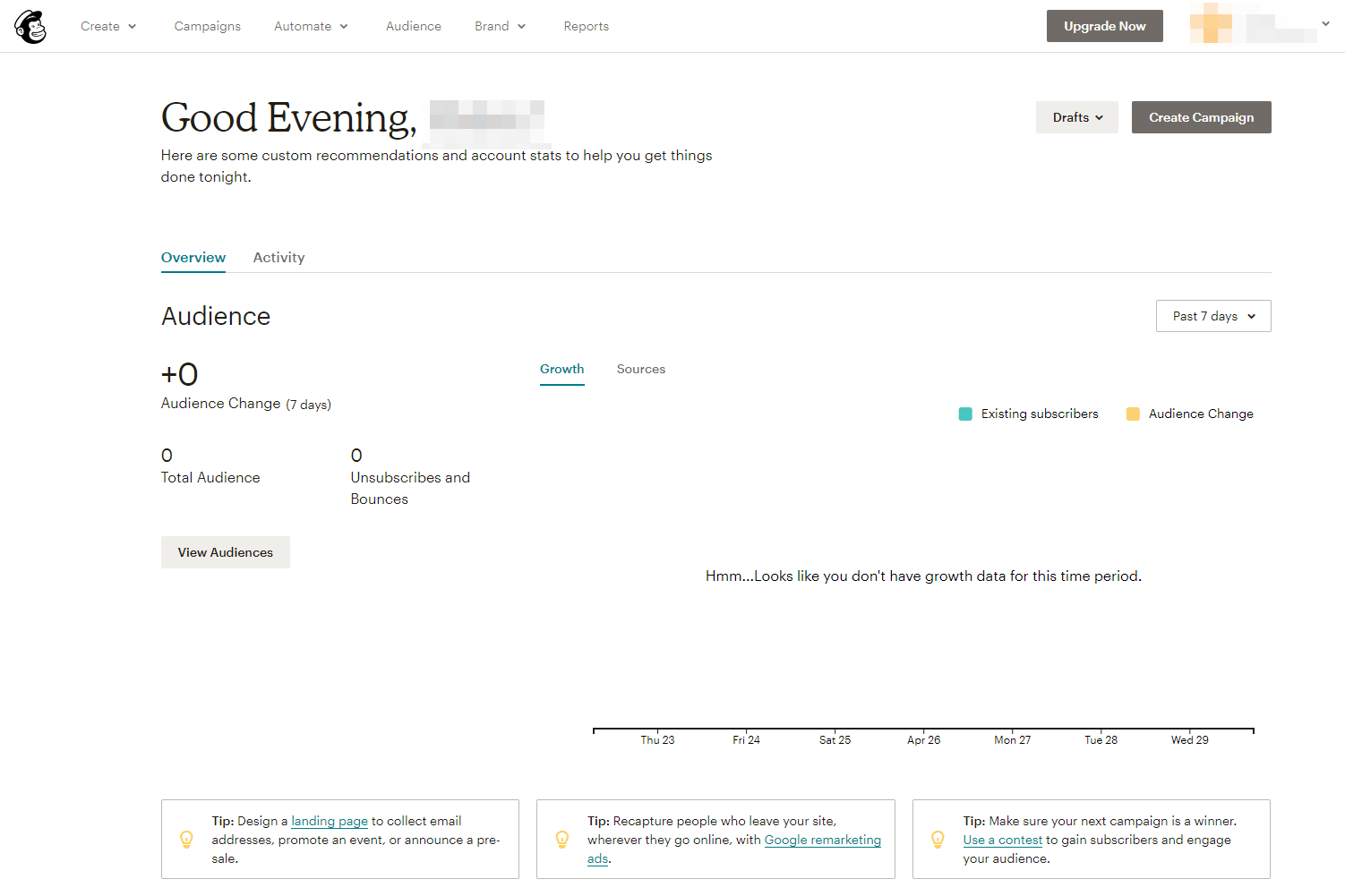 It's still easy enough to parse, but it does sacrifice some ease of use. It doesn't have as many handy links on the front page – instead, you'll see a snapshot of some key analytics. The menu along the top leads you to most of the platform's features.
Meanwhile, hitting Create Campaign lets you choose whether you want to design an email or another type of content: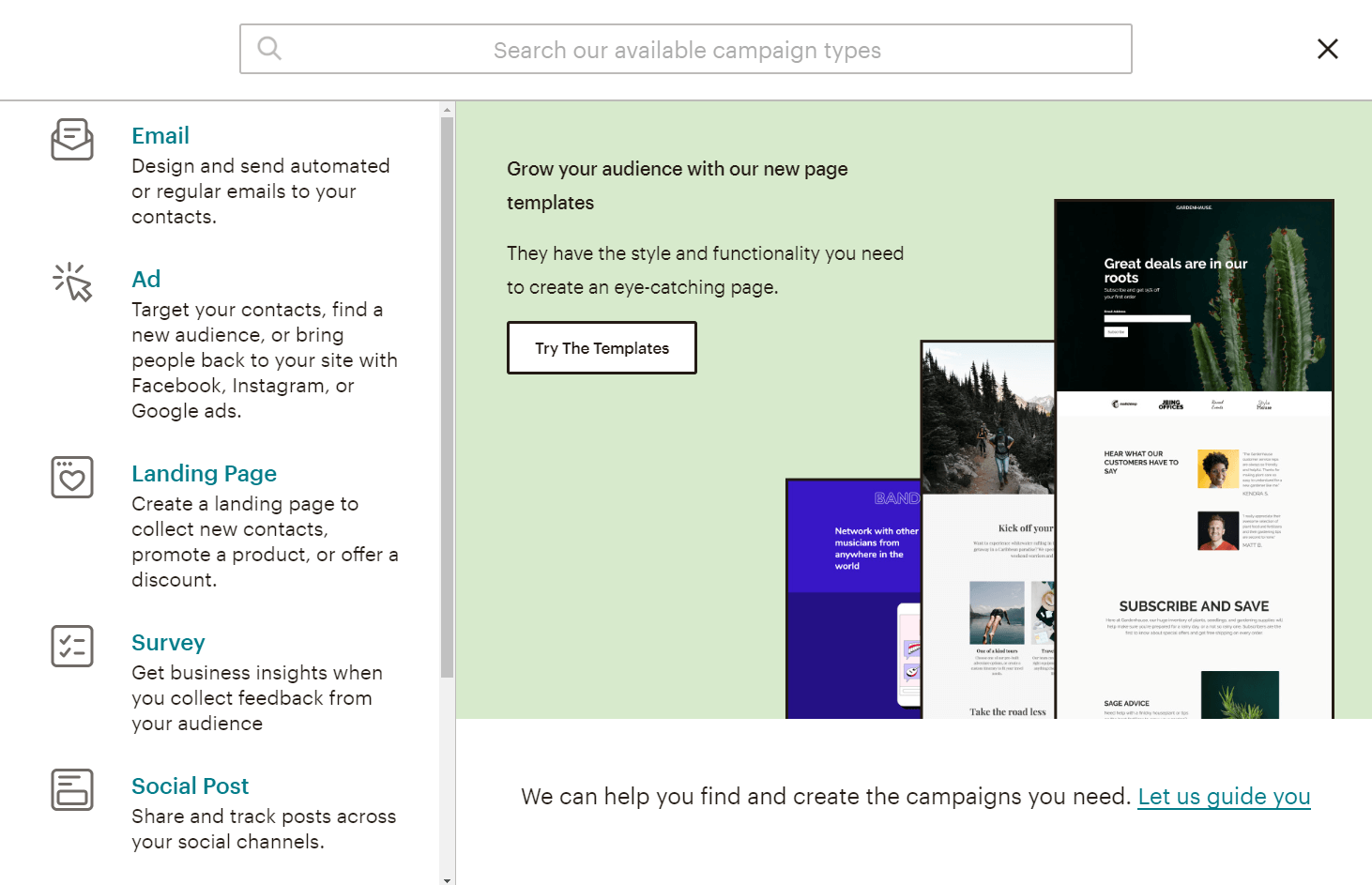 There are a few more steps involved in starting up a campaign with Mailchimp. It's still a simple process – just not quite as straightforward as with Constant Contact.
⚙️ WordPress integration
If you're a WordPress user, you'll probably be looking to integrate your email marketing campaigns with your website. In that case, you'll want to know if Constant Contact vs Mailchimp is better for getting the job done.
Both platforms enable you to add a sign-up form to your website. This lets visitors enter their email addresses, which will automatically be imported into your contact list.
Constant Contact offers an official Constant Contact Forms plugin:
This tool lets you create, customize, and place forms. However, it's worth noting that many users have struggled to get this plugin to work as intended, and it's not particularly well optimized.
On the other hand, the MC4WP: Mailchimp for WordPress plugin has excellent reviews. This is not an official plugin from Mailchimp, but it is quite popular and established:
This plugin also offers more customization options and integrates smoothly with many popular form-building tools for WordPress. This makes Mailchimp significantly easier to integrate with your WordPress site.
Of course, you also don't need to use a dedicated plugin – most WordPress lead generation plugins offer integrations for Mailchimp and/or Constant Contact.
For example, in our tutorial on how to create WordPress opt-in forms, the solution that we detail works with Mailchimp.
🏆 Constant Contact vs Mailchimp: Which is right for you?
No single email marketing platform is perfect for everyone. However, when it comes to these two options, Mailchimp does come out ahead in most categories.
In fact, we'd recommend Mailchimp over Constant Contact for most WordPress users, because:
It offers a more robust feature set on lower-tier plans.
There's a free tier you can use to test the waters.
Pricing options are highly scalable and more affordable than Constant Contact's for a similar feature set.
You can use a high-quality plugin to integrate Mailchimp with your WordPress website.
If you're interested in another option, you can also consider Sendinblue, which is the email solution we use here at Themeisle – learn more in our full Sendinblue review.
And once you've chosen the best email marketing service for your needs, check out our guide on how to get more email subscribers to start growing your list.
Do you have any questions about how to choose between Mailchimp vs Constant Contact? Ask us in the comments!
Free guide
5 Essential Tips to Speed Up
Your WordPress Site
Reduce your loading time by even 50-80%
just by following simple tips.
* This post contains affiliate links, which means that if you click on one of the product links and then purchase the product, we'll receive a commission. No worries though, you'll still pay the standard amount so there's no cost on your part.