Not sure whether to choose Bluehost or GoDaddy to host your new project? In this hands-on Bluehost vs GoDaddy comparison, we compare these two hosting providers based on five key criteria…
Bluehost vs GoDaddy: COMPARISON TABLE
Bluehost
GoDaddy
Price from / mo.
$2.75
$2.99
Sites
1
1
Bandwidth
Unmetered
Unmetered
Disk Space
50 GB
100 GB
Free Domain

✅

(one year)

✅

(duration
of the initial contract)
Free SSL Certificate

✅

❌

24/7 Support

✅

✅

Uptime
100%
99.6%
Speed from the US
(East coast)
2.75 s
0.89 s
Speed from Europe
3.43 s
0.91 s
Speed from Australia
3.73 s
1.93 s
⚙️ Bluehost vs GoDaddy feature comparison
Both Bluehost and GoDaddy are popular and well-respected hosting providers, and both are a good option for anyone looking to host a new website. Both also offer a wide range of features, tools, and services, all designed to help promote a smooth website set up process, and ensure that long term your website is performing at its optimal level.
Bluehost and GoDaddy provide a variety of shared hosting plans between them. So let's now look in more detail at the features you can expect to benefit from if you sign up on a shared hosting plan with either of these hosting providers…
Bluehost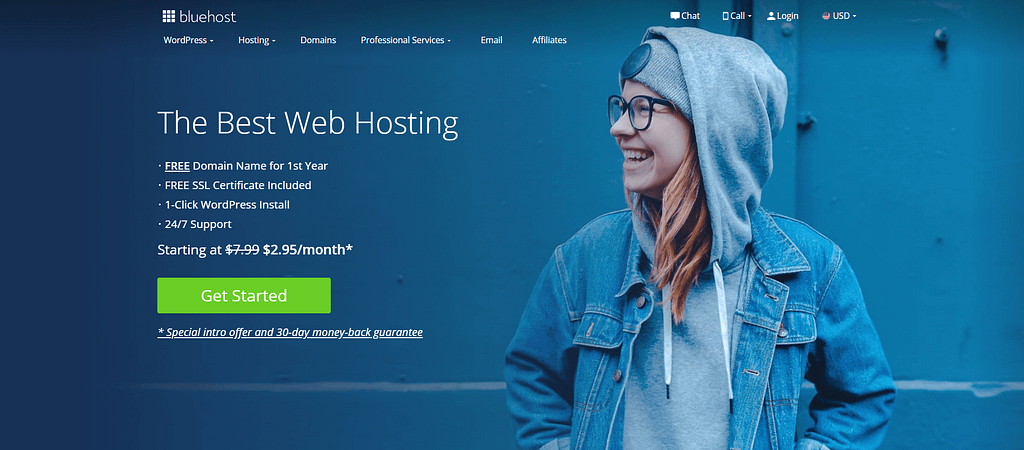 Bluehost powers over two million websites worldwide and is recommended by WordPress.org as one of the top WordPress hosting providers (quite an endorsement). It currently offers four shared hosting plans, which all include the following standard features…
All of the shared hosting plans, apart from the low-tier Basic package, also offer unlimited websites, domains, and storage, as well as unmetered bandwidth.
If you are looking for more WordPress specific hosting then Bluehost's managed WordPress hosting, WP Pro, may be more appropriate for your needs. You can check out our Bluehost managed WordPress hosting review to learn more about this offering.
GoDaddy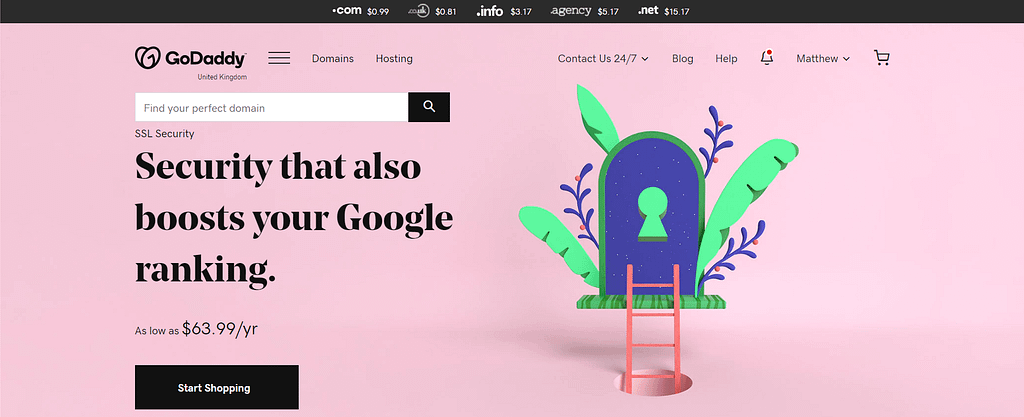 GoDaddy is renowned for its hosting and domain name registration service. Currently hosting over 19 million websites, GoDaddy offers a wide assortment of hosting plans to cater to every type of business, from blogger and entrepreneur, to large global corporations.
GoDaddy offers four shared hosting plans, incorporating a range of features and price points. However, whichever plan you choose, you can be sure to benefit from the following…
Free domain name (for the length of the initial purchase term)
Unmetered bandwidth
One-click WordPress install (plus 125+ other applications)
Free Office 365 email
Guaranteed 99.9% uptime
24/7 security monitoring and DDoS protection
24/7/365 support
Like Bluehost, all of the plans, other than the starter Economy plan, offer unlimited websites, domains, storage, and bandwidth.
GoDaddy also offers shared WordPress hosting and managed WordPress hosting, for those looking for a little extra WordPress support.
🏎️ Bluehost vs GoDaddy performance comparison
The speed of your website is a key factor in its success. Slow loading times will affect user experience and consequently increase bounce rates, lower returning visitor numbers, and impact on your site's conversions. Therefore, it is crucial that you choose a host that will help you achieve low page load times.
With that in mind, we decided to test the speed of two websites – one hosted with Bluehost and the other with GoDaddy – to see how these hosting providers perform. To ensure fair tests, we set up two new websites with fresh WordPress installations and used the Pingdom speed test tool to record page speed from different locations across the globe. Here are the results…
Bluehost
Washington D.C. – 2.75 s
London – 3.43 s
Sydney – 3.73 s
GoDaddy 🏆
New York – 0.89 s
Amsterdam – 0.91 s
Melbourne – 1.93 s
As you can see, GoDaddy loading times are significantly faster than those of Bluehost. So if you are looking for the fastest host out of these two providers, then GoDaddy is the right choice for you.
🙋 Bluehost vs GoDaddy user experience comparison
Both Bluehost and GoDaddy are very user-friendly and offer a great experience for beginners and experts alike. Both provide intuitive dashboards and access to cPanel. Let's find out more…
GoDaddy user experience
Godaddy provides a clean and clear interface, enabling users to easily access the features or information they need. When you log in, your account homepage will list what domains and hosting plans you own and highlight how to manage these products.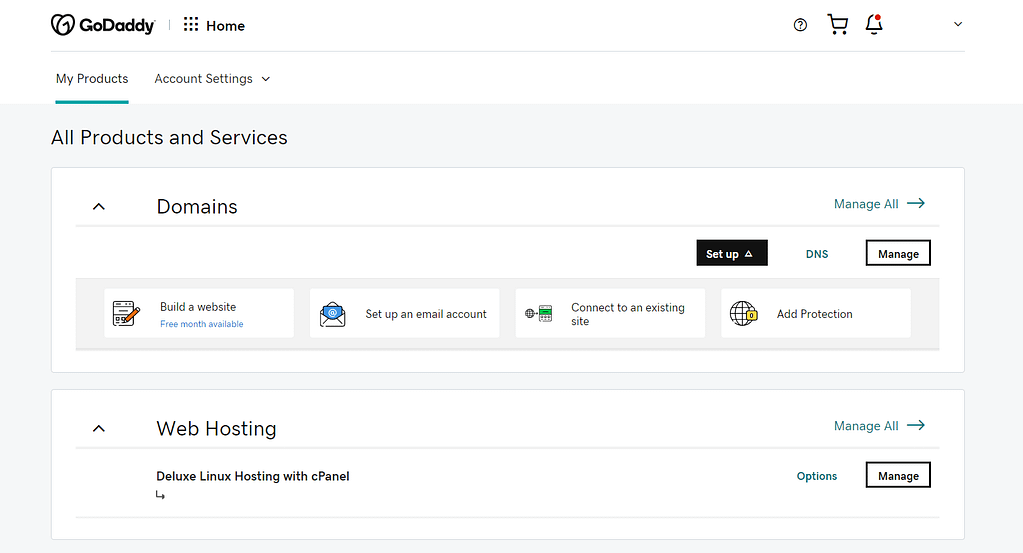 Open your hosting dashboard – here you will be able to view your websites, and gain quick access to important features like cPanel, File Manager, and GoDaddy Analytics, to name a few options.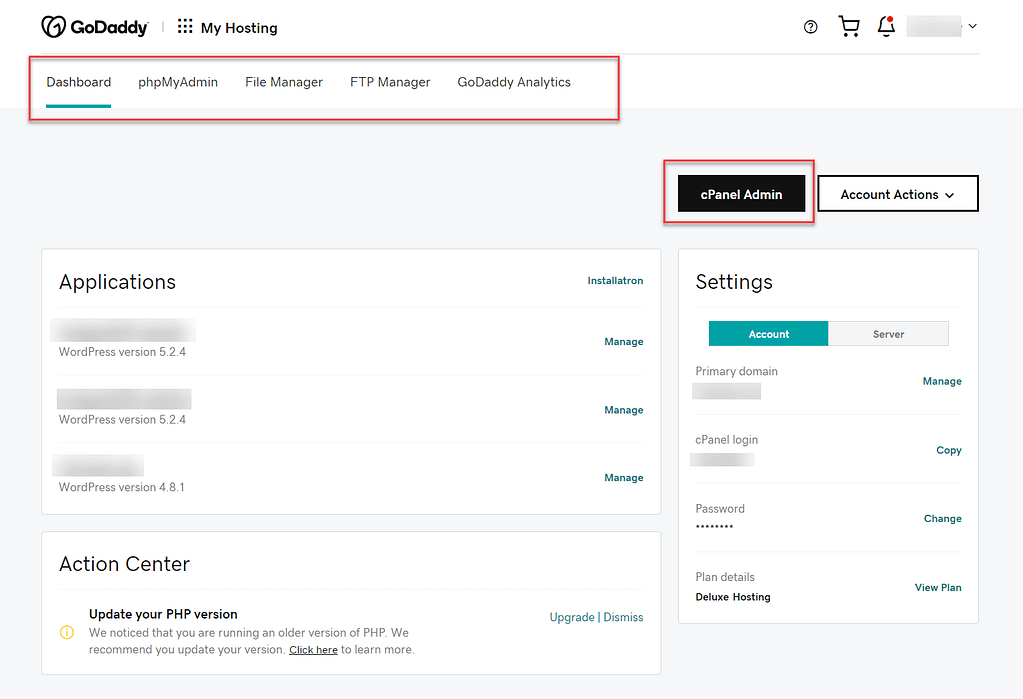 GoDaddy offers a standard cPanel, full of the usual applications and expected functions. Here you can manage your sites, domains, files, databases, security, email, and more.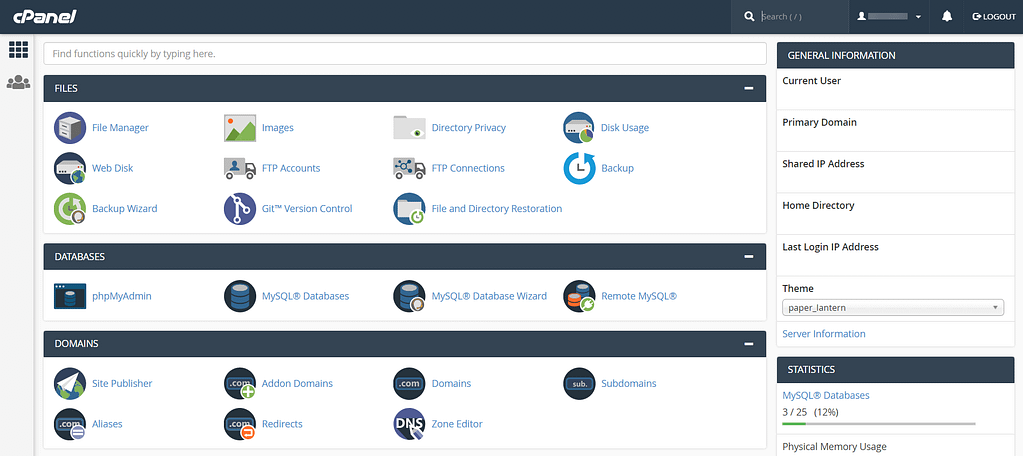 When creating a new website, GoDaddy provides a one-click WordPress install, helping you to quickly set up a site.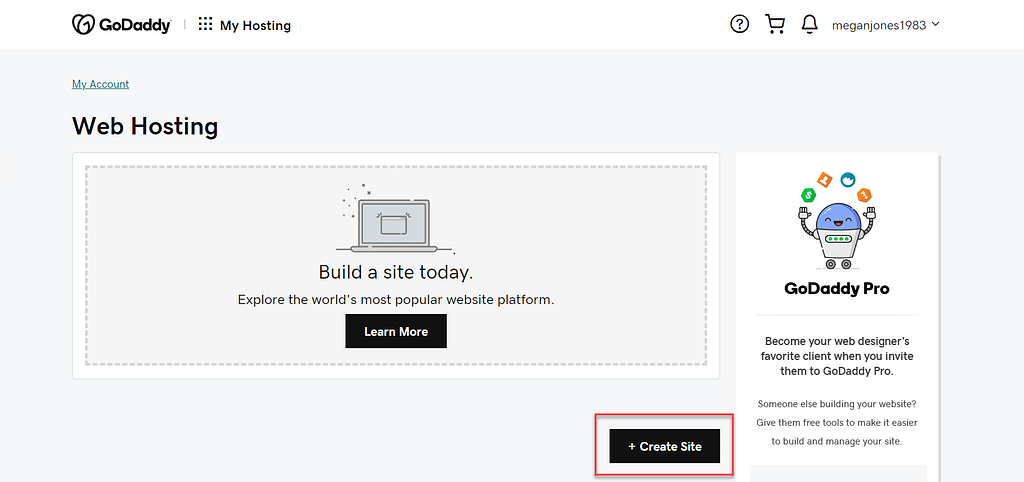 GoDaddy also provides a Quick Start Wizard. This is a great tool for those new to WordPress as it walks you through your new WordPress dashboard and website set up process.
Bluehost user experience
Bluehost provides a quick signup process and an extremely streamlined account dashboard.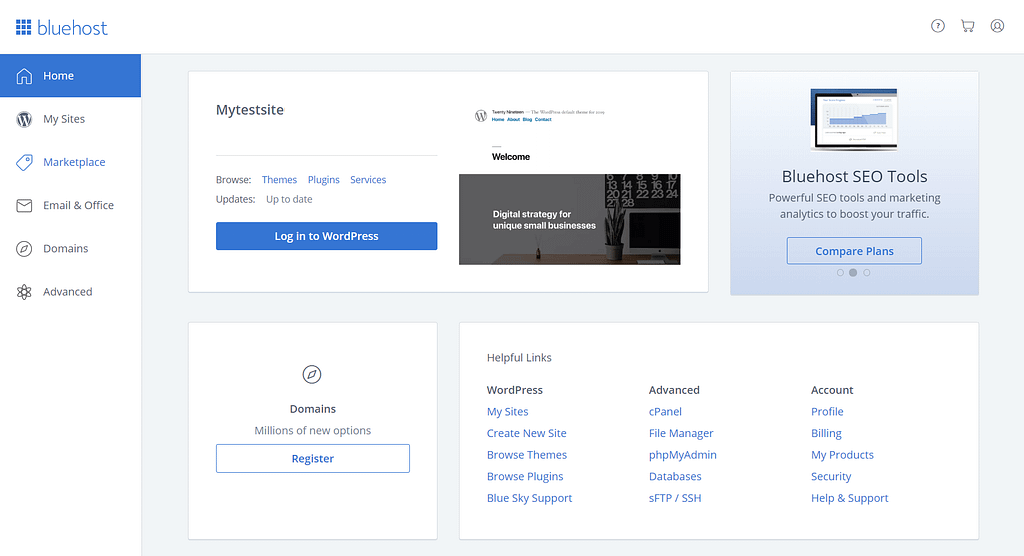 The menu on the left-hand side of the screen helps you navigate your account, and access information about your sites and domains, as well as features like the app marketplace and domain registration pages.
The Bluehost branded cPanel helps you manage your websites. And unlike GoDaddy, the Bluehost menu stays on the screen, so you can easily switch back to your Bluehost account dashboard if you need to.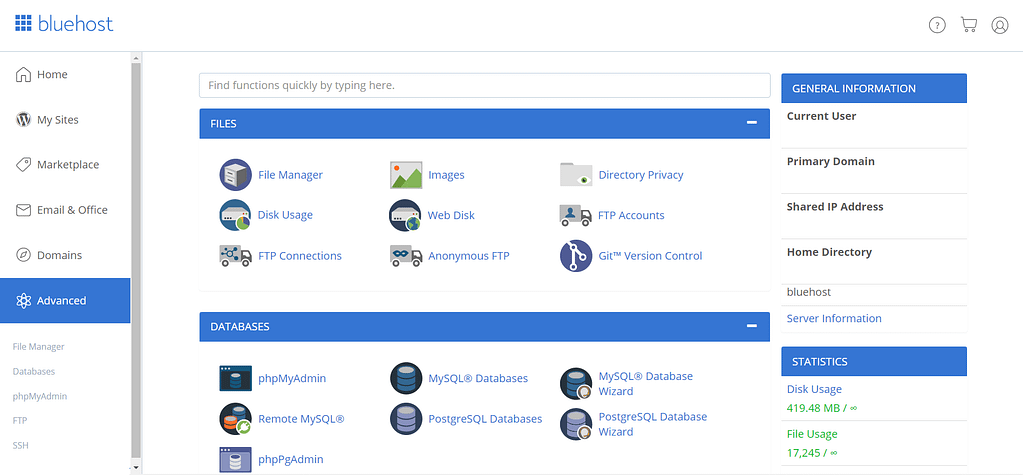 Like GoDaddy, Bluehost has a very quick and easy one-click WordPress installation process.
Once the new WordPress installation is up and running, you will find a Bluehost menu within your WordPress dashboard. Here you can manage menus, create posts and pages, create a staging area, and much more.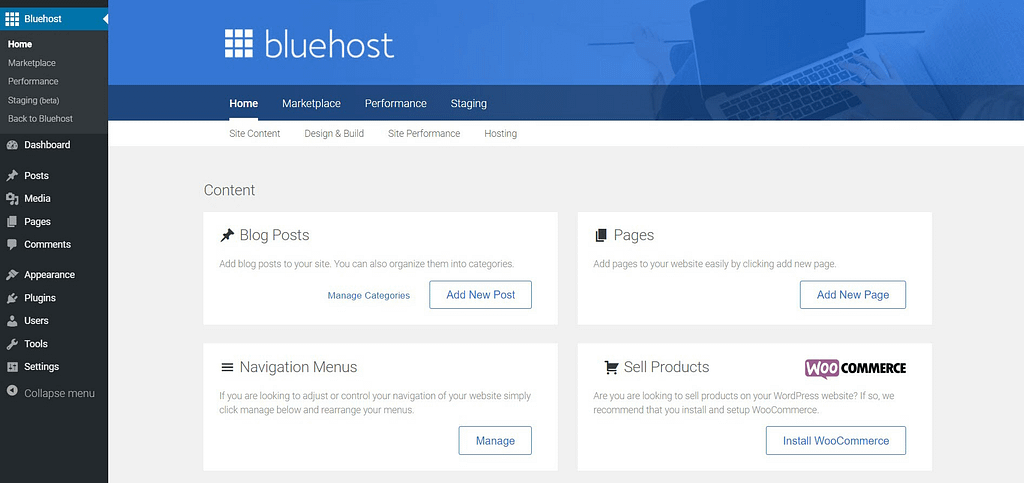 Both GoDaddy and Bluehost have thought carefully about their customers, and they provide an impressive and supportive user-experience.
Personally, I prefer the Bluehost experience, with the personalized cPanel and Bluehost WordPress menu, making the website set up process just that bit more accessible for beginners. However, both are great options if you are looking for a user-friendly hosting provider.
📞 Bluehost vs GoDaddy support comparison
Both Bluehost and GoDaddy offer impressive levels of support, enabling customers to rest easy that if there is a problem they won't need to face it alone.
Each host offers extensive documentation, including getting started tutorials, how-to guides, community forums, blogs, and more. Both Bluehost and GoDaddy also provide live chat and telephone support 24/7 from their customer support teams.
As for the support quality, we turned to our survey of over 830 WordPress users, where respondents were asked to rank both support in general and WordPress specific support.
Here's how they compared:
Overall support:
GoDaddy: 3.3 🏆
Bluehost: 3.2
WordPress-specific support:
GoDaddy: 3.3
Bluehost: 3.4 🏆
Both scores are out of 5.
💰 Bluehost vs GoDaddy pricing comparison
When it comes to pricing, Bluehost has the edge over GoDaddy with its cheaper plans. However, neither hosting provider is particularly upfront when it comes to the cost of their services. As you will see, both hosts advertise promotional offers, but prices actually vary greatly depending on how long you sign up for.
Bluehost pricing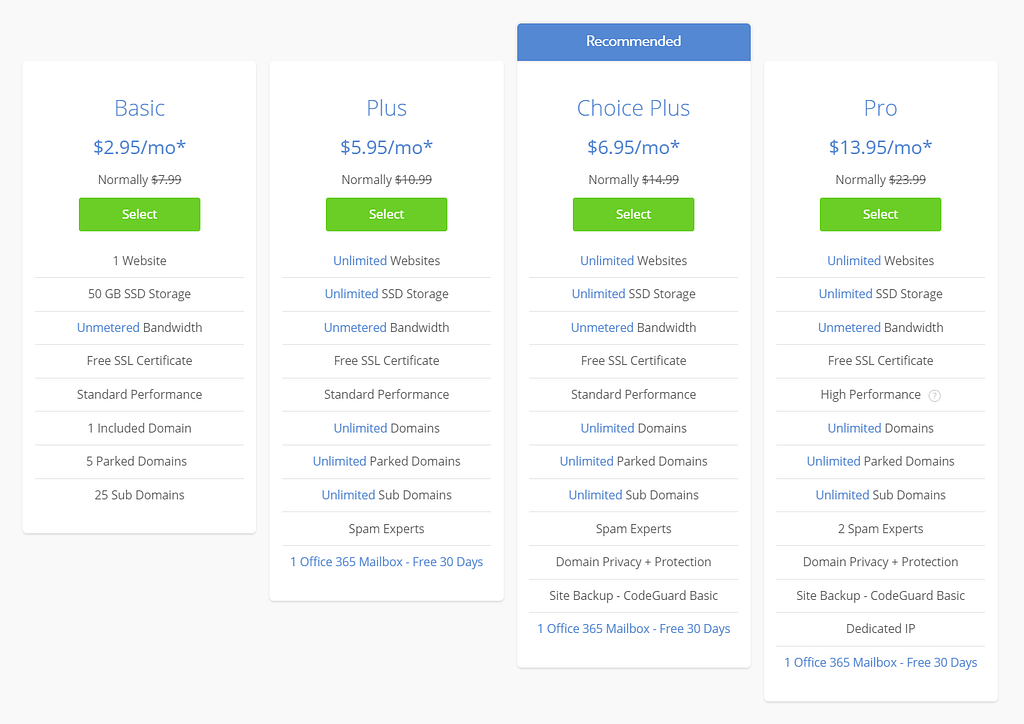 Bluehost's cheapest package is its Basic plan. This will cost as little as $2.75 per month and will entitle you to hosting for one website, unlimited bandwidth, 50 GB SSD storage, a free SSL certificate, a free domain name for the first year, and much more.
However, to qualify for this price, you will need to sign up for a 36-month term, which has to be paid upfront ($106.20 in total). You can also opt for a 24-month contract for $3.95 per month ($94.80 in total) or a 12-month contract for $4.95 per month ($59.40 total).
It is also important to note that after the 36 months have expired, the plan will renew at $7.99 per month.
GoDaddy pricing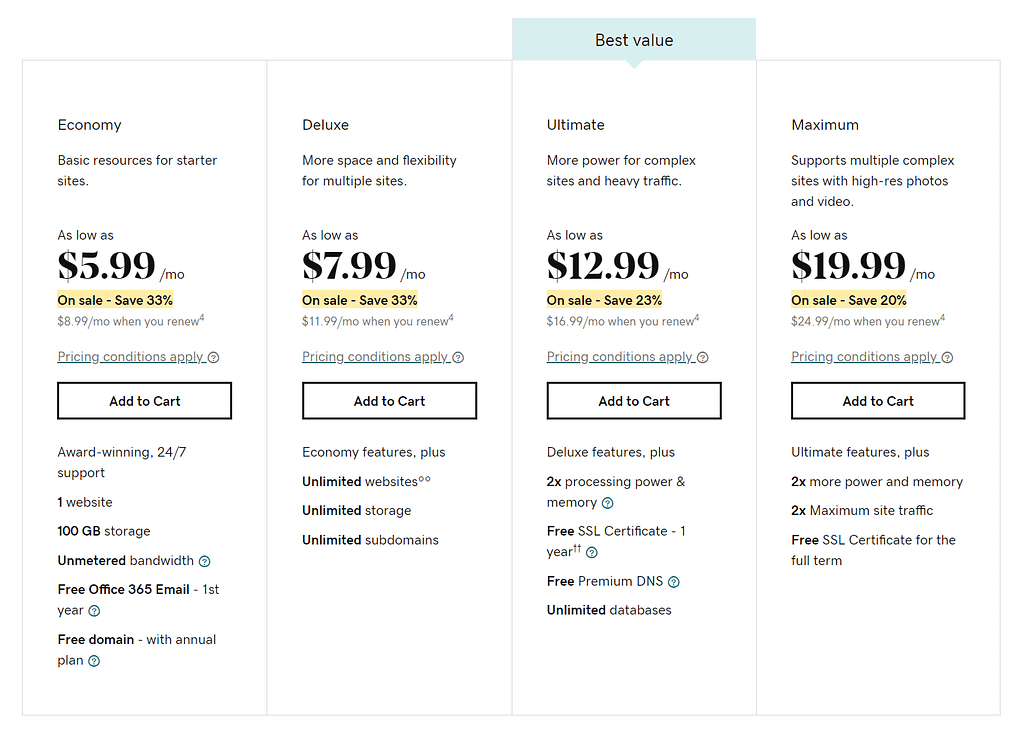 GoDaddy pricing operates in a very similar way to Bluehost – the longer you sign up for the cheaper the price. The GoDaddy Economy shared hosting plan is their lowest tier hosting package and includes hosting for one website, 100 GB storage, unmetered bandwidth, a free domain, free Office 365 email for the first year, and more.
If you sign up for a 12-month contract, you will be charged the advertised price of $2.99 per month ($12 in total). Prices then rise depending on the term length you choose…
24 months – $2.50 per month / $60 total
36 months – $5 per month / $180 total
It is important to note that if you choose the three months contract, you won't benefit from the free domain or Office email service. Contracts over 12 months will renew at $9.99 per month.
Both Bluehost and GoDaddy offer a 30-day money-back guarantee, so if you sign up with either of these hosts and then decide the plan isn't right for you, you can expect a full refund.
🏆 Should you choose GoDaddy or Bluehost for your website?
The hosting provider you choose for your new project should depend on the needs of your website and your audience, as well as your personal skill set. There is no right or wrong host – simply pick the one that best fits your criteria for a successful hosting company.
That said…
GoDaddy – If you are looking for a hosting provider that ensures high performance levels, fast loading times, and guaranteed uptime, then you should choose GoDaddy.
Bluehost – If you want budget prices, but still want to benefit from a range of features like a user friendly dashboard, impressive support, and unlimited resources, then Bluehost might be a better option.
Of course, Bluehost and GoDaddy aren't the only hosting providers available. If you still aren't sold on either of these hosts, you can check out our collection of cheap web hosting to find other options in this price range.
Once you've chosen your host, you can follow our tutorial on how to create a website to set up your WordPress website.
Any questions on the services that either Bluehost or GoDaddy provide? If so, please feel free to ask away in the comments below…
Free guide
5 Essential Tips to Speed Up
Your WordPress Site
Reduce your loading time by even 50-80%
just by following simple tips.
* This post contains affiliate links, which means that if you click on one of the product links and then purchase the product, we'll receive a commission. No worries though, you'll still pay the standard amount so there's no cost on your part.