Trying to choose between HostGator vs GoDaddy for website hosting?
In this detailed comparison, we'll examine five key features to help you decide between HostGator vs GoDaddy:
For the purposes of this post, we're specifically looking at HostGator vs GoDaddy's shared hosting plans.
HostGator vs GoDaddy: COMPARISON TABLE
HostGator
GoDaddy
Price from /mo.
$2.75
$2.99
Sites
1
1
Bandwidth
Unmetered
Unmetered
Storage
Unmetered
100 GB
Free Domain

✅

✅

Free SSL Certificate

✅

❌

(must upgrade to an Ultimate web hosting plan)
24/7 Support

✅

– phone and live chat

✅

– phone
Extra Features
One-click WordPress installation via cPanel
Free WordPress/cPanel website transfer
$100 Google and Bing ad credits
One-click WordPress installation via cPanel
One year of free Office 365 email
One-click setup for GoDaddy registered domains
Speed (North America)
1.19 s
0.89 s 🏆
Speed (Europe)
2.06 s
0.91 s 🏆
Speed (Australia)
2.83 s
1.93 s 🏆
⚙️ Which company offers the best features?
Like any hosting company, the features available to HostGator and GoDaddy customers depend on which type of plan you pick. Both of these hosts offer a wide range of options, including shared, virtual private server (VPS), and dedicated hosting. They also both have managed WordPress plans.
As we previously stated, we'll be primarily focusing on these hosts' shared plans. Keep that in mind as we review their available features below.
HostGator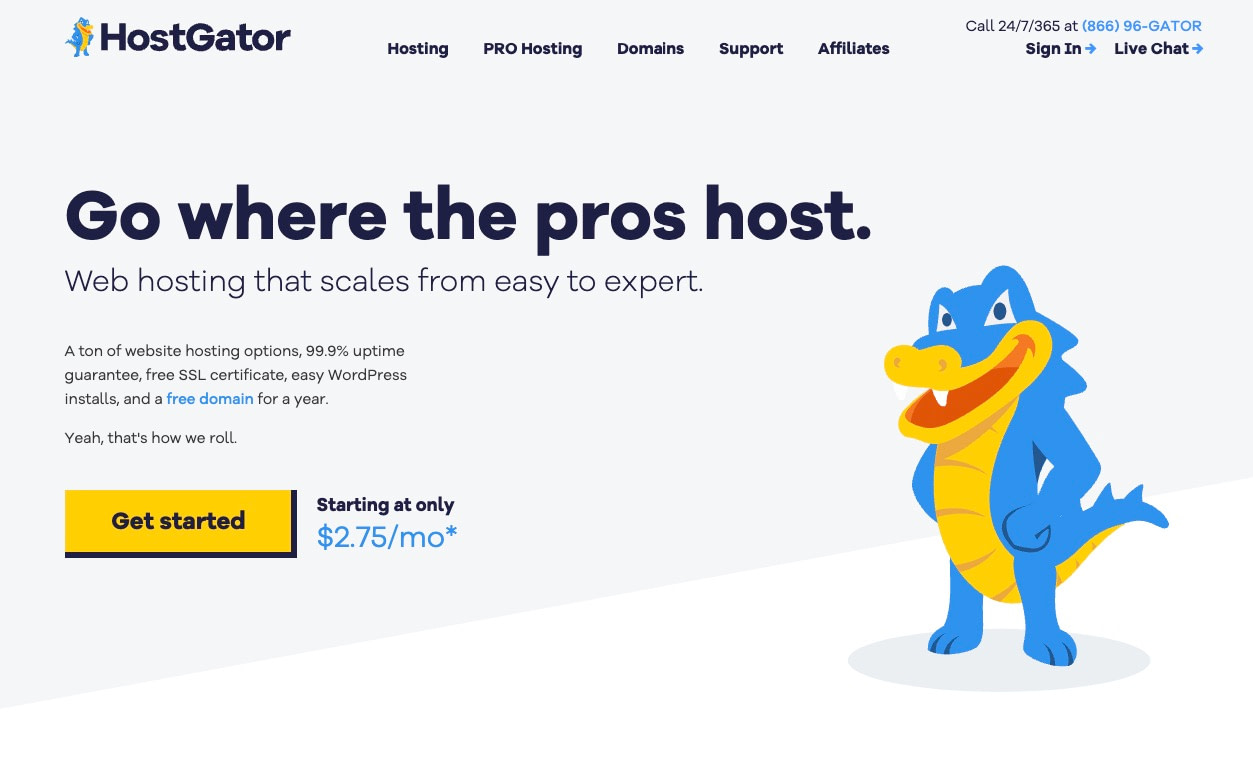 HostGator has three tiers of shared hosting plans available. Its cheapest 'Hatchling' plan provides several handy features for WordPress users, even though you can host any content management system (CMS) on it.
With this plan, you get:
One website
A free domain with a 12-month or longer contract
A free SSL certificate
One-click WordPress installation via cPanel
Free WordPress/cPanel website transfer
Unmetered bandwidth
Unmetered storage
HostGator also provides $100 Google Adwords and Bing Ads credits with all its hosting plans.
GoDaddy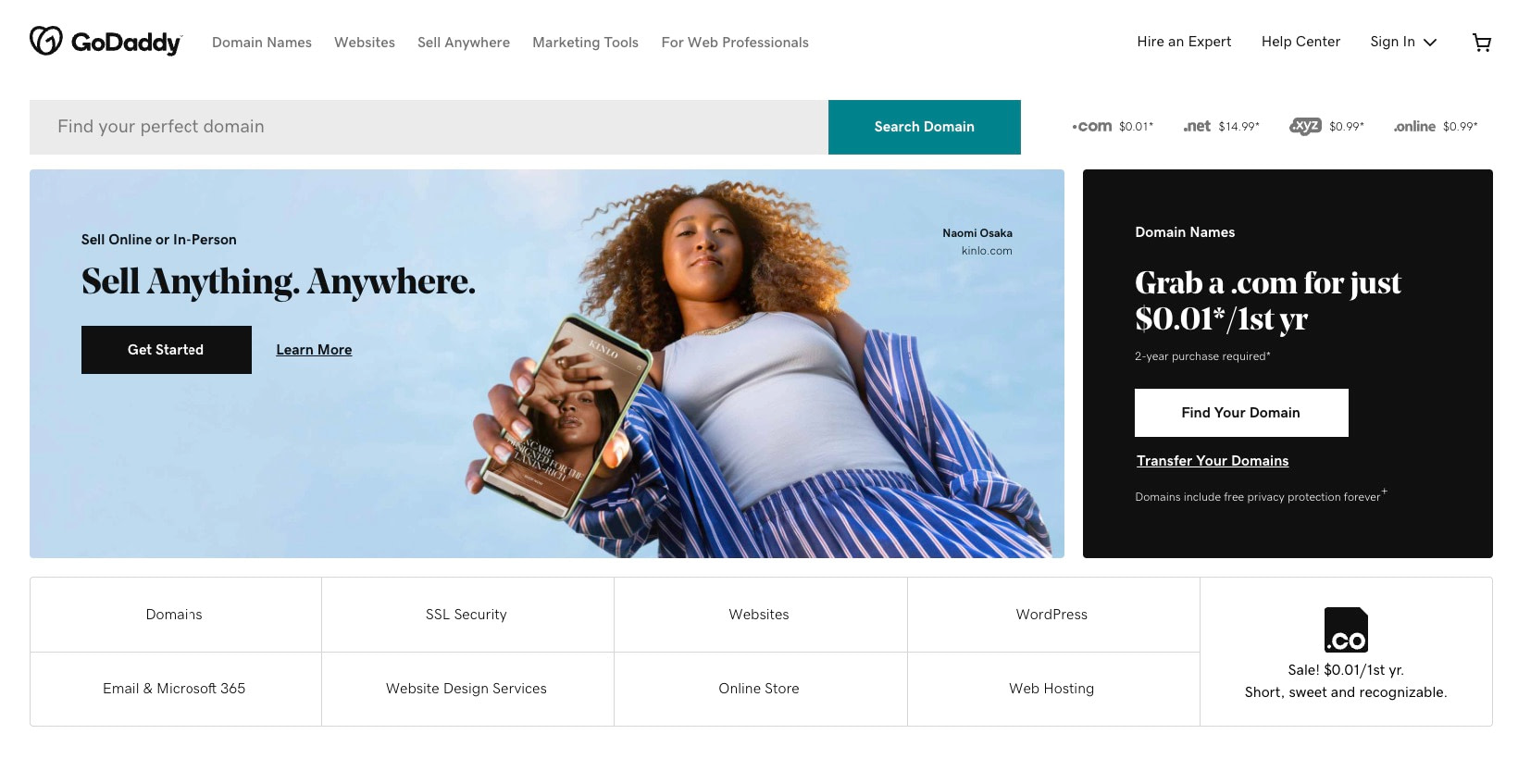 GoDaddy's 'Economy' web hosting plan is its cheapest shared option. It offers many of the same features as HostGator's shared plan, including:
One website
Free initial domain registration with an annual plan
One-click WordPress installation via cPanel
Unmetered bandwidth
Note that unlike HostGator, GoDaddy does not provide a free SSL certificate unless you upgrade two tiers to the 'Ultimate' plan. The Economy plan also has a storage limit of 100 GB.
However, GoDaddy also provides a few features that are not available with HostGator, such as one year of free Office 365 email and one-click setup for GoDaddy registered domains.
🙋 Is HostGator or GoDaddy easier to use?
Many aspects of the user experience for HostGator vs GoDaddy are the same, as both hosts use cPanel for most of their website management features. However, you'll also need to navigate your account interface for billing and other purposes. Let's take a quick look.
HostGator user experience
HostGator's main account dashboard offers a sleek design that is easy to understand. The primary navigation is to the left, where you can access your existing hosting plan and domain as well as your billing information and support:
On the Hosting page, you can click on Manage to open the File Manager or phpMyAdmin for your hosting plan: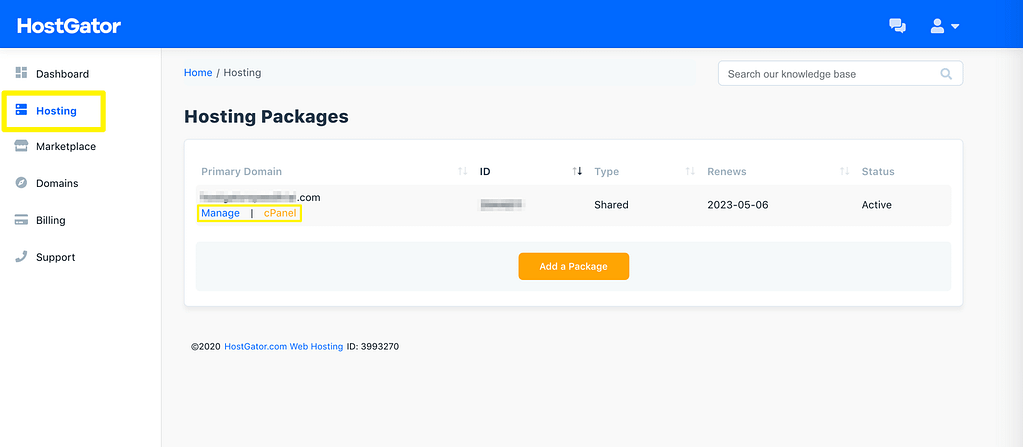 Clicking on cPanel will open HostGator's customized website management interface. Here you can easily complete HostGator's one-click WordPress installation process by clicking on the WordPress Installation icon. It's conveniently located right at the top of the cPanel dashboard: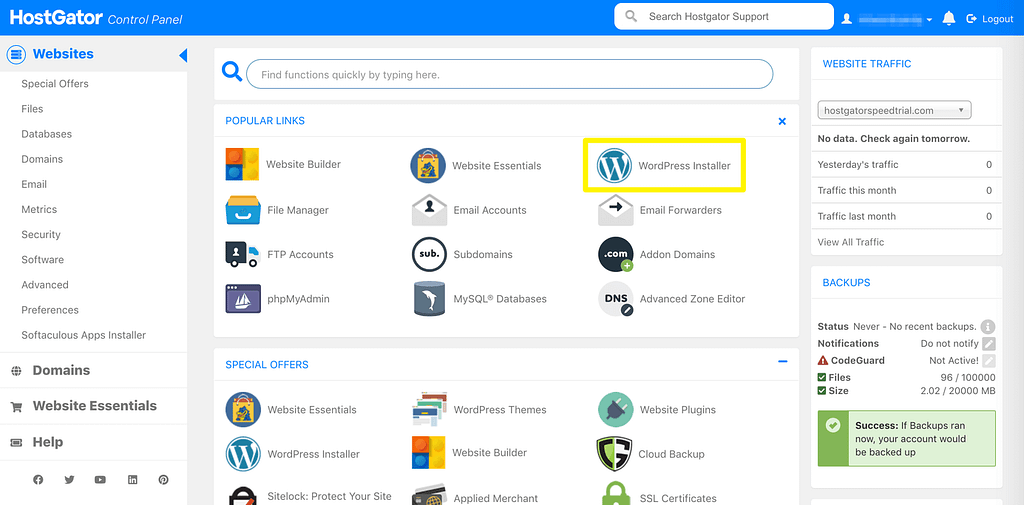 Once the installation is complete, HostGator will email you your website's details so you can log in and get to work.
GoDaddy user experience
The GoDaddy dashboard is similarly easy to navigate, with just two tabs at the top of the screen. One will show you all your purchased hosting plans and domains, while the other includes account details: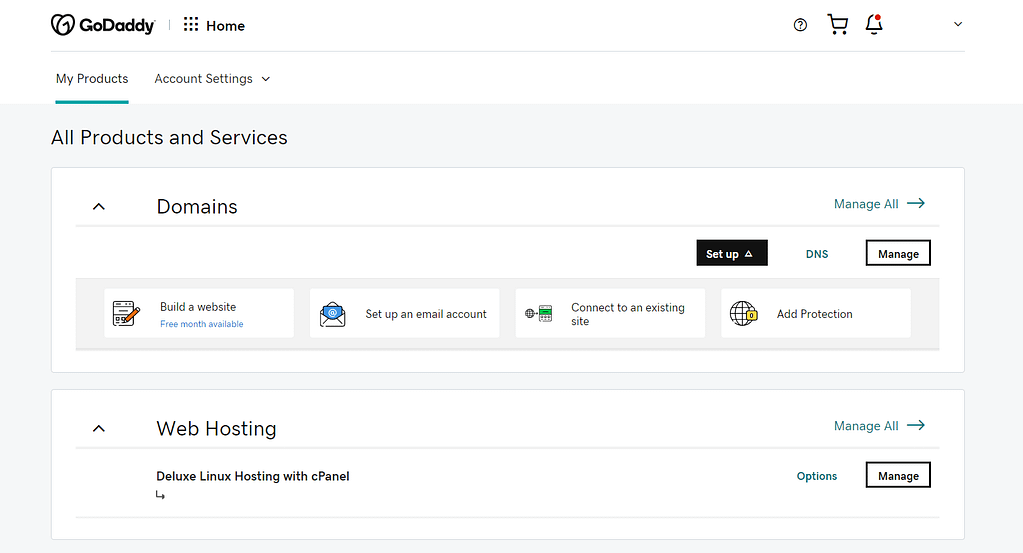 If you click on the Manage button for your hosting plan, you'll be able to access GoDaddy's file manager, phpMyAdmin, and other tools. You can also open cPanel on this screen by clicking on the cPanel Admin button: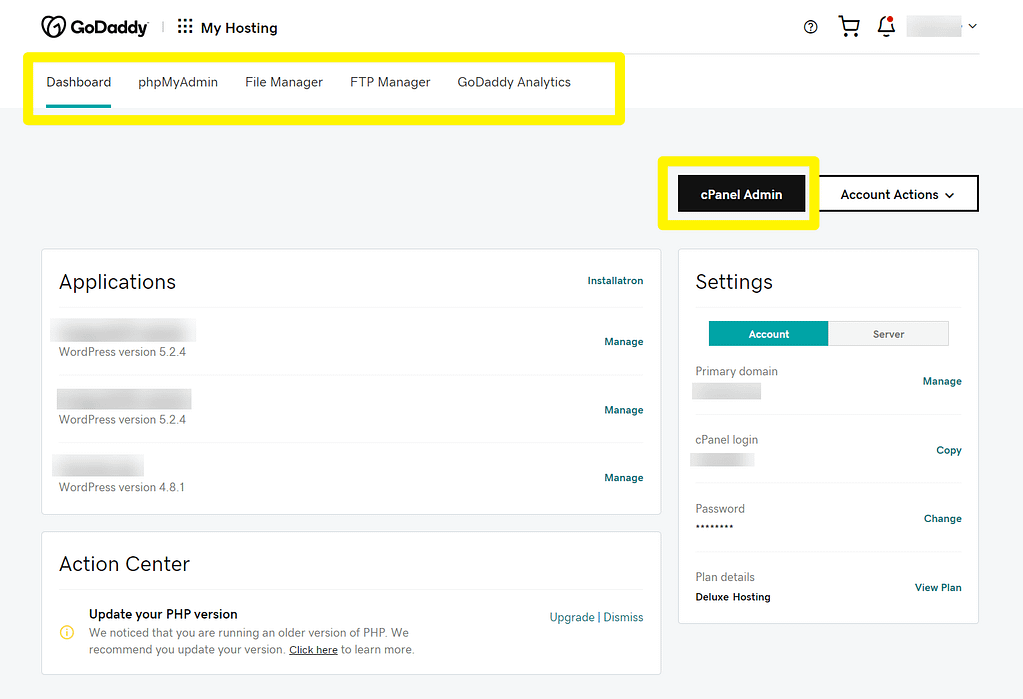 Unlike HostGator, GoDaddy's cPanel interface has not been customized. This means you'll have to do a little more digging for tools such as the WordPress installer: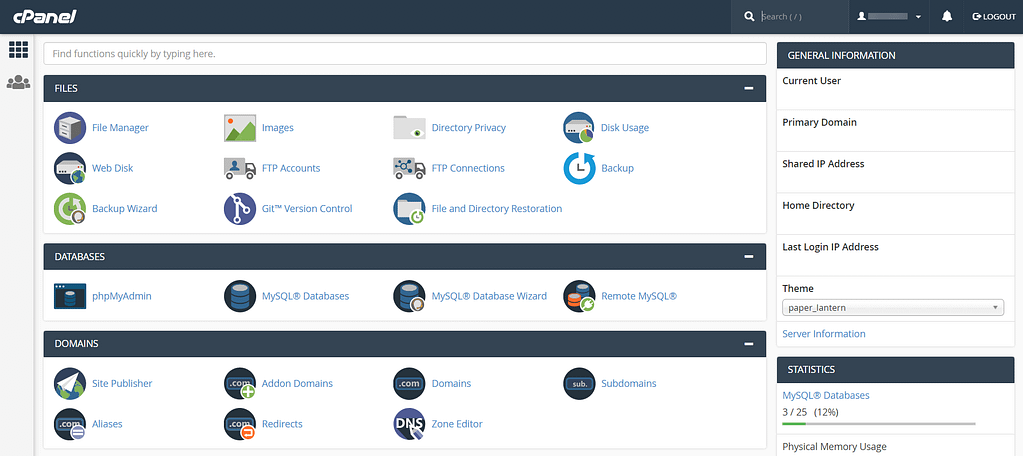 Overall, GoDaddy's account interface provides a very user-friendly experience. However, especially for WordPress users, HostGator's is a little easier to navigate.
🏎️ Who wins in HostGator vs GoDaddy performance tests?
Performance can make or break your website, and your host plays a key role. While you should always optimize your website, at a certain point it comes down to your server.
We've assessed HostGator vs GoDaddy in three difference performance areas:
Page speed
Load impact
Uptime
Page Speed
Using Pingdom Tools, we tested loading times of fresh WordPress installs on both HostGator and GoDaddy shared hosting plans in three different locations. The results were as follows:
HostGator
Washington D.C.: 1.19 s
London: 2.06 s
Sydney: 2.83 s
GoDaddy
New York: 0.89 s 🏆
Amsterdam: 0.91 s 🏆
Melbourne: 1.93 s 🏆
As you can see, GoDaddy comes out the clear winner in this category.
Load Impact
For this performance assessment, we referenced the results of our 2020 WordPress Hosting Comparison. Using k6 (previously known as Load Impact), we simulated traffic spikes to see how each host performs under strain.
During this test, HostGator returned erratic results: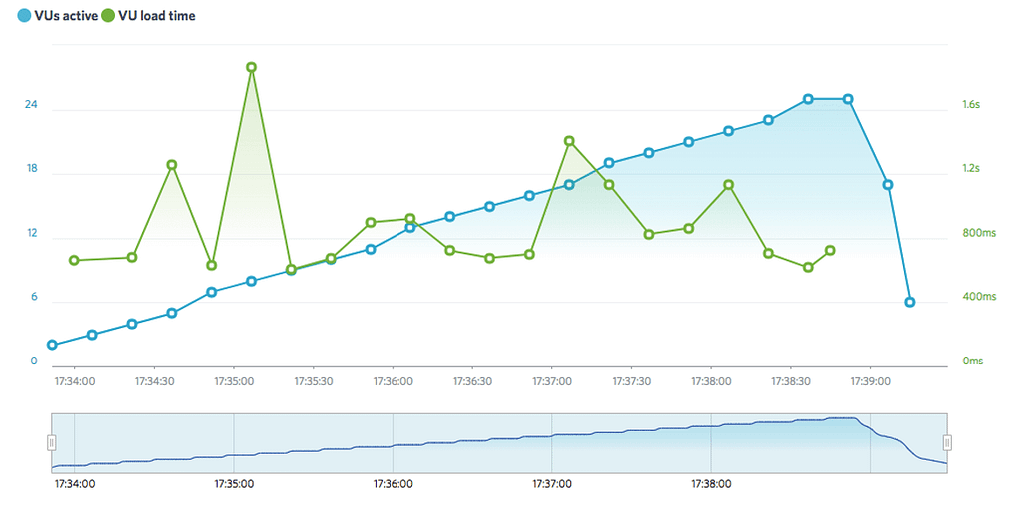 Overall, it didn't do too poorly, but it didn't deliver stellar performance either.
GoDaddy, on the other hand, was able to deliver consistent loading times under strain: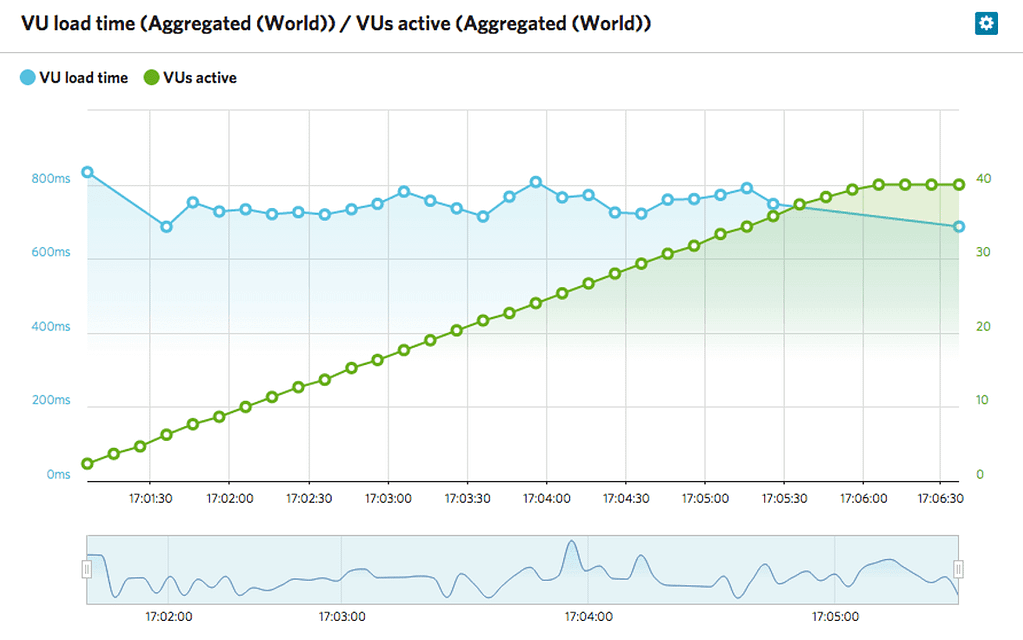 Once again, GoDaddy is the clear choice in this scenario.
Uptime
Our CodeinWP Uptime Monitor tracks server availability for several top hosting providers: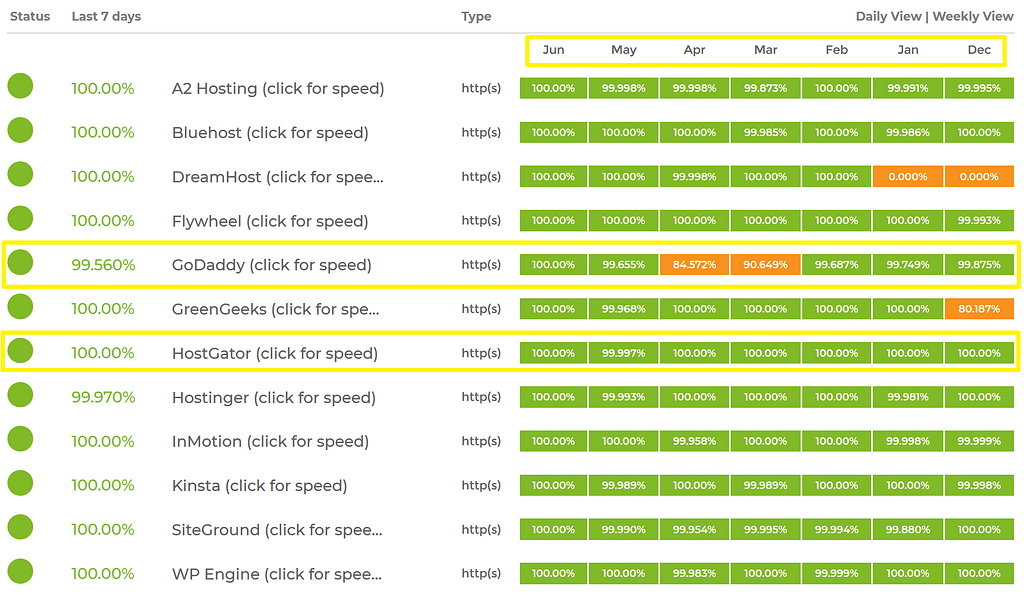 As you can see, HostGator has delivered reliable, 100 percent uptime for the past seven months that we've been tracking.
GoDaddy, on the other hand, has delivered the lowest uptime rate of any of the hosts we monitor, with erratic uptime over the past seven months.
📞 Does HostGator or GoDaddy offer better customer support?
Support is a vital factor when choosing a web host. At some point you'll likely run into trouble, be it a technical problem with your server or an issue with your bill. Being able to get ahold of someone quickly is key.
HostGator provides 24/7/365 phone and live chat support. It also has hundreds of video tutorials on a wide range of hosting and website-related topics, including cPanel, File Transfer Protocol (FTP), WordPress, and more.
GoDaddy offers 24/7 global phone support. There is a chat feature, but it's only available for U.S. based customers. It's also notoriously difficult to find, as it doesn't appear on GoDaddy's main contact page.
Fortunately, both hosts provide ample written documentation and other resources you can consult. GoDaddy also provides a community forum where you can consult other customers on various hosting-related topics.
To gauge support quality, we'll turn to our 2018 survey of pro WordPress users. We asked respondents to rate two aspects of support:
Overall support quality
WordPress-specific support quality
Here's how people rated both hosts (both scores are out of 5):
HostGator
Overall support – 3.7 🏆
WordPress support – 3.3
GoDaddy
Overall support – 3.3
WordPress support – 3.3
Overall, users seem to be a little bit happier with HostGator's support.
💰 How does HostGator vs GoDaddy pricing compare?
Finally, let's compare HostGator vs GoDaddy on price. HostGator's shared plans are remarkably affordable at $2.75 per month with a 36-month contract.
GoDaddy's Basic hosting plan costs double that at $2.99 per month with a 12-month commitment.
Remember, HostGator's Hatchling plan provides unmetered storage and a free SSL certificate, while GoDaddy limits you to 100 GB and does not provide SSL certificates to Economy customers. With that in mind, HostGator is clearly the more cost-effective choice.
Should you choose HostGator or GoDaddy for your website?
After our comprehensive, hands-on comparison of HostGator vs GoDaddy, we can safely say that for the majority of customers looking for shared hosting, HostGator is the better choice 🏆. It comes out on top in terms of features, ease-of-use, support, and pricing.
There are a couple of scenarios in which you might want to choose GoDaddy instead, such as:
You value page speed above everything else. During our tests, GoDaddy was far superior to HostGator in terms of page speed and load impact. However, keep in mind that HostGator still won out in terms of uptime.
You have a GoDaddy-registered domain name. In addition to hosting, GoDaddy provides many other services and is one of the biggest domain name registrars on the web. If you already have a domain registered with GoDaddy, using this company for hosting could simplify your setup and management processes.
If you're still conflicted, consider reading our in-depth reviews of both hosts:
And if you want to see some other hosting options in this price range, check out our collections of the best:
Do you have any questions about choosing a host? Leave them for us in the comments section below!
Free guide
5 Essential Tips to Speed Up
Your WordPress Site
Reduce your loading time by even 50-80%
just by following simple tips.
* This post contains affiliate links, which means that if you click on one of the product links and then purchase the product, we'll receive a commission. No worries though, you'll still pay the standard amount so there's no cost on your part.