Have you narrowed down your final selection of web hosting companies to iPage vs Bluehost? Are you anxious to make the right choice for your website? If you're nodding your head in agreement, this comparison post is for you.
Picking the right hosting platform can be quite a task, especially if your final candidates offer similar services. For instance, both iPage and Bluehost are competitively priced, making them attractive for budget-conscious users. However, there are some differences that you may want to consider before making your final decision.
To help you out, we'll compare iPage vs Bluehost in terms of their features, ease of use, customer support, and pricing. Which one is better for your site? Let's find out!
⚙️ Which company offers the best features?
Both Bluehost and iPage are veterans in the hosting industry. Each offers a wide array of services including shared, VPS, and dedicated hosting. Depending on the plan you choose, both have beginner-friendly features and 30-day money-back guarantees.
For the purposes of this post, we'll primarily focus on iPage vs Bluehost's shared plans.
iPage features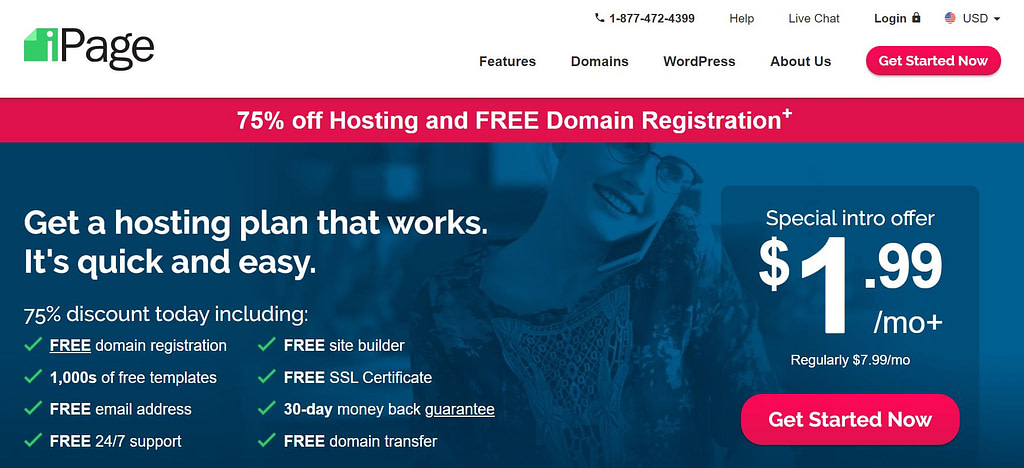 iPage makes things simple by offering just one shared hosting plan. It includes one-click WordPress installation and PayPal integration for online stores.
Additionally, here's what else is included in the plan:
Free domain for a year
Unlimited bandwidth
Unlimited storage
Unlimited databases
Free SSL certificate
Free email address at your domain
Website builder
Set-up wizard
iPage offers scalable bandwidth across all its plans, which means your website should be able to handle sudden spikes in traffic. You also get $100 towards ad credits with Google and Bing.
Bluehost features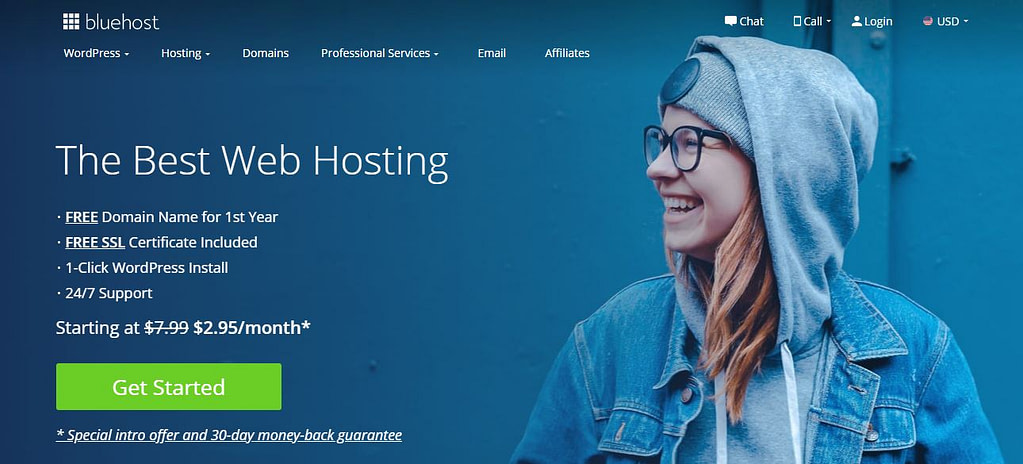 Bluehost is officially endorsed by WordPress.org, which speaks to the platform's reliability. There are four shared plans to choose from, all of which come with an extra $100 credit towards Google Ads and Microsoft Advertising.
Here's what you get with the Basic plan:
Free domain for a year
50 GB storage
Unmetered bandwidth
Free SSL certificate
One-click installation of WordPress
Access to WordPress themes
Website builder
Bluehost is also scalable, enabling you to upgrade easily as your website grows. More advanced shared plans give you additional features such as unlimited websites and storage, spam protection, email, and site backups.
🙋 Which company is easier to use?
Both companies position themselves as being user-friendly. However, their interfaces differ quite a bit. Let's have a look.
iPage user experience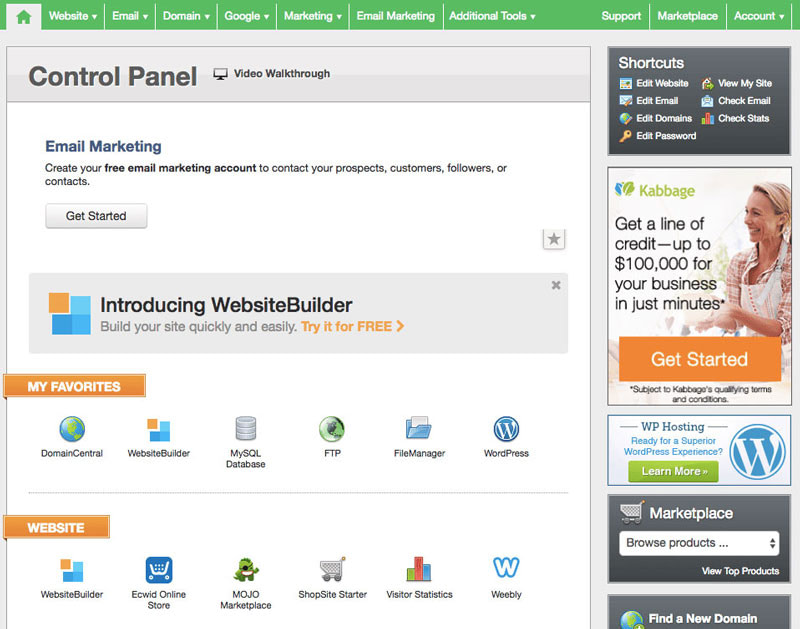 iPage comes with an installation wizard to guide less experienced users through the process of setting up their preferred content management system (CMS). You can even set up a basic store with one click and integrate it with PayPal.
The site builder is straightforward and comes with useful search engine optimization (SEO) tools, although it only allows you to publish up to six pages unless you opt for a separate plan for this tool.
iPage uses its own vDeck control panel instead of the popular cPanel interface. First-time website owners will be able to navigate it easily as the icons let you access your most frequently used tools and widgets from the main dashboard. However, if you're already used to cPanel, you might find this interface a bit lacking.
Bluehost user experience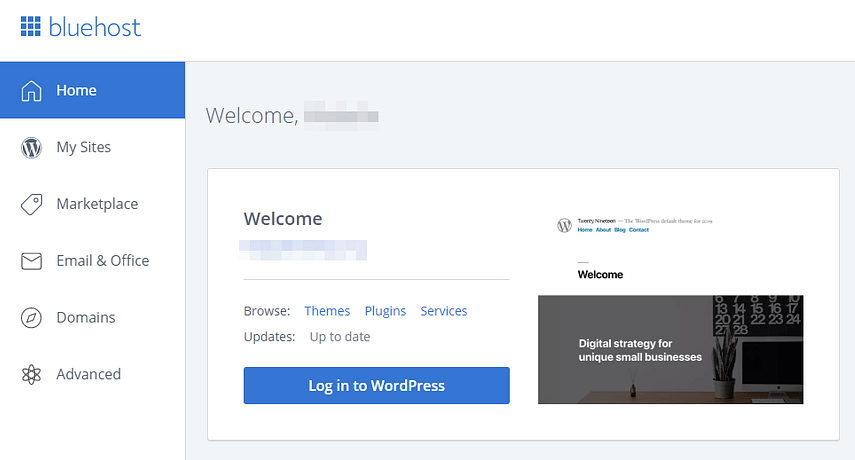 Bluehost's control panel is super easy to use, and it enables you to install WordPress with just one click. Unlike iPage, it uses cPanel for account management, which is clean, intuitive, and familiar to many users.
cPanel gives all the essential tools for managing your website and enables you to upgrade your account or purchase add-ons without leaving your dashboard. You can also find more advanced features in the menu, such as a file manager and access to phpMyAdmin.
The Bluehost drag-and-drop page builder is straightforward, helping you to create any website with no coding experience. In addition, you get access to a wide range of WordPress themes.
📞 Does iPage or Bluehost offer better customer support?
Both companies offer round-the-clock customer support via phone, email, and live chat. They also give you access to extensive knowledge bases with frequently asked questions if you prefer to figure things out on your own.
In our experience, agents from both providers respond quickly and have sound technical knowledge. However, if you require more advanced assistance from iPage, it's best to call than chat.
Bluehost also has a vibrant members' forum where you can get advice on various topics from other users. Plus, Bluehost's agents are well versed in WordPress, so they'll usually be better equipped than iPage to help you with queries related to the platform.
💰 How does iPage vs Bluehost pricing compare?
When it comes to pricing, iPage takes the cake. Its shared plan starts at only $1.99 per month, which then increases to $7.99 per month after your initial contract ends. Keep in mind that this introductory price is only available if you opt for a three-year contract.
Bluehost's Basic package starts at $2.75 per month with a three-year commitment, which also increases to $7.99 per month at renewal. If you would like to access more advanced features, pricing changes accordingly. In fact, we have published a detailed analysis of Bluehost's plans, where we found that the Plus tier offers the best deal.
Neither Bluehost nor iPage offer an option to pay monthly – the minimum commitment is one year.
Should you choose iPage or Bluehost for your website?
To recap, both providers have beginner-friendly features, affordable prices, drag-and-drop page builders, and round-the-clock customer service.
iPage is the winner in terms of value for money. From only $1.99 per month, you get many unlimited hosting features and decent e-commerce solutions.
If you have a low budget but want to set up a basic store quickly, you can't go wrong with iPage. However, some users report high loading times, so it may not be ideal if you expect lots of traffic.
Bluehost, on the other hand, is the better choice if you are looking for a WordPress-specific solution. You get access to automatic installation and updates, an excellent knowledge base, and a variety of themes. Moreover, your WordPress site will run faster thanks to PHP7 and caching. The control panel is more user-friendly, too.
That said, if you require stellar performance, then Bluehost's capabilities may not be enough. For more robust websites, there are other beginner-friendly hosting companies that you should consider.
Conclusion
Deciding between iPage vs Bluehost isn't easy, as both hosting companies are affordable and offer beginner-friendly features. However, after our comparison, we believe Bluehost is the winner in this battle due to its compatibility with WordPress and more intuitive user experience.
To recap, here's a summary of both hosting platforms:
If you want to see other affordable options, check out our collection of cheap hosting. Or, if you're looking for a provider that lets you pay monthly, you can browse our roundup of month-to-month hosting options.
Still have any questions about choosing between iPage vs Bluehost? Ask us in the comments and we'll try to help!
Free guide
5 Essential Tips to Speed Up
Your WordPress Site
Reduce your loading time by even 50-80%
just by following simple tips.
* This post contains affiliate links, which means that if you click on one of the product links and then purchase the product, we'll receive a commission. No worries though, you'll still pay the standard amount so there's no cost on your part.