Trying to choose between Ecwid vs WooCommerce to make an eCommerce store on WordPress?
Starting an online store on WordPress often comes with recommendations to install WooCommerce. However, Ecwid is one of the alternative WordPress eCommerce plugins that not only rivals WooCommerce, but it provides unique features you can't find in WooCommerce.
To help you pick the right solution for your store, we're going to compare Ecwid vs WooCommerce in six different areas:
Ecwid vs WooCommerce: What's unique about each one?
To begin our discussion, it makes sense to explain the immediate differences between Ecwid and WooCommerce. What's the selling point for each one without looking too deep into the features?
Ecwid
Ecwid provides a free eCommerce platform to sell anywhere, from your WordPress site to Facebook, and Amazon to a POS. It works best for growing businesses that want to sell on multiple channels, like Facebook and Amazon, in addition to their WordPress site. Ecwid supports all sorts of site builders, not just WordPress.
WooCommerce
WooCommerce is a free eCommerce plugin that takes any WordPress site and turns it into a functional online store. It makes the most sense for growing brands that know they're going to sell on WordPress, or for those who already have a WordPress site but want to add an online store. WooCommerce only works on WordPress.
Ecwid vs WooCommerce: Pricing
What's the cost of Ecwid and WooCommerce?
Ecwid pricing
Ecwid offers a free plan instead of a free trial. You can also upgrade for more.
Here are the plans to consider:
Free – $0 forever, and access to a basic online store to place on WordPress or any other site builder. You also gain access to social advertising, gift cards, and more. This plan supports 10 products.
Venture – $15 per month for professional features and the ability to make a store on places like Instagram and Facebook. Other additional features include a mobile point of sale, mobile apps, discount coupons, and inventory tracking. This plan supports 100 products.
Business – $35 per month to sell on Amazon and eBay, along with features like automated email marketing, abandoned cart emails, and product filters. This plan supports 2,500 products.
Unlimited – $99 per month to add other tools like your own branded app, priority support, and more. This plan supports an unlimited number of products.
You can cut long-term costs by paying for an annual plan.
Other costs to consider
Potential hosting.
Domain name.
Website theme.
Apps.
Credit card fees.
WooCommerce pricing
WooCommerce is free to download. There are no plans to consider and you still receive support for an unlimited number of products.
The basic online store features are all included with the free plugin, but it's not uncommon to have to pay for extensions, which typically cost $50-$200 each.
In addition, WooCommerce runs on WordPress, so you must pay for hosting, potential themes, and a domain name. You'll also pay transaction fees for payment gateways.
For a more detailed look, check out our full guide to WooCommerce pricing and our breakdown on how much an eCommerce store costs.
The winner: WooCommerce
Ecwid does have a free plan but it's limited to 10 products. WooCommerce allows for an unlimited number of products and all basic features for free. Although Woocommerce can get rather expensive with the usual need for extensions, it's better than starting at $99 per month for the unlimited plan from Ecwid.
Ecwid vs WooCommerce: The features
From a feature-set standpoint, Ecwid and WooCommerce are fairly similar, yet they have enough unique elements to distinguish between the two.
Ecwid features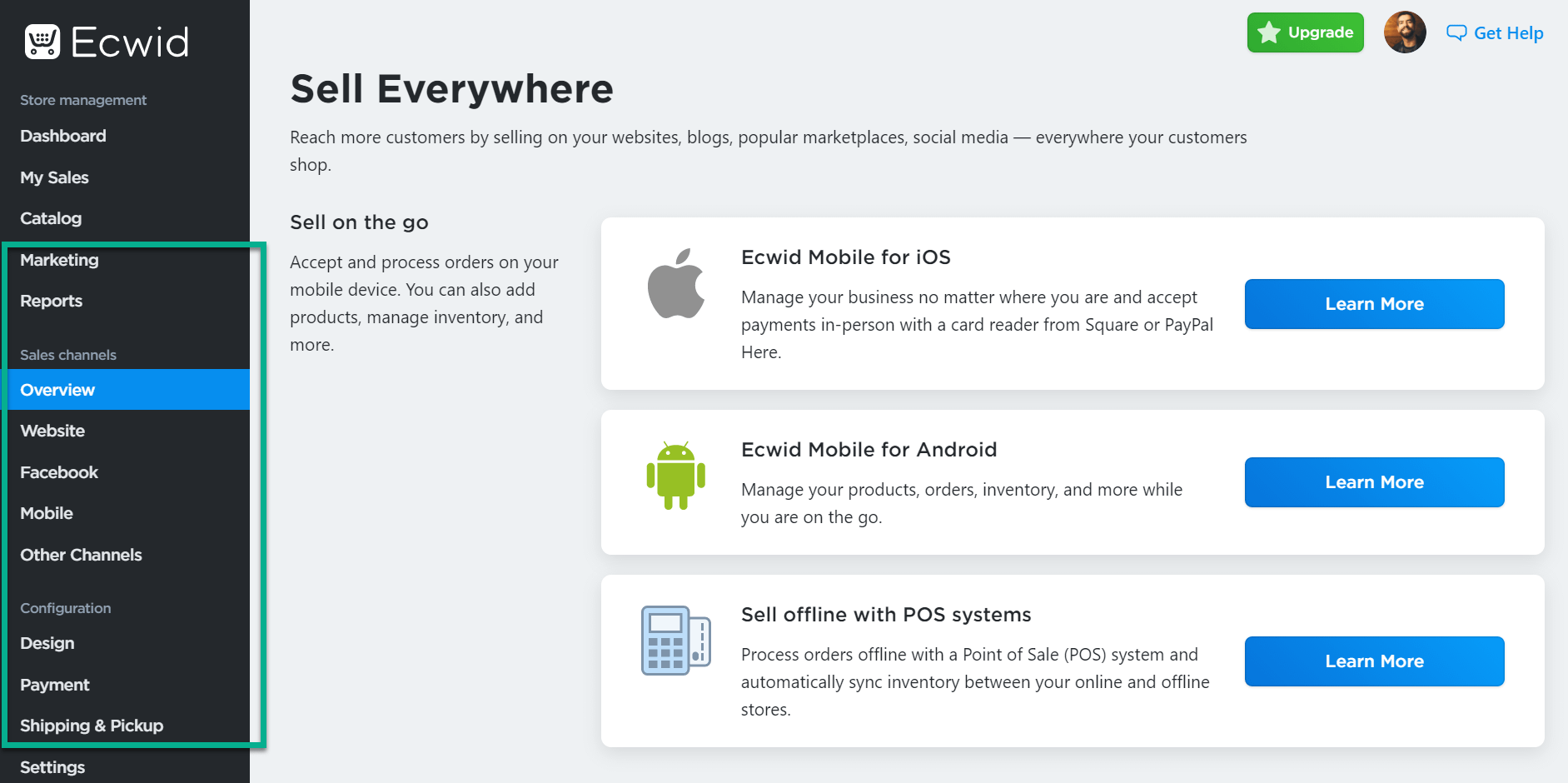 A direct integration with WordPress and several social media sites and other website builders.
A separate dashboard for managing your online store. This offers powerful online store tools and you can still take advantage of WordPress for blogging. Yet, you have to manage two dashboards.
Access to many themes and extensions, yet it's not as much as what you would get directly through WordPress.
A fully customizable store that's separate from WordPress.
Support for an unlimited number of products with the right pricing plan.
Direct selling on places like Facebook, Instagram, and Amazon.
Product settings for things like variants, filters, and custom shipping rates.
Full inventory and order management.
A complete email marketing system and other automated emails for things like abandoned carts.
Excellent marketing tools for selling on social media, listing on search engines, sending coupons, and configuring SEO.
Stats and reports that include support for social pixels and Google Analytics.
Support for over 40 payment gateways.
WooCommerce features
A direct integration with WordPress.
It runs on WordPress so there's no need to have a separate dashboard.
Access to countless themes and extensions.
Access to WordPress customization tools and built-in blogging.
Support for unlimited products.
Product ratings and reviews.
Product settings like variants, affiliates, and shipping options.
Inventory and order management.
Automated shop emails with built-in templates.
Built-in marketing with things like SEO, coupons, and related products.
Detailed reports to see sales and trends.
Support for over 400 payment gateways and recurring payments.
The winner: Ecwid
Ecwid is more focused on offering essential online store tools, all built into the system, as opposed to the many extensions required for WooCommerce. You have to pay for them, but the simplicity and power of Ecwid features win.
Ecwid vs WooCommerce: Interface and ease of use
This is a tough one since Ecwid and WooCommerce have different setups. Ecwid offers a standalone eCommerce platform that combines with WordPress and other website systems. The Ecwid platform is simpler and easier to navigate than WooCommerce, but there is the downside of having to manage two dashboards.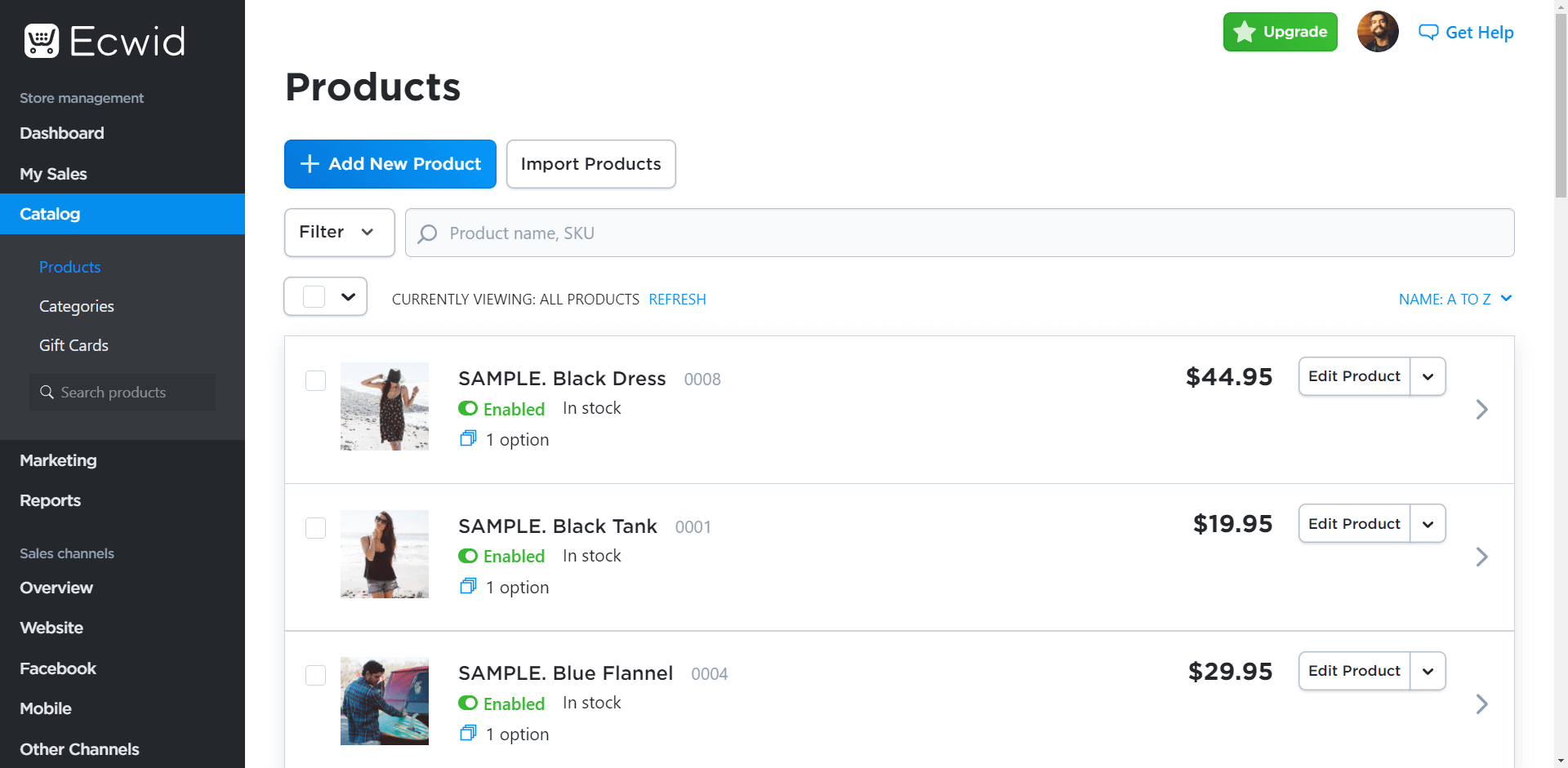 WooCommerce has a learning curve and is often marketed to developers.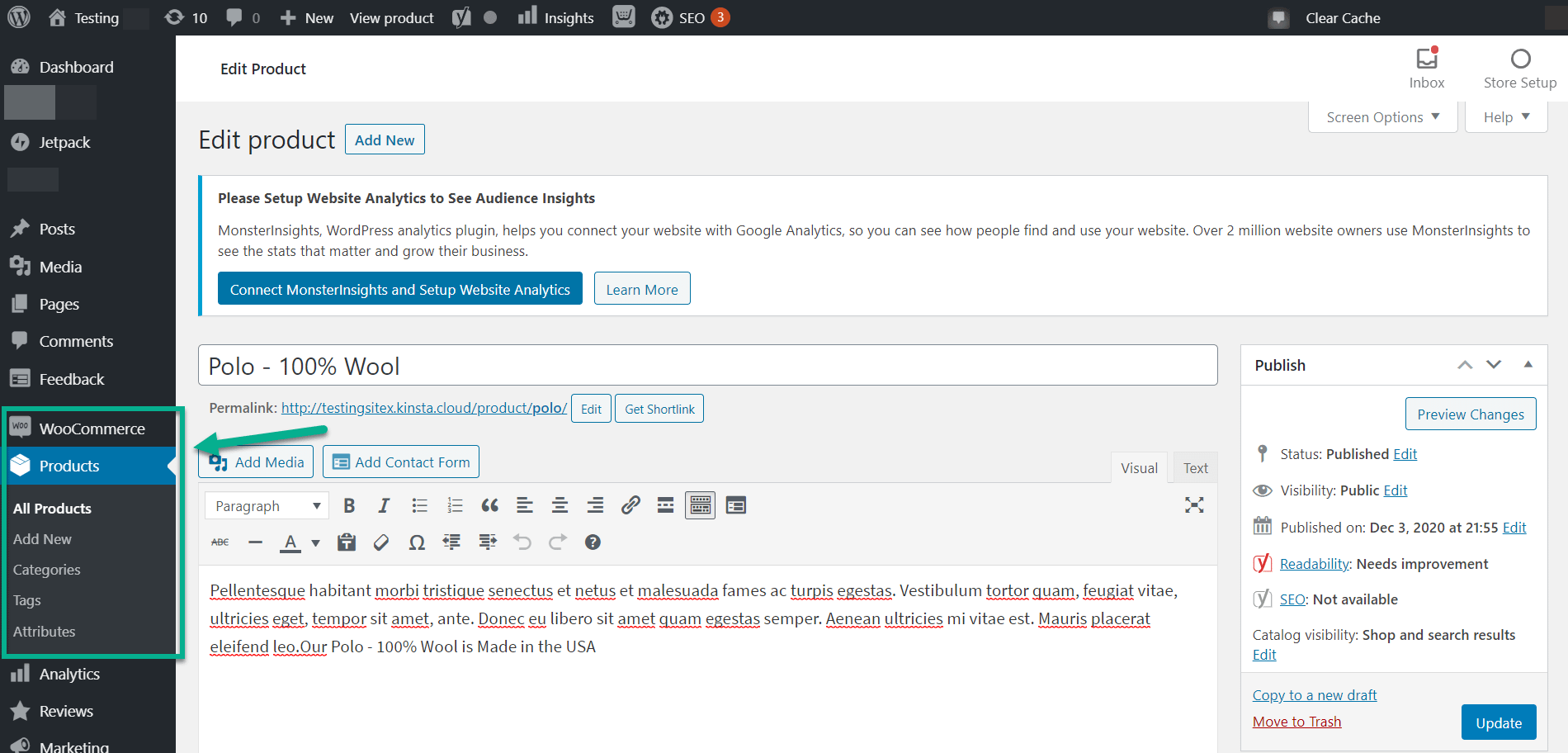 Its main interface advantage is that the system is located on WordPress, allowing for only one dashboard. However, WooCommerce often requires many puzzle pieces in the form of extensions, and it's not as sleek of a design as Ecwid.
The winner: Ecwid (but not by much)
WooCommerce is great for consolidating dashboards, but Ecwid has a stronger store management interface.
Ecwid vs WooCommerce: Customer support
Customer support plays a considerable role when running an online store, seeing as how site problems cost you sales.
Let's take a look at the types of customer support offered by Ecwid and WooCommerce.
Ecwid customer support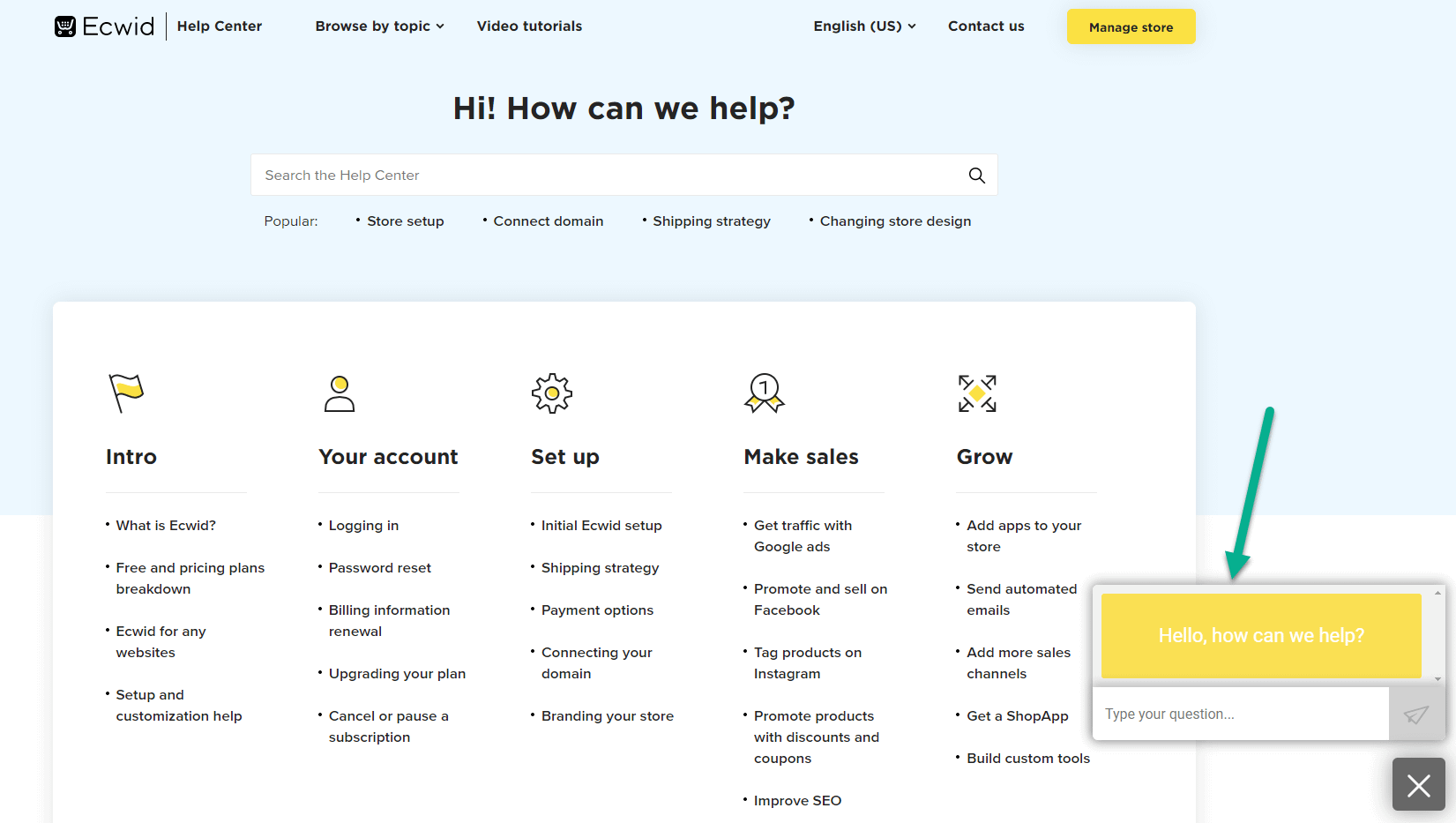 Ecwid offers the following in terms of customer support:
An online chatbox.
A help center.
Online guides.
Videos.
API documentation.
A blog.
A presence on several social sites.
Ecwid does offer dedicated support through a chatbox. You can request a phone call or email through that chatbox.
WooCommerce customer support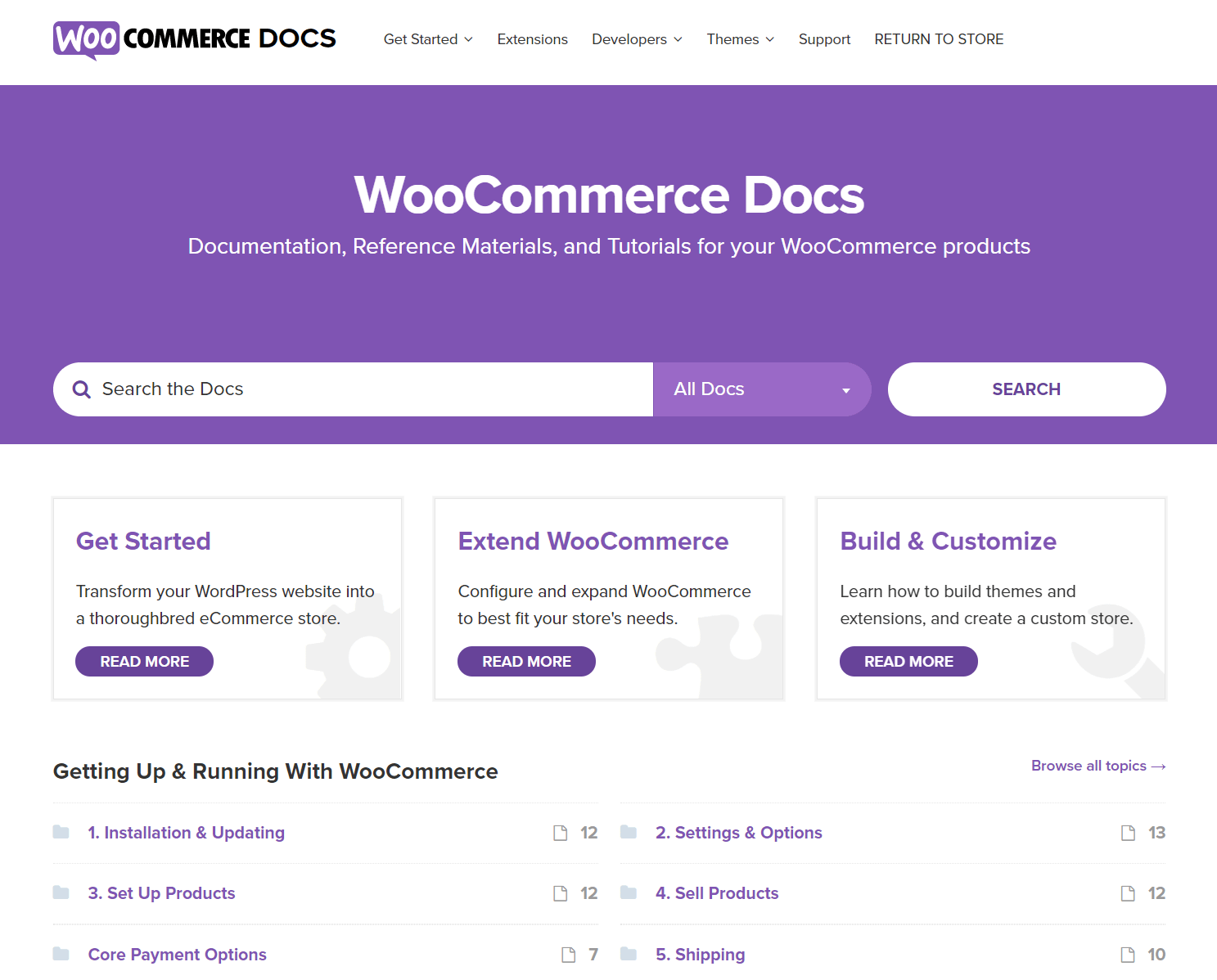 WooCommerce isn't known for its customer support, but there are plenty of resources, including the following:
A knowledgebase.
An online community to find meetups and chat.
API documentation.
Online videos and written guides.
A blog.
A presence on various social sites.
Email and forum customer support from extension developers (not directly through WooCommerce).
The winner: Ecwid
WooCommerce is well-known and documented online. You can browse all sorts of blogs and forums and look into resources on the WooCommerce site.
However, the dedicated support is almost non-existent from WooCommerce.
Ecwid has a chat box with the option to request calls and emails, paired with respectable online resources.
Ecwid vs WooCommerce: Integrations (such as themes and extensions)
What can you expect from these two when it comes to integrations and upgrades?
Ecwid integrations
The Ecwid platform integrates with any website builder and many social networks.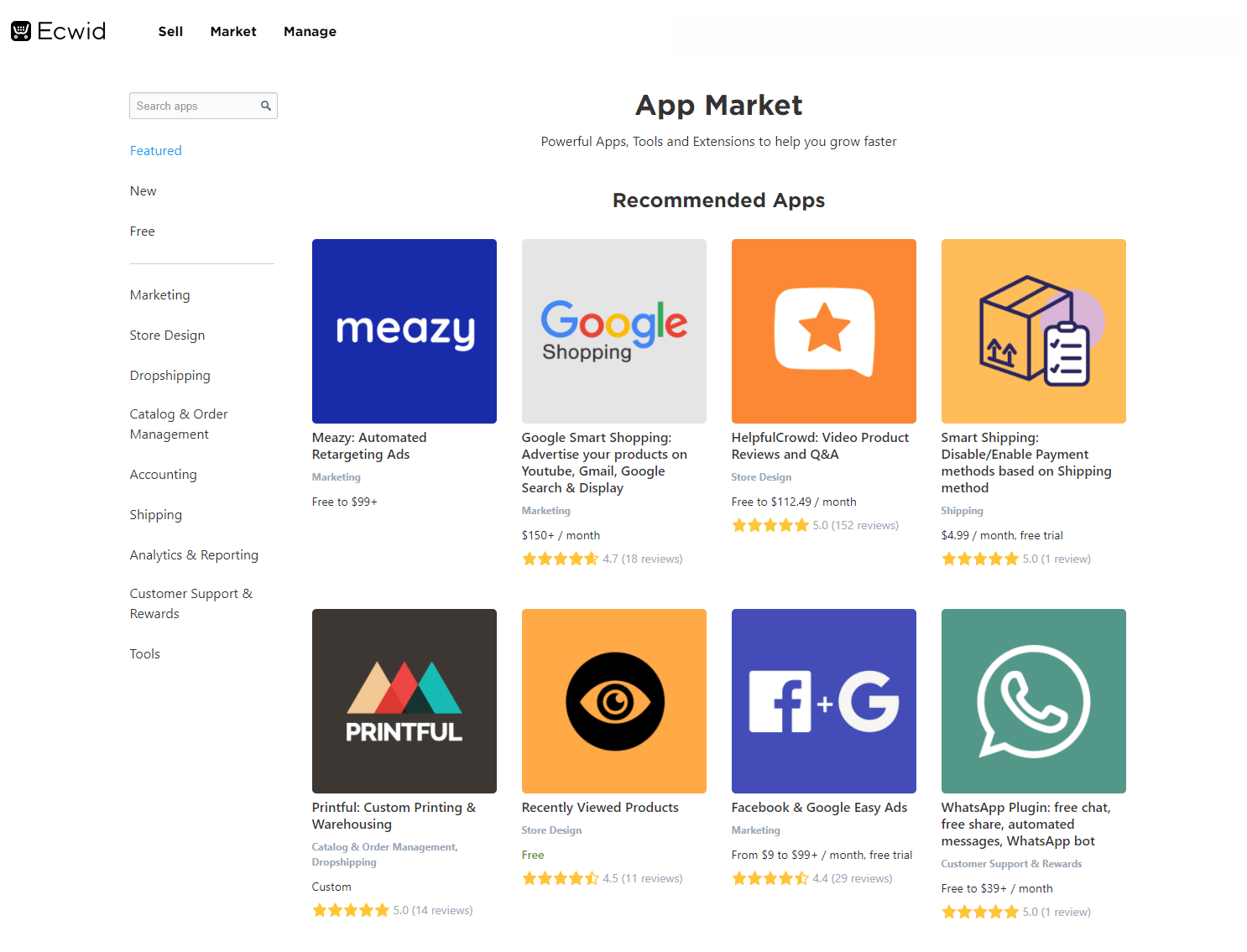 It also has an App Market to install extensions for things like advertising, accounting, and marketing. However, the selection isn't as extensive as WordPress and WooCommerce. Themes shouldn't be a problem, but there aren't as many themes made for Ecwid as there is WooCommerce.
Finally, Ecwid does offer API access.
WooCommerce integrations
Thousands of themes, extensions, and plugins are made for WooCommerce.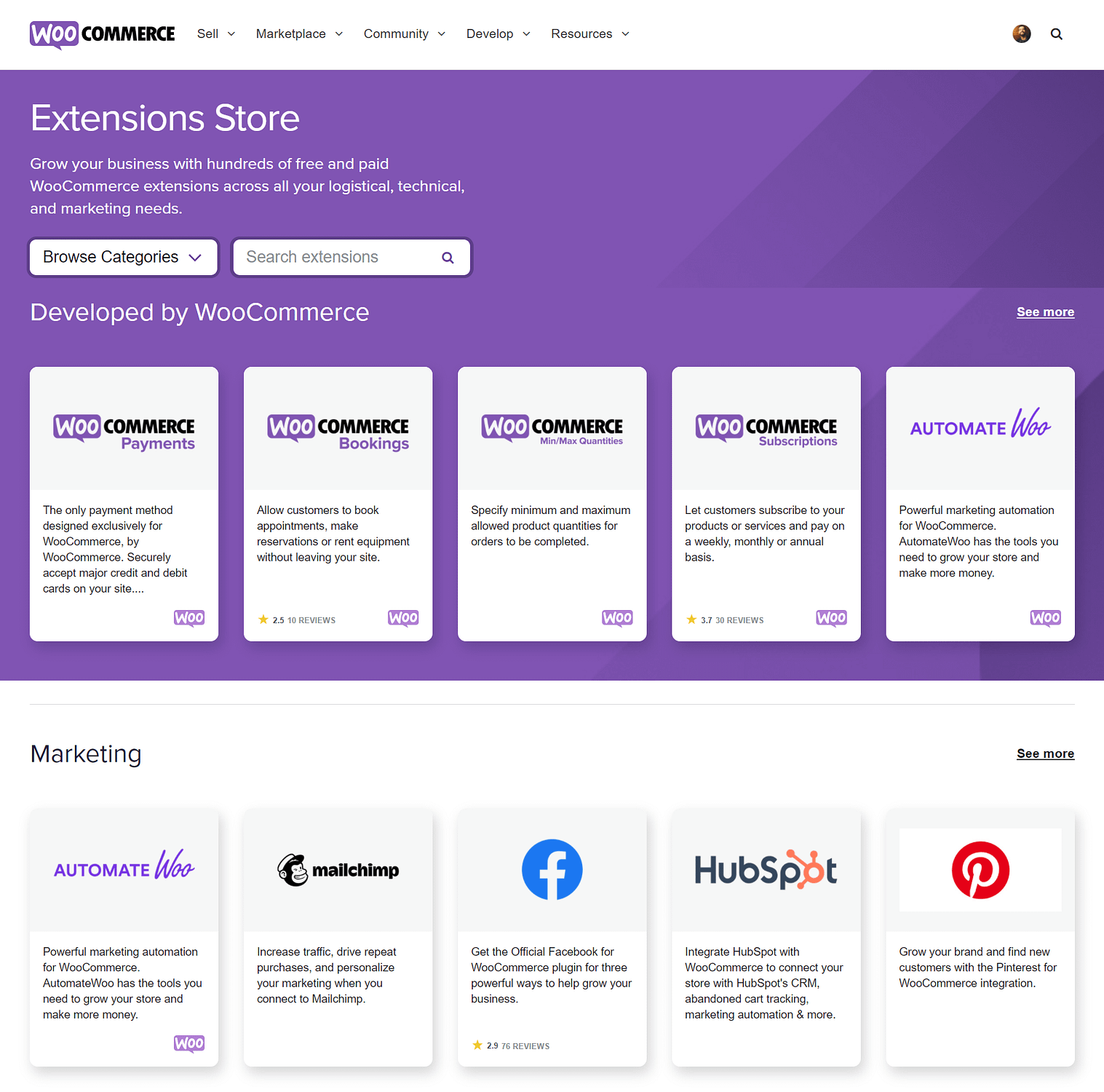 Many of the plugins and extensions allow for accounting improvements, marketing, and social media connections.
Not to mention, the WooCommerce API is open and well-documented.
The winner: WooCommerce
It's tough to beat the market power of WooCommerce when it comes to integrations and extensibility.
Which one wins between Ecwid and WooCommerce?
Here's what we get when tallying up the scores:
Pricing – WooCommerce.
Features – Ecwid.
Interface and ease of use – Ecwid.
Customer support – Ecwid.
Integrations – WooCommerce.
🥇 Ecwid wins 3-2, but it depends on your goals; WooCommerce makes the most sense if you're starting with a larger store but minimal capital. We also like that it functions on the WordPress dashboard, has tons of resources, and integrates with many other tools.
Ecwid is a winner for those willing to pay for things like a beautiful online store builder, dedicated customer support, and awesome built-in features for selling on places other than WordPress.
If you've decided that WooCommerce fits your situation better, check out our full WooCommerce tutorial to learn how to launch your store.
Still have any questions about choosing between WooCommerce vs Ecwid? Let us know in the comments!
Free guide
5 Essential Tips to Speed Up
Your WordPress Site
Reduce your loading time by even 50-80%
just by following simple tips.