If you're an artist, you probably depend on sharing your work to earn a living. Creating a website is often the best way to do this. However, if you're not particularly tech-savvy, you may struggle to find the best website builder for artists.
Fortunately, there are several top-notch options that you can use to display your designs online. By familiarizing yourself with the key features and pricing of the leading solutions, you can choose the best and most effective way to share your artistic work.
In this article, we'll talk about what you should look for in the tool you use to build your site. Then we'll introduce four of the best website builders for artists. Let's dive right in!
What artists should look for in a website builder
Unique professions require tailored solutions. For example, an artist might look for different strengths in a website builder than a small business that focuses on attracting customers via search engine optimization (SEO).
Since your website's technology is the base of your online presence, choosing an option that serves your needs can save you a lot of time and effort. Therefore, you'll need to know what you're looking for.
First and foremost, artists work with visual mediums. As such, you'll want a website builder that can display high-quality images effectively. This can better enable visitors to appreciate your work.
Additionally, you may want to encourage visitors to reach out directly. This can be especially critical if you're looking to sell your work. Providing an easy way to get in touch can encourage more frequent visits and even sales.
Furthermore, many artists keep a busy schedule. You may not have time to learn the nitty-gritty technical details of a sophisticated platform. This means you may want a tool that makes it easy to create beautiful pages, and requires little technical know-how.
The best website builder for artists (top four picks)
If you're not sure where to start, don't worry. Here are four of the top options for artist-oriented site builders – each one offers attractive features worth looking into.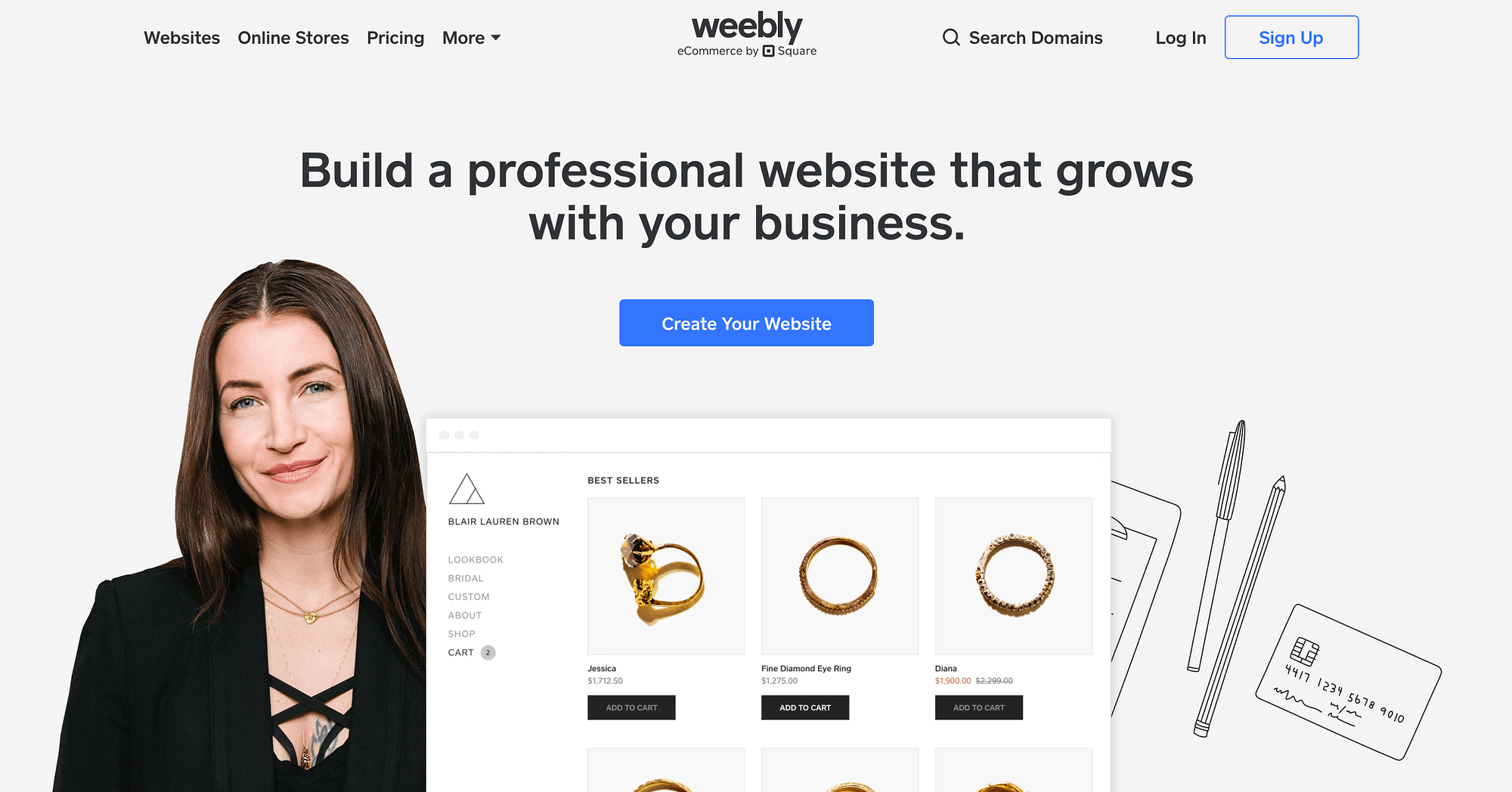 When it comes to simplicity, it's hard to beat Weebly. This website creator offers a quick and easy way to get a gorgeous site online. The process is streamlined from sign-up to publication.
⚙️ Features:
A drag-and-drop interface that makes building pages simple
Web-optimized artistic templates that get you started quickly
Ecommerce tools to make selling art easy (such as built-in Square integration)
Free built-in photo editing, to eliminate the need for a separate tool
All things considered, Weebly is probably the best website builder for artists who are just getting started. The free option is feature-rich, and getting started is a breeze.
However, this platform isn't as technically advanced as some of the competitors. For example, you'll need to use code if you want to work outside of the predetermined templates.
Nevertheless, Weebly manages to be flexible even within these limits. You can choose from a large library of third-party apps to create a unique site for your brand.
For example, you might use an extension to accept bookings for commission consultations. While some of the apps are premium options, many quality ones are also available for free. This makes Weebly customizable in terms of features, if less so when it comes to formatting.
💵 Pricing: You can get access to Weebly's basic functionality for free. This includes SEO, selling items, and support. Paid plans start at $6 per month for more advanced features and scale up to $26 per month.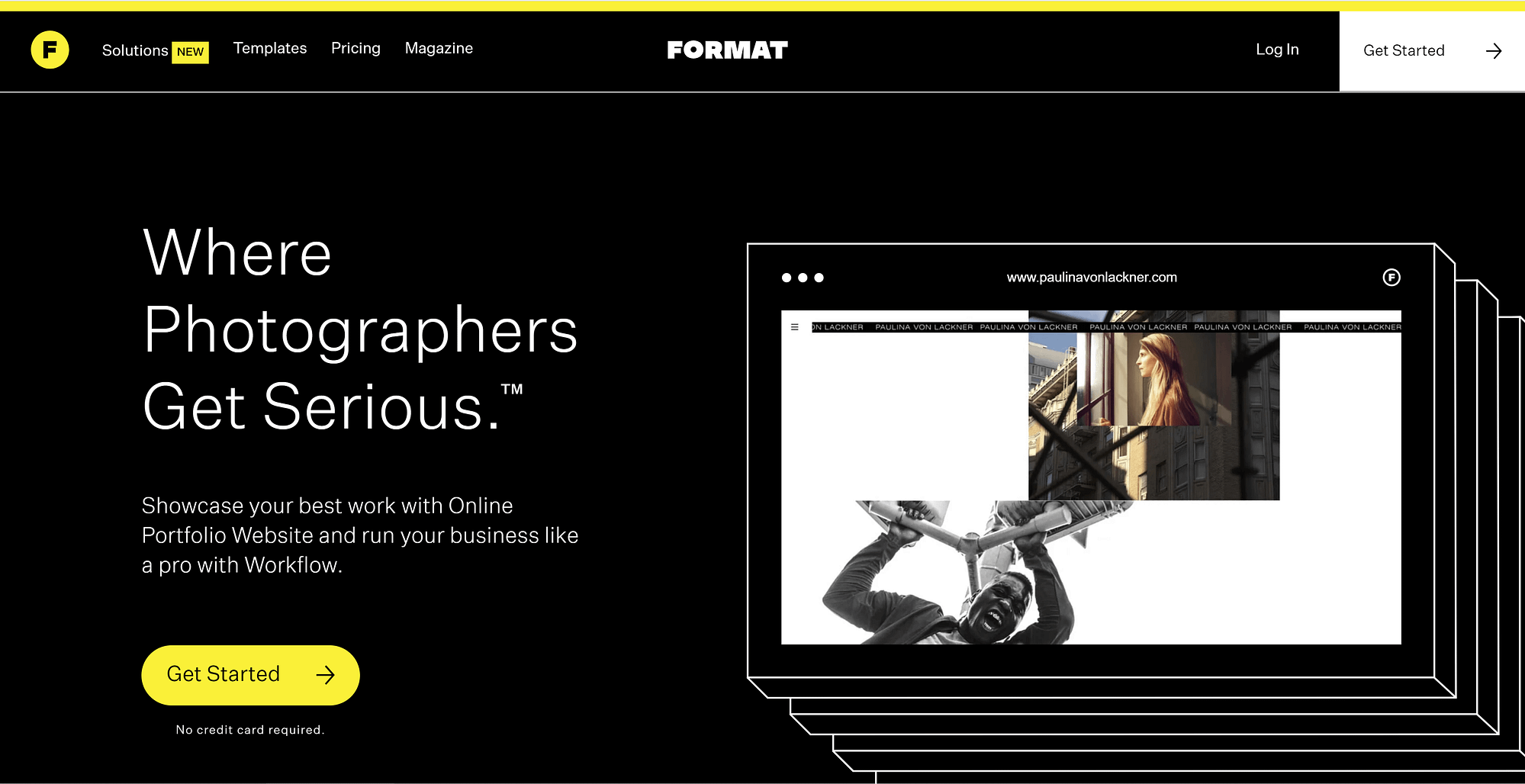 Format is a photography-centric builder. This means its developers have crafted a platform capable of supporting image-heavy websites with designer templates. Therefore, it's one of the best website builders for artists regardless of their particular niche.
The biggest strength of Format is arguably its portfolio-forward design. This solution makes it simple to showcase your work in a stunning way.
⚙️ Features:
A wide selection of templates catering to six artistic specialties and five types of gallery displays
A fully mobile-friendly design, to ensure that you only need to build a single version of your site
An easy editing interface that enables you to seamlessly switch templates if you change your mind
The seamless editing and variety of display functions make Format ideal for creating professional portfolios. These features also make it a wise choice if you want uploading new content to be a quick and simple process.
Format also has simple yet effective blogging capabilities. Its eCommerce options are equally straightforward. They may not be as sophisticated as some competitors, but they're effective enough to offer your work for sale online.
💵 Pricing: Format's plans are on the pricier side. The portfolio plans start at $15 per month. This will get you up to 1,500 images, unlimited blog posts, and the ability to sell three commission-free products. Plans scale up to $40 per month for more features and higher limits.
You might also choose to use the workflow plans if you have artistic clients. This helps you manage websites for fellow creatives. Plans start at free for this version, scaling up to $40 per month. Format also offers a two-week free trial if you're interested in a test run.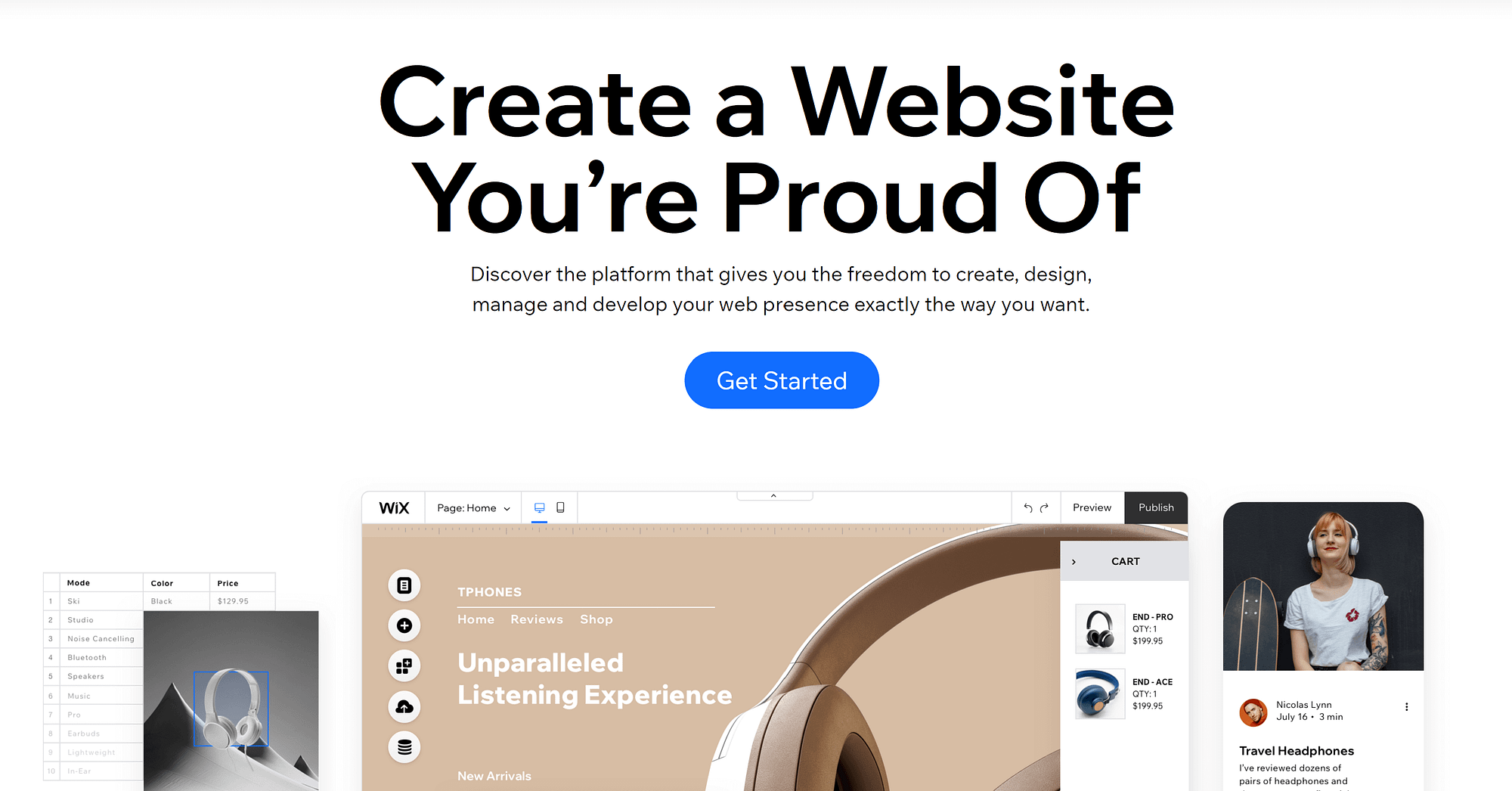 Specialization can be helpful for artists, but it doesn't have to be the only element you look for. If you're more interested in an all-around powerhouse of a site builder, you might want to consider Wix.
This platform is flexible, customizable, and simple. It might not fit directly into the artistic niche, but its emphasis on design still makes it a top contender.
⚙️ Features:
Over 800 templates, giving you more chances to find a perfect fit for your brand
The opportunity to edit site elements ranging from font choice to the site's underlying structure
Direct integration with online marketplaces, which is useful if you started your art career on a platform such as Facebook
Given these features, we recommend checking out Wix if displaying media isn't your main focus. For example, you might be looking to promote your art while also building a personal brand with a dedicated blog. Wix can serve both purposes, while supporting your SEO needs as well.
Moreover, Wix also offers very in-depth editing of your website. As such, you may consider it the best website builder for artists if you're looking to highly customize your site's appearance and functionality.
💵 Pricing: Wix has a variety of pricing plans to choose from. Options start at $16 per month, and scale up to $39 for more advanced features.
If you want to sell your art, you'll probably want to opt for a business plan. Prices for these range from $23 per month to $49 per month.
👉 If you're interested in Wix, you can follow our step-by-step Wix tutorial or read our Wix review for more details.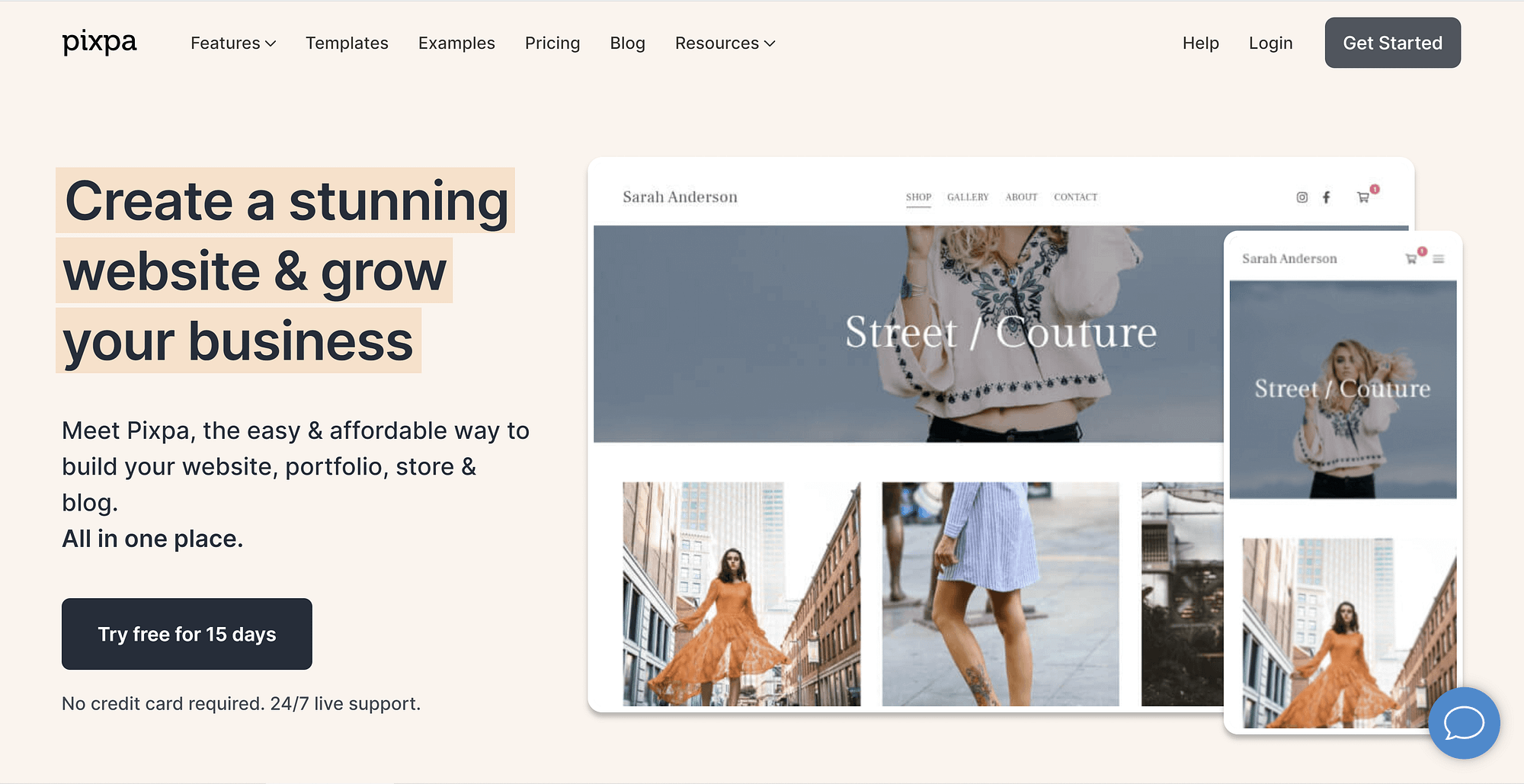 Art is a vast field with many potential applications. Some creators may choose to sell their work, while others want to focus on displaying it with a portfolio. If you find yourself in the latter group, Pixpa may be worth a look.
Pixpa was designed specifically for photographers but is well-adapted for any type of visual media. Furthermore, this platform boasts impressive 'client proofing' features. As such, it's also a wise choice for freelancers helping artists publish their work.
⚙️ Features:
Powerful eCommerce functionality to help you sell what you're showing off
A search-engine friendly design, including unlimited bandwidth for quick loading
The option to create up to ten galleries, a smart way to differentiate various categories of work
Overall, Pixpa is a smart choice if you're looking to build sites for creative clients. The included features make that process a breeze.
Pixpa is also impressively scalable. This makes it a solid pick if you're not sure how quickly your site will grow. The platform makes upgrading easy and provides tons of support.
💵 Pricing: Pixpa's pricing plans are designed for maximum scalability. You can get a plan starting at just $7 per month, and options scale up to $16 per month. You can also get a 50% discount if you're a teacher or student
Launch your artist website today
The digital age has brought many changes, including a huge and effective platform for creatives. If you want to benefit from that platform, you need a top-notch site, which means picking the best website builder for artists.
Fortunately, you can find your ideal match by understanding what each of the top options has to offer. Every tool we've looked at has significant benefits, but our favorite is Pixpa. With affordable prices and powerful features, it's a solid starting point for artists of any experience level.
One option we didn't discuss on this list is WordPress. If you're comfortable with a bit of a learning curve, WordPress gives you a lot of flexibility to build the perfect artistic website. It also comes with dedicated extensions for artists, such as themes and plugins for photographers or other artists.
Do you still have any questions about finding the best website builder for artists? Let us know in the comments section below!
Free guide
5 Essential Tips to Speed Up
Your WordPress Site
Reduce your loading time by even 50-80%
just by following simple tips.