What is shared hosting? In simple terms, it's a hosting arrangement where a number of websites share server space.
Because you're sharing space with other accounts, hosts are able to offer lower prices, which is why shared hosting is the most popular type of hosting, especially for beginners.
In this post, we'll explain what shared hosting is in more detail and help you decide if it's right for you. If it is, we'll also recommend some of the best shared hosting providers.
Despite the number of hosting options available, shared hosting is the go-to option for most websites, particularly entry-level hosting.
In addition to sharing server space, your website shares common server resources such as RAM and CPU with many other customers. This set-up results in reduced hosting charges, besides requiring little technical knowledge on the users' part.
However, it's not all rosy with shared hosting – depending on your hosting plan, you may find that your website may not handle high traffic efficiently, and you may not have root access. The crowding of the server may also affect your website performance.
If you're starting a small blog with minimal traffic or just launching a new site and wonder how to host a website, then entry-level shared hosting plans may be the perfect affordable solution.
Other types of web hosting
Shared hosting is one of the most popular ways to get your website up on the internet. But, there are other options too, like:
Dedicated hosting: Allows you to rent the entire server exclusively for your use. This ensures better website performance and maximum server control. It's suitable for websites with the most intensive resource needs. Needless to say, this can be expensive. Find out more here.
Virtual private server (VPS): Is an ideal midway hosting option between shared hosting and dedicated hosting. It divides the server into many virtual servers, and each website functions as if it resides on its own dedicated server. Users will have root access and enjoy secure hosting. Find out more here.
Managed hosting: Some hosting companies take care of routine management of hardware, operating systems, and common applications. They undertake software setup, configuration, management, updating, monitoring, technical support, and maintenance leaving you to focus on content. In fact, you'll find companies that offer specialized WordPress hosting, too (the hosting server is optimized to run WordPress websites only).
Reseller hosting: This one is useful if you're considering starting your own hosting company. It provides a separate control panel to control each of your websites. Learn more about what reseller hosting is or find the best hosting resellers.
Cloud hosting: This is not really a separate kind of hosting – it simply indicates a group of servers (cloud) combining to host a large number of websites. The advantage here is that it's highly scalable, allows for high traffic volumes as well as sudden spikes in traffic. Charges are generally on a usage basis.
Now that we've gotten past what is shared hosting, let's find out how to pick a good hosting services provider. The safety of your data, website performance, and traffic hugely depend on it. Some of the parameters to check out are:
Storage space – The actual physical disk space you get to store your databases, files, and media. It really depends on the size of your website.
Bandwidth – The amount of data your visitors can upload to/download from your website. If you exceed this limit, you may need to pay over and above your plan charges. While most hosting providers offer unlimited bandwidth, data transfer speeds can lag if appropriate hardware is lacking.
Uptime – Your website needs to be available to visitors constantly. Most service providers guarantee 99% uptime, but you should ideally aim for 99.9%+. You can use uptime monitoring to check it.
Customer support – Actually, this may be on top of the list, especially if you're new to hosting and don't possess great technical skills. Nowadays, most hosts offer 24/7 support
Security – Your data needs to be maintained securely. Cheap hosting plans tend to skimp on security features.
Easy to use dashboard – It's convenient if the control panel allows you to execute most of the tasks from a friendly interface. Pre-installed apps and eCommerce features are attractive too. Check out the dashboard to see if it offers the apps relevant to your website
Database and programming language – The server needs to support many types of databases (MySQL) and programming languages (PHP). This helps you to upgrade to newer technology or change languages at a later date.
Domain name – Some hosting providers also offer domain name services as an add-on. This is convenient if you want to set up the website and have it running from one place.
It's also important to look a little into the future, project your website's growth and see if your website hosting provider can live up to it.
The most obvious advantage of shared hosting is reduced costs. Entry-level plans come as cheap as $3 per month. Not only that, it's convenient too – you don't have to worry too much about server-side maintenance. And there's the added advantage of an option to scale up when you need, all without getting into technical details. Many hosts also offer customized packages at the higher end.
With so much going for it, what could be the disadvantage – well, there's security for one. A breach of any one website on the server may affect all other websites (though some shared hosts implement strong security isolation). Spikes in traffic to other websites can slow down your own. Finally, you sometimes might have long waits for support.
Many of the disadvantages of shared hosting can be overcome by choosing a good service provider. Among the best shared hosting providers are Bluehost, SiteGround, and DreamHost. And that can also explain why all three are official recommendations from WordPress.org.
Bluehost
Bluehost offers single website hosting for as little as $2.75/mo. (annual payment). What's more, they throw in a domain name, CDN, and SSL certificate for free. You'll also have 50 GB SSD storage and access to custom themes.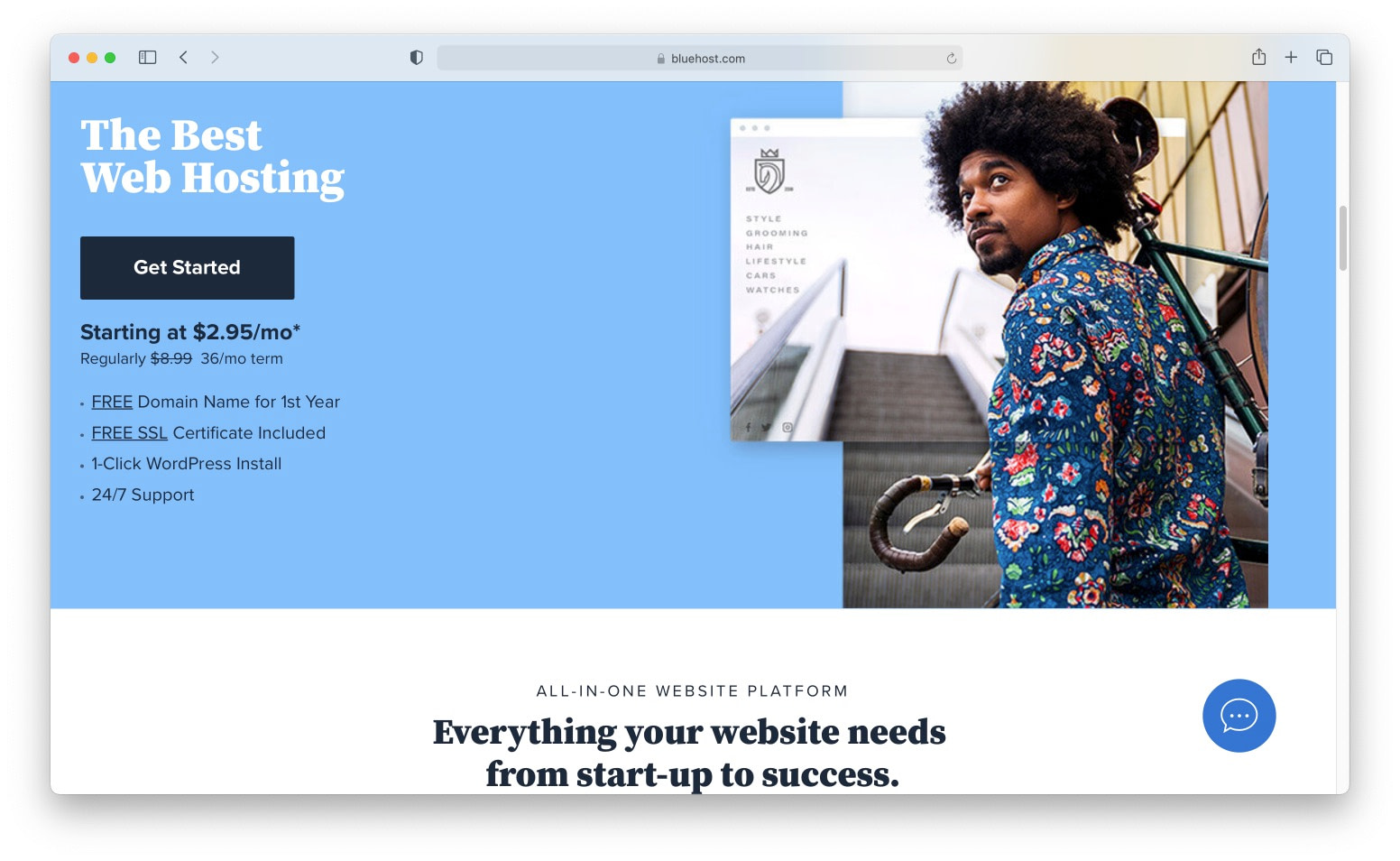 If you wish, you can opt for WordPress specific hosting too. The higher plans are more suitable for an unlimited number of websites or storage space, or automated backup.
👉 Check out our Bluehost review to learn more.
SiteGround
SiteGround's basic plan starts at $2.99/mo. paid annually. For this price, you get 10 GB of website space, 10,000 visits/mo. and unmetered traffic for one website. Besides, there's daily backups, free CDN, email, and SSL.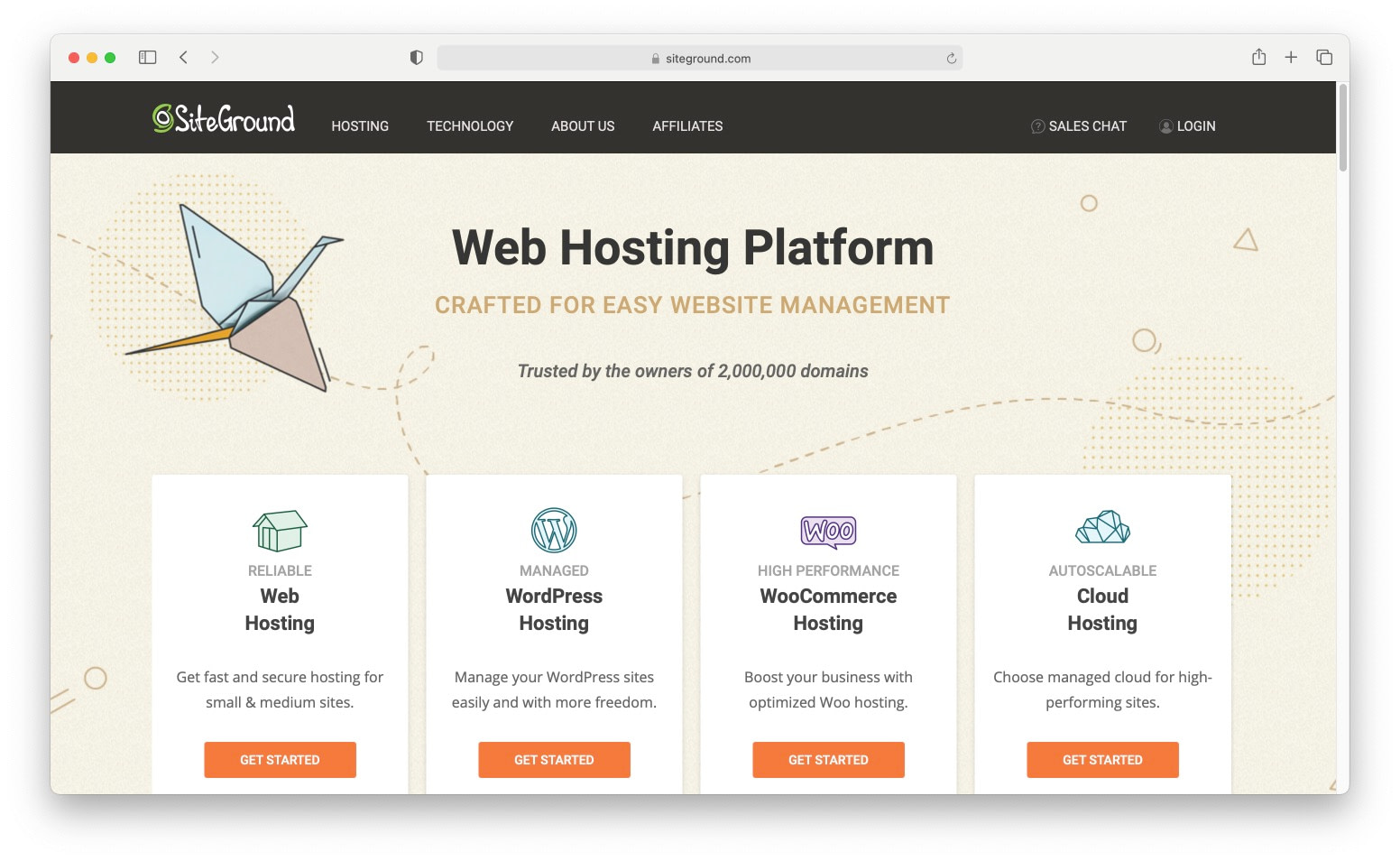 With the higher plans, you'll have access to on-demand backup, caching, staging, and developer features.
👉 We have a full review of SiteGround if you need more information.
DreamHost
The regular price of the DreamHost Shared Starter Plan is $2.59/mo. This plan gets you unmetered traffic, 50GB disk space, and free SSL. With an annual payment, there's a free domain, too. Added to this, you'll have access to automated updates, automated scheduled backups, and domain privacy.
However, for free email hosting, you'll need to choose the higher plans.
Now that we have a clear picture of what is shared hosting, it's also easy to see that it's almost always the best option for beginners. Even the most basic plans offer a user-friendly interface and flexible options to suit your needs.
For even more options, check out our full collection of the best shared hosting. Or, if you have a WordPress website, you can browse our full explainer of the different types of WordPress hosting.
Still have any questions about what shared hosting is? Ask in the comments!
Free guide
5 Essential Tips to Speed Up
Your WordPress Site
Reduce your loading time by even 50-80%
just by following simple tips.
* This post contains affiliate links, which means that if you click on one of the product links and then purchase the product, we'll receive a commission. No worries though, you'll still pay the standard amount so there's no cost on your part.