If you run your own website, chances are you've heard of dedicated WordPress hosting. However, this top-tier solution isn't for everyone. Thus, you may feel a little unsure about investing in your own server.
Fortunately, we can help you make up your mind. By carefully considering both the advantages and drawbacks of dedicated hosting, you can figure out if your site needs this premium solution.
In this article, we'll take a closer look at dedicated WordPress hosting, and discuss some of the benefits and challenges of choosing this type of service. We'll then explore three of the best providers on the market. Let's dive right in!
📚 Table of contents:
An introduction to dedicated WordPress hosting
If you want to host a WordPress website, you have a lot of different options. For example, shared hosting is a popular economic choice. Nevertheless, some users prefer the slightly more expensive virtual private server (VPS) hosting service.
When you use a shared or VPS server, you're essentially renting out part of a physical server. With shared hosting, you're literally sharing resources with other accounts on the server and you have limited control over server-level settings. A VPS fixes that somewhat by giving your hosting account its own resources via a virtual partition, but you still don't get access to the full power of the underlying server.
However, these aren't your only choices. You can also opt for a high-powered, premium solution: dedicated WordPress hosting.
When you choose this service, an entire physical server is reserved for your WordPress website. There's no need to share storage or worry about a neighbor's virus affecting your data. Instead, you have full privacy and resources devoted solely to your needs.
As you might expect, the exact features you get will vary depending on your provider. Nevertheless, most companies offering this service have one thing in common: a steep price tag.
While you can usually find shared hosting for as low as a few dollars per month, you should reasonably expect to spend several hundred dollars for a dedicated solution. Maintaining an entire server requires a lot of resources – some monthly prices can even exceed $1,000.
Do you really need dedicated WordPress hosting?
Like we've said before, dedicated WordPress hosting isn't for everyone. As such, we recommend that you consider the following drawbacks and advantages before you make a decision.
Most of the benefits can be summarized in one word: power. Dedicated WordPress hosting can offer top-of-the-line security practices, huge amounts of storage, and few limits on your traffic. Depending on what kind of dedicated hosting you sign up for, you may also get to choose the hardware and software you want to be installed.
On the other hand, the primary drawback is cost. As mentioned above, you'll likely pay a hefty price for this kind of hosting plan. Even if you can afford it, your money might be better spent elsewhere if you don't require so many resources.
It's also important to understand that there are two general categories of dedicated plans:
Unmanaged dedicated hosting. These plans give you full access to your server and enable you to customize it however you wish. This provides ultimate control over how your site is hosted but requires a lot of time and technical know-how to manage on your own.
Managed dedicated hosting. With this variety, you can often still make choices about how your server is set up. After that, however, it's a hands-off service. Your provider will handle tasks such as optimization, updates, backups, security scans, and more.
Most web hosts that offer dedicated WordPress hosting provide managed services, which can make your job a lot easier. Some companies even offer full support when it comes to troubleshooting WordPress errors, so you can rest assured that there's always a dedicated team of experts behind you.
Ultimately, you probably don't need dedicated WordPress hosting of either type. It's a niche option that offers more power than most people require, and is often prohibitively expensive.
If you don't want to share resources with other sites (shared hosting), a VPS offers a more cost-effective way of getting your own resources than paying for the entire server.
However, there are a few cases where dedicated WordPress hosting might be the right solution for you. For example, if you run a site with a lot of traffic, a dedicated server can be essential in order to avoid downtime. A large-scale ecommerce site may make enough money to justify the added cost of dedicated hosting.
Similarly, if your site handles sensitive user information, you might require the utmost in security features. Therefore, we highly recommend that you consider your unique needs and budget before committing to a service.
Best dedicated WordPress hosting providers in 2022
If you've made the decision to invest in this premium service, it's time to check out your options. Here's our breakdown of three top hosts offering dedicated WordPress servers.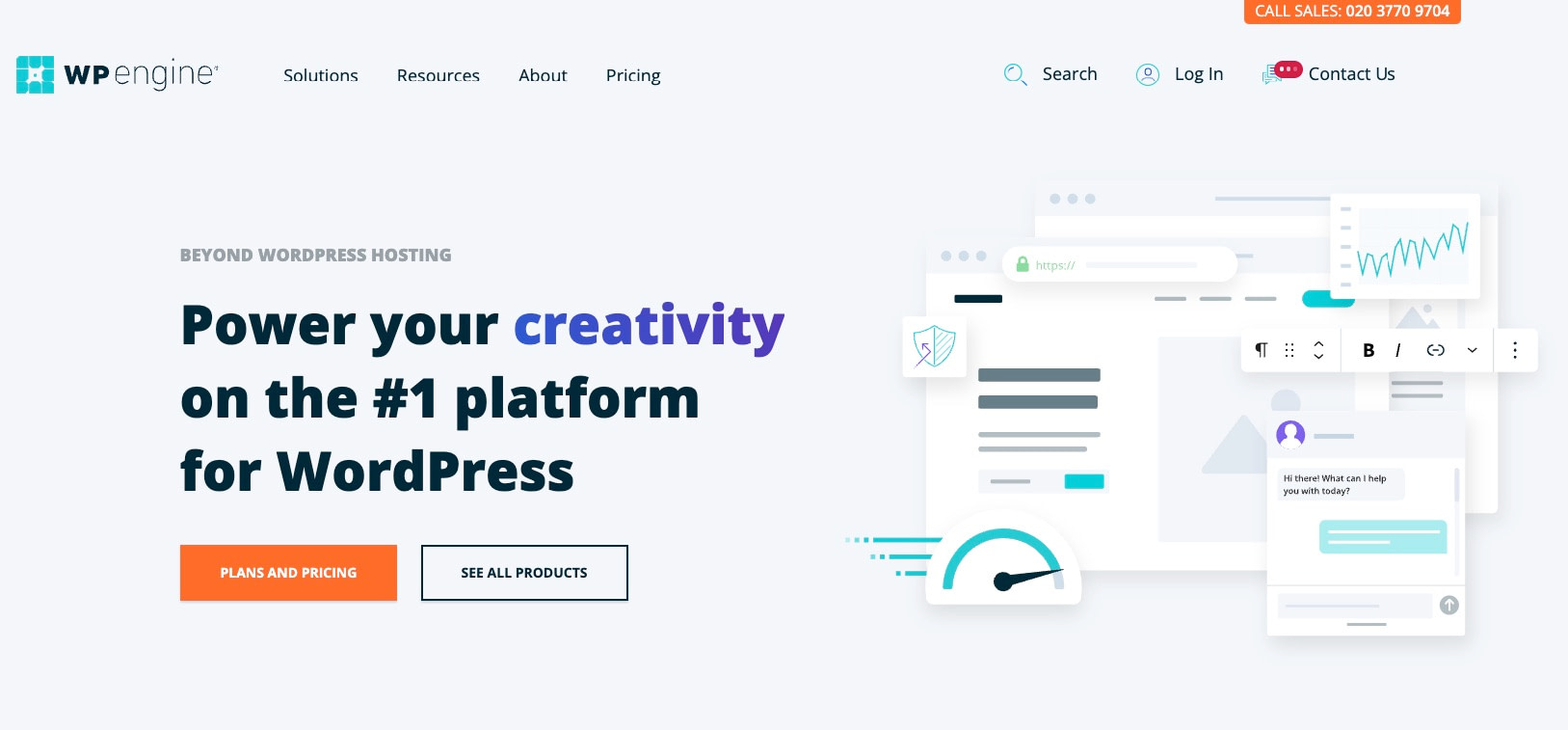 WP Engine is one of the most well-known WordPress hosts around. They offer a range of different hosting options, powered by Google Cloud or AWS infrastructure depending on the plan.
WP Engine's dedicated hosting plans are personalized for each client. While WP Engine does have pre-set plans for specific use cases like WooCommerce stores, you'll need to reach out to the WP Engine sales staff to chat about a dedicated server.
🛠️ Here are a few features that you can expect if you choose WP Engine:
99.99% uptime promise backed by an SLA
Custom-built plans for your unique needs
Dedicated developer environment to run your own tests
WP Engine can also help you create server clusters for high-availability hosting if uptime is of paramount importance to you.
One of the reasons we like WP Engine for dedicated WordPress hosting is that it offers managed hosting. This means that a variety of administrative tasks are taken care of by professionals. Therefore, this option can be a smart choice if you want to manage a huge site with minimal time investment.
WP Engine also has excellent customer service. Each dedicated plan comes with premium support around the clock. This makes WP Engine a strong contender if you'd like that extra support from your host.
You can learn more about WP Engine hosting in general via our full WP Engine review.
💵 Pricing: Since all WP Engine plans are custom-made, there are no published prices. Your bill will depend on your requested resources and any add-ons. For more information, you can contact WP Engine directly about an enterprise solution.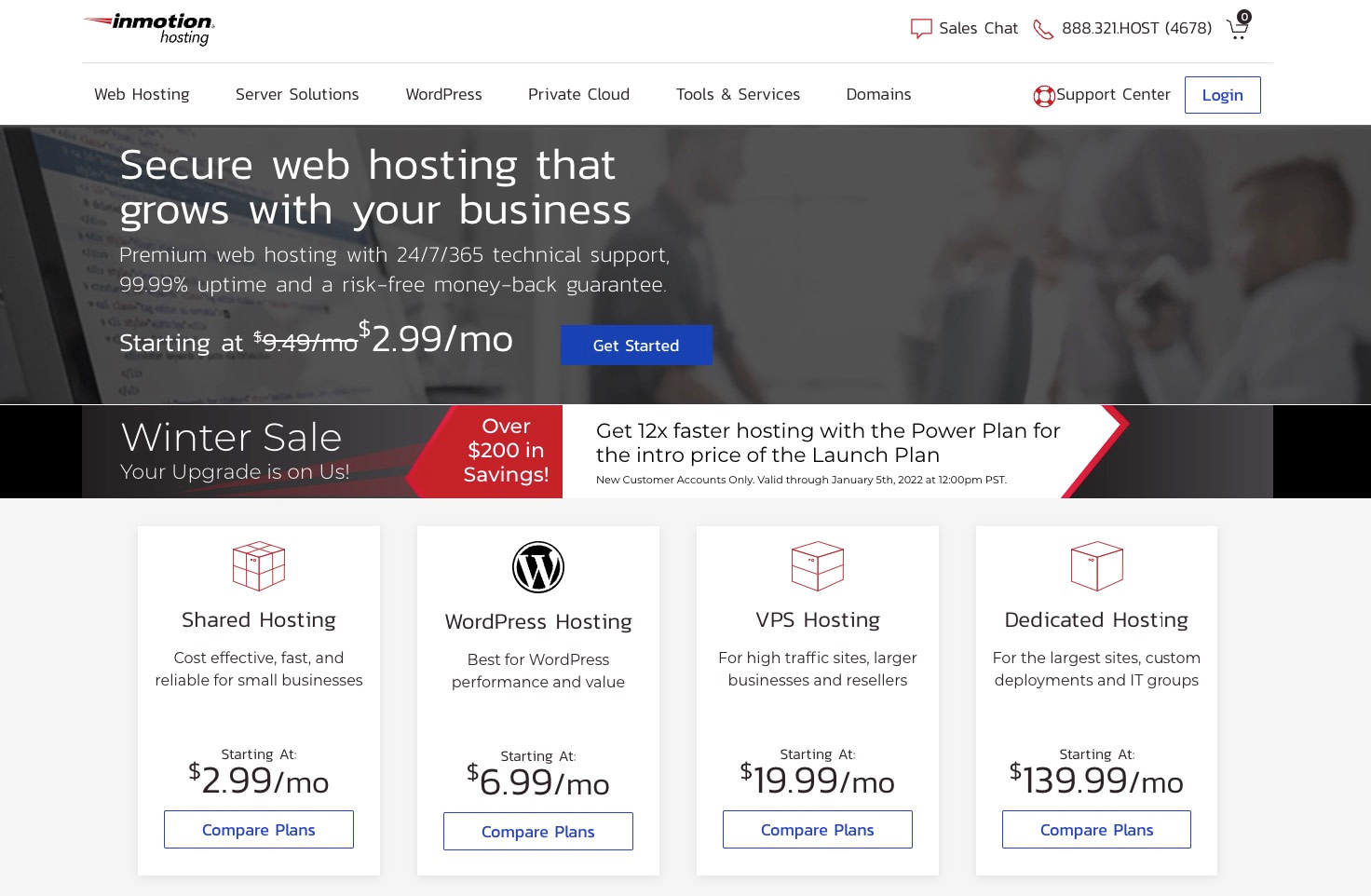 Not all dedicated hosting solutions come with custom plans only. In addition to personalized options, InMotion Hosting offers five pre-built plans.
🛠️ InMotion Hosting also provides an impressive array of features to support your WordPress site, such as:
Free SSD storage on all plans
Upgrades that don't require reboots or cause downtime
Optional UltraStack upgrade to support intensive data workloads
Even if you choose a pre-built plan, you can still adjust it with add-ons like additional RAM. Given all these options, we think InMotion Hosting offers some of the most flexible plans on the market. If you want to be able to scale your resources, InMotion may be the right choice for you.
Moreover, it's the ideal dedicated WordPress hosting service if you need to get started quickly. This is because you can choose a starter plan and adjust it as time goes on. Furthermore, all plans include a free setup and optional web migration with no downtime – perfect for a seamless transition.
Additionally, InMotion's plans are relatively affordable. While they're still more expensive than most shared or VPS plans, the relatively low price point can help you access exactly the power you need at a price you can pay.
💵 Pricing: InMotion's pricing plans start as low as $139.99 per month for the Essential package. This plan comes with 5 dedicated IPs, 16 GB RAM, and 15 TB data transfer. Over on the other end of the pricing scale is the CC-2000 package. This offers 15 dedicated IPs, 192 GB RAM, and 25 TB data transfer. Custom plans are also available.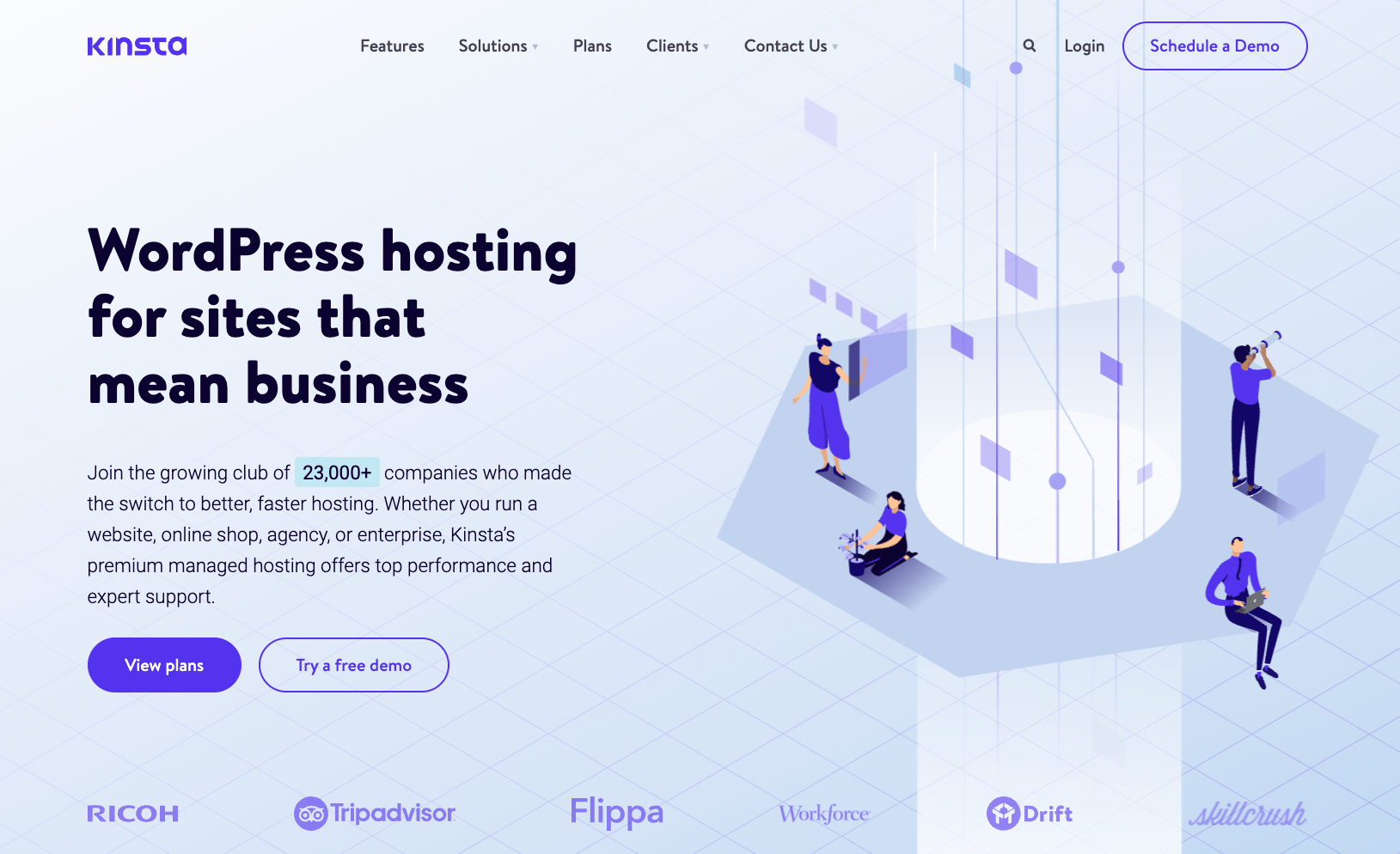 When it comes to dedicated WordPress hosting, Kinsta is a little different. If you want a dedicated server, you first need an active Kinsta hosting plan that has enough visits and disk space for your site. As such, setting up a plan may take some time.
However, this approach can also be helpful. For example, you may be expecting a significant spike in traffic but don't anticipate it to last longer than a month. In this case, you could simply add your dedicated server option for that period of time.
🛠️ Kinsta offers a few other stand-out features if you're looking for a permanent dedicated WordPress hosting solution:
Robust security protocols such as firewalls, daily backups, and frequent uptime checks
Choice of 28 Google Cloud Platform regional data centers for each of your sites
Self-healing PHP technology that constantly monitors for any issues
We highly recommend Kinsta if you're on the fence about a dedicated WordPress server. The company's add-on plans can help you familiarize yourself with the interface while still seamlessly serving your users. If it doesn't end up being the right option for you, you can always revert back to the basic plan.
You can learn more about Kinsta hosting in general via our full Kinsta review.
💵 Pricing: Kinsta's pricing for dedicated servers will vary because they're made-to-order. To get a quote, we recommend reaching out to their sales staff via the live chat form on the pricing page. You can also check out this guide.
Get started with dedicated WordPress hosting
Dedicated WordPress hosting is a very niche product. For many WordPress sites, you'll be better off with a VPS than dedicated hosting as a VPS still gets you dedicated resources at a lower price point.
However, some WordPress sites do need dedicated hosting, either because of high-traffic/unique resource needs or regulatory/security compliance that requires a separate server for your site.
While we covered three impressive companies offering dedicated WordPress hosting, one option particularly caught our attention: InMotion Hosting. With flexible features and a relatively accessible starting price, we think that InMotion Hosting is the most efficient way to upgrade your site.
Do you have any questions about dedicated WordPress hosting? Let us know in the comments section below!
Free guide
5 Essential Tips to Speed Up
Your WordPress Site
Reduce your loading time by even 50-80%
just by following simple tips.