If you're running a website, you're probably familiar with the concept of email marketing. It's a massively powerful strategy that can help you drive conversions, and one of the best ways to implement it is to create an email blast.
An email blast is not unlike a campaign, but its goal is to help you get in touch with as many people as possible in a short amount of time. In the right hands, this can help you drive conversions quickly.
In this article, we'll talk about what email blasts are and when to use them.
Then we'll show you how to send one using Sendinblue in three steps. Let's get to work!
What is an email blast?
Email blasts are all about reaching as many people as possible with a single message. You might send one to multiple contact lists, all of your subscribers, or a very large segment of them.
You're probably already familiar with the concept of email 'campaigns'. The idea with blasts is similar, except that they're less targeted and more generalized.
Both types of messages play significant roles in modern email marketing, but they accomplish different goals. Campaigns build relationships with leads and existing customers by providing relevant content straight to their inboxes.
In many ways, email blasts are more of a blunt-force tool. They're the hammer in your email arsenal. It's important to understand when to use them versus more personalized campaigns to get the best results.
When should you send an email blast?
A lot of people consider email blasts to be outdated. After all, these days we have access to highly advanced email marketing tools for segmentation and personalization.
However, there are still situations where using email blasts makes sense. Some examples include:
Alerting your users/customers about security breaches
Sending out important notices or updates regarding your terms of service
Informing your subscribers about offers they might otherwise miss
Remember that with email blasts, you usually ignore segmentation altogether. This means that if you're using one to inform users about an offer, it'll also reach subscribers who may not be interested in it.
Therefore, it's best to reserve email blasts for generalized offers that apply to most if not all your subscribers. For instance, many brands have been sending out COVID-19-related messages about free trials and special discounts: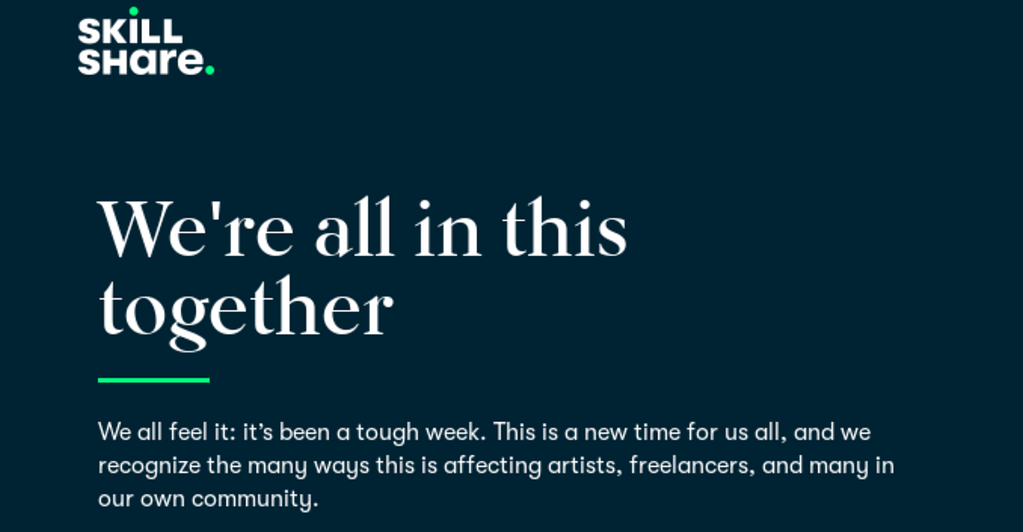 This is a situation that has affected everyone in one way or another. It's more efficient to create one email blast than multiple campaigns in this scenario.
How to send an email blast with Sendinblue (in 3 steps)
If you're new to email marketing, there are many platforms available you might want to consider. Any of them should enable you to send an email blast to all your subscribers without much fuss.
However, for this tutorial, we'll show you how this process works using Sendinblue. It offers a free plan and is easy to integrate with WordPress, making it an ideal platform for many.
It's also the email platform that we use here at Themeisle – you can learn more about why we like it in our Sendinblue review.
Step 1: Create an email list
Before you can send an email blast, you need subscribers to send it to. Once you have access to the Sendinblue dashboard, you can navigate to the Lists tab and click on Add a new list. This is where you'll compile contact information for your site's users: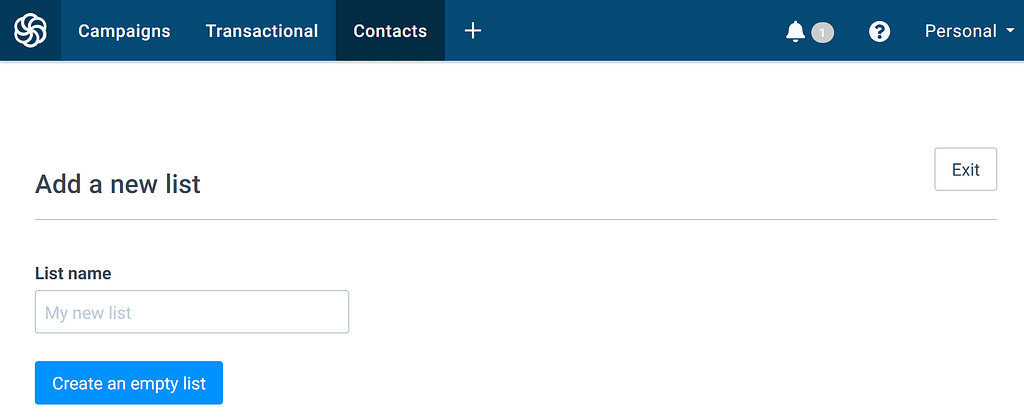 There are two ways you can add subscribers to your list. If you already have contact information for your website's users saved elsewhere, you can import their email addresses manually.
You can also set up a subscription form for your website to collect addresses. Even if you have existing contacts, this is a smart idea that can help you continue building your list.
You can generate a form in Sendinblue by going to Forms > Subscription tab and selecting Create a subscription form: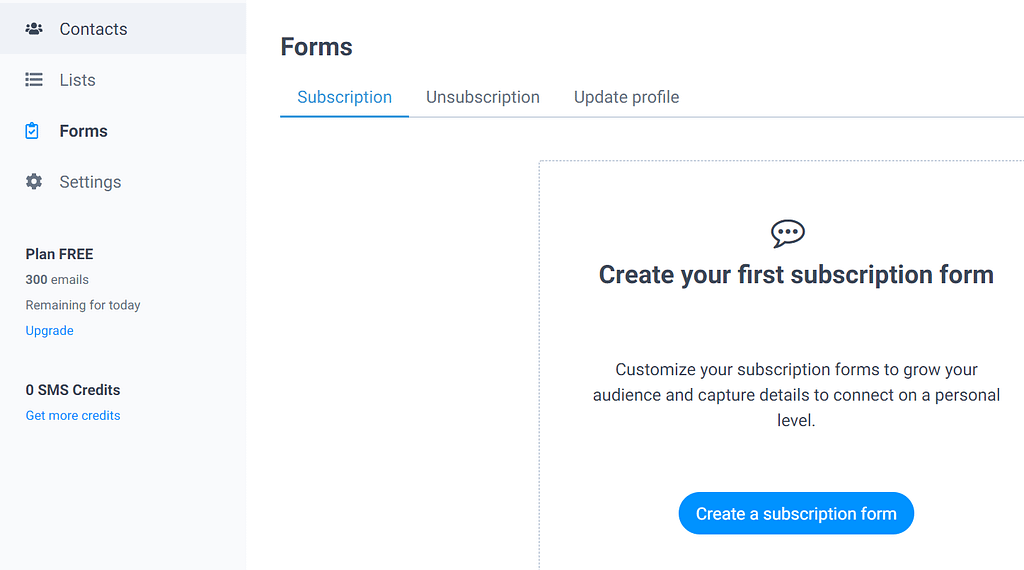 Set an internal name for your form, then customize its design. Sendinblue enables you to use a drag-and-drop builder to easily incorporate elements such as images or multiple subscription options: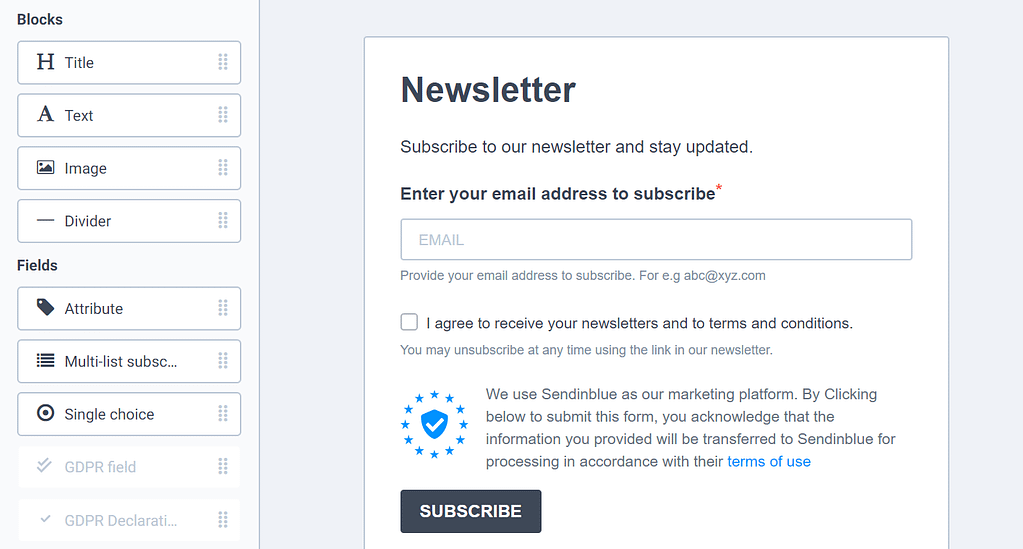 Next, select which email list the form should save new subscribers to:
Finally, there are multiple embed code options you can use to add your form to your WordPress site: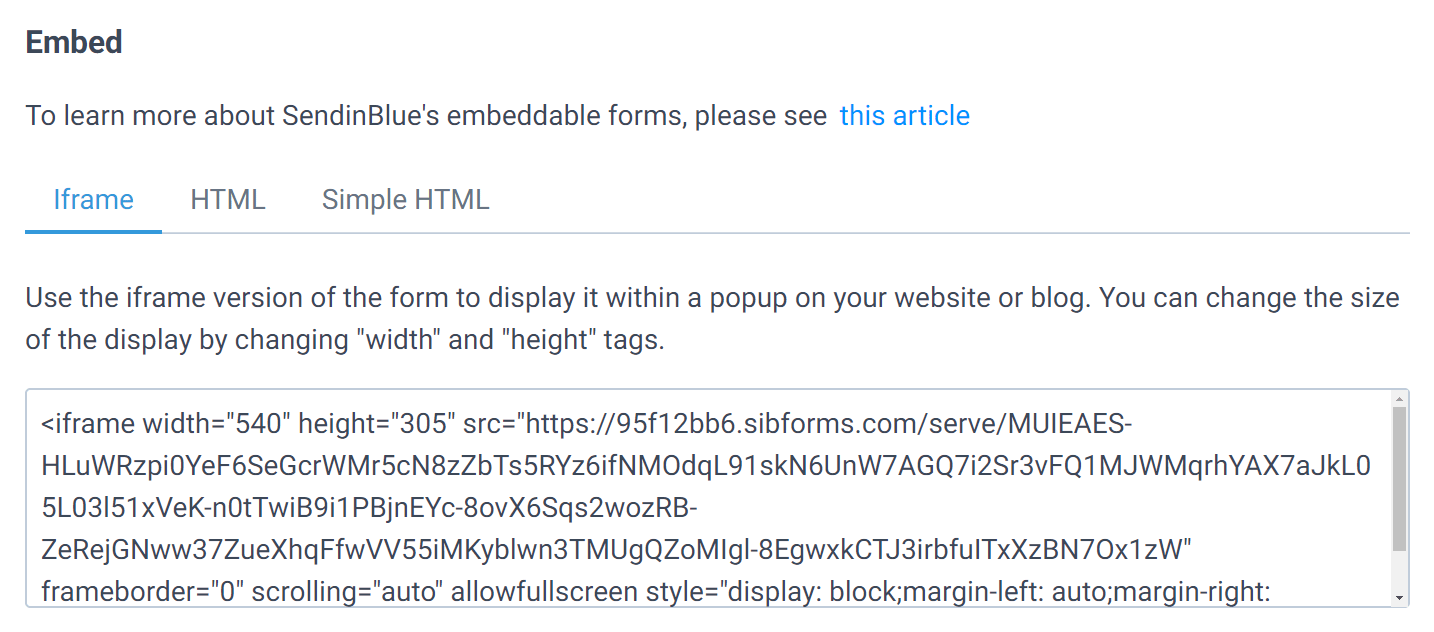 Where to embed the form is up to you. However, some common locations include your sidebar or your footer. It may help to use a contrasting color for your Subscribe button to make it stand out.
Step 2: Segment your subscribers
For this step, we're going to assume you have a healthy list of email subscribers. At this point, you have two options when it comes to sending an email blast:
Send the blast to all your subscribers
Segment your subscribers to target specific groups
As we mentioned earlier, email blasts are typically designed to go out to your entire list. However, some do work best with a little segmentation, such as if you want to appeal to only existing customers and not leads.
To create segments in Sendinblue, return to the Contacts tab in your dashboard and click on the Advanced Search & Segmentation button:

Now you can create segments to target groups that fulfill specific criteria within your email list using the available search conditions:

For example, you can create a segment that contains all your subscribers except those who signed up within the last week. That way, you won't spook them with an email blast:

You can save any segment you create as a 'filter'.
In the next step, we'll help you send your first email blast and show you how to target either your entire email list or specific segments of it.
Step 3: Send your first email blast
Sending an email blast in Sendinblue works just the same as a regular campaign. In your dashboard, navigate to the Campaigns tab and click on the Create my first email campaign button.
Before you get to work on the contents of your email blast, you need to configure its settings. At this stage, you can name it and craft a subject line, as well as configure which email address will appear in the From field:

Now comes the fun part, which is designing your email blast. Sendinblue provides a drag-and-drop builder that makes this process easy. You can either design an email from scratch or use one of its templates: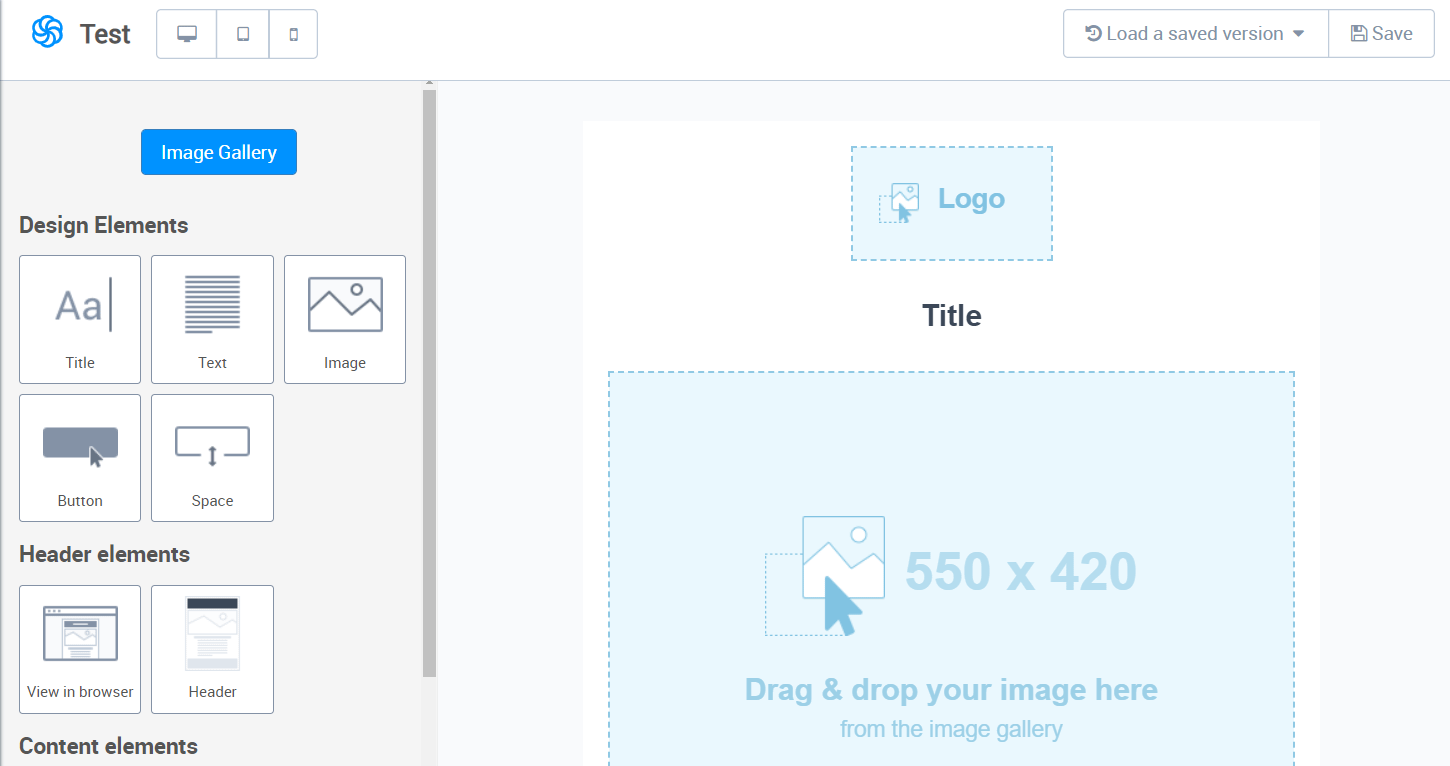 If you've ever used a WordPress page builder before, this should be a walk in the park. In any case, Sendinblue offers a video tutorial on how to use its drag-and-drop editor if you need help.
Once your email blast is ready, it's time to configure which subscribers will receive it. First, select which email list you want to use:

In most cases this is all you'll have to do, as selecting a list means all the contacts within it will receive your email blast. However, if you want to segment your recipients, tick the Apply filters on the selected lists checkbox: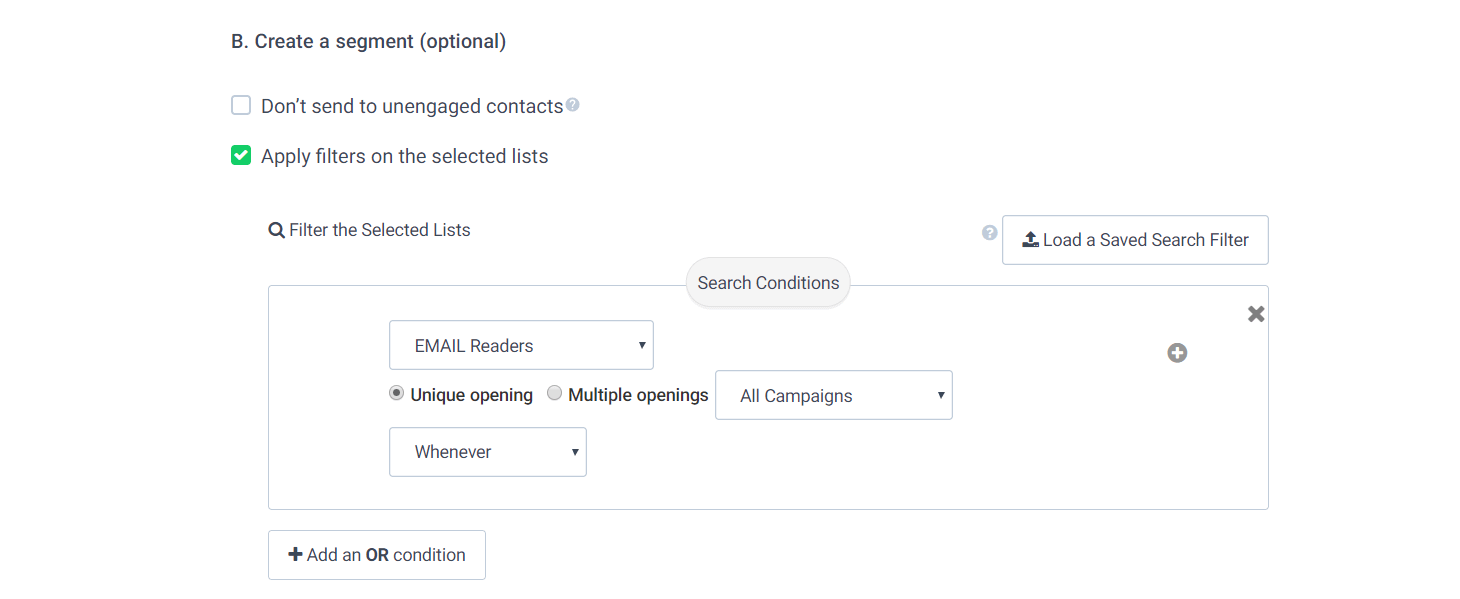 You can then create new segments or use existing ones. Once you've made a decision, review your email blast's settings and design. If you don't want to make any further changes, click on the Schedule button at the top of the screen.
You can send your blast right away or schedule it for a later date:

Once you send it, you can use Sendinblue's built-in analytics tracking feature to monitor metrics such as open and click-through rates.
Conclusion
There's a lot of debate about the role of email blasts in digital marketing. Some say they're outdated, but if you use them sparingly, they can be powerful tools. Since this type of outreach doesn't typically involve personalization or segmentation, you can reach subscribers faster if the situation demands it.
If you're using Sendinblue, putting together an email blast takes just three steps:
Create an email list.
Segment your subscribers.
Send your first email blast.
If you want to learn about some other tools that can help you send email blasts, check out our posts on the best:
And again, you can learn about why we like using Sendinblue for email blasts in our full Sendinblue review.
Do you have any questions about email blasts? Let's go over them in the comments section below!
Free guide
5 Essential Tips to Speed Up
Your WordPress Site
Reduce your loading time by even 50-80%
just by following simple tips.
* This post contains affiliate links, which means that if you click on one of the product links and then purchase the product, we'll receive a commission. No worries though, you'll still pay the standard amount so there's no cost on your part.