Not sure what affiliate marketing is? Then you are on the right page to find out.
In a nutshell, affiliate marketing lets you earn a commission for recommending products or services from someone else.
Affiliate marketing is one of the oldest ways for bloggers and online marketers to generate good revenue, and it still works effectively. The reason for that is mainly because you don't need to create a product or invest in marketing it.
In this post, we'll explain what affiliate marketing is and how it works in more detail. Then, we'll share some tips that you can follow to start making money with affiliate marketing.
What is affiliate marketing?
With affiliate marketing, you earn a commission when you recommend a product or service from someone else to your visitors. Typically, the process goes something like this:
You recommend a product/service on your website using a special link.
Visitors click that link to learn more about that product/service.
If they convert, you earn a commission for recommending them.
In this sense, "convert" means that the visitor performed the desired action. Usually, this means that they actually purchased a product, but it could also be something else like just them signing up for the website.
Typically, your commission rates are either:
Flat – you get a flat amount per action. E.g. $5 per sale or $1 per signup.
Percentage – you get a percentage of whatever revenue your visitors generate. E.g. 20% of the order value.
There also might be different "tiers" of commissions. For example, you might get $1 if someone signs up for a free account and then $25 if they become a paying customer later on.
An example of affiliate marketing in action
A great example of affiliate marketing is the New York Times' Wirecutter publication, which rates and reviews products. Check out their guide to the best cold-brew coffee maker.
If a visitor were to click on those links and purchase the product from Amazon (or another store), the Wirecutter would earn a commission from that sale: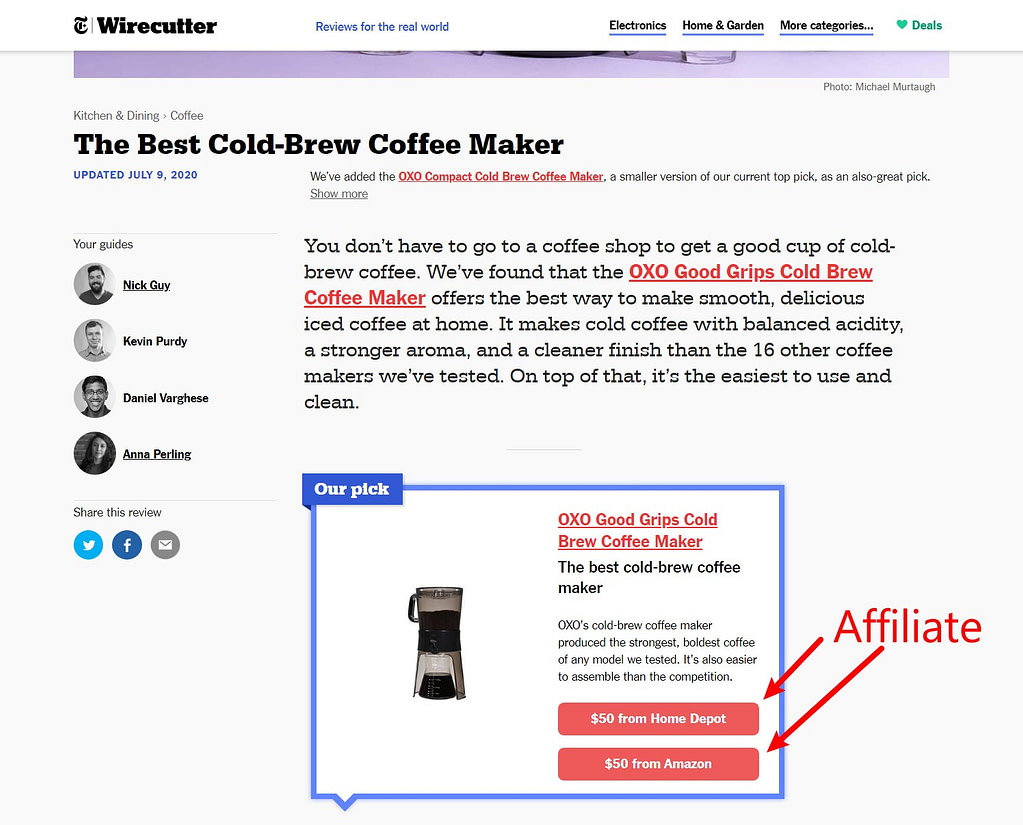 That's all affiliate marketing is! You recommend stuff and then you get a commission if your recommendations drive actions.
How do you get credit for visitors that you send?
Affiliate marketing works via special tracking links. The affiliate links are tracked by a unique ID given to the publisher (you).
In order to get credit for the visitors that you send, you need to always use these special tracking links.
Important affiliate marketing terms explained
Merchant – this is the company that creates the product/has the store. You're promoting this company's products. Other names include vendor, retailer, seller, etc.
Affiliate or Publisher – that's you in this scenario! This is the person that promotes the merchant's products in exchange for a commission.
Affiliate network – affiliate networks are collections of different merchants. They make it easy to quickly find products to promote. Some merchants use affiliate networks, while others set up their own affiliate program.
How to get started with affiliate marketing
To create a powerful affiliate marketing model, you'll need to follow a two-step process:
1. Find affiliate products that you want to promote
Select your niche
You can select any topic that you like and start searching for products around that particular category. If you have more than one niche of interest, look for the one that provides a maximum profit. In case you are not sure, look up the categories on Amazon or Walmart.
Once you know your niche, use Google advanced search operators to find out the affiliate programs. Here's a string to help you get started: YOUR NICHE "affiliate program". This will help you find affiliate programs with high commission rates.
Alternatively, you can check products in your niche on affiliate networks like CJ Affiliate, ShareASale, Rakuten Advertising, and more. Remember, affiliate networks are just collections of hundreds or thousands of merchants.
If you are not sure which are the most profitable products for your affiliate business model, check out our list of the best affiliate programs.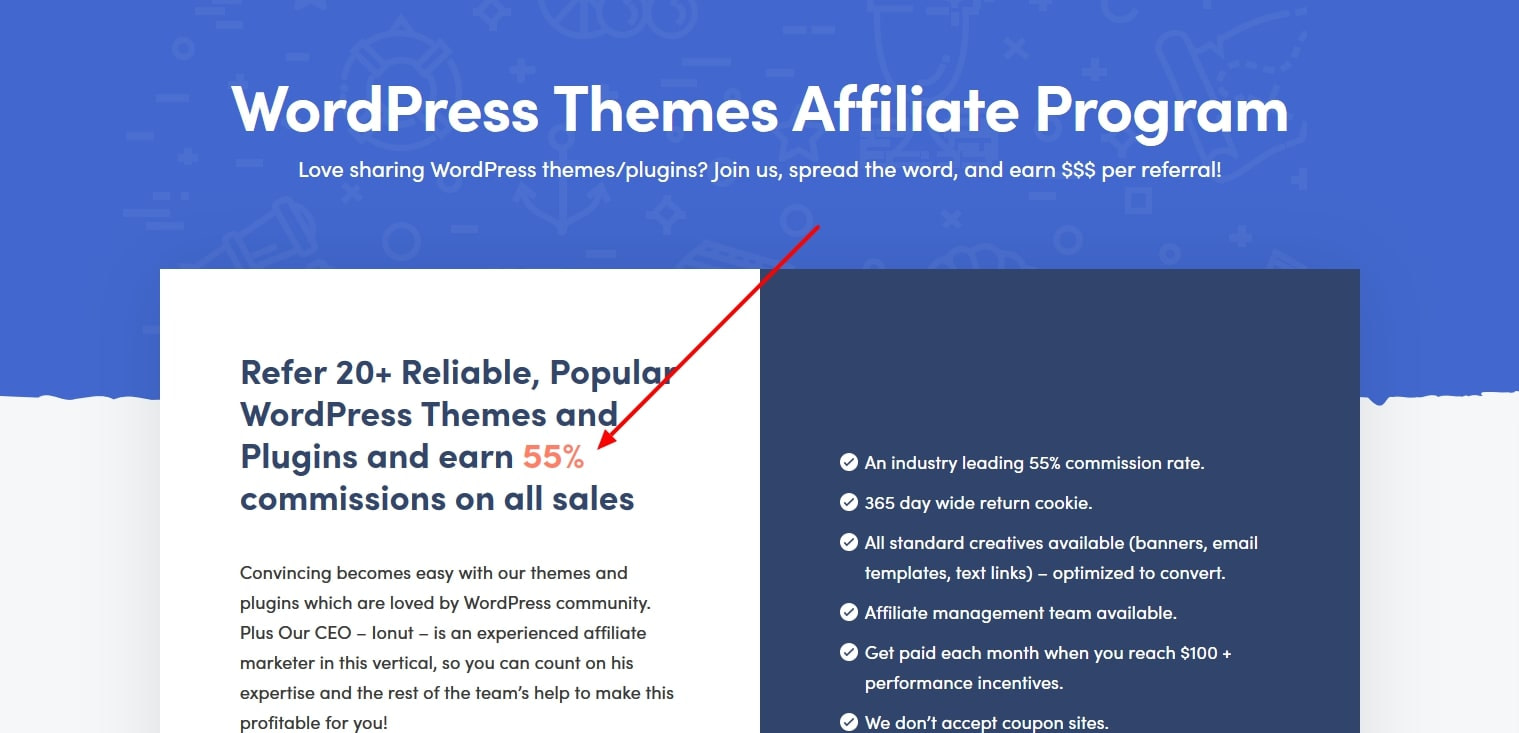 If you're in the WordPress space, you can even check out our own affiliate program.
Whichever niche you choose, do make sure that you only promote high-quality products that offer value to customers.
Research your audience
Next, it's time to dig a little deeper and analyze your audience. Go to Google and add 'best' in front of your niche. For instance, if you want to promote a technology product (say laptops) and want to see the most high-authority sites in your niche, enter 'best laptops' and you will see a list of sites competing for this keyword.
Once you know your competition, you can easily narrow down your list of products for long-tail keywords, i.e. keeping your focus on gaming laptops instead of laptops.
2. Promote those products on your website
Once you've chosen what you want to promote, you'll need to create a plan that helps you promote the products. Whether you are marketing digital products like WordPress themes, or physical items like gaming laptops, you need to have a promotion plan.
Now, there are a lot of ways you can promote a product, but the more unique the marketing model you create, the better the conversion and the smaller the competition. To get an upper hand on this, look at the competitors in your niche.
If you love gaming tech and want to start a site around it, see what your competitors are doing. For example, Tom's Guide covers the best gaming laptops and creates a roundup of the best products after testing and reviewing them.
Similarly, CNET targets multiple keywords and differentiates gaming laptops based on screen size and budget.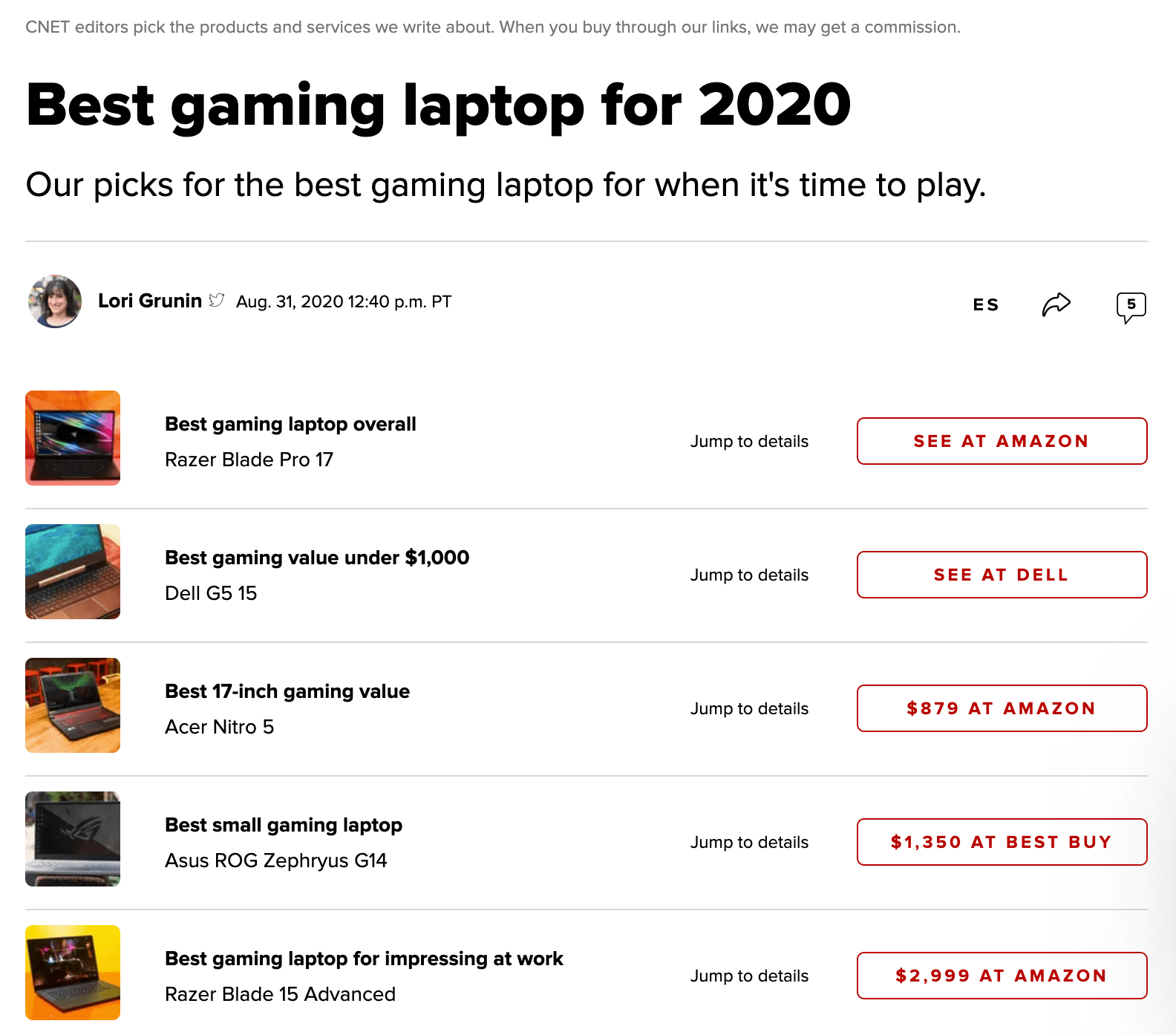 Here are some ideas to promote your products…
Use your website
You can create a micro-niche site or a multi-niche site and publish high-quality, in-depth guides. If you are creating a micro-niche, be sure to target a very specific keyword.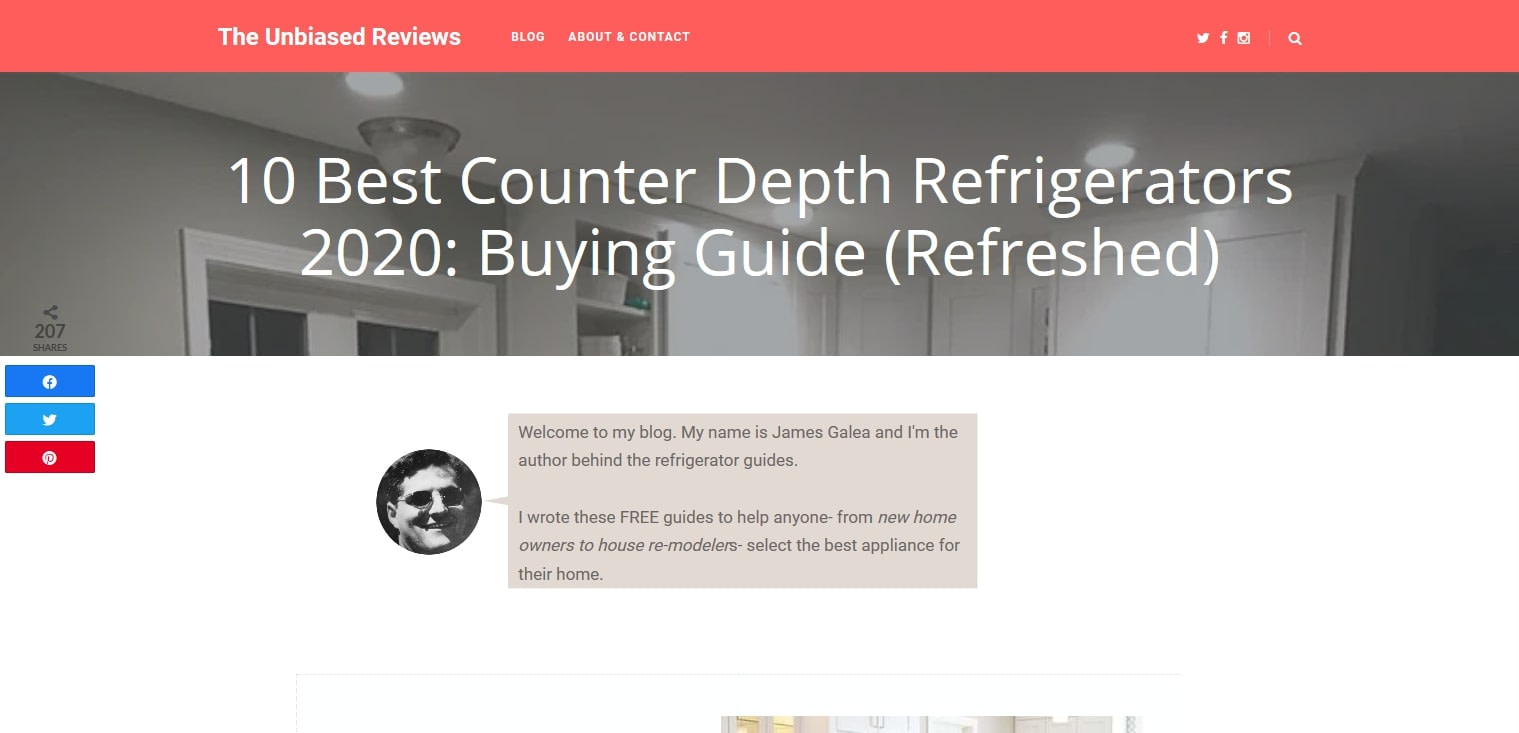 One great example of this is The Unbiased Reviews, a site publishing product roundups around specific types of refrigerators.
Similarly, you can publish product roundups for digital products, such as in my recent post on the best Shopify themes.
Write product reviews and product comparisons
Another great way for promoting affiliate products is by creating comparison guides or a single product review. You can create an in-depth guide around a particular software. Check out our in-depth review on SiteGround and SiteGround vs GoDaddy to get an idea of what I'm talking about.
Write tutorials using the product in question
A product review site needs to provide value to its visitors, and one of the best ways to do this is by creating how-to guides. Select a topic around which you want to create an affiliate website. Create useful tutorials for your readers, keeping your affiliate product as a problem solver.
Start a blog with affiliate links
If you want your website to look more trustworthy, consider creating a blog. Starting a blog is pretty simple, but you'd need to wait a while before generating income. Develop a blogging community around your favorite topic. The good thing about affiliate promotion via blogging is that you will have better conversions since you will be better connected with your visitors.
Create an Amazon affiliate store
Another way to promote your affiliate products is by creating affiliate stores. This strategy is useful when the products you are promoting are eCommerce-based. Just set up your Amazon affiliate store and handpick unique products. Do know that the product images and descriptions need to be 100% original. You cannot copy them from their store.
Create a YouTube channel
There are a lot of cool YouTube channels that generate some good income via affiliate marketing.
Publish digital reviews on YouTube for software, products, and services. You can then mention the link in the description below the video and bring in some good income.
Engage in email marketing
Email marketing is not only for subscription-based business models or business sites. You can get some good affiliate traffic via email, provided that you don't spam the receiver's inbox. Follow a simple three-step process for promoting via email marketing.
Select an email marketing platform that's right for you
Target your audience by interest via Facebook, Instagram, or target inactive consumers
Send personalized emails with embedded affiliate links
However, make sure that the merchant you're working with allows you to use links in emails – some affiliate merchants prohibit this (most notably, Amazon).
Conclusion: Get started with affiliate marketing today
There are a lot of different ways to make money with affiliate marketing. Once you know what affiliate marketing is, all you need to do is find out your niche products and target audience.
Then, you can start promoting those offers to make money.
For a more detailed guide, check out our full post on getting started with affiliate marketing.
We also collected the best WordPress affiliate marketing plugins, which will further help you optimize your efforts.
Do you still have any questions about what affiliate marketing is? Ask us in the comments and we'll try to help!
Free guide
5 Essential Tips to Speed Up
Your WordPress Site
Reduce your loading time by even 50-80%
just by following simple tips.