Creating a website? You need to get many things in place before it's up and running. One of the prerequisites is a domain name. So…
What is a domain name?
A domain name is the permanent address of your website on the Internet. It's what people type into their web browsers to find your website. For instance, themeisle.com is the domain name of this website, and you can see it in the address bar of this page.
When you purchase, register, and use a domain name for your website, users will find it much easier to remember you. When visitors enter your domain name in their browsers, their computer sends a request to a cluster of servers called the Domain Name System (DNS). You don't really need to know what goes on behind-the-scenes here. All you need to know is that the DNS then responds with the IP address of your website's hosting server, which is how people are able to use your domain name to reach your website.
Think of it this way – people remember a name on the phone contact list better than actual phone numbers. In the same way, it's easier for people to remember domain names rather than IP addresses.
In this post, we'll explain more about what domain names are, how they work, and how you can register your first domain.
What are the different parts of a domain name?
A domain name can have a single word or multiple words. Irrespective of the number of words, there's a dot at the end, followed by a suffix. This suffix after the dot is called a 'top-level domain' (TLD). The words to the left of the dot are called 'second-level domain'. In themeisle.com, themeisle is the second-level domain, specific to this website alone. The .com is called the generic top-level domain (TLD) extension.
A .com is not the only TLD that's in use. There are 200+ domain name extensions, and new ones are being added all the time. An organization called ICANN (Internet Corporation for Assigned Names and Numbers) oversees the creation and management of these domain names.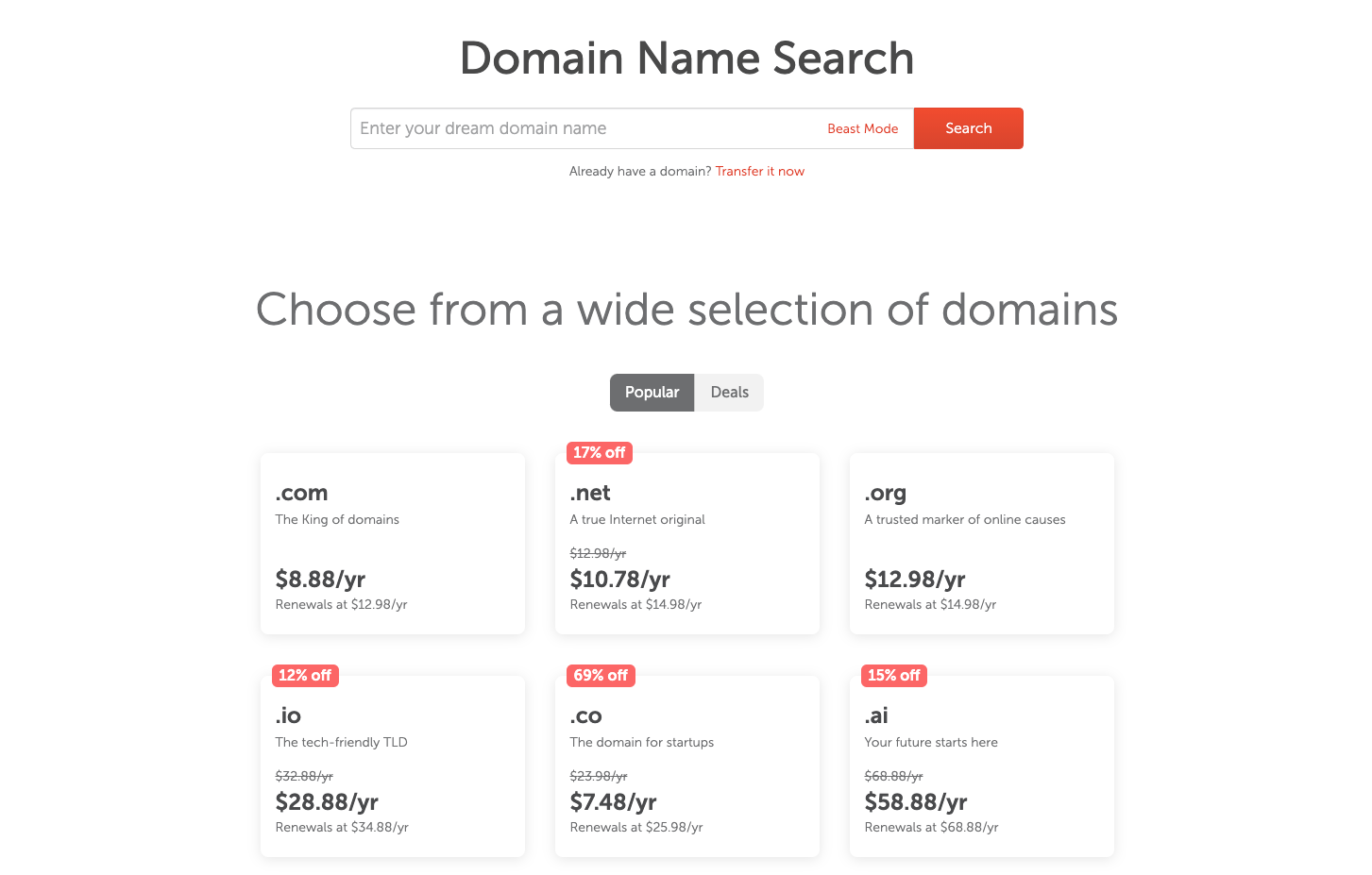 However, while you can use other names, using a .com is usually the best for any commercial venture since most people automatically add this extension when they are trying to find a website.
What are the most common generic domain extensions?
Extensions often indicate the nature of the website. Some examples:
.com for any type of commercial website.
.edu for an educational website.
.org for non-profits or other miscellaneous organizations
.gov for government web pages.
However, most businesses choose .com, as it is the most commonly used extension for a business.
Owners often register domain names across multiple TLDs to prevent others from purchasing the identical domain name in other TLDs. This can also avoid copyright issues at a later point in time. For example, Facebook also owns facebook.org (and many other TLDs). Facebook just redirects all the different TLDs to facebook.com.
Additionally, some domain extensions are restricted. For example, you can't use the .edu extension unless you legitimately are an educational institution. You would need to apply and provide proof that you meet the criteria.
👉 Learn more about domain extensions
What is a country-level TLD?
Besides the generic TLDs that we discussed above, there are also country-level domain extensions like .us for the United States, .in for India, or .jp for Japan. If you're a location-based business, it makes good sense to register under these domains, especially if the corresponding .com domain is taken. Sometimes, this is ideal if you're targeting visitors from a particular country.
Examples of other top-level country domains are .ca for Canada, .uk for the United Kingdom, .hk for Hong Kong, and .au for Australia. These are based on standard country abbreviations as per International Standards Organization.
These are all called ccTLDs (country code top-level domain).
As with generic domain extensions, some country-level domain names are restricted to only people who can prove they're from that location, while other country extensions are open to the public.
Some country-specific domain extensions have even become popular as more generic terms. For example, the .io extension is technically a country-level TLD for the British Indian Ocean Territory. However, it's become much more popular as an extension for tech websites and most people don't even realize that it's a country-specific extension.
How/where to register a domain name
Once you zero in on the name for your domain, you've got to register it with a domain registrar and make it your own. A registrar is a company that is accredited through ICANN (International Committed of Assigned Names and Numbers) to sell domain name registrations.
Once registered, you own the name for the period of validity of the registration (the default is one year, but you can purchase multiple years at a time). You can do pretty much what you like with it – start a website, sell it to another person, use it for a custom email address, or simply keep it idle (called "parking").
There are many accredited registrars available and you'll need to choose one with care. Often, website hosts such as SiteGround and Bluehost double up as domain registrars. They offer domain name registration as a free/paid add-on service in addition to their regular web hosting services.
Some things to keep in mind while choosing a domain name registrar are:
Cost of the domain name. Prices vary from one registrar to another.
Do you want to purchase a domain name from your web host?
Does the domain name registrar offer high-quality support?
Does the registrar offer additional services such as email reminders for renewal?
Does the domain registrar give you free WHOIS privacy? Normally, anyone can look up the owner of a domain name, but WHOIS privacy lets you hide your information behind a proxy service.
You should also know that there are domain name resellers who set up an account with an accredited registrar. If you purchase a domain name from these resellers, you'll have to deal with them to renew your registration or for any other domain management issues.
Additional resources:
👉 What is a domain registrar?
👉 The best domain registrars
👉 How to register a domain name
How to pick a good domain name
This is a hard one and needs you to get extremely creative. It's difficult to find a good domain name that hasn't already been registered. Given the sheer number of websites on the internet, most of the names you come up with are likely already taken, especially in the .com space.
Nevertheless, it's crucial to come up with a name that's unique and matches your brand. Importantly, it should be easy-to-remember. You can go with your own name for a personal blog or service. For other cases, a name that indicates your website's purpose would be best. For more help, you can refer to this post.
Before you search for a domain name, zero in on a keyword that's appropriate for a website. It's great if you can find a domain name that includes this keyword. You can also check out many online tools or blog name generators to come up with a domain name.
We recommend you to check our Blog Name Generator Tool.
Once you decide to register a domain name, you may think about registering it across multiple TLDs, to avoid messy copyright issues in the future.
Additional resources:
👉 How to choose a domain name
👉 The 15 best domain name generators
👉 Themeisle's own blog name generator tool
Final thoughts
Now that you know what a domain name is and how to choose one, take great care in coming up with a suitable one. Changing a domain name can be cumbersome. Moreover, your website may lose much of the hard-gained reputation and brand recognition.
To get started with your first domain name, you can follow our step-by-step guide on how to register a domain name. Then, to turn your domain name into a working website, check out our guide on how to make a website.
Still have any questions about what a domain name is? Ask us in the comments!
Free guide
5 Essential Tips to Speed Up
Your WordPress Site
Reduce your loading time by even 50-80%
just by following simple tips.
* This post contains affiliate links, which means that if you click on one of the product links and then purchase the product, we'll receive a commission. No worries though, you'll still pay the standard amount so there's no cost on your part.