"Who would need Fiverr WordPress customizations anyway?" – you ask. Well, consider this scenario; you've got yourself a new premium WordPress theme, you've been expecting some help from the support department, but apparently, "Support Happiness" or whatever the name they chose for their support department does NOT include the real hands-on help you need.
I mean, however beautiful and customizable the theme is, there is that one thing you'd like to have, which the theme doesn't support. When you reach out to the theme developers to get it, they politely explain that Support doesn't cover for custom work. It's like they don't want to get their hands dirty, right?
Okay, it's not exactly like that. Not offering custom tweaks is actually a basic procedure. It doesn't pay to have customer support doing tweaks. We have to be reasonable. The theme doesn't come with custom aid, just as your next car doesn't come with all the colors available, it just comes with one.
And themes are just one aspect. If you already have your site online, there are other things that might not work properly: load speed, SEO performance, various plugins. These might be tricky sometimes. Even if you're perfectly qualified, you might not always want to go into debugging mode.
Fiverr is here to help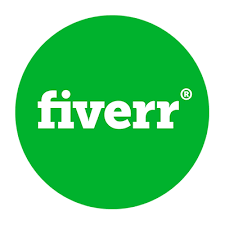 So what can you do if you need that one minor thing done to your site but you don't know how to handle it yourself? If you want to get down to things on your own, you can start researching the topic and learning the craft. There are tons of tutorials online and also videos that teach you how to change myriads of things. But you'll need lots of time to carry this through.
If you're not that relentless in doing the thing yourself, the one alternative you could – and should – try is to find someone else to do it for you. Here comes in Fiverr to do the trick. Let's see how and why Fiverr WordPress customizations can be a good idea:
Popular Fiverr WordPress customizations and gigs
An important fact about Fiverr gigs is that they cover lots of WordPress-related matters. This means that almost any changes you might want to do to your WordPress site can be solved by freelancers at Fiverr.
Let's review some of the most popular Fiverr WordPress customizations and fixes; categorized:
Bug fixing, debugging
Fixing issues with responsive design
Slider issues
Gallery issues
Fixing broken/blank white WordPress sites
Fixing WordPress login problems
Background image doesn't scale
Slow loading/cache issues
Fixing cross-browser/mobile compatibility issues
Removing dead links
Customization, CSS & HTML tweaks
Color customization
Modifying the logo size
Customizing various on-site buttons
Changing the copyright notice
Modifying page width
Modifying slider timing
Adding videos instead of images to sliders
Changing the size of the featured images
Adding newsletter signup forms
Adding contact forms
Adding widgets to sidebar
Miscellaneous
How to search for suitable gigs
These were just some of the most popular WordPress-related gigs that can be done on Fiverr. But of course, there are other things that WordPress developers could help out with.
Once you've clarified what you need, it's time to head over to Fiverr and find the best seller who can deliver the thing. But here's the trick: the usual "search by keyword" mechanism will not always show you what you want. Let me explain:
Say you're looking to customize your site's header. Searching for "customize WordPress header" will not return any gigs with this exact offer. And this happens for the rest of the above list as well. These Fiverr WordPress customizations are not all listed as such on Fiverr. Sounds weird but please bear with me.
The way to go is to actually search for broader terms, gigs that will include your specific request, but not necessarily mention it in the title.
Here are some suggestions for useful keywords to use in search::
For these searches, you will get around 3000 results, that you can filter down by categories, delivery time, price, seller level and language.
Another way to look for gigs is to go to a seller's profile page, and see what other things they offer. This way, you might find a more adequate gig for your task. Or even a cheaper one.
It will also help you get a better picture of the seller's abilities. As you might notice, the sellers don't have any resume listed, but you will grasp their skills from the type of services they offer.
Here's an example of a really tuned up profile that tops on all levels. Let's go through it from top to bottom:
the seller is marked Online at the moment, so you can expect a quick response from them
top rated seller badge – over 30 gigs, doing custom offers, working extra fast, VIP support
5-star reviews, from a total of over 400 received
active on Fiverr for 2.5 years
replies in about 1 hour
has had a successful delivery in the last hour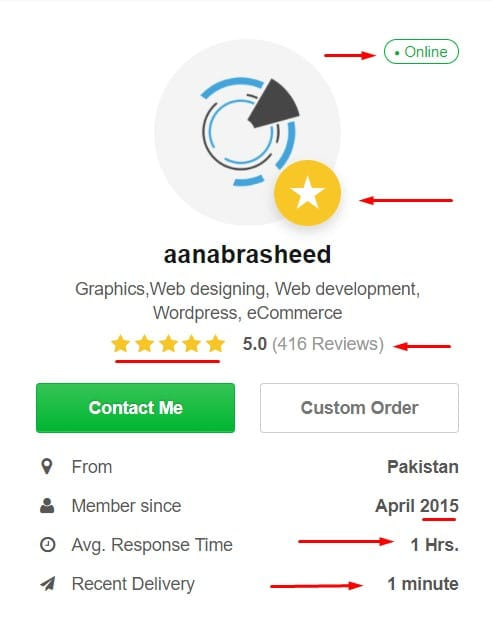 Popular WordPress gig examples
I've selected a few examples of Fiverr WordPress customizations and gigs. They showcase some general proposals that will cover various customization needs.
Disclaimer: The way the service is described is usually straightforward and doesn't necessarily respect the English grammar. This happens because of the restricted character space and because English is not a native language for many of the sellers. If you can disregard this and play along, most sellers are able to communicate well. Expect to see things like:
I will do customization wordpress theme
I will do wordpress and woocommerce customization
I will fix wordpress buddypress issue and customization
I will customize or modify your wordpress site
Here's what some of the gigs look like:
As you can see, there's something for everyone on Fiverr, so if you have a more particular request, don't turn around just yet. There are people here that are focused on page builders, SEO, page speed, specific plugins and themes, images and whatnot.
These are some examples of slightly more focused WordPress gigs I was surprised to stumble upon: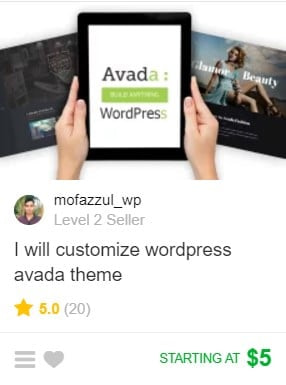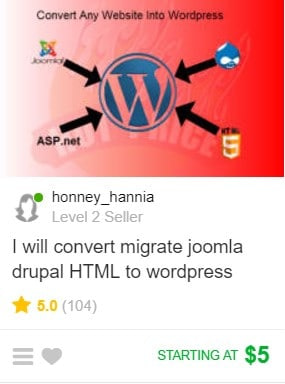 Some things to consider before Fiverr-ing
When working with WordPress freelancers on Fiverr, you must take into account that they will require to log in to your site in order to make the needed adjustments. This is the first thing they will ask from you.
Although Fiverr has its security and trust policies, I recommend creating a new user account with limited access for sharing with your sellers. This way, you can easily delete it after the work is done. This is especially important if you are working on multiple projects and with multiple sellers. Here's our guide on how to do that.
Reviews are the most important when assessing the quality of a certain gig. But the number of reviews alone does not guarantee a quality service. I have seen many sellers rating each other on jobs for the reviews' sake. Better go through some of those reviews and read the written recommendations. If it's "Outstanding experience" from top to bottom, something is probably fishy.
Depending on the type of project that you have, there are several metrics that can help you evaluate a gig. The average response time is going to help if you are looking to further discuss your request before placing it. A low response time means the seller is mostly online and you can clarify the exact details of the project via chat.
Be careful to the fact that the response time is not a relevant indicator of the delivery time, though. You'll need to check this in the order details, where the seller specifies the deadline for submitting the order. It might be between 24 hours and 30 days, so you'll need to take this into consideration. A faster delivery usually costs more.
That's pretty much it for our Fiverr WordPress customizations!
This has been the first article in our new series dedicated to using Fiverr to get your website worked on. If you have any suggestions for future topics to explore or you've some interesting experiences you like to share, do so in the comments!
Free guide
5 Essential Tips to Speed Up
Your WordPress Site
Reduce your loading time by even 50-80%
just by following simple tips.