Is your website URL blocked by Facebook when you try to share it in posts or Messenger?
Facebook is a valuable source of traffic, so you don't want to miss out on the ability for you (and others) to share your site on their Facebook.
There are several reasons why your website might be blocked, but you do have options to get Facebook to remove the block.
To help you do that, we're going to cover three things in this short tutorial:
Why does Facebook block certain websites?
People share a lot of things on this social media platform. That includes both pictures of cats and links to malicious files that can hijack a person's computer.
To protect people from situations like the latter, Facebook will block certain website URLs from being shared in Facebook posts, groups, Messenger, etc.
Now, if you're reading this post, there's probably a good chance that you're not trying to do anything malicious (if you are, this post really isn't for you).
However, there are several reasons why you still might've gotten caught up in Facebook's net, even if you're not trying to do anything wrong.
1. A Community Standards violation
First off, if you're violating Facebook's Community Standards, Facebook is going to block your website URL from being shared. Sometimes the algorithms catch it themselves, and sometimes other Facebook users may report a problem with your website by clicking the three dots in the corner of your post in their newsfeed.
For example, your site might be blocked because of the Community Standards if your site includes content about buying, selling, or trading…
Firearms
Marijuana
Non-medical drugs
Alcohol and tobacco
Endangered species
Live animals
Human blood
Diet products
For legitimate stores (e.g. a firearms store), Facebook will allow some of these topics, but restrict viewing to people who are 21+.
The Community Standards also cover other topics such as:
Violence and incitement
Hate speech
Fraud
Nudity
Spam
False news
Etc.
If you haven't already, you'll want to read through the Community Standards to see if any of them might apply to your site.
2. Facebook algorithms
There's no way that Facebook can manually review every single post, so Facebook relies a lot on algorithms to block website URLs.
For example, there's an anti-spam algorithm to prevent people from spamming Facebook with their websites. If you post your website URL too many times in a short period, you might accidentally trigger the Facebook anti-spam algorithm, which could lead to a blocked URL.
Or, you might've just gotten blocked through no fault of your own. Facebook's algorithms are not perfect and you can sometimes just be unlucky. For example, maybe your website is similar to another website that was blocked.
3. Malicious reporting
Facebook is a battleground where every website is competing for Facebook users' eyeballs.
Rather than compete by offering more interesting content, some people have chosen to try to take out the competition by maliciously reporting URLs.
If lots of people use Facebook's reporting system to report your site, that can lead to your site getting blocked by Facebook support team.
How to check if Facebook really blocked your website
To check if your website is blocked by Facebook, you can use the Facebook Sharing Debugger tool.
All you need to do is enter your site's URL and click the Debug button. If your website is blocked by Facebook, you should see the following message (or something similar):
We can't review this website because the content doesn't meet our Community Standards. If you think this is a mistake, please let us know.

How to fix a website blocked by Facebook
If your website is indeed blocked by Facebook, here's how to fix it so that you and others can share your content again on this popular social network.
1. Make sure you're not violating any Community Standards
Before doing anything else, you need to make sure that your website doesn't violate Facebook's Community Standards. You can find them, for example in Facebook Business Help Center.
If your website is legitimately violating any standards, you're not going to be able to unblock it.
Read through the Facebook Community Standards in detail and think about how/if any of them could apply to your site.
2. Submit your website to Facebook for reconsideration
Once you're 100% sure that your website doesn't violate Facebook's Community Standards, you can contact Facebook and submit it for reconsideration.
To do this, go back to the Facebook Sharing Debugger tool and enter your website link again. You should see the same message telling you that your website is blocked.
To submit your website for reconsideration, click the let us know link:

This will take you to a form where you can submit a short message explaining why your site should be unblocked:
If your site never violated the Community Standards, you can explain that here.
If your site did violate the Community Standards but you've since removed the offending content, you can also let them know about that.
Facebook doesn't offer a specific timeline for when they'll respond. However, you should expect it to take anywhere from a few weeks to a month (and you might not get a response at all – you can try resubmitting again if that's the case).
3. Use Facebook Ads live chat (if available)
Here's one thing that's true pretty much everywhere:
Money talks.
When you submit your website through the method in the previous section, you're basically firing your message off into the void.
You have no idea when, or if, Facebook will actually see your message and respond.
So, how can you get a faster response?
Facebook Ads!
If you run/ran Facebook Ads, you might be able to access Facebook Ads live chat support. Some users report success using this live chat to get their website unblocked.
We say might because live chat is not available for all users – Facebook is open about the fact that not all users see it. Whether or not you see the live chat option depends on factors such as whether or not you've run ads and your ad spend.
If your account is eligible for Facebook Ads live chat, you should see it below the list of options on the Facebook for Business help page: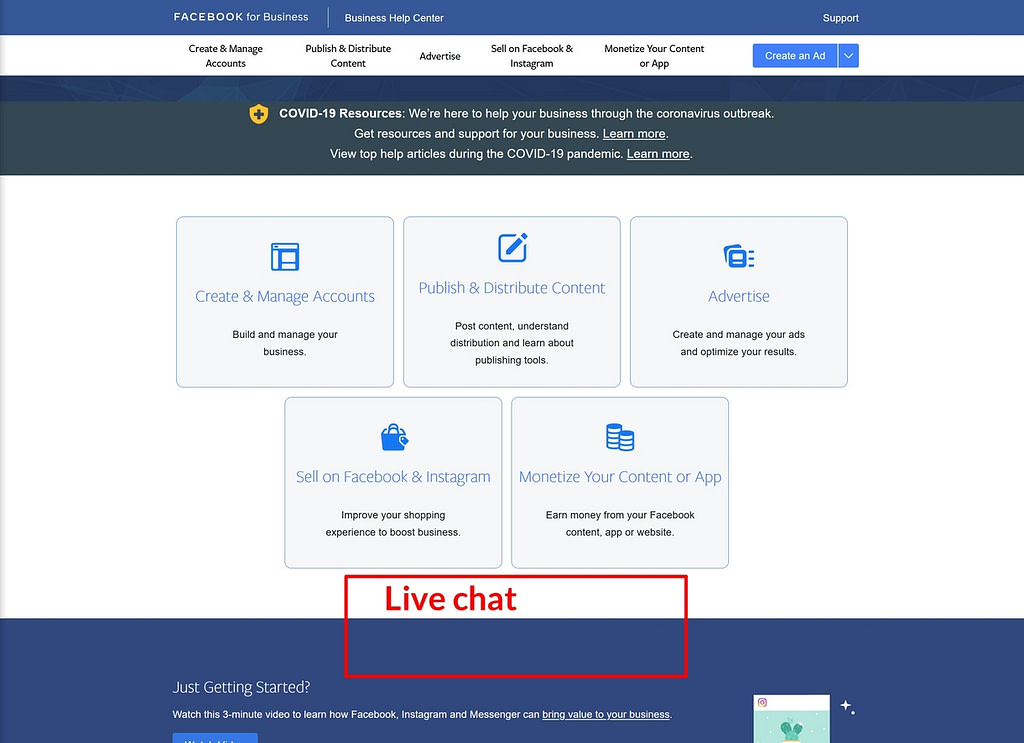 If you do see the live chat option, you can reach out to support for help with your site. Again, several people have reported faster resolutions with live chat.
If you don't see live chat, you'll need to rely on the contact form from the previous section.
Unblock your website from Facebook
Facebook is a huge source of traffic, so losing the ability to share your website on Facebook can have a negative effect on your site's growth.
There are several reasons why your website might be blocked by Facebook:
You're violating the Community Standards.
Facebook's algorithms accidentally flagged your site.
Other users maliciously reported your site.
To check if your website is blocked, you can use the Facebook Sharing Debugger tool. Then, you can also use this tool to submit a reconsideration request after you've fixed any issues that your site might have.
If you've run Facebook Ads in the past, you might have access to live chat support through Facebook Ads. Because Facebook wants you to run ads for your site, they'll be willing to work with you to unblock your site if possible. However, not all users have this, so it's hit or miss.
Once you fix your website blocked by Facebook problem, make sure to:
Do you have any other questions about how to fix a blocked website on Facebook? Ask us in the comments!
Free guide
5 Essential Tips to Speed Up
Your WordPress Site
Reduce your loading time by even 50-80%
just by following simple tips.