If you're a running a WordPress site with multiple contributors or a lot of activity, you'll probably want to stay in the loop about what happens and when on your site. The problem is that keeping track of every change manually is nigh on impossible. That's where WordPress activity logs come in.
Such logs enable you to take note of everything important that happens on your WordPress site and store that information until you need it. If you run into any errors or someone makes a mistake, a log can point you in the right direction.
In this article, we'll introduce you to five of our favorite activity log plugins, and help you choose the right one for your needs. Let's get started!
Five WordPress activity logs compared (in a nutshell)
Through the rest of this article, we're going to take a detailed look into what sets the following five activity log plugins apart. However, if you're in a hurry, here are the most important things to know:
5 WordPress activity logs plugins compared

| | What type of events does it log? | Ease of use (1-5) | What type of sites should use it? | Price |
| --- | --- | --- | --- | --- |
| WP Security Audit Log | Nearly every type of event | 3 | Security-conscious websites | Free, with premium add-ons |
| Simple History | Almost every event, except core updates and changes to Multisite | 5 | Websites that only need a basic solution | Free |
| User Activity Log | Almost every event, except core updates and changes to Multisite | 4 | Sites with multiple contributors | Free and premium options |
| Simple Login Log | Login attempts and successes | 5 | Any type of site | Free |
| WP Log Viewer | All types of WordPress error messages | 2 | Websites with frequent troubleshooting needs and staging platforms | Free |
Now you have a basic idea of what sets these plugins apart, we're going to compare all five plugins in detail. We'll explain what kind of events they enable you to track and their ease of use, so you'll have all the information you need to make a choice.
Five WordPress activity logs compared (in full)
Instead of going over each plugin in turn, we're going to focus on what you really need to know about – the features they offer and how easy they are to use. Let's start with the former.
Event tracking features
Some of the activity log plugins you can get are quite similar in terms of what events they track.
For example, WP Security Audit Log, Simple History, and User Activity Log are all focused on logging as wide a range of events as possible.
To give you an idea of how all-inclusive they are, WP Security Audit Log tracks events such as user registrations, logins, uploaded or modified files, source IPs, core updates, changes to your Multisite network, and more. If you want an all-in-one logging solution, this may be the plugin for you:

Simple History and User Activity Log both track a similar range of events.
However, neither of them log updates to WordPress core or changes to your Multisite network, although both plugins shine in other areas.
For example, User Activity Log provides you with more detailed information about which user performed what action, as well as their roles, IP addresses, and other contact information:

On the other hand, Simple Login Log and WP Log Viewer are a bit different. The former is focused on tracking login attempts to your site and nothing else. It's a simple plugin that does its job well, and you can combine it with more in-depth logging tools such as the three we mentioned above:

Finally, WP Log Viewer is all about debugging. It logs any errors that occur on your website and tells you what files they originated from. As you can imagine, this functionality makes it incredibly useful when it comes to troubleshooting.
Ease of use
Let's now talk about how practical each solution is.
When it comes to logging functionality, WP Security Audit Log is the clear winner, but it's also the most complex plugin in the group. If you want to get the most out of it, you'll need to read up on how to configure it and experiment with its advanced features until you're comfortable with them.
Simple History, on the other hand, lives up to its name. It's very easy to use, and the logs it keeps aren't difficult to sort through. They're displayed on your dashboard's home page, and provide you with a quick, clear update on what happened since your last login:

User Activity Log lies somewhere between these two plugins when it comes to ease of use. It offers a few more settings to configure than Simple History, but not as many as WP Security Audit Log.
Finally, WP Log Viewer is simple to set up, but its logs can be difficult to understand if you don't know your way around WordPress' core files: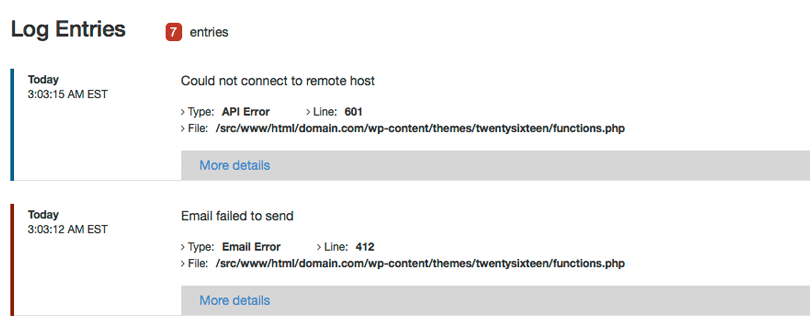 We'd go as far as to say this plugin isn't as useful unless you have some experience as a developer, or you're comfortable googling errors. Essentially, you'll have to be adept at interpreting what each log means, and figure out how to solve any problems that arise.
Overall, WP Log Viewer is a complex tool when compared to a plugin such as Simple Login Log, which couldn't be any easier to use. As the latter only logs one type of event, you can set it up, activate it, then check it from time to time without the need for any additional setup.
Which WordPress activity log plugin is right for you?
The first three options we covered are similar when it comes to features and the range of events they can log. However, Simple Login Log and WP Log Viewer have much narrower scopes. This doesn't necessarily make them less useful, but they may not provide everything you're looking for.
An exception would be if you're the kind of person who troubleshoots their own WordPress errors. If that's the case, WP Log Viewer will be a valuable addition to your toolkit (and can be used alongside a more comprehensive option).
If you're looking for the best overall activity log, WP Security Audit Log is our choice. Additionally, WP Security Audit Log offers an advanced premium feature that lets you use an external database, which is a helpful performance tweak for larger sites.
On the other hand, Simple History offers less detail, but makes up for that by being easier to use. If you don't need to keep incredibly detailed logs, it may be ideal for you.
User Activity Log is more focused on tracking users, so it's perfect for multi-author websites and keeping an eye on your team.
Finally, Simple Login Log is a great pick for any type of website, since login security is paramount. Plus, you can use it in conjunction with all the other plugins we've discussed for a comprehensive logging solution.
Conclusion
WordPress activity logs are a simple solution to a complex problem – the need to know what's happening on your website. Once your site starts to grow, keeping track of everything that occurs can be difficult. However, using logs enables you to store all of the data you need and look through it at your leisure.
Let's recap five of our favorite WordPress activity logs, and what types of sites can benefit from using each:
WP Security Audit Log: Perfect for those who want to track everything that happens on their site.
Simple History: Easy to use, and logs almost every type of event you can think of.
User Activity Log: Ideal for in-depth monitoring, and sites with multiple authors.
Simple Login Log: Works well on almost any type of website that's vulnerable to login attacks.
WP Log Viewer: Indispensable for every type of site, if you like to troubleshoot your own problems.
Do you have any questions about how to set up WordPress activity logs for your website? Ask away in the comments section below!
Free guide
5 Essential Tips to Speed Up
Your WordPress Site
Reduce your loading time by even 50-80%
just by following simple tips.