In today's Internet-friendly world, finding data on any subject is easy. What's difficult is putting it all together in a way that's easy to digest. One way to make your data more comprehensible is to use visual forms of representation such as charts, graphs, and maps. With the right WordPress charts and graphs plugin, you can quickly create great-looking data visualizations on your WordPress site.
In this post, we'll share four great free plugins that you can start using right away. While all the core plugins are free, you sometimes might need the premium version to unlock the best charts and graphs functionality.
Four great WordPress charts and graphs plugins
Below, we go hands-on with these four WordPress charts and graphs plugins…
1. TablePress
First on our list of tools for data visualization is a much-loved plugin, TablePress. It allows you to create any number of tables and embed them in any post, page, or widget using shortcodes.
The tables can have any number of rows and columns. Additionally, you'll be able to add, delete, insert, hide, or duplicate rows and columns, and combine individual cells.
Key Features include:
A spreadsheet-like interface, including drag and drop reordering
Import and export tables from/to Excel, CSV, HTML, and JSON files
Use imported data to replace data in an existing table or to create a new table
Insert images and links
JavaScript library support that helps to filter, paginate and sort at the front-end
Formula support
We have a complete tutorial on using TablePress, so I'll not go into details here. But for a quick peek into the easy interface that you get to type directly into, view the screenshot below: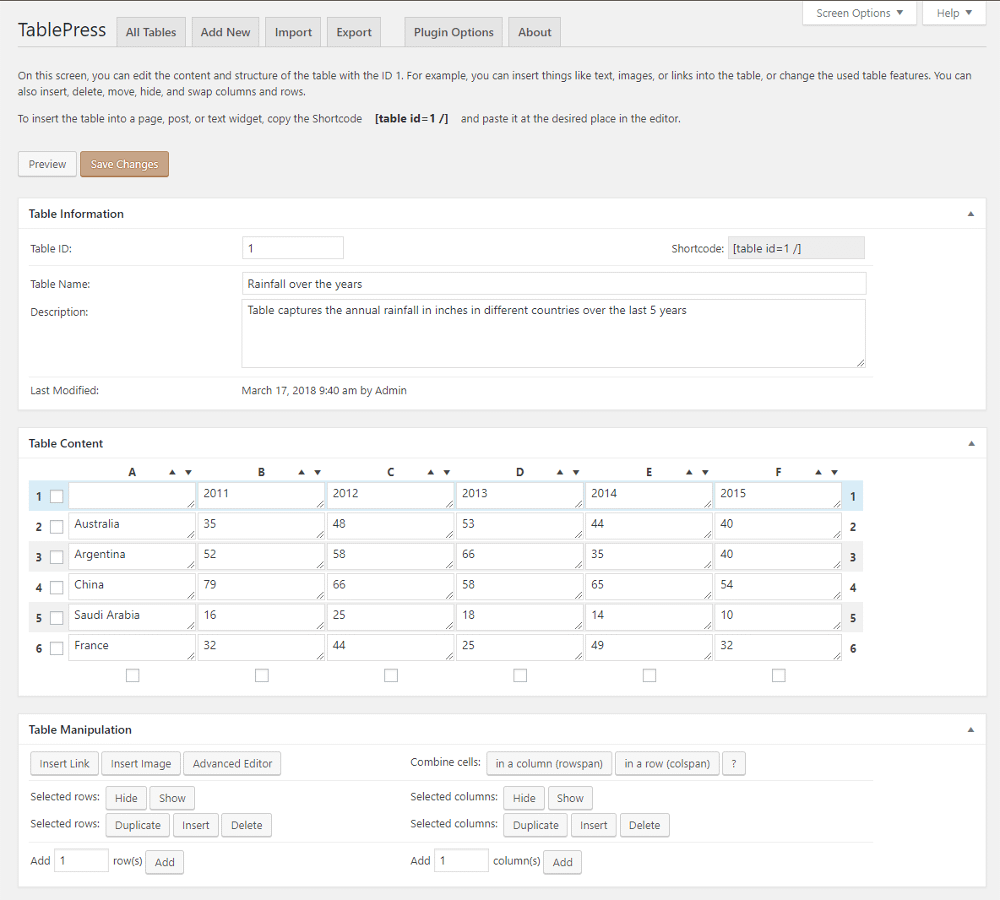 I was able to create a table on my very first attempt with fictitious data, and this is how it appears.
| Rainfall over 5 years | 2011 | 2012 | 2013 | 2014 | 2015 |
| --- | --- | --- | --- | --- | --- |
| Australia | 35 | 48 | 53 | 44 | 40 |
| Argentina | 52 | 58 | 66 | 35 | 40 |
| China | 79 | 66 | 58 | 65 | 54 |
| France | 26 | 25 | 38 | 24 | 20 |
| Uganda | 32 | 44 | 25 | 49 | 32 |
What's important to note here is that the appearance of the table depends a great deal on the theme you use. However, you can customize your tables using simple CSS. Besides, there are a number of extensions (free, though you can donate) that help you add custom features to your table (including responsiveness).
And with the third-party Chartist extension for TablePress, you can use your table data to create gorgeous WordPress responsive charts using Chartist.js:
TablePress enjoys a 5-star rating from 3,500+ users. It also boasts well over a half a million active installations, so clearly the plugin works, and works well.
2. Visualizer
Next on our list of tools for data visualization is the popular Visualizer (previously WordPress Charts and Graphs Lite) that enjoys 40,000+ active installs.
Available in both Lite and Pro versions, it's great not only for tables but for other display formats as well – eight in Lite, plus an additional six in Pro.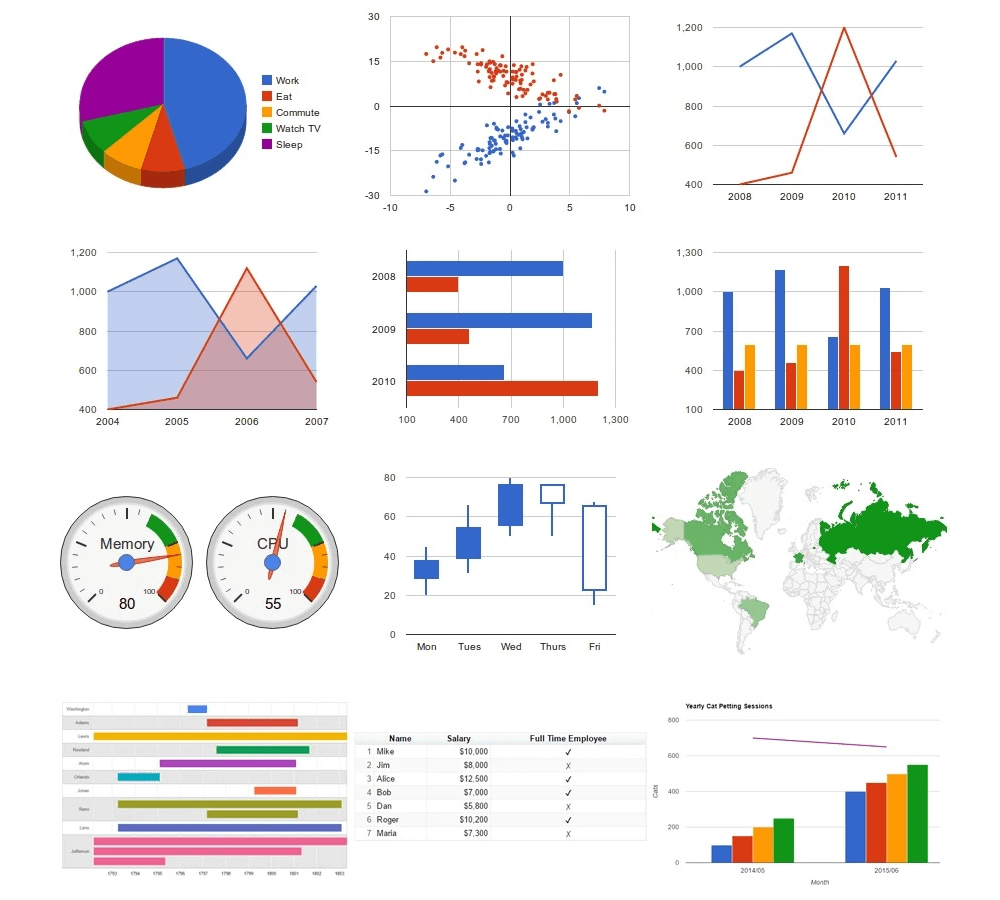 The plugin is responsive, light and fast, and the charts are cross-browser and cross-platform compatible. While the basic setup is good to go, you also have options to customize the charts extensively.
Key features include:
Interactive WordPress charts – reveals additional info on hover
The plugin works both with data from files uploaded from your computer as well as hosted online
Import data from Google spreadsheets, CSV file and other charts. (Pro feature – import from WordPress)
Each chart type comes with a number of basic as well as advanced customization options
Create charts from your WordPress posts, pages, products or any other post type
Edit and clone any existing chart
The Advanced link on each chart type opens up a number of customization options. You'll be able to add titles, change fonts, font size, color, and much more.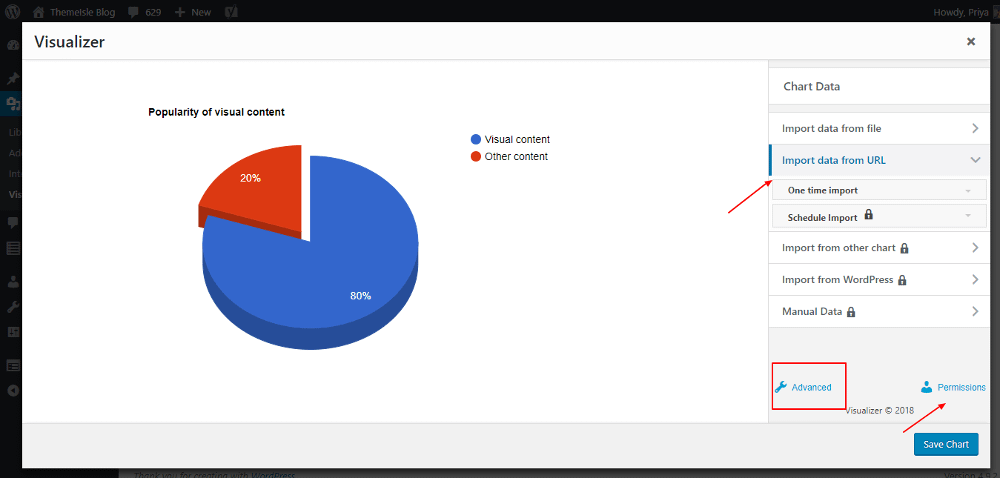 Once the chart is complete, copy the generated shortcode and insert it in any post or page. To illustrate, here's one of the ready-made demo charts:
The Premium plugin includes some time-saving features such as syncing with online files and a live editor. Chart data can be updated based on a set time interval by overwriting current data with data from a URL, or by uploading another file. But what's really cool is that you can switch from one chart type to another easily.
Packages start at $59 (suitable for bloggers) to $299 for Agency (suitable for Professional sites and portals).
Learn more about how to create charts with this plugin.
3. wpDataTables Lite
wpDataTables Lite is another option that helps you to quickly create tables in WordPress from existing data sources – Excel, CSV, Google Spreadsheet, MySQL query, XML, JSON and serialized PHP array. Data will be read from the source on each page load.
The plugin is responsive, though you may have to specify the columns or rows that should collapse on mobile. And since it does not support MySQL, Excel-like editing is not possible with the lite version. On the other hand, the pro version allows data import to MySQL. That allows editing in WP admin, or even at the front-end.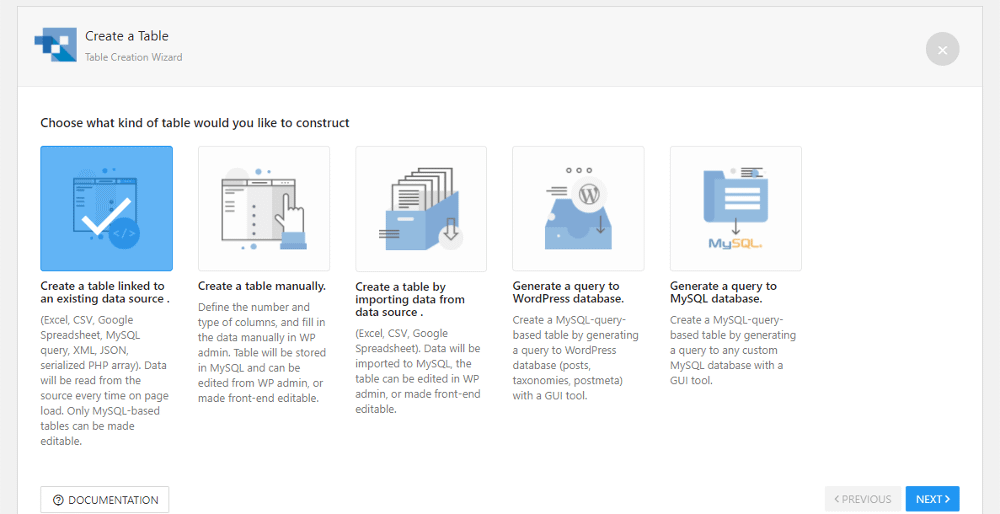 Key Features include:
Choice of interface language
Choice of three skins
Hide the table until it is fully loaded
Enable a horizontal scrollbar below the table
Tables are sortable, searchable and can be paginated
Table can be copied to clipboard, or exported to CSV, PDF, XLS functions
Add images and links
Here's a screenshot of available settings: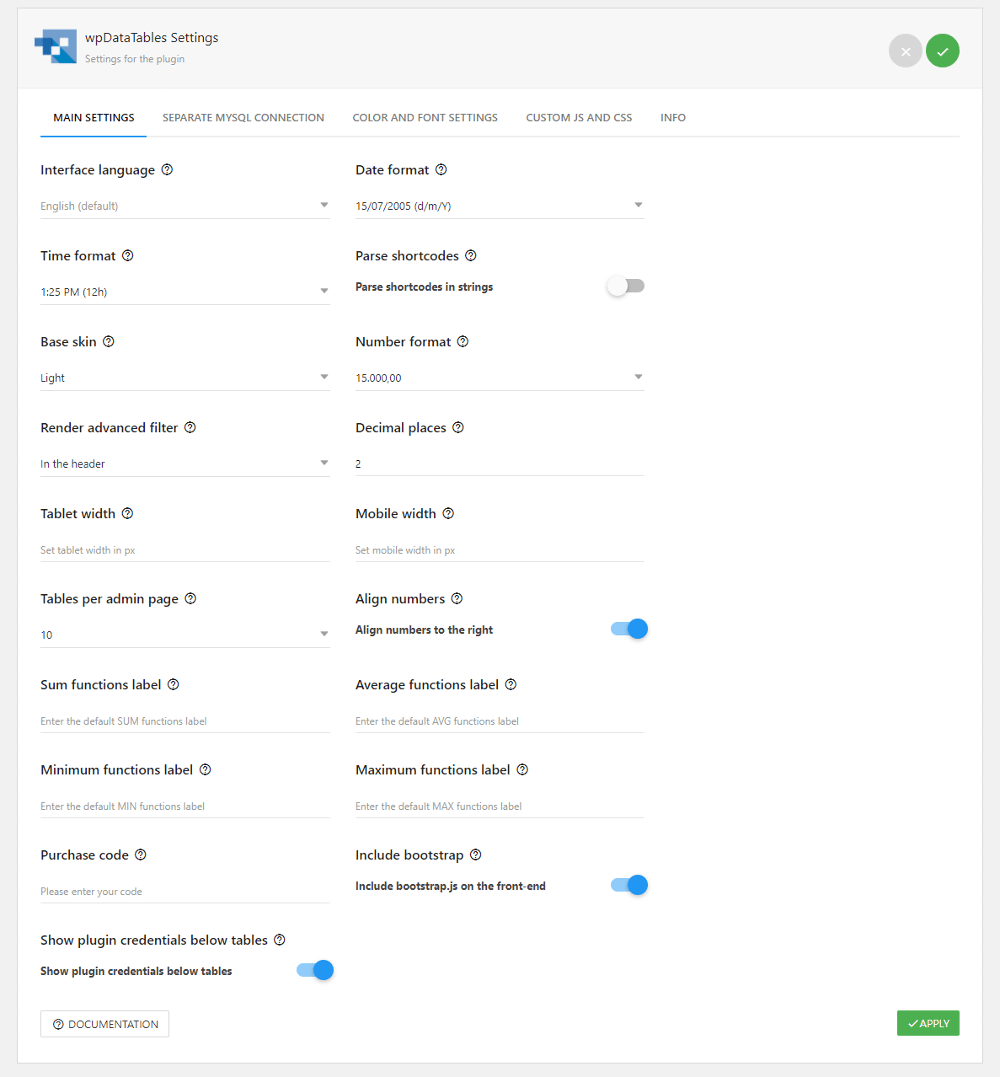 Using some made-up data, I was able to create a table and this is how it appears in Preview mode…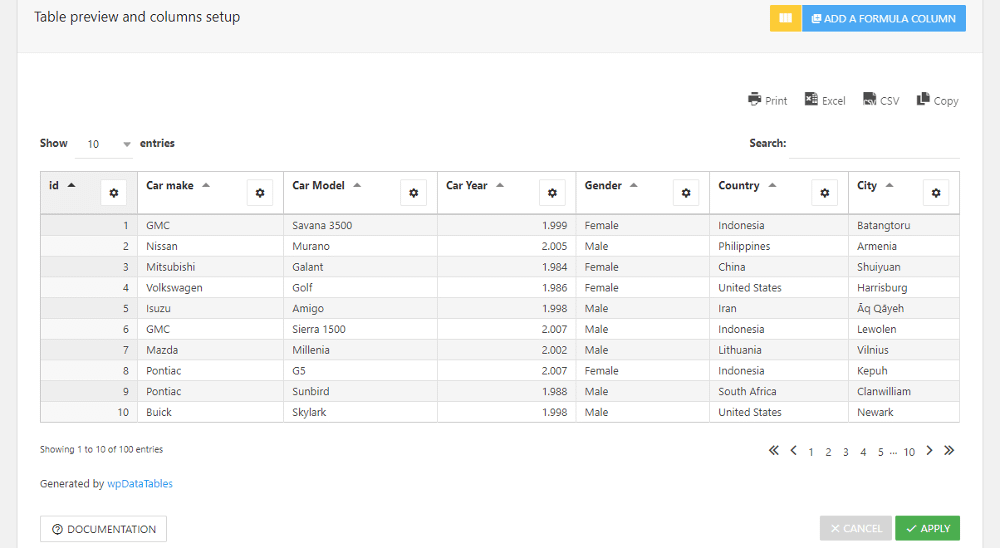 …and from the front-end. What can be a dampener is that tables can have only up to 150 rows in the free version. This may not be sufficient to present large amounts of data.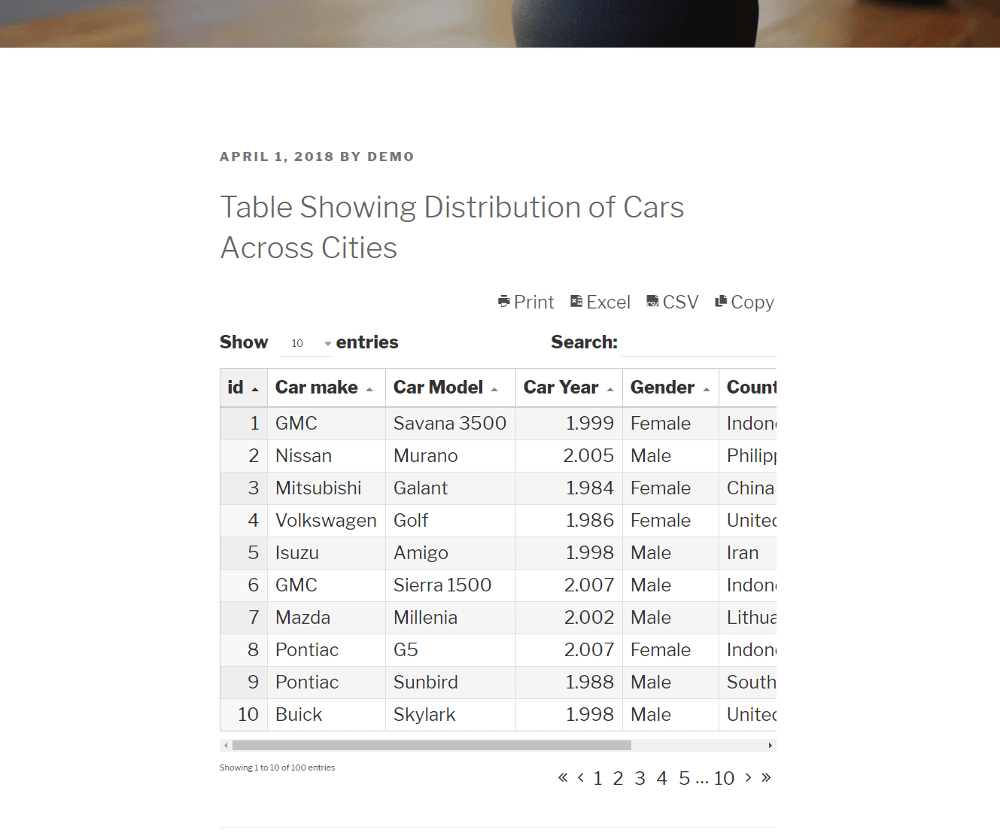 The Pro version is popular on CodeCanyon and permits manual data entry. Not only that, it supports formulas and allows front-end editing. You'll be able to highlight cells and rows based on values, apply advanced filtering and link dynamic charts to tables.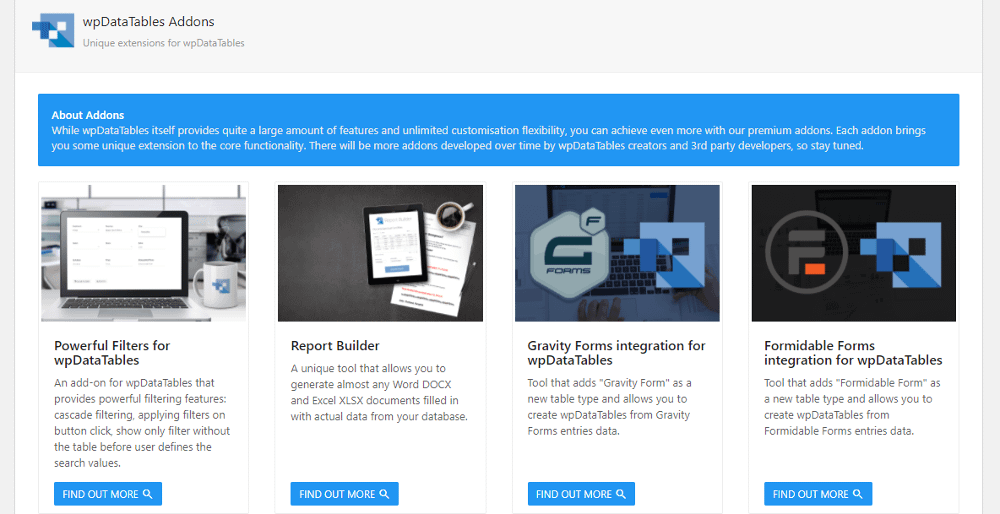 The lite plugin offers only a table format, while the premium plugin (at $59) can display 35 dynamic chart types. It works well for huge datasets. You can achieve even more with premium add-ons.
4. Data Tables Generator by Supsystic
To round things out, let's look at Data Tables Generator by Supsystic. It automatically creates WordPress responsive tables by default, though you can also disable the responsive feature to adjust the dimensions of your tables.
Tables are sortable and can have any number of rows and columns. While in the editor, you'll be able to choose text and background color, and specify vertical and horizontal alignment. Besides, a right-click on any cell opens up more editing options such as Read Only mode for any cell. Or, a right click can turn the cursor into a resize cursor to adjust row and column boundaries.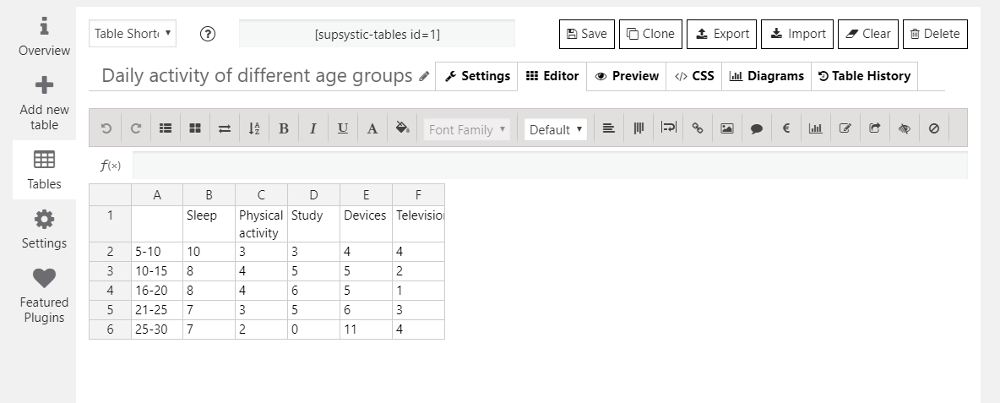 Key Features include:
Support for formulas
Inserts links, images or comments
Title, header, and footer
Pagination and search
Choice of loader icon and color
Compact mode option which reduces white space
Enable borders, highlight alternate rows, highlight by mouse hover
Add custom CSS for each table
Using mostly default settings, here's the preview of the chart I created with made-up data using the plugin…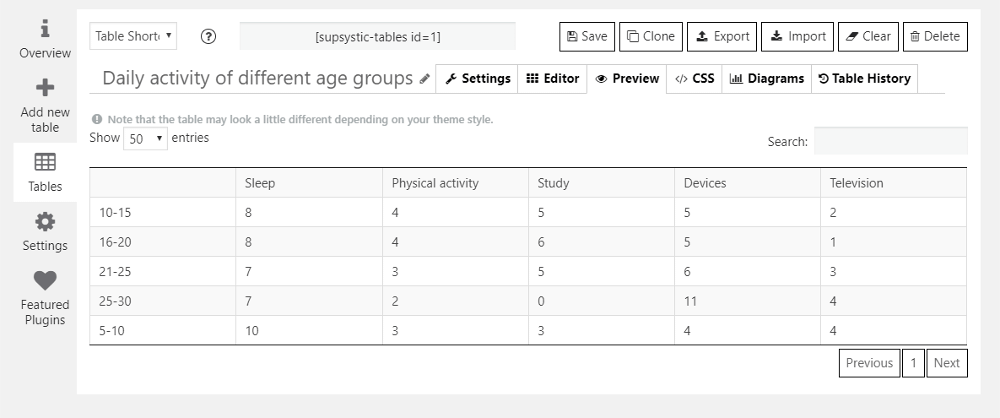 …and the front-end view of the same.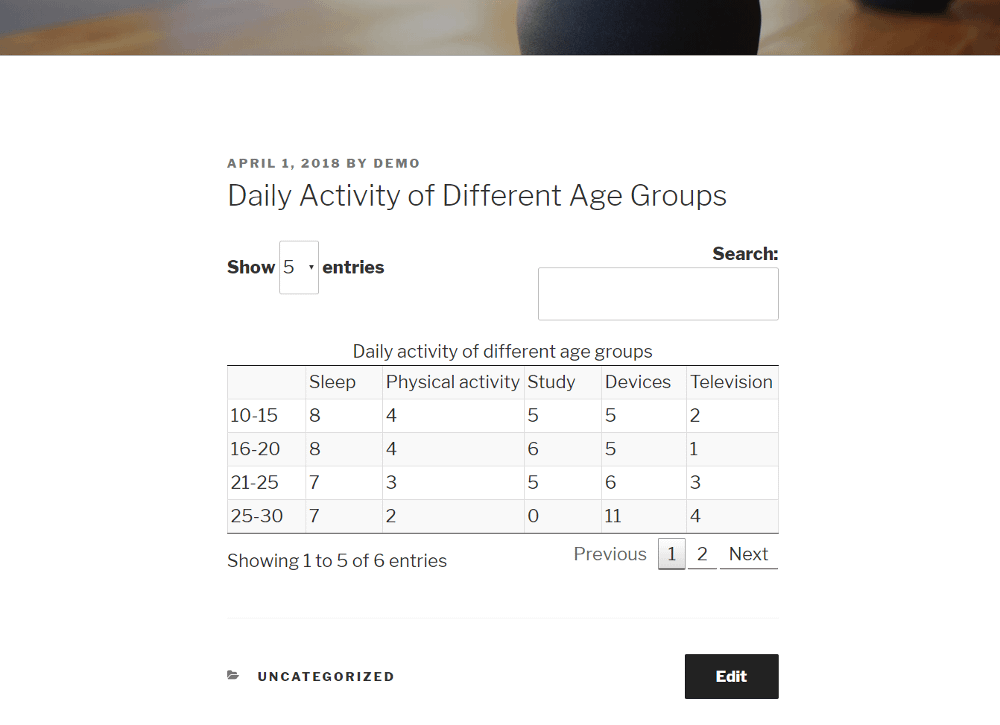 Pro features include options to change font family and addition of front-end editable fields. Moreover, you'll be able to restrict front-end editing to only logged in users or selected user roles. Export and import of tables, auto update from Google sheets and access to table history are additional pro features.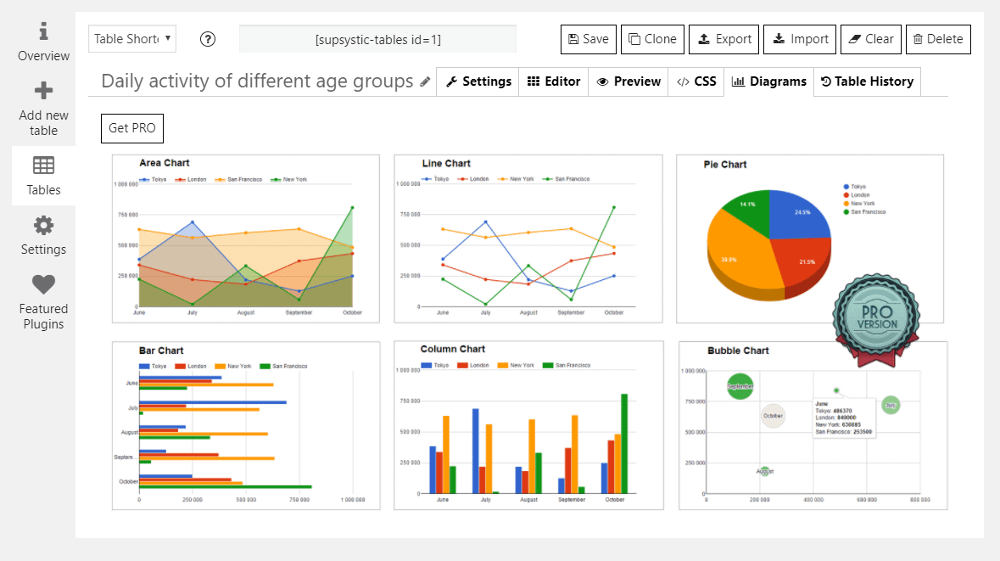 If you've got to pick one standout feature, it has to be the Diagrams that help to convert your completed table into any chart format – area, line, pie, bar, column or bubble. Surely, this plugin is one of the better tools for data visualization.
Prices start at $39 for one site, and go up to $149 for unlimited sites.
Final thoughts
Though you might need to pay for the premium version in some cases, all these WordPress charts plugins make great options for visually displaying data on your site.
Have any other questions about creating tables, charts, or graphs on your WordPress site? Leave a comment and we'll try to help!
Free guide
5 Essential Tips to Speed Up
Your WordPress Site
Reduce your loading time by even 50-80%
just by following simple tips.