If you're thinking of featuring more videos on your WordPress site, and you're trying to decide how to get started, then Vimeo vs YouTube is probably on your mind.
You already know that uploading videos directly to your site is a no-go. It'll cost you tons of bandwidth to do so, and your server probably isn't optimized for video streaming.
The obvious option, then, is to embed these videos on your WordPress site instead.
This begs the question:
Vimeo vs YouTube – which should you use?
You can also check other video hosting sites, but in this article, I'll highlight the pros and cons of Vimeo vs YouTube for WordPress videos – your videos, and talk about who should use which platform.
Let's get started!
Vimeo vs YouTube: Pricing
For the sake of practicality, let's tackle pricing right off the bat.
YouTube is completely free to use, but whilst Vimeo has a free basic plan, you'll have to pay to unlock more storage and premium features: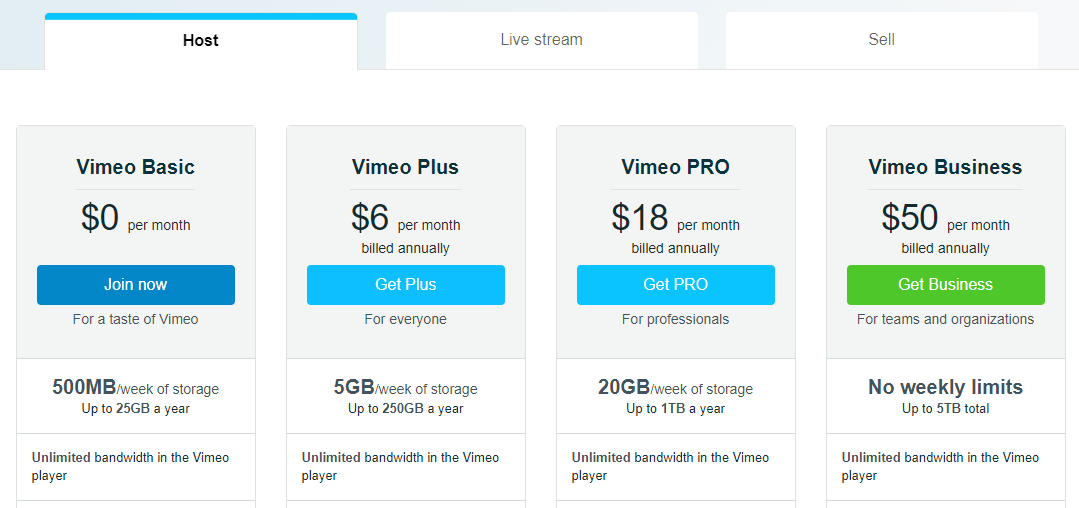 Vimeo's paid plans range from $6 to $50 per month, which means you'll be paying $72 (you're billed annually) at the very minimum.
Bottom line: YouTube is more cost-effective.
Vimeo vs YouTube: Upload Limits
Next, let's talk about upload limits. First up: YouTube!
Once you've verified your account, you can upload videos on YouTube with up to 12 hours of playback or 128GB file size. The limit on an unverified account is just 15 minutes: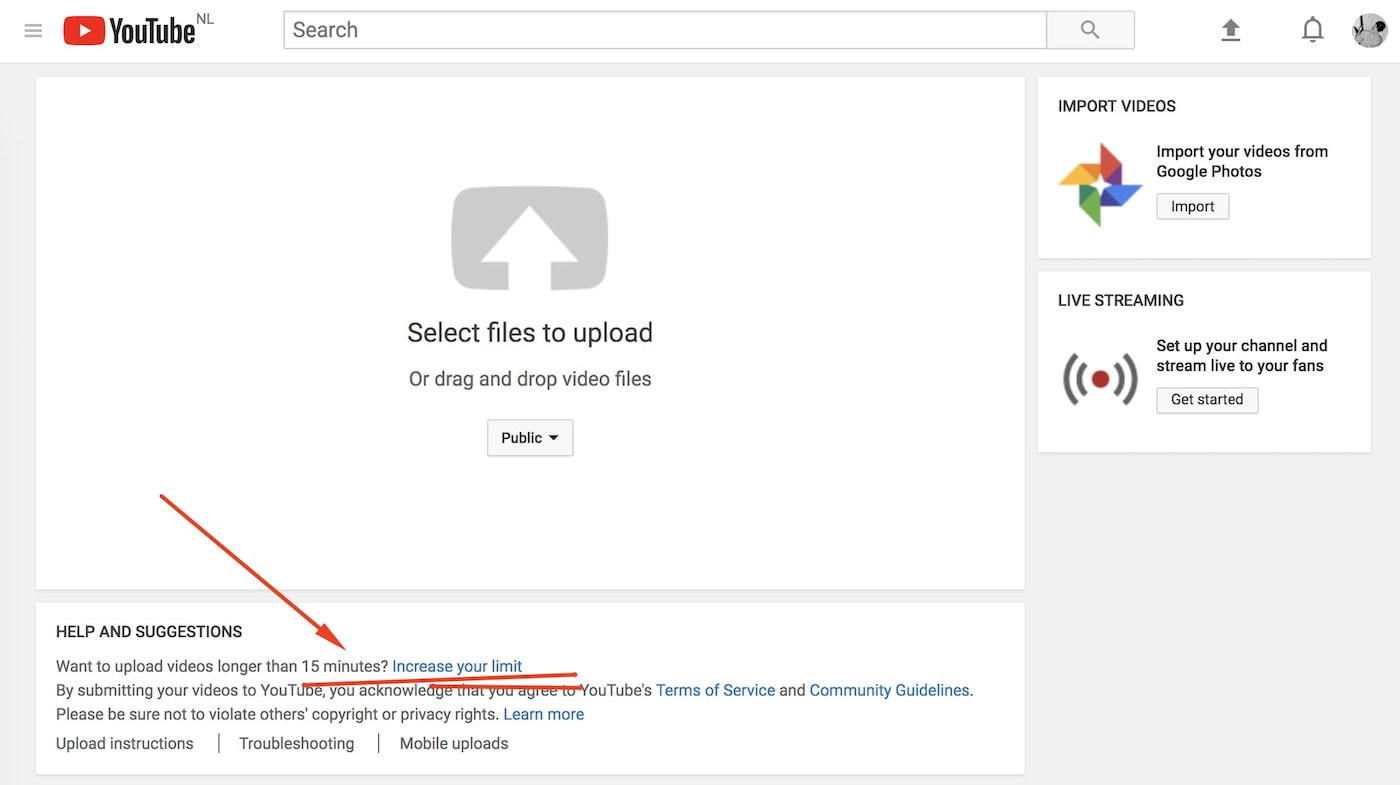 Cool beans – 12 hours is more than sufficient to meet most content creators' needs.
When it comes to Vimeo, the upload limits depend on the plan you're on.
If you're on the basic (free) plan, you'll only get 500MB per week, with up to 25 GB per year.
This is decent enough for folks who just want to experiment with incorporating videos in your content…
…but if you're serious about making video part of your long-term content strategy, or if you're building your entire WordPress site around your videos, you'll definitely need to upgrade to a paid plan.
Bottom line: YouTube is less restrictive in terms of upload limits.
Vimeo vs YouTube: Platform Reach
When it comes to platform reach, the Vimeo vs YouTube debate is almost non-existent.
Why do I say so?
(Charts by Visualizer Lite.)
YouTube has 1.5 billion active users each month (data from TechCrunch.com).
On top of that, the platform also lays claim to being the world's second most widely used search engine.
To be fair to Vimeo, they have over 170 million viewers worldwide – which isn't too shabby at all. But unfortunately, this still doesn't hold a candle to YouTube's 1.5 billion users.
Bottom line: YouTube has greater reach.
Vimeo vs YouTube: Privacy Settings
Here's how Vimeo vs YouTube compare when it comes to privacy!
With YouTube, you can choose from three different privacy settings for the videos which you upload.

First up, public videos can be searched and accessed by anyone.
Secondly, unlisted videos can be viewed by people who have the URL. These videos do not appear in YouTube's search or related videos functions.
Lastly, there are private videos, which can only be viewed by you and the users whom you specify.
If you want to, you can also disable comments on your videos. So far so good, right?
The problem comes in when you want to disallow embedding of videos. YouTube isn't too flexible when it comes to this, and if you want to disallow embedding of videos, this means you won't be able to embed videos on any website, including your own.
Needless to say, this is a pretty huge deal-breaker if you're running any sort of membership site.
Luckily for you – Vimeo's here to save the day.
Like YouTube, Vimeo allows you to make your videos public, private or unlisted.
On top of that, paid plan users also have the option of restricting video embeds to their websites only.
That's not all: Vimeo also have a cool password-protect feature that will prompt users to enter a password for whichever video you choose.
Bottom line: Vimeo is better for uploading private videos.
Vimeo vs YouTube: Video Editing
After spending all that time shooting your videos, you'll want to make sure that your editing is on point, so that people will love (and share!) your final product.
Is Vimeo or YouTube better for video editing? Let's break it down…
Firstly, YouTube offers a pretty good range of video editing features.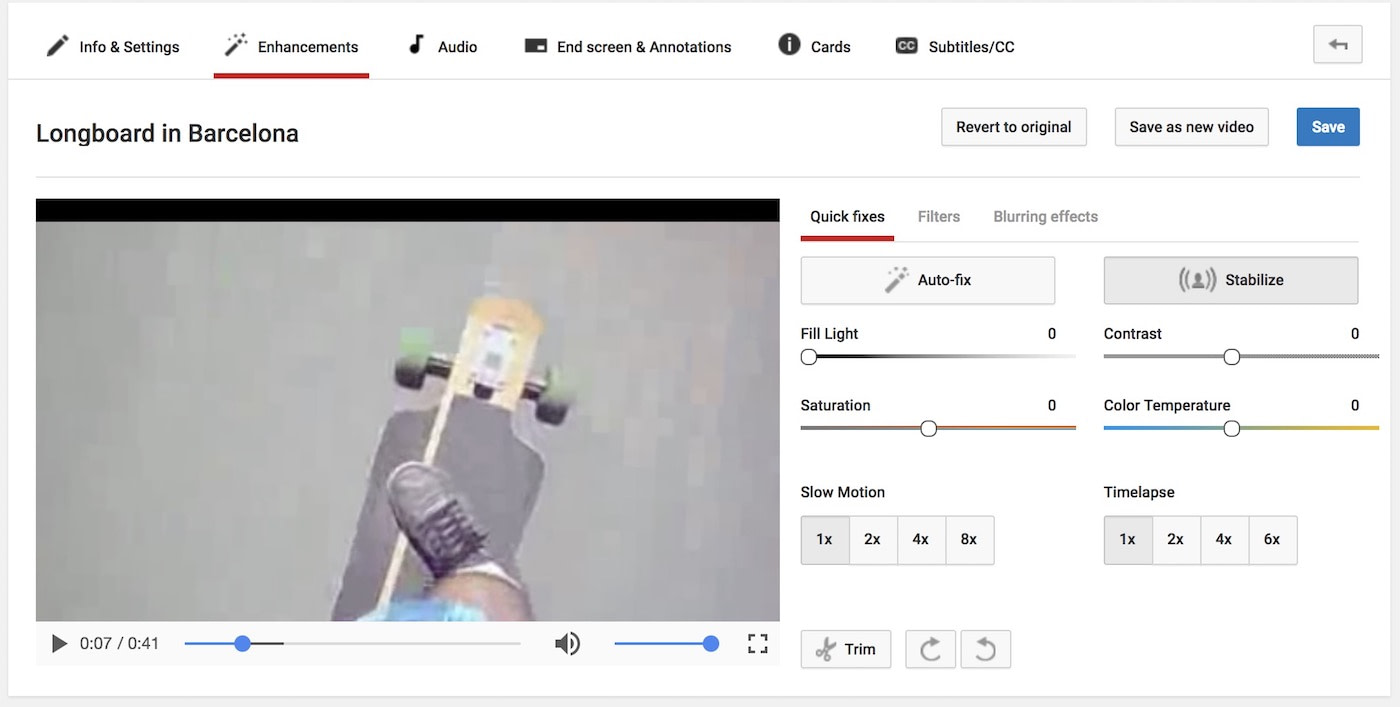 Using their video editor, you can create videos from your previously uploaded video clips and photos. It's fairly simple to add links, captions, and subtitles to your videos.
YouTube also offers you a nice range of original features that you won't find elsewhere. Like this thing called end screens, cards, and annotations.
Vimeo, on the other hand, doesn't quite have as many video editing features as YouTube. Most prominently it doesn't have an annotation feature – this means you won't be able to add clickable links to your videos.
But here's an advantage that Vimeo has over YouTube: on Vimeo, you can replace your video with an updated version without having to change your video's URL or stats. (For reference, you can't do this on YouTube – you're only able to upload a new video using a new URL.)
This feature really comes in handy for newbie video creators, who might be more prone to making mistakes (which they'll have to rectify subsequently). It's not fun watching your stats reset to zero when you replace your video – and with Vimeo, you can simply update your video and retain all the views and comments you've already accumulated!
Bottom line: YouTube has more video editing features, but the ability to update a video on Vimeo is great for newer video creators.
Vimeo vs YouTube: Monetizing Your Content
Because "exposure" doesn't pay the bills. If you're looking to monetize your video content, both Vimeo and YouTube will allow you to do so.
Here's how you do so on YouTube:
Sign up for Google Adsense, and join YouTube's partner program to start showing ads on your videos.
There's one caveat, though: you'll need to rack up at least 10,000 views on your channel before you're eligible to join.
Apart from earning through video ads, you can also create sponsored videos in which you plug products and services from your clients.
How about monetizing your videos on Vimeo?
Whilst Vimeo doesn't have an advertising program for its creators, they do have a platform called "Vimeo on Demand".
On this platform, you'll be able to sell videos directly to your users. Do note, though, that you'll need at least a Vimeo Pro account to be eligible to join.
Also: similar to YouTube, you can also do sponsored videos on Vimeo.
Bottom line: YouTube has more options for monetizing videos.
A final word on using Vimeo vs YouTube
Vimeo vs YouTube: which is better for WordPress videos?
At the end of the day, it really depends.
If you're using videos as a way to supplement the existing content on your site, go for YouTube. It should be able to meet all your needs, and it can help you reach out to a much wider audience.
But if you're building a membership website or selling courses (with your course materials being predominantly videos), then Vimeo is the way to go.
By looking at your business model and assessing your needs, you'll be able to choose the right video platform for your WordPress website.
What's your choice?
Free guide
5 Essential Tips to Speed Up
Your WordPress Site
Reduce your loading time by even 50-80%
just by following simple tips.