The modern business environment makes web conferencing software an essential tool. Whether you're leading a distributed workforce or looking to generate leads in a new market; you need a good way to get everyone on the same page, or just say hi, and make those human connections that can help your business grow.
Video conferencing has grown so popular that there are dozens, if not hundreds, of options to choose from. With this in mind, we're here to give you the rundown of the most popular web conferencing software packages currently available.
We've covered their key features, pricing, and listed their pros & cons to help you find an online meeting tool that's perfect for your needs.
Let's dial-in.
Best web conferencing software for 2022
Best for…anyone who is looking for a professional online meetings tool that has it all.
Key features:
Breakout rooms allow you to split into as many as 50 rooms for dedicated discussions.
HD voice and audio with a range of call options including VOIP, toll-based dial-in, dedicated dial-in numbers.
Co-annotations, screen sharing, simultaneous screen sharing.
Good group messaging options available, chiefly both private and public groups.
Allows PPT, PDF, and DOC file uploads.
Engagement tools like polling, Q&As, and virtual hand-raising.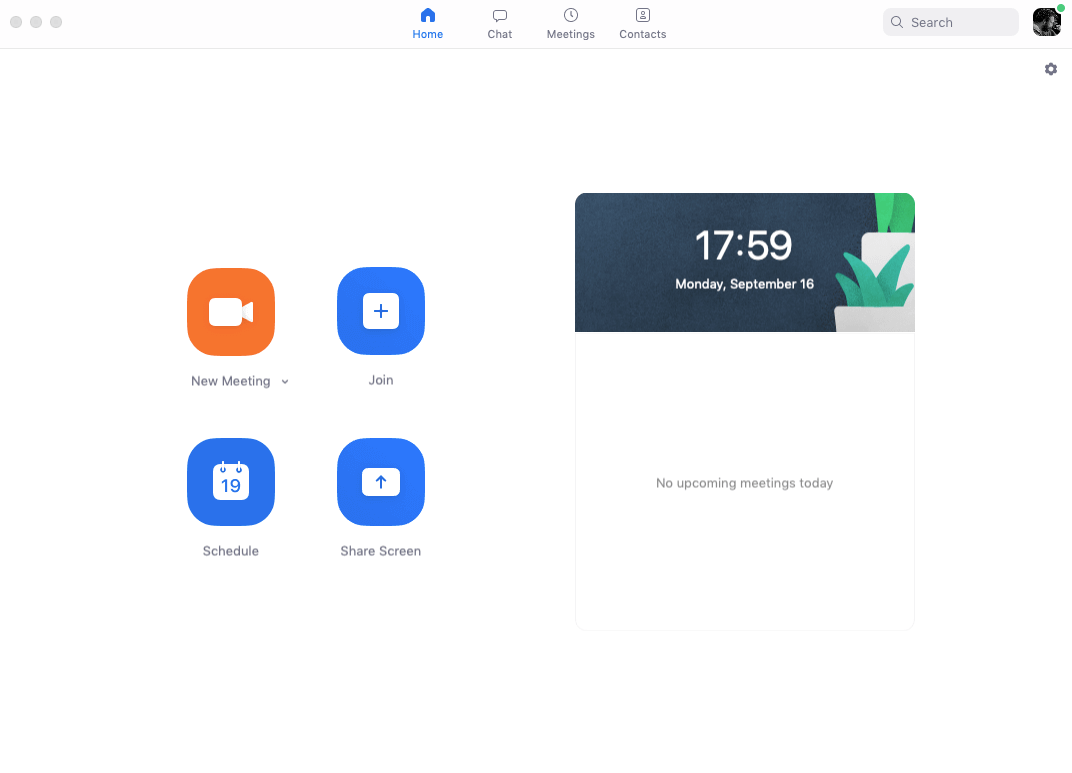 Zoom is probably the biggest name in the web conferencing software market with good reason; it offers high-quality HD audio and video at a competitive price point. But not only that, the UI is simple and you can launch meetings without hassle. You can also make your meetings more engaging with tools like polling, Q&As, whiteboarding and more.
Pros:
Great options in the free plan and competitively priced premium plans.
Easy role switching for multiple presenters.
Outstanding integrations with all the tools you use daily like Slack, Redbooth, and Google Workspace (formerly G Suite).
Allows PPT, PDF, and DOC file uploads.
Great performance with no lag on screensharing and annotation.
Cons:
Difficult to join the meeting via the browser.
Cloud storage is low.
Toll-free dialing and Call Me are both extra costs.
Less flexible branding compared to competitors.
Pricing:
Zoom has a great free option with a generous feature set. However, Cloud-based recordings, advanced Admin controls, and reporting are not available in the free plan.
These features are available in the paid plans which start at $14.99 /month/host which allows you to have 100 participants.
For 300 participants with transcripts and company branding, you'll need the Business plan which starts at $19.99/month/host.
Best for…small to mid-size business customers.
Key features:
An excellent collection of extra tools like polling, whiteboard, and more.
Background noise detection for fewer distractions.
Third-party recording tools.
Call Me which allows you to call participants who can't join the meeting.
Outstanding security and encryption.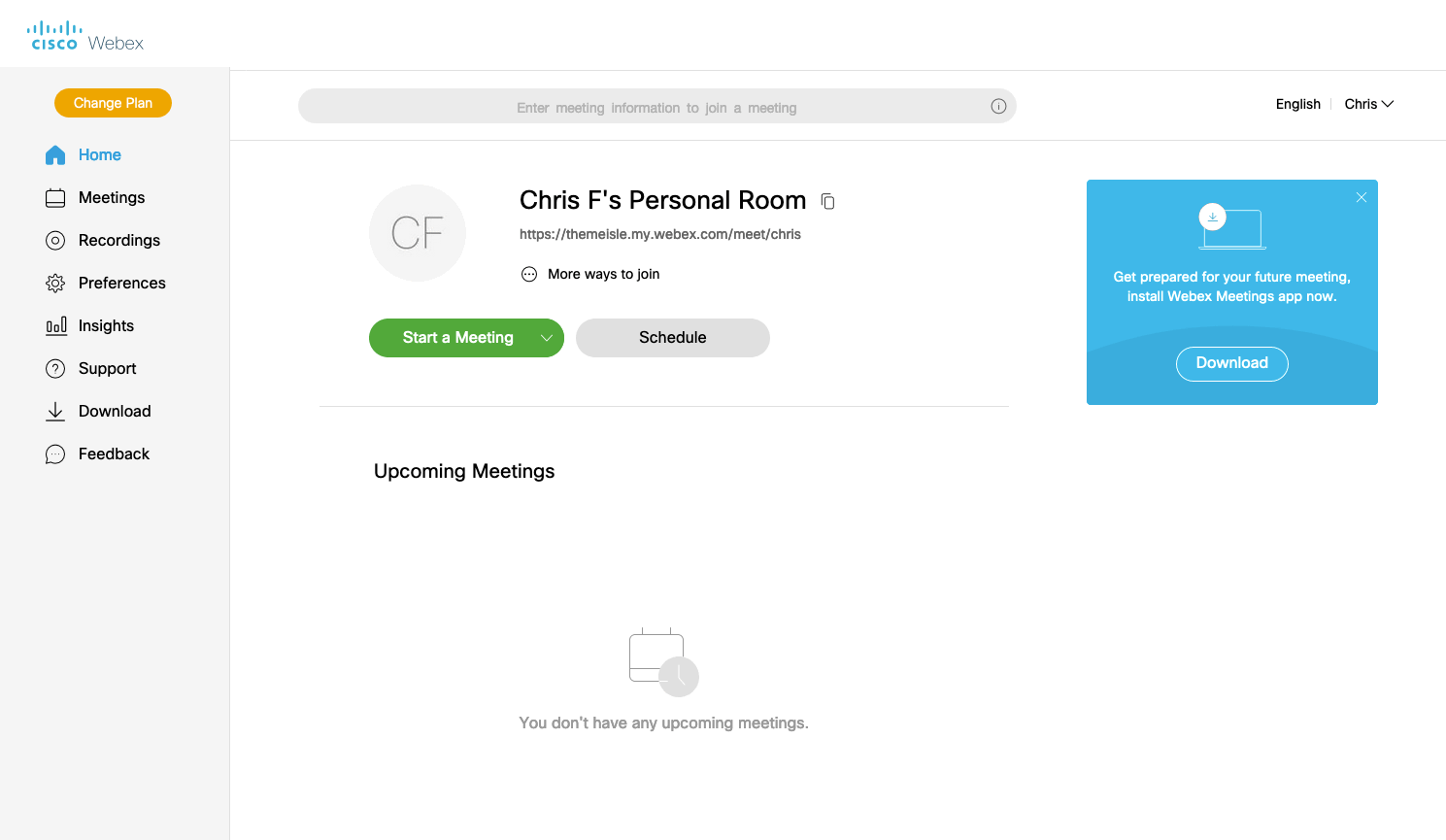 Webex Meetings is at the center of Cisco's strategy for dominating the collaborative software market. They regularly add features, like AI matching and joining services, to make meetings easier.
If ease of use is top of your list, then Webex's fewest click approach will help you; start a meeting, switch presenter, open the whiteboard without needing to waste time digging through the application.
Cisco recently announced a new video codec that improves quality and lowers bandwidth. Already hugely popular with large businesses, the prices for the packages have dropped significantly which gives small businesses an opportunity to use a secure and reliable option.
Pros:
The free plan has recording.
Excellent security features like Personal Room locking and encrypted meetings.
Good analytics and data insights available in the higher plans.
Recordings are in MP4 and can be easily shared via email.
Cons:
Call Me International add-on is pricey ($35.75 per host/month).
No file sharing in the free plan.
Not much cloud storage with a maximum of 10 GB.
There is no central location with all features available.
It's quite difficult to set up the integrations.
The branding is less flexible than you will find with other products.
Only partial Linux support.
Pricing:

Webex offers a good free plan for time-limited meetings with 50 participants.
Unlimited meetings and integrations are included in the Starter pack for $13.50/month/host.
For 100 participants and branding options, the Plus package is $17.95/month/host. For 200 participants then the Business plan is $26.95/month/host.
Best for…anyone looking for a cheap, flexible, multi-tool option.
Key features:
It has a good calendar function built into the app.
Multiple chat options including group chat, team chat, page chat.
Great content management options supporting images, video, diagrams, surveys.
File management with sharing, synchronization, direct editing.
Task management with team lists, assignees, reports, recurring tasks.
A streaming feed for comments and reminders.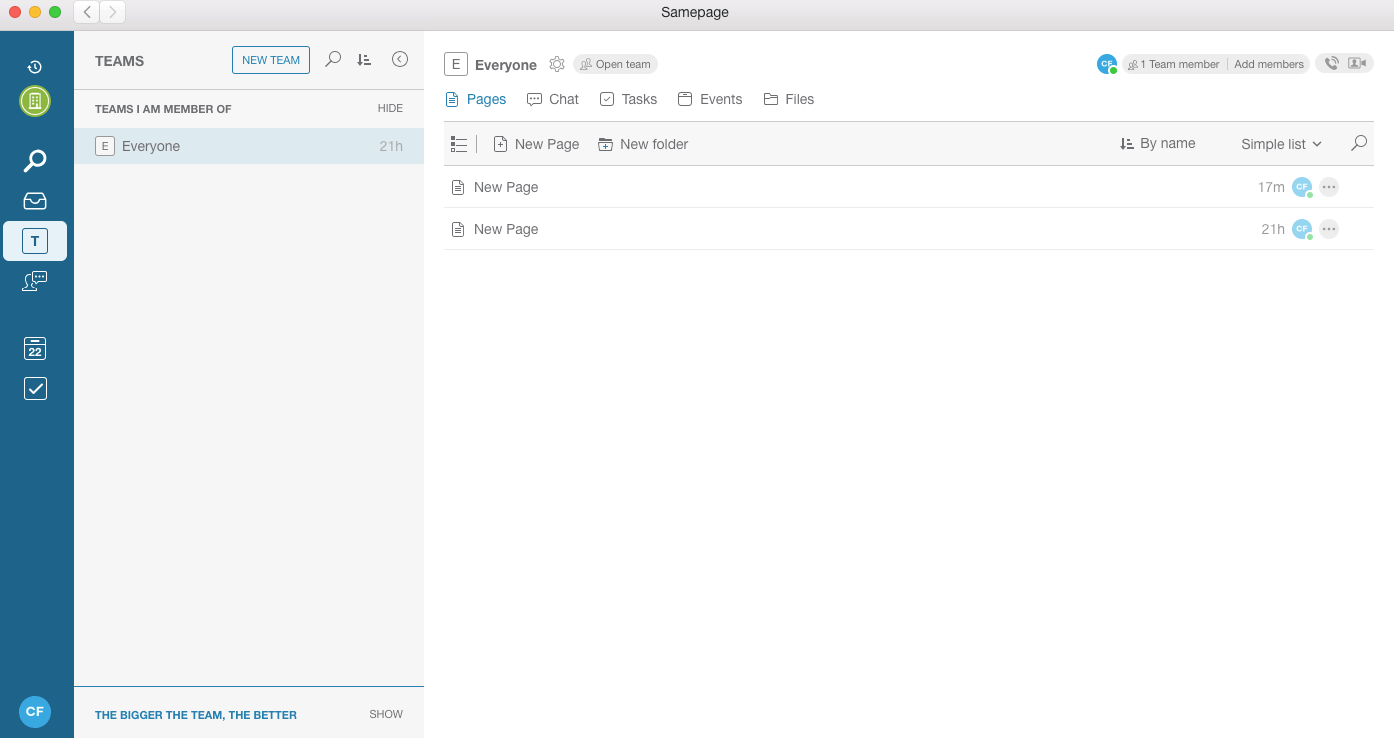 Samepage is an all-in-one solution for workplace collaboration. If you feel you have too many apps, then Samepage could be the one communication tool you need.
The Pages feature is particularly useful because you can create dynamic documents in a familiar WordPress-style editor. Here you can upload files, tables, meeting agendas, and third-party calendars.
Although this may be true, it isn't at number one simply because the video conferencing options are weaker than Webex and Zoom. While you do have the option to host audio-visual meetings, and you have excellent chat options, the lack of recording is a problem. On balance, it is very easy to set up with a range of great options for keeping everyone on the same page.
Pros:
Great free plan for small teams and personal users.
Create pages with a lot of different information.
Integrations with Zapier, Hootsuite, Salesforce, Slack, GitHub, and more.
Presenter mode (slideshows).
Great collaboration tools for project-based work.
Cons:
The Google calendar only works on pages.
You can't file share from in a meeting.
The buttons for starting calls are hard to see.
You can't record your meetings without a third-party tool (planned for 3-6 months).
It's a little clunky to navigate.
Pricing:
It has a free tier which allows for unlimited members and guests with 2GB storage (total).
Pro plans are billed at $8/month/host with 1TB storage each.
Best for…individuals and small teams looking for a simple, cheap, and reliable meeting tool.
Key features:
Embed links for all of your meetings.
Branding options which allow customized logos.
Easy screen, mouse, and keyboard sharing.
Complete browser-based option.
iOS meeting hosting available.
Phone audio.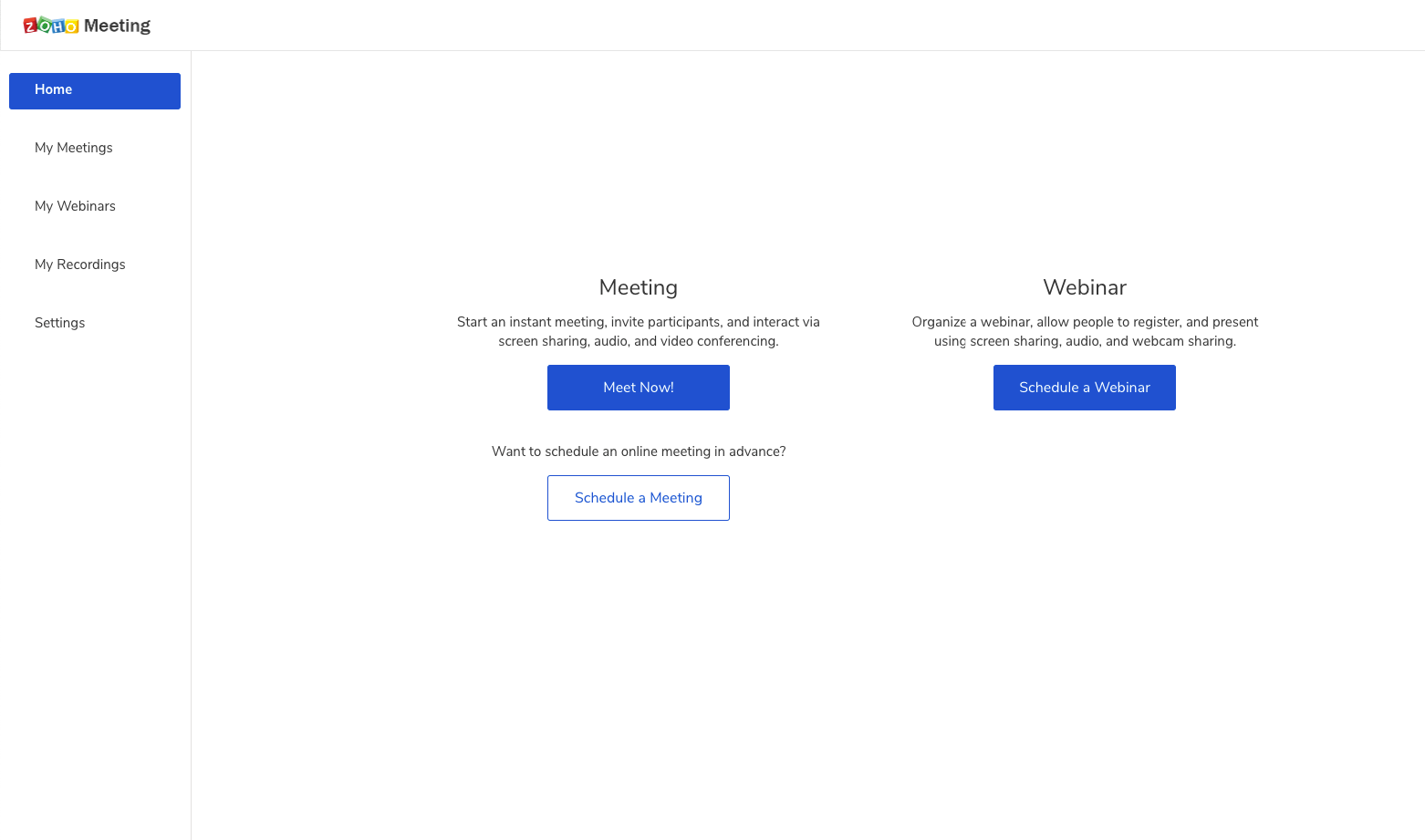 Zoho Meeting is a standalone product with simple video conferencing options to help you get meetings set up quickly. Indeed, the browser-based option helps your attendees enter meetings without unnecessary software downloads, installs, or sign-ins. Everything works after a few clicks.
It has great support across all devices and you will have a unified experience no matter how you choose to enter the meeting.
Pros:
Very easy to use with a simple UI.
Meeting lock.
No caps on meeting times or numbers.
Offers embed codes for your meetings.
Reporting features for the meeting participants.
Runs very well on old computers, in fact, it uses the fewest resources of all the tools.
Storage is based on the number of recordings and not their size.
Cons:
No file-sharing options.
No customization of invitee information.
Meeting recordings have a string of digits for the file name.
No whiteboarding, social media integration, or third-party recording options.
No private chat options.
Only one video screen is visible at a time.
Pricing:
The standalone meetings package comes with 100 participants and storage for 10 recordings for $10/month/host.
If you are looking to branch out into webinars, then you can add the webinar package with a few clicks.
Best for…individuals and small teams looking for a lightweight, low cost solution with a quick set-up and simple interface.
Key features:
Local conference numbers in over 50 countries and optional toll-free numbers.
One-click scheduling from Outlook and Google Calendar.
Whiteboarding with infinite canvas.
Presenter swapping and screen sharing.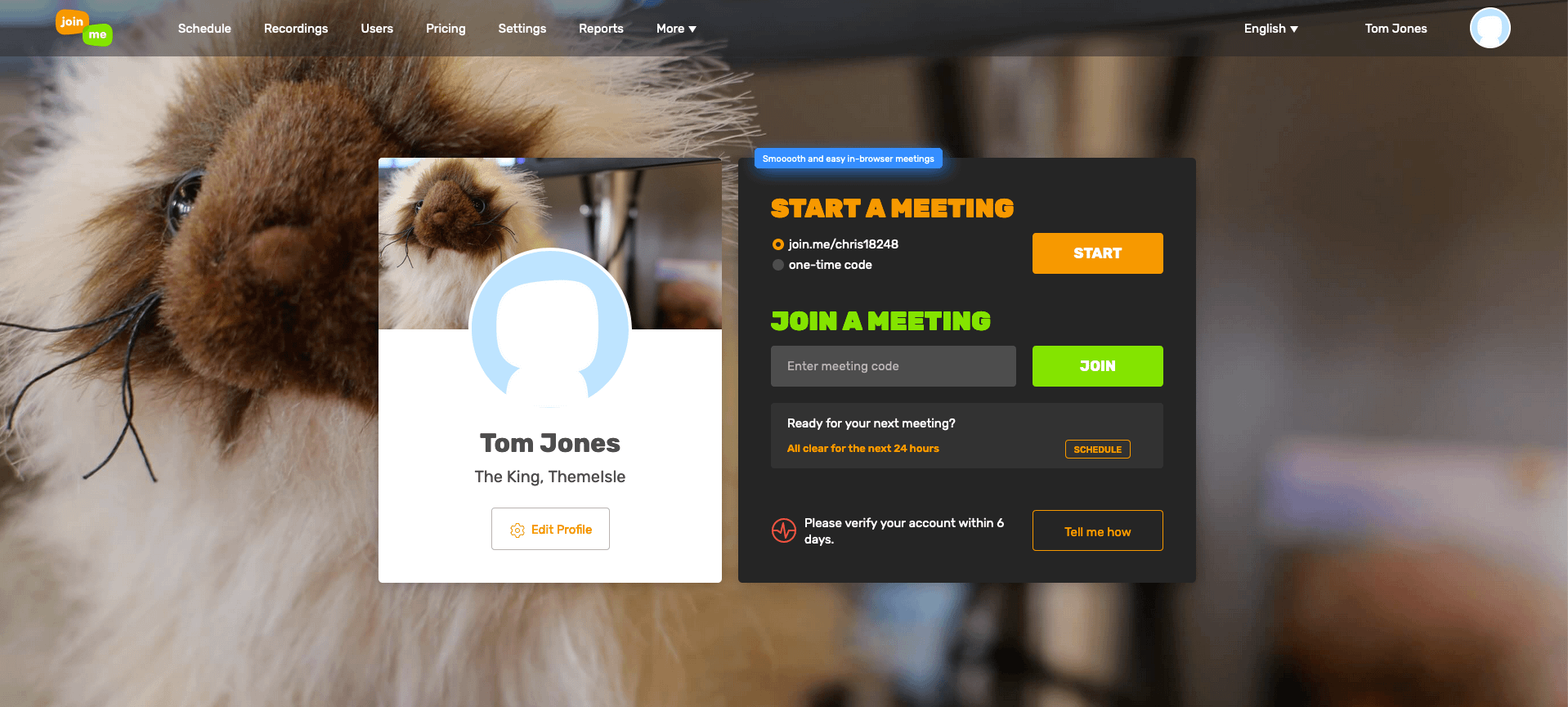 Join.Me is basic web conferencing software aimed directly at the small business market. In contrast with other tools, Join.Me has a tight focus on meetings which means you don't get the chat tools, analytics, polling options found in other solutions.
On the other hand, the recording options are good. For Pro users, all recordings are stored in MP4 format on the website. Also, the generous 50 GB of storage means there's enough space to keep important meetings for some time.
Pros:
Toll-free options in the Pro and Business plans.
Very easy to set up with meetings started with a few clicks.
Simple, uncluttered UI.
Easy to save snapshots of screens.
You can choose to set up meetings via a URL or a one-time code.
Unlimited number and length of meetings.
Cons:
No free plan.
You can't change settings from the app.
The Lite plan is missing a lot of features.
I found the meeting bubbles annoying because the background image was always visible.
Transitioning to screen sharing can be a bumpy ride.
You can only share files with one user at a time and it is hard to do.
Price: The Lite plan is $10/month/host for just 5 participants and no recording.
However, recording is available in both the Pro, $20/month/host, and the Business plans, $30/month/host with storage for 10 meetings.
Wrapping up
Finding the best web conferencing software in 2022 depends on your particular use-case. So, why not take advantage of a free trial and give one a thorough test?
Do you have any questions about picking the best web conferencing tool for your needs? Ask away in the comments!
Free guide
5 Essential Tips to Speed Up
Your WordPress Site
Reduce your loading time by even 50-80%
just by following simple tips.