Hello everyone! We are back at doing interviews with WordPress professionals, and this time we'll be talking with one of the most popular and present names in the community – Tammie Lister.
Right before we start our Tammie Lister interview, make sure to check out the interview we did last month with Jeff Starr on similar topics: WordPress and web design. If you want to explore other career opportunities that you can have as a WordPress professional, our full collection of interviews could be the source of inspiration that you need.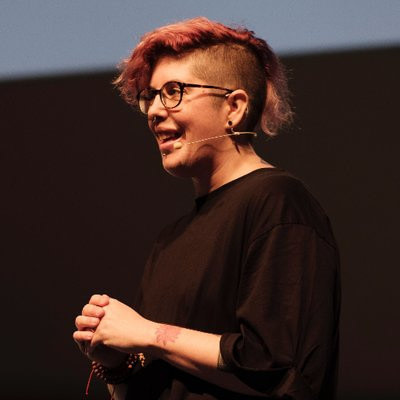 When it comes to Tammie, she loves web design and open source. She's been one of the long-time WordPress contributors, and her work has had a big impact on WordPress as we're seeing it now, at this very stage of evolution.
One huge mark that Tammie left on our CMS is the contribution to the block editor when she helped the design team build the functionality of what we know today as Gutenberg.
For many years, she dedicated her time working as a product designer at Automattic, where she led the team for the first phase of the block editor project, which culminated with the release of WordPress 5.0. She also coordinated two more major WordPress releases and took part in many others.
Moreover, if you've ever used BuddyPress – WordPress's online community plugin – thank Tammie as well for being actively involved in its development process for a long period of time. You can check her book on theme development for BuddyPress.
As if all of these contributions were not enough, she used to be a part of the Theme Review Team, which was reviewing and approving WordPress theme submissions to the official repository.
At the time of writing, she is still contributing to WordPress.org, freelancing, and helping the Extendify team with their design challenges.
Let's hear more from Tammie herself!
Tammie Lister Interview – "We Made Themes Become Plugins by Forcing Them to Have Functionality That Shouldn't Be There"
When and how did you start working with WordPress? Is there an interesting story here?
I was, like many people, using my own CMS which was honestly held together with hope more than anything. This was quite a few years ago and someone recommended me to try WordPress. After discovering how customizable it was, I moved over to using it.
What's your technique for staying productive throughout the day?
I find starting my day and ending my day with planning helps. At the start I work out what I have to do that day and then break it down into achievable sections. As the day ends, I like to review to close out the work day and ensure everything I had to reply to has been done. I take tea breaks. Whilst this might seem counter to being productive, taking a little time to pause, I find really gives me energy to work in focus bursts, so I try and break my day up and that's where planning comes in. I have found a pace to my day that works for me, which helps me a lot.
How do you define "being successful"?
I think it's very different for everyone, which is really amazing. For me, it's being content and sustainable in my approach to the way I live my life both in relationships and approach.
What do you wish more people knew about WordPress?
The way you can truly create whatever you want from it, using it as a base. Whilst that does take some understanding, once you have the basics locked in, or the right combination of theme and plugins – a whole ecosystem of possibilities opens to you.
Describe the WordPress community in one word.
What's the one thing you'd like to change about WordPress?
I'd like to change the fact we have made themes become plugins by forcing them to have a lot of functionality in them that shouldn't be there to make up for experience failings within the product itself.
How do you see the evolution of WordPress compared to, say, ten years ago? Is it where it should be or it still needs major improvements?
It's grown more rapidly as the years have grown, which I think is right for a project of this age. I absolutely believe it still needs significant work in experience, but there's a lot being planned on the horizon that excites me there. I think there are areas not on the roadmap that I'd also love to see worked on, but as a project we have to just focus on putting one foot in front of the other. Looking outside is key. If we constantly look inward as a project, we won't succeed. I don't even mean to other content systems. There's a lot of interactions to explore and learn from.
What do you think makes WordPress the most dominant CMS?
I personally try not to think of it in that terms, because that feels like it's a recipe for not maybe the best ending to me. Knowing the other products, always being aware and never sitting back accepting dominance – that is what leads to continued growth.
What's the no. 1 thing a new business entering the WordPress space should do?
Look for the hitches in the experience flow and ease them. Right now, there are many problems in the experience and all too often I see new business jumping into known markets competing with existing products. However, if you look at some of the experience problems not being solved – there are many – these to me make a lot of sense to focus on. You can focus on one, solve that and don't have to adopt the 'everything' approach that has happened in the past, just solve one thing beautifully.
What do you think is the most efficient way to market your own services or products at this moment?
I honestly think through having a product that solves an experience problem. However, I'd also point to telling the story both of what that problem is and those using the product. Make it about the customers, their journey, and success – the problems solved.
How do you know a website is high-quality? How do you measure that?
I think it depends. For me, it comes down to what is the site trying to achieve and does it achieve that? Whilst I am a designer and that means I have a particular taste, that means nothing if the site isn't going to do it's job. There are some sites I likely don't think visually look good, but they might be achieving their goal. That doesn't mean they couldn't do better, but I can't discount when something is doing it's job. That's the foundation to me, is it working as intended, then you can work up from that.
Any tools you're using often to streamline your work?
I sketch a lot using my iPad, this helps me get those ideas out of my head and into reality. I tend to also use post-its throughout the week to note to myself important messages during meetings and then at the end of the week collate them. This is a way of distilling information out for myself. I really love using my walls actually for thinking physically using post-its – there is something about focusing on a wall that allows me to think through a problem rapidly.
As far as tools, I use an app called Quitter that I love which closes apps after a certain time, this gives me focus as I close Mail and Slack after inactive times of 15 minutes. I also love using GitHub projects and Trello for getting things out of my head. Really the more I get out of my head and into a format I can then sort the better for my work.
What's your favorite/must-have WordPress plugin and why?
I really like using the Gutenberg plugin as love running the latest there. That one feels an easy one though, if not that then honestly Jetpack probably runs on most of my sites as it just works for me every single time – that to me is the sign of a great plugin.
What is your no. 1 rule when it comes to web design?
I think I'd fall back on my reply earlier and that it has to fit the purpose it's being designed for. Every product or website needs to achieve something, so that should be the focus of the experience.
You ran a company focused on building communities. What are some interesting ways to gather people around your project and keep them engaged?
Good conversation is a key one, honestly if a community has great conversation that's a huge point for people staying. Having a particular interest is also a big point. The most successful communities I've seen focus small and often stay that way. Allowing people to create their own space in the community often is amazingly empowering too. Let them customize the profile, have their space, belong and shape the roadmap – create their home.
Will full-site editing in WordPress affect designers, business-wise?
I think it will affect everyone involved in WordPress. As far as business goes, it brings a huge amount of opportunity for designers as there will be incredible tools such as global styles to explore. I would encourage designers to also explore working with plugin developers more, I see far too many plugins that with a little experience insight would be incredible, so there is a huge amount of opportunity for collaboration as the new ground is worked on.
Will the block editor ever be in the position to challenge page builders like Elementor or Beaver Builder?
I don't see it as a challenge. I see it as providing some incredible tools, a foundation to build on top of. What others create using this is going to be incredible. Imagine where it could go, using full site editing as the base.
Could you share with us a few struggles that you had while leading the Design team for the three major WordPress releases?
There is always a struggle to find designers to contribute, so I'll start by saying if you are a designer looking to contribute you are so welcome to join, and needed. Design is exciting to work on in an open source project. Rather than struggles I think I'll turn this to areas I'd love to see more focus on improving. These include the about page process and there's an initiative there I fully support. I'd love to see a few design release leads: one for editor, one for core and one for marketing perhaps even. Designers are different and to assume one designer can be everything I think isn't easy for us. Also the role is very time demanding, so by splitting it, that really helps everyone going forward.
Are you a part of any cool online/offline communities or groups? Can be about any topic, not necessarily work-related.
I have several passions that lead me to communities, they are plants, yoga, and art. I am not in any particular communities to share, but I do spend time on Instagram and YouTube following these.
What is driving you to keep contributing to WordPress? What's your personal mission?
Those two things aren't necessarily linked. My personal mission is something I've focused on a lot the last year and that's to create experiences that enable. I continue to contribute as I believe in the project's mission, I believe in the community and open source for me is something I am passionate about beyond WordPress.
What are the main challenges in keeping up with your mission?
I think as with anything there's a balance, what you might find enables one person could impact someone else. I am also learning how I want to create and where I want to create these experiences. As I said, they aren't linked, I am in my own time exploring some passion projects outside the space because that's always fun to do. I think by choosing to contribute, but keeping my skills sharp across multiple spaces, that benefits not just me but the work I create. Although, maybe the biggest challenge is finding the time to do that.
That sums up our Tammie Lister interview. If you enjoyed it and want to learn more, please leave your comments in the section below. Also, if you have any ideas for who we should talk to next, feel free to share your suggestions with us!
Free guide
5 Essential Tips to Speed Up
Your WordPress Site
Reduce your loading time by even 50-80%
just by following simple tips.