Did you know that email marketing has one of the best ROIs out there? But it's not always easy to get more WordPress email subscribers. You could have thousands of visitors and barely get 10 subscribers. I know – I've been there.
I've also been on the opposite end. I was able to increase email subscribers to one of my pages from 1-2% on average to 8-10%. And I want to teach you how!
In this article, you'll learn how to double your WordPress email subscribers over the next few months by smartly using content upgrades. Let's dive in!
The secret to WordPress email subscribers: content upgrades
In the intro, I told you about how I basically tripled my email opt-ins. I was able to do that with content upgrades.
A content upgrade is a lead opt-in that's directly related to the article a user is reading. Think of it as an "upgrade" to the content. A shortcut to the answer they set out to find.
Content upgrades could come in many forms, such as:
Cheat sheet to implement what the blog post talks about
eBook about the blog post subject that goes more in-depth
Case study of the blog post in action
A PDF version of the blog post
Extra examples of the thing in the blog post
For my example, I have a free "SEO cheat sheet" people can get But even after implementing the upgrade, I still only saw 1-2% conversions. Why?
One word: Presentation.
My call to action didn't stand out. It didn't catch the eye. In fact, it blended into the background, easily passed over. It was a gray box.
So how'd I triple conversions and get more WordPress email subscribers?
I changed the box from gray to an obnoxious, can't miss me yellow.

Also, just for some extra background, clicking the link opens this pop-up: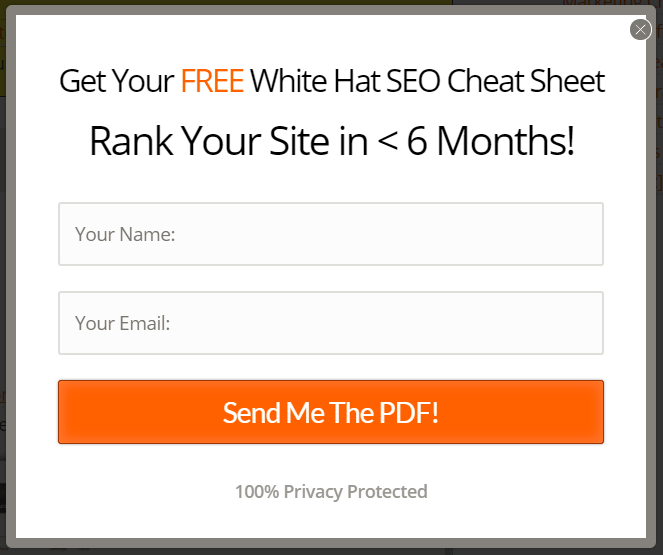 Now that you know what I've done and what worked for me, let's talk about how to actually create and implement your first content upgrade.
How to create a content upgrade
This section will hold your hand through choosing a page for your upgrade, picking an upgrade to go with it, and adding it to your post. (In the next section, we'll talk about how to make the most of your upgrade and get more subscribers.)
Let's do it!
Step #1: find your most trafficked pages
Before you blindly pick a post to add an upgrade, you should do a little planning to get the most bang for your buck.
For me, that means checking my Google Analytics account and seeing which pages get the most organic traffic. I look at organic because this traffic is recurring, whereas social traffic is more sporadic. But if you only get social traffic, go with that.
First, go to "Behavior", then "Site Content", and finally "All Pages".

From there, click the button that says "Secondary dimension", click "Acquisition", then select "Source" from the dropdown.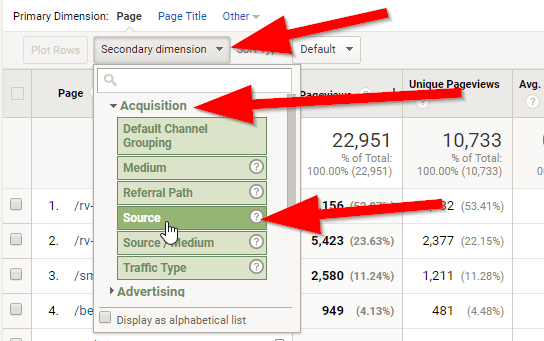 Finally, click "advanced" next to the search bar, then choose "Source" and type "google" into the text field. Click "apply".

Now you'll only see pages with traffic from Google.

Based on this, I know that my time would be best spent on these top three pages on my site. They're the pages I would add an upgrade to first.
Now how do I know what content upgrade to add?
Step #2: coming up with an upgrade idea
Like I said in the beginning, there are loads of ways to upgrade your content and get more WordPress email subscribers.
But how do you decide which one to use?
I can't answer that for you, but I can give you a few examples to help you come up with your own ideas. For my top page from the Google Analytics screenshot – the post about RV accessories – here's what I'd do:
Because it's a huge list of 40+ accessories, I would probably create an upgrade that distills this list into the absolute essentials. Or the most popular.
I could create an opt-in box that says "Not sure which accessories to buy? Click here to get a list of the 10 most popular RV accessories, according to the experts."
Let's look at a different example…
My girlfriend runs a cooking blog. Her most popular recipe (as voted on by friends and family) is her homemade Nutella recipe. (It's delicious, BTW).
For her upgrade, I would recommend creating a step-by-step video of her teaching you how to make the nutella. If you enter your email, she'll send you the video for free!
So there are a couple ideas…now, how do you actually add the upgrade to your site?
Step #3: adding the upgrade to your WordPress website
There are a lot of ways to do this. Personally, here's how I do it:
If you're giving away a PDF, upload that PDF to your WordPress media files. When you send an email to new WordPress email subscribers, include a link to that PDF.
If you're giving away a Google doc, put the link to the "View-Only" version of the document in your email. Just make sure you tell them they need to click "File" -> "Make a copy" in order to use it.
As far as actually presenting the upgrade, I would use a WordPress plugin like Thrive Leads.
Now you have your first ever content upgrade. Well done!
But the work isn't done yet. It's time to optimize the presentation of that upgrade to get the most WordPress email subscribers possible!
Three tips to maximize your content upgrades
As you saw in the beginning of this article, the presentation of your upgrade matters – a lot. It can mean the difference between virtually no opt-ins and an overflowing list of WordPress email subscribers.
If people can't see it, they won't opt in! So how do you fix that? Keep reading to find out.
#1: Use pop ups to entice your readers
Pop ups are controversial. But the fact of the matter is, they work when done well.
There are three main kinds of pop ups you can use to promote your new offer:
On-load or timed pop ups
There are also on-click pop ups, like the one I showed in my SEO case study example. But those are more to make people's experience frictionless than they are to get people's attention.
Of the three main kinds of pop ups, I personally like to use on-load pop ups in combination with exit-intent. That means that when a person clicks on an article, the pop up will come up immediately.
But there are a few caveats here…
Your upgrade needs to be VERY related to the article's goal and high-quality. If someone Google's "RV Accessories" and sees a pop up about the top 10 RV accessories, that works. But if they see a pop up about buying a new RV or something not related to their initial query, that's when people get aggravated.
You should only use this setup on desktop. Google has started penalizing mobile on-load pop ups, which means it could hurt your rankings. In Thrive Leads, you can set up your pop ups to only load on page load for desktop. On mobile, consider a timed or exit-intent only pop up to avoid penalization.
Besides that, you should also consider personalizing your pop ups to the current user.
Personalized pop ups are less annoying and convert better.
But just because you use pop ups, that doesn't mean that should be the only way to opt in!
#2: Add in-line opt-ins to naturally get subscribers
In-line opt-ins (like the box in the SEO example above) also tend to convert well – if you make them stand out. Like I said, mine converted at almost 10% once I made the copy and color enticing.
You can use a box, like I did, or you can include a form directly in the content. For example, in my guide to living in an RV, I gave visitors the option to download the guide as a free PDF. And I did so with an in-line opt-in form like this: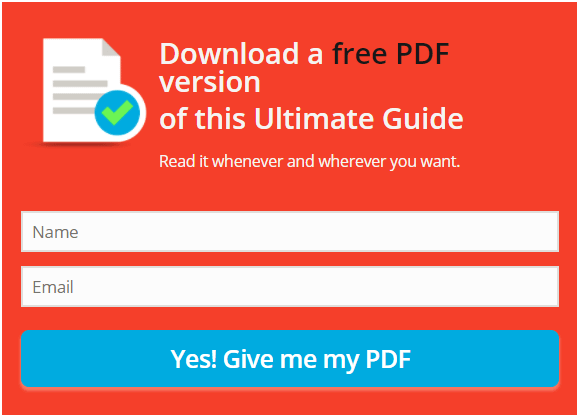 This form has a 10% opt-in rate. My audience loves it – especially because quite a few of them are older, and like having the option to read something offline.
Personally, I like to include in-line opt-ins at least 2-3 times in an article. Once in the beginning, middle, and end. But let's talk a bit more about that…
#3: Add multiple opt-ins
By showing your opt-in form multiple times (in the form of a pop up and in-line opt-ins), you increase the chances of getting a subscriber.
Brian Dean from Backlinko does this well. Here's the opt-in for his SEO copywriting guide, which he puts at the end of his article: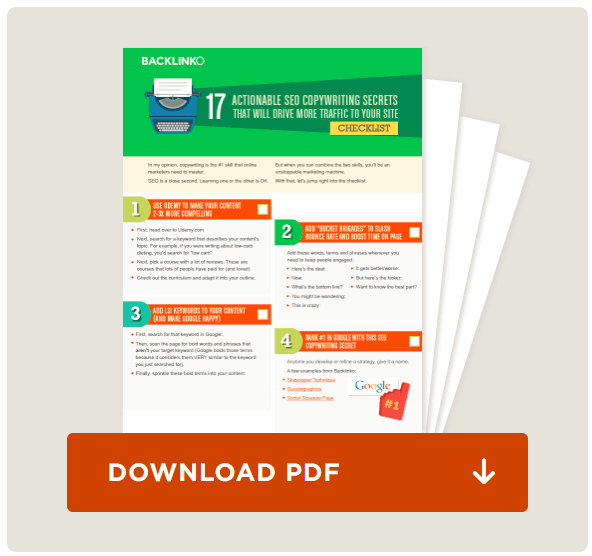 It's a giant button you can't miss. Plus, it gives you a preview of the content you'll be getting.
But you don't have to put that much work into it. You can get people's attention with a big download button, like this example from Video Fruit: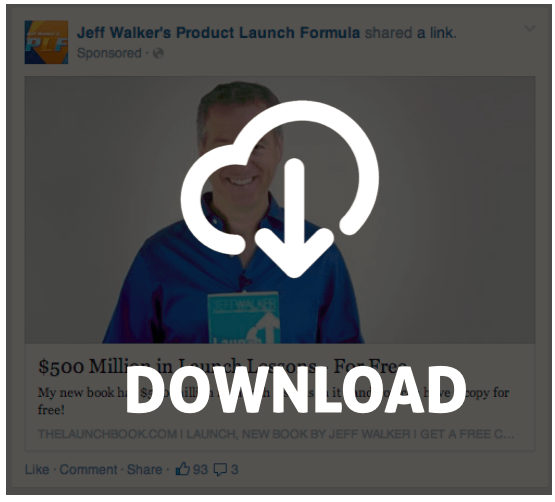 You can easily use Canva to create simple download buttons like this. Then, use Thrive Leads to create a pop up that shows up on click, with the forms for a name and email. Just like I did in the SEO example.
But life isn't all about WordPress email subscribers…
Bonus: use push notifications
While email subscribers are amazing, it's not the only way to get high-converting followers. Push notifications convert almost as well, and tend to draw people in more than an email.
Whenever you publish a new post, you can send a notification straight to your subscriber's desktop, like this: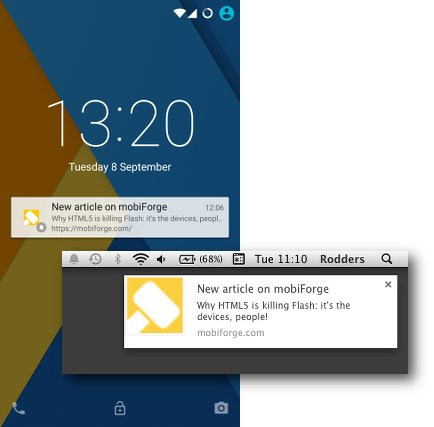 Most people think of push notifications as a way to send people discounts or sales. But you can also use them to notify users of new content you publish!
In fact, we use PushEngage on The Wandering RV and we have over 400 push subscribers. Whenever we publish something, we send out a notification, and our average click-through rate is 13%.
So just by adding a simple option to subscribe that pops up when people visit our site, we get a guaranteed 50+ visitors to all our new posts. Not too bad for a few minutes of work!
Click here to learn how to use push notifications on WordPress.
Also, check these best email marketing services/tools.
A word on GDPR
If you're not familiar with GDPR, it's a new law by the EU that regulates what businesses need to do to take care of their users' data the right way. This includes all the info you get via your email optin forms as well.
No matter the scale of your website, you probably do have some visitors from the EU, so you cannot ignore this. If you do, you can be fined even up to 20 million EUR.
We have separate guides on how to make your WordPress GDPR-ready:
Conclusion
Getting more WordPress email subscribers means more money in your pocket.
Email converts better than any other marketing channel, and has the power to grow your business way bigger than you ever thought possible.
By implementing targeted content upgrades in your best content, you can easily convert more email subscribers and reap the benefits of email marketing.
Are you using content upgrades (or another method) to get email subscribers? Let us know in the comments below!
Free guide
5 Essential Tips to Speed Up
Your WordPress Site
Reduce your loading time by even 50-80%
just by following simple tips.