Trying to choose between SiteGround vs DreamHost for your website?
Both are quality options with WordPress-specific features, as well as general plans for other types of websites. However, there are some notable differences when it comes to factors such as performance, price, support, etc.
To help you choose the right host, we're going to offer a hands-on comparison based on five factors:
Just in case, you're in a hurry – here's the short version:
SiteGround vs DreamHost
SiteGround
DreamHost
Price from
$2.99 /mo
$2.59 /mo
Traffic (mo)
10000 visits (25000 to 100000 in higher plans)
Unmetered
Disk space
10GB (10-40 GB in higher plans)
50GB in Starter, no limit in Unlimited
Free domain
No
Free one-year domain registration for specific TLDs (only with annual plans)
Email accounts
Unlimited
To be purchased in Starter, included in Unlimited
Site transfers
Free using plugin (one free professional migration on higher plans)
Free using the plugin
Support
24/7 ticketing, live chat, and phone callback. Priority support for GoGeek users
24/7 ticketing, live chat, and phone callback
Support rating
4.7
4.0
SSL certificate
Free
Free
Speed
Seattle
1.35s
0.73s
Toronto
1.13s
0.99s
Germany
0.73s
2.06s
Sydney
2.19s
1.80s
No. of sites
1 (unlimited in higher plans)
1 (unlimited in higher plans)
Now, let's get into the details:
⚙️ Which company offers the best features?
Both SiteGround and DreamHost are affordable hosting companies that come with modern technology. They use SSD storage and the latest HTTP and PHP versions.
SiteGround
SiteGround offers three shared plans. You can host any tool on these plans, but WordPress users get access to useful managed WordPress hosting features.
There's the basic StartUp Plan, and the higher GrowBig and GoGeek plans. What differentiates the higher plans are advanced caching, on-demand backups, number of sites, and Git integration.
Here's what you get with SiteGround's StartUp plan:
Pre-installed WordPress, and access to a setup wizard
Free SSL certificate via Let's Encrypt
Automatic WordPress updates
Free automated backup and restore up to 30 days (on-demand backup in higher plans)
Free website migration, free professional migration of one site in higher plans
10-40 GB website storage
One website on StartUp plan, unlimited sites in other plans
Integration with the Cloudflare content delivery network (CDN)
Built-in static caching to make your site load faster. Higher plans also cache dynamic data
Free PCI compliance – helpful for eCommerce
WP-CLI pre-installed on all accounts (helps you update WordPress/ add plugins from the command line)
Unlimited email accounts featuring your website's domain
Staging/restore (on GrowBig and GoGeek)
DreamHost
DreamHost also offers shared WordPress plans. Beyond that, they also offer a dedicated WooCommerce solution, as well as a high-priced DreamPress plan (for which we have a detailed review).
However, since we're comparing basic plans, we'll look into the features offered in their Shared Starter and Shared Unlimited WordPress plan.
WordPress comes pre-installed and ready to go
Free SSL, pre-installed in Unlimited
Free domain with annual plans, including privacy protection
Automatic updates
Automatic scheduled backups
Free website migration free
50 GB storage, no limit in Unlimited
One website, no limit in Unlimited
Unlimited email accounts for your domain only in Unlimited
WP website builder, 200+ starter templates
WP-CLI free
PCI compliance
Analysis
As far as features go, both hosts appear to share the honors equally in this SiteGround vs DreamHost comparison. However, you do not have to make a blind choice – there are important differences in the features basket.
SiteGround offers free CDN integration, caching, staging/restore, and email accounts in their basic plans. On the other hand, DreamHost offers enhanced storage, bandwidth, and free domain/ privacy.
Making a choice may really come down to the question – is it missing the specific feature you're looking for?
Forced to pick one, I'd choose SiteGround over DreamHost, as I consider staging and email important requisites for a website.
🙋 Is SiteGround or DreamHost easier to use?
As an administrator, you're going to spend a lot of time at the control panel. It helps greatly if this panel is user-friendly. Fortunately, both hosts make it very easy to create a new WordPress site and thereafter to streamline management.
SiteGround
SiteGround gives you three options to set up WordPress – using a WordPress wizard or Softaculous (autoinstaller), or manually. You can choose to create a new site or migrate an existing site.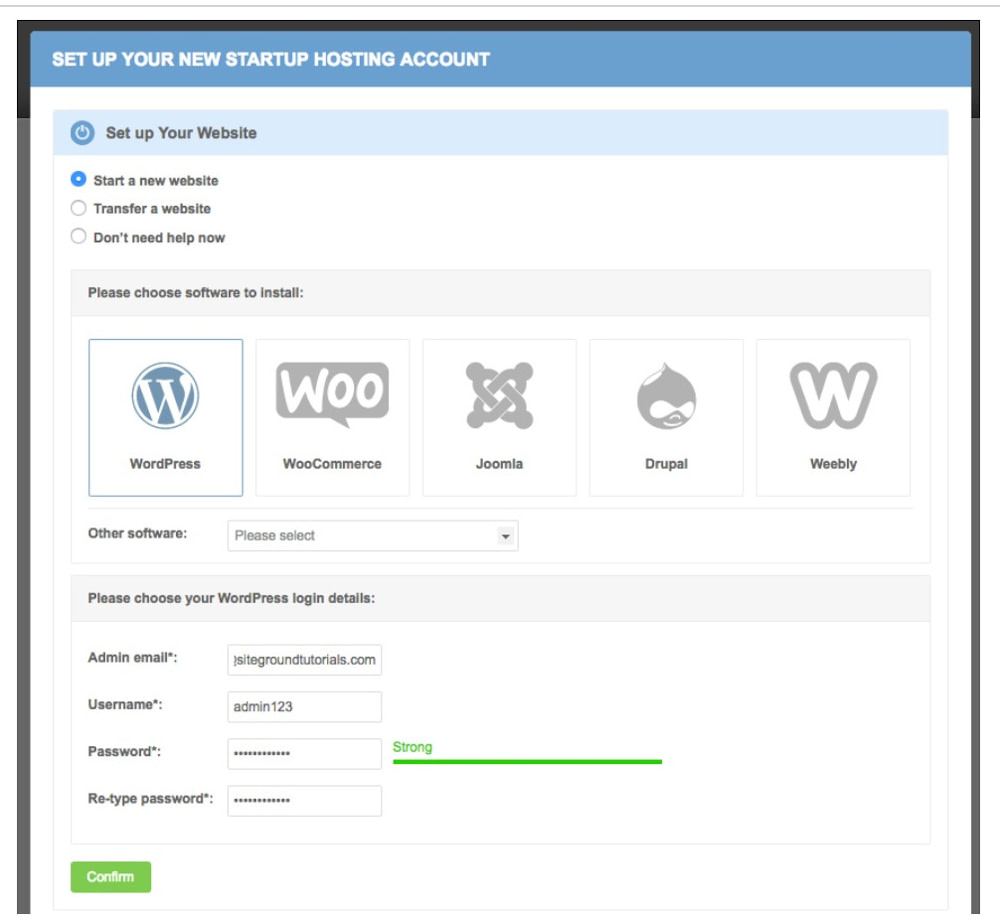 Moving on, a WordPress starter tool lets you pick from a collection of professional designs. Not only that, but you'll also be able to add key functions like a contact form or an online store. That way your site will be fully functional in a matter of minutes.
There's not much you cannot do from the custom control panel – manage hosting subscriptions, access support, or add websites and users. The dashboard comes pre-set with optimal settings, but you can always change them.
If you want to transfer an existing site, the SiteGround Migrator plugin will help. On higher plans, SiteGround will also professionally migrate one website for free.
DreamHost
When it comes to user experience, DreamHost is not lagging behind. All plans come with WordPress pre-installed, as well as with a powerful one-click installer.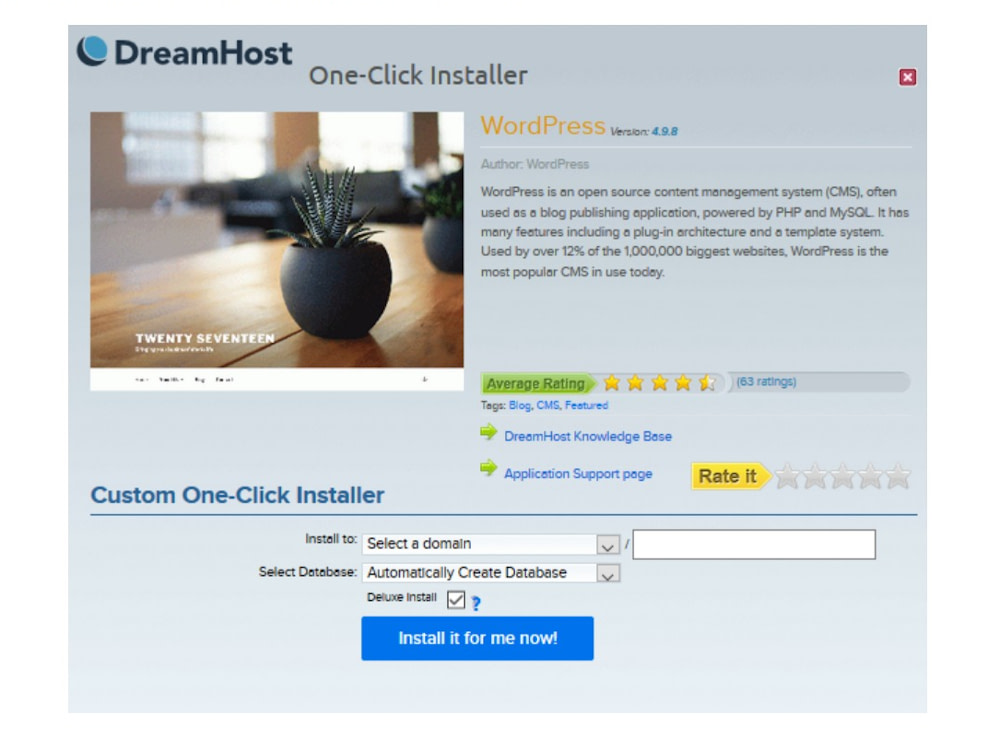 A website creation wizard holds your hand during the website setup process, guiding you through theme selection and adding functions. To make it all smoother, a drag-and-drop editor combines with design blocks to make website-building faster.
There's also a guided walk-through for adding pages, entering important information, and more. Want more help? Check out the 200+ starter sites covering every industry.
From the custom control panel, you can access your account, domain, and hosting details. Additionally, you can migrate your existing site for free using DreamHost Automated Migrator plugin.
Analysis
It's difficult to make a call between the two hosts. But I must give it to DreamHost for making it smooth for beginners by throwing in a free domain with all it's hosting plans. It's particularly attractive to folks desiring to finish the entire website creation process in one place. Important to note though that this freebie is available only to annual subscribers.
🏎️ Who wins in SiteGround vs DreamHost performance tests?
Speed and uptime play a big part in user experience of any website. To see how SiteGround and DreamHost fare on this point, we tested the loading times of both from different places using Pingdom
SiteGround and DreamHost performance tests

| | SiteGround | DreamHost |
| --- | --- | --- |
| USA (Seattle) | 1.35s | 0.73s |
| Toronto, Canada | 1.13s | 0.99s |
| Germany | 0.73s | 2.06s |
| Sydney, Australia | 2.19s | 1.80s |
The response times for both are great when the test servers are geographically close to the host servers. Not too impressive for distant locations though.
When it comes to uptime, both hosts keep their promise of 99.9% uptime. You can view historical data for the last seven months below. For live data, visit our uptime monitor page.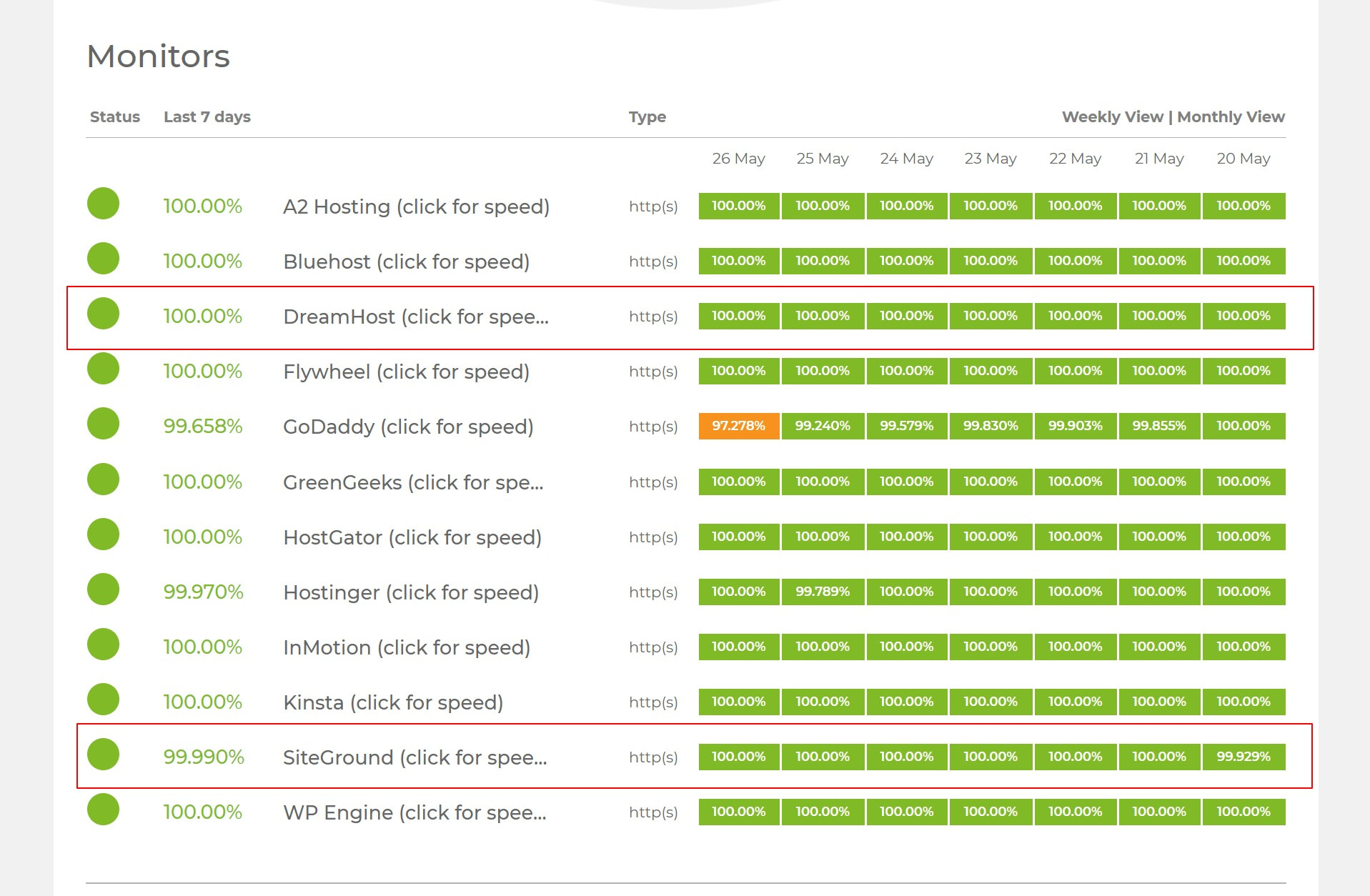 Analysis
Both SiteGround and DreamHost use SSD (Solid State Drive) in their servers. While SiteGround uses Nginx, DreamHost uses Apache. Looking deeper, with custom caching (even on cheaper plans) and a consistent focus on response time, SiteGround is the winner when it comes to performance.
📞 Does SiteGround or DreamHost offer better customer support?
Interestingly, in our WordPress hosting survey, we found that 17.32% of the 6,500+ respondents valued support above all else, so this should be an important consideration when choosing between DreamHost and SiteGround.
Like most hosting service providers, SiteGround and DreamHost offer 24/7 tickets, live chat, and phone callback. SiteGround also offers priority support to GoGeek users. In addition, both hosts give all visitors access to a wide knowledge base.
In previous surveys, we asked 800+ respondents to rate hosting services on the basis of Overall support quality and WordPress-specific support quality.
SiteGround and DreamHost support

| | SiteGround | DreamHost |
| --- | --- | --- |
| Overall support | 4.7 | 4.0 |
| WordPress specific support | 4.5 | 3.9 |
Overall, SiteGround clearly offers better support.
💰 How does SiteGround vs DreamHost pricing compare?
While both SiteGround and DreamHost offer shared hosting at budget prices, the features and benefits vary depending on plan type and duration. This calls for a careful SiteGround vs DreamHost price comparison.
Generally hosting companies offer a promotional price for the first billing cycle, which increases substantially thereafter. SiteGround and DreamHost are no different here.
SiteGround
SiteGround pricing per month

| | StartUp | GrowBig | GoGeek |
| --- | --- | --- | --- |
| Monthly Promotional | $2.99 | $4.99 | $7.99 |
| Monthly Standard | $11.95 | $19.95 | $34.95 |
DreamHost
DreamHost pricing per month

| | Shared Starter | Shared Unlimited |
| --- | --- | --- |
| Monthly Promotional | $2.59 | $3.95 |
| Monthly Regular (after 3 months) | $6.99 | $11.99 |
If you're looking for rock bottom prices, look no further than DreamHost's Shared Starter Plan, and lock in the promotional price for a full three-year term.
But if you want to pay on a monthly basis, DreamHost's Shared Starter at $2.59 beats SiteGround's Starter at $2.99.
SiteGround has a 30-day money back policy, while DreamHost users can cancel in 97 days.
Overall, DreamHost is surely the more affordable host.
Final thoughts on SiteGround vs DreamHost
In the end, choosing a host comes down to your personal needs and budget.
Here's a quick summary to help you decide:
SiteGround is the overall best host with better features, performance, and support.
DreamHost doesn't fare too badly either, being more affordable and user-friendly. The Shared Unlimited Plan is the best value for money.
If you want to consider other hosts in this price range, check out our collections of the:
Do you have any questions about how to choose between SiteGround and DreamHost? Ask away in the comments section!
Free guide
5 Essential Tips to Speed Up
Your WordPress Site
Reduce your loading time by even 50-80%
just by following simple tips.
* This post contains affiliate links, which means that if you click on one of the product links and then purchase the product, we'll receive a commission. No worries though, you'll still pay the standard amount so there's no cost on your part.