If you've been considering a custom WordPress theme, you're not alone. A tailored website can have a lot of benefits, from a unique design to improved performance.
However, it can also be a costly investment, so it can be tough to know if a custom theme is a worthy purchase. Fortunately, by considering your site's unique needs and resources, you can figure out if a personalized theme is right for you.
In this article, we'll explore a few of the reasons you might want a custom WordPress theme. Then we'll discuss five things to keep in mind as you make your decision. Let's dive right in!
Why you might want a custom WordPress theme
WordPress is a highly flexible platform. You can do pretty much anything you can imagine with it. As such, many WordPress professionals have taken to crafting tailor-made themes to fit individual websites.
These custom WordPress themes are made-to-order. Therefore, developers often design them to meet a specific site's needs perfectly. This level of personalization has some impressive benefits.
For one, a custom theme can create cohesive branding. A professional can integrate your business's logos, colors, and fonts directly into your site's code. Furthermore, a distinct design can also help your site stand out from competitors.
However, design isn't the only advantage. A tailor-made theme can also leverage built-in search engine optimization (SEO) advantages that are unique to your site. As such, you'll be setting your pages up for success and higher search rankings.
Moreover, a custom WordPress theme can be an efficient use of your resources. Editing a generic theme can take time, and may require you to be very familiar with how WordPress works behind the scenes. On the other hand, purchasing a unique theme can deliver all the benefits of customization without the hours of work or need for specialized knowledge.
Nevertheless, these benefits don't usually come cheap. Individually-created sites are often complex and take time and money to generate. This makes personalized designs a significant investment. As such, it might not be the right choice for everyone.
This is why we suggest that you spend some time considering this purchase. A little bit of forethought can go a long way. If you completely understand your site's needs and limits, you can lower the odds of buyer's remorse.
Should you invest in a custom WordPress theme? Key considerations
Every website is different. Therefore, we recommend that you consider the following factors before committing to a custom design.
1. Your budget
Let's face it: tailored themes are expensive. They take a lot of time and skill to get right. As such, you can reasonably expect them to take a bite out of your budget.
The exact cost will vary widely depending on the scope of your site, the features you need, and so on. You can expect to spend anywhere between $1,000 and $10,000 (or higher – the sky is the limit here).
In contrast, many premium themes cost around $60 to purchase, and offer multiple pricing options.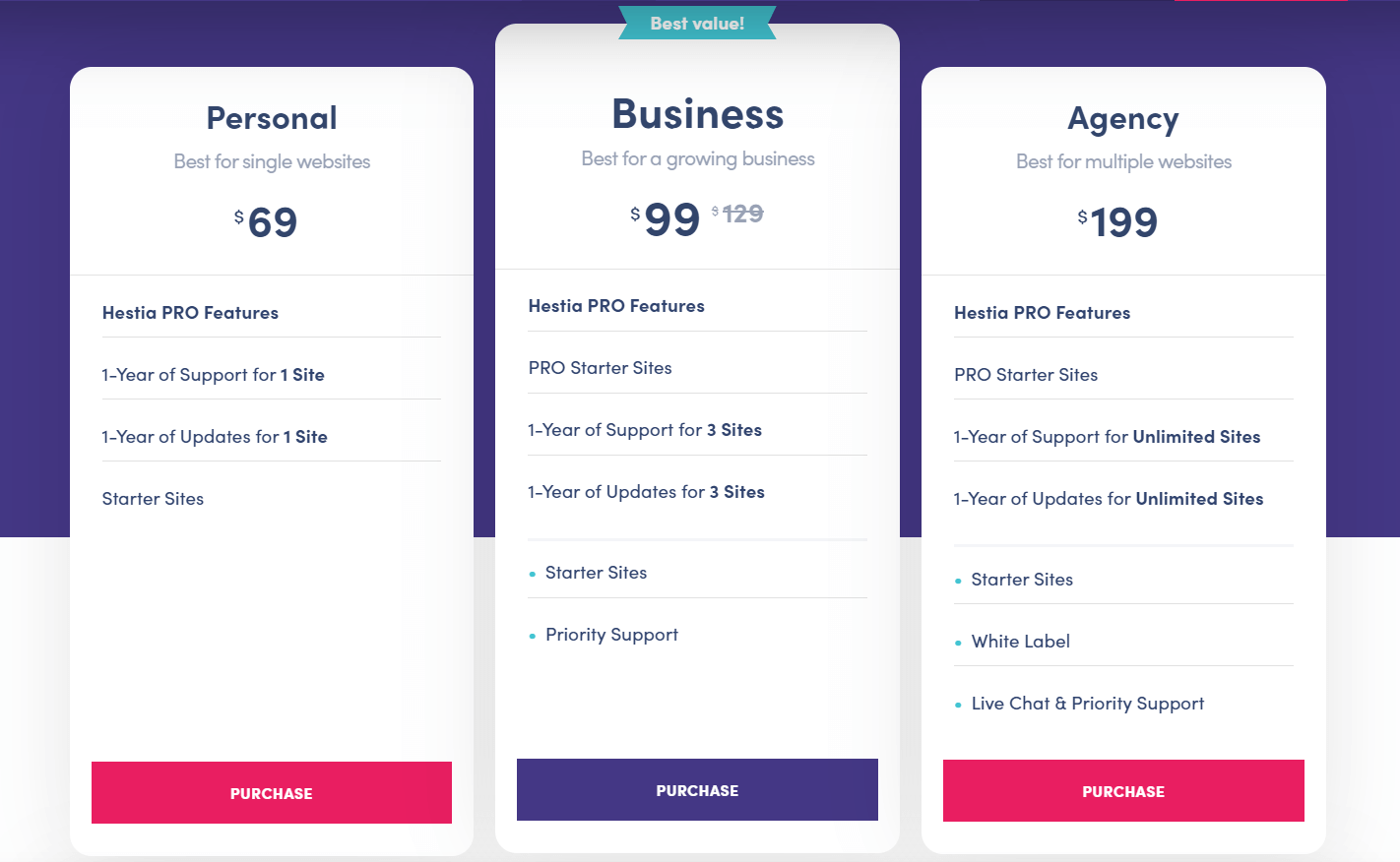 As you can see, the price rises as the features (or the number of sites you can install the theme on) increase. This is true for custom designs as well. More complicated needs will result in a higher price tag.
Nevertheless, the cost might be worth it. A complex site that has been crafted to serve some part of your business, such as a sales funnel, can increase your income in the long run.
Your best bet is to get a price quote early on. This can give you a better idea of what you should expect to pay. Then you can compare that cost to the expected benefits of the website, in order to determine whether it will be a worthwhile investment.
2. Your site's age
Let's start with a disclaimer: a site of any age can potentially benefit from a tailored design. However, how long your site has been around (or whether it's brand new) can impact the decision to invest in different ways.
For example, a website that's just starting out may want to consider the risks involved. If you haven't established your site yet, you might not know whether it will succeed in the long run. It may be better to spend some time growing it before paying for a costly custom WordPress theme.
On the other hand, an older site is more established. Your site's current theme might be closely associated with your brand. Switching up your design can confuse your audience, and require you to rework other branding elements (such as your logo or font choice).
Rebranding an older site can still be lucrative, but you might want to be careful with the decision: a recent survey found that consistent brand presentation can increase your revenue by 33% [1]. While this doesn't mean you shouldn't rebrand, you might want to make sure it's a rare event.
On a similar note, both young and old sites should consider holding onto their domain names during a theme change. Switching up your design can be disorienting to visitors. Retaining your domain name keeps your trustworthy links in place and holds on to a key element of your online identity.
3. Your technical prowess
WordPress is an open-source platform. As such, you can usually build on the impressive themes already pre-built by others in the community. However, this kind of tinkering usually requires a fair bit of technical knowledge to do correctly.
For example, you may only want to make small changes to a standard theme. Alternatively, you might be comfortable adding PHP or CSS to existing code. If this sounds like you, you can always use the Theme Editor straight from your WordPress dashboard: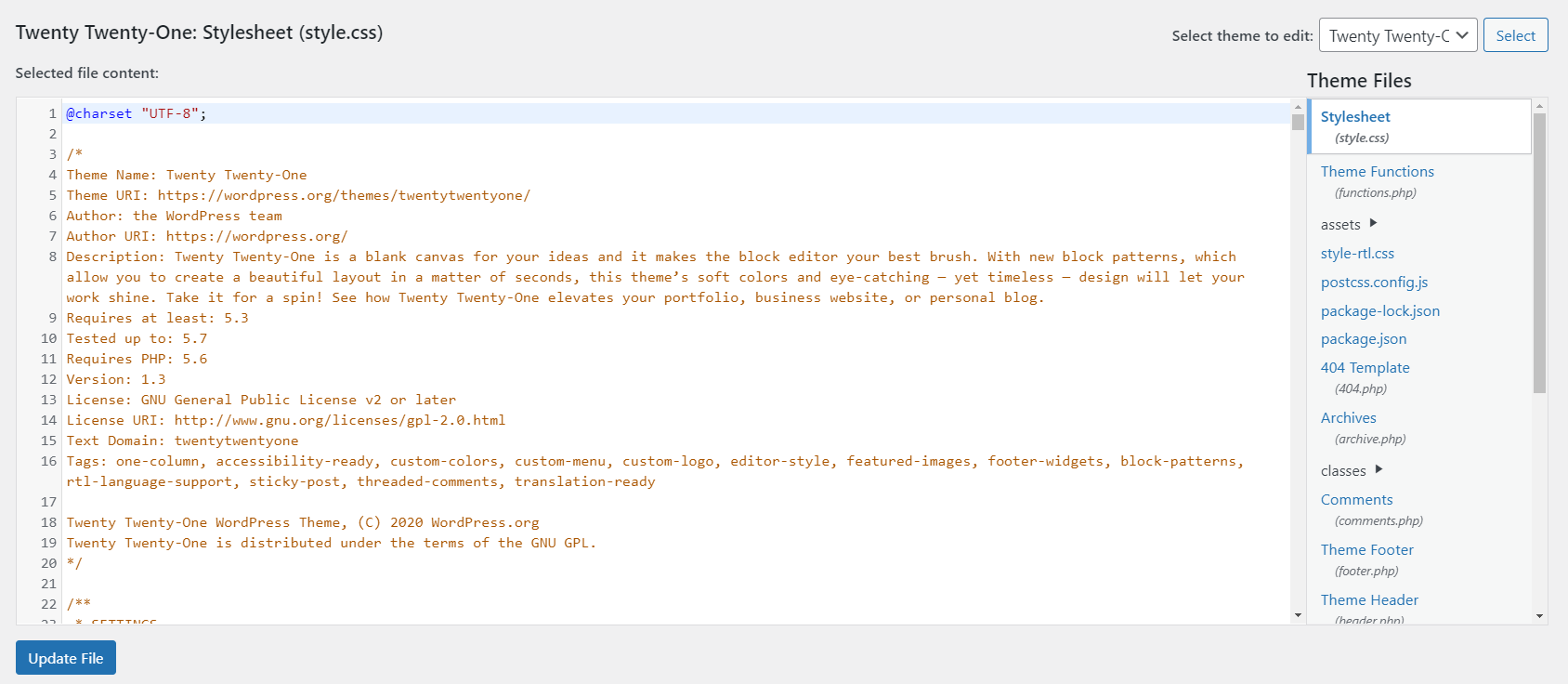 Despite the easy access, this isn't a task for beginners. WordPress will even warn you: incorrect changes can permanently damage your theme or break your entire site. Therefore, big changes should usually be made by a highly skilled developer who has created a child theme.
Furthermore, significant edits will likely take you a lot of time. That's why a custom theme might be perfect if you're not comfortable with technology or if you're just on a tight schedule. Leaving the code to the experts can save you a lot of time and grief.
Nevertheless, you might want to consider building up a bit of WordPress knowledge even if you decide to use a custom theme. Playing around with a free theme on a staging site can be an effective (and safe!) way to learn the ropes.
4. Your site's functionality needs
If you're familiar with WordPress, you probably already know that there are thousands of themes available. From free default designs to premium out-of-the-box options, you have plenty of choices. Nevertheless, this number may narrow if you have unique needs.
For example, let's say that you want to create a WordPress restaurant website. Additionally, you want to use a complicated plugin that enables you to accept payments for online orders.
Since this is not a standard requirement for many WordPress users, you may not be able to find a theme that's been optimized for the task. This can potentially slow down your website or make it malfunction.
If this is the case, you may want to consider a custom WordPress theme. A developer can build your design from the ground up. As such, they can also make sure to integrate your specific needs into the code, avoiding the need for a lot of extra plugins and third-party tools.
However, you may not need this level of attention if you have standards requirements. For example, you might run a popular yet straightforward blog. Paying for a custom theme may not make sense if the pre-made options serve your needs perfectly.
Therefore, we recommend that you investigate out-of-the-box themes first. If you find existing options that fit your needs, paying for a personalized theme with the same features may not make sense.
5. Your readiness for growth
Purchasing a tailor-made theme is a big decision. It requires plenty of thought, time, and monetary resources. While a custom WordPress theme has the potential to improve your SEO, speed, and branding, it's also a significant investment.
Furthermore, it doesn't exist in a vacuum. A personalized design alone is unlikely to take your site to the next level. On the contrary: you should be ready to capitalize on its benefits in every other area of your site.
For example, a customized theme won't provide much practical functionality. For that, you'll probably need to invest in plugins as well. Moreover, you might also need to commit more time to engage with your audience through stellar content and careful comment moderation.
As such, we'd only suggest commissioning a tailored design if you're prepared to expand all areas of your site. If you're unsure about your readiness for growth, consider delving into the true cost of a WordPress website, to make sure you understand all of the financial aspects.
If you're not sure how committed you are to your site, don't be afraid to put this decision off. Consider improving your site in other ways, such as optimizing its speed. Small steps like this can have a big impact, and help you prepare for a custom theme order in the future.
Conclusion
Purchasing a custom WordPress theme is a big decision. With the cost and effort involved, you'll want to make sure it's the right choice for you.
In this article, we covered five key considerations to help you decide if a tailor-made design is beneficial to your site. These factors include:
Your current budget
How old your site is
Your level of comfort with WordPress technology
Any unique functionality your site requires
How prepared you are to help the rest of your site grow
If you're still on the fence about a WordPress custom theme, consider reaching out to a WordPress development company. These experts can help you learn more about the process and find your perfect fit.
Do you have any questions about commissioning a custom theme? Let us know in the comments section below!
Free guide
5 Essential Tips to Speed Up
Your WordPress Site
Reduce your loading time by even 50-80%
just by following simple tips.