Hey, so here we are again touching base with some inspiring WordPress people who are always ready to share their stories and keep us motivated! Today, we're happy to welcome Matt Medeiros, best known for his podcast, "Matt Report."
By the way, if you missed our previous interview, check it out here (Jean Galea of WP Mayor).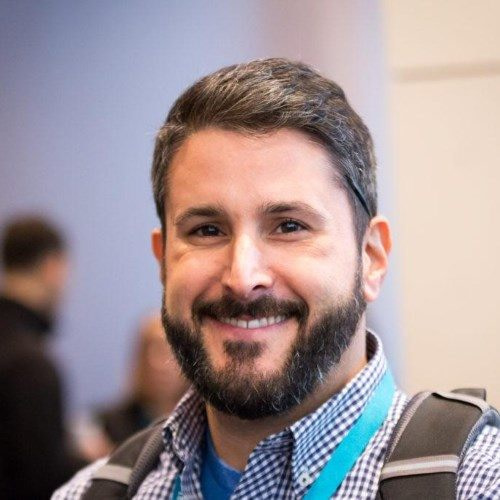 Matt's show, Matt Report is one of the most popular WordPress podcasts on the air currently. The episodes touch on a number of different WordPress-related topics, including marketing, development, sales, community, and more. If you haven't checked out any of the episodes yet, you really should. Matt's a great podcaster!
Apart from the podcast, he is the co-founder of Slocum Studio, a WordPress design and development business that he and his father started nine years ago. Matt's also an active speaker, engaged member of the WordPress community, and a frequent WordCamp attendee.
Here's our Matt Medeiros interview:
Matt Medeiros Interview
When and how did you start working with WordPress? Is there an interesting story here?
I grew up in my family's car dealership. I was always the one to fix the computers, and help people with tech problems. When consumer internet hit in the late 90s I managed the website that was controlled by General Motors CMS. Fast forward some years later, I was working full-time as a product manager for a local Internet Service Provider.
We acquired another ISP, which came with a Drupal development team. We evaluated Drupal (at the time version 4) and realized that it was too complex for this new business. Their designer really pushed us on WordPress, and I dove into learning as much as I could. The first commercial theme I bought was The Standard theme, and we used it on a few client sites.
As that company wound down, I started Slocum Studio with my father, roughly 9 years ago.
What's your technique for staying productive throughout the day?
I do a lot of things, lots of irons in the fire. There's always a blog post to create, podcast to record or edit, customer to talk to, or support ticket to answer. Now that I have a child, time is even more compressed, so it's imperative to get as much done as I can during my work time.
How do you define "being successful"?
Being challenged, learning, discovering and helping new people every day. Finding a sense of purpose and integrity in the work that I produce. Enjoying all of it, even during the down times.
Love the way you make money, not how much of it you make.

What do you like to do when you're not WordPress-ing?
Being with my family, working out, playing the occasional video game.
What do you wish more people knew about WordPress?
Customer facing: I wish people knew how flexible it was, and what kind of opportunity it affords their organization. That the ownership of content, and the platform you build, is paramount to the success of their efforts.
Consultants: I wish they would spend more time educating themselves on building a more sustainable business. On the financial side, and the technical side. I still see too many shortcuts, just to make a quick buck.
Who's doing things that are just cutting-edge and incredible in the WordPress space right now?
Big players would be a handful of the leading web hosts and agencies. Pagely, WP Engine, 10up, and WebDevStudios come to mind. Those are the PR stories you read about, but there's a whole bunch of micro-awesomeness coming from a large amount of individuals and small teams, as well.
Describe the WordPress community in one word.
What's the main threat to WordPress these days? Other platforms like Ghost, or maybe things like Squarespace?
There's market threats like Wix, Squarespace, and Shopify which are gunning for the consumer and prosumer users to build on their platforms. There will always be a tug of war and shift in market share between the popular DIY platforms.
There's outlier threats like Facebook, Google, and Medium, which look to create a monetized platform/network of content where you don't need to visit a WordPress powered website. Especially Facebook for businesses, folks seem to be spinning up their small FB Pages, putting in all of their contact information and calling it quits.
WordPress faces a threat from within as well. What is WordPress? A blogging platform, website builder, web app framework? Why WordPress.com vs self-hosted? Easy to answer right now, but lines will be blurred as Jetpack matures – especially to newbies. Why is the WordPress experience so fragmented? A theme wants you to built the site one way, while a page builder plugin decides on another way. Web hosts have 1-click installs with their own list of required themes/plugins, and on boarding walk-throughs.
In my opinion, we're going through a round of growing pains at the moment.
What's the one thing you'd like to change about WordPress?
For me, it would be the theme + plugin repos. I'd like to see better search features and some form of verified author program.
What are your recommendations for a WordPress novice?
Spend time learning the fundamentals of web publishing. Like basic formatting of a post, sharing content, and making your content as great as it can be. I see a lot of people start a WordPress site and give up, mainly because they don't see results.

This sums up our Matt Medeiros interview. If you have any questions for him, please leave them in the comments section below. Also, who would you like to see interviewed next as part of Pirate Interviews?
Free guide
5 Essential Tips to Speed Up
Your WordPress Site
Reduce your loading time by even 50-80%
just by following simple tips.