In the sea of online freelance job boards, Toptal takes an alternative approach for those seeking talent and those looking for work. In this Toptal review, we explore how Toptal works, the quality of talent you can find on the website, and how much you can expect to pay.
Beyond that, we take a look at the pros and cons of Toptal to figure out if its high price tag is worth it to bring in the best talent.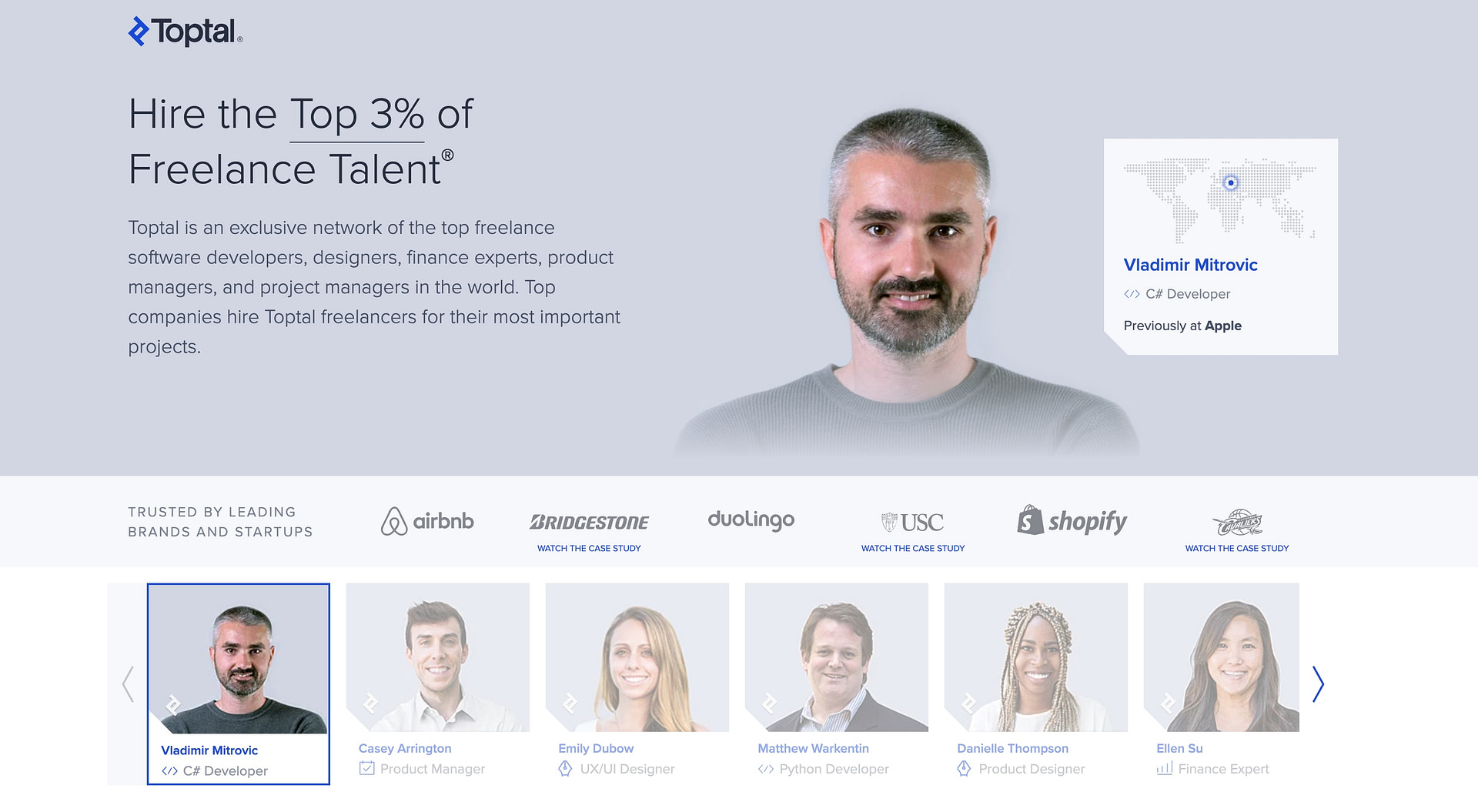 Here's what we're going to cover:
What is Toptal?
Toptal, a name that comes from top talent, functions as an intermediary between hiring companies and freelancers. Its primary advantage comes from its crop of pre-vetted freelancers. Whereas most job boards and freelancer marketplaces let anyone make a profile, Toptal uses its screened database of freelancers to ensure companies only hire the "top 3% of freelance talent".
By "top 3% of freelance talent", Toptal means that they only accept "typically fewer than 3%" of the freelancer applications that they see each month.
Accepting less than 3% of applications isn't necessarily the same as having the top 3% of freelance talent because there are certainly talented freelancers who won't end up applying at Toptal, but you get the basic principle. The key idea is that freelancers need to pass various tests for language skills, skill reviews, a live screening, and test projects, which is much more involved than the vetting process at platforms like Upwork or Fiverr (which are pretty much just open marketplaces where any freelancer can hang their shingle).
If you're a freelancer, you can apply to join Toptal's talent network, but you'll need to pass the vetting process. And if you're a business looking to hire talent, Toptal can help match you with the right freelancer for the job. Or, they can even help you create an entire team of freelancers if your job requires it.
Toptal review: Pros and cons
Let's kick off our Toptal review with a look at the pros and cons and then we'll dig into what it's like to hire a freelancer on Toptal.
Pros 👍
Toptal has a rigorous freelancer acceptance process. Toptal eliminates the workers who absolutely shouldn't be there, whereas anyone can make an account and flaunt their "expertise" on Freelancer.com, Upwork, or Fiverr. For instance, Toptal doesn't accept people who can't pass language tests, skills reviews, and test projects.
The people you hire are usually very nice and professional. Part of Toptal's review process is a continued excellence examination and a personality analysis. They want to make sure they get hard workers without the drama.
The freelancer search system offers personalization and project-specific pairings. With a combination of AI and customer support reps, Toptal takes your project description and locates people who will fit based on experience, rates, and availability.
Toptal handles the dirty work. You get to focus on choosing a freelancer from a narrowed-down list and getting right to work on your project, while Toptal manages the majority of the talent selection process, invoices, and vetting.
There's minimal risk. You receive a down-payment refund if you don't hire a freelancer. And there's a free trial. They also hold freelancers accountable so you don't end up with a worker who finishes half of the work, pockets the money, and forgets about you.
You can hire remote and on-site talent. You can hire people on a remote work basis or have them come into the office.
Cons 👎
Toptal is generally more expensive. In terms of price, you should generally expect to pay more than platforms such as Upwork or Fiverr. Additionally, you must put down an initial deposit of $500 to get started (this will either be applied to your first payment or refunded if you decide to not move forward with the project).
It doesn't cover many types of creative freelancers. Toptal is great when it comes to hiring technical, project/product management, or financial experts, but it doesn't have many freelancers in more creative fields such as writing, photography, music, etc. If you're searching for creatives like that, you'll probably want to look elsewhere. You can find illustrators and animators, though, so there are some creative freelancers on Toptal.
Toptal has an undesirable sales funnel. There's not much information about the talent pool until you make an account and apply your project details. Basically, you can't just browse a marketplace of freelancers right away like on many other platforms.
Toptal review of the types of services you can hire for
At the time that we're writing our Toptal review, Toptal presents six general categories of talent that you can hire:
Developers – software engineers, coders and software architects.
Designers – UI, UX, visual, and interaction designers (plus illustrators and animators).
Finance experts – financial modeling/valuation, interim CFO, market sizing, and more.
Project managers – digital and technical PMs, scrum masters, and more.
Product managers – product managers, product owners, and more.
Project consultants – Toptal's project consultants can help you build a whole team.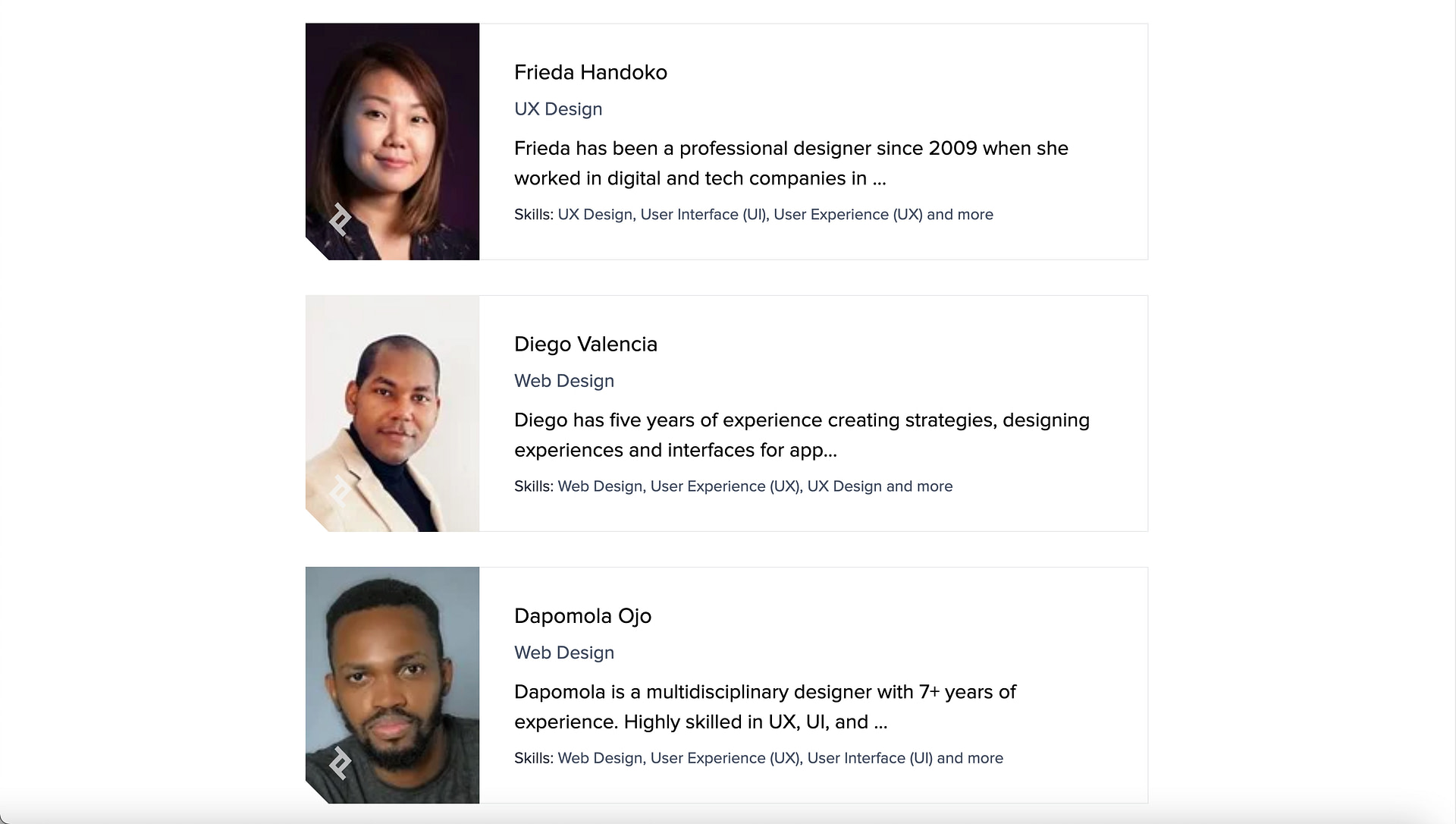 Each of those primary freelancer categories gets broken down into sub-categories.
A partial list of examples include:
Android developers
Java developers
Salesforce developers
Animation designers
Presentation designers
Ecommerce site designers
Blockchain designers
Virtual project managers
Scrum masters
Interim CFOs
AI product managers
Business analysts
Product owners
JIRA administrators
However, if you're looking for help with more creative tasks such as writing, voiceovers, translation, music composition, etc. then you're probably going to want to search elsewhere.
Toptal work quality and the hiring process
Hiring the right people starts by going to the best source of talent. We believe Toptal provides a wonderful crop of talent if you're willing to put in a little extra work to find it.
Unfortunately, we have this new way of looking at hiring where an automated system pairs you with random people around the world, with limited interview processes and information about those freelancers. Toptal at least offers its own database of talent and narrows down the list based on your selections.
After that, you speak with a Toptal hiring expert to outline more information about your job. They use that information to finalize the top two freelancers for the job, based on pricing, availability, and skills.
Finally, you speak with each freelancer to clarify the scope of your project.
In general, you should have some potential candidates available to vet within 24 hours and Toptal says that 90% of Toptal users hire the first candidate that Toptal suggests.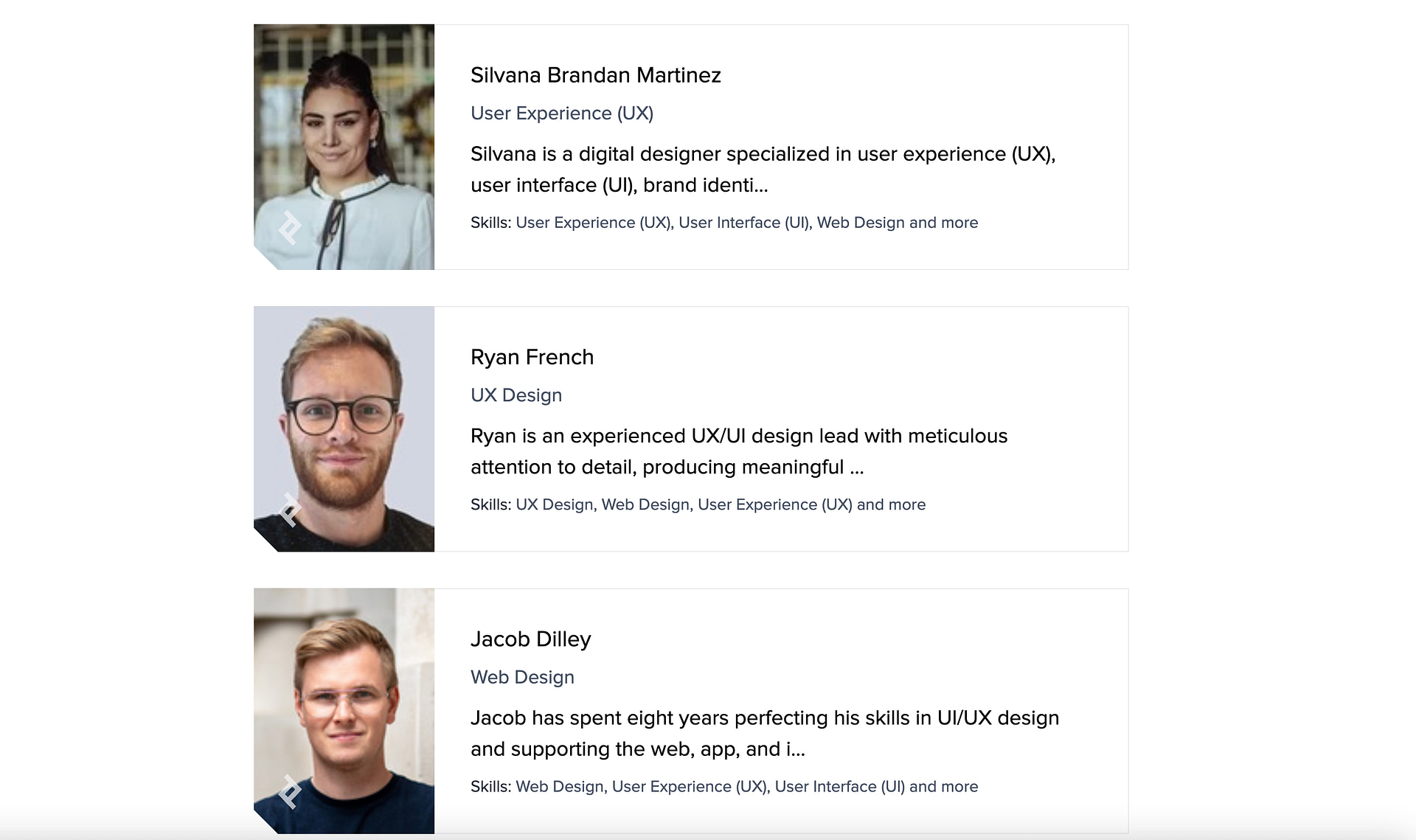 From a hirer's perspective, that's both advantageous and troubling. A solution like Fiverr allows me to quickly find designers and developers by looking at profiles, portfolios, and reviews. I can hire people within a matter of seconds, making quick jobs easier.
However, that may also lead to questionable hiring choices. Toptal at least handles the vetting for you, even if it means taking the time to follow its process. Beyond that, Toptal also allows for Skype conversations with the talent, negotiations, and test projects to figure out if someone is right for your company.
Toptal pricing and fees
In general, Toptal's prices are higher than you'll find in more unregulated marketplaces such as Upwork and Fiverr, though it depends on your specific project and the freelancer that you're working with.
But let's start with some pricing positives from our Toptal review:
Toptal has no recruiting or termination fees.
You also get a no-risk trial to test out your freelancer before committing.
You set the initial budget.
When Toptal tells you the price, you'll see one unified price that includes both Toptal's service fee and the freelancer's wage, so there are no costs beyond the number that you see.
What you'll pay for Toptal depends on the specific job you're looking to fill and which freelancer you work with. However, you can get an idea of what to expect by playing around with Toptal's salary calculators. Here are the global averages for some popular developer categories:
Again, rates might be higher or lower for different specialties, but this should give you a general idea of prices on Toptal. The rates are also higher in some locations. For example, if you're looking for a full stack developer in North America, the average freelancer rate jumps to $70-$120 per hour.
You should also keep in mind that these average rates are the prices that freelancers set and don't include Toptal's service fee. Toptal doesn't take any commission from freelancers. Instead, they add their service fee on top of the freelancer's rate and present it to hiring companies as a unified rate.
If you're on a really tight budget, you can find cheaper average rates elsewhere. For example, Upwork pegs their "intermediate" full stack developer rate at $32.80 per hour, which would be well below average on Toptal. However, the "Expert" rate on Upwork is $100 per hour, so if you assume that all of Toptal's developers count as experts, there might not be much difference.
However, Upwork earns money by taking a commission from the freelancer rather than charging an added service fee to hiring companies like Toptal. So if a freelancer charges $100 per hour on Upwork, that's what you pay. But if a freelancer charges $100 per hour on Toptal, you'd pay the $100 plus Toptal's service fee. Again, these numbers are presented as a unified price (so you won't see separate fees for the freelancer and service fee); but that's what's going on in the background.
As a contrasting opinion on Toptal's prices vs platforms such as Upwork and Fiverr, Toptal's legal team states the following:
[…] the fees charged by the talent Toptal offers vary greatly and are dependent on myriad factors such as the client, the role, the level of experience necessary for a particular assignment, the market demand for particular skill sets, and so on. To use these cherry-picked values to support arguments that Toptal is more expensive than competitors is deeply misrepresentative.
You can do your own math on how Toptal stacks up price-wise against competitors and draw your own conclusions. You'll quickly find out how this all plays out in practice.
Finally, you must make a deposit before getting started with your new freelancer. The deposit is $500, but that gets credited to your first invoice (or refunded if you decide not to move forward with your project, so you can get the money back if Toptal doesn't work out for you).
As for when you'll pay during an ongoing arrangement, Toptal generally invoices twice per month with Net 10 payment terms.
Toptal user interface
Hiring a freelancer on Toptal varies from what you may be used to with services like Upwork and Fiverr. Instead of bidding/contests, Toptal uses an algorithm and human workers to pair freelancers with companies.
The automated step-by-step wizard asks for all information about our project. For example, you can choose from talent options like developers, designers, and product managers.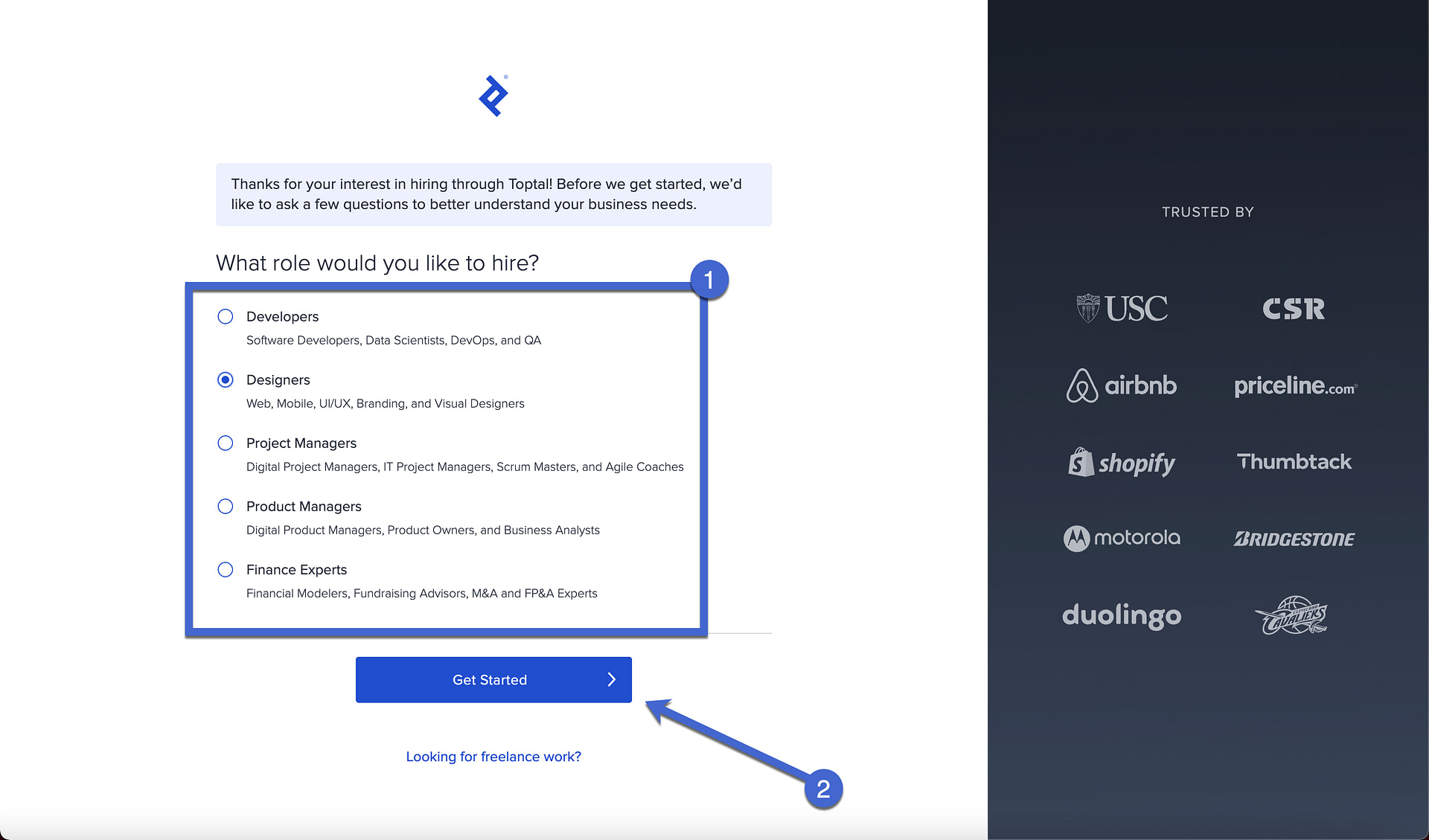 It also gets specific, requesting information about the timeline for said project.
This way, you're not paired with freelancers who have no intention of sticking around for your six-month project.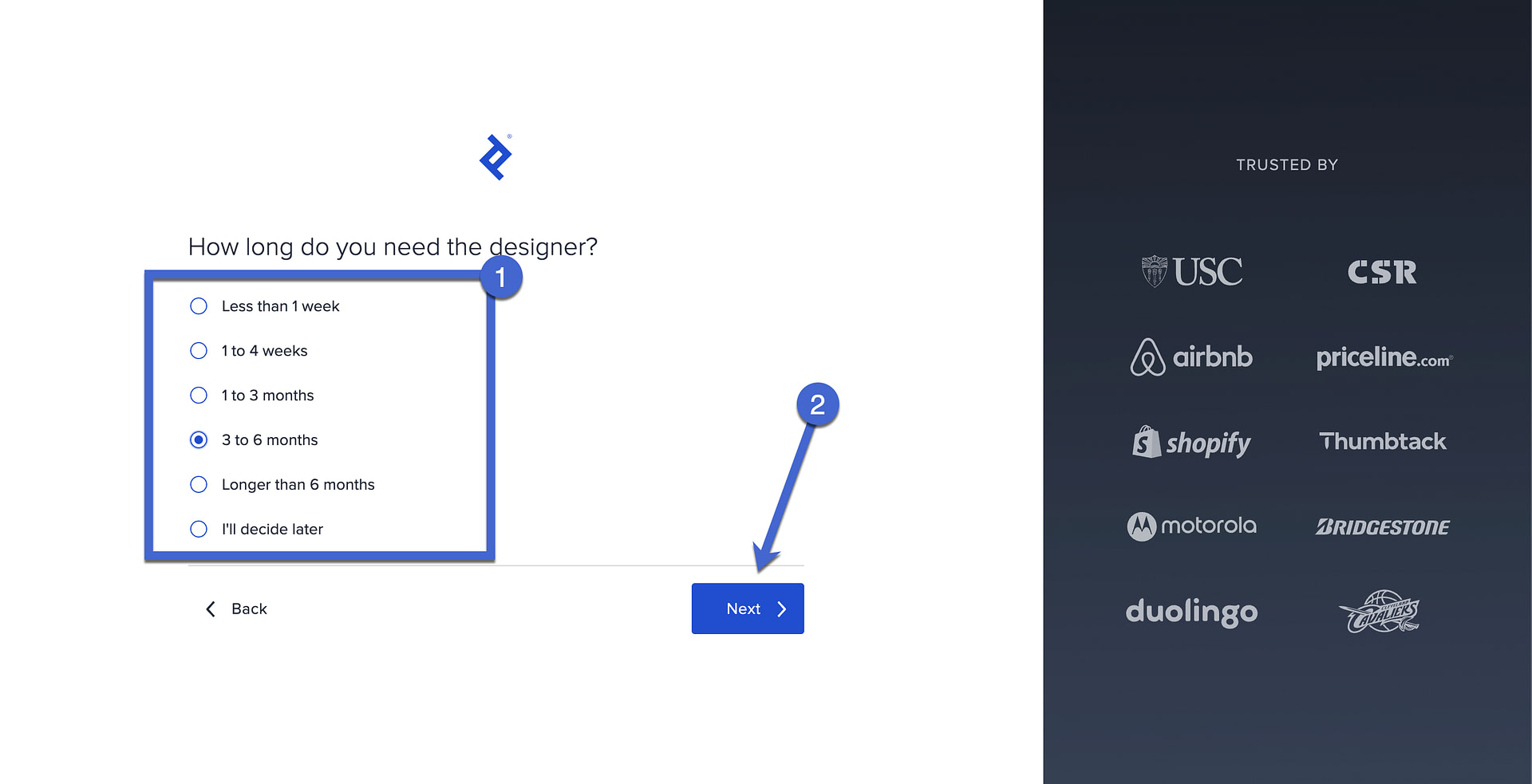 You can also tell Toptal how many workers you need.
We like this page since it's unique to Toptal, whereas competitors typically require you to hire workers individually. Toptal attempts to build a team for you, at least if you need one.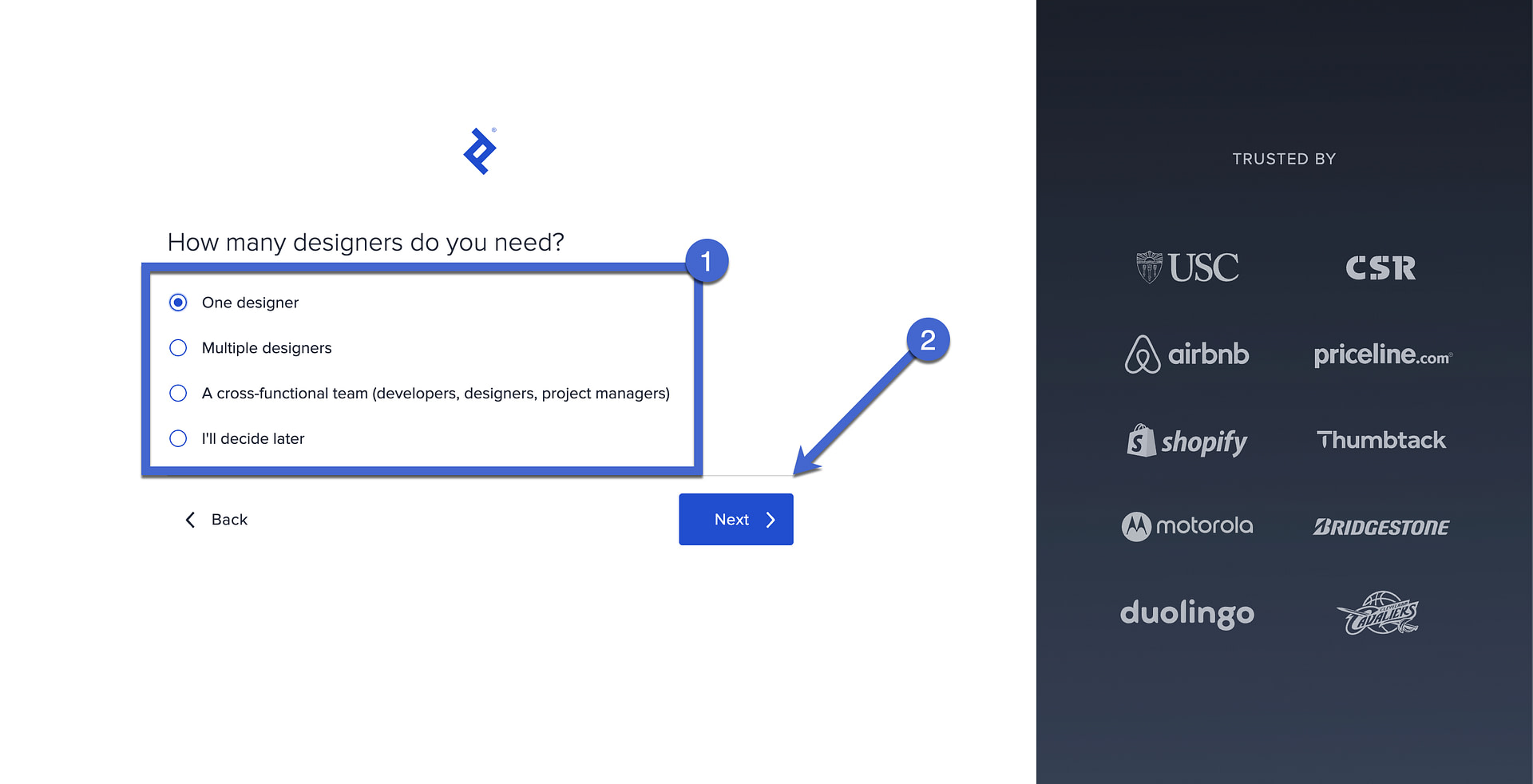 You can also look for freelancers who want to work 40 hours per week, or 5 hours per week, or on a project basis.
You can search for desired areas of expertise to ensure the freelancers have the right skills. For instance, you may include skills like web design and UX design for a developer or designer.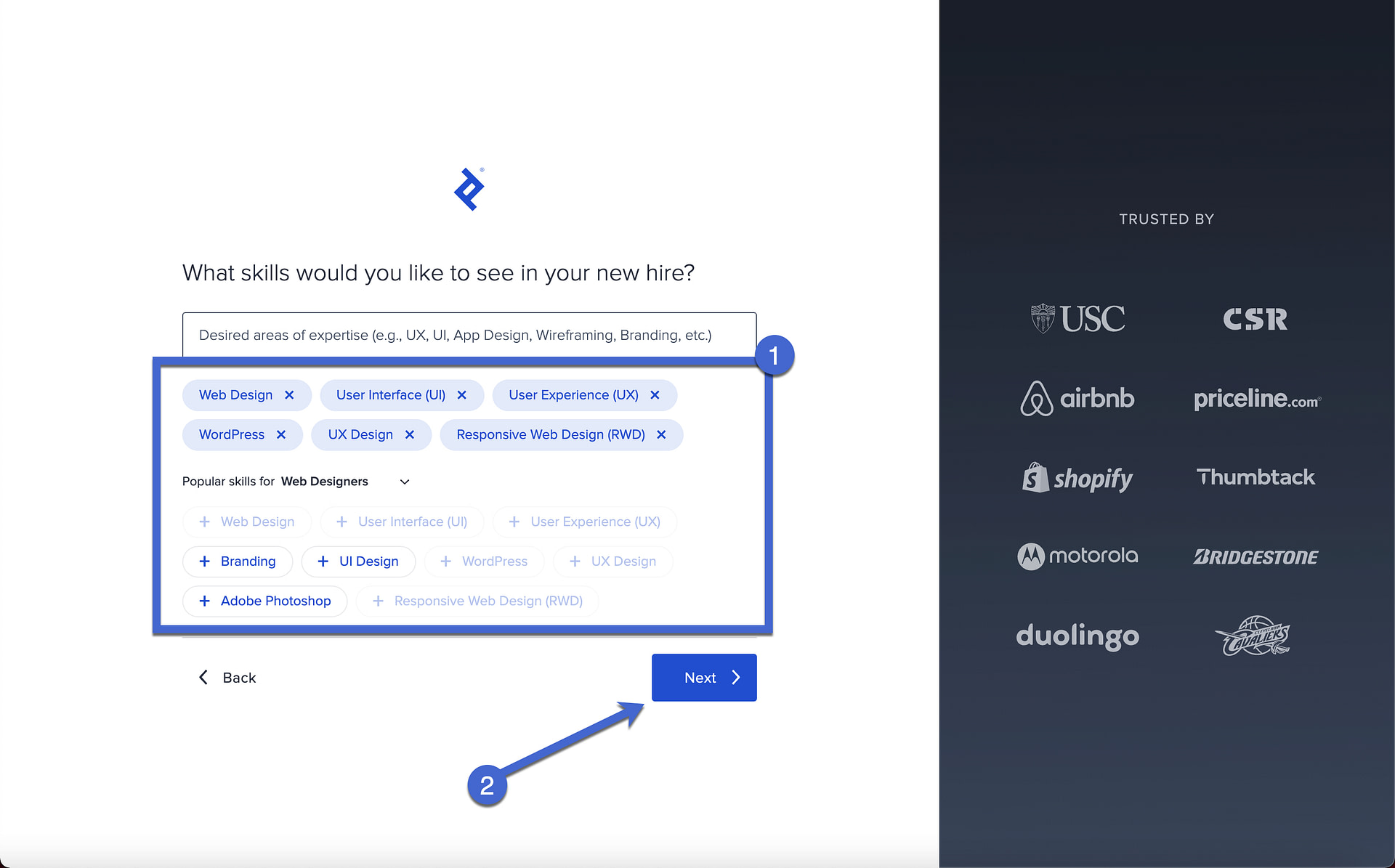 Finally, Toptal lets you specify your budget.
As you can see, the budgeting tends to encourage jobs with more than $25 per hour rates. And many user reviews state that the rates are regularly on the higher end.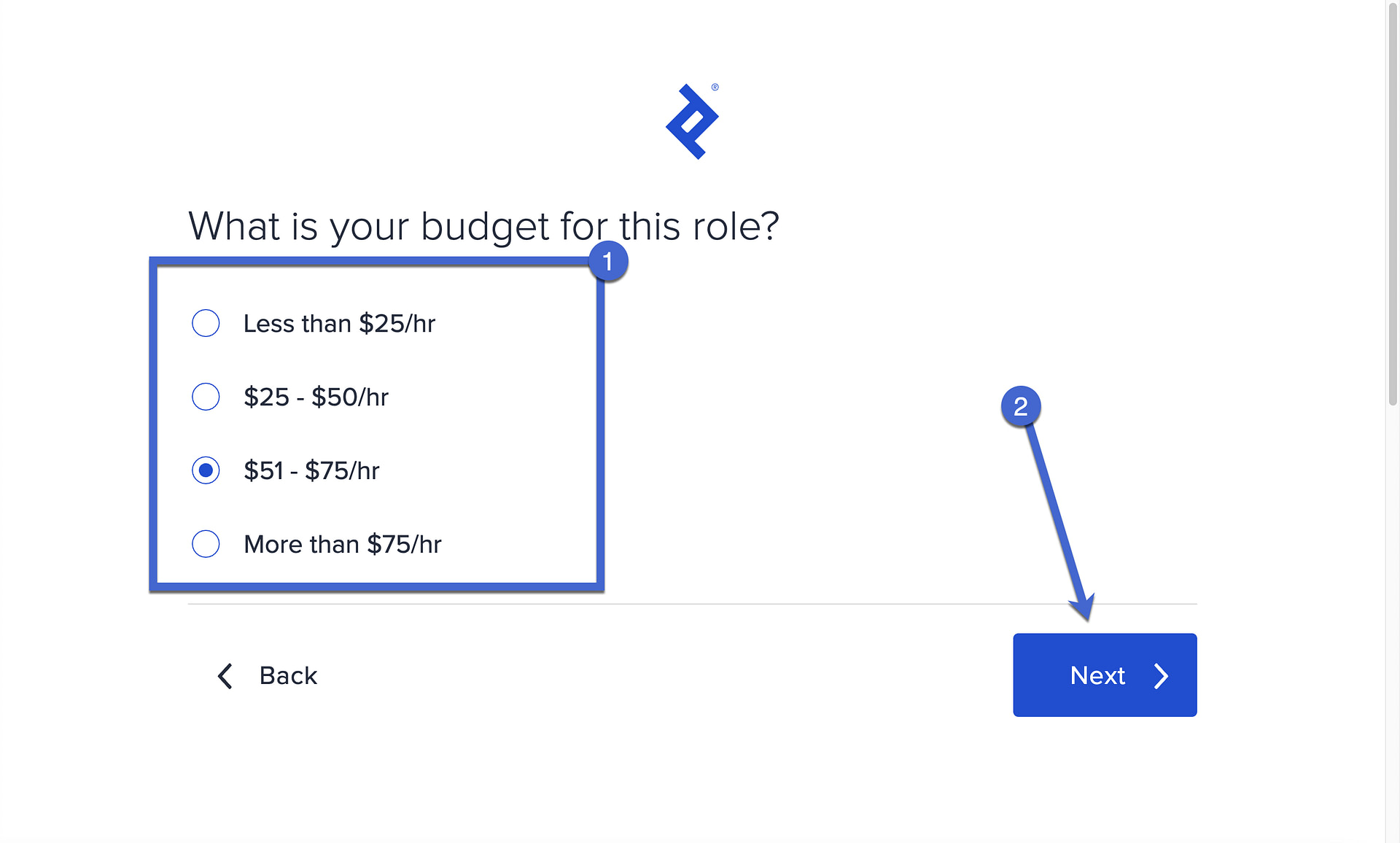 Toptal then spends a moment matching you with the best talent based on your selections.
This is one of the areas where Toptal excels, seeing as how you're contacted later about the absolute best workers for your job.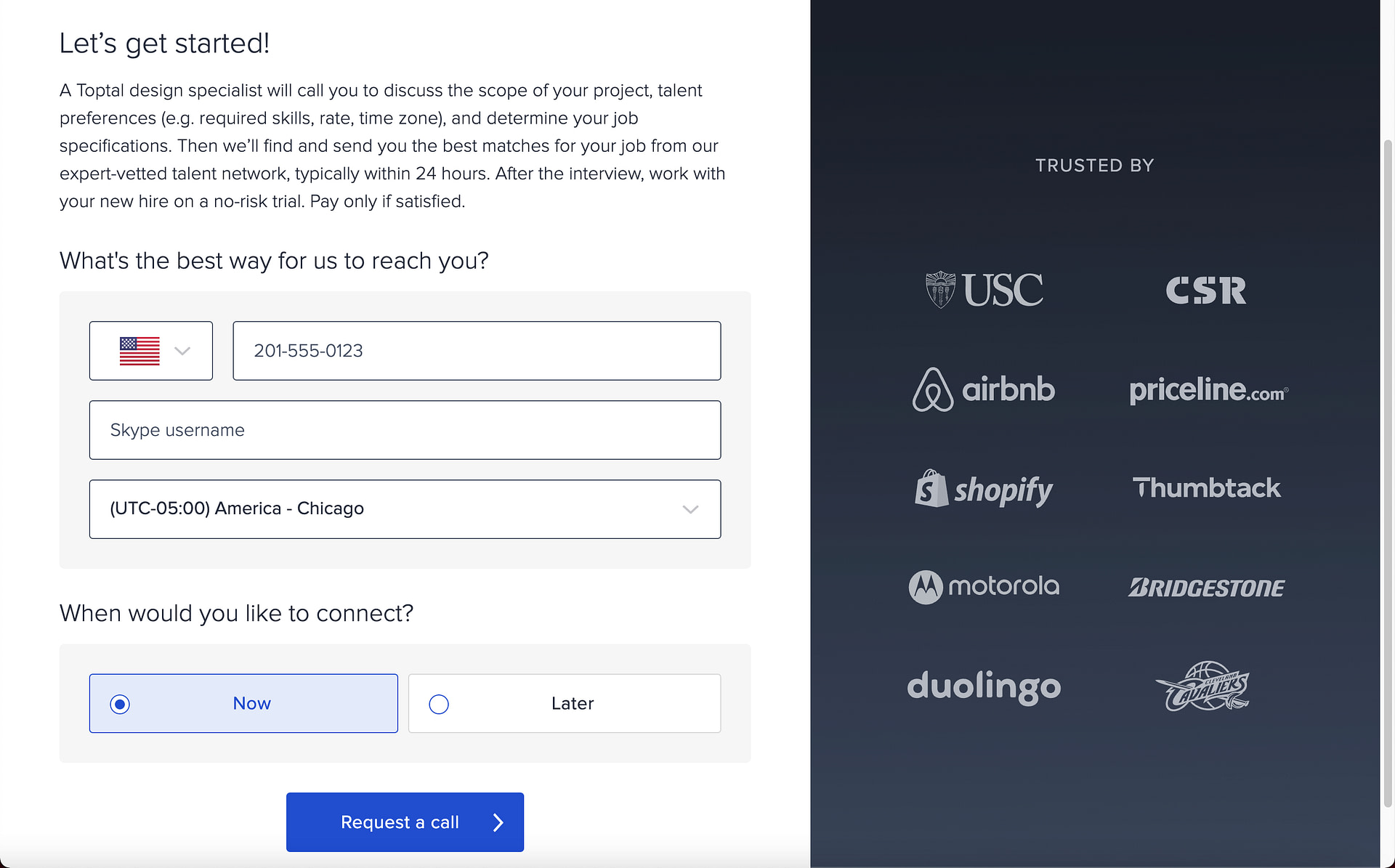 During our Toptal review, we realized that Toptal works more like a personalized hiring firm as opposed to the fully automated job boards and marketplaces we've grown used to.
Toptal review: Our final thoughts
Overall, our Toptal review showed a wide range of benefits, from its screening process to its options to hire both remote and in-house workers. You receive a risk-free opportunity to test candidates, and you don't have to worry about invoicing and billing.
Having said that, we noticed a number of potential issues that could drive many hirers and hirees away from the platform. To begin, it's generally more expensive than many other popular freelancer marketplaces, so you'll need to think about whether Toptal's vetting process and talent pool is worth the money to you.
It's also not as easy to just jump in and browse the available talent, as you'll need to go through Toptal's sales funnel and make a $500 deposit to get started. Remember – the deposit is refundable if you decide not to go forward with the job. However, it does make it more of a commitment to get started with Toptal vs other platforms that let you just start searching for freelancers right away.
However, the upside is that Toptal lets you avoid wading through low-quality freelancers and go right to a talented pool who pass basic tests when it comes to language proficiency and skills.
Overall, we recommend Toptal for those who would rather not sift through thousands of applicants or browse through an endless supply of freelancers on places like Upwork, Freelancer.com, and Fiverr. You might pay a little more, but you can have someone else do the difficult work of vetting talent and just go straight to the best candidates.
Interested in other options? If you're specifically looking for WordPress developers, you can check out our post on the places to hire freelance WordPress developers.
Still have any questions about Toptal or our Toptal review? Let us know in the comments section!
Free guide
5 Essential Tips to Speed Up
Your WordPress Site
Reduce your loading time by even 50-80%
just by following simple tips.