Considering using Bluehost Website Builder to create a website? In our hands-on Bluehost Website Builder review, we'll help you decide if it's the best website builder for your needs.
Bluehost Website Builder is a beginner-friendly website creation tool that's available on all of Bluehost's hosting plans. The builder is based on WordPress, but you get a completely custom interface to set up your website and control your content.
By the end of our Bluehost Website Builder review, you should have a good idea of whether this tool is right for you or if a different tool might suit you better.
📚 Table of contents:
How does Bluehost Website Builder work?
Bluehost Website Builder uses a unique approach that's different from other popular website builders, like Squarespace or Wix.
Instead of reinventing the wheel to create a fully standalone builder, Bluehost Website Builder is created on top of WordPress.
When you build a site, you'll use a 100% custom interface from Bluehost Website Builder, so it does "feel" like a website builder. But the WordPress software is still the engine underneath your site, and you still have the option to access the full WordPress admin dashboard and install plugins if needed.
On a more technical level, Bluehost Website Builder is just a theme for WordPress. But it's not your average WordPress theme because you'll be able to control everything using the custom Bluehost Website Builder dashboard.
Another key consequence of this approach is that you still need web hosting from Bluehost to use Bluehost Website Builder. You can access Bluehost Website Builder on any Bluehost WordPress hosting plan, including the cheapest Basic plan.
You'll be able to better understand this dynamic as we go hands-on in the next section.
What it's like to create a site with Bluehost Website Builder
To create a new website powered by Bluehost Website Builder, you can use Bluehost's WordPress installer tool. Only, instead of installing the "regular" WordPress software, you'll choose the Bluehost Website Builder option during sign-up: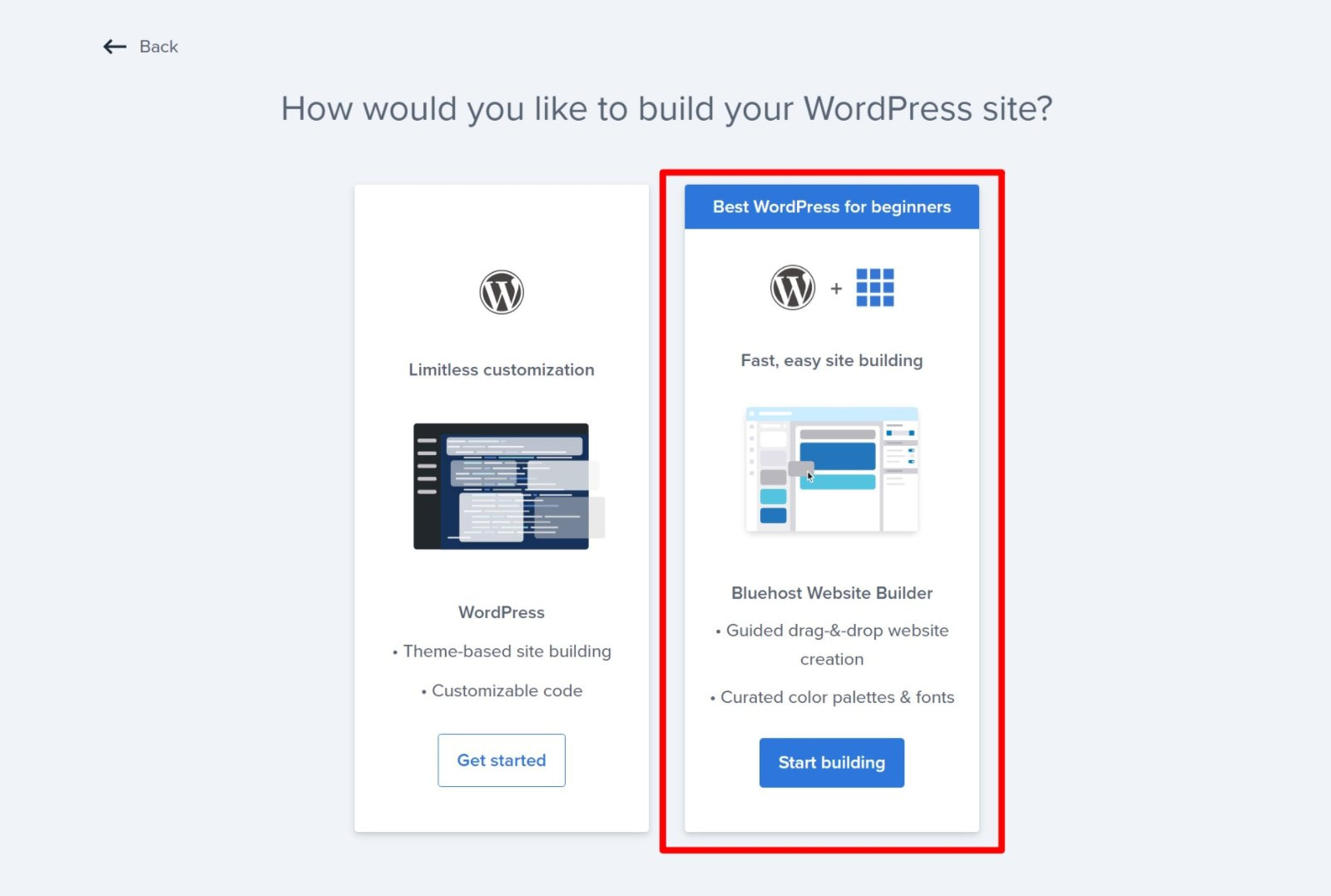 Let's go through some key parts of the Bluehost Website Builder.
User-friendly setup wizard
When you first create a new site, the setup wizard helps you configure important basics for your site.
One of the most useful features here is that you can enter a keyword for your website's niche/purpose and the builder will automatically choose a template to match: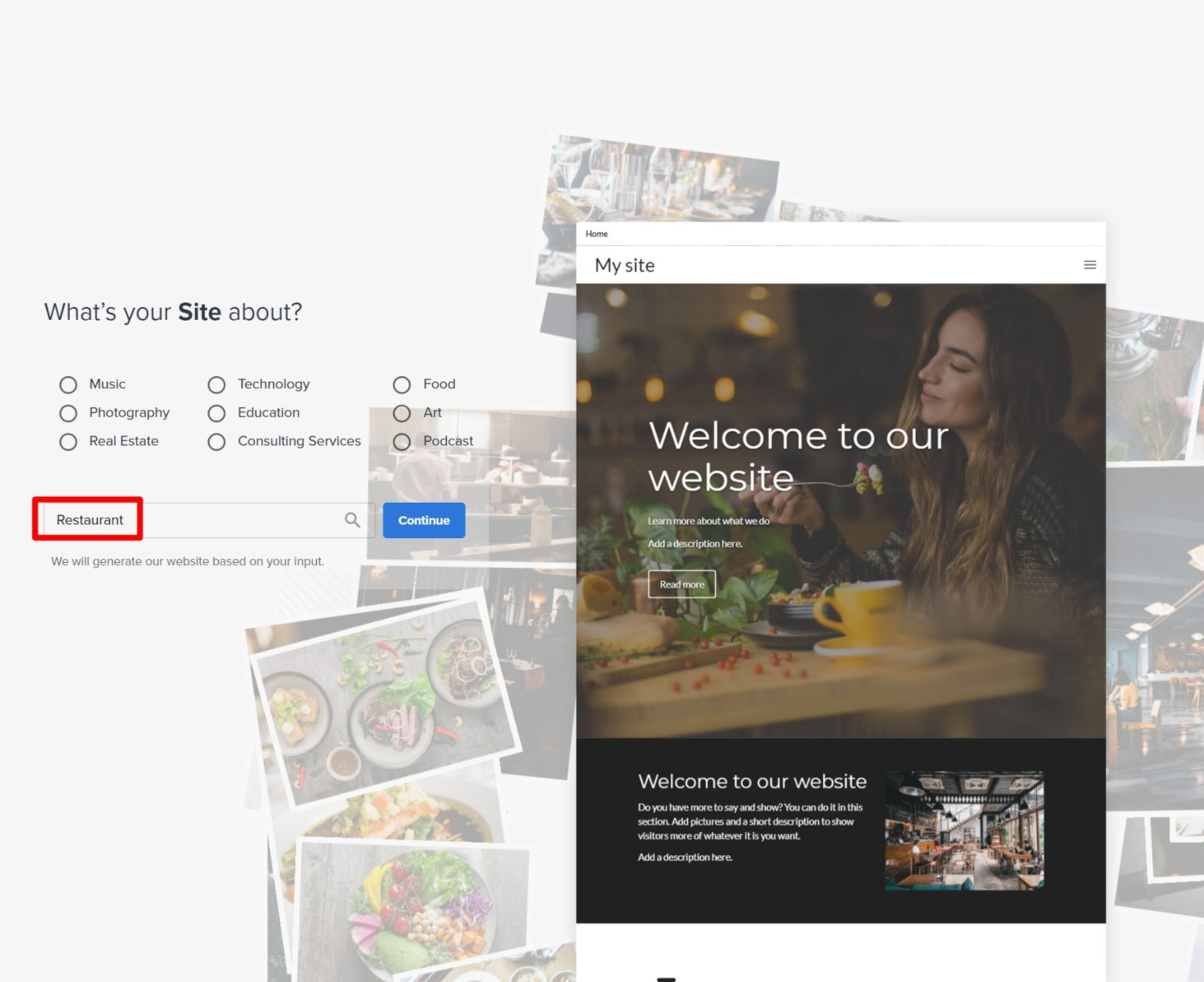 You'll also be able to configure other important details, such as colors, logo, typography, contact details, etc.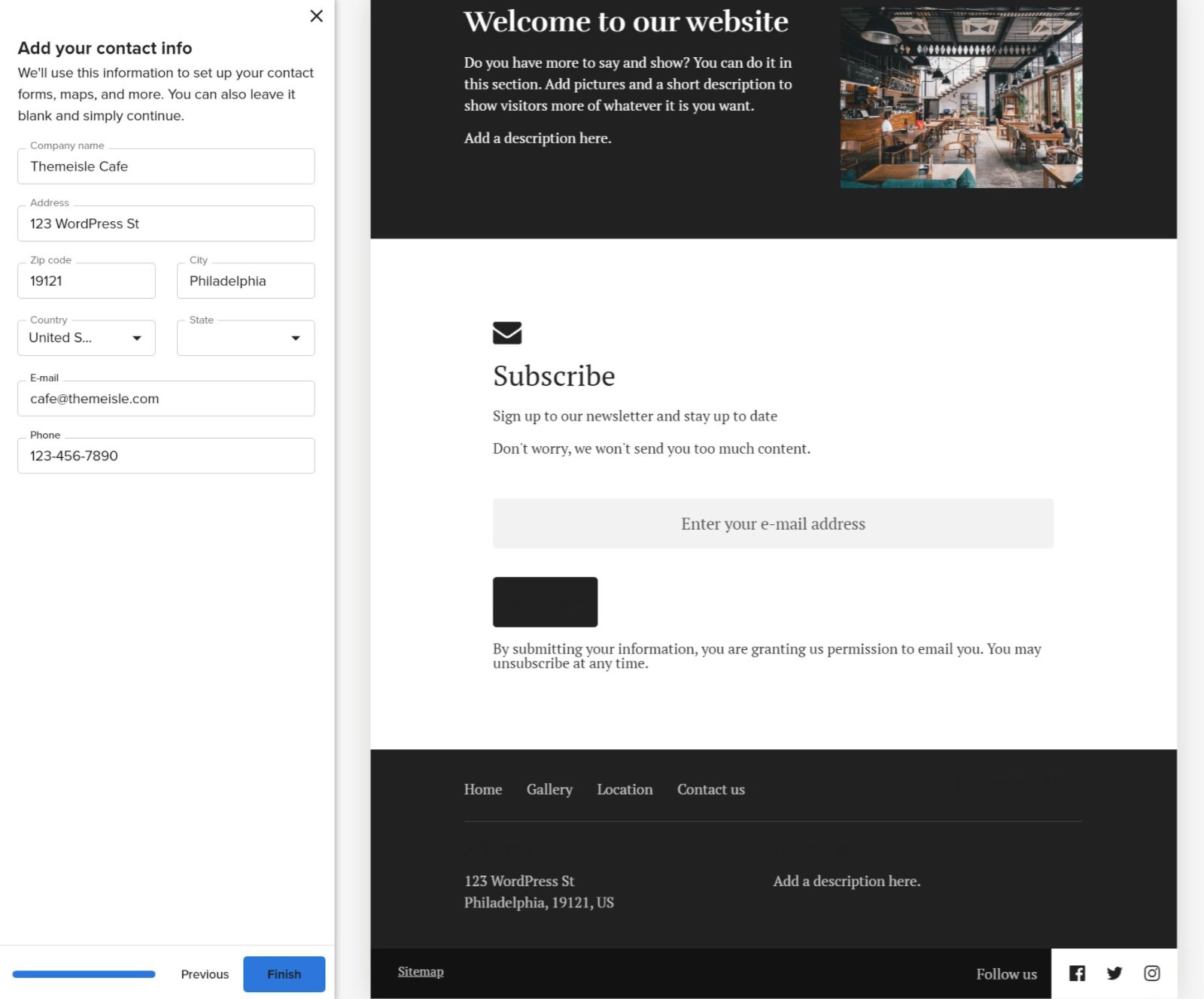 Drag-and-drop editor
Once you go through the setup wizard, you'll be able to fully customize your website and all of its pages using Bluehost Website Builder's drag-and-drop editor.
The drag-and-drop editor uses a section-based approach, which is important to understand.
In a nutshell, this section-based approach makes it a little easier to create a good-looking design.
Sections are basically these little mini templates that you can put together like Lego blocks to create the perfect design.
For example, look at the main section at the top of the page. Instead of needing to manually place the heading text, button, background, etc, you can just add the pre-built section, customize it to include your own content, and call it a day.
You can see that the entire area is one section – I've highlighted it in red so you can see: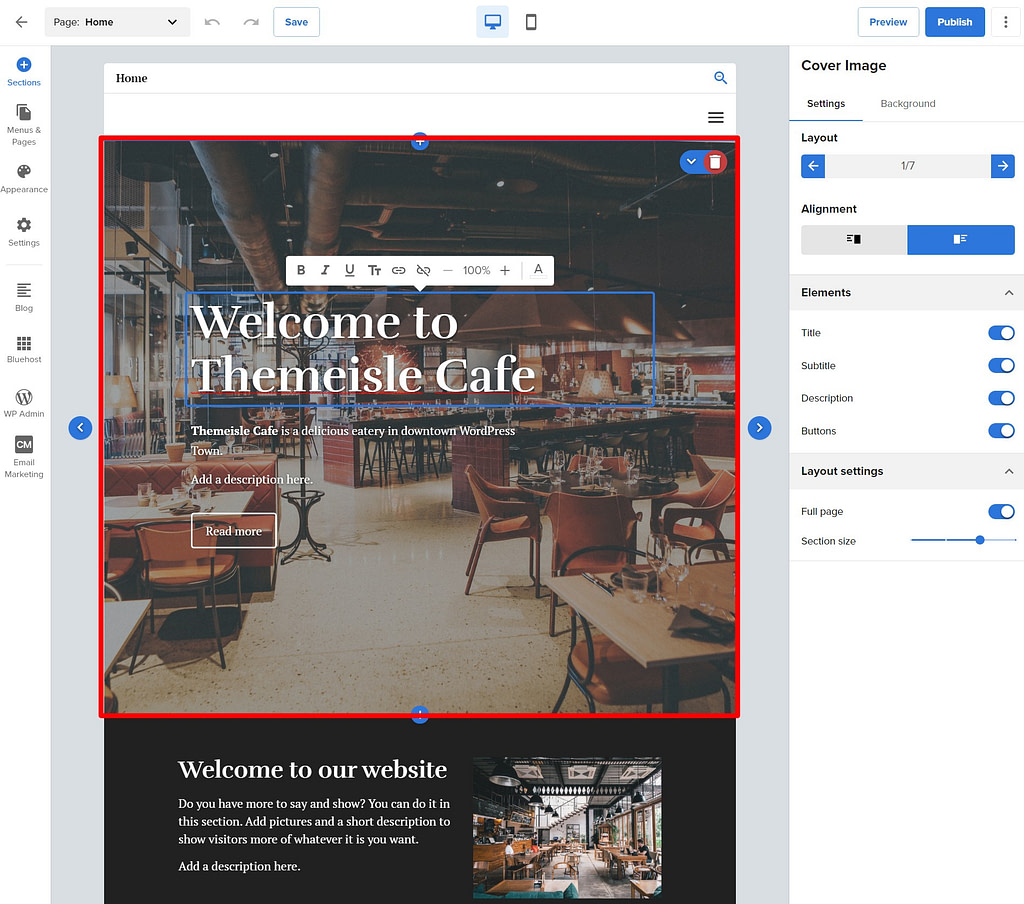 You cannot change the layout of the elements inside the section, but you can customize all of the content, colors, etc. Beyond that, you can also disable certain elements using the sidebar on the right – you can see that there are four elements in the sidebar under the Elements heading. These match the editable content in the section:
Title
Subtitle
Description
Buttons
Or, if you don't like the layout of a section, you could always replace it with a different section template. You could also add another section above or below it. You get a ton of different section templates to choose from: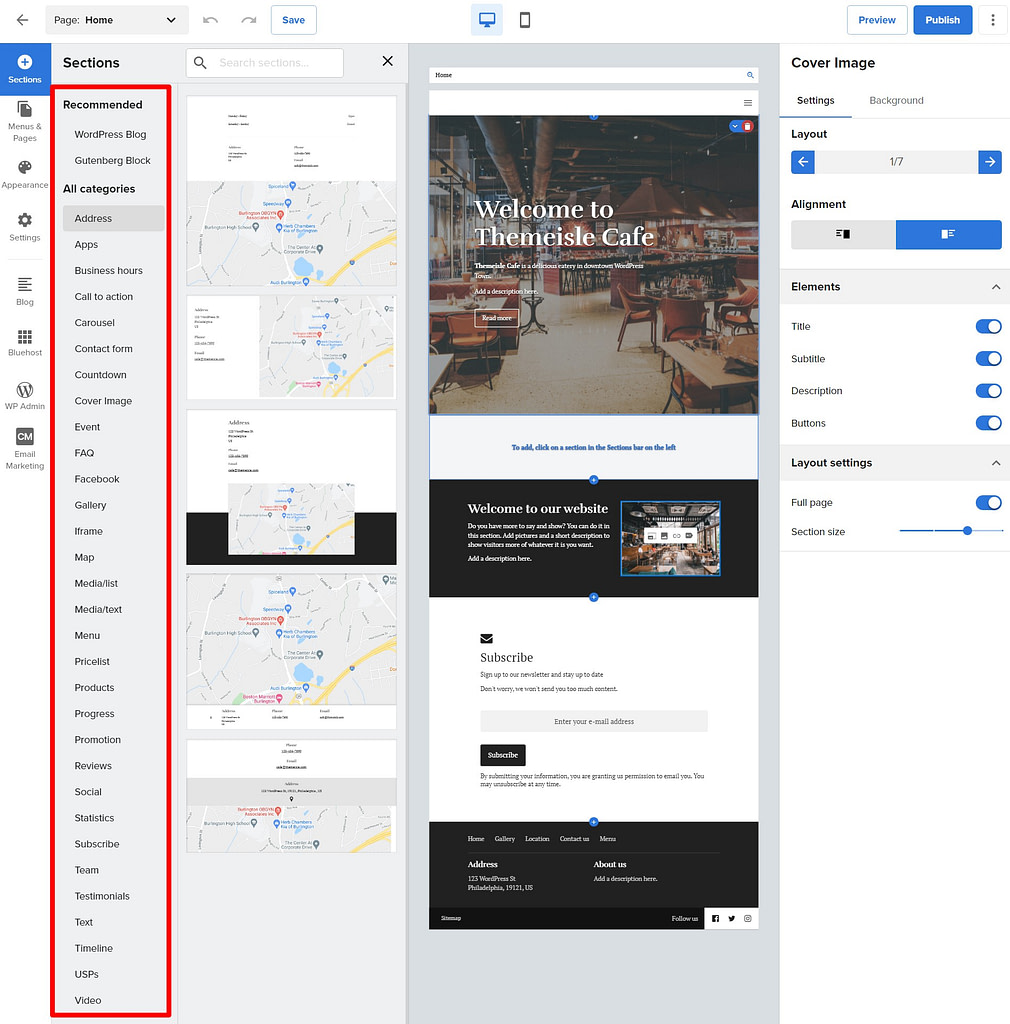 If you want to create additional pages, you can go to the Menus & Pages area. You'll be able to create new pages, either starting from a pre-built template or creating your own design by putting together different sections.
Search engine optimization (SEO) settings
Bluehost Website Builder does include some SEO features, though they aren't very advanced.
For each page, you can set the SEO title and meta description for Google. You can also control the URL slug.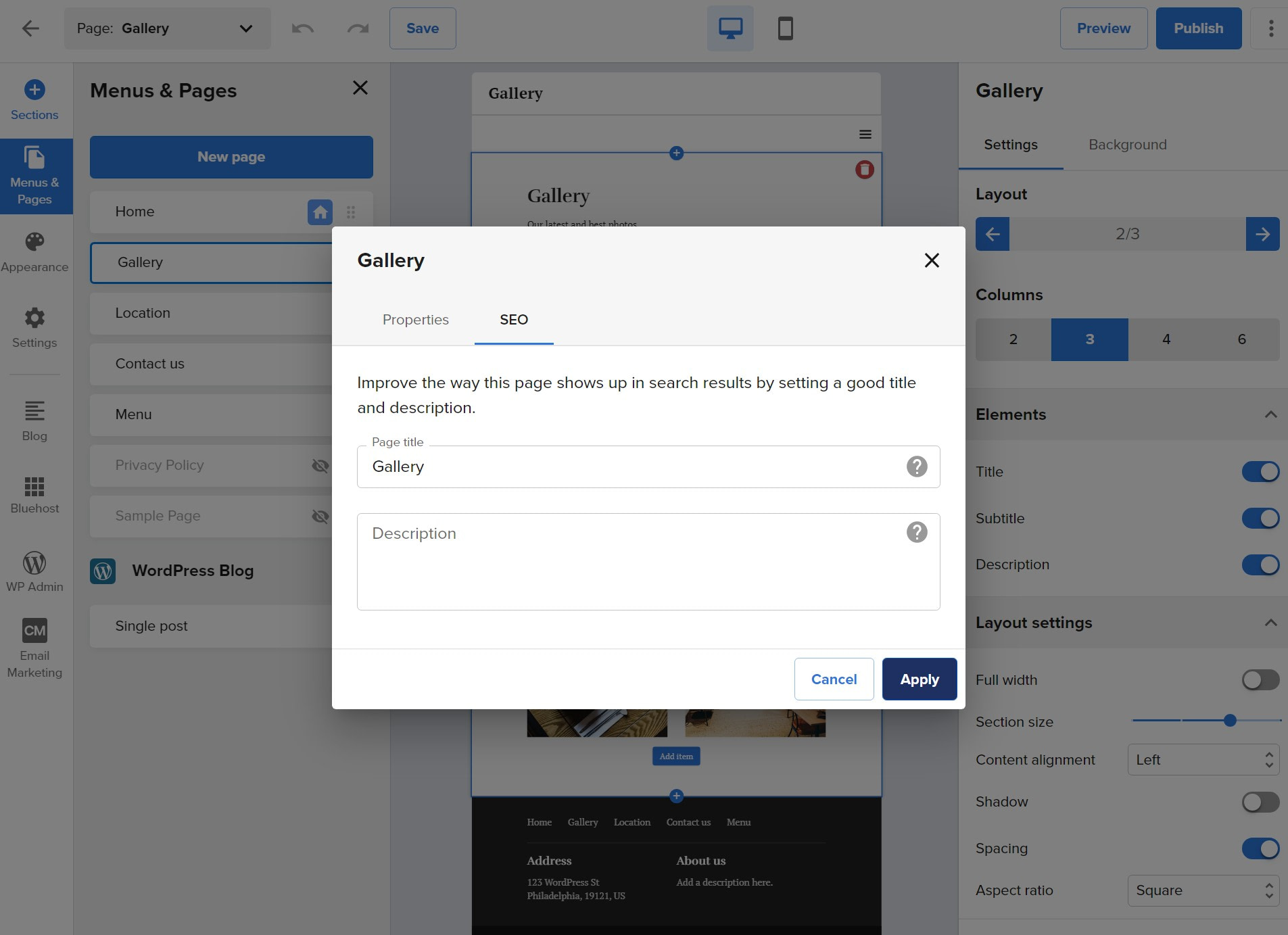 However, Bluehost Website Builder doesn't include more advanced SEO features such as structured data/schema markup.
For beginners, the builder should be fine for SEO, but more advanced users might appreciate the full flexibility of WordPress for advanced SEO tactics.
Full WordPress dashboard access
Remember, Bluehost Website Builder is based on the WordPress software. So, if needed, you can always click the WP Admin link in the builder interface to go to the "regular" WordPress dashboard.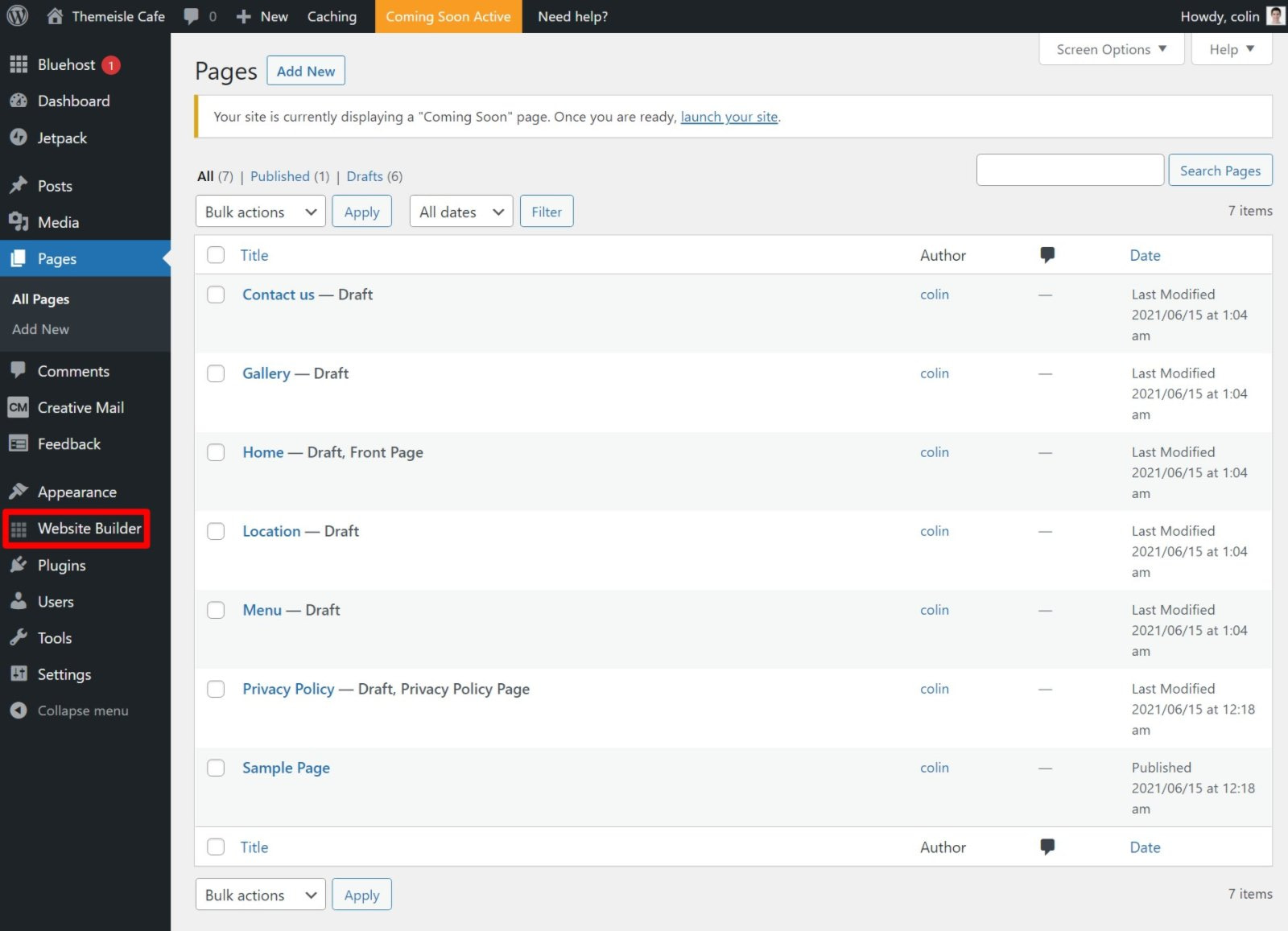 Here, you can install plugins, edit content, etc.
However, the integration isn't seamless. For example, if you install a new plugin, it might not be as easy to use that plugin in the Bluehost Website Builder as it is to use the plugin in the regular WordPress dashboard.
For that reason, I would say that Bluehost Website Builder might not be the best choice if you plan to use a lot of WordPress plugins and/or you plan to work in the traditional WordPress dashboard.
With that being said, Bluehost Website Builder's built-in features can eliminate a lot of the need for plugins, so this might not be an issue. For example, the builder already includes built-in features for SEO and social media integrations.
You can also use the regular WordPress editor to create or edit pages. This gets a bit technical. But if you're familiar with WordPress, each section in your Bluehost Website Builder design is really just a block in the WordPress editor: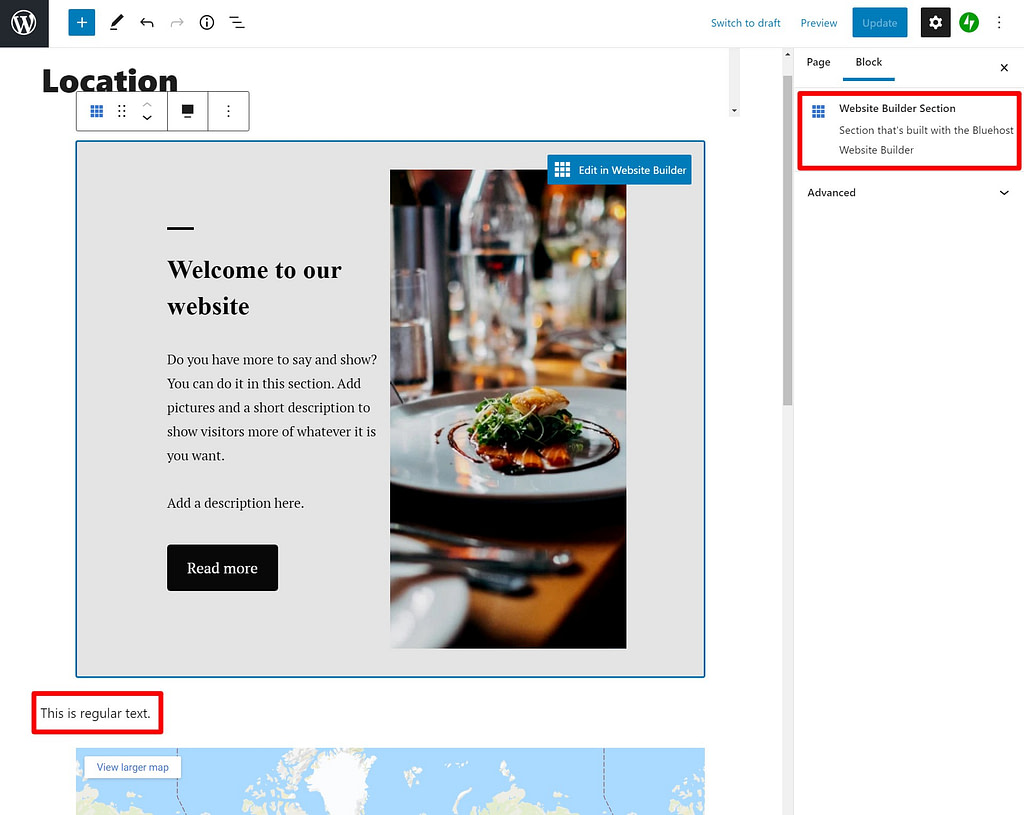 This would let you mix-and-match other types of content within your Bluehost Website Builder designs, like inserting content from a plugin in the regular WordPress editor.
Blogging
If you want to create a blog, Bluehost Website Builder also has built-in support for blogging. You can start by adding a blog and designing the blog page using the editor – you'll get dedicated sections to display your blog posts: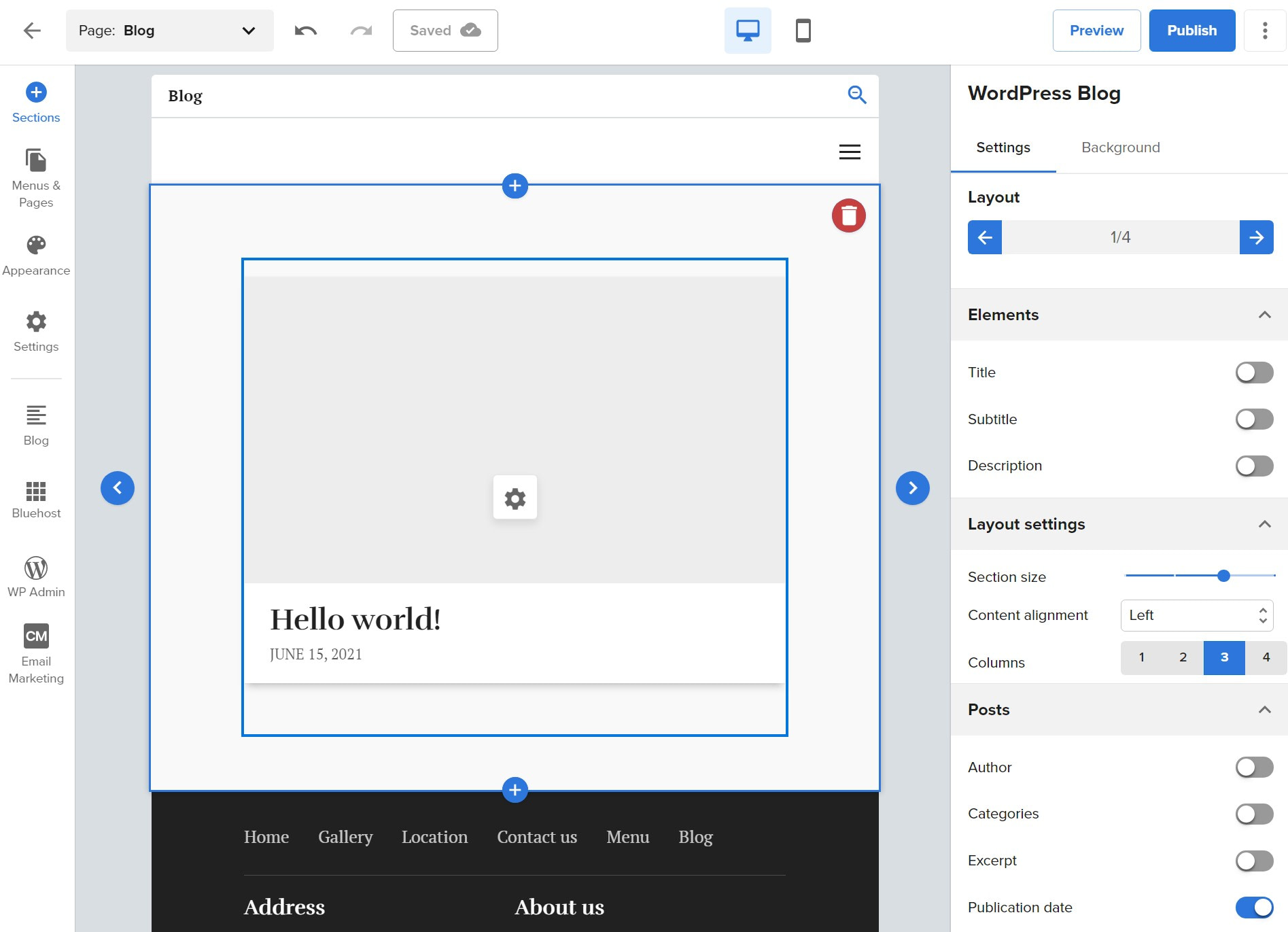 To add the blog posts, though, you'll need to use the regular WordPress dashboard and editor: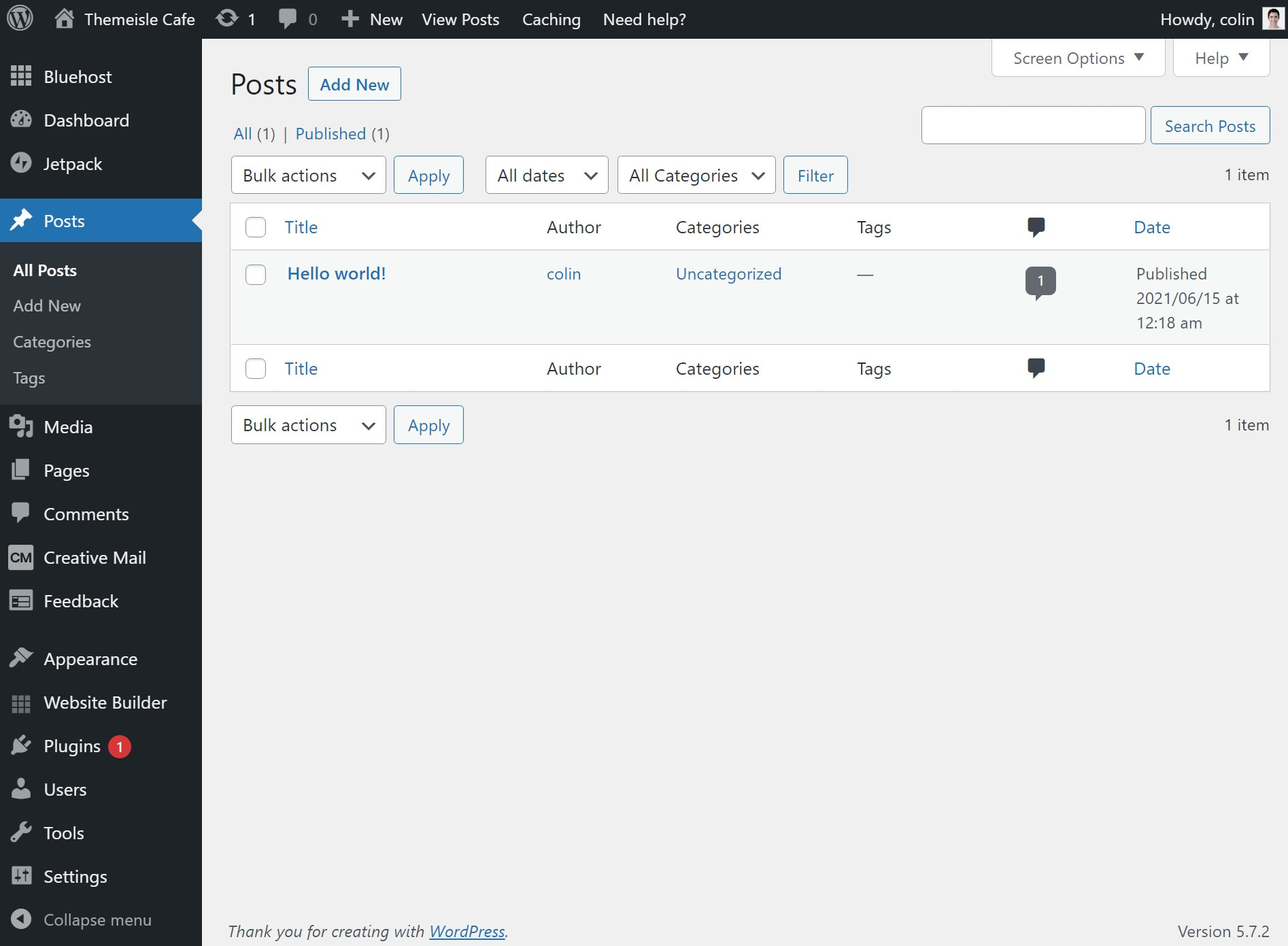 Pros and cons of Bluehost Website Builder
To summarize our Bluehost Website Builder review, let's look at some pros and cons:
Pros
It's very beginner-friendly, thanks in large part to the user-friendly onboarding wizard.
You can choose a design for your niche just by entering a keyword.
The section-based design approach is easier for beginners to grasp because you don't need to place every element in your design – you can just put together pre-made sections like Lego blocks.
It's based on WordPress, so you can still use the WordPress dashboard and install plugins. This gives you more flexibility than other website builders.
Cons
It's still a self-hosted WordPress site, so it doesn't have the total hands-off nature of a true hosted tool, like Wix or Squarespace.
Because the builder uses a section-based approach, you don't get as much flexibility as a true drag-and-drop design tool. Basically, section-based design is simpler but less flexible.
The website designs are pretty basic, so if you want a unique-looking website you might not be happy.
Bluehost Website Builder review summary: Who should use it?
Overall, Bluehost Website Builder is a useful tool for users who have no idea where to begin when creating a WordPress website and just want a basic online presence.
Overall, Bluehost Website Builder is a useful tool for users who have no idea where to begin when creating a WordPress website and just want a basic online presence.
For example, if you just want to create a simple portfolio or a basic website for your local business, Bluehost Website Builder can be a great option. It makes the process very simple and you can have a good-looking product without any complexity.
However, if you've already built a few WordPress websites and/or want a really custom, unique site, you'll probably be better off sticking with "traditional" WordPress. Bluehost Website Builder just isn't designed for advanced users or custom websites and you'll likely be much happier just using the regular WordPress software.
To sum up:
🌱 Total newbie who's not sure where to start building a website – Bluehost Website Builder is a great option, as it will help you quickly set up a good-looking website with your business info. You'll also have room to grow since it's based on WordPress.
🤯 Total newbie who is confused by the concept of WordPress and how it connects to Bluehost Website Builder – maybe consider a standalone website builder, such as Wix or Squarespace.
💪 Experienced WordPress user – there's not much added value here for your situation and you'd be best served using a page builder plugin or even just sticking to the native block editor (maybe with some block plugins for added flexibility).
If you feel like Bluehost Website Builder is right for you, you can check out our Bluehost Website Builder tutorial to get started.
If you think a page builder might be a better choice, you can check out our collection of the best page builder plugins. Elementor is a great first choice – you can learn more about it in our Elementor review and then follow our Elementor tutorial.
Do you have any questions about our Bluehost Website Builder review or the builder in general? Let us know in the comments!
Free guide
5 Essential Tips to Speed Up
Your WordPress Site
Reduce your loading time by even 50-80%
just by following simple tips.