Trying to choose between InMotion vs SiteGround WordPress hosting?
When it comes to choosing a web host, you want to take a look at what's under the hood before you make any commitments. Understanding what each provider offers and what you need is key to a long and headache-free relationship.
In this article, we'll take a hands-on look at both hosts and compare InMotion vs SiteGround using five different criteria: (1) Features, (2) User experience, (3) Performance, (4) Support, (5) Pricing 👈 table of contents
By the end, you should be able to pick the best host for your specific situation.
InMotion vs SiteGround: COMPARISON TABLE

| | InMotion | SiteGround |
| --- | --- | --- |
| Price from / mo. | $2.99 | $2.99 |
| Sites | 1 | 1 |
| Traffic (mo.) | ~ 20,000 visits | ~ 10,000 visits |
| Disk Space | 40 GB | 10 GB |
| Free Domain | ✅ | ❌ |
| 24/7 Support | ✅ | ✅ |
| User Rating | 3.9 | 4.3 |
| Features Rating | ⭐ | ⭐⭐ |
| Support Rating | 4.2 | 4.7 |
| Uptime | 100% | 100% |
| Speed from Washington D.C. | 363 ms | 243 ms |
| Speed from San Francisco | 677 ms | 733 ms |
| Speed from London | 761 ms | 987 ms |
| Speed from Sao Paulo | 1.08 s | 961 ms |
| | | |
⚙️ Which company offers the best features?
Both SiteGround and InMotion are well-known names in hosting. They offer similar types of plans, including shared hosting and managed WordPress options. Both web hosts also boast highly competitive prices, so we need to dig deeper into the features they offer.
InMotion

For this article, we're going to focus on WordPress-specific plans for both providers. When it comes to InMotion, their range of managed WordPress plans cost almost exactly the same as their regular shared options, though you can't host unlimited sites like the regular plans allow.
Here's what you get with their WordPress offerings:
Free domain name for a year
Pre-installed WordPress and automatic updates
Automatic backups (for WP-2000S plan users and upward)
Free website migration (if you request it)
Support for multiple websites (for WP-2000S plan users and upward)
Staging functionality
Custom BoldGrid page builder
Bundled access to the Jetpack Personal plan (for WP-2000S plan users and upward)
As usual, the amount of storage and bandwidth you get varies depending on the plan you choose. With the starter WP-1000S tier, you get 40 GB of storage and it supports approximately 20,000 visitors per month. All-in-all, InMotion offers a solid set of features with competitive pricing.
SiteGround

SiteGround doesn't offer as broad a range of plans as InMotion. However, their managed WordPress offerings offer a lot more functionality out of the box. Here's what you get with SiteGround's WordPress hosting:
Free SSL certificate
Pre-installed WordPress and access to a setup wizard to configure your setup
Automatic WordPress updates
Free website migration
Integration with Cloudflare content delivery network (CDN)
Automatic daily backups
Staging functionality (on GrowBig plan and above)
Support for WP-CLI
As you can see, SiteGround offers several more features for WordPress users over InMotion, right out of the gate. The free CDN integration, in particular, can dramatically boost your loading times. However, keep in mind you have to activate this integration manually.
Beyond this, it's important to mention that SiteGround offers all these features at a lower sticker price than InMotion, especially if you need to host multiple websites.
We'll talk more about pricing later, though, as most providers aren't usually fully upfront about costs.
🙋 Is InMotion or SiteGround easier to use?
Whichever web host you choose should be easy to use. This means their control panel shouldn't require a Ph.D. to decipher since you'll end up spending some time there managing billing, setting up new sites, and more. Let's take a look at how InMotion does it.
InMotion user experience
InMotion's control panel is, at first glance, somewhat cluttered. Most of the options available to you are evident at first glance. From this screen, you can check out your billing info, update it, manage domains, add new hosting plans, and more: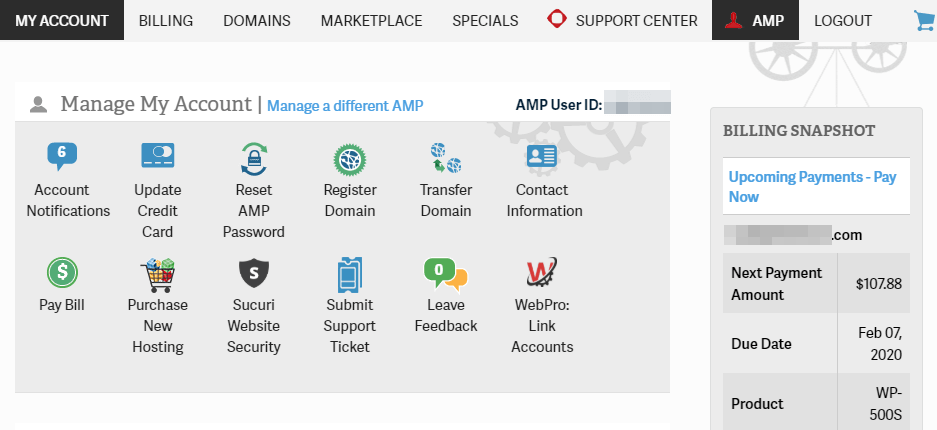 Once you get past the somewhat outdated interface, InMotion's panel is pretty easy to navigate. There's also an option to manage your existing websites from the main screen: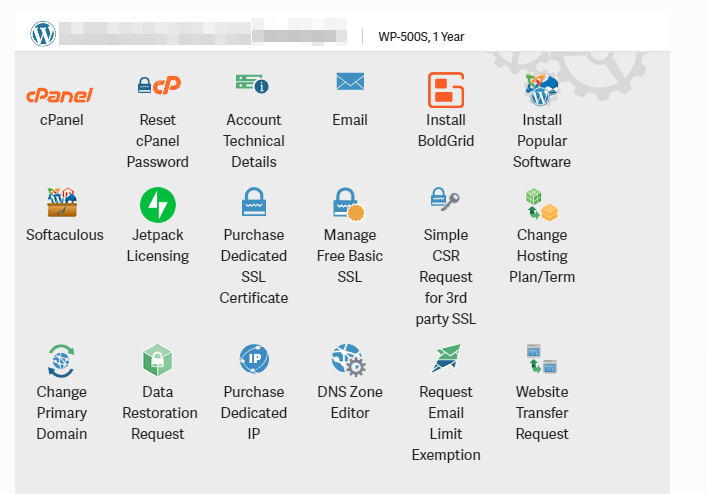 For most users, you don't need to look beyond here to find the tools you need to manage your website. However, you can also jump into your dedicated cPanel if you need more granular or advanced control.
As far as setting up new websites goes, InMotion offers you several software options for your projects, including WordPress: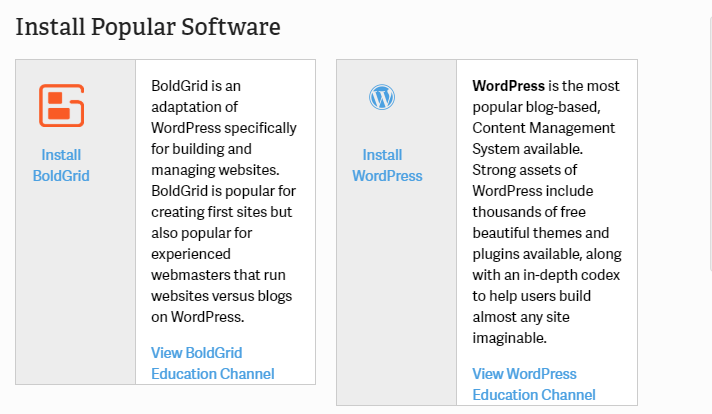 If you signed up for a managed WordPress plan, InMotion installs WordPress for you. However, if you want to perform a manual set up, you'll need to use the Softaculous installer:
All-in-all, navigating InMotion's control panel is simple, although the interface could do with an update.
SiteGround user experience
SiteGround's interface got a revamp a short while ago and it definitely looks the part. The web host features a modern design that's easy to navigate: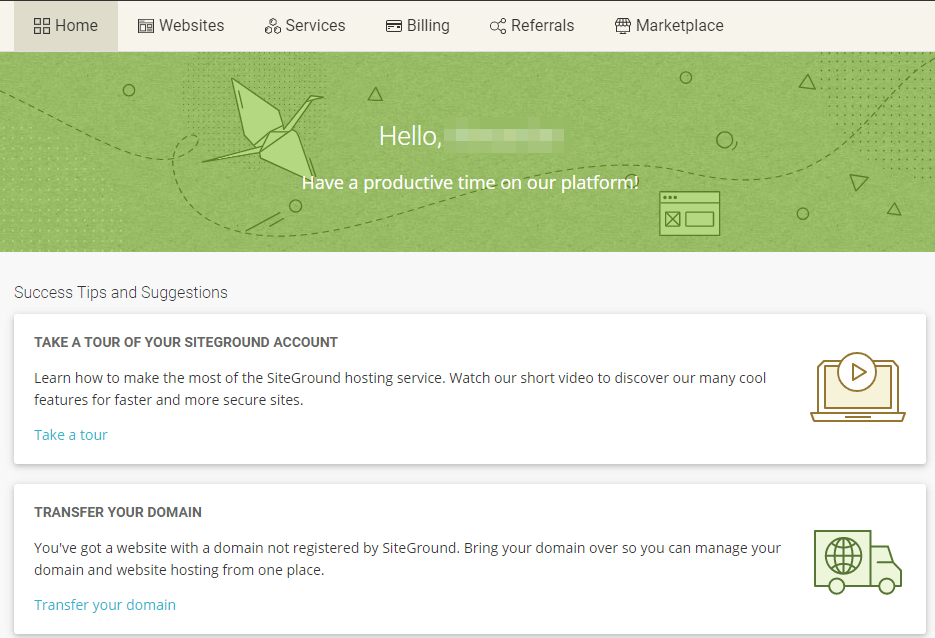 If you jump to the Websites tab, you can check out existing projects, access site-specific tools, and add new websites with a single click: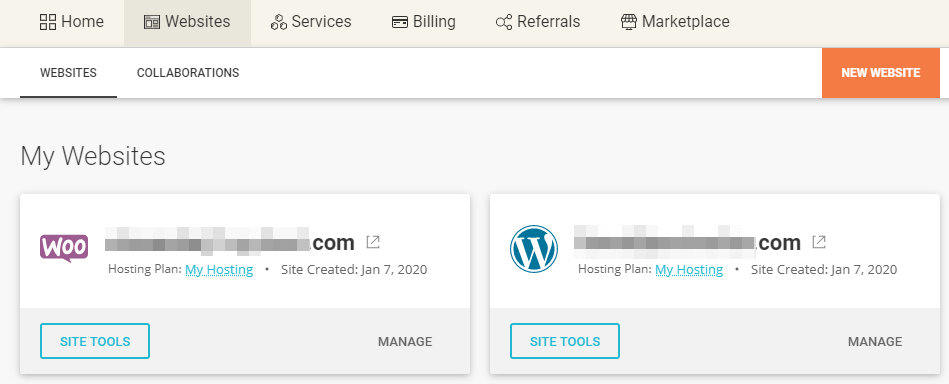 The Site Tools option gives you in-depth information about each website's status. From this section, you can also enable features such as SiteGround's auto-update for WordPress: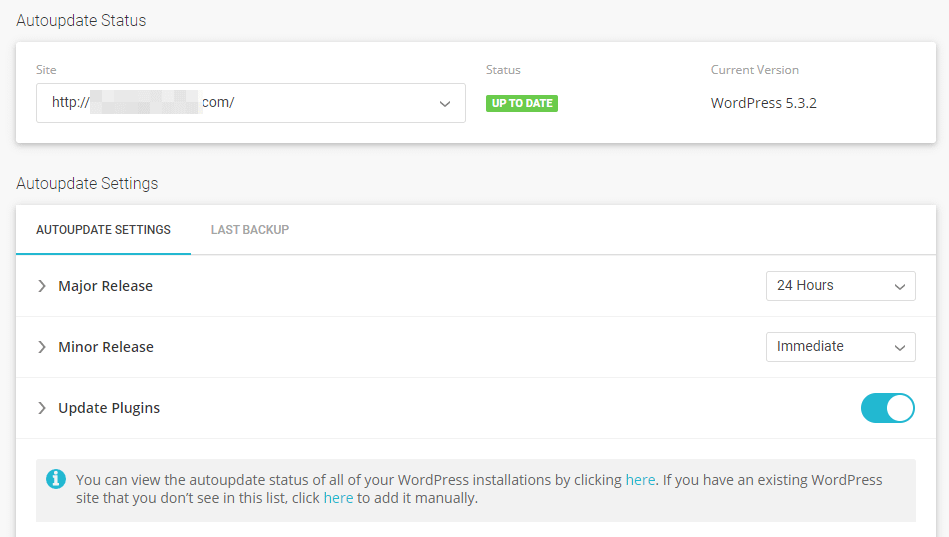 One of our favorite aspects of SiteGround is its built-in wizard for new WordPress websites. If you want to add a new website to your account, you can select what application to use, including an option to set up a WooCommerce store: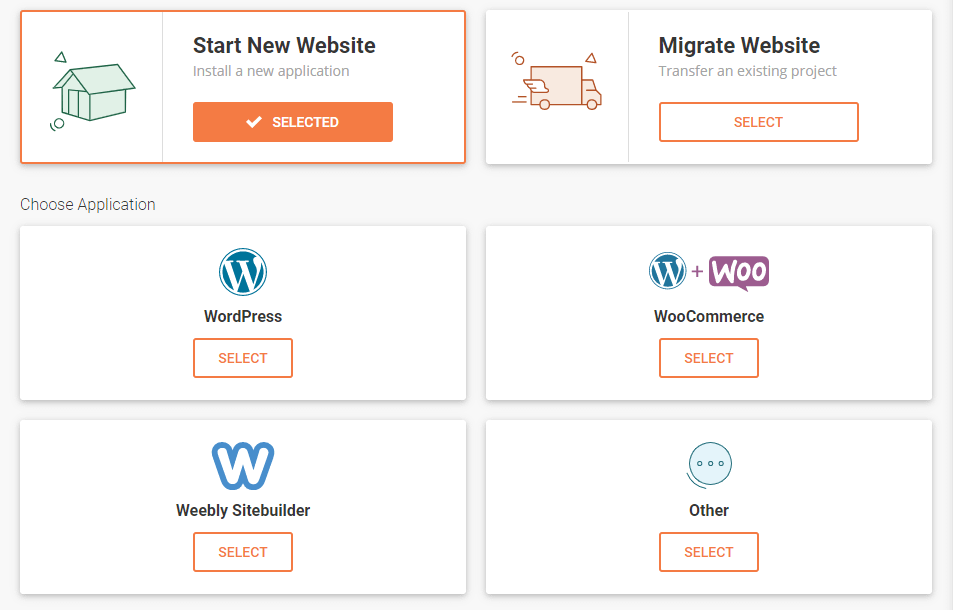 Once your website is ready, SiteGround walks you through a few plugin and theme options you can pick from, so you can begin customizing your website right away: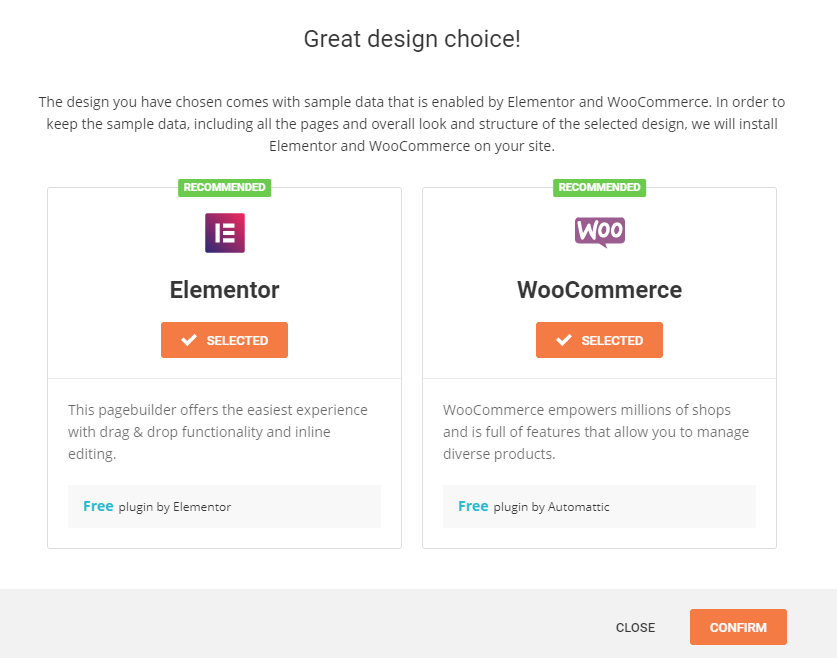 Comparing InMotion vs SiteGround, SiteGround wins when it comes to ease of use. However, InMotion scores some points for itself by giving you access to almost every tool you need within the main page of its control panel.
🏎️ Which provider scores higher on performance tests?
Both InMotion and SiteGround have a reputation for top-notch performance. With this in mind, we set out to test InMotion vs SiteGround when it comes to performance.
We set up identical websites on both platforms and used Pingdom Tools to test their loading times over multiple servers.
InMotion
Washington D.C.: 363 ms
San Francisco: 677 ms 🏆
London: 761 ms 🏆
Sao Paulo: 1.08 s
SiteGround
Washington D.C.: 243 ms 🏆
San Francisco: 733 ms
London: 987 ms
Sao Paulo: 961 ms 🏆
We walked into this test with high expectations and we were not disappointed. Both InMotion and SiteGround are pretty much neck-and-neck when it comes to loading times. Overall, any results below one-second are what we'd call 'really darn fast' and in almost every test, our sites remained well below the line.
A blazing fast website is of no use if your web host experiences constant downtimes, however.
We've been monitoring some of the most popular web hosts for a while now, to see what their uptime percentages are.
Both InMotion and SiteGround have perfect 100% uptime percentages (at least during the past 30 days), so you're in good hands.
📞 Does InMotion or SiteGround offer better customer support?
There's nothing worse than dealing with clueless customer support. This goes double for hosting, as your website should never be unavailable.
With both InMotion and SiteGround, you get support 24/7 via phone, email, and live chat, so all of your bases are covered regardless of your preferred method.
For the past few years, we've been running a comprehensive WordPress hosting survey that includes scores for each provider's support team from hundreds of respondents. Here are the results for InMotion vs SiteGround:
InMotion: 3.78
SiteGround: 4.45 🏆
The scores are out of "5".
The results are clear – SiteGround scores significantly higher when it comes to user-satisfaction with their support team. In our own experience, the wait times via live chat are also shorter, which is always a bonus.
💰 Which provider will be more affordable?
We previously mentioned how most hosting providers aren't upfront when it comes to the cost of their plans. Both SiteGround and InMotion are also guilty when it comes to the practice.
Take InMotion, for example. Their starter WordPress hosting plan (WP-1000S) costs $2.99 per month. However, to get this price, you have to sign up for a three-year contract and pay upfront.
Also, those promotional prices are only available for your initial contract, and go up after the renewal period.
SiteGround does things a little differently. They'll give you the advertised price for any billing cycle, from one month up to three years.
However, once your first billing cycle ends, SiteGround's prices will almost triple as they go back to "Regular" pricing. For example, the cheapest StartUp plan costs $2.99 per month for your first billing cycle, but $11.95 per month after that.
Overall, when comparing InMotion vs SiteGround, SiteGround is a little bit cheaper if you're willing to lock in the promotional pricing for one to three years.
Another thing to consider is that SiteGround's GrowBig and GoGeek plans let you host unlimited websites, whereas InMotion's higher-tier plans only support two or three websites.
If you need to host a lot of separate sites, that's another factor that makes SiteGround cheaper.
🏆 Should you choose InMotion or SiteGround for your website?
InMotion and SiteGround are pretty evenly matched when it comes to performance. However, SiteGround offers a better support service and more features for power users, such as WP-CLI support, an integrated CDN, and daily backups.
What cinches the deal is SiteGround is also the cheaper option in comparison with InMotion. They enable you to sign up for a one-year contract versus InMotion's two-year minimum, so you save money and you get better overall service.
Both InMotion and SiteGround are excellent hosting options regardless of whether you're working on your first website or a veteran. They offer competitive, prices, excellent performance, and a broad range of features.
Once you look at the small print though, SiteGround beats InMotion in almost every category. They offer better support, more functionality, and all for a cheaper price, which makes them a better option for most users.
Have any other questions that would help you decide between SiteGround vs InMotion WordPress hosting? Ask away in the comments!
Free guide
5 Essential Tips to Speed Up
Your WordPress Site
Reduce your loading time by even 50-80%
just by following simple tips.
* This post contains affiliate links, which means that if you click on one of the product links and then purchase the product, we'll receive a commission. No worries though, you'll still pay the standard amount so there's no cost on your part.