Trying to choose between InMotion vs Bluehost to host your WordPress website?
When it comes to hosting, you often need to look beyond price, so understanding what each provider offers and how it fits your needs is key. If you choose well, you'll save yourself a lot of work down the road (migrating a website can sometimes be a pain).
To help you choose the right host for your situation, we'll compare InMotion vs Bluehost in five areas:
Specifically, we're comparing Bluehost's shared WordPress hosting vs InMotion's shared business plans. By the time we're done, you'll know everything you need to make an informed decision. Let's get started!
InMotion vs Bluehost: Comparing the features ⚙️
Bluehost is one of the ten most popular hosting companies in the world, which means if you decide to use the service, your expectations should be high.
With Bluehost, you get a broad selection of plans, including shared hosting, virtual private servers (VPS), and dedicated options. In addition, there is a range of WordPress-specific plans, both managed and unmanaged, as well as options for WooCommerce stores.
InMotion might not have the market share of Bluehost, but it's a worthy contender. There's a similar selection of hosting services on offer, including shared plans, VPSs, dedicated servers, and WordPress-specific options.
However, where InMotion Hosting shines is in its broad selection of tiers. With managed WordPress hosting alone, you get six different plans to pick from.
Bluehost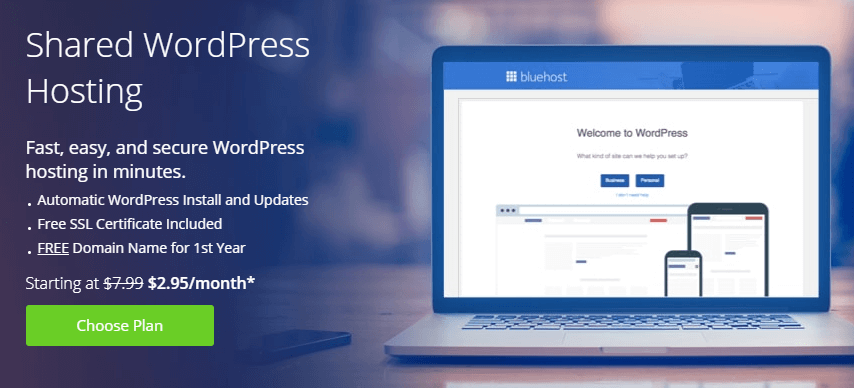 To give you an idea of what features you can get from Bluehost, we're going to focus on its basic shared WordPress plan. It includes:
The amount of storage you get and how many websites you can host will depend on the plan you choose. However, even with the most basic tier, you get access to useful features such as automatic updates and staging environments.
Keep in mind, Bluehost offers a selection of managed WordPress plans with more advanced functionality, at a higher price point.
InMotion

Unlike Bluehost, InMotion doesn't offer WordPress-specific shared plans. It does offer regular shared hosting, though, which supports WordPress out of the box. Here's a breakdown of what you get with the basic tier:
Free domain name for one year
Support for up to two websites
Free SSL certificate
Automatic daily backups
One-click installer for WordPress
The difference in features is evident right away. InMotion doesn't offer any WordPress-specific functionality with its shared plans since they're targeted towards a broader base of users.
You could upgrade to managed WordPress hosting with InMotion, but it will increase your costs, especially if you need to host multiple websites.
InMotion vs Bluehost: User experience 🙋
You'll probably spend most of the time working on your website on the WordPress dashboard. However, at some point, you will need to jump into your web hosting control panel – and you want that experience to go as smoothly as possible.
With this in mind, let's check out what each control panel has to offer, and the ease of use for each.
Bluehost user experience
The Bluehost control panel is one of the most user-friendly options we've run into. At first glance, you get an overview of all the sites you're currently hosting: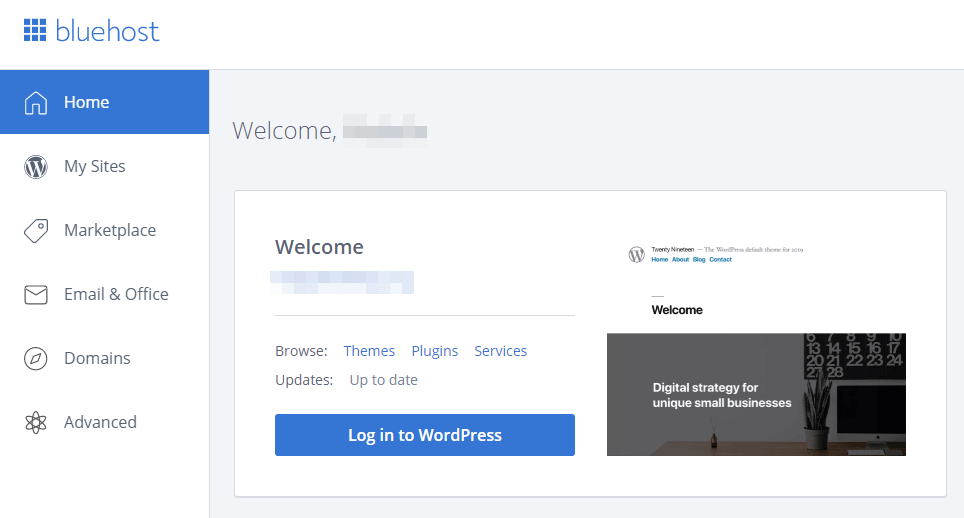 From here, you can log into your WordPress websites with a single click. Using the menu to the left, you can easily check your email accounts and domains, and purchase new services: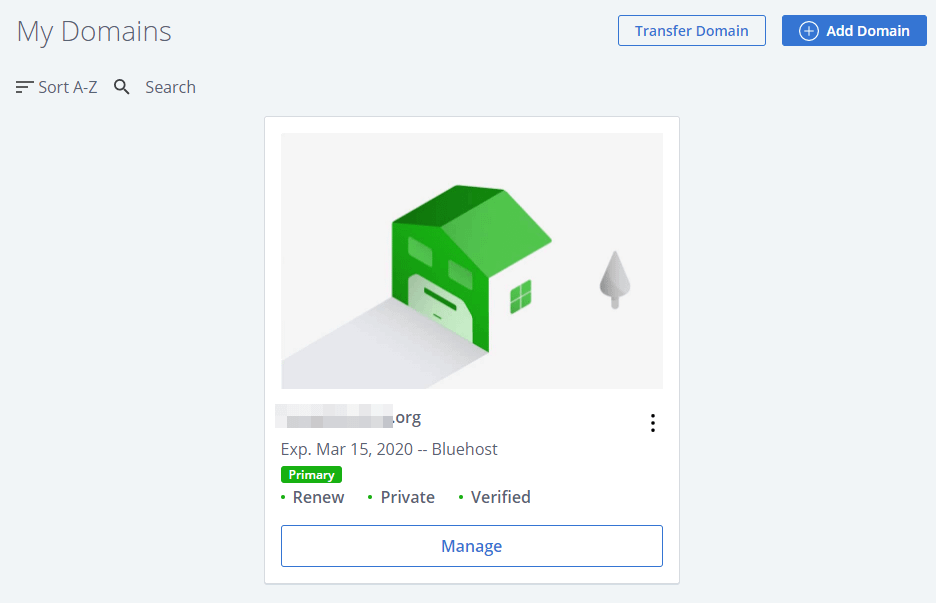 If you want access to more functionality, you can select the Advanced option on the menu to the left, which leads you to cPanel: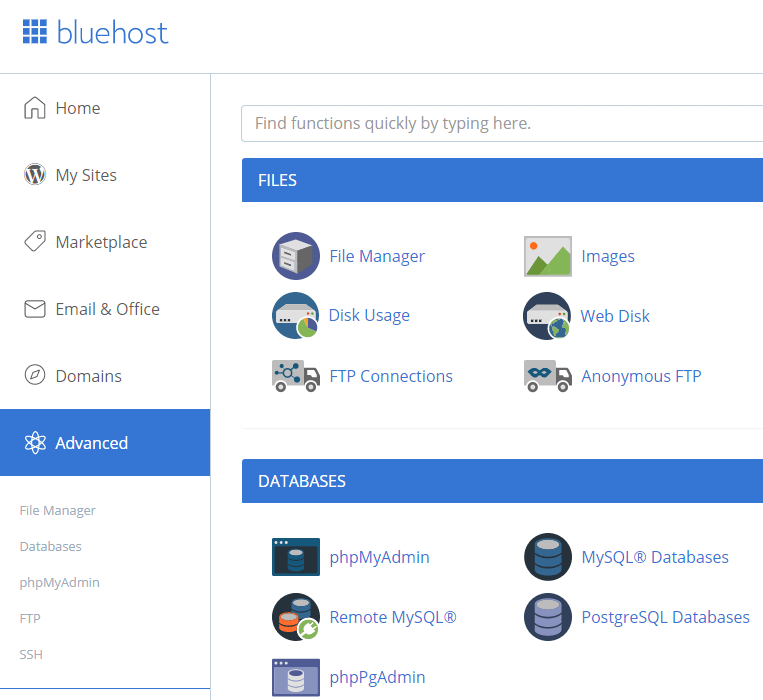 One of our favorite touches is the menu itself contains links to some of the most popular tools, including a file manager and phpMyAdmin.
InMotion user experience
InMotion's hosting control panel doesn't look as sleek. However, it does enable you to access a much broader range of options right from the get-go: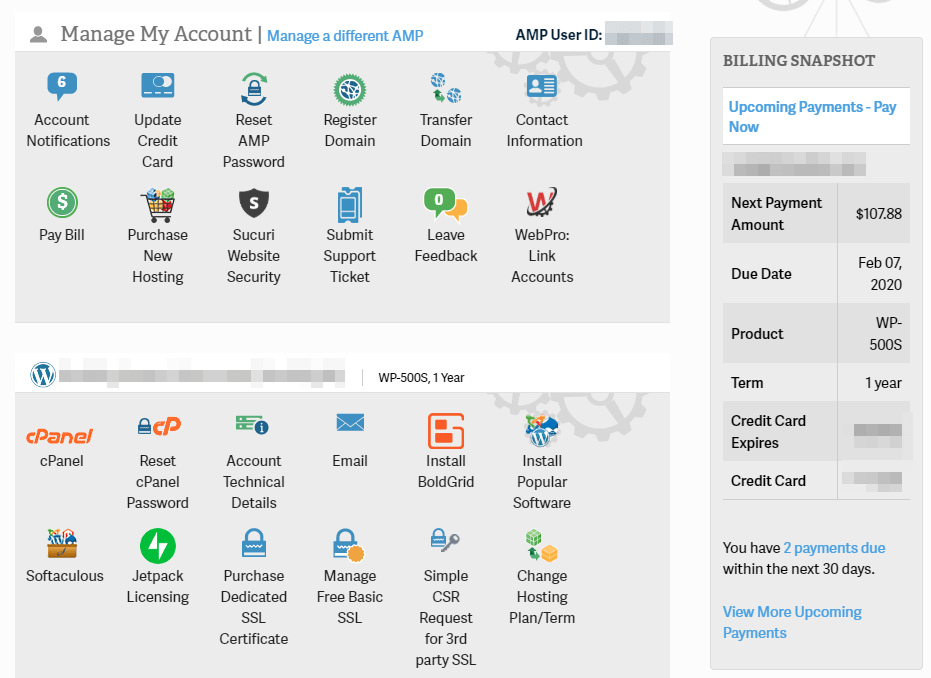 Being able to check out your billing status from the main screen is also a great touch. A lot of providers 'hide' this info in other sections, which makes it easier to lose track of your billing cycle.
If you look closely, you'll notice the control panel includes both account-wide and site-specific options. For example, you can both manage domain transfers and access your website's cPanel, right from the same page.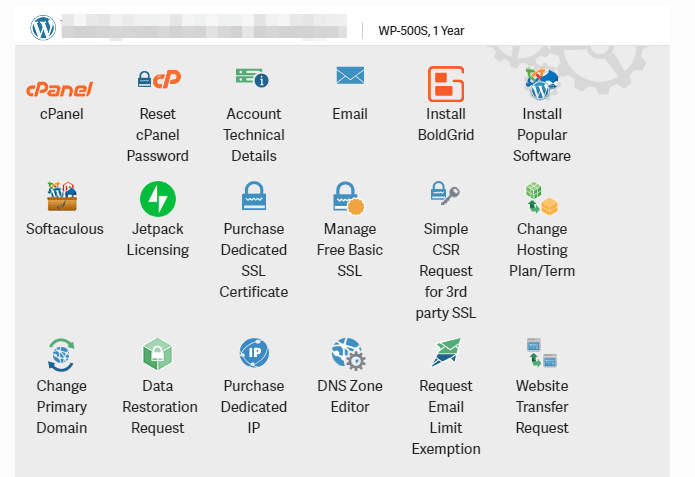 Although InMotion's interface isn't as pretty, it doesn't have anything to envy Bluehost when it comes to functionality.
InMotion vs Bluehost: Performance 🏎️
Your choice of web host will have a significant impact on your website's performance. With this in mind, we've set up two fresh WordPress websites on both web hosts, to discover some real-world loading times.
To run our tests, we've used Pingdom Tools and four different servers for each website, so you get an idea of how much loading times can vary:
InMotion 🏆
Washington D.C.: 0.392 s
San Francisco: 0.617 s
London: 0.791 s
Sao Paulo: 1.24 s
Bluehost
Washington D.C.: 1.43 s
San Francisco: 1.16 s
London: 1.90 s
Sao Paulo: 2.22 s
Even with brand new installations on both platforms, InMotion raced past Bluehost in every single test.
Another important metric when it comes to performance is uptime. Most reputable web hosts these days offer near 100% uptime for their sites. We've tested InMotion vs Bluehost (among a lot of other providers) for a while now and InMotion wins by a very slight margin:
InMotion: 100% 🏆
Bluehost: 99.970%
InMotion vs Bluehost: Support 📞
At some point, you're going to run into issues with your website or hosting provider. In those cases, you want your web host to have your back as quickly as possible, with a support team who knows what they're doing.
Both InMotion and Bluehost offer round-the-clock support. You can contact Bluehost and InMotion specialists via phone, email, and live chat at any time.
During the past few years, we've run a comprehensive survey of WordPress web hosts, including satisfaction scores for each provider's support team. Here are the InMotion vs Bluehost results using a rating system out of five:
Bluehost: 3.42
InMotion: 3.78 🏆
In our experience, both providers offer a similar level of support for WordPress users. It's not quite at the level you'd get with managed WordPress hosting, but this is to be expected.
InMotion vs Bluehost: Pricing 💰
The worst-hidden secret when it comes to hosting is that you usually need to pay upfront for a long contract if you want to get the advertised price.
Bluehost is no exception to the rule. If you want to get the $2.75 per month price they advertise for the Basic WordPress plan, you need to sign up for a three-year contract. This comes in at $106.20, which is pretty cheap for hosting. However, if you need a more expensive plan, the price can get prohibitive.
Another tactic most web hosts engage in is to bump up the renewal price drastically. In the case of Bluehost, $2.75 per month becomes $8.99 after the first three years.
With InMotion, the same basic premise applies. The starter LITE plan comes in at $2.29 per month, but you only get that price if you pay for three years upfront ($89.64 total):
If you want a one-year contract, the price goes up to $4.99 per month. When comparing Bluehost vs InMotion, the former is clearly the cheaper option across the board. Neither web host offers contracts for less than one year, so be prepared for a significant upfront expense.
Should you choose InMotion or Bluehost for your website?
Choosing between InMotion and Bluehost shared plans is a bit tricky. InMotion doesn't offer WordPress-specific shared plans, so you're limited to the same features as all other users are.
InMotion shared plans are much more limited in functionality compared to their Bluehost WordPress-specific counterparts. That's to be expected, but the upsides are, InMotion offers better performance and support across the board.
If you value those two factors above a WordPress-specific plan and you don't mind paying a bit extra for it, InMotion is probably the way to go. On the other hand, if you want to pay less and get access to features such as automatic WordPress installation, updates, and staging sites, Bluehost is the better option. Plus, they offer a much more user-friendly interface.
Conclusion
If you're looking for an affordable hosting plan offering the functionality you need to grow your website, both InMotion and Bluehost are excellent options.
However, no two web hosts offer the same experience. With this in mind, here are our recommendations:
Choose InMotion if you value performance and don't mind paying a little bit extra.
Choose Bluehost if you want a more user-friendly web host at a lower price point.
If you want to see other hosting options around this price point, check out our roundup of cheap WordPress hosting.
Or, if you want a host that will let you pay monthly (rather than the one-year minimums at Bluehost and InMotion), you can consider our list of month-to-month WordPress hosting.
Do you still have any questions about choosing between InMotion vs Bluehost? Ask us in the comments!
Free guide
5 Essential Tips to Speed Up
Your WordPress Site
Reduce your loading time by even 50-80%
just by following simple tips.
* This post contains affiliate links, which means that if you click on one of the product links and then purchase the product, we'll receive a commission. No worries though, you'll still pay the standard amount so there's no cost on your part.