In an earlier post, we've seen that WordPress is used widely by media companies, corporations, celebrities and blogs. So today, let's go the other route and find out how you can use WordPress for local business … no matter how big or small it might be.
WordPress for local business: features and plugins that you should consider adding
By and large, the target audience of a local business is fairly well-defined. It's the folks in the neighborhood that'll make up the bulk of a small business' consumer base. WordPress has many features and plugins that can help a local business reach out to people in the neighborhood. Let's explore them:
Using maps
Use maps imaginatively, not merely to provide directions to your store.
Google Maps is popular on the web, and WordPress users can enhance it with many plugins, like the WordPress Google Maps plugin, for example. You can add markers, clusters, tooltips and legends to share details about your business.
Some imaginative ways to use maps when thinking WordPress for local business:
Mark out the areas where door delivery is possible.
Display nearby parking lots or, even the floor plan of your store.
Include pictures of landmarks whenever relevant (e.g. on a travel website).
Mark out routes, highlighting places of interest or resting places for drivers along the way (again, whenever relevant).
Including reviews
Favorable reviews, especially from folks who've used the products, are a great sales driver. Around 90% of Amazon customers say that a minimum of three stars is necessary to even consider purchasing a product.
Given the importance of authentic reviews, you can use WordPress to:
Make it easy for users to leave reviews with a rating widget or a full review plugin like WP Product Review.
Allow voting on the reviews and move the most voted reviews to the top.
Use ratings as a filtering criterion in product searches, so that the best rated products can figure at the top.
Use the best reviews as advertisement in print and other media, and in testimonials (perhaps placed on sliders).
Moreover, reviews add valuable fresh content to a page and can give a boost to SEO, as reviews are also indexed by search engines.
The number of folks active on social media is increasing by the day, with Facebook alone counting nearly two billion users.
Without fail, getting customers to talk to each other about your product is one of the best ways to spread the word about your business. Old fashioned word-of-mouth is now finding expression on social media, and these are channels that you cannot afford to ignore.
Hence, you can make it easier for users to share your web pages on social media, directly from your website. Simply add social share buttons prominently, using plugins such as GetSocial, for instance.
Using a mailing list
List building is important not just for big businesses, but for small ones as well. It helps you keep track of your communications with regular and potential customers.
Displaying a subscription form on your website, building a list and sending out regular personalized communication to contacts about discounts, offers, new products or on their birthdays / other important occasions can increase customer loyalty hugely.
Our favorite tool for that is OptinMonster – does its job very well when it comes to WordPress for local business.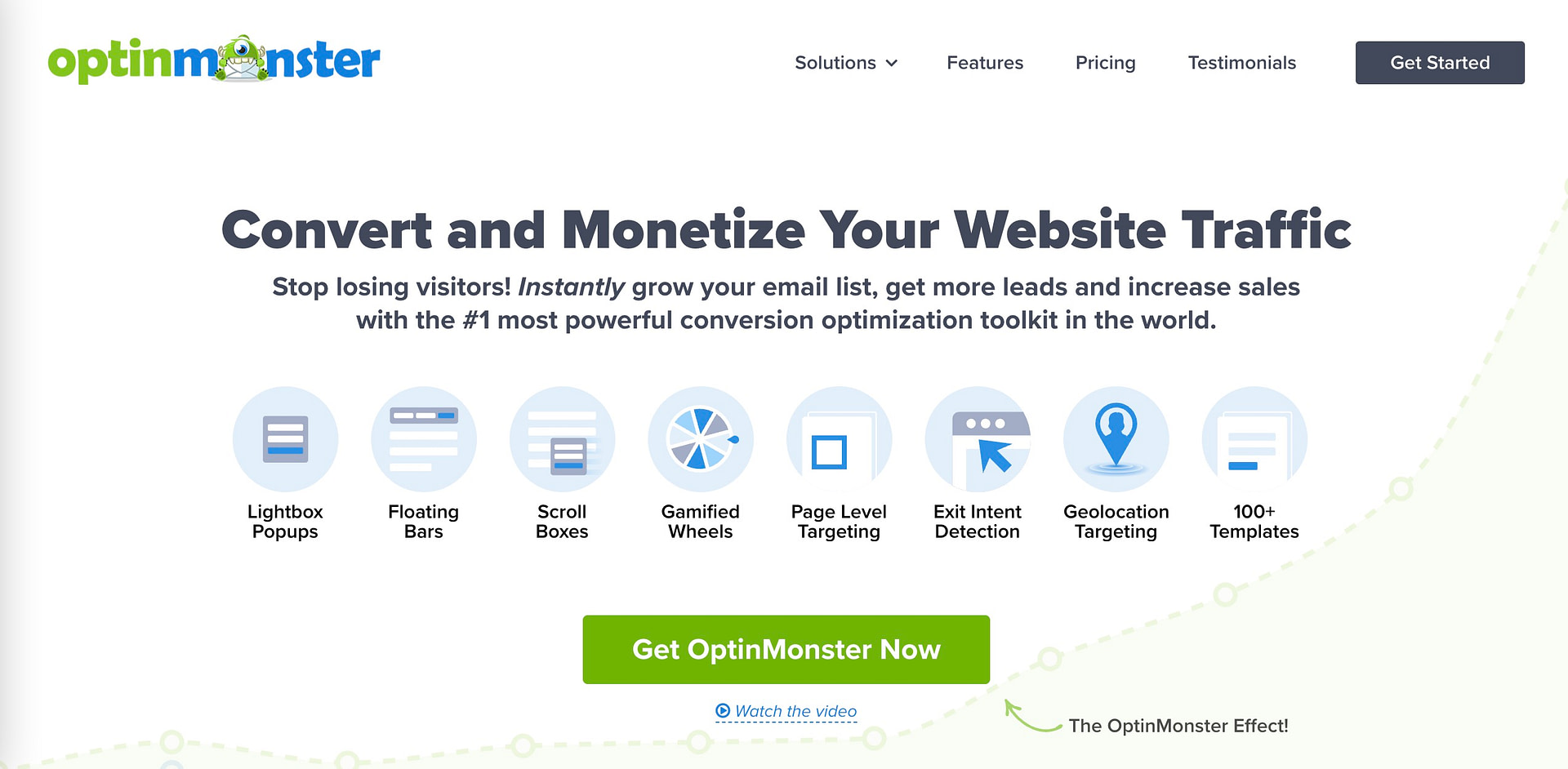 Displaying clear contact info
NAP – Name, Address, Phone Number – is extremely important for a local business. It lends credibility to your business and helps people find you. But more importantly, it's data used by search engines in searches with local intent. You'll find many WordPress themes that include custom pages to help you create useful Contact Pages. Or, you can use plugins and widgets to display this info in many places across your website.
Add other details like opening and closing times, and how they can reach you outside of working hours. A chat option can also help.
Making the website mobile-friendly
Nowadays, there's no doubting that there's a definite shift towards using mobile devices for online purchases. In fact, 2015's Black Friday sales from mobiles crossed $1 billion, a whopping 33% year-over-year growth. To tap into this growing market, your website should be capable of sizing down perfectly to hand-held devices, meaning it has to be responsive.
Moreover, whenever someone just happens to be walking by your business location, they are likely to pull out their mobile to check your website before walking through the door. If the website is not accessible to them, they might leave altogether. This aspect of WordPress for local business is very important.
Luckily, there are multiple WordPress themes available that handle the mobile-friendly thing very well. Or, depending on the importance of this market for your business, you can even adopt a mobile-first approach. To be doubly certain, make sure your website passes Google's mobile-friendly test.
Utilizing local SEO
It's well known that a website must be optimized for search engines to be found more easily on the internet. When it comes to local businesses, they need to pay particular attention to local SEO. This is a strategy to promote your product online at the exact time when a customer is searching for it in your vicinity. There are many factors to consider while chalking out your local SEO strategy:
1. Directory listings
To begin with, list or advertise your business with directories like CraigsList, a classified advertisement website, or CitySearch, an online city guide.
Another effective listing option is Google My Business, where you need to furnish details like your business hours, phone number, and directions on Google Search and Maps, and verify it for authenticity. Once you do this, your business is more likely to appear in a custom panel at the top of a search results page, not merely in the list of search engine results.
2. Third-party review sites
Third party review sites can drive substantial traffic your way. Apple Maps employs Yelp reviews, so there's a big target audience there. Yelp uses crowd-sourced user reviews that can influence a purchase decision.
Industry specific review sites like Zomato for restaurants or TripAdvisor also have the potential to increase your website's online visibility.
3. Citations on websites of other local businesses
Besides review sites and directories, seek partnerships with other local businesses or related blogs. Mentions of your business on their websites can catch the attention of search engines and you'll also benefit indirectly from the brand value of the partnering business.
4. "Near me" searches
Wearable technology, network accessibility, wi-fi availability in public spaces and mobile apps are pushing the sales of products by people who search for them while they're near your store. Whether it's finding a nearby gym or restaurant, "Near me" titled searches are increasing in popularity. These searches generate location specific end-results using geographic cues.
Facebook operates Local Awareness adverts that help you reach people in your business vicinity by displaying ads when they approach your business location. Significantly, they pack in more local context such as Click-to-Call and Get Direction buttons, which are really useful to shoppers.
What's next for WordPress for local business?
The features and plugins listed in this post that a local business can use are by no means exhaustive. But they are a good start. With time, you will probably find yourself testing more than a handful of other concepts too – all on your way to making your site as local-friendly as possible.
Struggling to set up WordPress for local business? If you have any questions, feel free to submit them in the comments section below.
Free guide
5 Essential Tips to Speed Up
Your WordPress Site
Reduce your loading time by even 50-80%
just by following simple tips.
* This post contains affiliate links, which means that if you click on one of the product links and then purchase the product, we'll receive a commission. No worries though, you'll still pay the standard amount so there's no cost on your part.