I'm going to take a guess and say that most people wonder how would it be to start an online business of their own, even for a few seconds before letting this thought slip away and getting sunk into their day to day schedule.
If you are reading this, it means that you finally made the decision to bring your ideas to light, for the world to see. And you have questions as we all do.
For instance, where do you start? Or how much money do you need? The answer is, it's not complicated nor expensive. At least not in the beginning.
And if you have doubts on whether it's ever gonna be worth the effort, it's time to change your mindset. There's room for everyone under the internet sun. The most important thing is to stop overthinking and start doing. Only then you can reap the fruits of your labor.
Let's talk about how you can start an online business with little money – $145 or less. We'll guide you through the very first steps you need to take to become an online professional.
Start an online business on a budget in 2022
We'll break the process into six steps:
Find your business idea
Validate your idea
Build a website
Display your offer
Promote your online business
Build a blog or start a YouTube channel
For each step in the process, we'll tell you how much you should expect to pay.
1. Find your business idea and mission
There's a chance that you already know what kind of business you want to build. There are people who do set their eyes on an idea but don't know how to make it work and where to start from.
If you're from the other category and you're not sure yet what your business will be about, then you should brainstorm and write down everything that comes to your mind. If you're still undecided, you must do the research and assign a mission to yourself, a purpose.
First of all, acknowledge what kind of businesses are popular and bring good money.
It could be:
blogging (if you have writing skills),
website development (if you're a programmer),
product reviews (software, food, clothes, gadgets, etc.),
podcasting/vlogging (if you're skilled in audio-video editing),
technical writing/copywriting,
online courses (if you are a teacher or expert in any field).
But these are just a few suggestions. If you don't find yourself on this list, get more ideas from this article. Apart from providing more businesses that bring you money, the linked post features the level of skill needed for each idea and gives details about income, investment, and resources that will help you achieve your goal.
Second of all, analyze your skills and your areas of interest. It makes more sense to go for something you already enjoy and understand than to pick one niche you know nothing about just because it guarantees good money (which is false, nothing guarantees any money if you don't work hard).
Last but not least, you can start an online business that stands out through authenticity. Be original and try to become the solver of that problem you're facing in your everyday life.
We're all living in a flawed society and we're part of communities that are far from being perfect. You can come with an innovative idea that will make people's lives easier and will put an end to one of their most frequent problems.
Approximate cost: $0 💵
2. Validate the idea
Now that you've circled THE idea and figured out what your mission is, you need to check people's interest in it. Before investing a big chunk of money, you should find out how the audience you're targeting will receive your business idea.
While some entrepreneurs still love in-person interaction (going to a public event that's related to their business and asking potential clients for feedback), social media remains our main tool for spreading the word when other options are limited or non-existent.
So what's to be done here? Create a Facebook page for your business and make it look professional. Describe your idea in detail and let people know how it's going to solve their problems. You can even publish a landing page, a video, or a prototype (demo), but make sure to not invest much in these aspects before the validation.
If you're not familiar with creating a Facebook business page, this article will walk you through every single step from building the profile to publishing and promoting it. Moreover, you get to learn about various tips and tricks that will help your new page grow.
To get some real insights on how people are welcoming your idea, you can create Facebook ads with what you want to promote (your product, your services, your goal). You can either boost an existing post, create a new ad, or boost your business page itself. After the ad expires, you can check the engagement and evaluate people's reactions to it.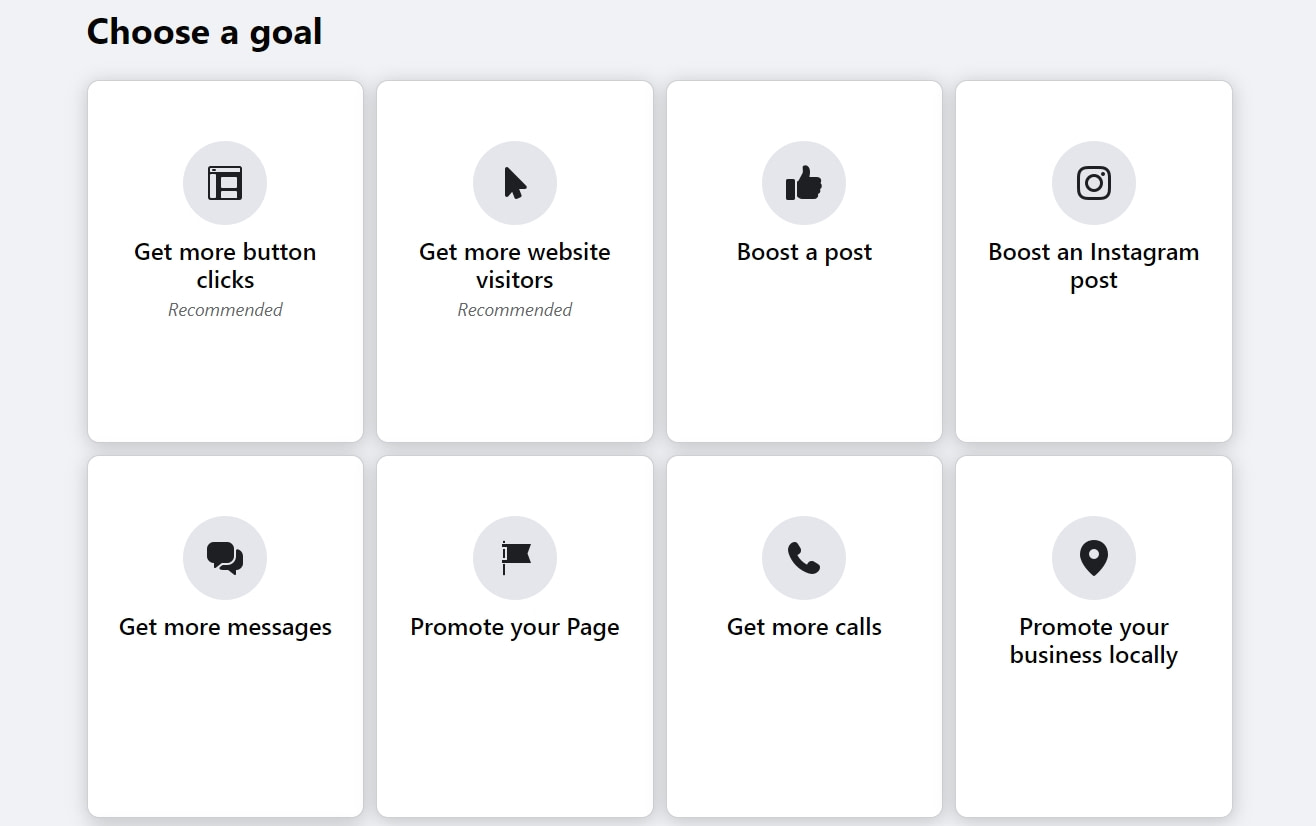 The costs are pretty low, it's up to you for how long you want the campaign to run. You can choose a higher price to run for a shorter time or a low price to run for a longer period (for one week, for example).
Each goal comes with a different reach range, so let's take the page promotion example:
$1 per day offers a reach of 894-2.6K daily.
The $2 per day option comes with a reach of 1.8K-5.2K daily.
For $5 per day, your ad will reach 4.5K-12.9K daily.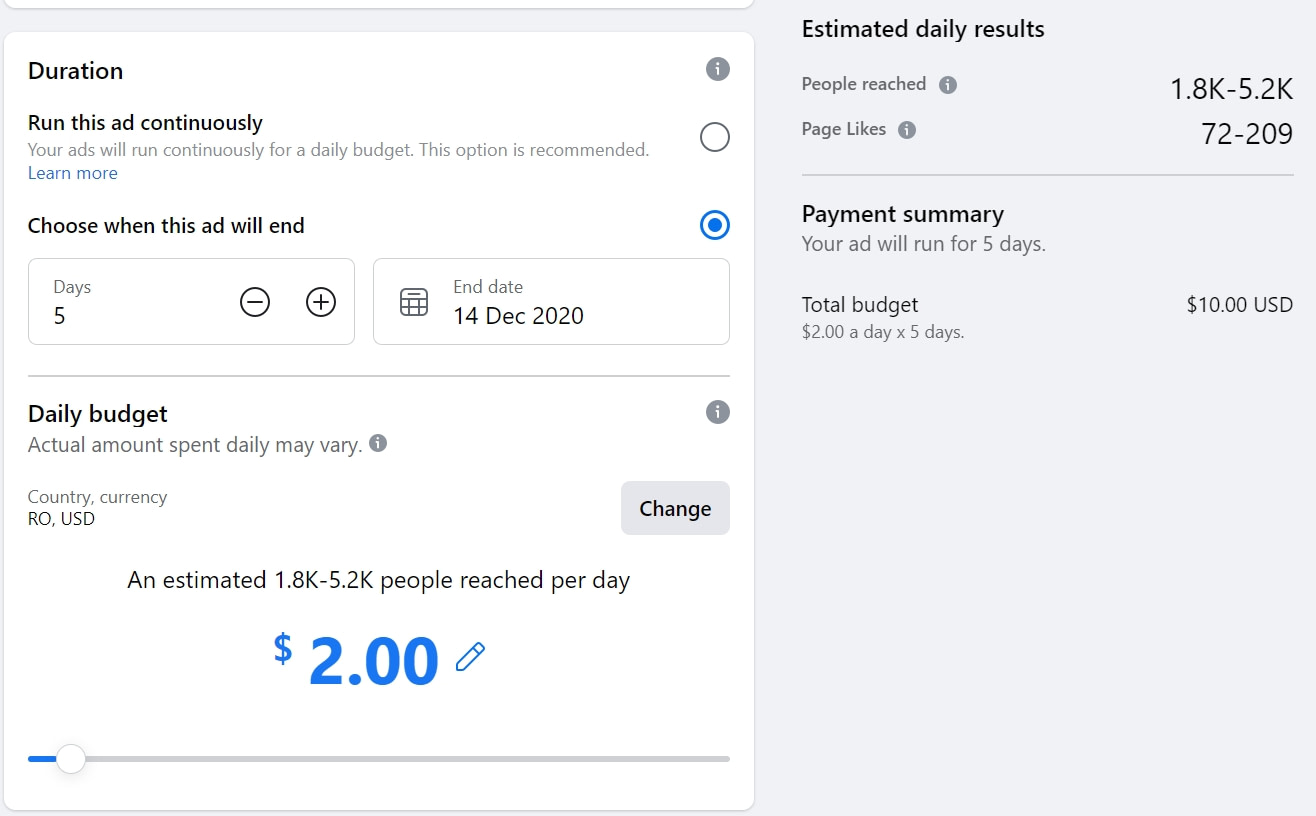 Don't forget to share your idea via your personal social media channels and ask your friends/contacts what they think. Find hobbyist groups or online communities that are in your target and ask for opinions there too.
Approximate cost: $10-$15 💵
3. Build a website for your online business
If the stats look good enough and people show even the slightest interest in your offer, you can now think of stepping to the next level: creating a website. Aka getting to the hard work. This is also the stage where you'll spend the most money.
There are a lot of great website builders for small businesses, but WordPress is the best content management system to build any websites because it gives you full control over the content you choose to showcase and the way you want to showcase it. The fact that WordPress is used by more than 42.9% of all websites in the world[1] just confirms that it's a reliable platform for professionals.
Let's briefly go through the key points you need to follow to create a WordPress website from scratch:
Find a domain name. ~ $10 per year
Buy hosting. We recommend Bluehost because it's cheap, popular, and users rate it 8/10. ~$40 per year
During the hosting setup, you'll have the option to install WordPress. Follow the steps via the onboarding process and you'll have the website up and running in seconds.
Choose a free WordPress theme for the design. Bluehost does come with a few suggestions in the onboarding interface, too, but the WordPress market is full of themes (free and premium), so feel free to search the internet for your niche. ~$0 to $60 per year
Install free WordPress plugins for extended functionality like SEO, security, marketing, site performance, etc. to make your site functional.
Customize your site interface and publish your own content via posts and pages.
As I mentioned, this is just a brief look at what you need to take into consideration when building your site with WordPress. Read this comprehensive guide if you want to get the full picture of things. It covers every step in-depth and all the essential details needed to create a website all by yourself. It also teaches you how to customize and prepare your site for going live.
Approximate cost: $110 (with a premium theme) or $50 (with a free theme) 💵
4. Make your offer visible on the site
Okay, the site is up and looking great. Now how can you make the most of it and put your offer in the spotlight?
First off, do you know who you're trying to connect with? It's very important to spot the group of people that would benefit from your services and use the language that will speak to them the most.
For instance, youngsters are more likely to engage with an overly-conversational tone, idioms, and visual elements. If you're speaking to agencies or organizations, your tone will be more formal and straight to the point, with less playfulness.
But, no matter what language you use, make sure to clearly state your services. Say plainly what your offer is about and what problem it solves.
Also, don't forget to include images or other visuals. Where there is visual content, there's also an increased engagement.
This is an example of a simple and straight message, with representative animated logos.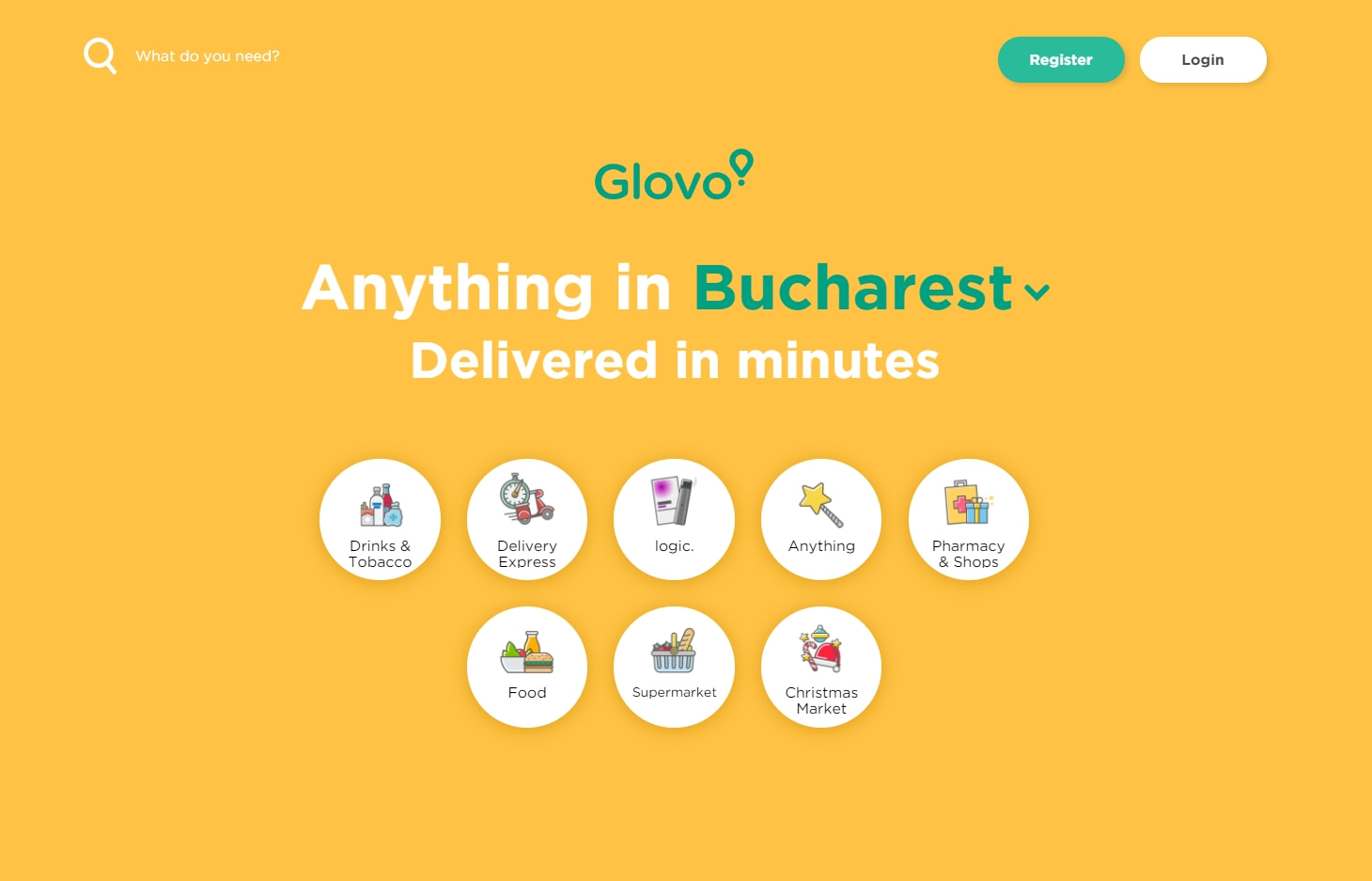 The most essential thing here is the call-to-action element. Depending on what you offer, it can be a form for an appointment, content subscription, download button, or ordering system.
In the Glovo example, you can click on a category and you are directed to a page from where you can order in a few, intuitive steps.
Another example of inviting people to join your cause is to present your mission in very few words and asking visitors to contribute to your program/project.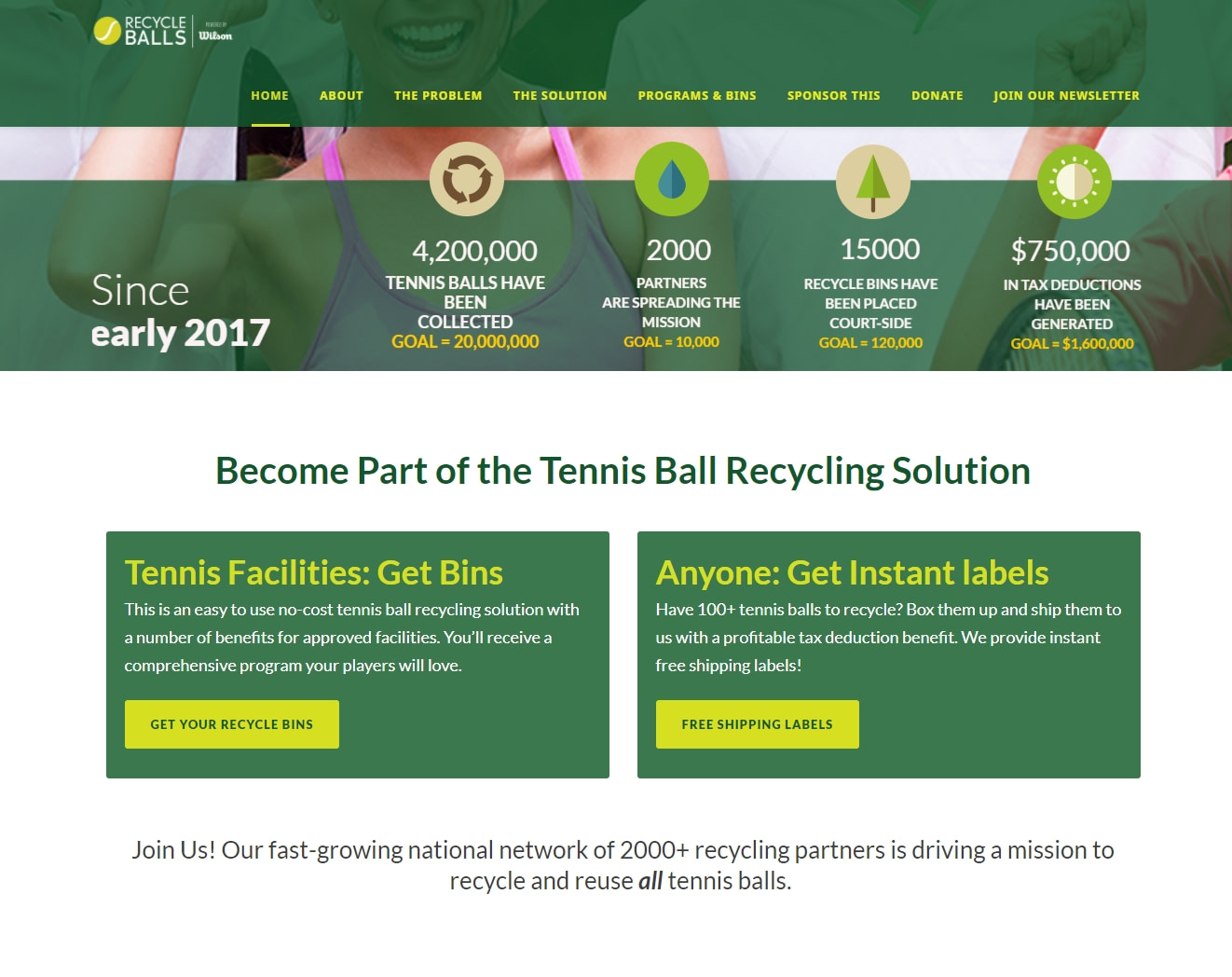 If your business consists of selling products online, then make sure to lead your visitors to your store page. Here's how to add an online store to your WordPress site.
5. Promote your online business
The next move after you start an online business is to reach a wider audience. The first thing you can do is to create social media profiles (Facebook, Twitter, Instagram, LinkedIn) and link to the website from there. You can also add your new website to your personal social media profiles and promote it to your contacts.
Once the business channels on social media are up, you can use the advertisement method once again, making sure to point to the website this time. If you manage to get visitors to your site, that's a promising entrance to your niche market.
Select "Get more website visitors" as a goal and customize the ad.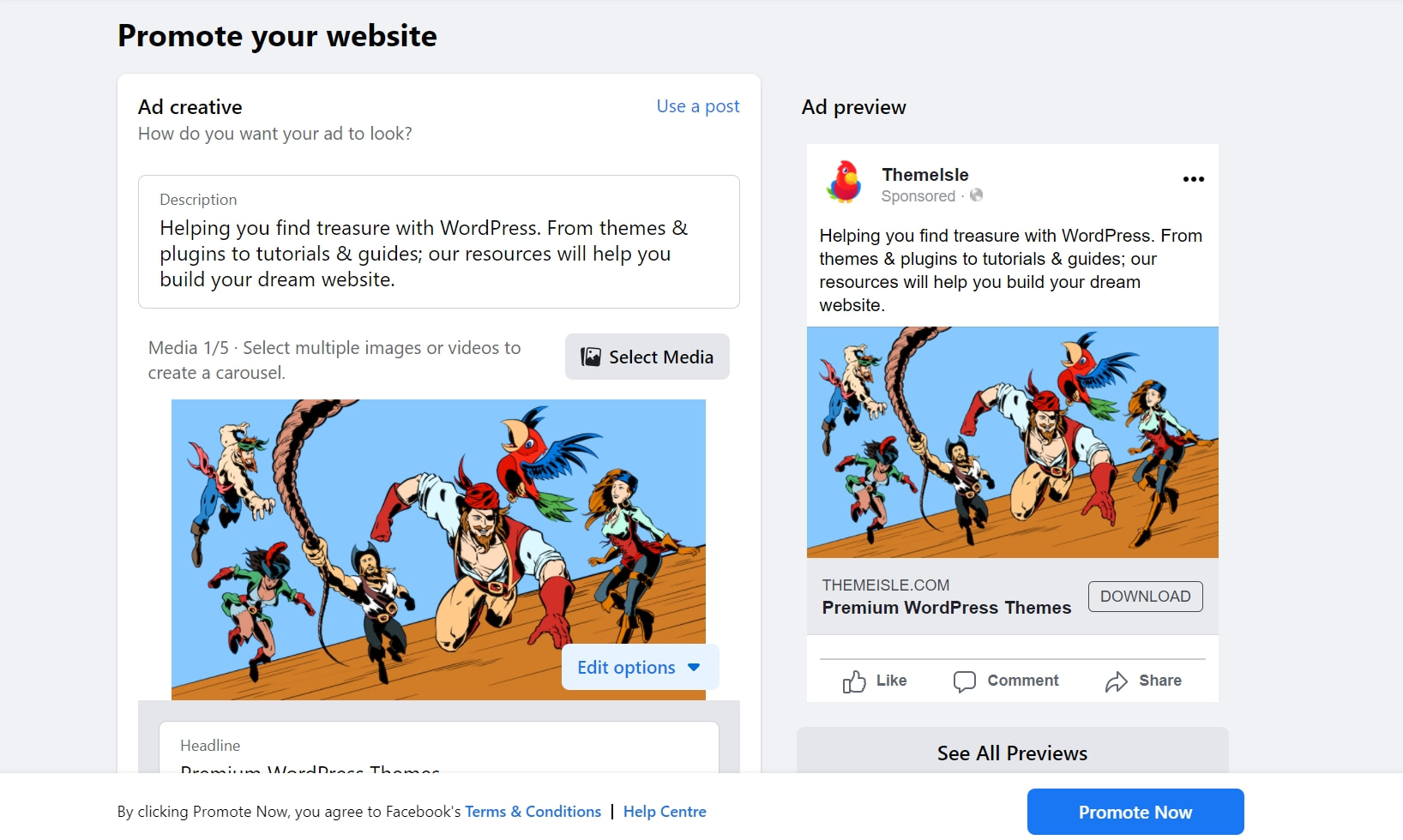 Stay up to date with the latest happenings in your business niche by keeping in touch with potential customers and making new contacts. You can join Facebook groups that are related to your area of interest and make conversation. Pay attention to members' needs, questions, and wishes so you can develop your services as per their input.
Approximate cost: $20 initially 💵
6. Start a blog and a YouTube channel
Content marketing is one of the most efficient ways to get your services promoted. Publishing on a regular basis not only will give you the chance to talk about your business but will also be the main gateway towards search engine optimization. The more you write, the higher your website will show up in the search results when people look for services like yours.
But you don't have to write about your products or services in every article, you can expand your topic range to expert advice, tutorials, reviews, and simply provide insights from your niche. People will find your content and, hence, will become aware of your website.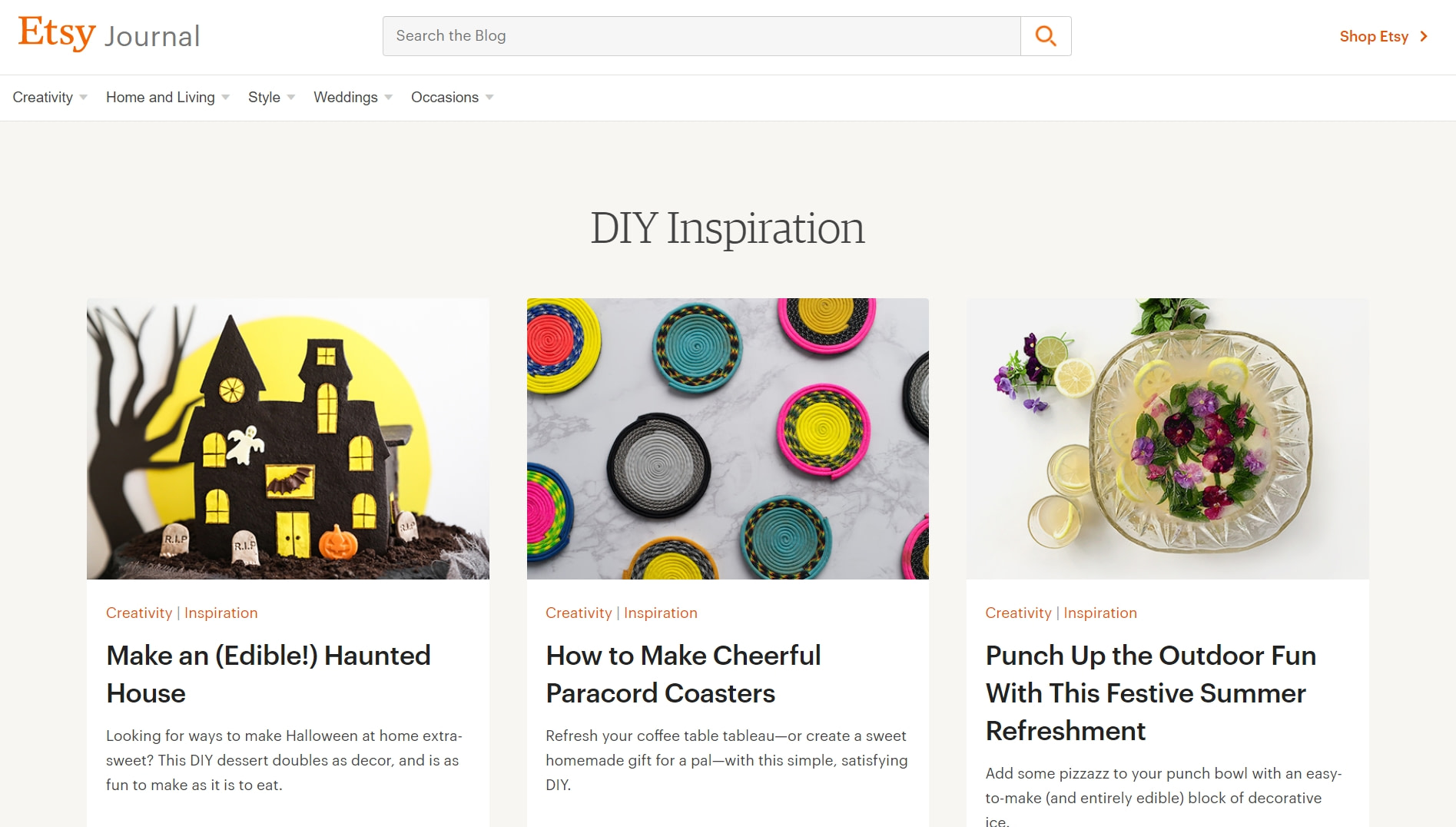 Starting a blog will weigh a lot in your SEO efforts. It will bring traffic that can eventually turn into conversions.
Another win with the blog is that it's a great source for social media content. You can share your posts on social media often and so your business pages will stay active. The more you post, the more visible your business will become.
It's the same if you start a YouTube channel. Except for when your business is primarily based on video content and a YouTube channel is a must, you can use video marketing for other purposes too. For instance, if you are selling flowers, you can post a video showing how you're making a flower arrangement for Mother's Day. With every video, you'll get new visitors until you actually build a community around your business.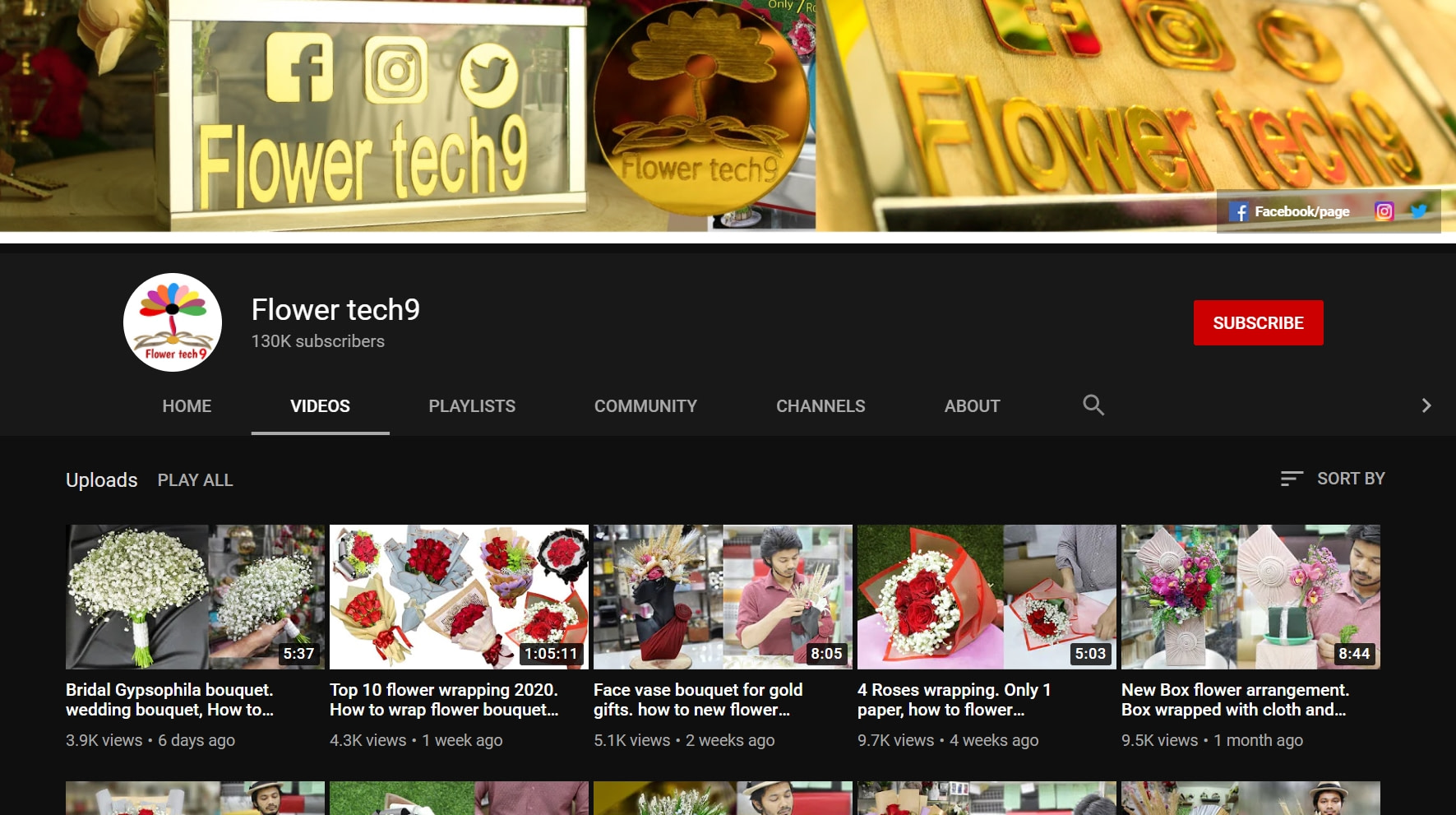 YouTube is like a blog, but for video content. It is the second-largest search engine after Google, which means that it will bring you exposure, expand your audience, increase brand awareness, and get you customers. Video marketing is today's most emerging trend, so try to make the most of it.
Approximate cost: $0 💵
Start an online business in 2022
The thing is, anyone can start an online business because the internet is full of resources and the budget is decent for every pocket. The hurdle is to actually get to work and be consistent in delivering high-quality content. And have patience, results won't come overnight.
You have all the time in the world to find success, but that can only happen after you get started. Let's quickly recap how:
Find a business idea: $0
Validate the idea: $10-$15
Build a website: $110 (with a premium theme) or $50 (with a free theme)
Promote the online business: $20 (initially)
Start a blog and YouTube channel: $0
Total: $80-$145 💵
Now, we want to hear from you. Have you successfully launched your business online? Tell us more about your experience and the methods you used to fire up the engine. If you haven't yet, then what is keeping you from doing it?
Free guide
5 Essential Tips to Speed Up
Your WordPress Site
Reduce your loading time by even 50-80%
just by following simple tips.