Want to offer WooCommerce wholesale pricing at your store?
In this post, you'll learn how to set up WooCommerce wholesale pricing using a free plugin.
The goal with wholesale pricing is to create somewhat of an online oasis for your special wholesale buyers. If they purchase in bulk they should get a discount, but that doesn't mean you want this pricing to be public.
We'll explain some of the reasons you might want wholesale pricing then walk through the steps needed to implement it on your website.
When to use WooCommerce wholesale pricing
Not every website owner needs to configure wholesale pricing on their site. However, many online stores sell items in bulk, or it wouldn't be a bad idea to consider selling in large quantities. This makes it reasonable to consider a wholesale pricing system.
What are some situations where you should think about adding a wholesale pricing module to your WooCommerce site?
If you own and operate a manufacturing or supplier business.
If you're currently handling manual orders without the efficiency of an automated system.
If you allow your buyers to negotiate, but it's all done through emails or form submission tools.
If you're selling items in bulk to resellers or retailers.
If you've found that dropshipping companies are purchasing from your shop and you need an organized way to show pricing.
If you sell both individual products and in bulk. A better wholesale pricing option would allow for dynamic pricing when people decide to add more to their cart. You may also consider a completely different purchase page for wholesale buyers.
How to add WooCommerce wholesale pricing to your site
Here's how to activate the wholesale pricing on your WooCommerce store using a free plugin.
1. Install and activate the WooCommerce Wholesale Prices plugin
The WooCommerce Wholesale Prices plugin provides free and premium versions of the plugin. The free plugin is pretty basic, but it works rather well for instantly adding wholesale user roles and incorporating wholesale pricing for those users on certain products.
You could also upgrade for more features if you like the plugin and could use additional tools and support.
Begin by going to your WordPress dashboard. Click on Plugins → Add New. Search for this particular plugin. Install and activate it on your WordPress site.
If you've never installed a WordPress plugin, or you need a refresher, go to this guide to learn how.
2. Add a new wholesale customer user role
There are two requirements for listing your products at wholesale prices. The first is to set specific users as "Wholesale Customers." This way, "regular" users don't get access to the special pricing given to wholesale buyers.
The second step is to mark the wholesale prices on your WooCommerce product pages for the Wholesale Customers to buy.
To get started, go to Users → Add New in your WordPress dashboard.

You may also decide to go to your list of current users to change the information under previously created customers. Regardless of your path, the end goal is to click on a user to edit the profile information.
Once inside a user profile, you can edit any of the fields like username, email, and name. The most important part of setting wholesale pricing is to find the Role dropdown field.
Click on that field and look for the Wholesale Customer user role. Select that and either click on Add New User or Save, depending on if this is a new or old user.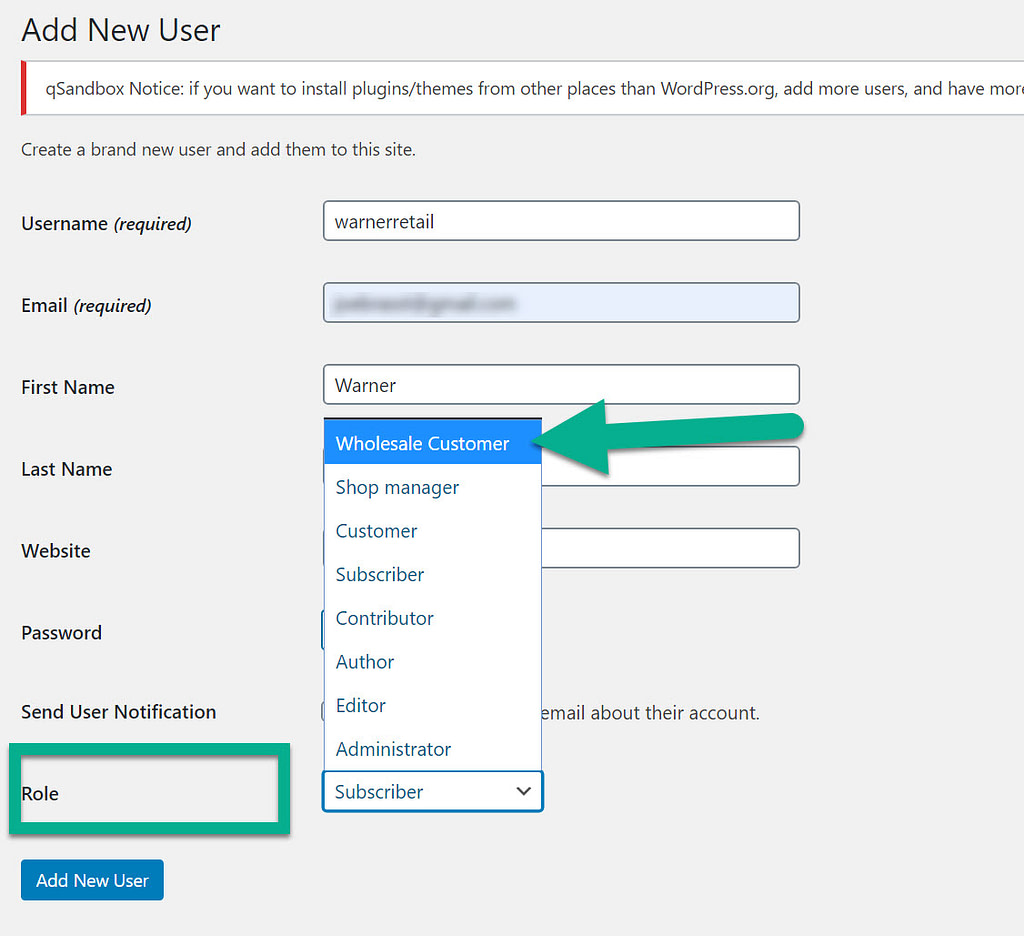 3. Add wholesale pricing to the products of your choice
Now you need to edit the products that you plan on selling for wholesale prices. You might consider doing this for all of your products, or maybe just a few of them.
Regardless of your strategy, go to Products → All Products in your WordPress dashboard.
Select the product you want to adjust.
Scroll down to the Product data section. In the General tab, look for the new Wholesale Prices header.
All you have to do is type in the price that wholesale buyers get for this item.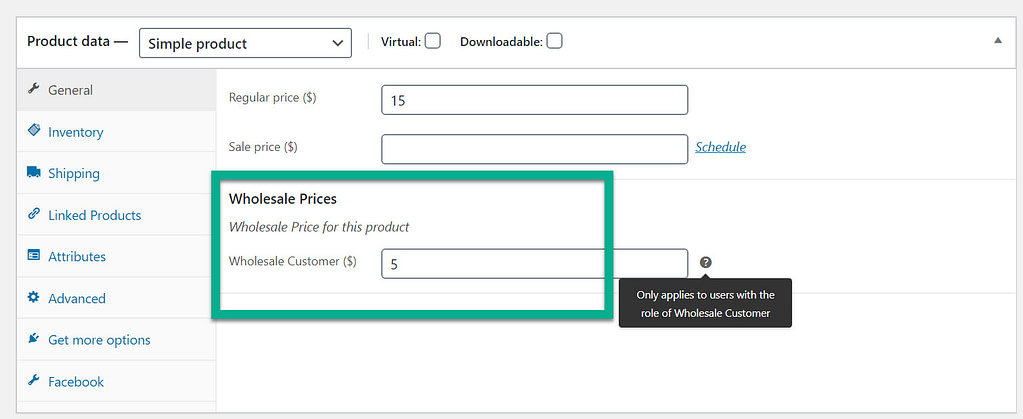 Now that you've set the user role and the pricing on a product page, a Wholesale Customer user can go to that page, and only they can see the special pricing set up for them.
That is, "normal" customers will see the price from the Regular price field, while customers with the Wholesale Customer user role will see the price from the Wholesale Customer ($) field.
4. Disable coupon codes for wholesale users (optional)
Wholesale customers already get a discount for buying in bulk. Therefore, you may find it prudent to exclude these users from coupon deals. After all, you don't want a wholesale user noticing a steep discount code that's meant for regular customers, only to cut the wholesale price to something that doesn't render a profit for you.
To prevent wholesale users from using coupons:
Go to WooCommerce → Settings.
Click on the Wholesale Prices tab.
Check the box to Disable Coupons for Wholesale Users.
After that, click on the Save Changes button.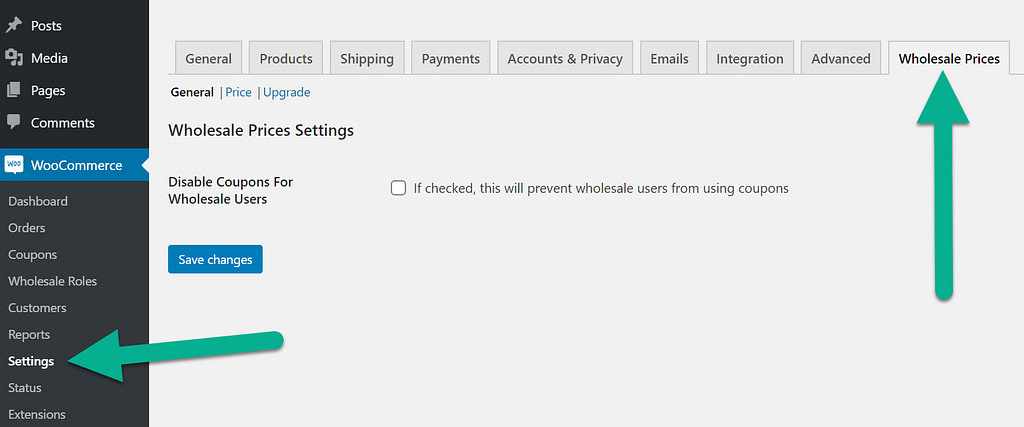 5. Customize wholesale pricing display
There aren't many customization tools in the free version of the WooCommerce Wholesale Prices plugin.
However, a few settings are available for you to adjust what the wholesale buyers see.
While still under the Wholesale Prices tab (in the WooCommerce Settings,) select the Price link.
Here, you're given a field for changing the wholesale price text for the frontend.
You can also hide the original price instead of displaying the crossed-out original pricing.
This is a nice little feature for flexibility, but in my opinion, having a crossed-out price is an excellent sales strategy. So, I would leave it unchecked.

6. Test your wholesale pricing
To make sure everything worked – and to get an idea of what your wholesale customers see – make sure you preview the frontend of the wholesale product pages.
If you're having problems seeing the wholesale price listed, you'll most likely need to log out of your WordPress site and log in with an account that has the Wholesale Customer user role. Feel free to make a fake user in order to test this – you can follow our guide to quickly switch between user accounts to easily test this without wasting time.
As you can see in the screenshot, the plugin presents a crossed-out regular price. Right below that, it displays the wholesale price that you set while editing the product.
Remember, this pricing is now only available for that Wholesale Customer user role. No one else will be able to see it and make purchases.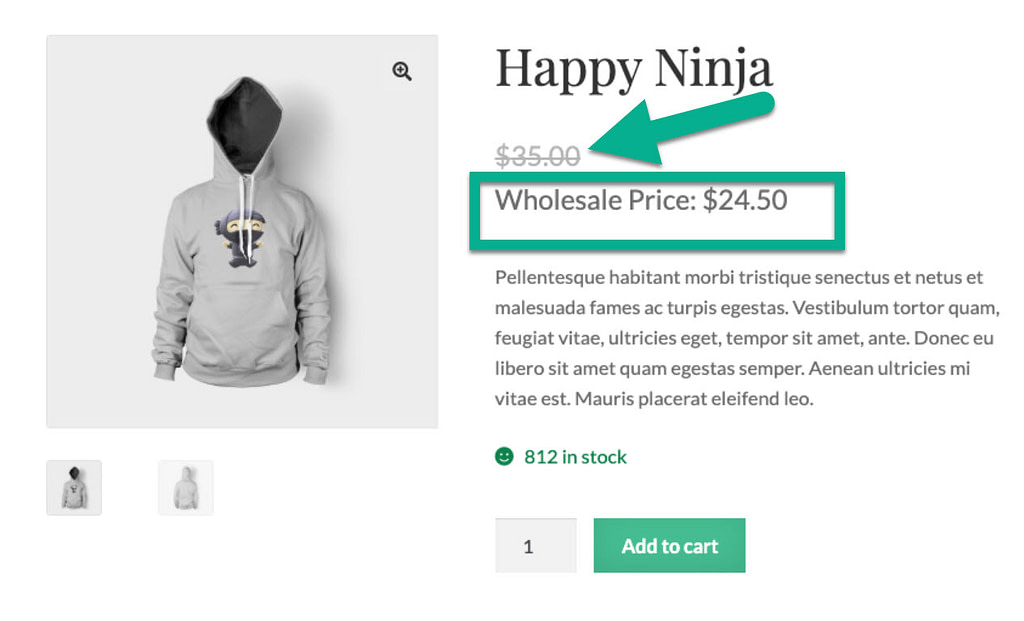 Final thoughts
In this article, you learned how to set up WooCommerce wholesale pricing using a dedicated Wholesale Customer user role and completely separate prices for normal vs wholesale customers.
Another option, however, would be to use WooCommerce dynamic pricing. With dynamic pricing, you can display the same prices to all users, but offer hefty discounts for bulk purchases.
Do you have any questions about how to set up wholesale pricing on WooCommerce? Ask us in the comments!
Free guide
5 Essential Tips to Speed Up
Your WordPress Site
Reduce your loading time by even 50-80%
just by following simple tips.