Searching for a way to send a WooCommerce invoice PDF when someone places an order on your site?
By default, WooCommerce already offers a feature to send email invoices when selling online. However, that functionality is limited to simple, preset email designs. It also doesn't offer a PDF option for printing or downloading and there's no easy way to manually send invoices to customers.
That's why in this article, we'll walk you through a step-by-step tutorial on how to send a WooCommerce invoice with settings for attaching PDFs, manually sending them to customers, and customizing the design of the invoices.
Best of all, you'll be able to set up this functionality using a free plugin. Let's dig in…
How to send a WooCommerce invoice
In a previous article, we covered the best invoicing plugins for WordPress. We encourage you to explore all of those, but for this tutorial, we opted for the free WooCommerce PDF Invoices and Packing Slips plugin because…
It offers a stellar feature list even though it's free.
It's very popular and well-rated – it's active on over 300,000 sites with a perfect 5-star rating on over 1,200 reviews.
Here's how to set it up…
1. Install a WooCommerce invoice plugin
To get started, install and activate the WooCommerce PDF Invoices and Packing Slips plugin in your WordPress dashboard.
If you need help with this, use our guide on how to install a WordPress plugin. You should also make sure you have WooCommerce installed before trying to use this plugin.
2. Run the setup wizard
You can find the plugin's settings by clicking on WooCommerce > PDF Invoices in your WordPress dashboard.
The plugin offers a lot of settings to help you configure it to your situation. Luckily, the WooCommerce PDF Invoices plugin offers a setup wizard to complete most of the process.
To get started with it, click on the Run The Setup Wizard button.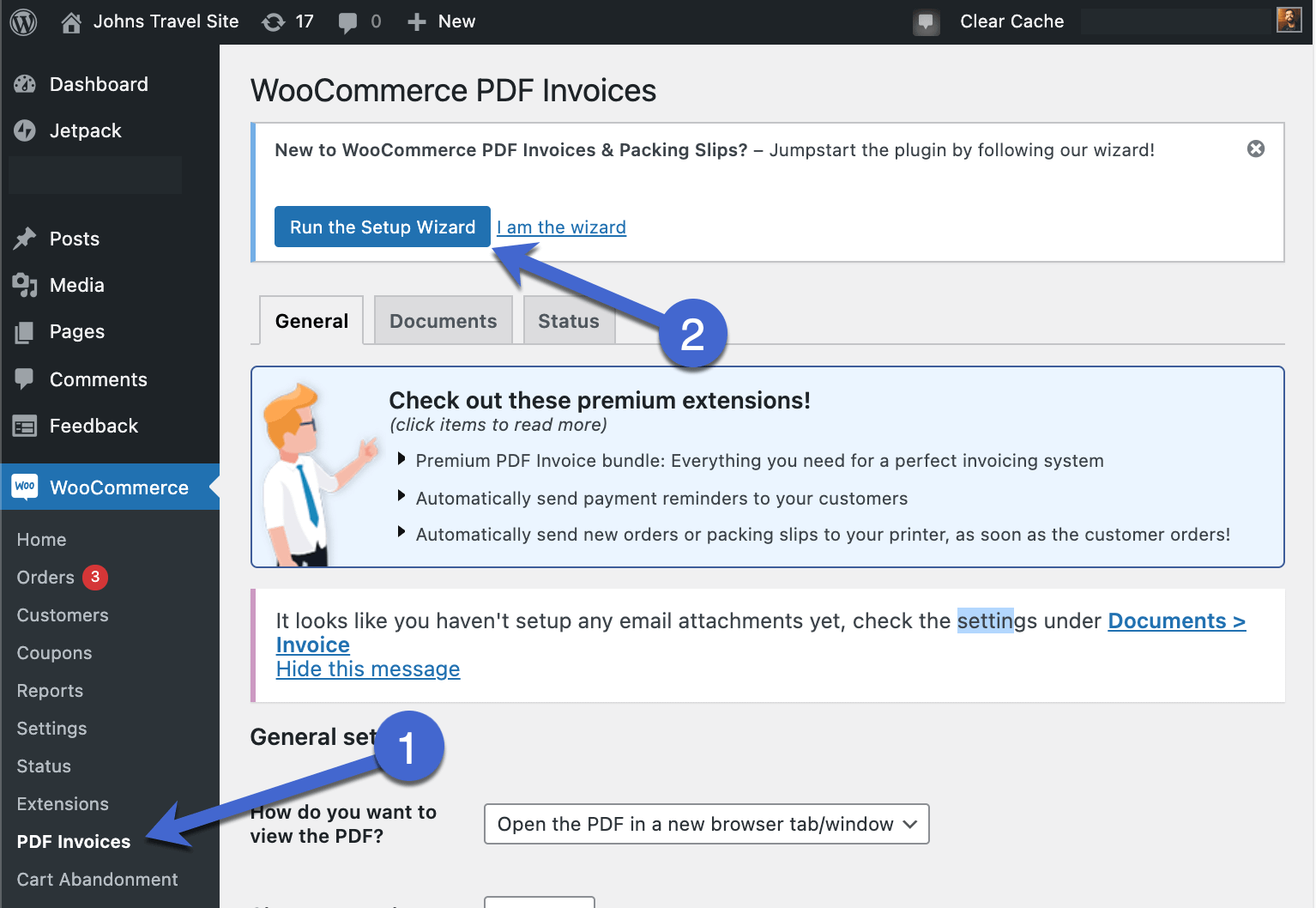 3. Put your company name, address, and logo on the invoice
The setup wizard walks you through the most important settings you need for your standard WooCommerce invoice.
For instance, the first step asks you to type in the name of your shop and its address. The plugin will include these details on your invoice.
Go ahead and fill in those fields and click Next.
It's also important to have your company logo on the invoice.
On the next window, click on the Set Image button to upload a logo.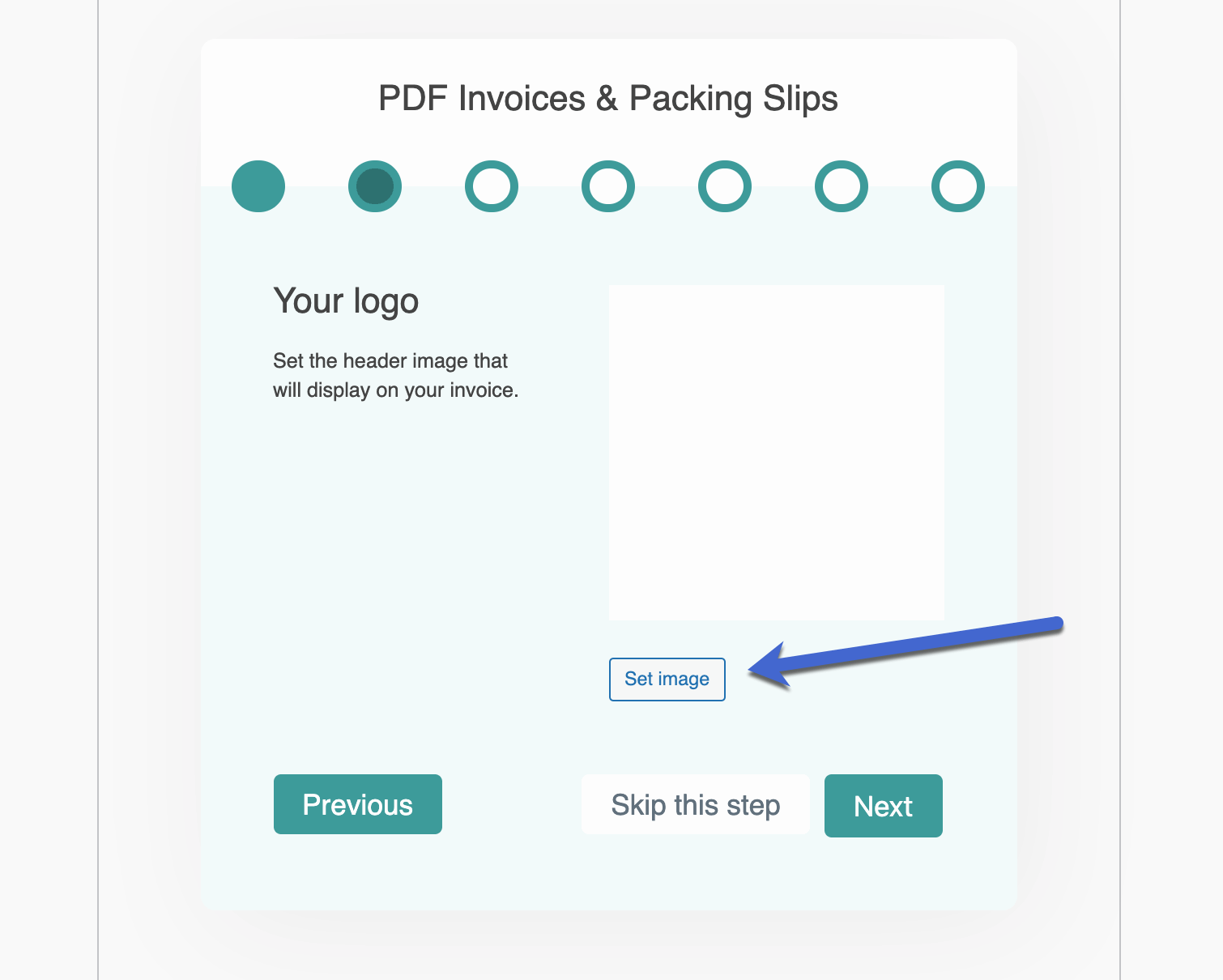 This logo appears as a preview on the screen and the plugin also will include it in your PDF invoices.
Click Next.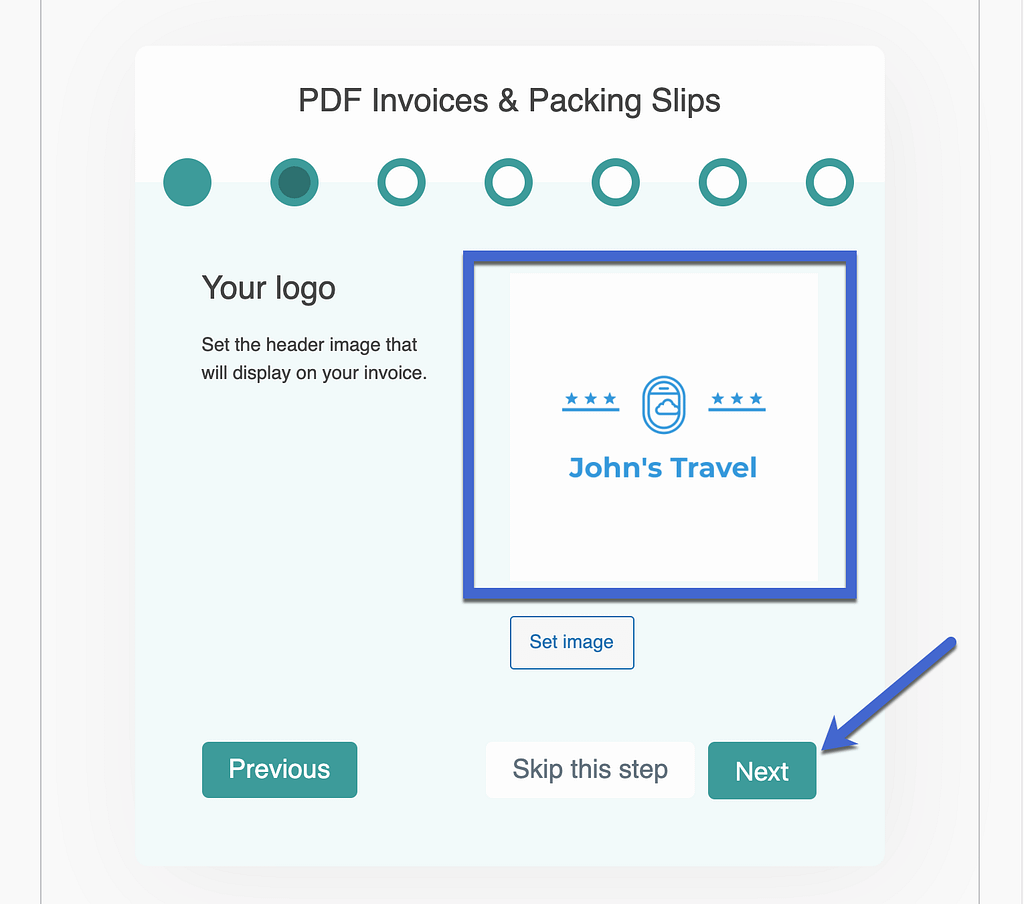 4. Attach the invoice to specific eCommerce emails
WooCommerce already sends out emails for key events such as new orders, canceled orders, and refunded orders.
However, none of them have a downloadable, PDF invoice attached to them, so now's the time to indicate which ones should have those invoices included.
It's not a bad idea to attach the invoice to every email that goes out for an order. However, you can decide to remove the WooCommerce invoice from some emails if needed.
Click Next to move on.
Note: One of the more important ones to select is the Customer Invoice / Order Details (Manual Email) box, as this is one of the easiest ways to manually send your PDF invoices.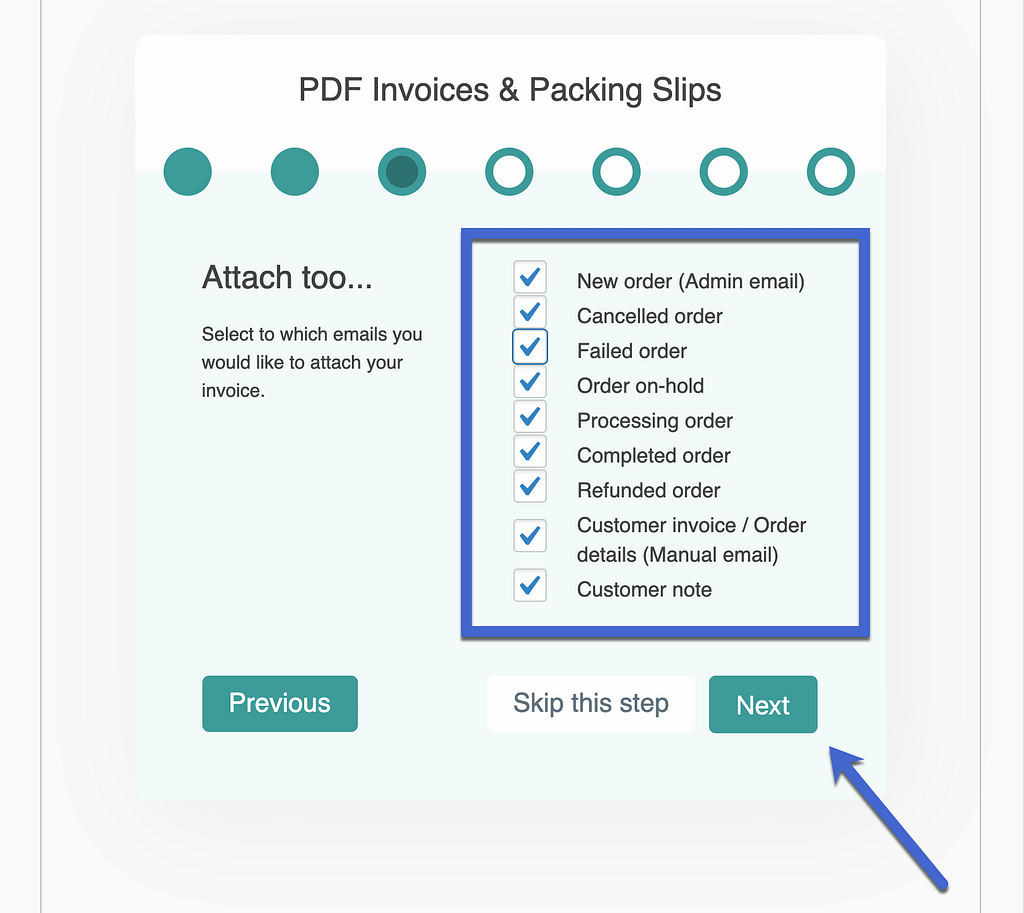 The Display Options section lists several items such as contact information and invoicing information that you can include on your WooCommerce PDF invoice.
We recommend including them all unless you don't want to have the customer's phone number or email on the invoice.
Click Next.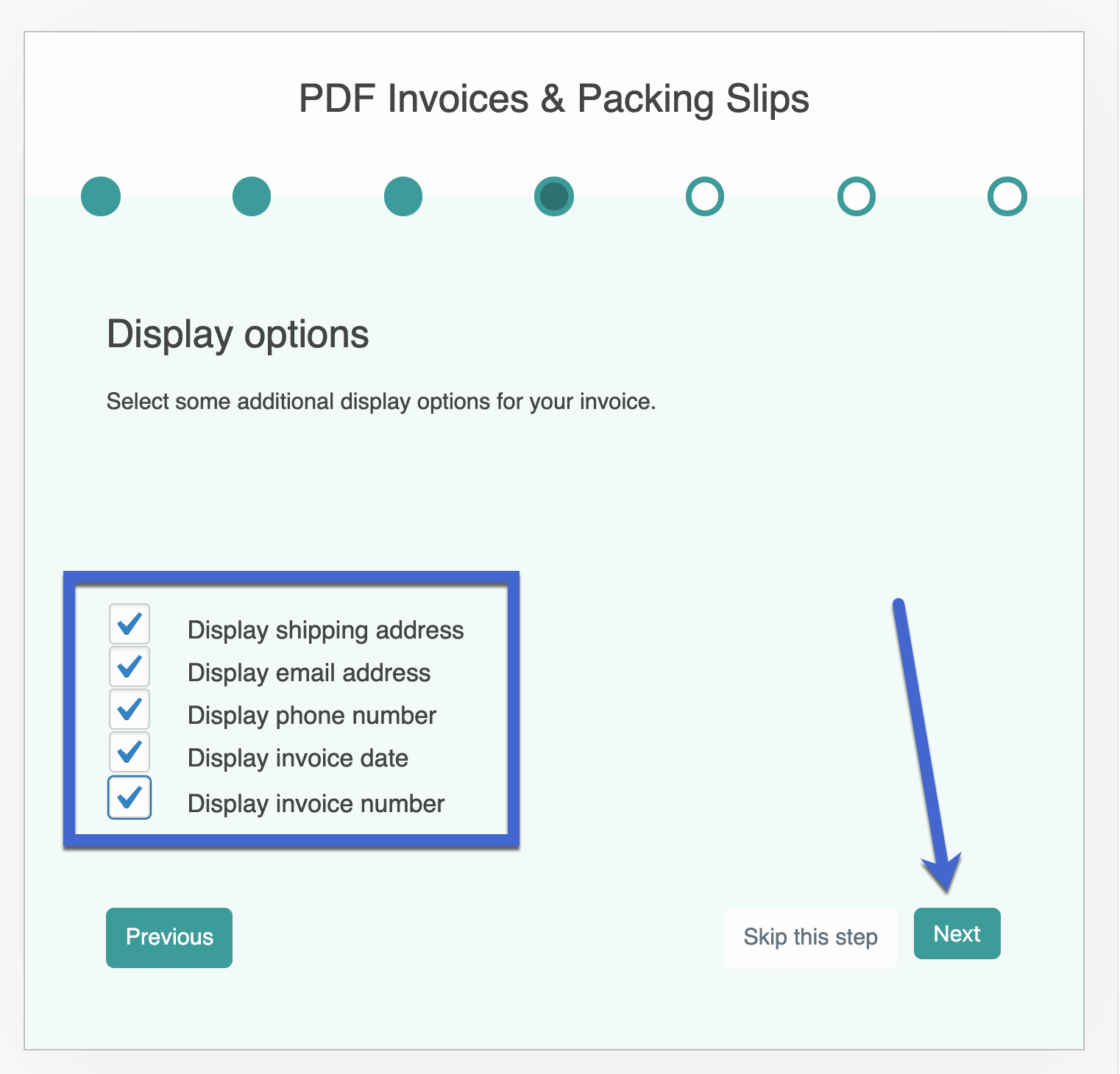 You can also specify which type of paper format you desire for the invoice. These dictate how the invoice gets printed out.
Go with an A4 or Letter format, then click Next.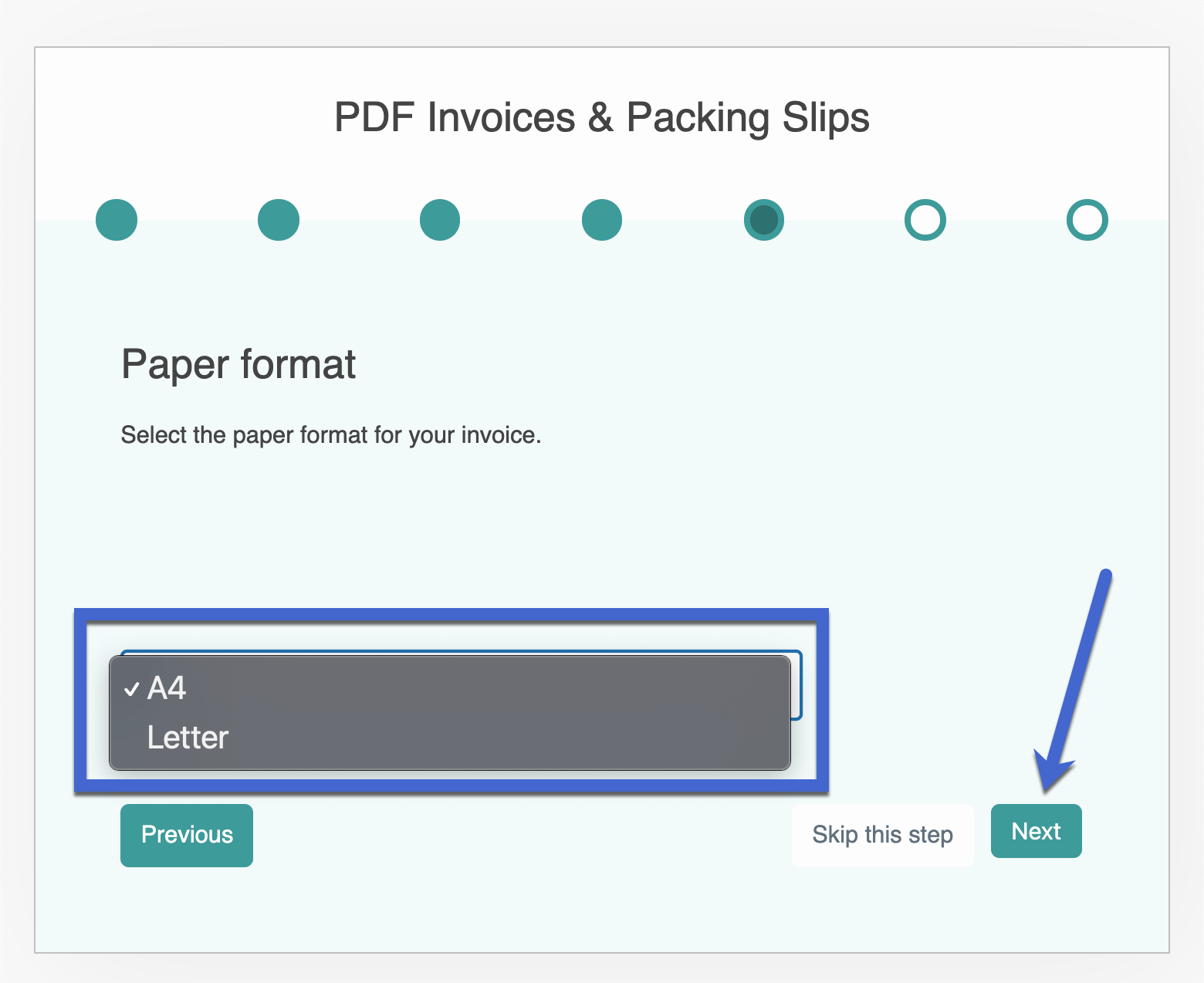 Sometimes you need to manually send an email. This is a common practice in B2B sales. It's also wonderful if a customer misplaced an invoice or didn't get it the first time.
Regardless of the reasoning, this section allows you to activate action buttons. If you enable action buttons, you'll get a new option in the WooCommerce order list that lets you manually send an invoice to certain customers with the click of a button.
If you think you'll need to manually send invoices on a regular basis, you should definitely enable this option.
Once you check the Show action buttons box, click on the Next button.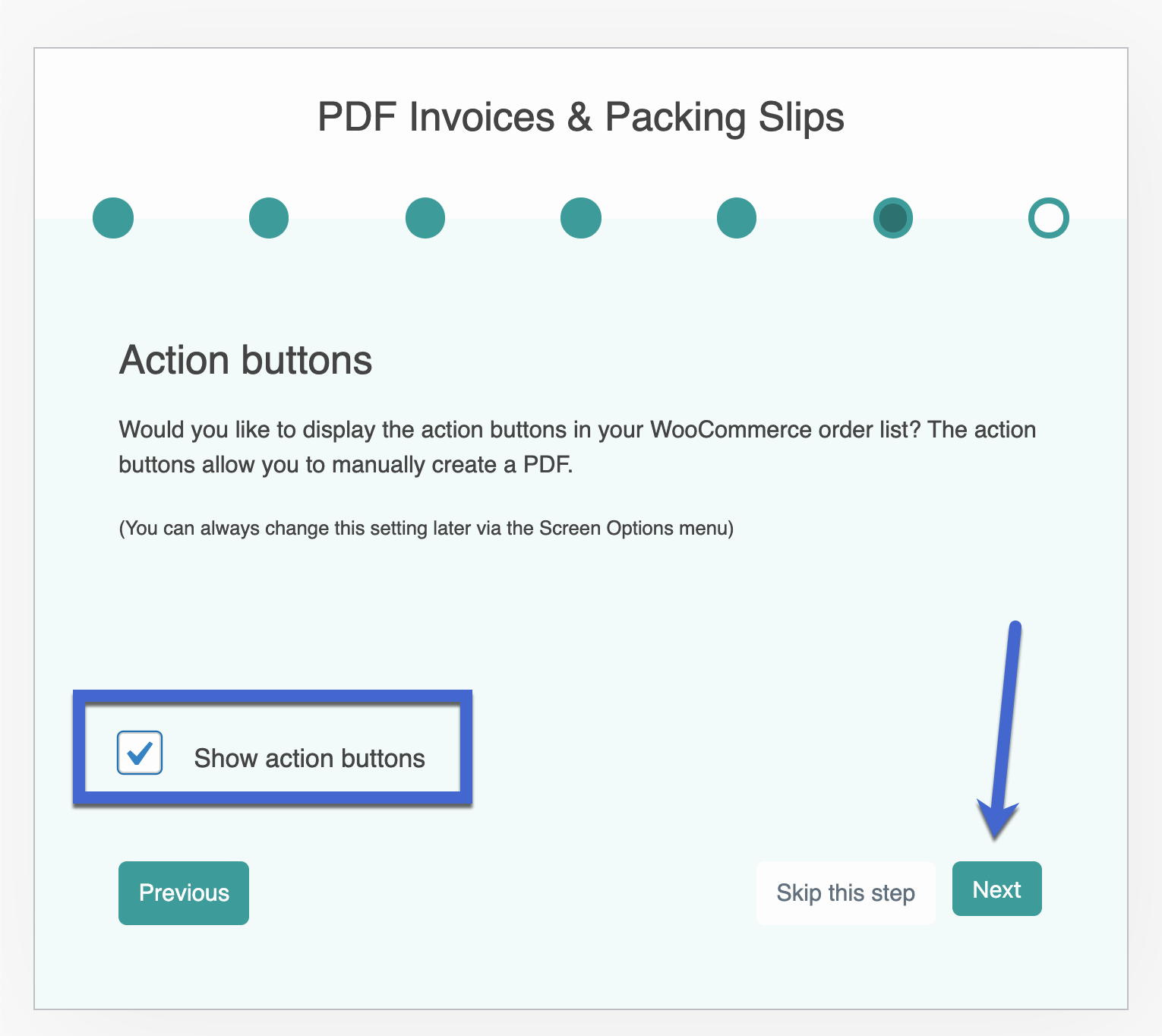 And that's all there is to the setup wizard. The majority of your WooCommerce invoice settings are now ready.
Click the Finish button to go back to the dashboard.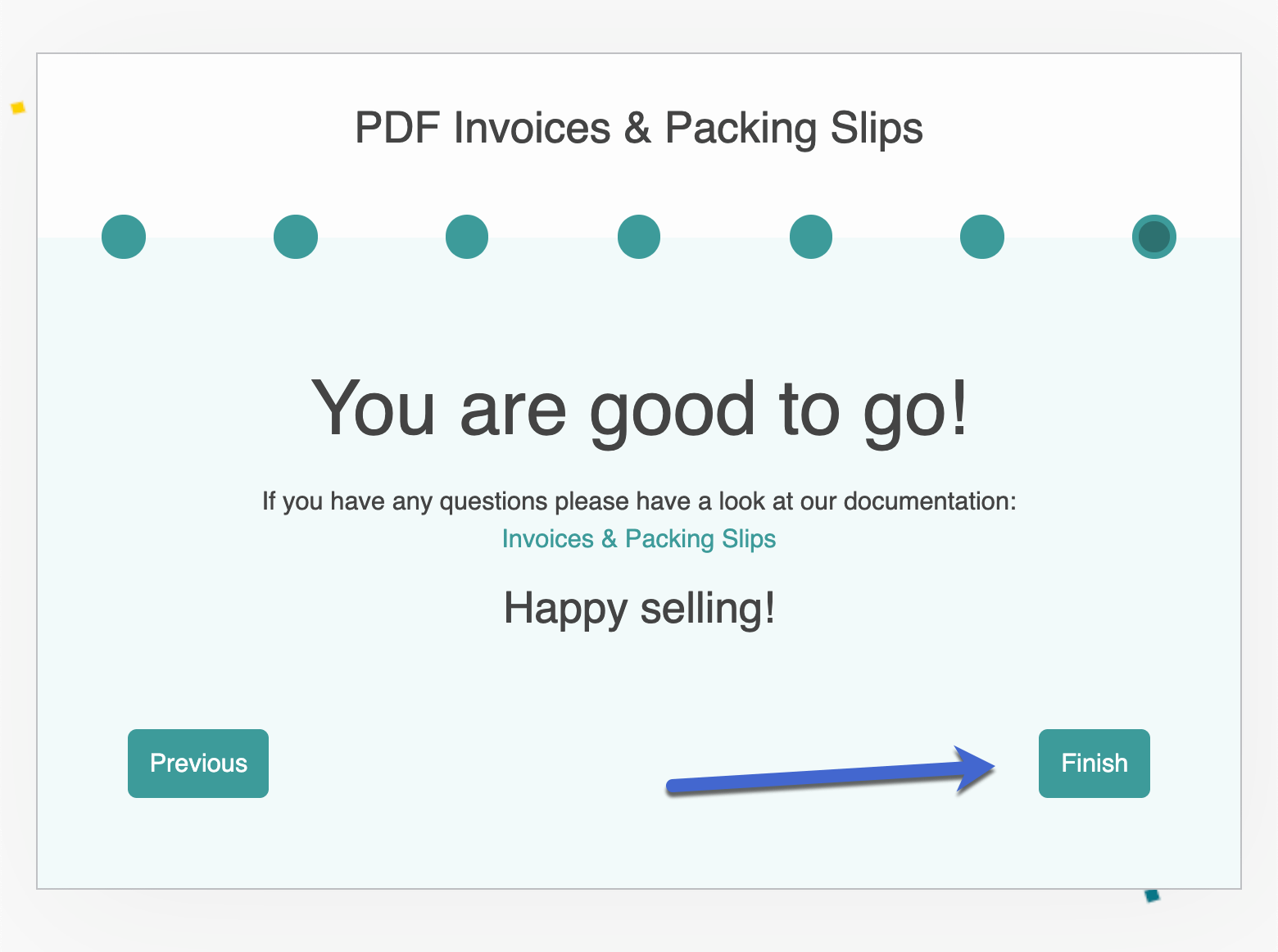 6. Change the order actions to send email invoices
Now that you've configured your invoices, two things occur:
The plugin will automatically attach PDF invoices to all automated order emails that you selected in the setup wizard (such as order confirmations, cancellations, and shipment confirmations).
The plugin will add new options to the WooCommerce order management interface to let you manually send invoices if needed.
So, you can rest easy knowing that the automated emails have the PDF invoices attached. You can even run some test orders to see if they work.
However, you also have the ability to resend those emails and adjust order actions with the PDF invoices included.
To do so, open an order in WooCommerce (go to WooCommerce > Orders and choose an order from the list).
Go to the Order actions section, and choose the dropdown menu.
You can now perform the following actions:
Email invoice / order details to customer
Resend new order notification
Regenerate download permissions
For instance, choosing one of the first two options is a great way to resend or manually send an order email with an invoice.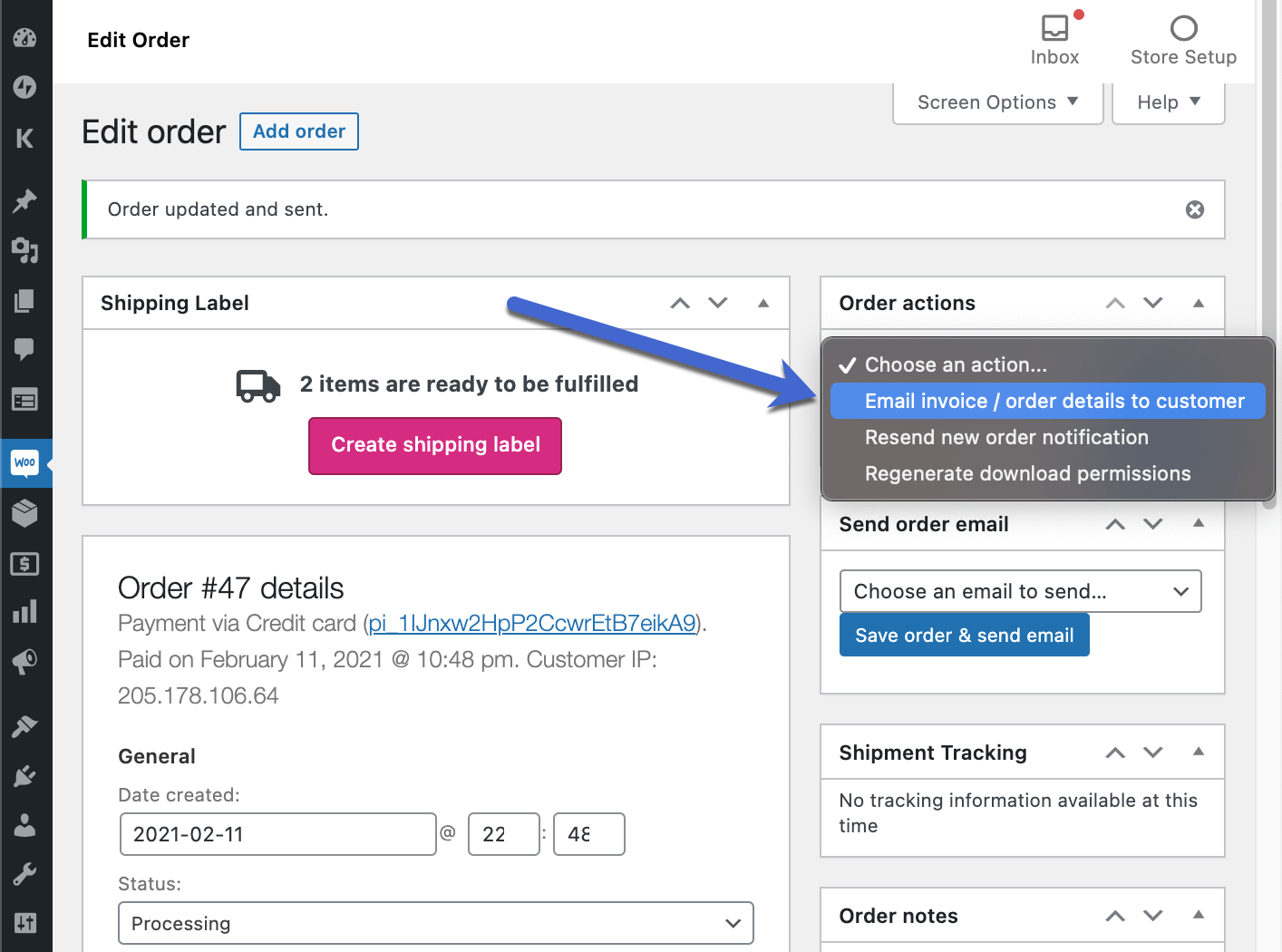 The WooCommerce email goes to the customer's inbox as usual, but they also get a PDF invoice at the bottom.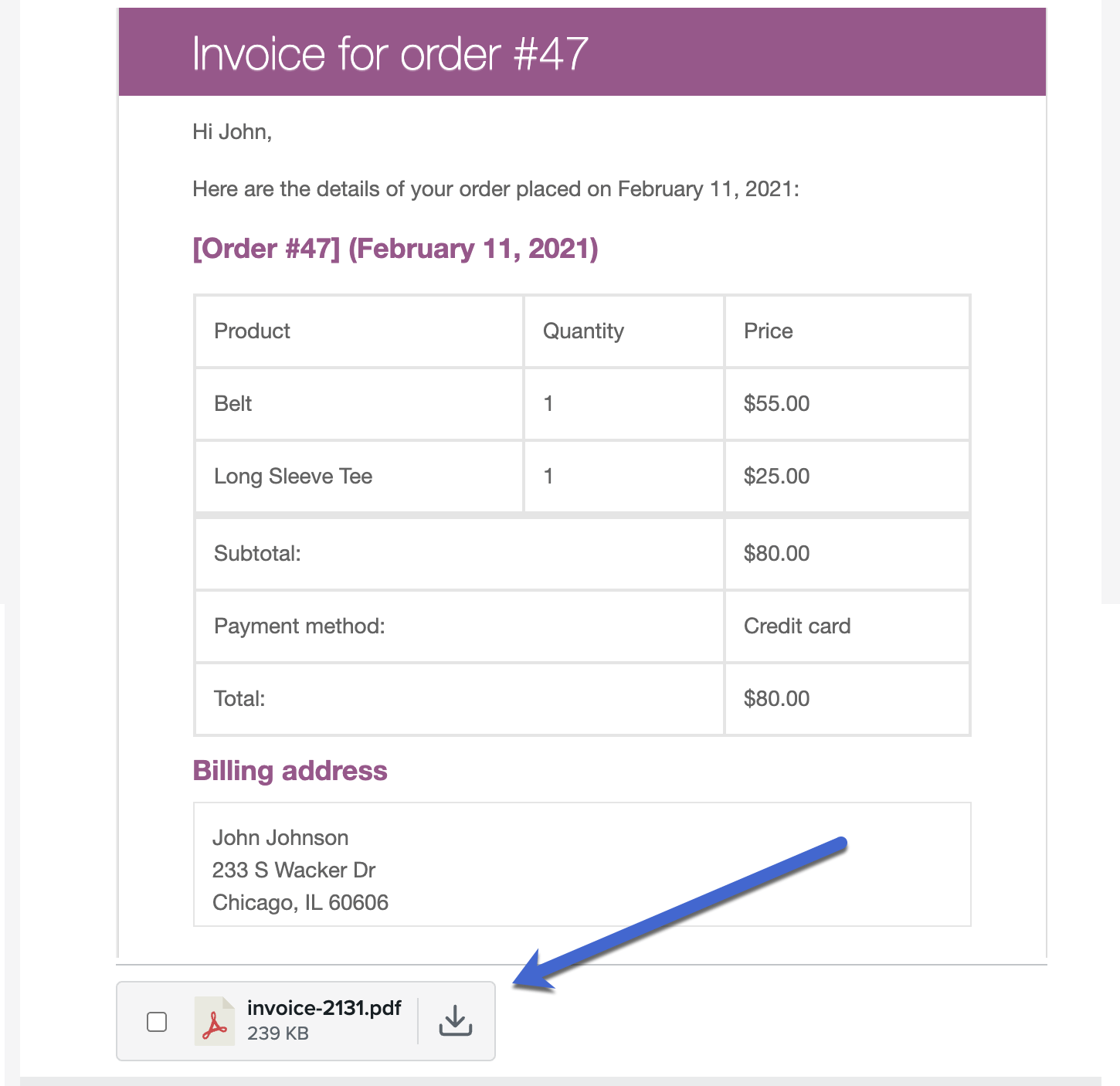 If a shopper clicks the invoice, it will download to their computer or display in their browser.
As you can see, the plugin automatically adds all of the elements from the setup wizard to the invoice, including the Invoice Number, Invoice Date, Logo, and Company Address.
If you want to change the template for your invoice, you can do that later on.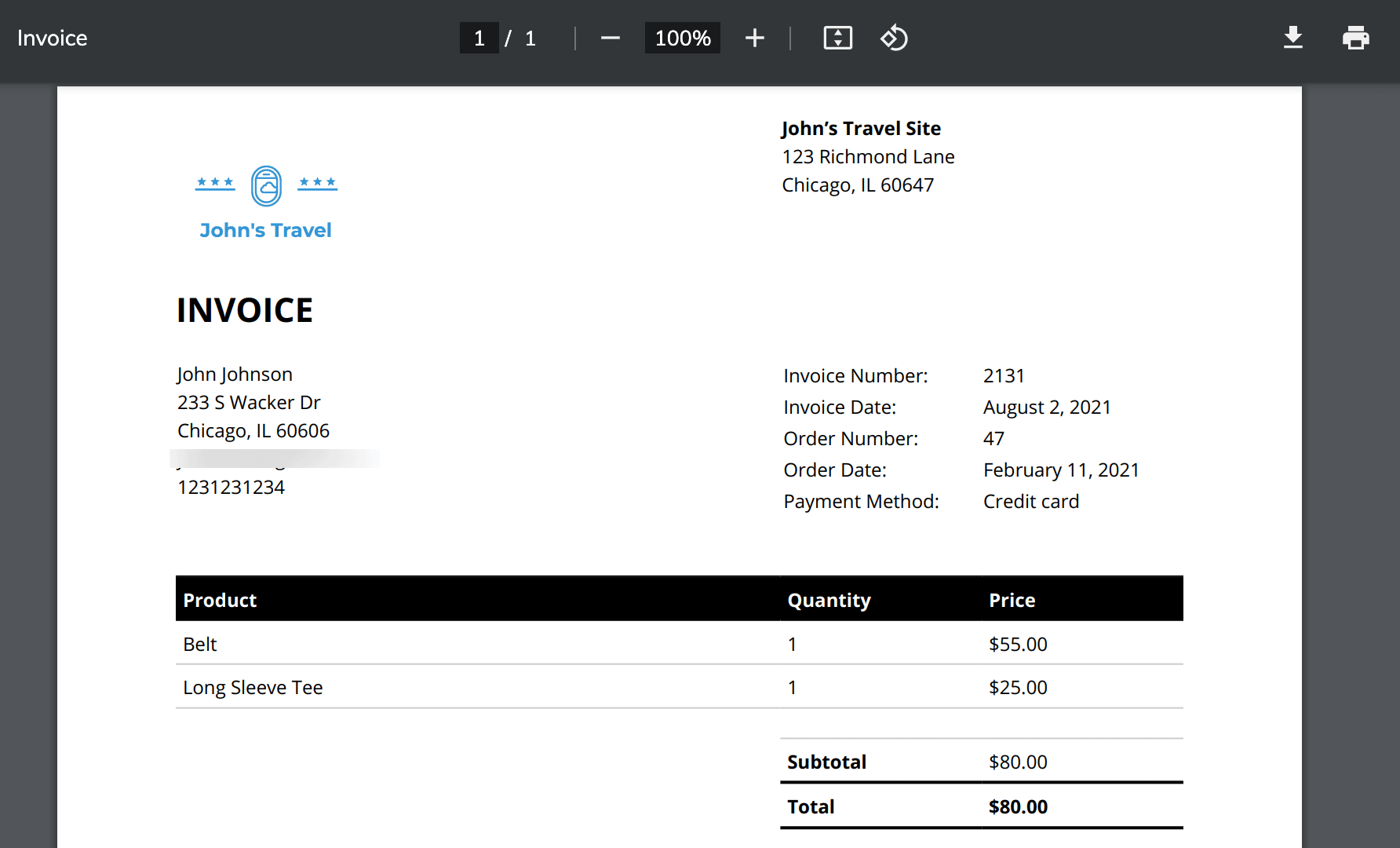 7. Automatically or manually send out order emails with WooCommerce invoices
In addition to the order actions, you're still able to use the Send order email module. This is no different than what's already in WooCommerce, but each of the emails now has the attached invoice.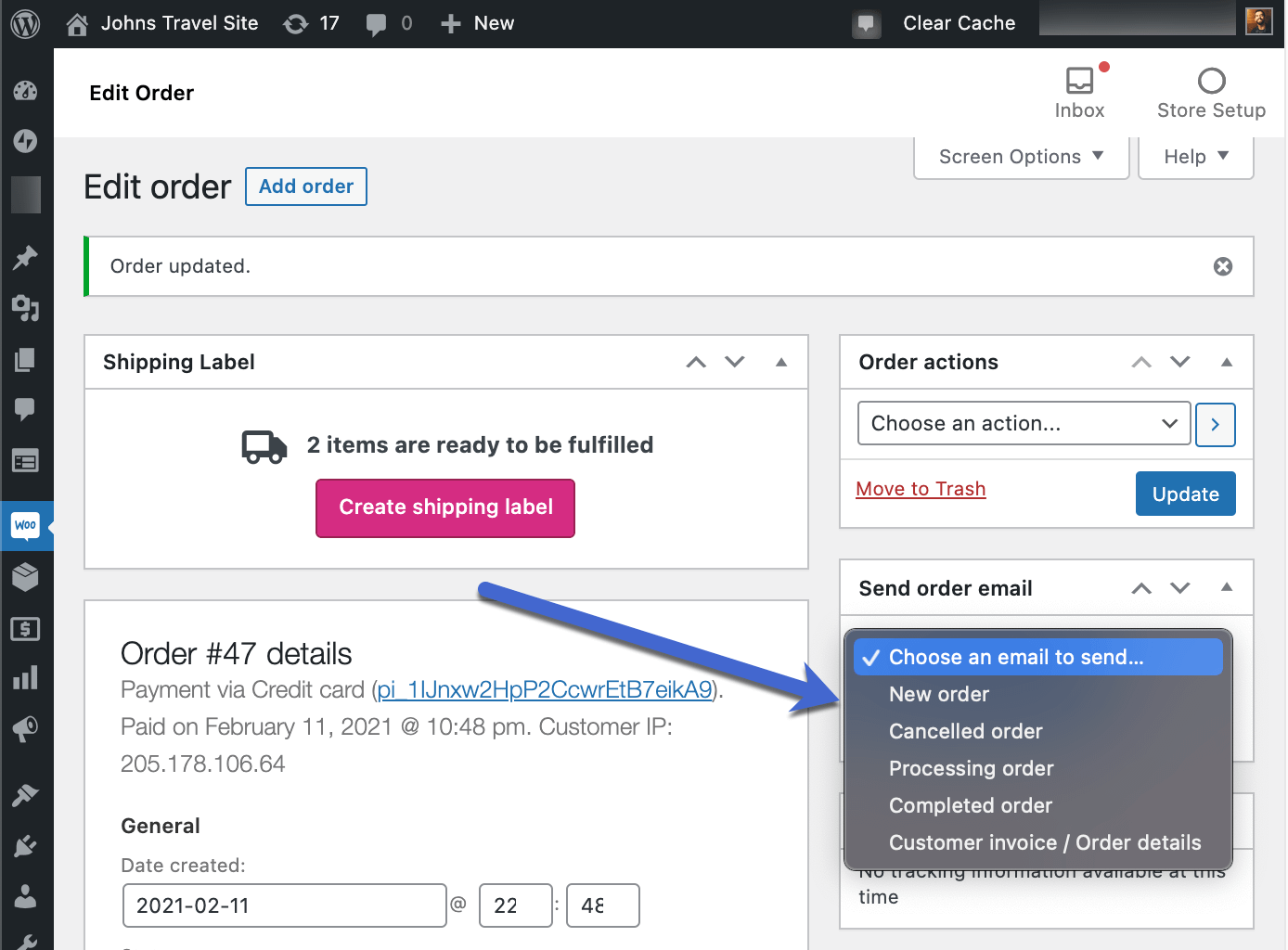 For example, if you enabled attaching the invoice to order cancellation emails in the setup wizard, the plugin will automatically attach the PDF invoice if you use the Send order email module to send a canceled order email: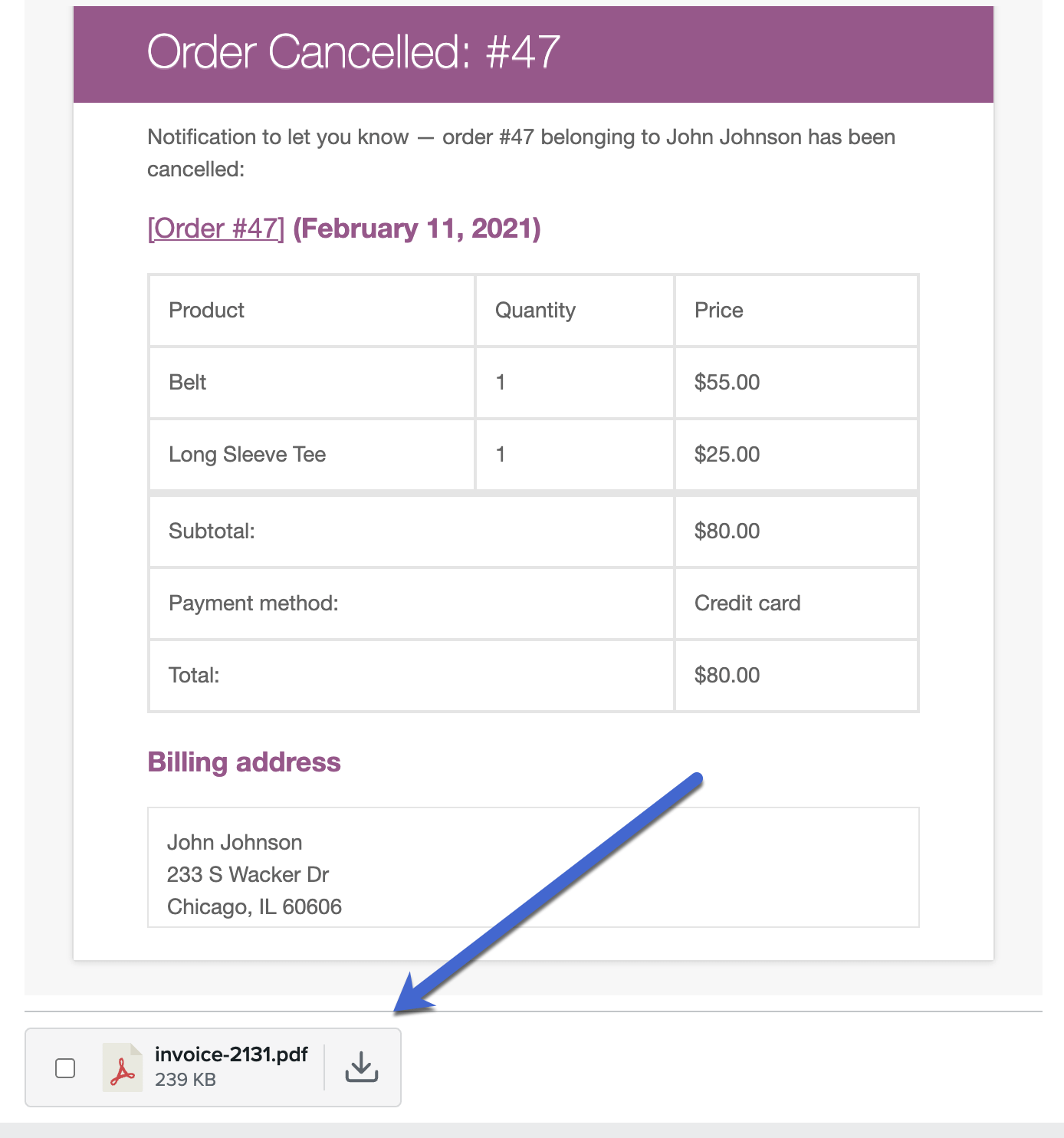 8. Create a PDF WooCommerce invoice or packing slip for printing or downloading
The last area that's worth looking into is for printing or downloading a WooCommerce invoice on your own computer. It's possible you want to store these invoices in your accounting files or you need to download the files and send them to customers.
As a bonus, you're able to download and print PDF packing slips.
For both, find the Create PDF module on any order page.
Click the PDF Invoice button or the PDF Packing Slip button to download those documents.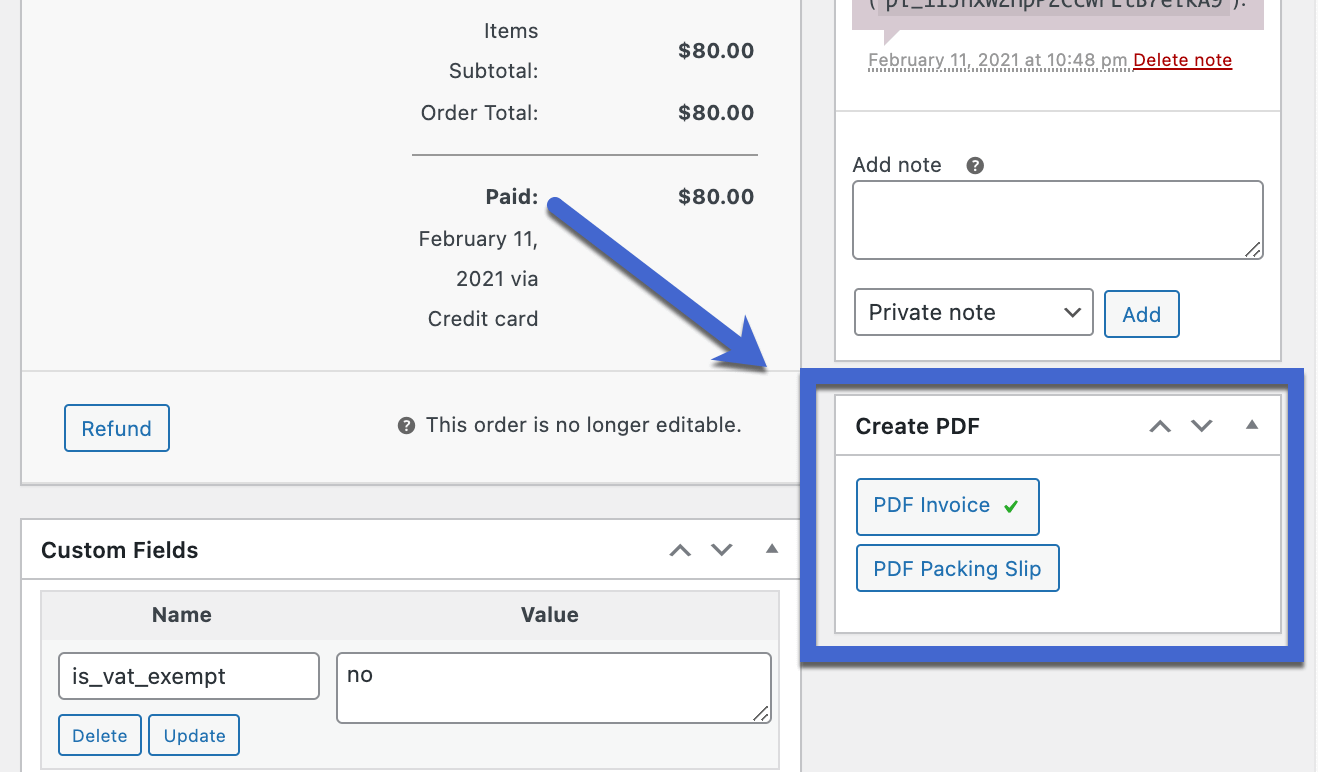 You can then click the download button to save to your computer or the print button to send the file to a linked printer.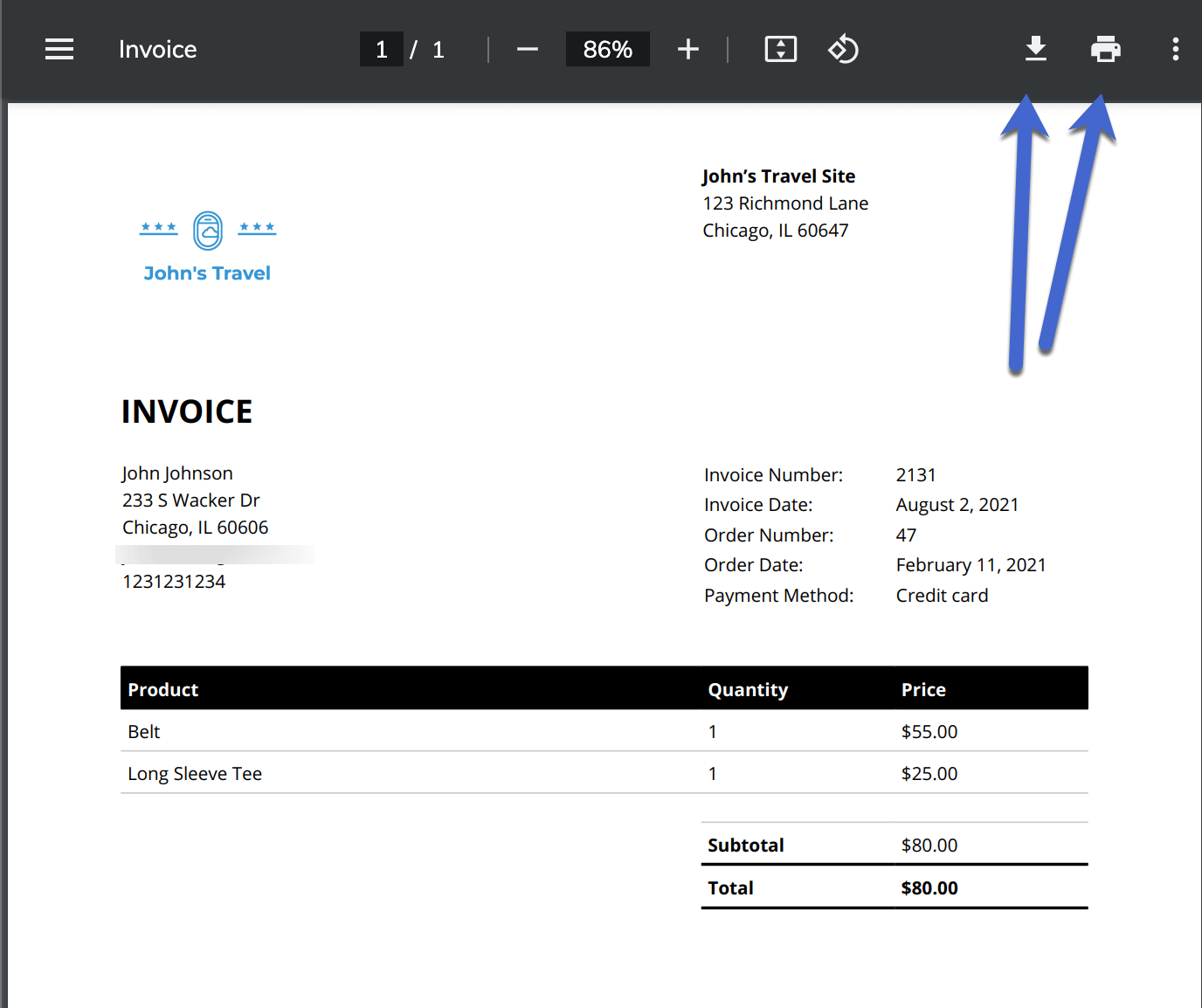 The packing slip is no different when it comes to options for downloading and printing.
It's really just a simpler version of the invoice that removes information like pricing.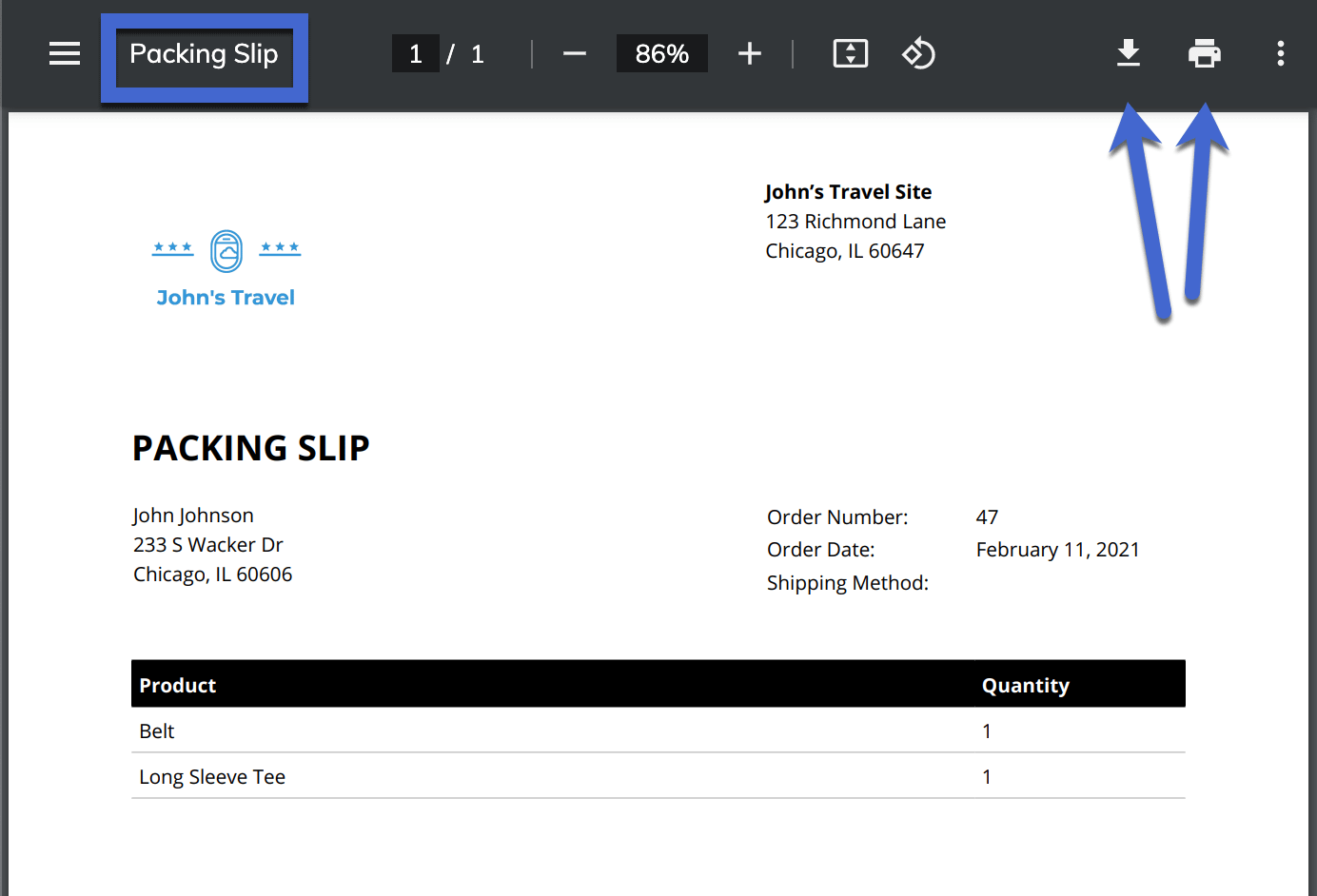 If you want to automate this process, you can use the premium WooCommerce Automatic Order Printing (PrintNode) plugin from Simba Hosting. This plugin has an integration so that you can automatically print a packing slip or invoice as soon as an order comes in. However, it costs £55 for use on a single site.
9. Add optional notes to your invoices
Another way to customize your WooCommerce invoice is by placing notes at the bottom of the document.
As with other actions, you can add notes when you've opened an order in your dashboard.
Find the PDF document data section, then click to edit the Notes field. Type in whatever information you also want the customer to see, like return details, a quick thank you, or special instructions for the product.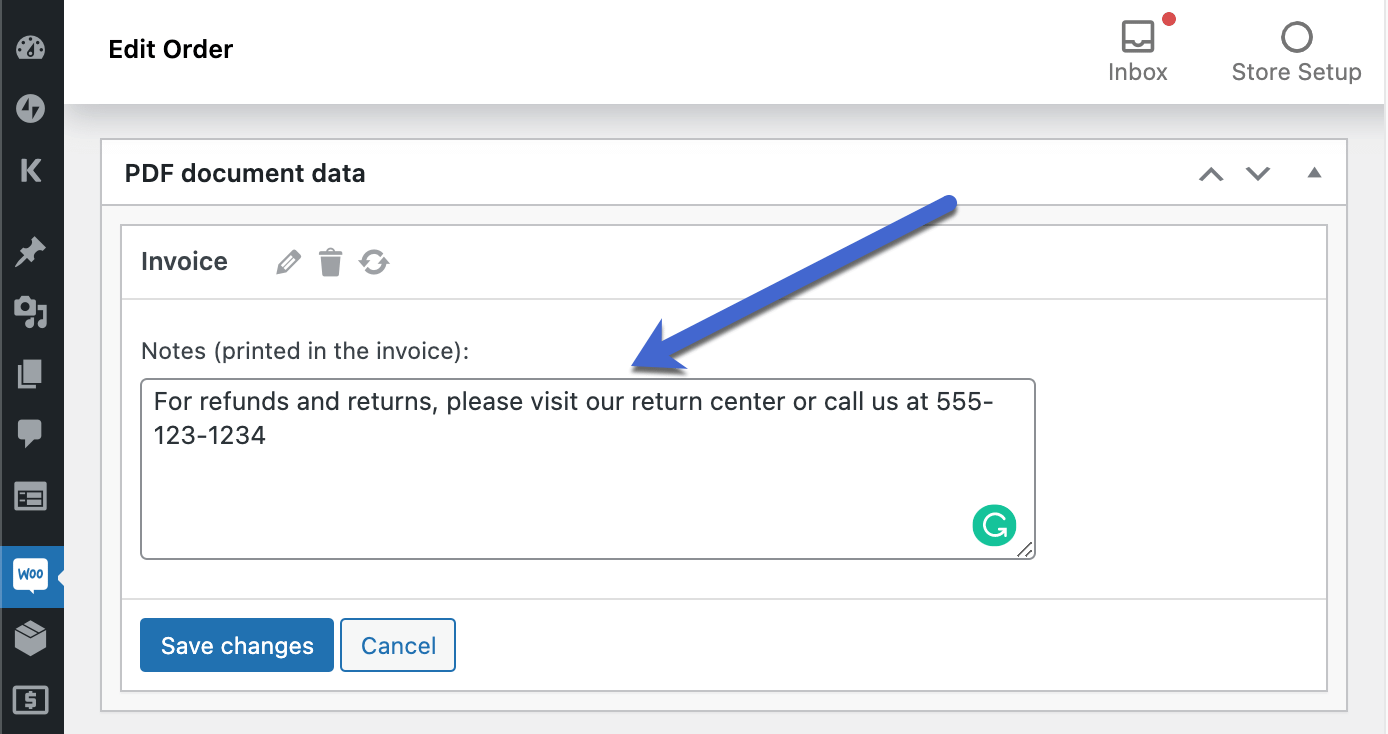 Now, when a PDF invoice goes to the customer or when you print out an invoice yourself, the plugin will automatically insert the note on the invoice.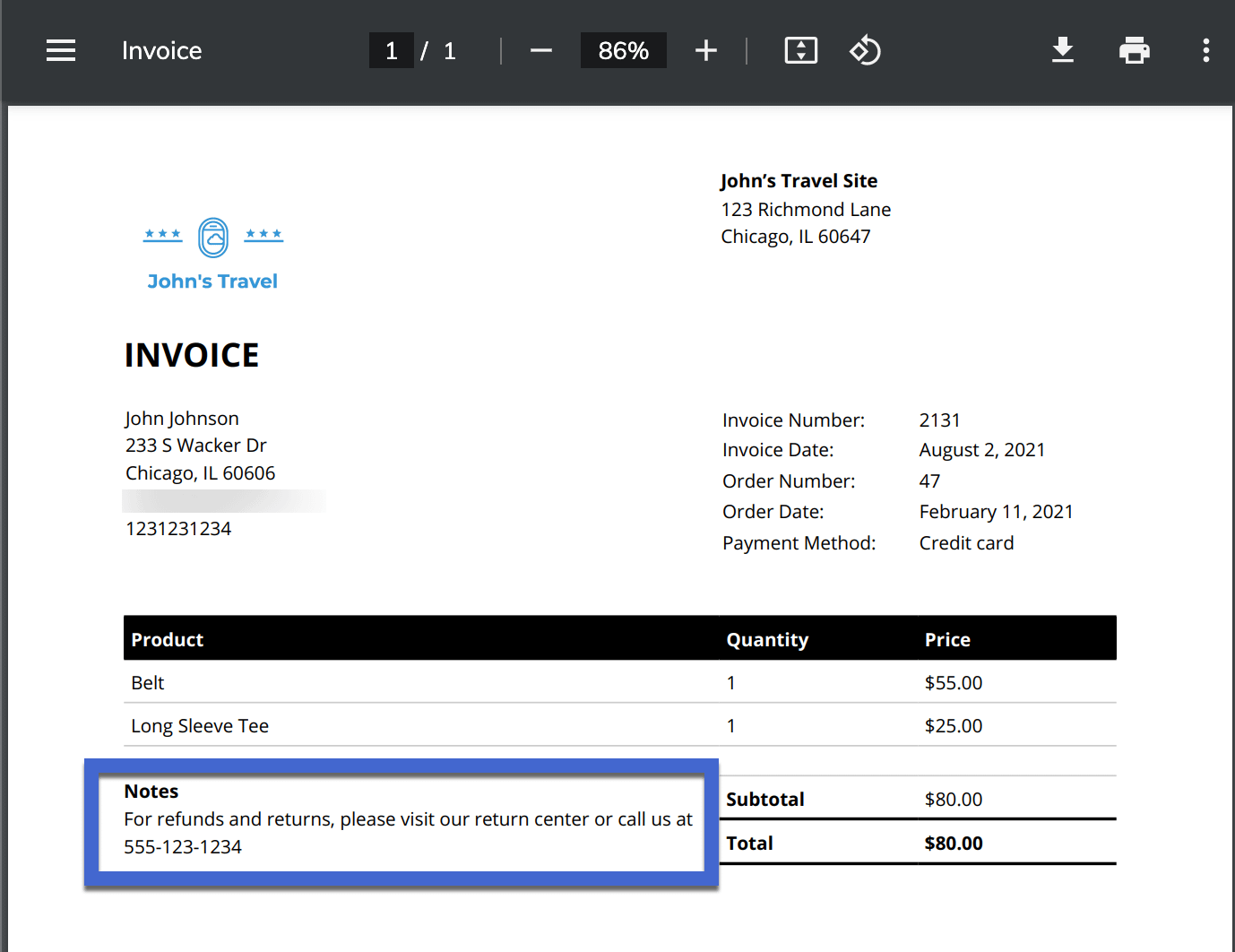 10. Modify all settings (if needed) for your WooCommerce invoice and packing slip
The initial setup wizard handles the heavy lifting, but it's possible you want to modify what you typed in before or add new settings.
To control all of that, go to WooCommerce > PDF Invoices.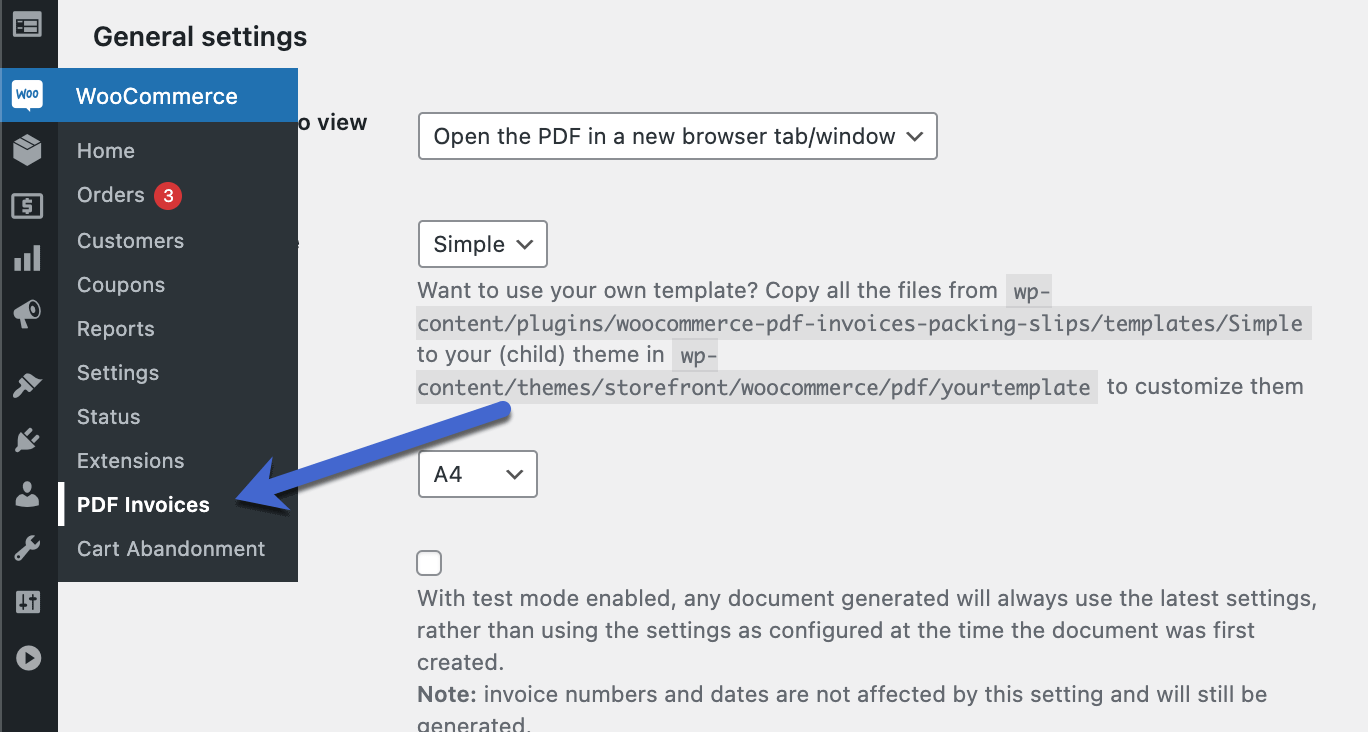 The General tab offers additional settings for things like:
Changing how to view PDFs.
Running a Test Mode.
Adding terms and conditions or policies in the footer.
Choosing a different template for your PDF invoice to change the design. If you want to access more invoice templates/designs, the developer sells a pack of premium templates for €39.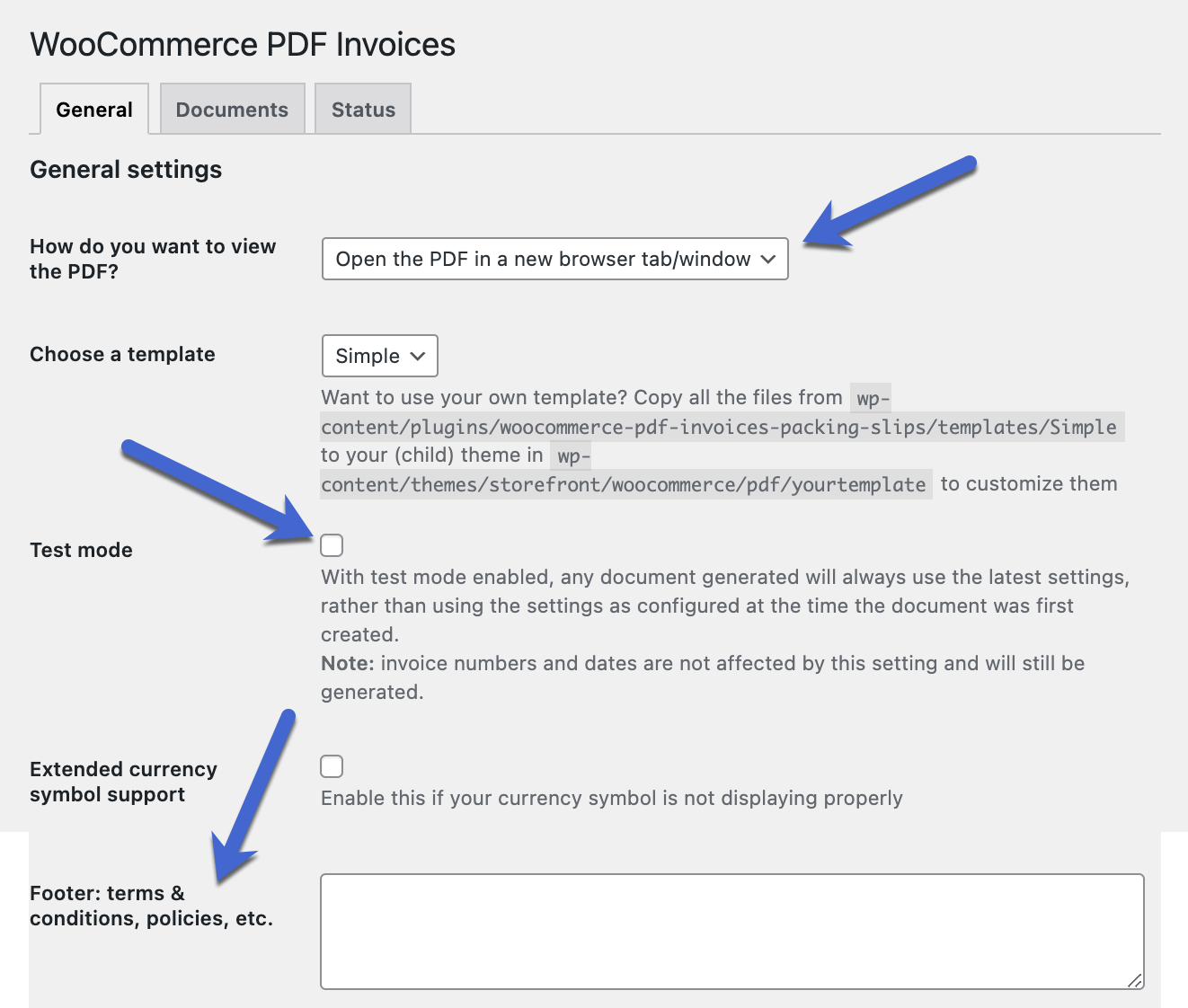 Under the Documents tab, you can edit settings by clicking on the Invoice link.
Here, you're able to turn off invoices, display a shipping address, remove the email address, or change which of the emails the invoice gets attached to.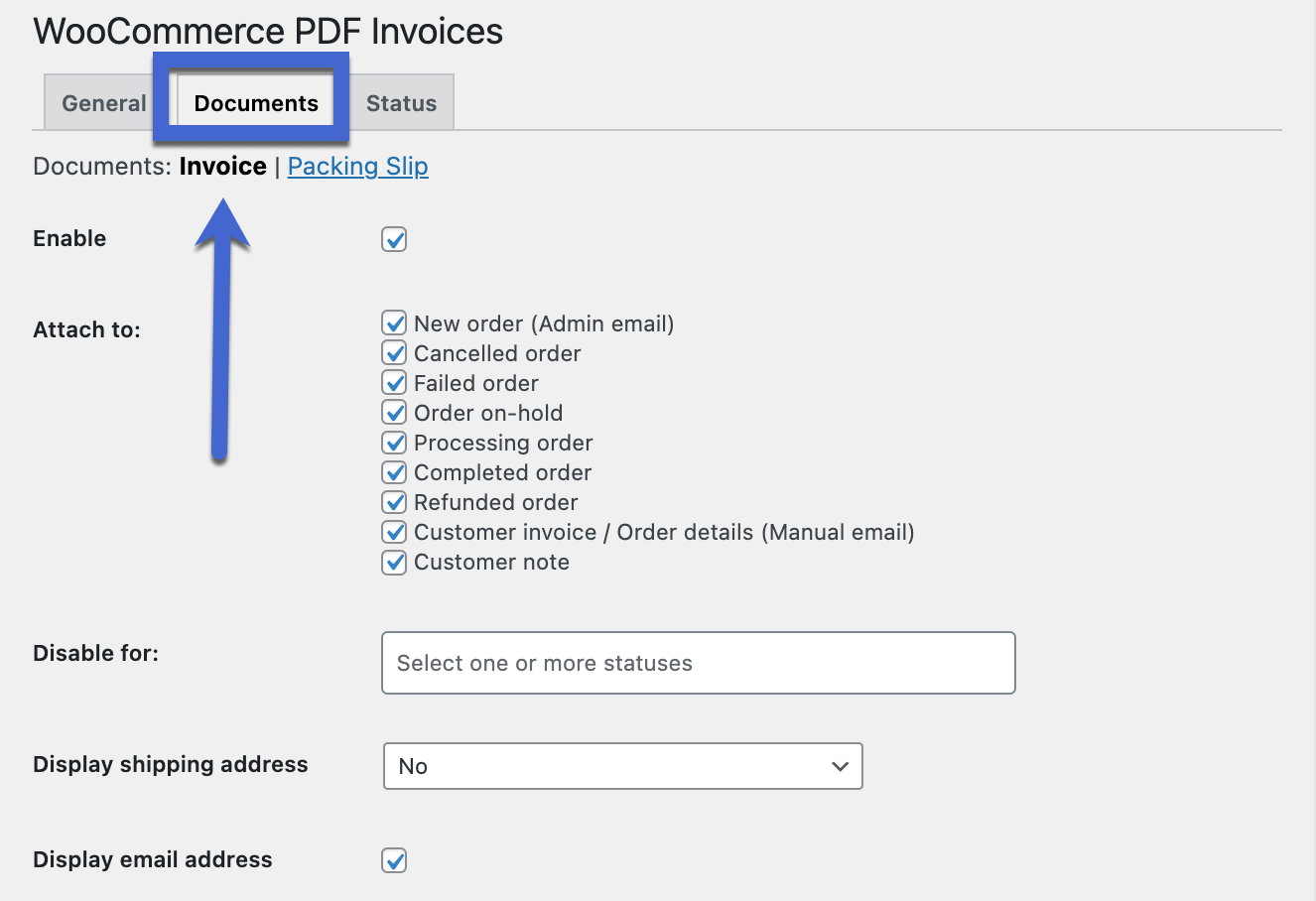 Lastly, the Packing Slip section shows settings for:
Enabling or disabling packing slips.
Displaying a billing address
Showing an email.
Showing a phone number.
Displaying notes.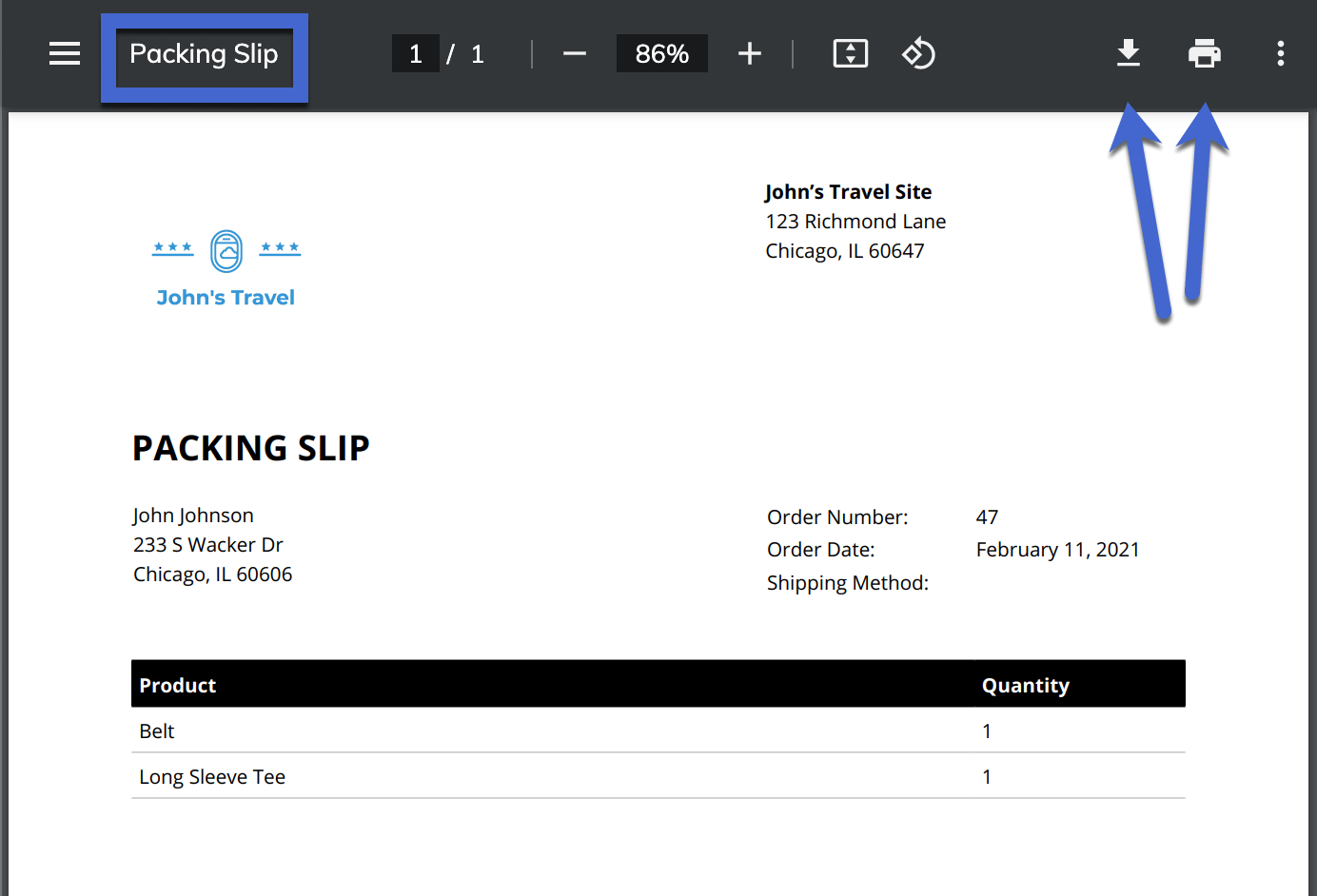 Set up your WooCommerce invoice today
If you need WooCommerce invoice or packing slip functionality, the WooCommerce PDF Invoices & Packing Slips plugin offers a flexible feature list in a free package. Give it a try today and you can be up and running with your own invoices in no time.
The setup wizard should help you configure most of the basics, but we encourage you to play around with the settings (and run some tests) to ensure all your WooCommerce invoice elements look perfect.
To find some other plugins to make your store even better, you can check out our full roundup of the best WooCommerce plugins.
If you have any questions about designing, attaching, or sending a WooCommerce invoice, let us know in the comments.
Free guide
5 Essential Tips to Speed Up
Your WordPress Site
Reduce your loading time by even 50-80%
just by following simple tips.