Nowadays, data is the name of the game when it comes to succeeding online. And the most well-known tool for an average webmaster to collect data with is Google Analytics. So why not take it one-step further with a Google Analytics WordPress integration plugin?
Such plugins allow you to view all of your site's Google Analytics data inside your WordPress dashboard. Not only is this more convenient, but you can also get some cool WordPress-specific reports and dashboards to help you more easily understand the data that you collect.
In this post, we'll take a look at one of those plugins. It's called Google Analytics WD and it has a version that's 100% free.
What is Google Analytics WD?
Google Analytics WD is a free WordPress Google Analytics plugin built by the guys at WebDorado. With this plugin, you won't need to leave your WordPress dashboard to check your stats and, more than that, you'll also be able to view a number of custom interactive charts (if enabled).
The free version of the plugin is fairly helpful all by itself, but there are also three premium plans that add even more functionality if you need it.
Key features of Google Analytics WD
Before I go hands-on with the plugin, let's get a little bit more specific about what Google Analytics WD actually does. Here's the full feature list:
Provides all the analytics reports you can find in the original Google Analytics.
Displays traffic information for any website associated with your Google Analytics account.
Allows adding goals to Google Analytics directly from your WordPress site.
Offers multiple designs and layouts for viewing statistics: pie, line, or chart.
Allows sending scheduled emails for any report.
Provides statistics for each page and post on that post/page's editor screen (or front-end site for certain user roles)
Provides advanced settings to manage user permissions and evaluate site speed.
Comparison of metrics and date range in reports.
Hands-on with this Google Analytics WordPress integration plugin
After installing the Google Analytics WD plugin, you just need to go to the Analytics item in your dashboard sidebar. Click on the blue Authenticate button and add the email address associated with your Google Analytics account. After signing in, you will get a code, which you will need to copy in this empty field and click Submit.

After submission, the plugin finds the website/s that is/are related to your account. All you need to do is hit the Add button, and the plugin will handle the rest. When you need to track another site's statistics, you can sign out anytime and re-authenticate with a different email address.
So once everything is configured, how does the plugin actually help you understand your site's data? Let's go through each tab…
Using Google Analytics WD
In Analytics, you get interactive charts and tables (direct demo link) that you can use to learn more about your site. First, set the dates you want to know more details about. You can filter and categorize the statistics by days, weeks, and months. The numbers of visitors (new and returning visitors), the total number and the average number of users, and the same for sessions.
Then, you can look at all the metrics you're used to in your regular Google Analytics account: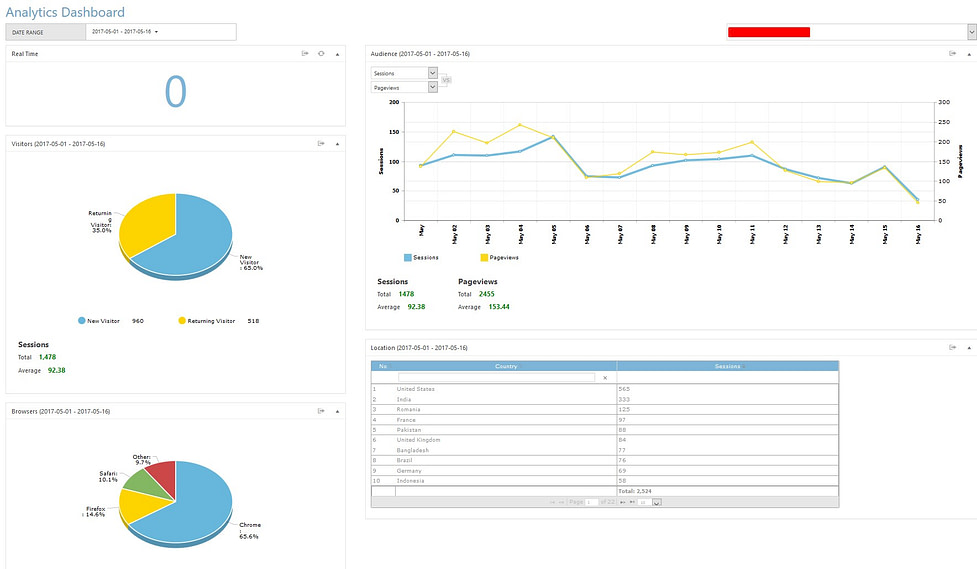 In Reports, you can compare sessions by days, weeks, months, and even hours. You can also compare different date ranges against each other using charts and graphs to get a visual representation of which direction your site is trending in.
But there's also a Custom Range, which lets you compare random periods, no matter the year, the month, or the week you're seeking. You can compare any X date to any Y date, just select the intervals in the calendars, and the plugin will deliver the data right away.
I chose to see the total number of users from April versus May, I picked the columns layout, and here's how it looks: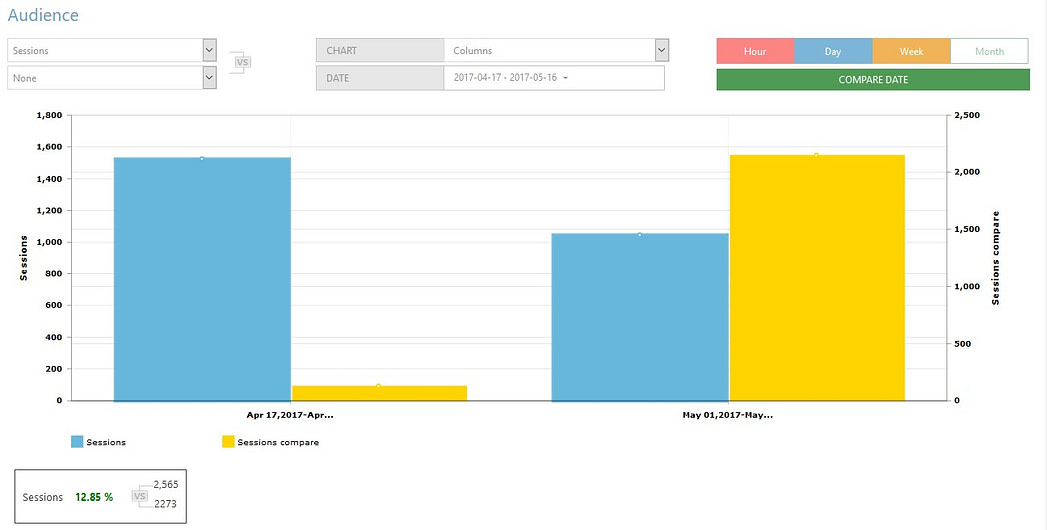 In Settings, you can add filters in case you want to exclude some specific things from being taken into consideration in the reports. For instance, you can choose to exclude the traffic data from a specific city, region, country, or IP address.
You can also configure some more nitty-gritty details in the aptly named Advanced Settings tab.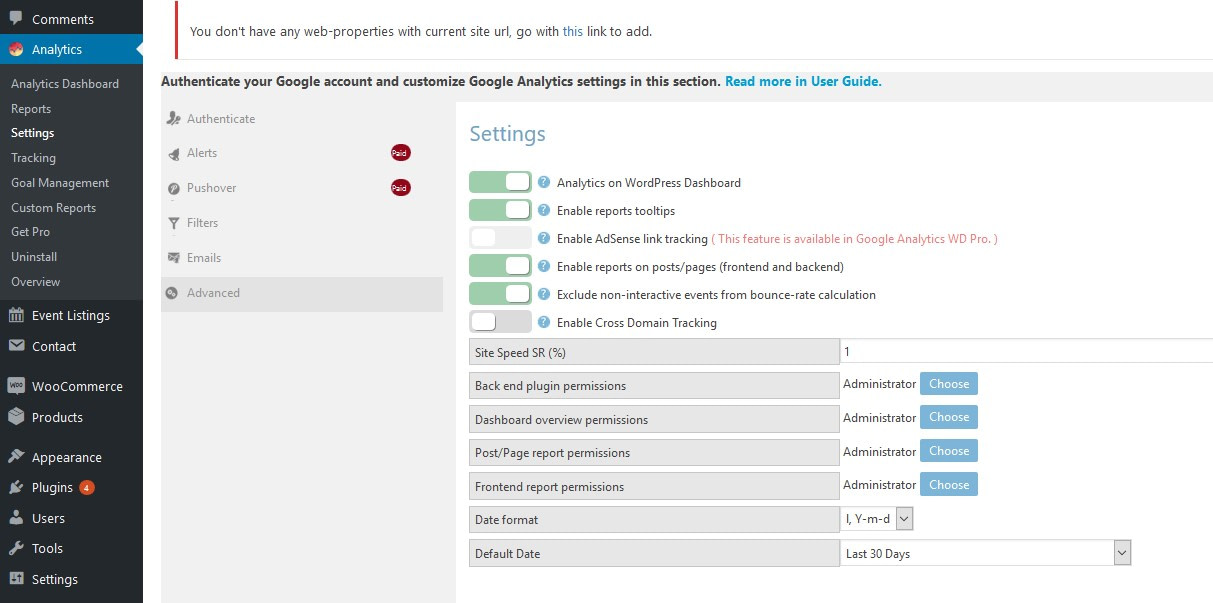 The front-end display allows you to let certain user roles view statistics on the front-end of your site. Also, enabling reports on posts and pages will add meta boxes to the backend WordPress editor.
In Tracking, you can manage all the websites that already exist in the plugin's database (the ones you've already registered). If you want to switch from one site to another, all you have to do is select it from the drop-down menu and click Add. Now, Google Analytics WD will display the new site's data in your dashboard.
Finally, in Overview, you get a variety of information to help you use the plugin.
Pricing plans
As I mentioned, the core version of the plugin is 100% free (and listed at WordPress.org). But, like many of the plugins and tools on the web, it has some paid versions that add extra functionality. The price differences between each of the three premium versions relate mainly to the support duration and the number of allowed domains:

And here are the actual features you get when you go with one of these premium versions:
More (and advanced) support for a longer period of time.
E-commerce reports.
Google AdSense and AdWords reports.
Custom dimensions and reports.
Tracking exclusions by users and roles (you can exclude certain user roles from seeing Google Analytics reports on your dashboard).
Google Analytics alerts.
Pushover notifications.
Who should use Google Analytics WD?
So, whom is Google Analytics WD plugin meant for? That is, why would you want to use a plugin instead of the main Google Analytics tool? First off, convenience.
Unless you need the native functionality of the Google Analytics interface, it's overkill. Most webmasters won't ever touch a fraction of what Google Analytics can do.
Google Analytics WD gives you the most important data without requiring you to complete the Analytics Academy, so to speak.
While the pro versions get a bit more advanced with e-commerce support and custom dimensions, the free version is perfect for a regular blogger or webmaster who just wants an easy way to learn more about his or her site.
Where can you get Google Analytics WD?
Because it's a free plugin, you can download Google Analytics WD from its WordPress.org page, or you can go to the plugin's official website. Select the plan you want and follow the procedure in order to finish the transaction. Unless you pick the free version, in which case, a regular Save As window will appear to ask for your confirmation.
So this is how you integrate Google Analytics with your WordPress site in a quick and easy way. Are you planning to give Google Analytics WD a try? Let us know if you have any questions as to how to go forward with your Google Analytics WordPress integration.
Free guide
5 Essential Tips to Speed Up
Your WordPress Site
Reduce your loading time by even 50-80%
just by following simple tips.
This post has been brought to you by Google Analytics WD.