Finding out what your users think about your content (or what they want from your website) can be a challenge. Analytics tools can provide you with most of the metrics you need, but sometimes numbers alone aren't enough to figure out the problem. You could, however, ask your people directly if you set up a WordPress poll.
An online poll enables you to set up a direct line of questioning between you and your users. You ask a question, and they answer – it's about as simple as things can get. It's what you then do with the information that can transform your fortunes.
In this article, we'll go into details about the benefits of using polls on your website. Afterwards, we'll introduce you to two excellent polling tools, and finally, we'll teach you how to set up a WordPress poll of your own.
Let's get started!
The benefits of setting up a poll on your WordPress website
An online poll poses a question to an audience, and provides them with enough options to give you a relevant response for your research. Through a poll, you get to know your audience better and create consumer profiles based on the answers that you receive. Depending on the question, you might need more than a simple "Yes" or "No", for example: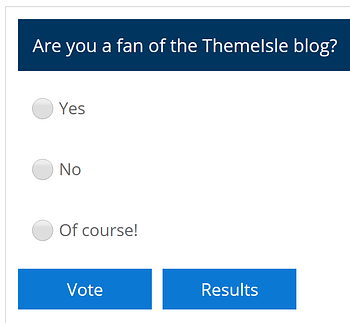 While a simple "Yes" or "No" might suffice in that case, adding more options can provide you with more accurate results. The same applies for all online polls in general. If you take care to ask the questions your audience cares about (and provide them with a decent set of options), they'll reward you with some excellent data.
Once in your hands, you can use the gathered information to tailor your content to your visitor's interest. That way, you can turn a simple online poll into a long-term engagement boost.
In general terms, there are several types of polls, ranging from the simplest ('Yes/No') to those that pose several questions successively (i.e. surveys). For this article, we'll be dealing only with basic multi-option online polls, and how to set them up.
Two practical plugins to help set up a WordPress poll
There are plenty of tools to help you set up a WordPress poll, so we've had to narrow the pool of participants down. The two free plugins we've selected help keep poll creation simple and enable you to analyze their results efficiently. Later on, we'll teach you how to set one of them up.
1. YOP Poll
YOP Poll lets you integrate both polls and surveys in your WordPress website. You can run multiple polls simultaneously, or schedule them in advance around each other. Each poll can be as simple or as complex as you want, and you can sort the results according to several criteria. Best of all, you can easily limit access to your polls only to registered users, to avoid dealing with false results.
Key features:
Supports both polls and surveys.
Enables you run multiple polls simultaneously and schedule them in advance.
Helps parse your results efficiently, thanks to advanced sorting criteria.
Limits access to your polls depending on user roles, IPs, and specific usernames.
Pros:
Offers an easy to use interface.
Comes with several options to go through your results.
Includes several poll styles out of the box.
Cons:
Lacks customization (aside from picking a pre-set theme).
2. Typeform
The Typeform plugin does more than simple polls and surveys – it also enables you to build mobile-ready online forms. You're able to create them via a drag-and-drop builder, with the ability to embed images, videos, and GIFs to boot. There's also a selection of Google Fonts and styles to choose from, so there should be no issues in matching your poll to your website's design.
However, for all of the positives, there's one negative: you'll have to open a Typeform account in order to create your polls, embed them on your site, and manage responses.
Key features:
Supports polls, surveys, and online forms.
Offers over 900 Google Fonts to choose from.
Includes a number of field types.
Enables you to embed images, video, and GIFs.
Cons:
You need to set up a Typeform account to embed your forms.
You can't edit polls or check responses through the plugin itself.
How to set up a WordPress poll using YOP Poll (in 3 steps)
We introduced you to two excellent plugins to set up a WordPress poll, but we're only going to use one of them to provide you with a live example. YOP Poll was the obvious choice for us – not because Typeform was lacking, but on account of there being no sign-up process.
Actually, we're huge fans of Typeform and we've built a number of polls and surveys using it. For instance, our big WordPress hosting survey was done all through Typeform, and we couldn't be happier with the result. So if what you need are some really advanced, functional, and great-looking surveys, you should give Typeform a try.
Okay, and now onto how to set up a WordPress poll with YOP Poll:
Step #1: Install and activate YOP Poll
We're sure you're familiar with this process, but just in case, feel free to check out this guide to installing and activating WordPress plugins.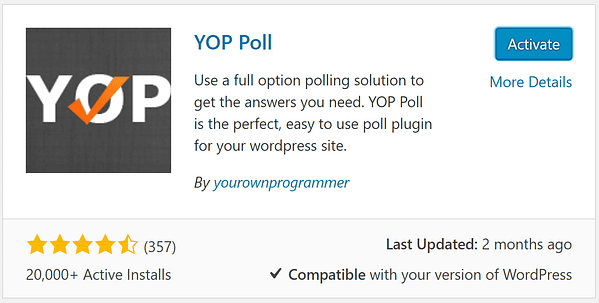 When you're done, you'll notice a new Yop Poll item in your WordPress dashboard – and it's here you'll need to be for the next step.
Step #2: Set up a WordPress poll
Click on the Add New option under Yop Poll, and type a title for your poll at the top of the page: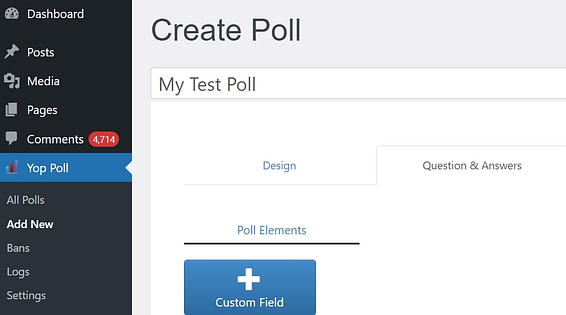 Next, click on the Question & Answers tab. Since we're setting up a simple poll, all we need is the one question. Go ahead and type your question in the corresponding field: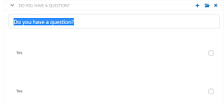 Now type your answers in the fields underneath.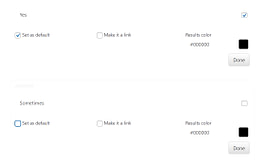 To add more answers, click on the folder icon that shows up when you hover over each answer block. Every time you click on this icon, you create an answer duplicate, which you can edit afterward.

When you're ready, click on Design tab at the top of the page to select the poll's template. After selecting the template, choose from the list of the predefined styles that the plugin offers.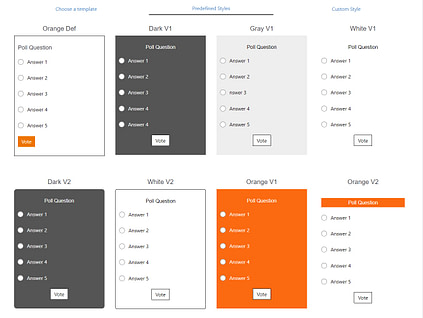 Choose one that fits well with your WordPress theme, and click Publish.
Step #3: Insert your WordPress poll
After configuring and choosing a style for your WordPress poll, you have two options. Firstly, you can add it to your site using a shortcode: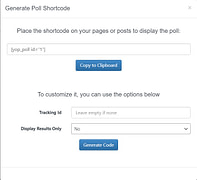 Alternatively, navigate to Appearance > Widget in your WordPress dashboard, and pick the Yop Polls option. Drag it to your preferred location, and choose which poll to display from the widget's drop-down list: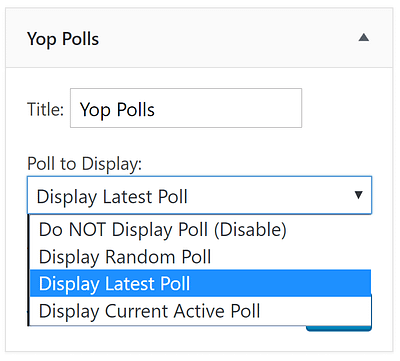 If you're using the block editor, go to the location where you want to display the poll and click on the + sign. Type Yop Poll and select the poll that you want to display on your site.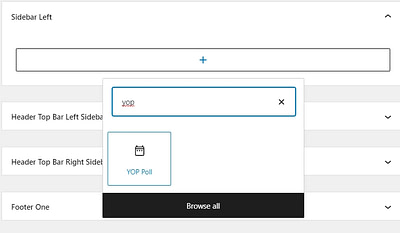 Once you click Update, you'll see the poll displayed on your website. That's all there is to it!
Conclusion
Connecting with your users and determining what they want from your site is not a simple process, but it can be done. We're not recommending that you eschew analytics tools per se, just consider whether in some cases, a plain old poll can be the better option.
If you want to set up a WordPress poll of your own, these are the steps you'll need to follow:
Install and activate the YOP Poll plugin.
Set up a WordPress poll using the plugin.
Insert your new poll on your site.
Do you have any questions about how to set up a WordPress poll? Share them with us in the comments section below!
Free guide
5 Essential Tips to Speed Up
Your WordPress Site
Reduce your loading time by even 50-80%
just by following simple tips.