Email marketing is a valuable investment. In fact, studies show that for every $1 you spend, you receive $42 in return[1]. An email drip campaign can help you take full advantage of this marketing channel. However, this approach requires a bit of strategic planning.
Fortunately, this is not as difficult as you may think. By prioritizing both consistency and personalization in your messages, you can create a successful email drip campaign.
In this article, we'll introduce you to email drip campaigns and their benefits. We'll also share three essential tips to consider when crafting your strategy. Finally, we'll cover two of the top email marketing tools to help you get started with your own drip campaigns. Let's dive right in!
📚 Table of contents:
An introduction to email drip campaigns
Email is an essential tool for the modern marketer. Whether you're trying to increase your store's profits or boost your blog readership, this form of communication can offer you something invaluable: direct contact with your users.
However, simply staying in touch with your subscribers may not be enough. You'll need a way to present relevant information at the right times. Otherwise, you could risk losing your audience's interest. Fortunately, an email drip campaign can help.
An email drip campaign is a messaging technique that's triggered by individual user events. For example, you might choose to send automated messages whenever a user signs up for your mailing list.
Since they're based on a user's actions, these emails can be highly targeted. As a result, they're more likely to catch a customer's attention.
The freedom to choose your trigger events also makes this strategy universally effective. As long as you can find relevant ways to stay in touch with your subscribers, you can utilize drip campaigns to reach various goals.
Why run an email drip campaign?
Brand relationships can be tricky to cultivate. The process usually requires you to maintain consistent contact without coming off as pushy. It's a hard balance to strike.
However, an email drip campaign can help level the scales. With pre-determined trigger events, your marketing is directly tied to a user's behavior and interests.
Moreover, your customers may appreciate this tailored approach. Up to 42% of people rate personalized experiences as important to them[2]. By basing your communication on the user's individual actions, you'll be providing a high level of personalization.
Additionally, email drip campaigns can limit the possibility of a customer feeling over-saturated by your brand. Relying on specific events can minimize the number of messages sent while maximizing their relevance.
Finally, this level of targeting can also encourage trust. If customers can rely on your brand to provide them with customized content, they may be more willing to open your emails in the future. As such, an email drip campaign can be an essential part of a long-term marketing strategy.
Best practices for an email drip campaign
Every site has different needs. As such, your exact approach to drip campaigns will likely be unique. Nevertheless, there are a few principles that can be universally helpful for optimizing your marketing strategy.
1. Stay committed to your brand identity
We've already said this, but it's a crucial point that bears repeating: with an email drip campaign, consistency is key. However, this doesn't just apply to the frequency of your emails. Presenting a reliable brand identity is equally vital.
This is because a customer needs to recognize your brand in order to build a relationship with it. Thus, you need to present a consistent brand image to reap the rewards of drip marketing.
You probably know that this means using your logo, brand name, and slogan. However, you can also consider more subtle approaches. For instance, you could try to match your email color palettes to the ones used on your website. As another example, it wouldn't make much sense for a minimalist brand to use bright, flashy designs.
We also recommend that you make your brand name prominent. Studies show that 45 percent of people won't open an email from an unknown sender[3]. If you run a small website, this is yet another reason to get a professional business email.
Furthermore, you can include your brand name in the subject line, preview, and header. This may seem like overkill, but it will ensure that users can identify your website at a quick glance. Good Housekeeping provides a helpful example: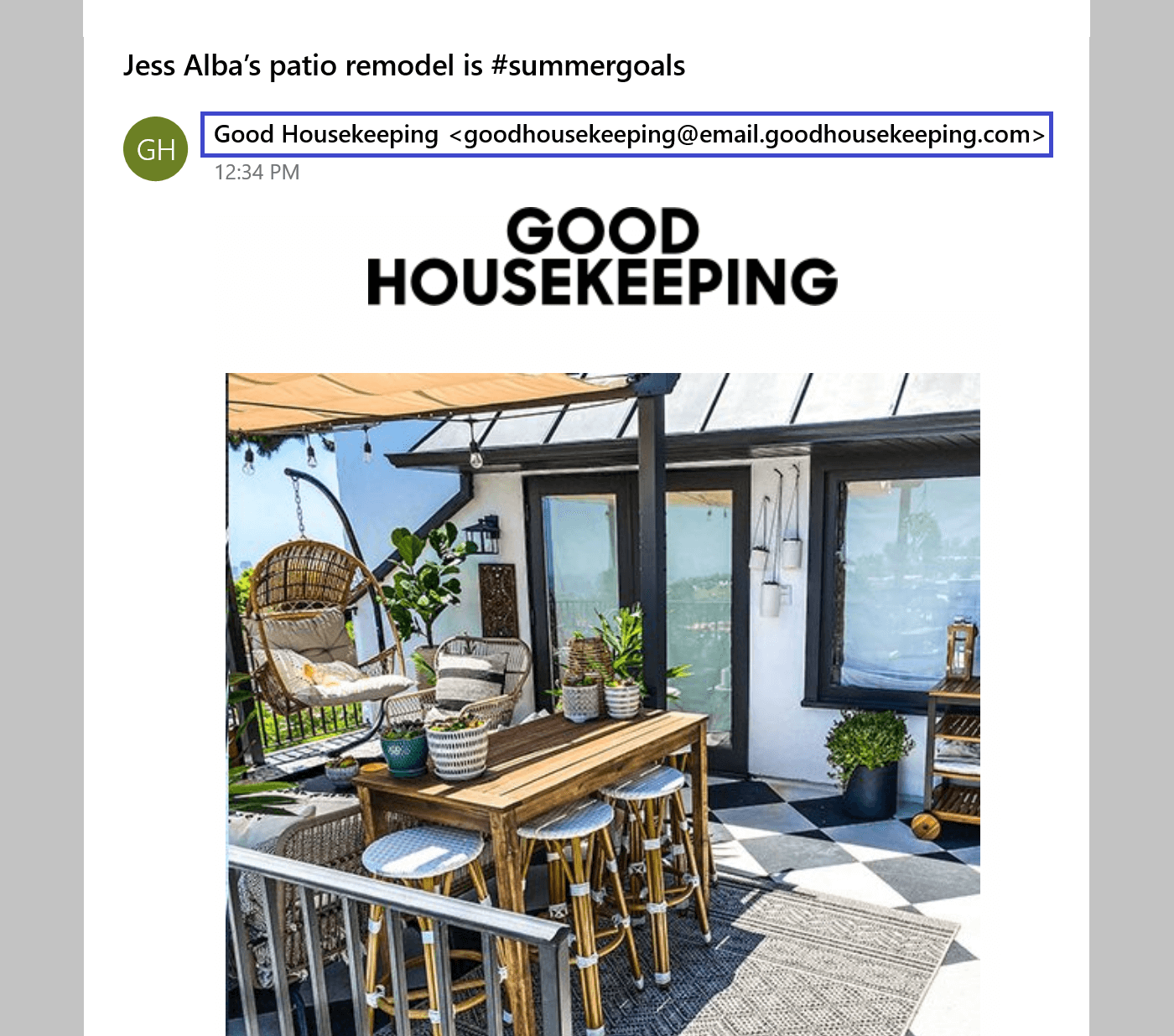 Nevertheless, valuing consistency doesn't mean that your branding should never be altered. In fact, it's normal for a brand's voice and image to shift over time. This may become necessary as your audience demographics change.
As such, we recommend that you compare your past and current campaigns. This can help you get an idea of your organic evolution while also avoiding any dramatic tonal differences.
2. Choose the right trigger events
Trigger events are the heart of any email drip campaign, but not every site event will call for an outreach email. Choosing relevant triggers is essential to maintaining their effectiveness.
However, there's no one-size-fits-all list that you can consult. Your brand's niche, image, and target audience will all influence what events work best for you. Nevertheless, there are a few tips that can help you set up an effective campaign.
For example, all of your triggers should have an ideal outcome that's related to your marketing goals. Aimless messages do nothing to help your campaign, and might actually hurt it by making users feel annoyed.
Your goal doesn't need to be as ambitious as a large purchase. If you want to boost your traffic, messages that aim to do that can be just as worthwhile.
By the same token, you should try to pick triggers that provide users with new information. If your drip emails aren't providing any value, customers might stop opening them.
One way to avoid this issue is by focusing your triggers on events that aren't so common. That way, even emails you send more than once – such as post-purchase triggers asking for product reviews – can avoid becoming repetitive.
Finally, try not to shy away from negative events. For example, it's almost guaranteed that you'll eventually receive a bad review. As such, consider setting up a trigger event for a follow-up email after a poor rating. Techniques like this can help you address customer service issues with maximum efficiency.
3. Always include opportunities for engagement
One of the main benefits of an email drip campaign is the opportunity to build customer relationships. However, it's equally effective at enabling loyal users to interact with your brand. Therefore, including calls to action (CTAs) that prompt users to visit your site can be crucial to boosting audience engagement.
Depending on your brand and business goals, this engagement prompt can take different forms. For instance, it could be a link to a popular post that they commented on or a link to a product they recently viewed in your store. It can even be as simple as a reminder to log in.
You also shouldn't be afraid to vary these engagement opportunities. If users start to expect the same content in every email, they may be less interested in opening them. Varying your approach can thus keep users interested while exposing them to multiple facets of your brand.
However, we also recommend that you avoid including too many engagement options in a single email. As an example, you can consider the following email from Nextdoor:

Multiple links are common and often effective in newsletters like this one. However, since drip campaigns are targeted, having this many engagement options is counterintuitive. They can confuse users and muddy your marketing goals.
Now that you know the basics, let's talk about two top-notch email marketing tools that support drip campaigns – Sendinblue and Drip. We'll summarize the pros and cons of each tool below, but you can check out our full Sendinblue vs Drip comparison for a deeper look.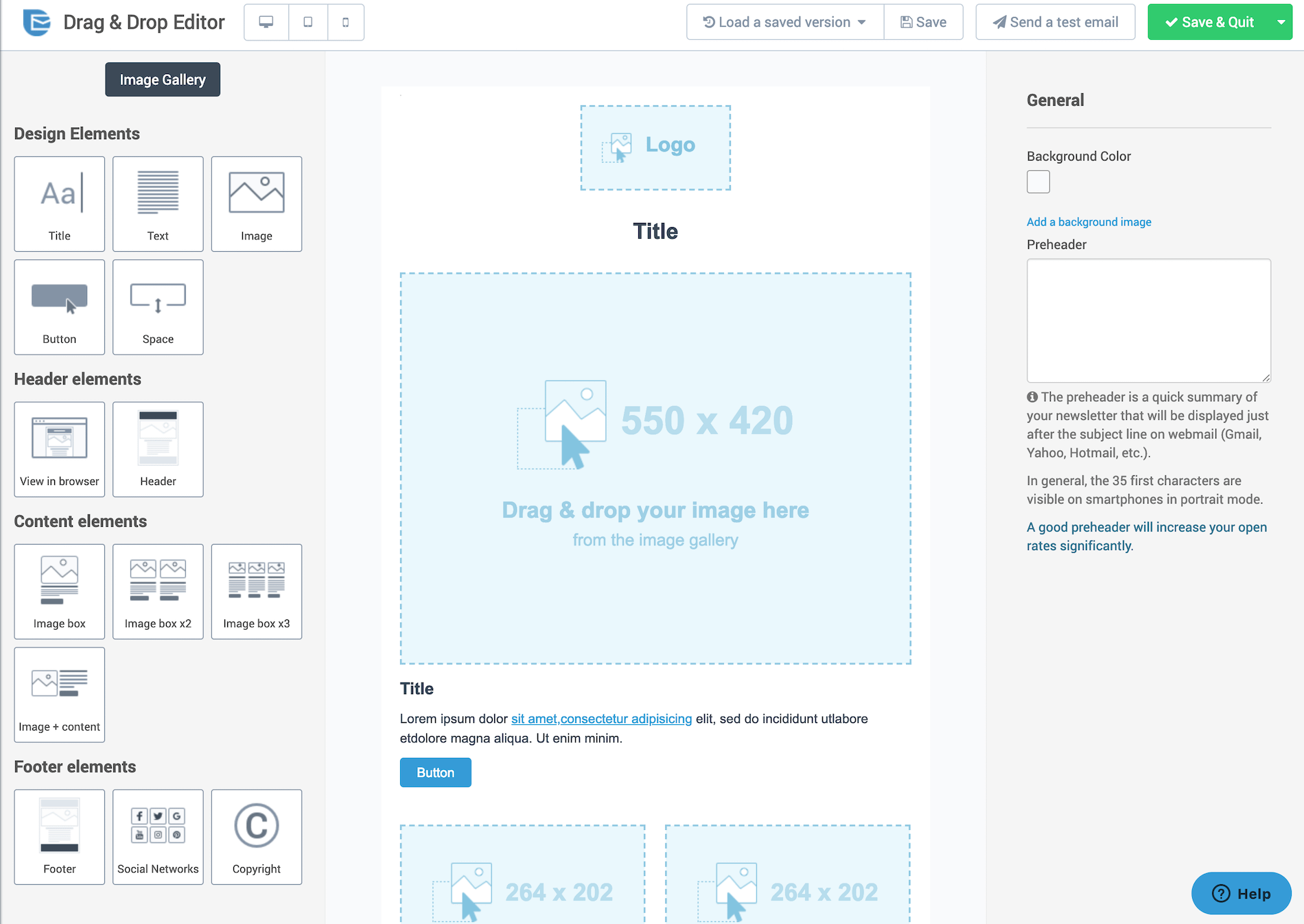 Let's begin with an all-around email marketing champion: Sendinblue. This tool focuses on helping you create highly customized messages for a wide variety of events. As such, it's a flexible option that can suit nearly any email drip campaign.
Here are a few of the powerful features that make Sendinblue stand out from the crowd:
Pre-made workflow automations to streamline your building experience
Direct integration with Facebook Ads to maximize brand exposure
Native retargeting functionality to maintain a loyal audience
Nevertheless, Sendinblue isn't just a practical choice. It also offers impressive design elements like a drag-and-drop interface and a huge library of email templates.
That's why we recommend this marketing tool if you're particularly style-conscious. The easy-to-use automation features will leave you plenty of time to take advantage of all the design options.
Price: The free version lets you send up to 300 emails per month to unlimited contacts. Paid options begin at $25 per month, which will enable you to send up to 20,000 emails per month.
To learn more, you can read our full Sendinblue review.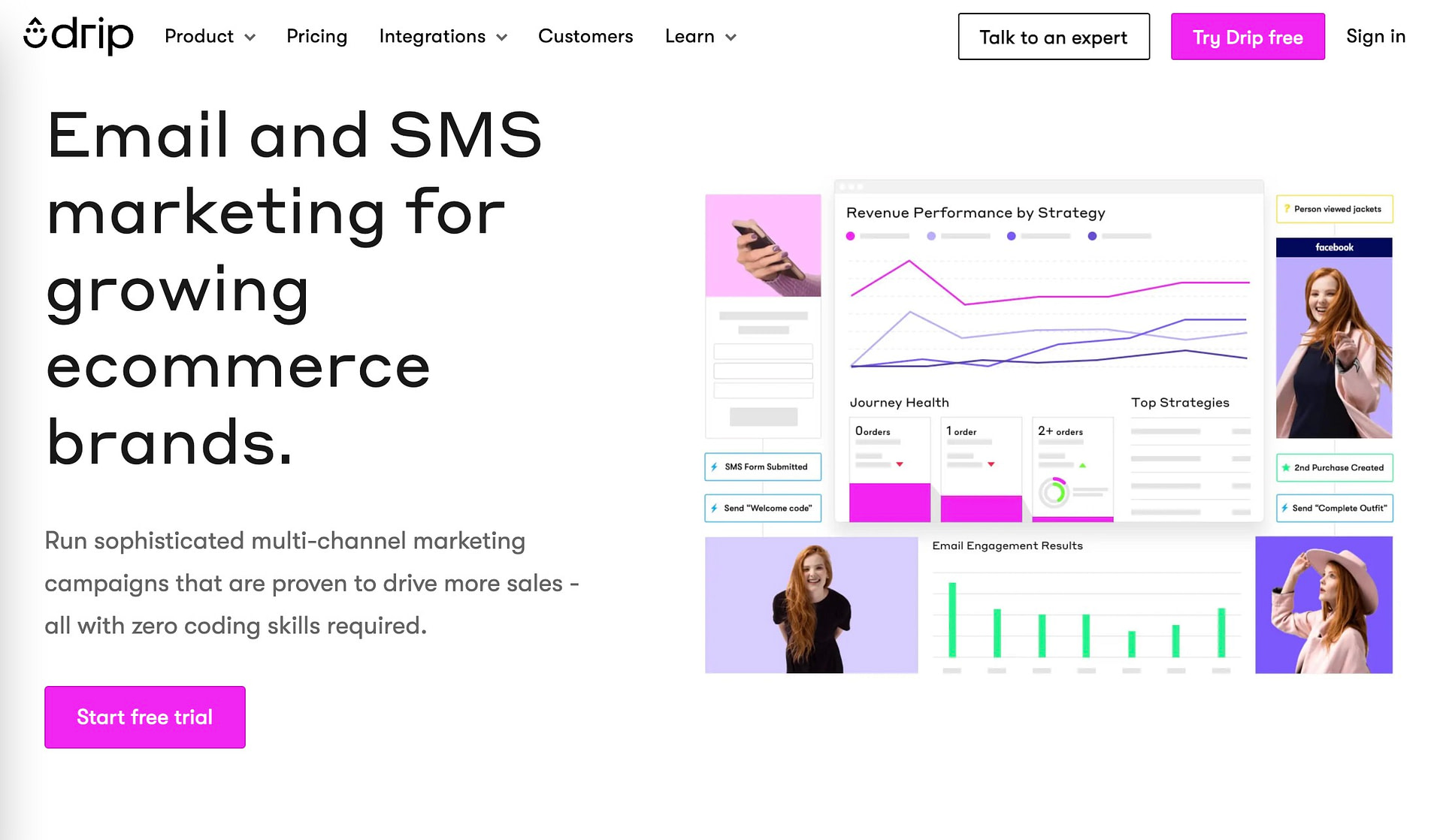 Ecommerce sites tend to have unique emailing needs. If you're looking for a marketing tool that can satisfy them, consider using Drip. This platform specializes in cultivating customer loyalty through consistency. As the name implies, this makes it perfect for an email drip campaign.
Drip comes with several practical features, including:
A centralized customer database that you can populate with information from any source
Cross-channel integrations such as Instagram, Facebook, and text messaging
Clear-cut summaries of individual customer actions to help you fine-tune your content
Drip really shines when it comes to eCommerce sites. That's because it helps you support customers from the early stages of acquisition to long-term retention. It can also help you test which automation performs well so you can optimize your email drip campaign.
Drip focuses on driving sales. Therefore, this may the right option for you if you run an eCommerce site.
Price: Drip's paid plan starts at $39 per month and provides access to all of the program's features. If you're on the fence, you can try their 14-day free trial.
Get started with email drip campaigns
When it comes to marketing, consistency is key – but so is personalization. That's why an email drip campaign can be such a valuable tool. By focusing on emails that prioritize relevant and valuable content, you can engage more users and boost your conversions.
In this article, we covered three key tips to help you launch a successful email drip campaign:
Stay committed to a steady brand identity.
Choose appropriate trigger events with clear goals.
Always give your recipients a way to engage with your brand.
To get started with your own drip campaigns, you can choose between Sendinblue or Drip.
Of course, before you can send drip campaigns, you need some email subscribers. To help you build your list, you can follow our guide on how to get more email subscribers.
Do you have any questions about setting up an email drip campaign? Let us know in the comments section below!
Free guide
5 Essential Tips to Speed Up
Your WordPress Site
Reduce your loading time by even 50-80%
just by following simple tips.