Regardless of the niche you're targeting with your content, the competition is always fierce. If you want more organic traffic, your website doesn't just need to be good – it needs to be better than the competition. That's why knowing how to execute a competitor site analysis can pay off big time.
Analyzing your competitors simply means taking a look at what they're doing so you can figure out how to beat them. For example, if they're targeting the same keywords as you (and you can identify them,) you have a way to improve your own content and improve its ranking.
In this article, we're going to talk about how you can execute a full competitor site analysis in five steps.
We have a lot of ground to cover, so let's get to work!
Why monitoring your competitors' websites is important
In short, monitoring your online competitors can yield a massive amount of information. More importantly, it gives you an idea of what their search engine optimization (SEO) strategies are. For example, you can find out which keywords they are targeting, the terms they're outranking you on, and where their traffic comes from.
Overall, your goal is to absorb as much of that data as possible and reverse engineer it. You can crack what makes those sites successful, absorb those strategies into your own, and hopefully make improvements.
How to execute a competitor site analysis (in 5 steps)
For this tutorial, we're going to focus on free SEO analysis tools to help you run a competitor site analysis on a budget. If you decide to subscribe to premium tools, you'll get access to more data, but the process remains much the same.
Step #1: Identify your top competitors
You probably already have a decent idea of the other big players within your niche. However, the shortlist you have in your head might not match the data you uncover.
The best way to know who your top competitors are is to find out which websites share the most 'audience overlap' with you. To put it another way, ascertain the other sites your audience visits, as they will also target many of the same keywords as you.
To do this, you can use Alexa (not the voice assistant! Though Amazon does own both). It's a web analysis traffic service that tracks over 30 million websites, and if your site has a decent amount of traffic, chances are Alexa's tracking it.
To run an Alexa search, go here and enter your site's URL.
For this example, we're going to use wordpress.org: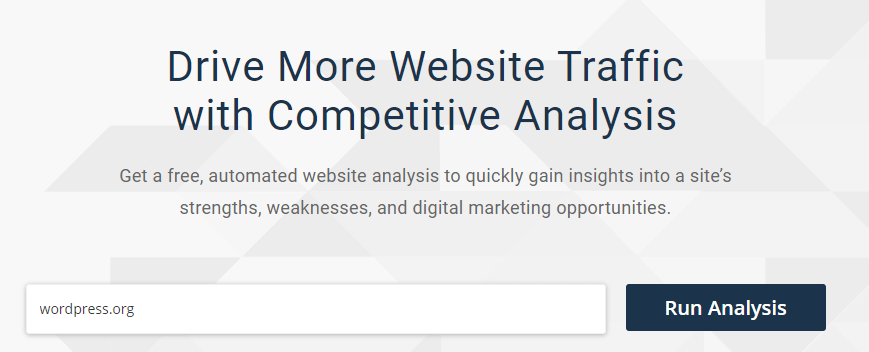 Alexa reports often return a massive amount of information. This includes keyword opportunities, your top queries, and websites that share an audience overlap with yours: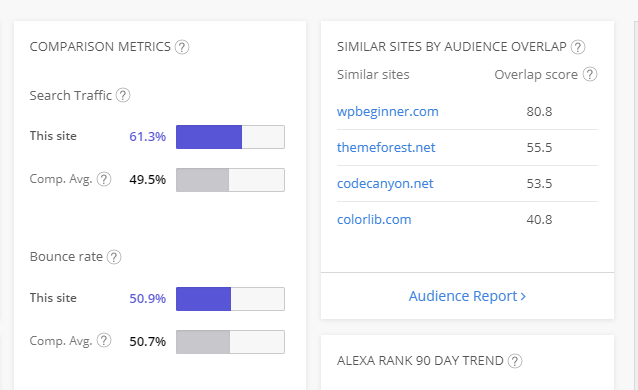 If you scroll down further, you also see the individual Alexa rankings for each of those competitors: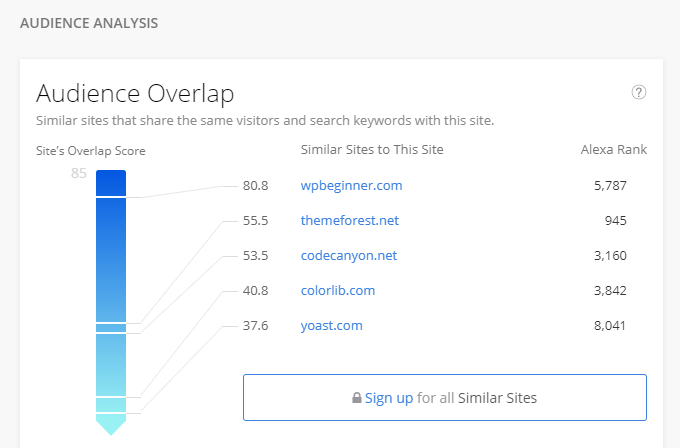 With the free version of Alexa, the list of websites you get is limited to five. Even so, there's plenty of information for you to go on. Jot down the names that appear for your website and move on to the next step.
Step #2: Take a look at your competitor's top content
Knowing what content drives the most traffic to your competitors is an excellent way to gain insight into their strategy. You can learn what kind of posts they focus on, how in-depth their content is, what keywords they're targeting, and more.
In the real world, you'd need to conduct corporate espionage to find out this information. Online, all you have to do is sign up for a free account using a service such as SEMRush:

Just like Alexa, SEMRush provides web traffic analysis services. However, it has an edge when it comes to keyword data, which is why it's ideal for this step.
SEMRush is an expensive tool, but its free plan enables you to run up to ten analyses per day, which is enough to run a competitor site analysis. You can find other details about pricing in our extensive SEMrush review.
To get started, enter the URL for one of your competitors that you found in Alexa.
For example, we'll enter yoast.com, which is one of wordpress.org's top competitors from step one.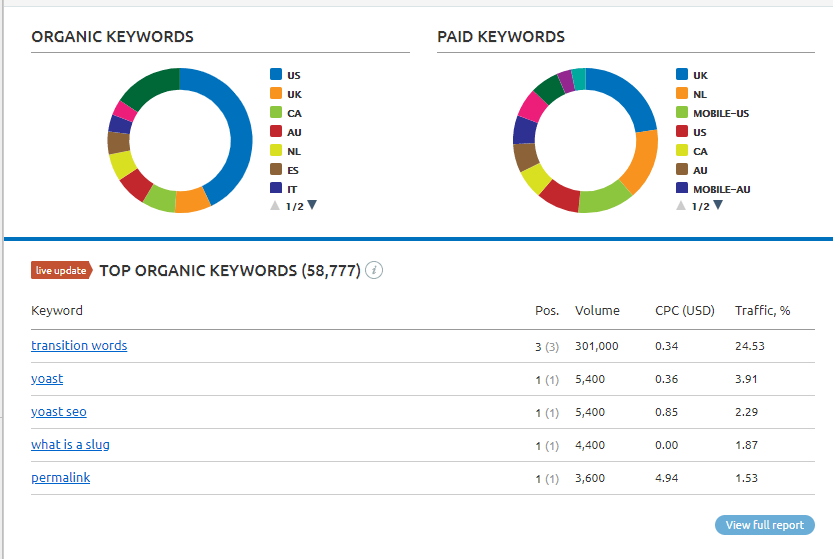 There is a massive amount of data to unpack here. For now, focus on the ORGANIC KEYWORDS and TOP ORGANIC KEYWORDS sections. The former shows you a breakdown of where your competitor's audience comes from, whereas the latter includes specific keywords. If you look at the Volume column, you'll see how much traffic each keyword is bringing in.
If you execute a Google search for any of those keywords within your competitor's website, you get a list of the top content.
To restrict your search to just your competitor's website, you can use the site:competitor.com search query operator.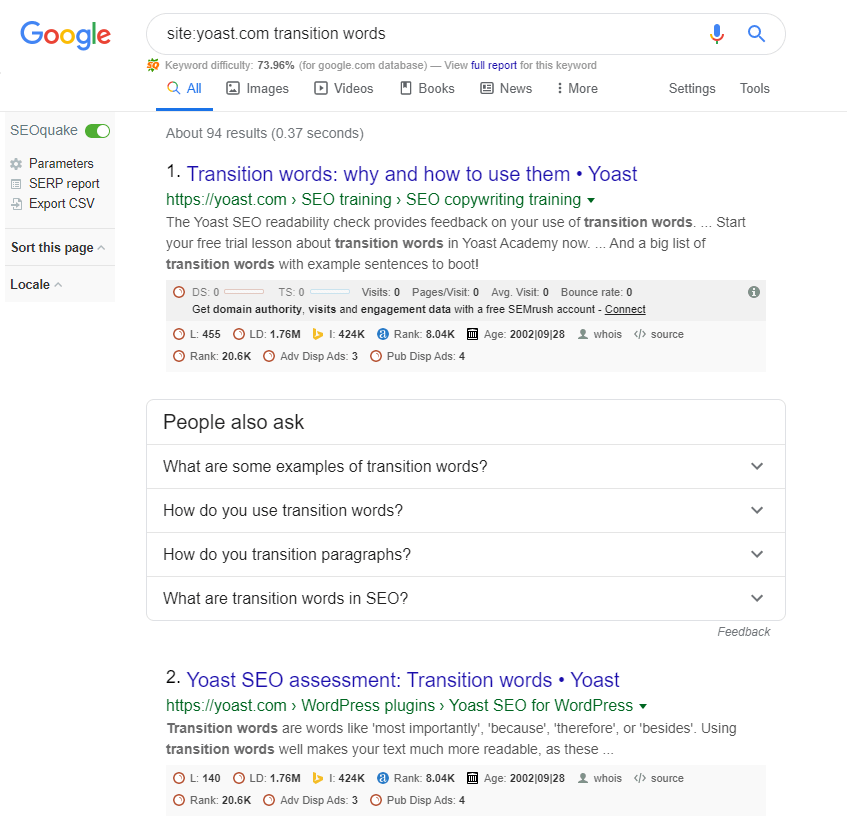 You'll want to repeat this process for all your top competitors and their highest performing keywords. That'll give you a clear overview of what content is driving traffic.
Step #3: Look for keywords you have in common
As an addendum to step number two, it's good to also look for keywords you have in common with competitors. This gives you an idea of what content you already have that, if improved, could bring in more traffic.
You can also use SEMRush to find that data. Log into your account and go to the Domain vs. Domain tab on the left menu. Here, you can enter multiple domains so SEMRush can compare them head-to-head:

This will return a list of the top keywords both domains share in common. For each keyword, you get an overview of searches per month and rankings for each website: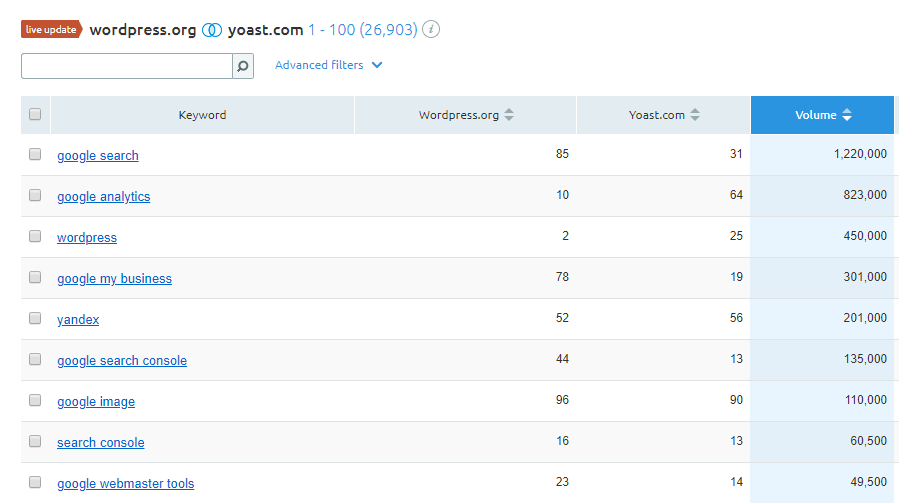 Your goal here is to identify keywords where you're ranking a bit lower than your competitors. The overall idea is to improve the content you discover, and give yourself a chance to overtake your competitors.
If you look at the example above, both websites are ranking similarly close for the 'search console' search term. This would make it a prime candidate for the underdog (in this case you) to develop better content and shoot up the standings.
Step #4: Identify keyword gaps you can target
Once you have a list of your competitor's top keywords, one thing becomes evident quickly: they're probably targeting a lot of terms you aren't. Those missed spots in your content strategy constitute 'keyword gaps.' Your goal is to fill the gap with content that can rank, so you can also get a slice of the organic traffic coming in.
However, since we're talking about your competitor's top keywords, they're probably high difficulty search queries. Let's take another look at the domain analysis from step number two: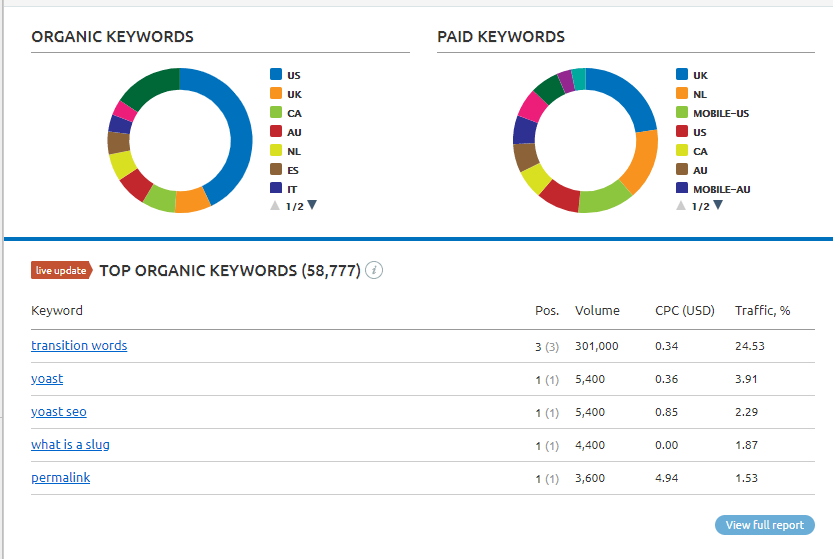 A quick glance is enough to tell us those are pretty competitive keywords. Given this, imagine you have a gap in your keyword strategy that includes one of those terms. Attempting to beat a first-position competitor for a top keyword is going to be difficult. A smarter move might be to look up 'long-tail' keyword alternatives.
Google Keyword Planner is great for this. Here are some of the alternatives it suggests when we look up 'transition words':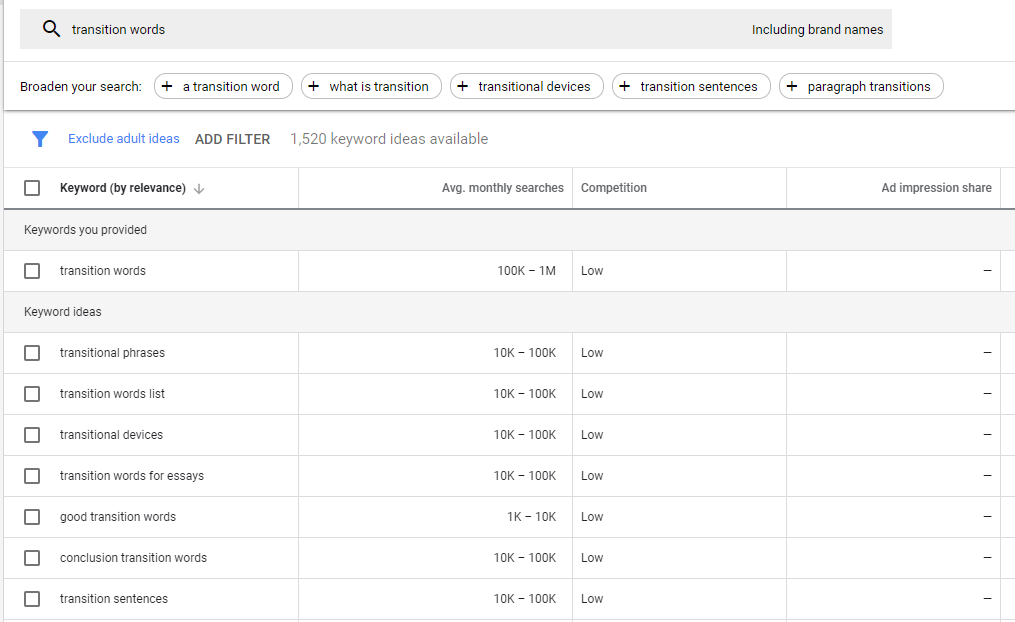 With this data in hand, you can target keywords that, while maybe not as popular as the original, may be easier to rank for.
Step #5: Analyze your competition's backlink profile
We've talked a lot about keywords so far, but they aren't the only important factor when it comes to SEO. As you may know, backlinks are another signal search engines value highly. Knowing which websites are linking to your competitors can give you a list of publications to target for additional backlinks of your own.
For this step, you can use the aptly-named Backlinks tool. Enter of your competitors' URLs and it'll provide you with a list of backlinks:

The backlinks you get are ordered depending on their source's domain score. Higher domain scores translate to more reputable backlinks: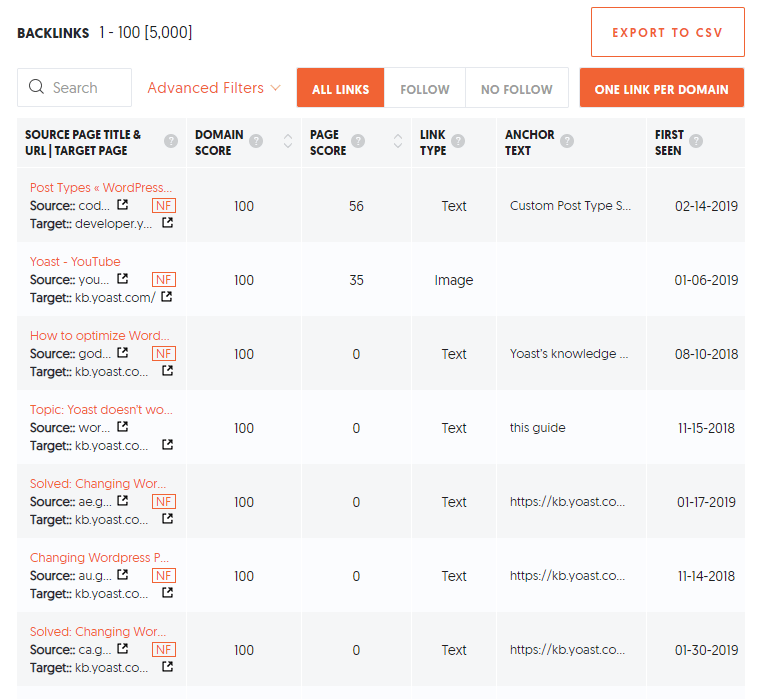 You can also filter backlinks by dofollow or nofollow attributes and export a full list to a CSV file so that you can analyze them at your leisure. Once you have the list, you can begin the arduous task of identifying potential backlink opportunities and conducting outreach.
Complete your first competitor site analysis today
To succeed in any industry, you have to provide a better quality of product, service, or content than your competitors. The only way to make sure you meet the bar is to know what they're doing. This means taking a close look at their operations, and forming a rival-beating strategy.
Running a competitor site analysis will give you insight into how to beat them when it comes to SEO. This involves:
Identifying who your top competitors are.
Taking a look at their top content.
Looking for keywords you have in common.
Identifying keyword gaps you can target.
Analyzing their backlink profile.
Of course, understanding where gaps and opportunities are isn't enough. You also need to set your site up to rank for those queries. To that end, you'll want to learn about WordPress SEO and on-page SEO so that you can make sure your site is ready to rank.
Do you have any questions about how to execute a competitor site analysis? Let's go over them in the comments section below!
Free guide
5 Essential Tips to Speed Up
Your WordPress Site
Reduce your loading time by even 50-80%
just by following simple tips.