Running a small business means you may not have the budget to outsource certain tasks. For instance, if you want to establish an online presence, hiring a web designer could be pricey. However, it can be challenging to make a small business website on your own.
Luckily, this process is not as complicated as it may seem. Some beginner-friendly website builders perfect for a small business will enable you to create a beautiful site without any experience. Best of all, many of these tools are incredibly budget-friendly.
This article will show you how to make a small business website in nine easy steps. Let's dive in!
Here's an overview of what we're going to cover:
What to consider when making a small business website
When creating a website, there's no 'one size fits all' solution. You'll need to consider your goals before you get started, so that you can implement design elements and tools to achieve your objectives.
For instance, a dentist's office would need a completely different website than an architecture firm. Whether you want to inform visitors about a brick-and-mortar business or conduct sales online also significantly influences how your site should look.
When starting the process of making your small business site, ask yourself the following questions:
What information do you need to communicate to your site's visitors?
What actions do you want visitors to take after they view your site (e.g., buy products online, come to your brick-and-mortar store, request a quote)?
How will you display your products or services?
Do you need an online portfolio of past work to demonstrate your value to potential clients or customers?
You should also think about the expected traffic to your website. If you want to sell products online, you may receive a lot more attention than a local business that relies on in-person sales. Your needs in this area will influence which platforms and hosting providers are suitable for your site.
How to make a small business website (in 9 easy steps)
Once you have a clear direction for your website's goals, you can start digging into the process of designing and building it. Here are nine key steps to help you launch your business' online presence:
Step 1: Choose your website building platform
Ideally, you should opt for a user-friendly solution that will help you create a website without any coding knowledge. Here's what we recommend for small businesses:
WordPress. There are two versions of WordPress. We will focus on WordPress.org, which gives you access to the best features and more control over your website. You'll need to arrange hosting separately (more on that later).
Hosted website builders. If you like all-in-one solutions, you might want to consider a reputable website builder such as Squarespace or Wix. These platforms offer complete website designs out of the box, which you can customize with a drag-and-drop tool. You won't need to outsource hosting to another company, but you'll have less flexibility with design.
The costs associated with hosted website builders depend on the plan you choose. For instance, if you opt for the Squarespace Business package, it will cost you $18 per month.
On the other hand, WordPress is an open-source project, meaning it's free to use. However, you will be responsible for finding a web hosting provider, which is an additional expense.
For this tutorial, we're going to primarily focus on WordPress.org because we believe it's the best solution for most small businesses.
Here are some of the reasons we recommend WordPress:
You don't need to be a developer or techie to make a website.
The WordPress software is free.
It's super flexible – you can easily change how your site looks or add new features.
Over 42.9% of all websites on the internet use WordPress, so your small business website will be in good company.
Step 2: Pick your domain name
Your domain name should ideally align with your business name. If you're unsure of which name you should choose, there are several online generators that can provide you with some inspiration, such as DomainWheel: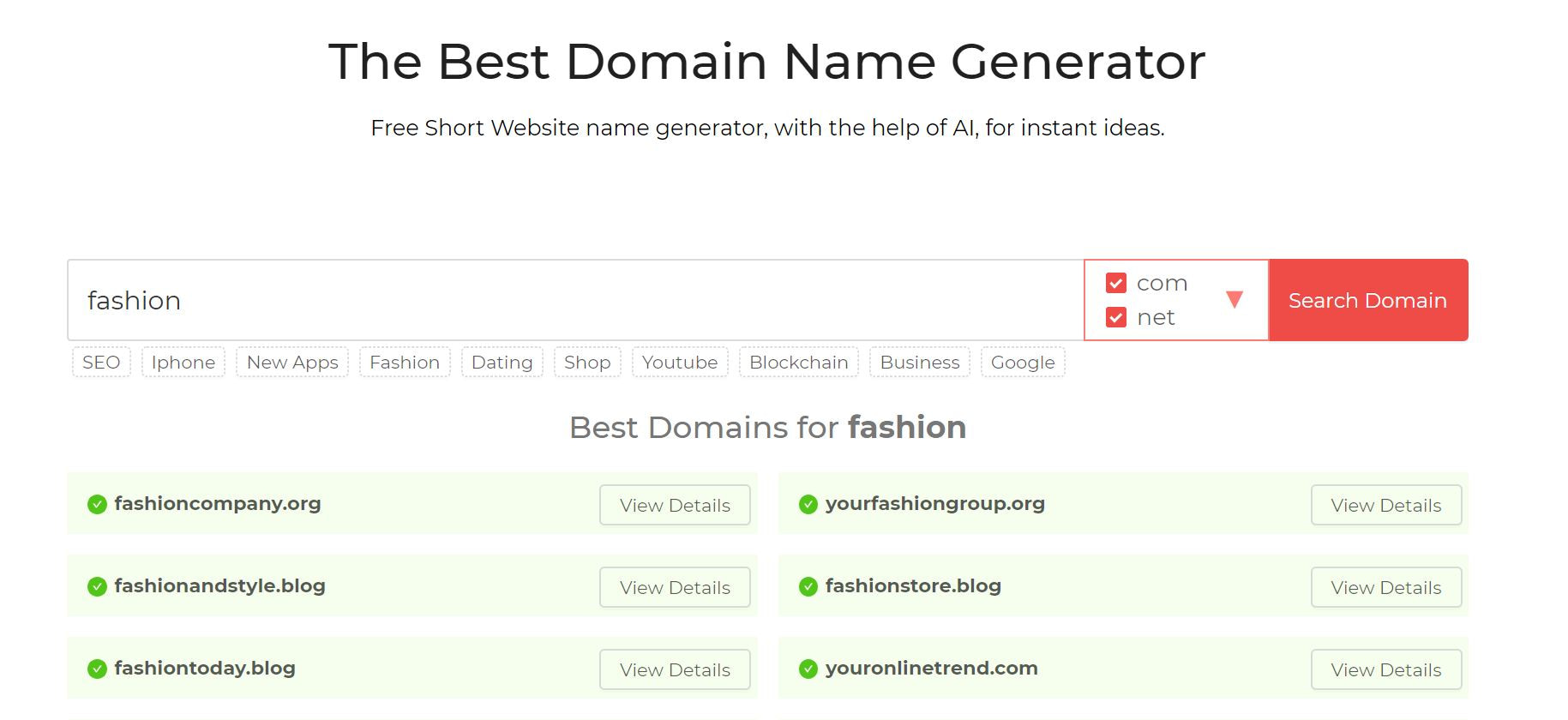 Here are some tips to take into account when deciding on your website address:
Make sure it's easy to spell.
Keep it as short as possible.
Include keywords relevant to your business.
We also have some posts that go into more detail on choosing a domain name:
Don't worry about purchasing your domain name yet – you'll be able to register your domain name when you sign up for hosting (in the next step). Or, if you want to use a tool like Squarespace or Wix, you can also purchase your domain name through those tools.
Step 3: Find your hosting provider
If you decided to go with an all-in-one website builder, you can skip this step. WordPress users should keep reading.
There are several excellent beginner-friendly hosting companies you can consider. Our top pick is Bluehost, which is officially recommended by WordPress.org: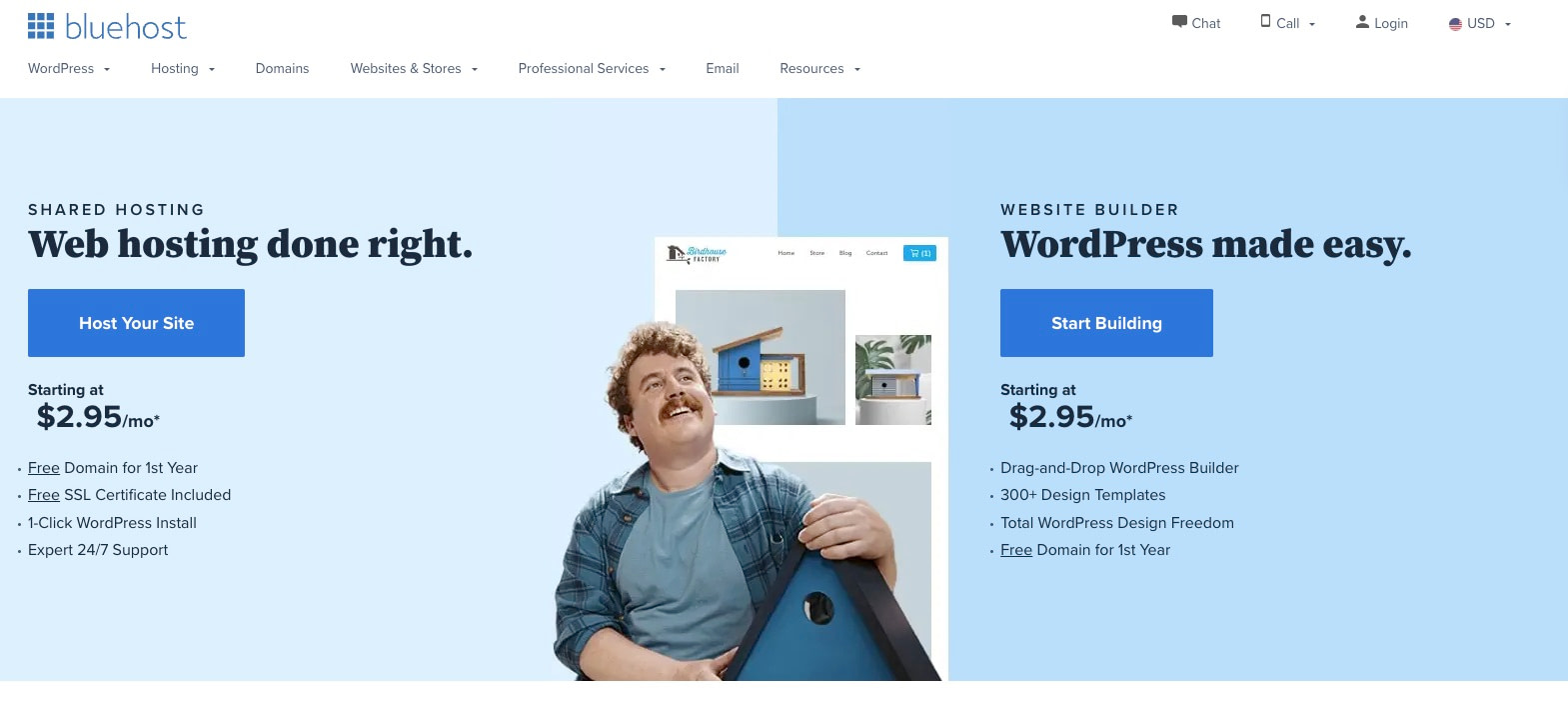 We recommend Bluehost for various reasons. For example, its hosting packages come with the following inclusions:
24/7 customer service and support
A free SSL certificate
A free domain name for the first year of your plan
Access to a user-friendly dashboard
In-built security features
WordPress optimization features
The cheapest Basic plan starts at just $2.75 per month. This package is usually sufficient for small websites, but you can easily upgrade as your business grows.
Step 4: Install the WordPress software
Again, you can skip this step if you'd rather use an all-in-one website builder such as Squarespace. However, if you'd prefer to use WordPress and a hosting company, you'll need to install the software to use the Content Management System (CMS).
Bluehost features an intuitive dashboard and one-click WordPress installation. If you opt for this hosting provider, you can install the WordPress software quickly and easily.
Go to your Bluehost dashboard and click on My Sites from the left-hand menu. Then, select Add Site > Create New Site from this page: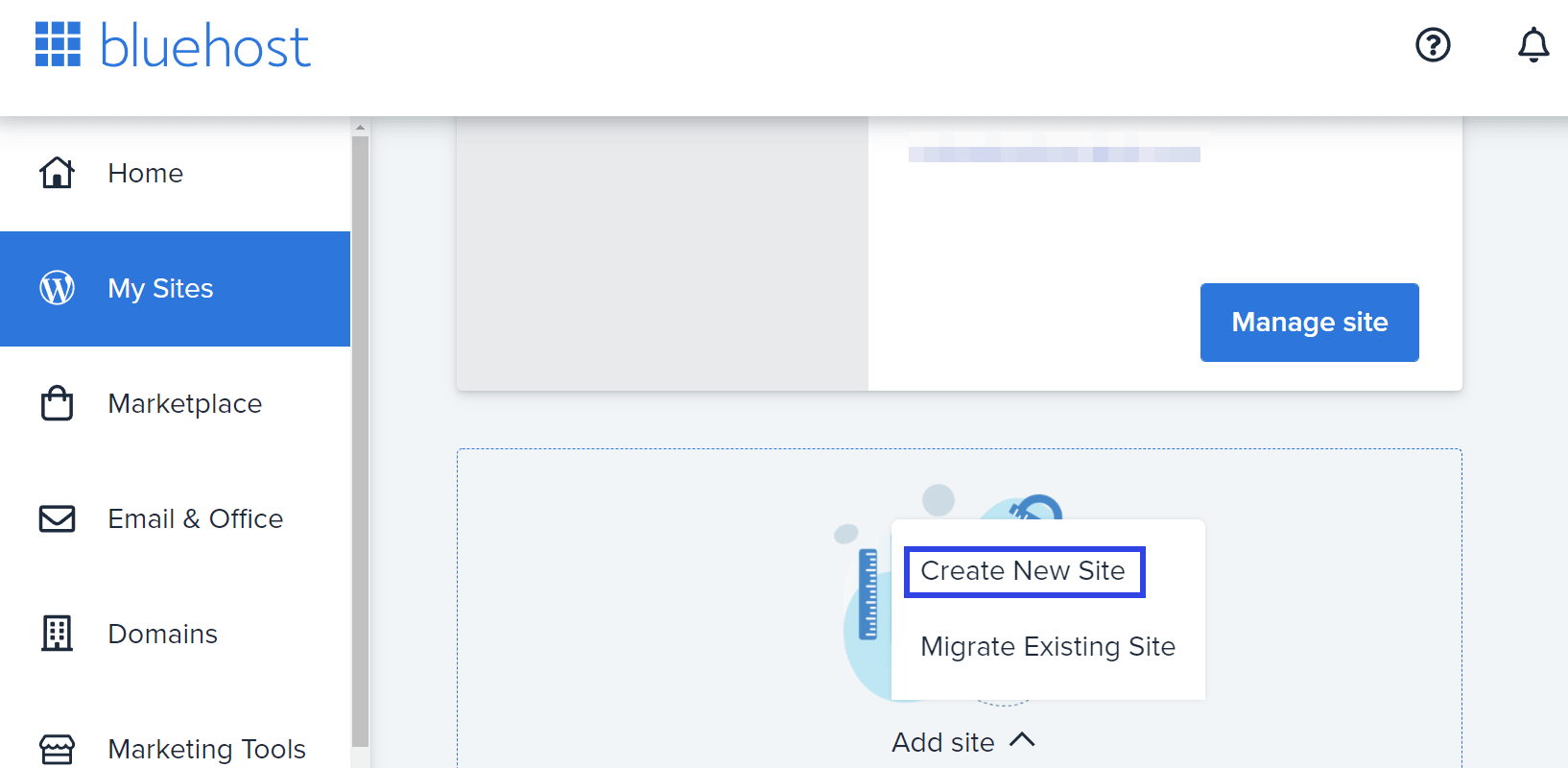 You'll now see the option to install WordPress or start working with Bluehost's website builder. Click on Get started inside the WordPress box: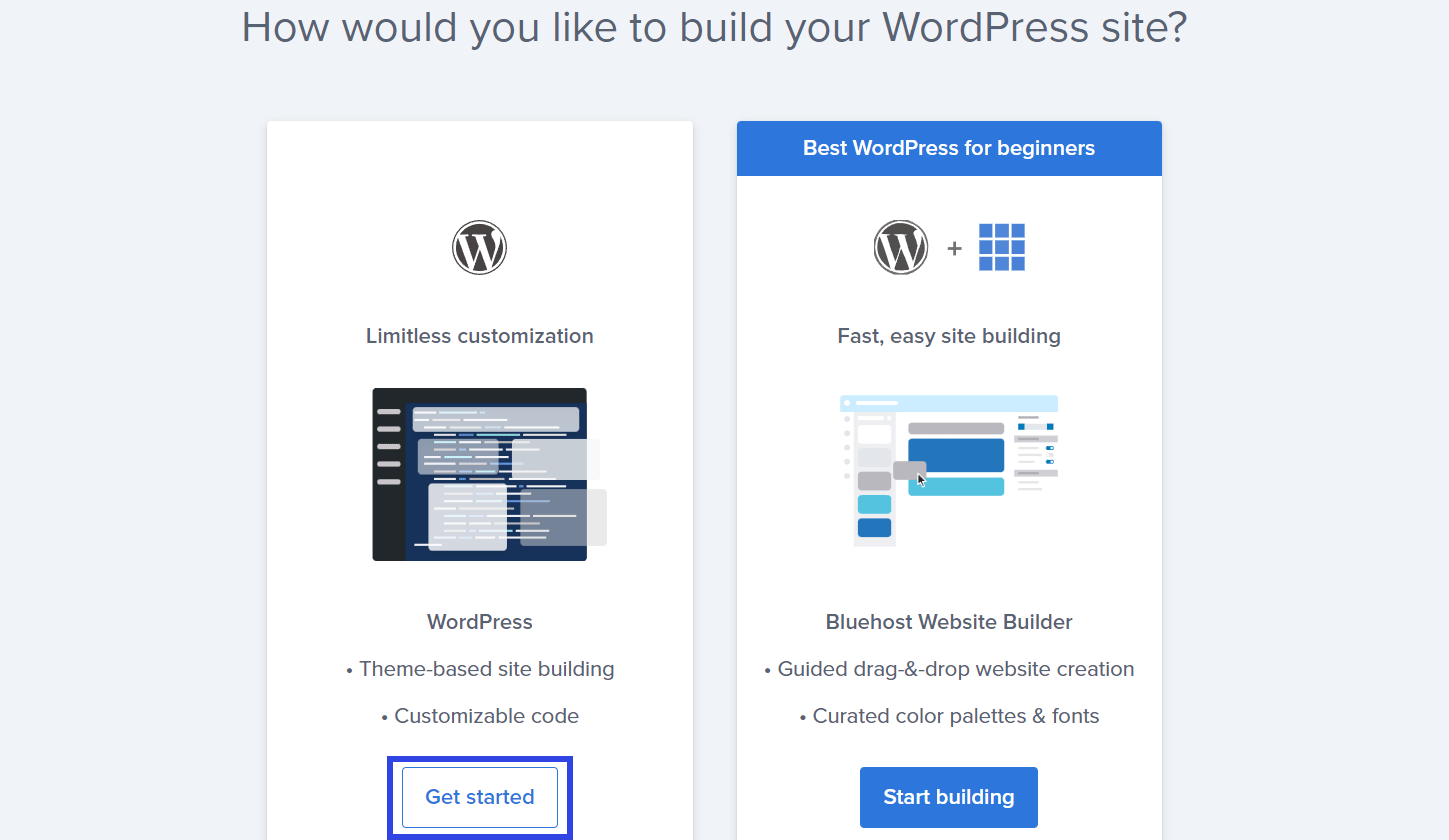 You'll now be prompted to enter a website name and tagline. When you're ready, hit Next: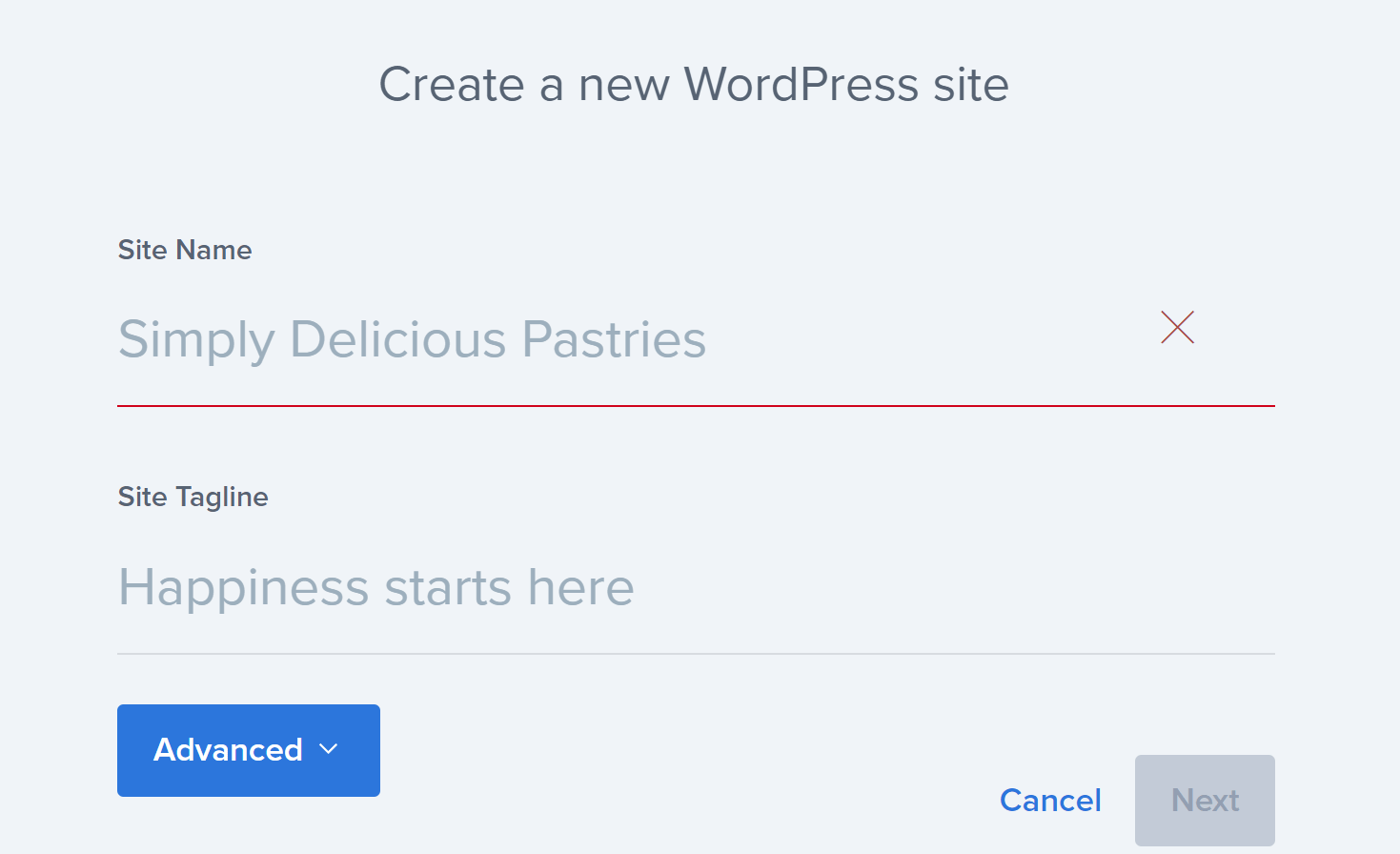 You'll then need to enter your email address and create a password for the new WordPress site. Then, the installer will start downloading and installing the WordPress software.
When that process finishes, navigate to My Sites again. Hit Manage Site underneath your website name and then select Log in to WordPress:

This process may be different, depending on your chosen hosting provider. Therefore, we recommend referring to your host's official documentation. You can also check out our official beginner's guide on how to install WordPress on your site.
Step 5: Select a theme or template
WordPress and Squarespace offer tons of templates (or themes) that you can easily customize. Many of them are free to use, too.
In WordPress, you can access free theme options from your dashboard by navigating to Appearance > Themes: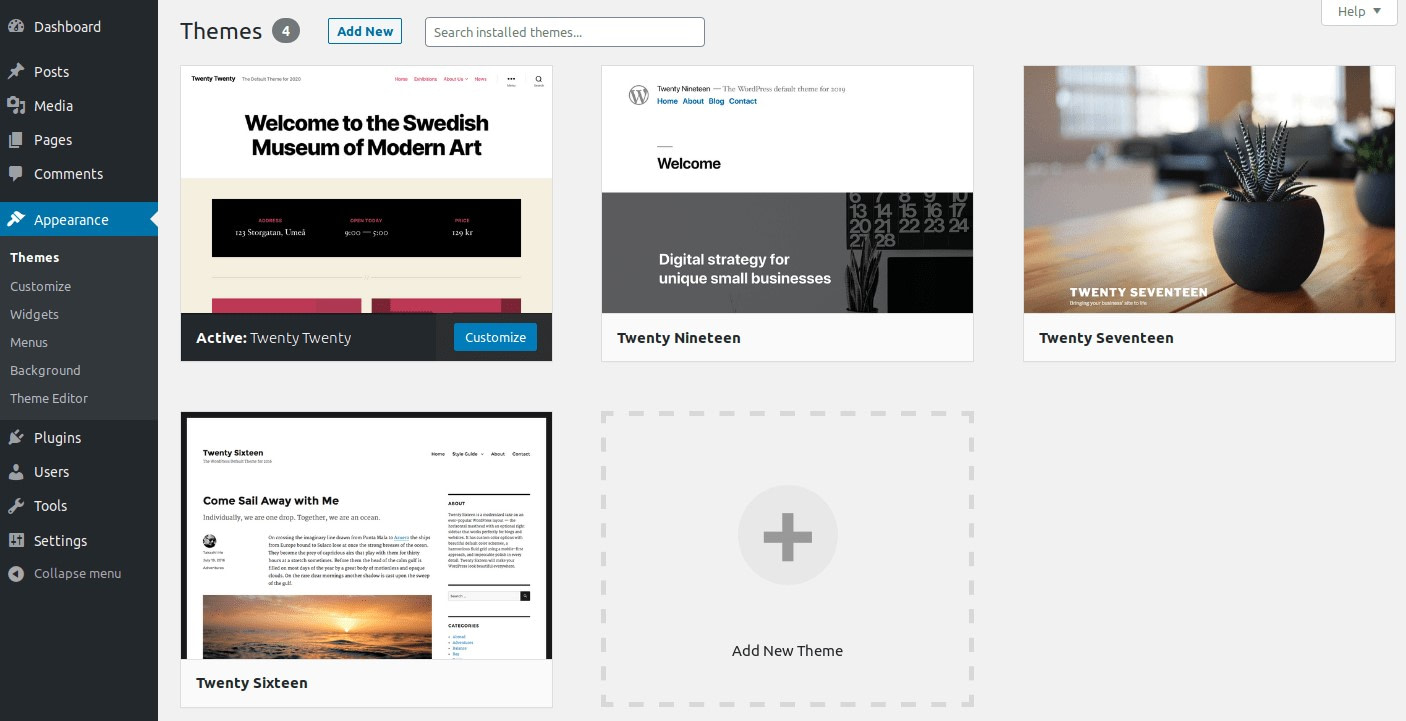 Once you Install and Activate the theme of your choice, you can customize it. Alternatively, you may want to consider a premium WordPress business theme. These products often include features such as pre-built portfolios, e-commerce pages, and page builder integration.
On the other hand, Squarespace lists all its templates directly on its site. You can preview each one and click on Start With This Design once you're happy with your choice: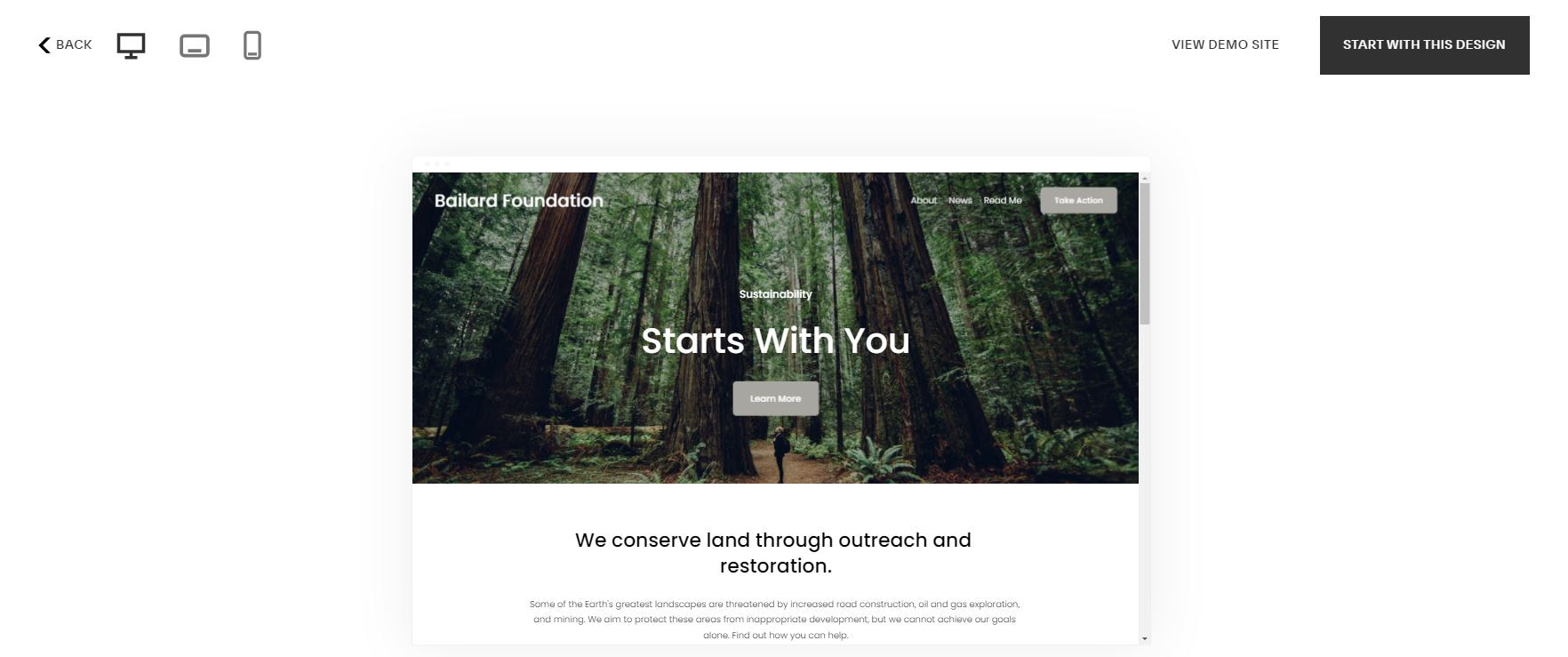 Then, you'll land straight in the editing area, where you can customize almost all your site's elements. We recommend reviewing any changes on the front end to make sure that they look good.
Step 6: Install plugins or extensions
Plugins (in WordPress) and extensions (in Squarespace and other page builders) can add new features to your website. Without these tools, you may struggle to get the most out of your small business site.
You can browse Squarespace extensions from its extensive library. With WordPress, you'll have access to almost 60,000 plugins.
With so many options available, it might be tempting to install as many plugins or extensions as you can. However, doing so could slow down your site and affect its performance.
Therefore, we recommend focusing on plugins/extensions that address the following areas:
When choosing plugins or extensions, we recommend opting for tools with high ratings and regular updates. You can also read other users' feedback to see if the plugin will be suitable for your needs:

You can refer to our guide on installing WordPress plugins. Alternatively, you can check out the reference material for installing extensions on Squarespace.
Step 7: Add your content
As you customize your website, you will likely want to add content almost immediately. Before you do that, it's wise to have a rough structure in mind.
Most business websites will need the following:
Homepage. This will be the first thing many visitors see when they come to your site. It should give a short overview of your services. Furthermore, it should include clear navigation to other sections.
Products, Services, or Portfolio page. This is where you will showcase your work and describe what you have to offer customers or clients.
About page. In this section, you'll include your story or share information about your team.
Contact page. Ideally, you'll want to include a contact form and encourage customers to get in touch if they have questions.
Blog. This is a must for many businesses nowadays and an excellent content marketing tool.
WordPress and popular website builders all enable you to easily create pages and add blog posts. Therefore, you have the freedom to curate your content as needed.
Step 8: Optimize your website for search engines
Once you have content available online, you still have to make sure people can find it. SEO is one strategy that can help with that.
SEO is the practice of refining your content so that it is more likely to rank high on Search Engine Results Pages (SERPs). There are a few key practices that you should keep in mind, such as:
Using appropriate keywords in your posts and pages
Optimizing your website for speed
Picking a responsive design so that your content works on all devices
Including internal and external links throughout your site
Using post names in their permalinks
If you chose WordPress as your website platform, you can install an SEO plugin such as Yoast SEO, which scans your content and suggests tips for improvement:
Some website builders offer similar tools. However, it's always smart to follow this SEO checklist.
Step 9: Publish your website
Many website builders enable you to keep your site private while you're building it, then publish it once it's ready for visitors. With WordPress, your site will be visible to the public as soon as you've installed the software on your hosting account.
Regardless, before you start promoting your website, there are a few last-minute checks you might want to make:
Preview how your website will look on mobile devices to make sure it's readable.
Read through your content to make sure everything is accurate.
Remove any filler content from your theme or template.
In order to start driving traffic to your new site, you might consider reaching out to existing customers to let them know you're now online. You can also promote your website on social media or via email.
Conclusion
An online presence is paramount if you want to reach a wider audience. Outsourcing web developers may not be within your budget if you're a small business owner. Luckily, with beginner-friendly platforms such as WordPress, Squarespace, or Wix, you can build a website in no time and save some money in the process.
To recap, here's how to make a small business website in nine steps:
Choose your website building platform.
Pick your domain name.
Find your hosting provider.
Install the WordPress software.
Select a theme or template.
Install plugins or extensions.
Add your content.
Optimize your website for search engines.
Publish your website.
Do you have any questions about starting your small business website? Let us know in the comments section below!
Free guide
5 Essential Tips to Speed Up
Your WordPress Site
Reduce your loading time by even 50-80%
just by following simple tips.
* This post contains affiliate links, which means that if you click on one of the product links and then purchase the product, we'll receive a commission. No worries though, you'll still pay the standard amount so there's no cost on your part.