LinkedIn is the reigning champion of job-related social media platforms. If you're a professional, chances are you've already got an account – but simply being on the site can only take you so far. Learning how to integrate WordPress with LinkedIn can enable you to make the most of both platforms.
WordPress and LinkedIn aren't exactly two peas in a pod, but with a little creativity, you can make them work well together. For example, embedding your LinkedIn profile on your portfolio site can make it look more professional, which may lead to more business.
In this article, we'll explore two ways to integrate WordPress with LinkedIn. We'll explain what makes them useful, and show you how to execute each one. Let's start with the simplest method!
1. Insert your LinkedIn profile into WordPress
The first and most straightforward method to integrate WordPress with LinkedIn is to use the latter's profile embedding feature.
LinkedIn provides its users with a simple way to generate snippets of HTML code they can copy and paste into any type of website. These snippets will enable you to display simple widget profiles, like this one: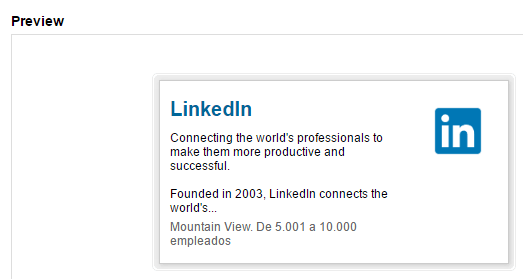 This feature can come in handy if you're setting up a portfolio using WordPress since it will strengthen your credentials. People can use LinkedIn to find their next hires, and sharing your profile publicly is a great way to start a new work relationship on the right foot.
The best part is that you can accomplish this in a matter of minutes. All you have to do is log into your LinkedIn account and make your way to the Plugins page. Then choose the Member Profile option, and LinkedIn will automatically generate the code you'll need. Copy the code, then you can simply paste it onto any WordPress post or page you want, using the platform's text editor.
If you're interested, test out some of LinkedIn's other plugins. They offer an option for creating share and follow buttons, and even have widgets that will display jobs you might be interested in. Example: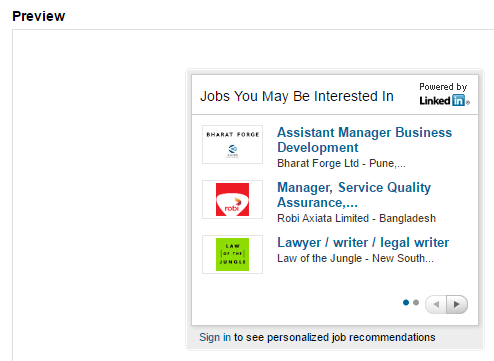 2. Auto-publish your WordPress posts to LinkedIn
WordPress and LinkedIn are both fantastic platforms, but they don't have much in common at first glance. However, LinkedIn does enable you to share WordPress content with your followers – a move that can help boost your chances of getting hired.
The key to creating content people will be interested in is to make it relevant, which you can do by focusing on solving problems or answering questions. If you follow this simple suggestion, your blog or articles can help position you as an expert among your peers. Furthermore, if you integrate WordPress with LinkedIn, sharing your WordPress posts will generate traffic between the platforms.
Sharing content manually can get boring quite fast, however, and it will take up some of your valuable time. Fortunately, WordPress enables you to automate this process using a plugin – Social Media Auto Publish:
Once you've installed and activated the plugin, you'll need to generate both a LinkedIn application ID and a 'secret key'. When you add this information to the plugin's settings, you'll be able to turn on auto-sharing right away.
Finally, if you have a large library of existing content, you might consider using a tool such as Revive Old Post. This plugin supports LinkedIn, and can help you share old posts through social media.
Integrate WordPress with LinkedIn: Conclusion
Learning how to integrate WordPress with LinkedIn can enable you to pull off some interesting combinations. You can share profiles, content, and updates between the sites to increase your visibility and credibility. Together, these two platforms can help boost your chances of landing that next gig. Alternately, you can use integration to make your company's website more professional and relevant.
Let's briefly recap the two main ways you can integrate WordPress with LinkedIn:
Insert your LinkedIn profile into WordPress.
Auto-publish your WordPress posts to LinkedIn.
Do you have any tips on how to integrate these two platforms? Share them with us in the comments section below!
Free guide
5 Essential Tips to Speed Up
Your WordPress Site
Reduce your loading time by even 50-80%
just by following simple tips.