Are you a fan of Google Docs? Sure you are. It's an amazing tool thanks to its easy collaboration and formatting features. However, it wasn't that amazing if you wanted to import from Google Docs to WordPress…until now.
Thanks to the team at Automattic, it's now possible to import posts directly from Google Docs to your self-hosted WordPress site using the Jetpack plugin. And in this post, I'll give you a detailed tutorial on how to do just that!
⚠️ Since the time this post got published, the possibility to integrate Google Docs with WordPress via Jetpack has ceased to work. The following advice is no longer up to date and should be used as reference material.
Step-by-Step: How to import from Google Docs to WordPress using Jetpack
For now, the only way to take advantage of the new import from Google Docs to WordPress feature is through the Jetpack plugin. To that end, I'm going to start this tutorial with a quick guide on how to install and configure Jetpack.
I know there's a decent chance that you might already be using Jetpack. So if that's you, feel free to skip ahead to the next section where the rest of the magic happens.
Step 1: Install and configure Jetpack for your site
For our purposes, Jetpack is a free plugin that you can install directly from the WordPress.org directory. Get started by installing and activating it:
Once it's activated, Jetpack will give you a prompt to connect to your WordPress.com account. Go ahead and click the Connect to WordPress.com button:

If you don't have a WordPress.com account, you'll need to create one now. If you do already have one, Jetpack will either:
Show you as logged in (that's what happened to me in the screenshot)
Ask you to log in.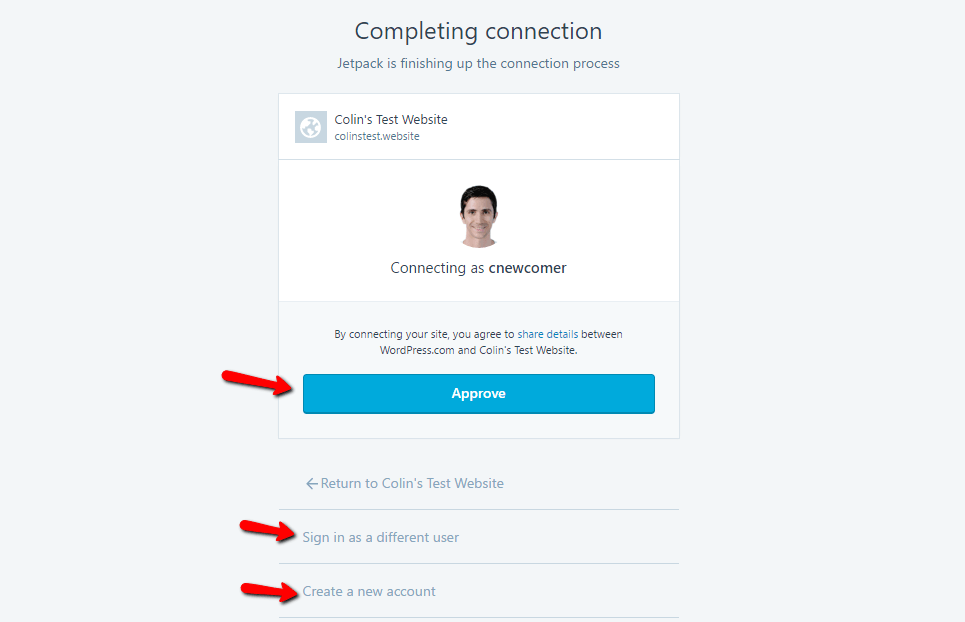 Once you Approve granting Jetpack access to your site, Jetpack will try to convince you to choose a paid plan. But you don't need a paid plan to import from Google Docs to WordPress. So feel free to click Select Free: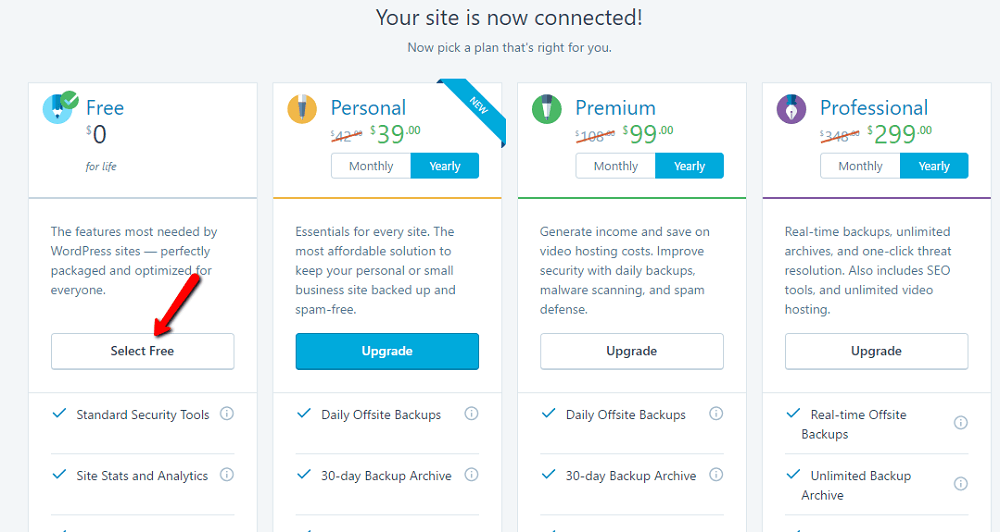 And now Jetpack is connected! You're ready to move on to the specific steps needed to import from Google Docs to WordPress
Note – if you already had Jetpack installed before reading this tutorial, this is where you should start.
Basically, the remaining steps involve:
Installing the WordPress.com Google Docs add-on
Authenticating the add-on's access to your WordPress.com account
Choosing which of the sites connected to your WordPress.com you want to enable the import feature on.
There are a lot of authentication steps you'll need to complete, but none of them are especially complicated.
To start, go to the "WordPress.com for Google Docs" add-on and install it in Google Docs by clicking the + Free button:
Google should automatically open a Google Docs window. Just click Continue to give the WordPress.com add-on permission to run: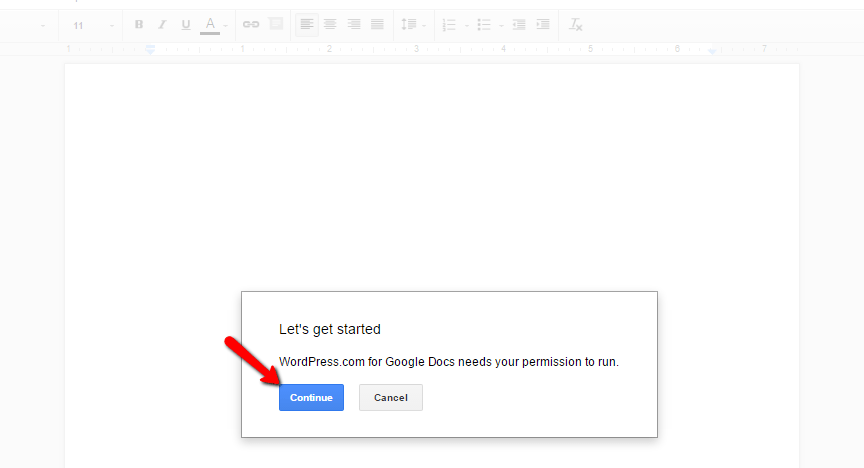 When you click Continue, a standard Google permissions box should pop up. Click Allow to give the WordPress.com add-on the permissions it needs to import from Google Docs to WordPress:
And now you've authorized the WordPress.com add-on to use Google Docs! Next step, authorize the WordPress.com add-on to use your WordPress site. I told you! There's a lot of authorizing going on.
Step 3: Give the WordPress.com add-on access to WordPress
To give the WordPress.com add-on access to your chosen WordPress site(s), you need to launch it from inside Google Docs. Do that by clicking Add-ons → WordPress.com for Google Docs → Open:
You should see a WordPress window pop up on the right side of the Google Docs interface. In that window, click the Authorize button: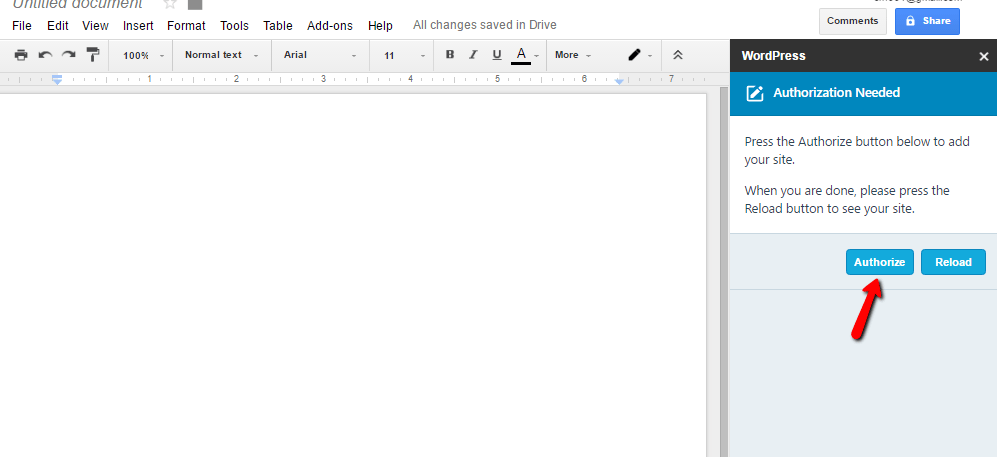 And now, you guessed it…more approvals. You should see a WordPress.com window asking you to approve access to one of your Jetpack-connected sites. If you're not already logged into WordPress.com, you'll need to do that first.
First, select the site that you want to connect with Google Docs from the drop-down. Then, click Approve: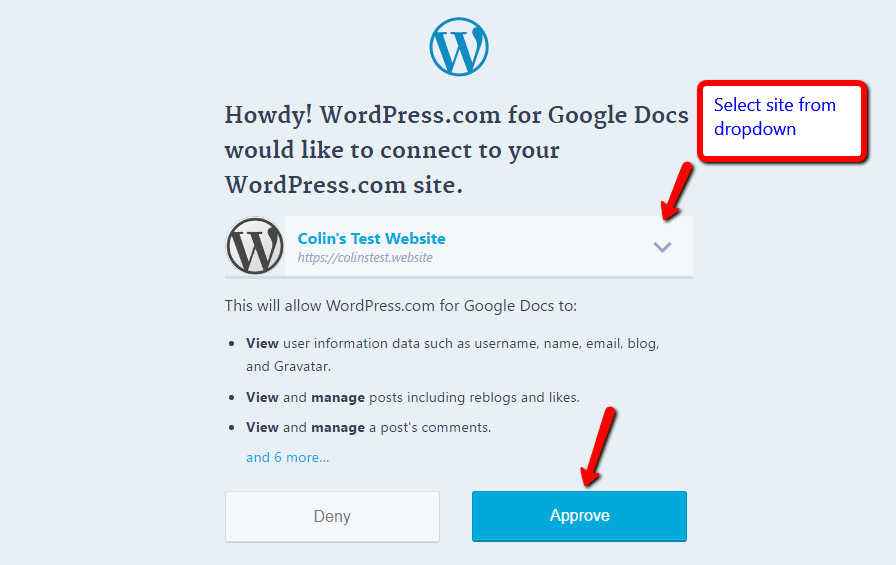 Next, you'll have to actually enter your login details for the site you're trying to connect. Yes, one more authorization step. It's a lot of steps, but it's good to know that no one will ever gain the ability to import from Google Docs to WordPress without your permission!
Just log in to your account as you normally would: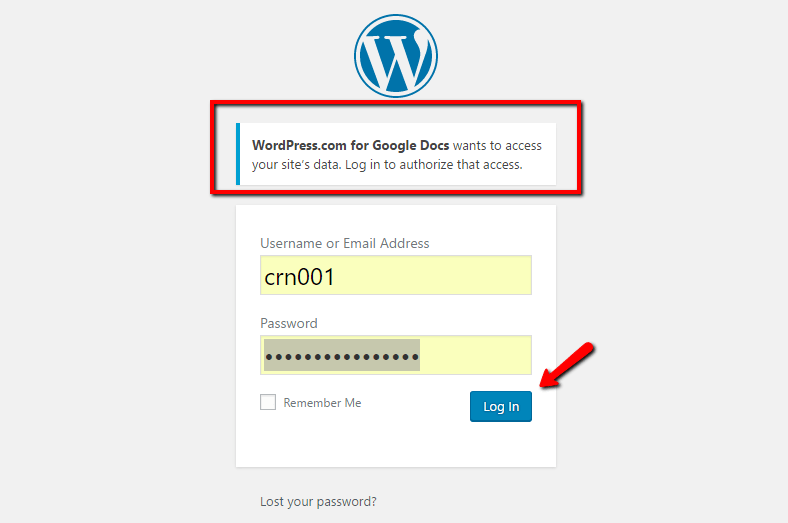 And you should finally be done! If all went to plan, you'll be redirected back to Google Docs where you'll now have the Save Draft ability for your chosen site.
If you want to connect additional sites, you can click the ADD WORDPRESS SITE button at the bottom of the WordPress.com Google Docs add-on: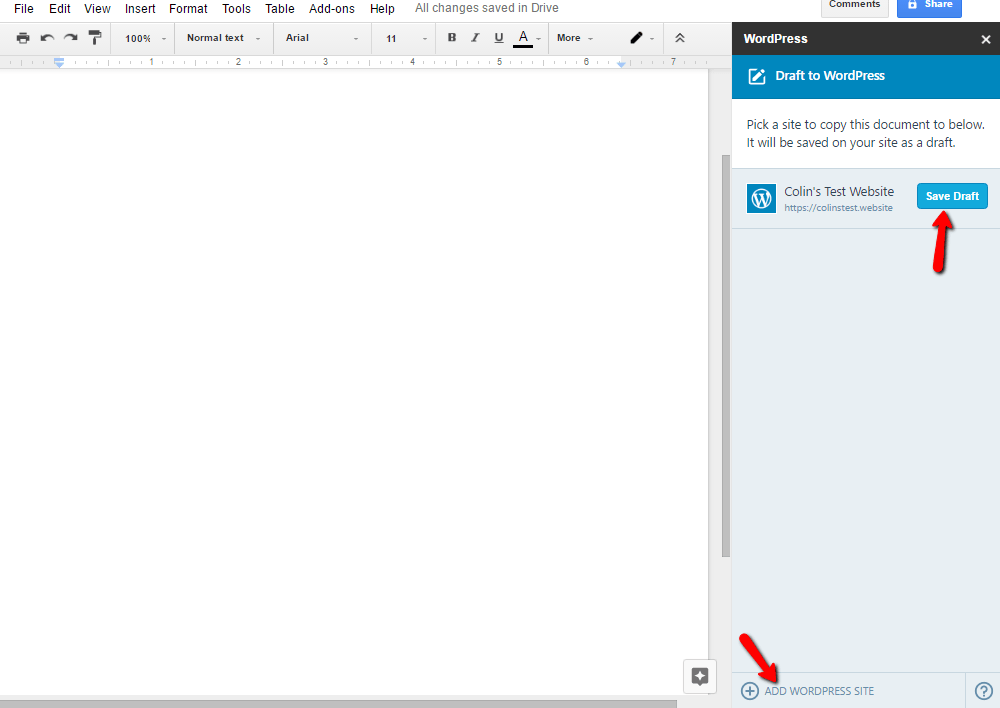 How to actually import from Google Docs to WordPress
At this point, everything should be properly configured. But how does the actual import process work? And what gets imported?
I'll show you a quick example. Let me just type up a dummy post with some images and text formatting quick…
Ok, here's what my dummy post looks like. To save it as a draft in my connected WordPress site, I just need to click the Save Draft button:
After saving the draft, I'll hop over to my dashboard for that site and…

There it is! Saved as a draft. Note how the post title in WordPress is the same as the filename in Google Docs.
The post is there, but does the formatting also come through when you import from Google Docs to WordPress?
Yup! You can see that the bullet list, underlining, bolding, and header tags all came through perfectly: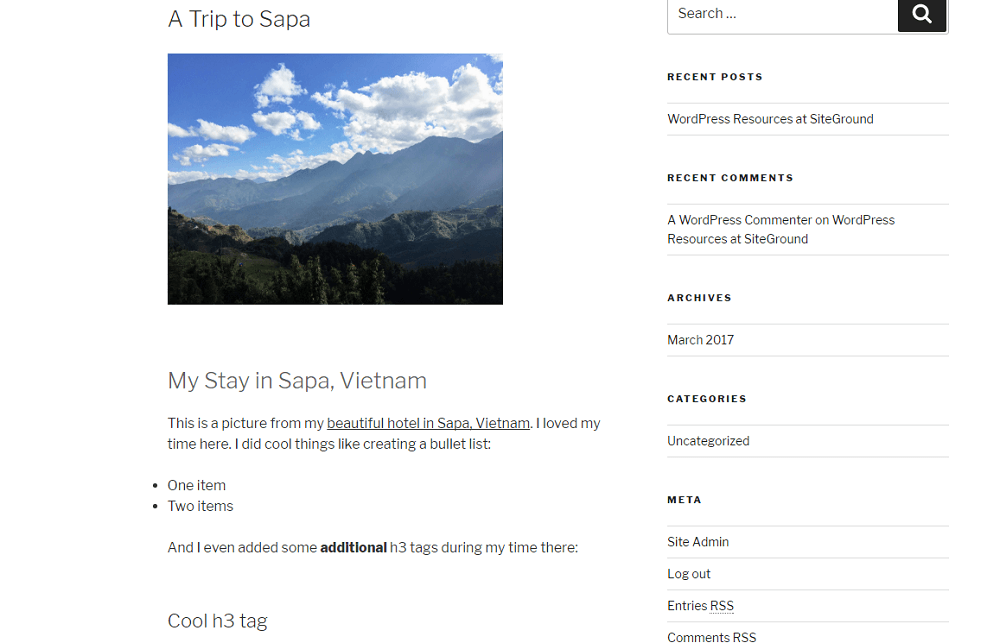 Any images that you upload to Google Docs will also show up in your normal media library.
Best of all, if you ever make changes to the Google Docs version of your post, it's easy to sync those changes back to WordPress by clicking the Update Draft button:
There's just one thing to remember – you'll still need to add some details to your WordPress post from within the WordPress editor. Those include:
Choosing a category for your post.
Adding alt text for your images.
Choosing a slug for your post's permalink.
Telling links to open in a new tab or adding nofollow tags.
Using a shortcode builder to add dynamic content.
If you have any further questions about how to import from Google Docs to WordPress, leave them in the comments and I'll try to help out!
Free guide
5 Essential Tips to Speed Up
Your WordPress Site
Reduce your loading time by even 50-80%
just by following simple tips.