Logos may be small in size, but they're as important as any of your site's other elements. If your logo is designed poorly, people may be turned off before consuming any of your content. So if you want a logo that looks professional, you need to learn how to get a logo designed for your WordPress website.
Fortunately, you don't have to create the logo yourself. Finding freelance designers online is now easier than ever. There are plenty of platforms with thousands of talented people competing against each other for work, so you can have your pick of top talent. All you need to know is where to look for it.
In this article, we're going to talk a bit more about what makes logos so important. Then we'll compare four platforms where you can get a logo designed for your website. Let's begin!
Why logos are important on your WordPress website
A lot of people commission simple logos without thinking twice about it and use them even if they're of poor quality. Sure, you may save money by paying for a cheap logo or creating one yourself, but this isn't often the best idea.
Let's talk about why logos matter:
Logos represent your brand. Your logo should go on all your website pages, emails, social media accounts, and more. It's an important representation of your business.
They can impact how visitors perceive you. The shape of your logo can actually impact visitors' perceptions of your brand.
Changing logos can be confusing. You can always update your logo if you got it wrong the first time, but that can be confusing for your audience.
Logos are so important that some companies spend thousands or millions of dollars to find the right design. You can get a lot of mileage out of a smaller budget, however, as long as you know where and how to get a logo designed online.
Four platforms where you can get a logo designed for your WordPress website
You can find talented freelance designers on any of the platforms below. However, they all work somewhat differently and offer talent at various rates. If you have a strict budget, pay attention to the expected price ranges for each platform.
1. 99designs
99designs
is one of our favorite platforms because it provides you with a ton of options. The way it works is that you can start a 'contest' any time you want by describing what you'd like to commission, waiting for submissions to come in, and then picking your favorite. The winner receives a cash prize, and you get to use their design.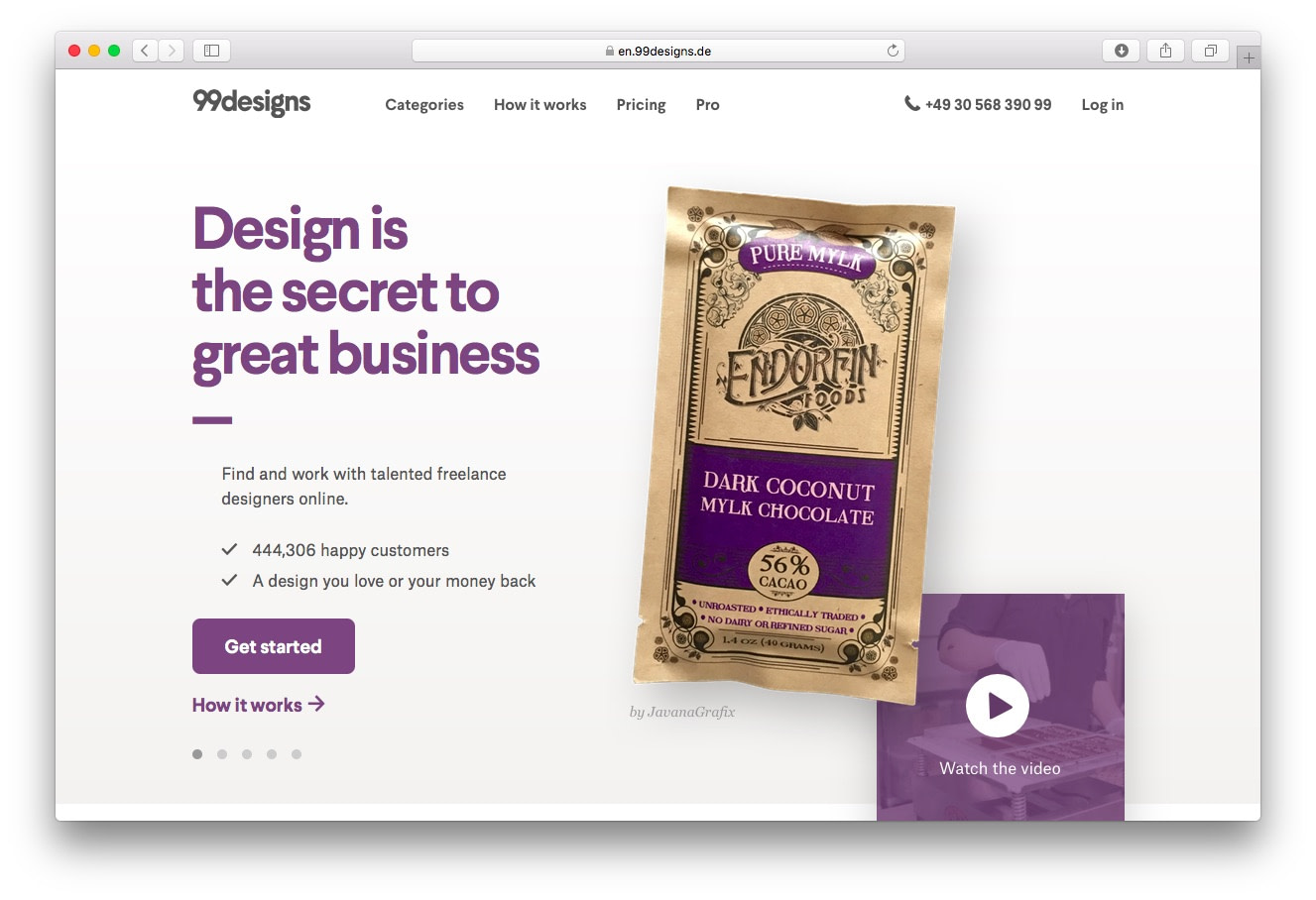 To launch a contest, you'll need to pay for a logo design package. 99designs offers four tiers of packages, starting at $299. Competitions at that level usually receive an average of 30 submissions, so you'll get a lot of options.
2. Fiverr
Fiverr
gets a bad rap sometimes, due to its lower than average prices. However, you can find some excellent design talent here if you're willing to take the time to vet them carefully. This platform enables you to look specifically for designers
who create logos
, so all you have to do is sort through them.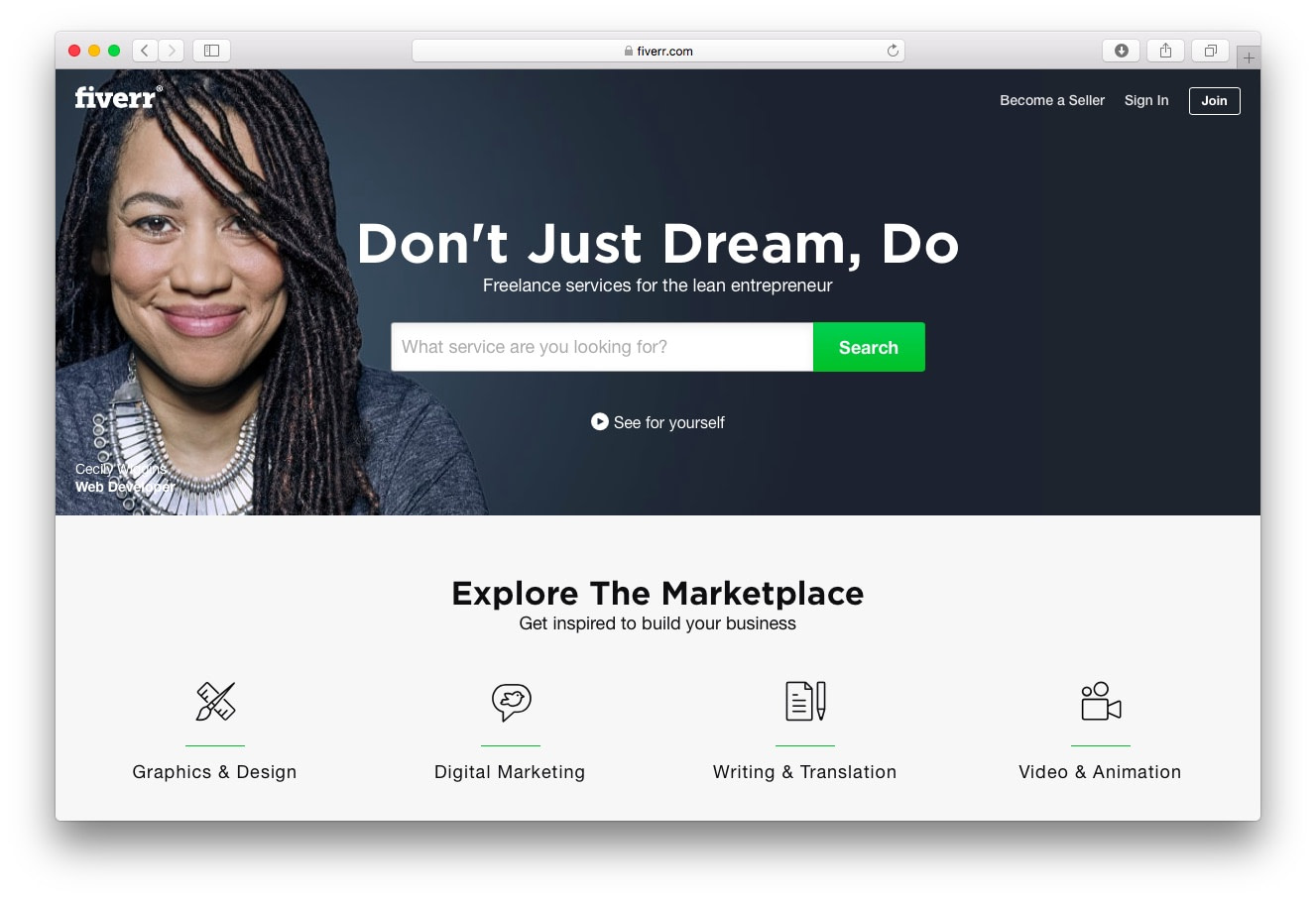 Fortunately, it isn't difficult to learn how to spot top Fiverr sellers.
Once you've picked a seller, you'll have to choose one of their design packages. Typically, the cheaper they are, the fewer options you'll get (such as vector files, social media covers, and more). You can find some excellent logo designers starting at $5 on the platform. However, most serious sellers make those packages very bare-bones. For a better experience, you'll want to budget at least $30.
3. Designhill
Designhill
takes a two-pronged approach to design jobs. It enables you to hold contests (much like 99designs)
and
buy ready-made logo designs. We don't recommend using that latter approach, however, since logos should ideally be designed from the ground up to suit your site's brand.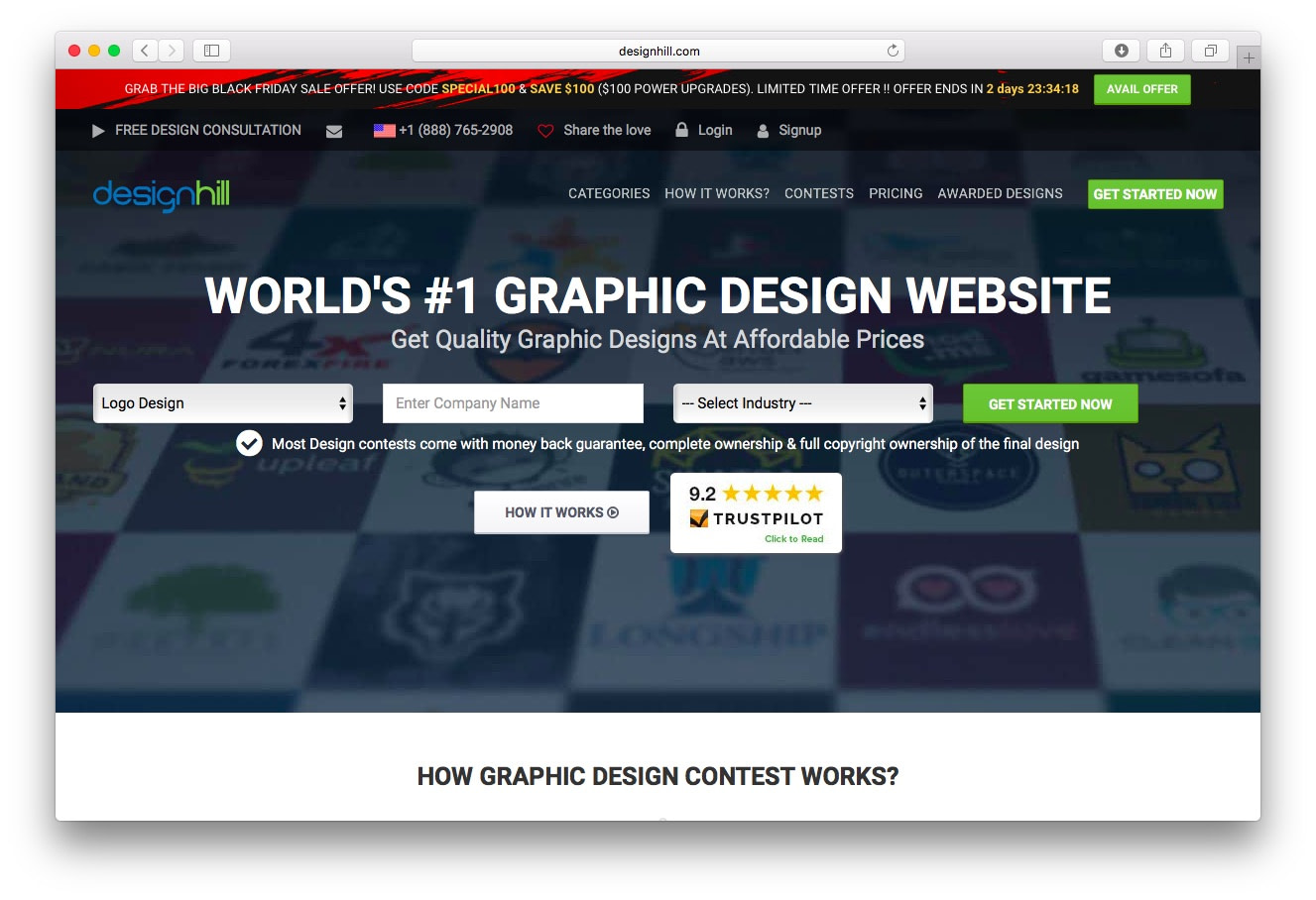 That said, Designhill is an excellent choice if you like the contest approach to logo design, but you want to use a more affordable service than 99designs. Logo design contest packages start at $99 on this platform. For that price, you can expect to receive over 20 designs on average. Most contests usually get more, but it varies depending on the industry you're a part of.
4. AwesomeWeb
AwesomeWeb
is very different from the platforms we've reviewed so far. It enables you to hire freelancers one on one and pay them based on how much time it takes to design your logo. The platform carefully vets each freelancer before admitting them and enables them to set the hourly rates they want.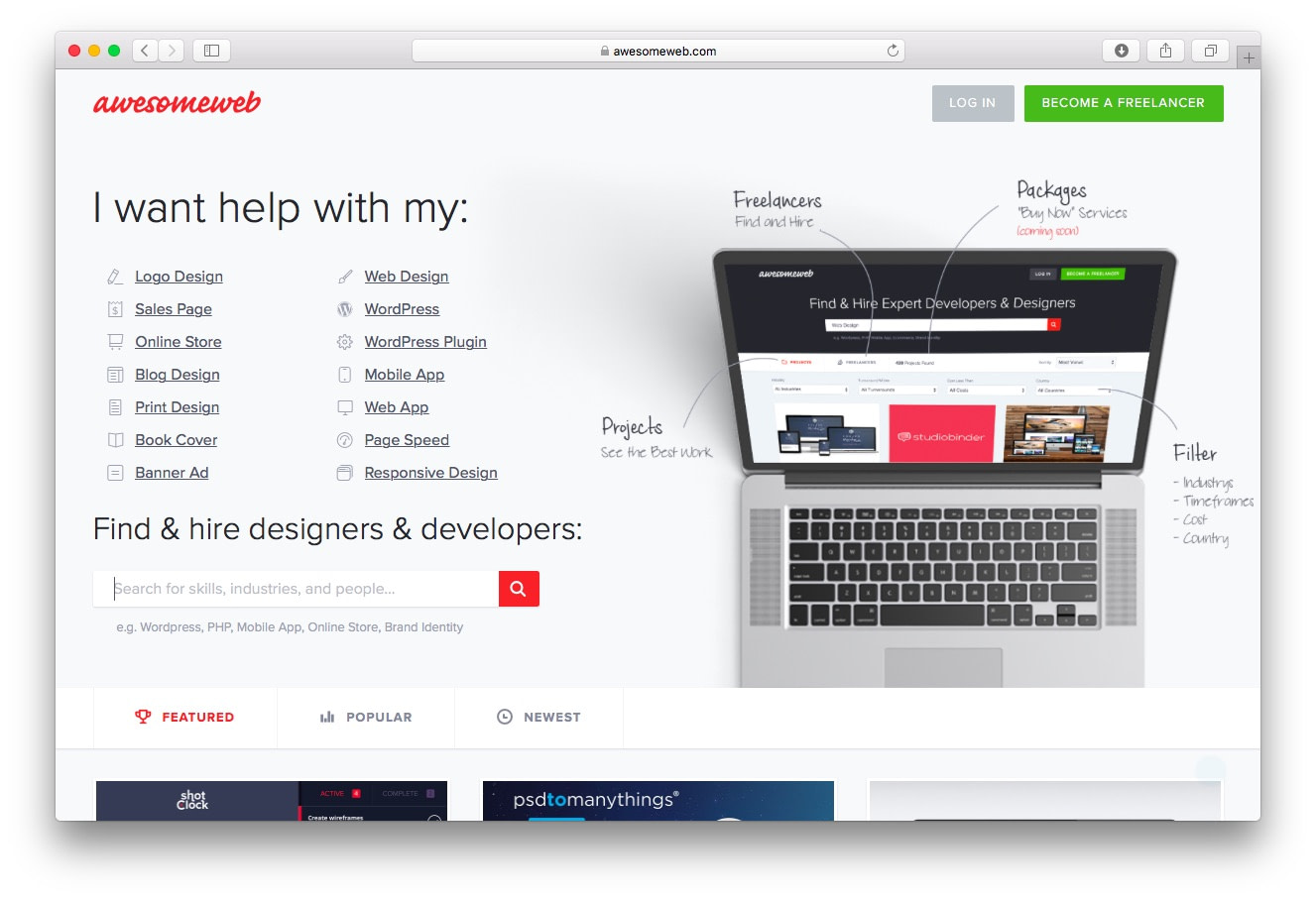 This means there are fewer options, but the quality of what you get can be higher than on other platforms. Logo designers at AwesomeWeb average hourly rates of over $30, and they may set a minimum project rate. In most cases, you'll be looking at more than $300 for a logo design.
How to choose the right logo design platform for you
As you can imagine, there's not a single platform that fits the bill for every type of customer. Let's briefly recap how you can commission a logo on each of the options above, along with their average prices:
Where to get a logo designed for your WordPress site

| Platform | How you get your logo designed | Starting prices |
| --- | --- | --- |
| 99designs | Contests | From $299 for multiple submissions |
| Fiverr | One-on-one commissions | As low as $5, but you should expect at least $30 for good work |
| Designhill | Contests and pre-made logos | From $99 for multiple submissions |
| AwesomeWeb | One-on-one commissions | Most freelancers start at about $30 per hour |
If you have the budget for it, 99designs is your best option for getting a custom logo designed. You get access to dozens of designs for a set price, and the talent tends to be top-notch. Designhill is a bit hit-and-miss when it comes to quality, but it's a more budget-friendly option. AwesomeWeb is where you'll want to go if you'd like a logo designed to your precise requirements, and Fiverr is the place to start if your budget is very tight.
Conclusion
The right logo can bolster your brand and help your website feel professional and memorable. Some companies spend extravagant amounts of money on their designs, but these days, a few hundred dollars is more than enough to afford you a stylish logo. What's more, there are even some budget options and DIY logo makers if you don't want to spend that much.
As far as we're concerned, these four platforms are some of the best places to get a logo designed for your WordPress website:
Do you have any questions about where or how to get a logo designed for your website? Ask them in the comments section below!
Free guide
5 Essential Tips to Speed Up
Your WordPress Site
Reduce your loading time by even 50-80%
just by following simple tips.