Running a WordPress blog can be time-consuming – especially if you're doing it all on your own. Aside from your many managerial tasks, you also need to come up with new ideas and publish posts consistently. If you're feeling overwhelmed, enabling guest post submissions in WordPress can be just the thing you need to give your blog a boost.
In addition to providing you with more content that you can use on your site, guest posts are an excellent way to increase engagement online. If you treat your contributors respectfully, they may continue submitting content over the long-term – which is ideal for you and your website.
In this article, we'll explain what guest post submissions are, why they can help you, and how you can enable them on your WordPress website. Let's jump right in!
Three awesome things you can do with guest post submissions
A lot of popular WordPress blogs feature occasional content written by outside contributors. These are commonly referred to as 'guest posts', and it makes a lot of sense to take advantage of them if you have the chance. Let's discuss why.
1. Grow your editorial calendar
Depending on the size of your operation, it might make sense to schedule your posts in advance just to keep things in order. In other words, you might need an editorial calendar.
Scheduling your content in advance might seem unnecessary, but it can come in handy to coordinate the efforts of your contributors. Furthermore, it can help you fill in gaps if one of your own pieces is running behind. Keeping the flow of content steady is crucial, particularly for growing blogs.
And if you don't believe me, just look at Huffington Post, the biggest blog on the web. It's reported that they publish – an astonishing – 1600 to 2000 posts per day. This is an extreme example that posting frequency is key. Don't worry, though, you don't need to go near that number.
(No. of posts published per day; chart by Visualizer Lite.)
Enabling guest post submissions in WordPress is one of the simplest ways to keep your calendar full. The more content you receive, the further in advance you'll be able to schedule posts, and the more backups you'll have in case something goes wrong.
2. Find new contributors
Guest submissions should always be welcome, but you'll want to rely on regular contributors to shoulder the brunt of the work whenever possible. The more familiar writers are with the style and content of your site, the less micromanagement they'll need. That means you can spend more time focusing on the big picture instead.
One of the best ways to grow your organization's roster is to look for talented voices among your guest contributors. Once you've located someone with potential, you can add them to your multi-author website. It's not often you'll find a perfect fit, but it doesn't hurt to keep your eyes peeled!
3. Foster a sense of community around your site
One of the keys to a successful WordPress website is building a community around it. Making sure that your visitors know their opinions and voices are being heard is crucial to keeping them engaged.
Furthermore, users who feel engaged will be more likely to give you useful feedback, which can help to improve your content in the future. One of the best ways to ensure that members of your community feel appreciated is to give them the option to contribute to your site as if they were part of the core team.
Enabling guest post submissions in WordPress can help you do this. Of course, you'll still need to vet all the content that makes it into your editorial calendar – at least for new contributors – but the effort is well worth it. Furthermore, setting up this feature isn't complicated at all. Let's talk about how to do it.
How to enable front end guest post submissions in WordPress (in 2 steps)
For this tutorial, we'll be using the Frontend Publishing plugin, since it's the most straightforward tool available.
Once you've installed and activated the plugin, you can insert a guest post submission form on any part of your website using the following shortcode:
[fep_submission_form]
Before you do that, however, there are two important steps you should take.
Step 1: Set up restrictions for your guest posts
After installing the plugin, a new Frontend Publishing tab will appear on your WordPress dashboard. Clicking on it will send you to the plugin's settings menu, where you can configure restrictions for your guest posts. This will enable you to weed out low-effort submissions without having to check each of them personally.
Using this menu, you can set restrictions on the minimum and maximum word counts for the title and body of any submission, as well as for its author biography: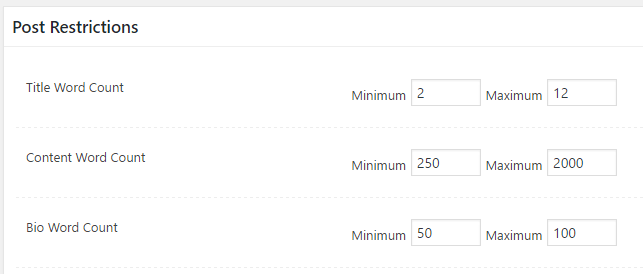 Furthermore, you can limit the number of links that appear in the submitted content and author's biography. This can a be a good policy so users don't abuse the opportunity to link out to multiple external sites.

With that out of the way, let's move on to configuring permissions.
Step 2: Configure the permissions for your contributors
Aside from enabling you to receive guest post submissions in WordPress, the Frontend Publishing plugin can handle some basic permission settings. For example, you can make it so that specific user roles won't have to be manually checked before publication: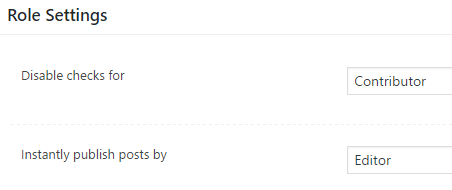 Should you decide to promote some of your guest authors to more permanent contributor positions, these settings will enable them to publish content directly. This isn't a decision you should take lightly, so make sure to carefully vet any new contributors before giving them more permissions than necessary!
Okay, with all that taken care of, you can now enjoy your new form for guest post submissions in WordPress. Again, all you do is use the [fep_submission_form] shortcode anywhere within any page's or post's content. Here's what it looks like for me: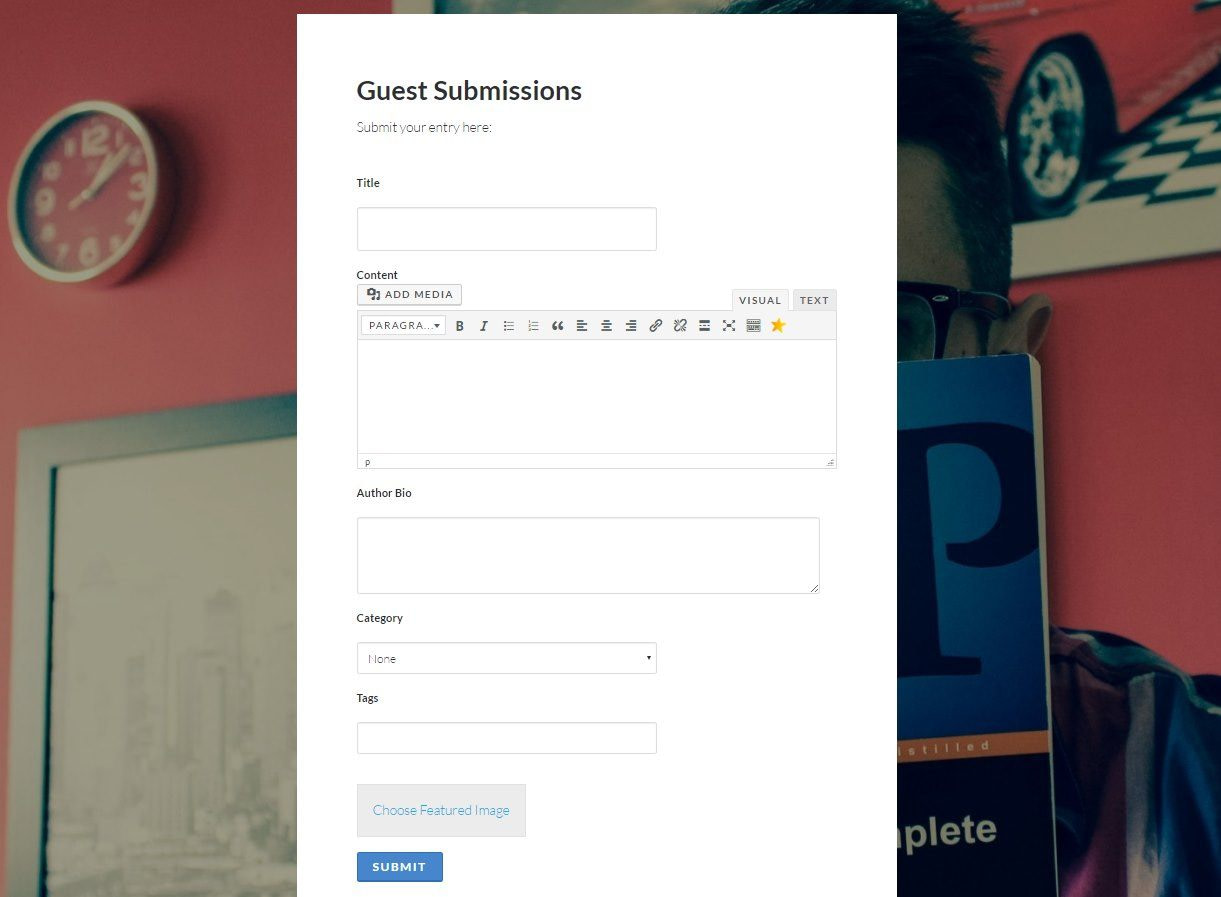 Conclusion
Guest posts offer you a fantastic way to grow your editorial calendar, court new long-term contributors, and even foster a sense of community within your site. We'd go so far as to say they're a slam dunk idea for any website that can attract submissions in the first place.
Furthermore, WordPress makes it easy to set up guest post submissions using the Frontend Publishing plugin. All you need to do is configure some basic rules for your submissions (to weed out low-effort posts) and set up permissions for your contributors.
Do you have any questions about how to set up front end guest post submissions in WordPress? Let us know in the comments section below!
Free guide
5 Essential Tips to Speed Up
Your WordPress Site
Reduce your loading time by even 50-80%
just by following simple tips.