Google Forms offers a wonderful way for you to connect with your customers and readers by asking for feedback and giving people a way to contact you. That's why we want to show you how to embed Google Form into WordPress.
Overall, Google Forms has a beautiful interface and it's a streamlined solution for collecting responses from users. Plus, you don't have to worry about a plugin not working or something else that might damage your brand.
Keep reading to learn more about how to embed Google Form into WordPress.
What do you get with Google Forms?
On the surface, Google Forms is another free tool from Google.
It allows you to make forms and collect responses from those forms.
However, there's quite a bit more to Google Forms that can help your business online.
For instance, Google Forms helps with all of the following: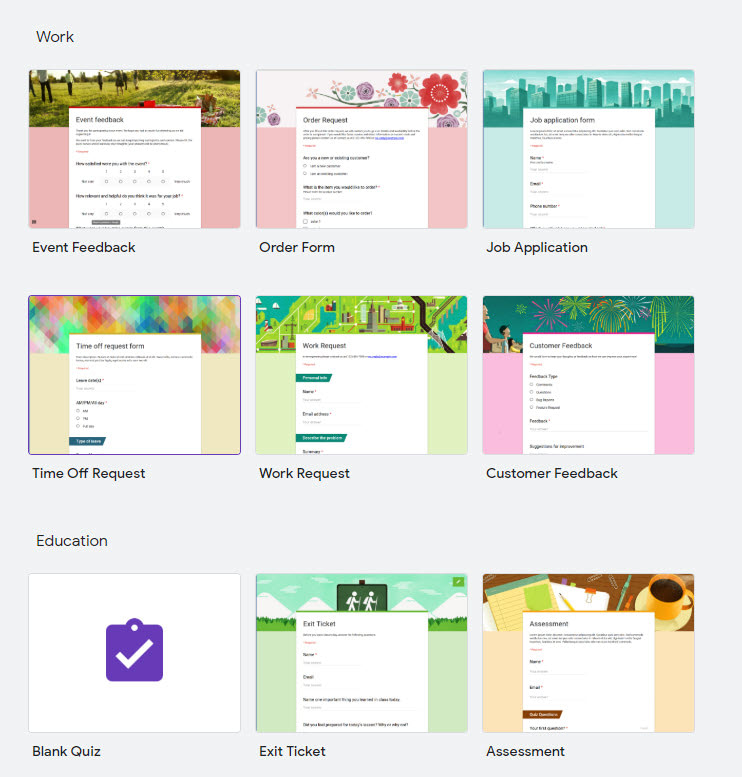 What's also great news is that Google Forms works rather well with Google Drive. If you already have an account, or you're familiar with Google Drive, all of your Google Forms are stored in Drive for later.
Here are some of the advantages of storing your forms in Google Drive:
You never have to hit a Save button while creating a form.
It's easy to work in teams, since other people can see what changes other members have made.
You get access to other collaboration tools, like comments.
You're given a neat storage place that you typically don't have to pay for (unless you need more storage).
Google Forms generates links so that you can easily share forms with others.
Design, stats, and other features
Another reason to consider Google Forms is that it offers so many pre-built templates. This not only speeds up the creation process, but there are some great settings for customizing the forms to fit your brand.
As for the branding, many companies find that the templates are enough for matching colors. All you have to do is upload your logo. Then, Google Forms automatically adjusts its colors to try and match the colors in your logo.
In addition, every form you create looks wonderful on mobile devices. The responsive nature of the forms means that you can build them on your smaller devices, and your users are able to make submissions from their phones and tablets.
Finally, Google Forms shows statistics on the backend to understand elements like the following:
How many people respond to your form.
Which answers users select.
What the stats are for the entire form and the individual questions.
You can also check out some charts for more visual analysis.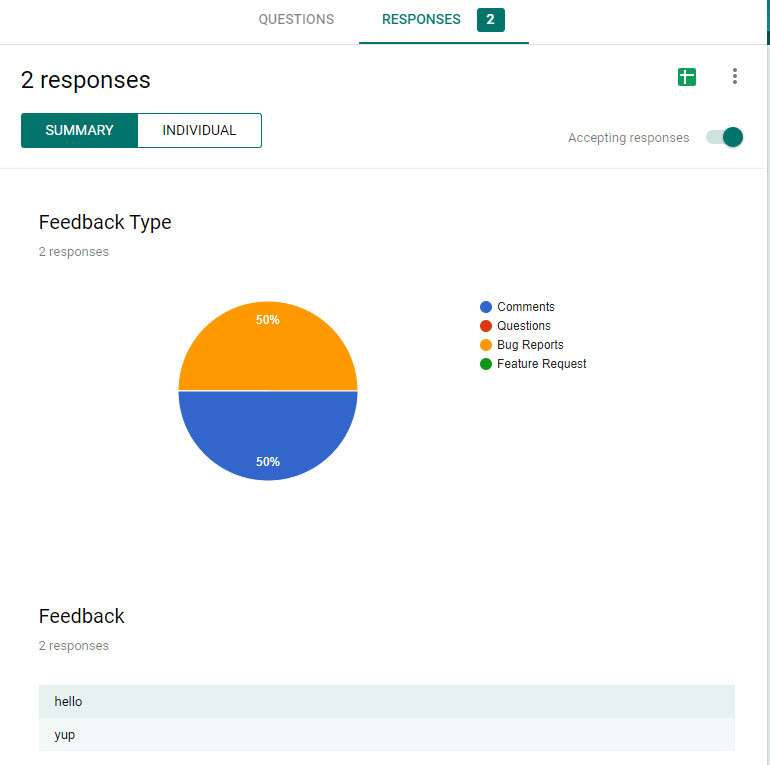 Reasons to embed Google Form into WordPress
What are the situations you may want to take advantage of Google Forms, and how are they better than other Google Forms alternatives?
Here are some situations and advantages to consider:
Google Forms can have advantages over form plugins because you also receive options for storing your forms in Google Drive.
You can share all your forms via a link.
There's no need to add an extra plugin to your site. This is good for site speed and security.
You have full control over who gets to collaborate on all of your forms. Some plugins don't have as powerful of collaboration options.
The branding through Google Forms is often nicer than some plugins.
The interface is easy to use.
Whether you share on social media, your website, or email marketing, all of the responses are stored in one convenient location.
How to embed Google Form into WordPress
Now that we've looked at how impressive this simple form tool is, keep reading to learn how to make and embed Google Form into WordPress.
Note: You need a Google account to use Google Forms. So, either log into your current account or create a new one.
Step 1: Make the form
To get started, click on this link to go directly to the Google Forms dashboard.
You should see a page for either starting with a blank form or choosing a template. For this tutorial, we're going with a customer feedback template–but feel free to build your own from scratch:
Regardless of whether or not you choose a template, you'll then be prompted to type in a title and description.
You can edit these pre-populated questions to match your brand: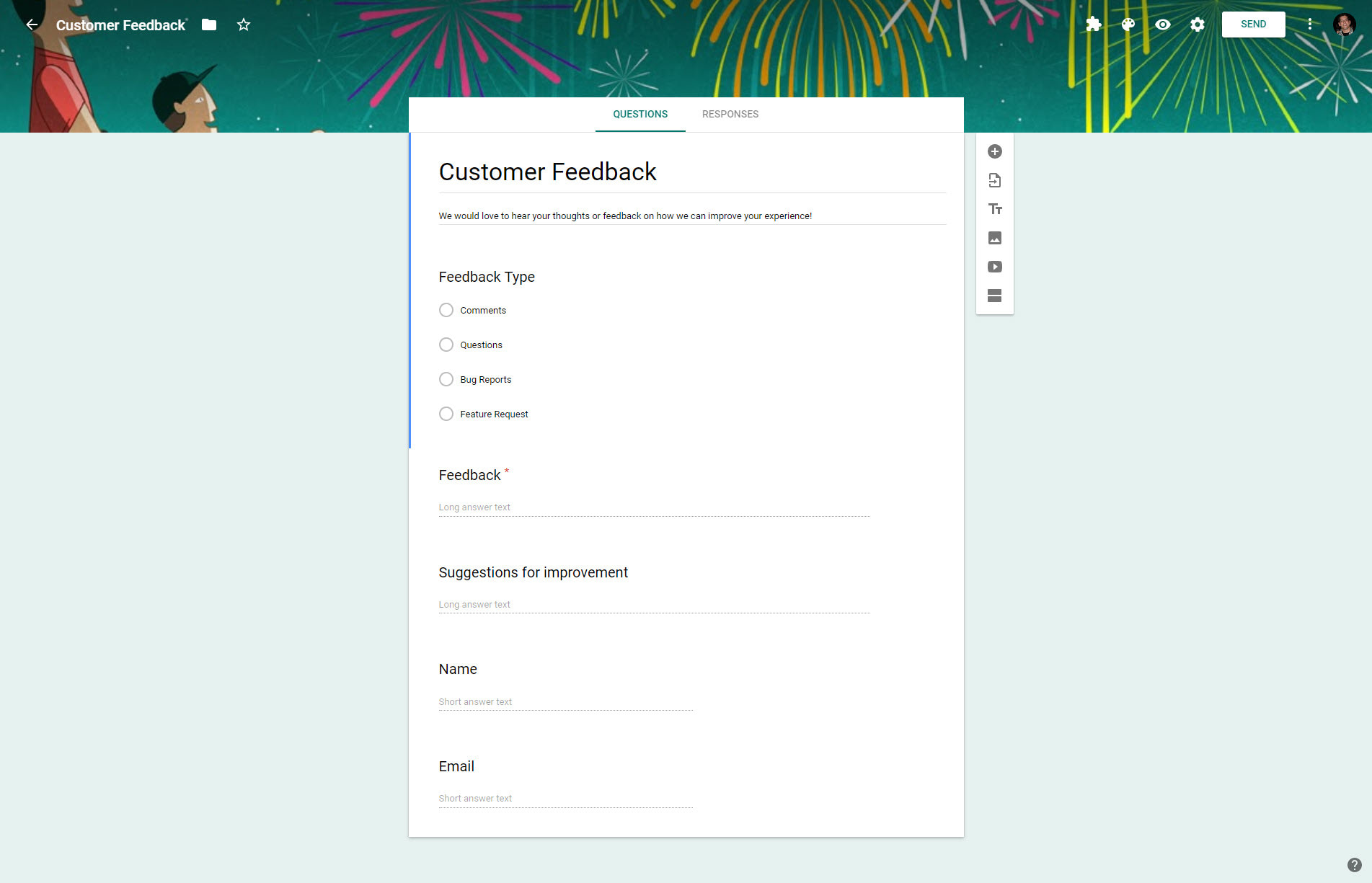 The module to the right has options for:
Adding new questions.
Importing questions.
Changing the title and description.
Adding an image or video.
Adding a section.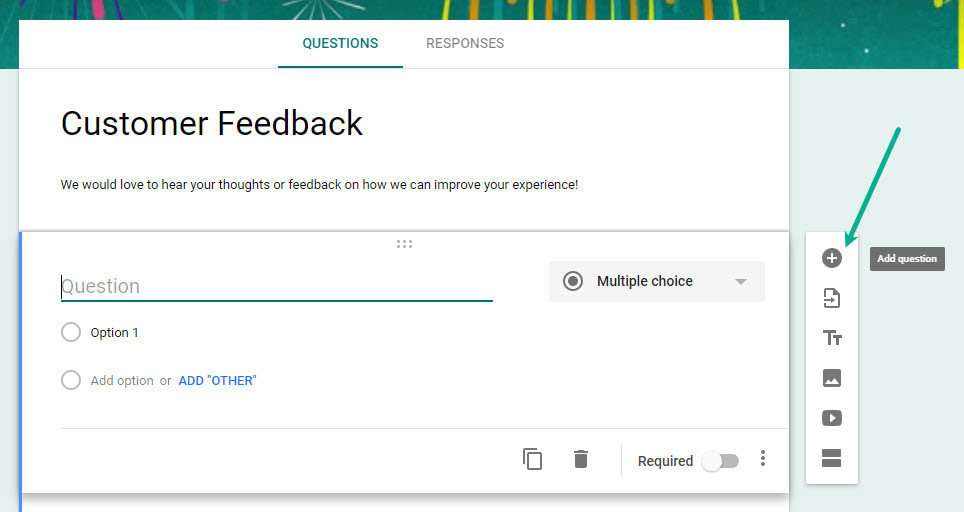 There's a dropdown button for choosing different types of questions like "Dropdowns" or "Multiple Choice."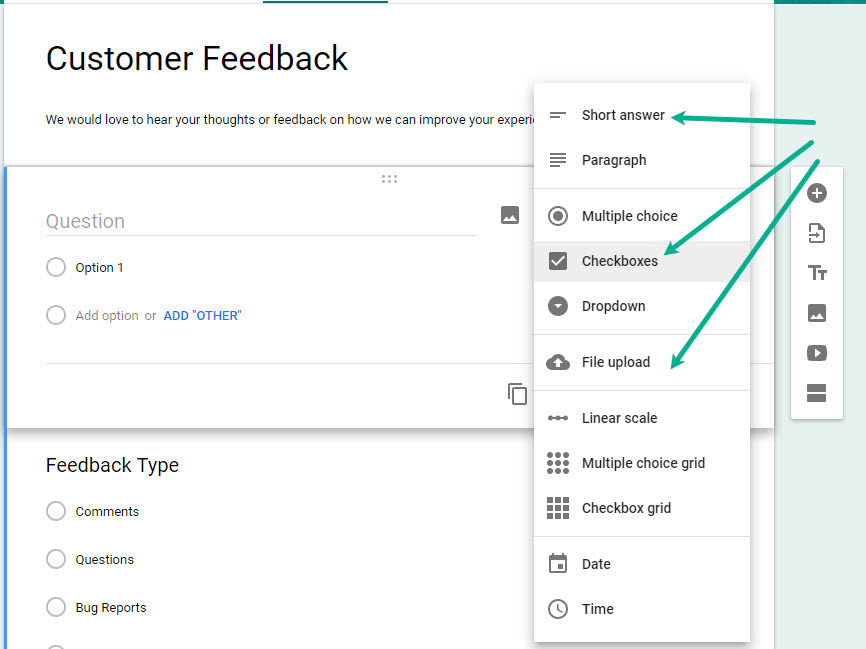 Step 2: Generate embed code
Once you've configured your form, you need to generate the embed code so that you can embed Google Forms into WordPress.
To access the embed code, you can click on the Send button. If you haven't explored the Settings area yet, you'll also want to do that before you generate the embed code.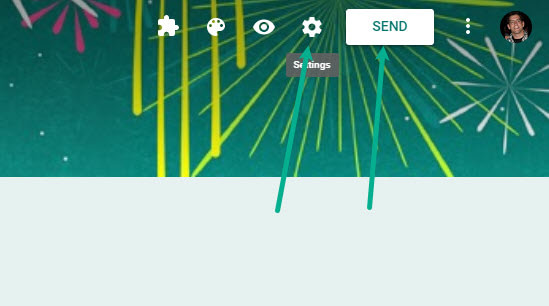 Once you click on the Send button, you'll see a few different options for sharing your form. To access the embed code, click on the < > tab:
If you want to change the size of your form, you can edit the Width and Height fields as needed (you can always edit these later after you see how the form looks on your site). Then, click the Copy link to copy the Google Forms embed code.
Step 3: Add the Google Forms embed code into WordPress
To add the Google Forms code into WordPress, open the WordPress editor for the post or page where you want to include your form.
Paste the Google Forms embed code into the HTML area. Then, either save or publish the page.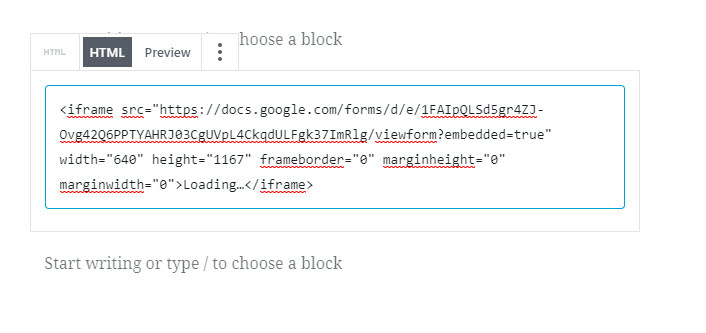 You should now be able to see the form. Congrats!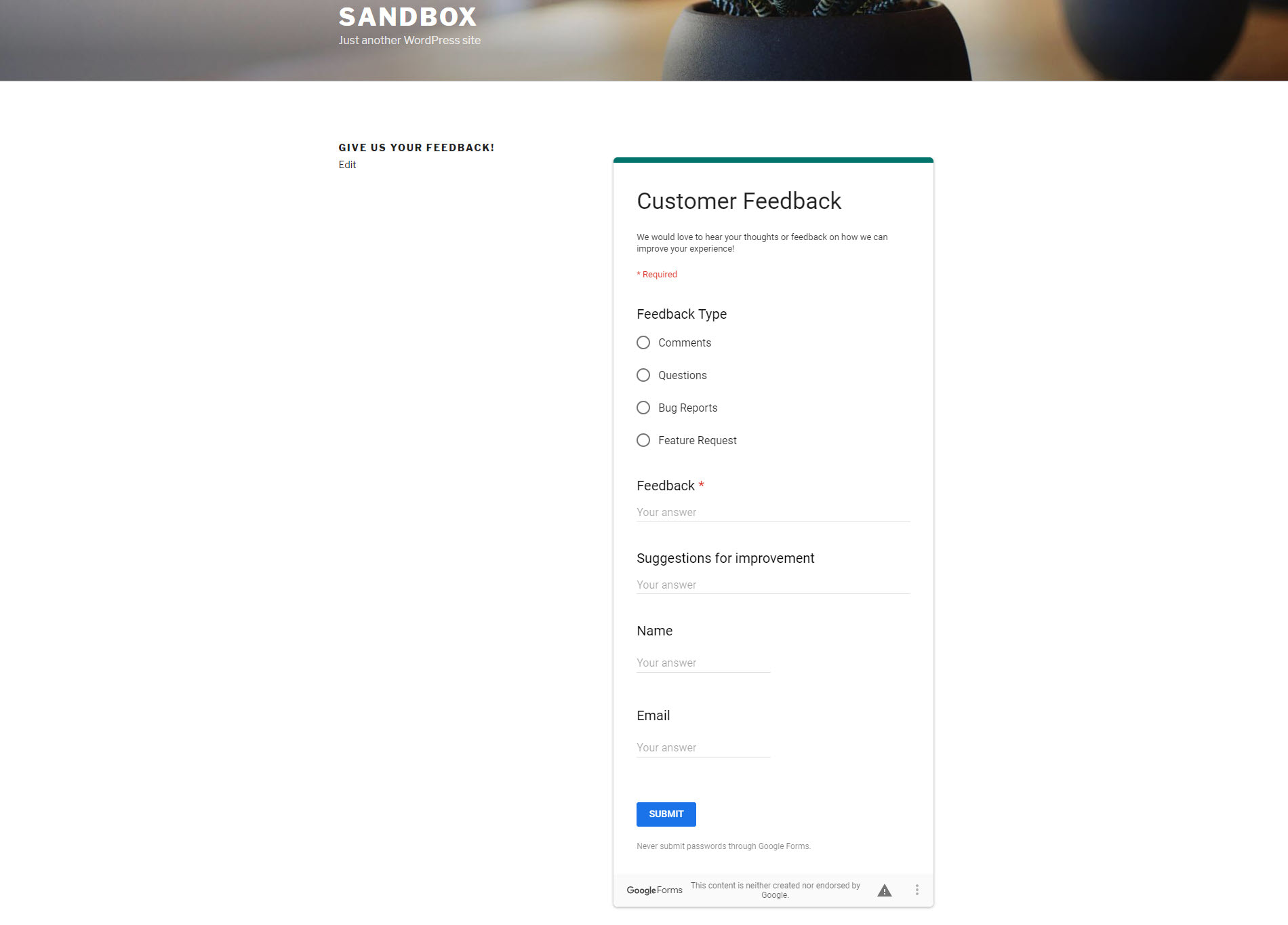 If you don't like the form looks, you can always go back and change the colors and/or size. For example, looking at the screenshot above, it could be a good idea to make the form a little wider so there's less white space.
Are you ready to embed Google Form into WordPress?
Google does a wonderful job of keeping its tools simple yet powerful, and Google Forms is no exception. If you've been looking to make surveys, quizzes, or contact forms, Google Forms is a great choice.
With that being said, if you're looking for some other ways to connect with your visitors and gather feedback, you also might want to check out our tutorials on how to set up a WordPress poll or create an interactive WordPress quiz.
Finally, if you still have any questions about how to embed Google Form into WordPress, leave a comment and we'll do our best to help.
Free guide
5 Essential Tips to Speed Up
Your WordPress Site
Reduce your loading time by even 50-80%
just by following simple tips.