Gravity Forms is a pretty well-known solution. Actually, it's probably the best solution out there if you need to collect some information from your audience and do so in an easy to grasp way.
But then what? What if you want to take all this data and showcase it somehow on your site? Well, out of luck. No such thing in Gravity Forms.
At least until today. This is where the GravityView plugin comes into play.
In short, this WordPress plugin promises a really simple workflow: collect information from Gravity Forms, configure your perfect content layout using GravityView, and then have everything displayed nicely on your WordPress site.
Let's see how all this plays out in practice. Here's our review of the GravityView plugin:
What Is GravityView
Okay, so first things first, what's Gravity Forms, and how it's different from GravityView?
Gravity Forms is one of the most popular and probably the best plugin to create advanced forms for your WordPress site with. It's nicely configurable, powerful, and rather easy to use.
But there's also a problem with it. Gravity Forms only takes care of the back-end side of everything. Meaning, it only helps you set up the forms and then collect the data. It doesn't, however, do anything to help you then display that data on your website (for example, in a post / page).
This is exactly where GravityView fills the void. It's an extension to Gravity Forms, integrating with the data it collects.
In short, with GravityView, you can take your Gravity Forms data and then display it on your site, using one of the pre-defined templates. Those templates allow you to turn that data into things like: staff profiles, resumes, job board, event listings, and more.
Also, to make the complete process quicker for you (both the data collection process and then the displaying of the data), you don't even need to create a form via Gravity Forms. GravityView does that for you as well.
GravityView Features
Let's take a quick look at GravityView's main features:
"Approve Entry." If you don't want any submission to be automatically approved, you can use Approve Entry to screen and moderate all the entries for you.
Highlight the latest and most popular entries. You can choose what entries are displayed first: the most popular, the latest, or whatever you think adds value to your site. You can also allow the users to filter them by categories.
Reviews and ratings for the entries. Your users can add ratings and review each entry based on how much they like it.
Advanced search options. Your visitors can easily find what they're interested in by using an advanced search/filter option (name, date ranges, who created the entry, "match any" or "match all") and by sorting the tables themselves.
Add images and videos to your Views. Make your Views even more interactive by letting users benefit of photo galleries with zooming options, videos, and audio.
Preset templates. GravityView comes with lots of presets for various forms, so you don't have to create them from scratch. Also, each preset has three layouts: list, table, and data tables.
Easy customization. You can simply edit the submission in the back-end, but also let your users edit their own entries as well right from the front-end.
Extensions. Besides the main features, the plugin provides premium extensions that are included. They are available only starting with the second plan, though.
Plus, here's the official GravityView song to give you a better overview of what's inside the plugin (yes, a song):
Pricing
GravityView comes in three flavors:
Sol – $69 first year, then $41.40 – 1 site
Interstellar – $149 first year, then $89.40 – 3 sites
Galactic – $299 first year, then $179.40 – 100 sites
How to get GravityView
To buy the plugin, go to the pricing page, select the one you need, and proceed to checkout.
After the purchase is complete, you'll get the ZIP file with the plugin's files. All you have to do is install it via your WP dashboard: Plugins / Add New / Upload Plugin.
(If you need some more guidance installing a WordPress plugin, here's our in-depth tutorial.)
How Does The Plugin Work?
The first thing that you will probably want to do with the plugin is go to "Views" (in your dashboard) and click "New View." There, you can either continue customizing an existing form (one that you previously created with Gravity Forms) or create a completely new one. Let's click on "Start Fresh" and see how easy it is to build an awesome custom form with the plugin.
First, you need to select the form type. There are plenty of choices provided in the plugin: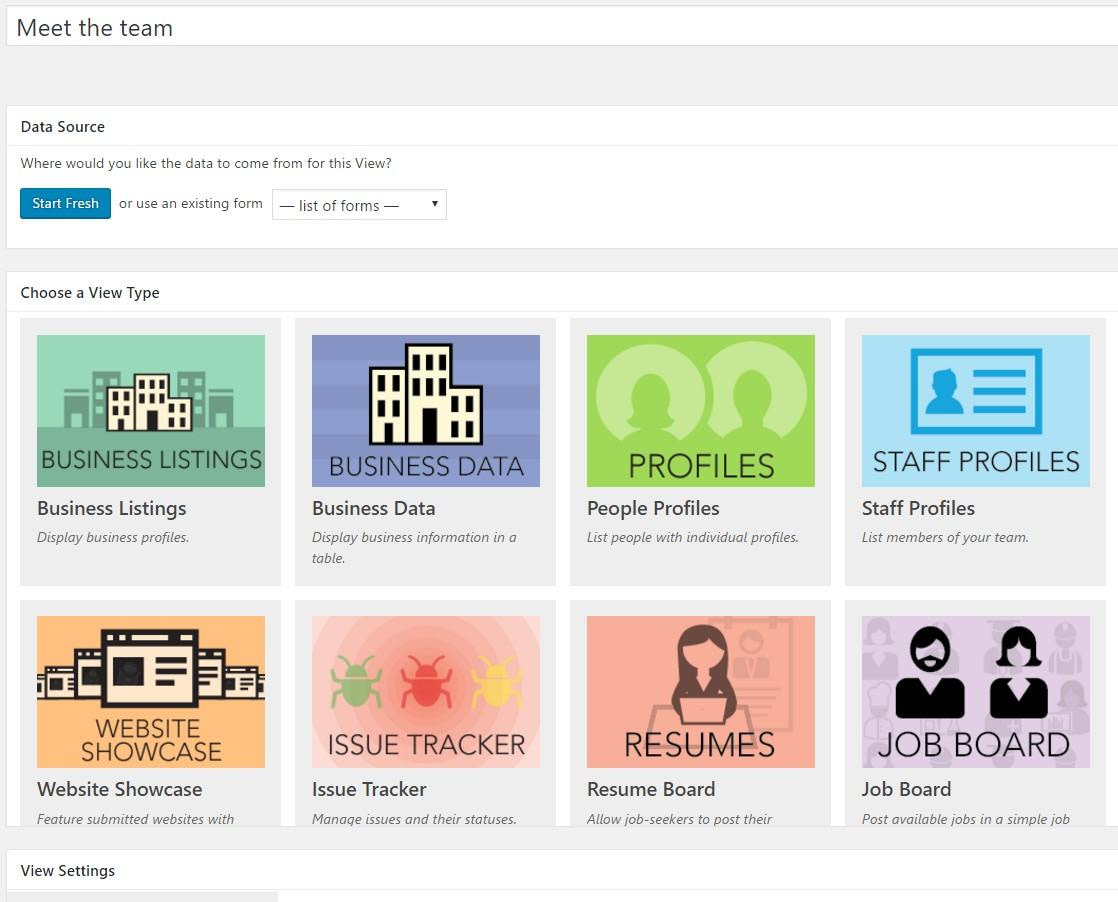 Each of these views will come with a pre-made layout to fit your type of form. I'll go with "People Profiles" to show you more details about the way this plugin works.
The People Profiles form has pre-made fields that a regular profile box usually contains in order to describe someone, such as the name, photo, bio, interests, contact. Of course, you don't have to stick with the default fields, you can add or remove them to make the form look more like your style.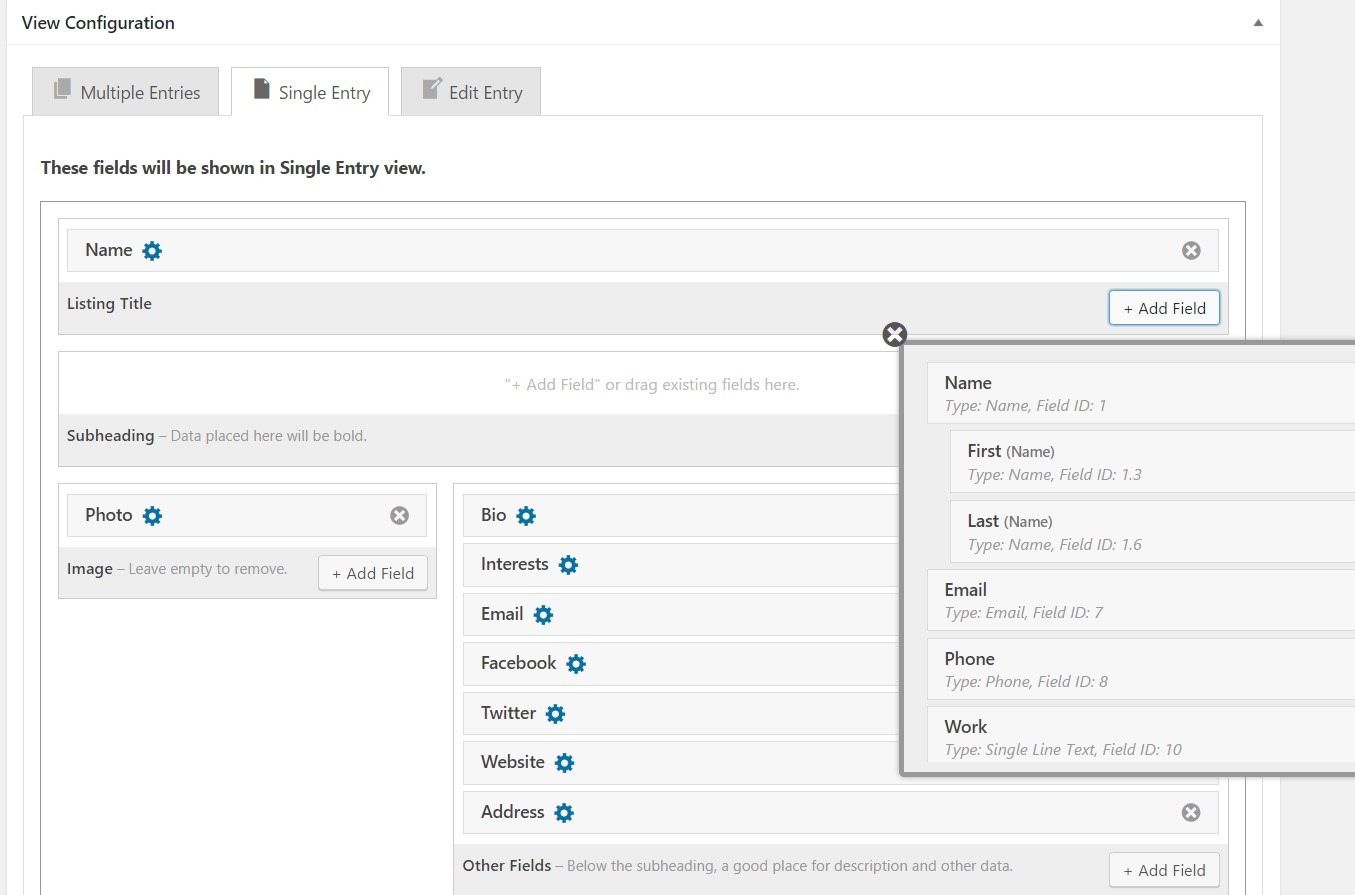 Also, after creating the form, the plugin gives you two more options: to display it as a list or as a table. Click on "Switch View Type" to begin: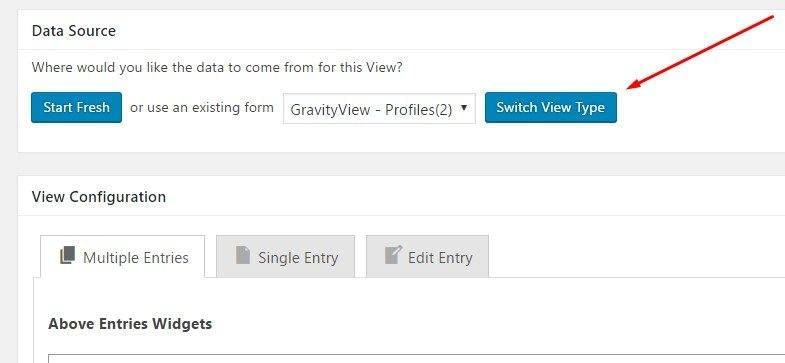 At that point, two layout options will show up below: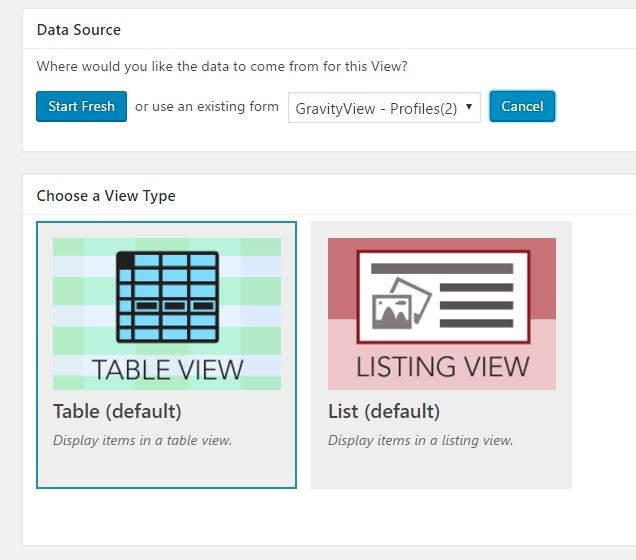 If you have many entries in a single form, you can choose the "Multiple Entries" tab and add pagination, search bar, page links etc. – everything you need to have your content perfectly organized and smooth for the users.
After saving all the fields for this form, click "Publish" and the form is almost done. To have it posted and completed, go back to Gravity Forms (aka the "Forms" item in the menu) and select the form you created with GravityView (in my case, it is called GravityView – Profiles), customize it once again (if there's something else you would like to change or add, like fields' order).
After you have saved the final project (form), go to the post/page you want to place it in, and you'll find the "Add Form" button there: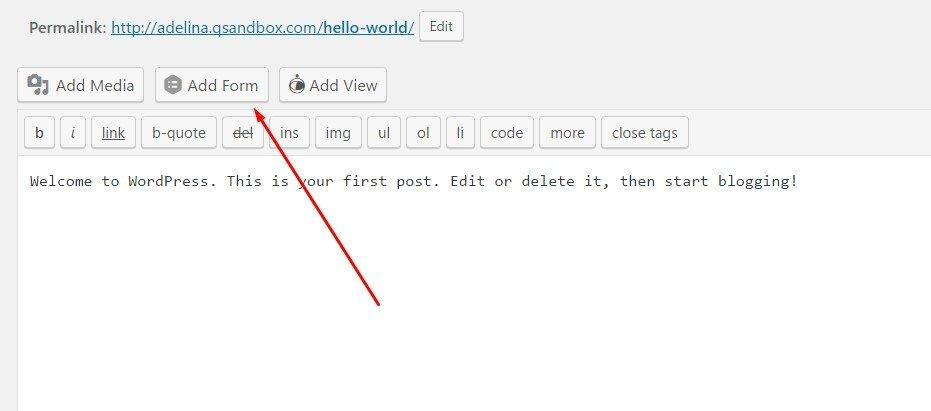 On the front-end, the form will look something like this: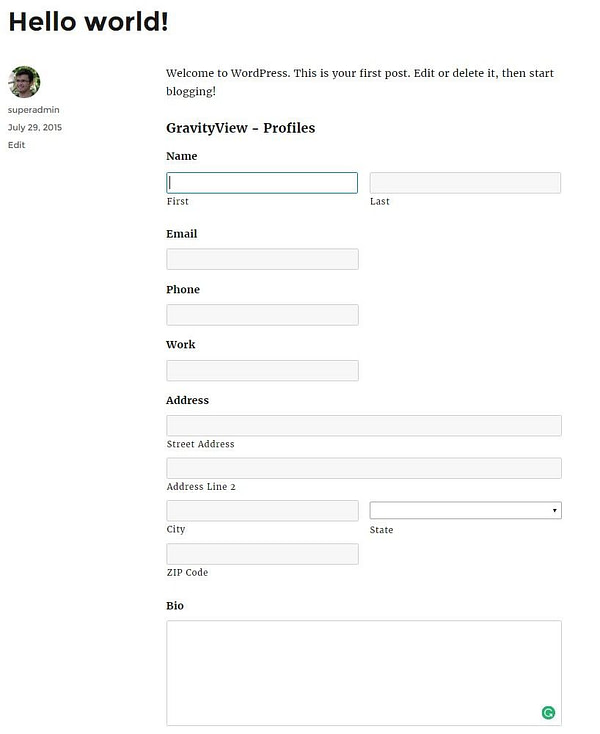 But that's just the form that people can fill out. Now, let's see what's up with the entries they submit.
To view the submissions people make, you can go to Views / All Views / Entries:

You have the right to approve or reject the entries if they don't fit your rules. After you approve them, it's time to display them on the site.
To make a submission live on the site, go to the page on which the entries should appear (if you don't have that page yet, create a new one), and click on "Add View" button in the editor bar: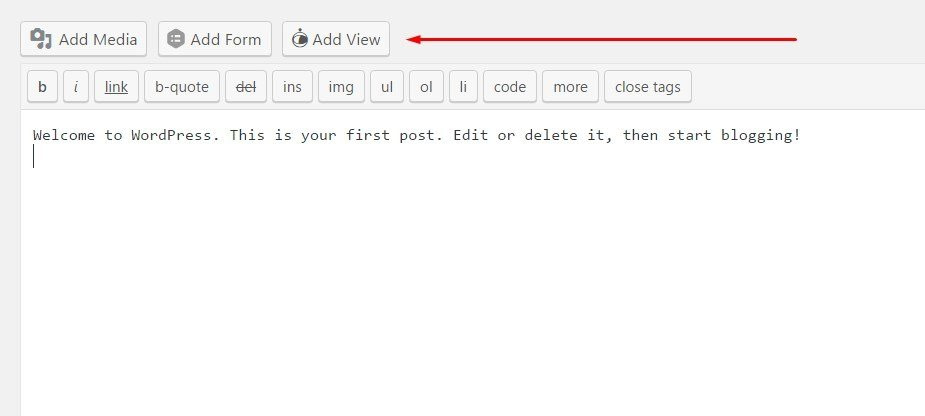 Select the View that you created and adjust some of the details if you want to. At this point, you will get a shortcode that will take care of displaying your view.
Here's an example of what the user profiles look like when displayed (of course, everything customizable):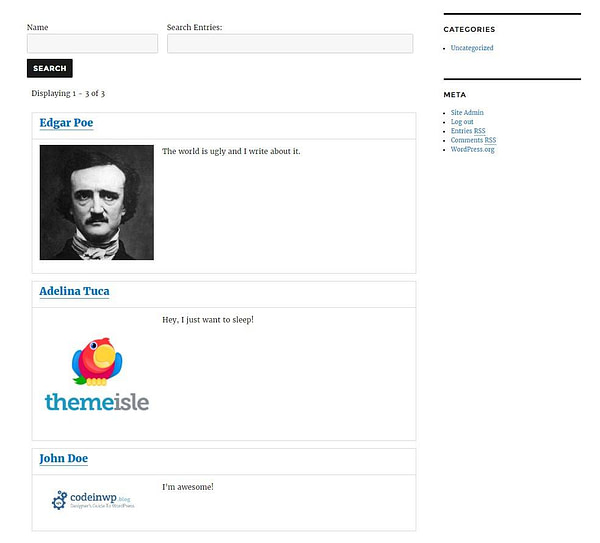 Who Needs GravityView?
As you would imagine, a plugin like that has a lot of possible applications and uses. In general, though, if you want to find out if it's the right solution for you, I'd say that all you need to do is have a look at the plugin's set of View templates and the types of data it can turn into nice user-friendly presentations.
In other words, consider using this plugin if you want to display any of the following on your WordPress website:

GravityView Review: In a Nutshell
PROS
Has a modern, simple, and intuitive interface.
Gives a lot of freedom to the admins and users to manage their pages better. Also, site visitors can vote and rate the best entries.
Provides pre-made layouts for the most popular types of forms, so just install the plugin and publish forms quickly.
Comes with total flexibility when it comes to the customization of a given form. It's all up to you to add/remove anything you want.
CONS
Works only together with the Gravity Forms plugin, so you need to buy two plugins instead of one.
After a couple of days of doing this GravityView review, testing and creating forms, I need to say that I somewhat fell in love with the way GravityView works and the features it brings. I mean, if you have a site that is meant to showcase some sort of user input/information, be it personal profiles, business profiles, databases, job announcements, resumes, etc. then this plugin will make your life a lot easier and it's definitely worth the investment.
What do you think of it? Have you tested the GravityView plugin yet?
Free guide
5 Essential Tips to Speed Up
Your WordPress Site
Reduce your loading time by even 50-80%
just by following simple tips.
* This is a sponsored post. And as always, whether sponsored or not, the opinions presented are still our own and 100% honest.