A PDF seems like a document format that should have been long gone years ago. Yet that's not that case. Why? Because PDFs are widely accepted, easy to share, allow for excellent document formatting, and can even be password protected so that no one steals or modifies the document. If you want to take advantage of those features and display PDF in WordPress, a WordPress PDF viewer is going to be your best option.
Think
about restaurant menus
, course materials, and eBooks. It would be a nightmare trying to display these items as blog posts, or worse, Microsoft Word documents. There's also internal corporate documents. Many companies hold documents with proprietary information or sensitive customer data. You certainly wouldn't publish these details in a less secure format like a webpage.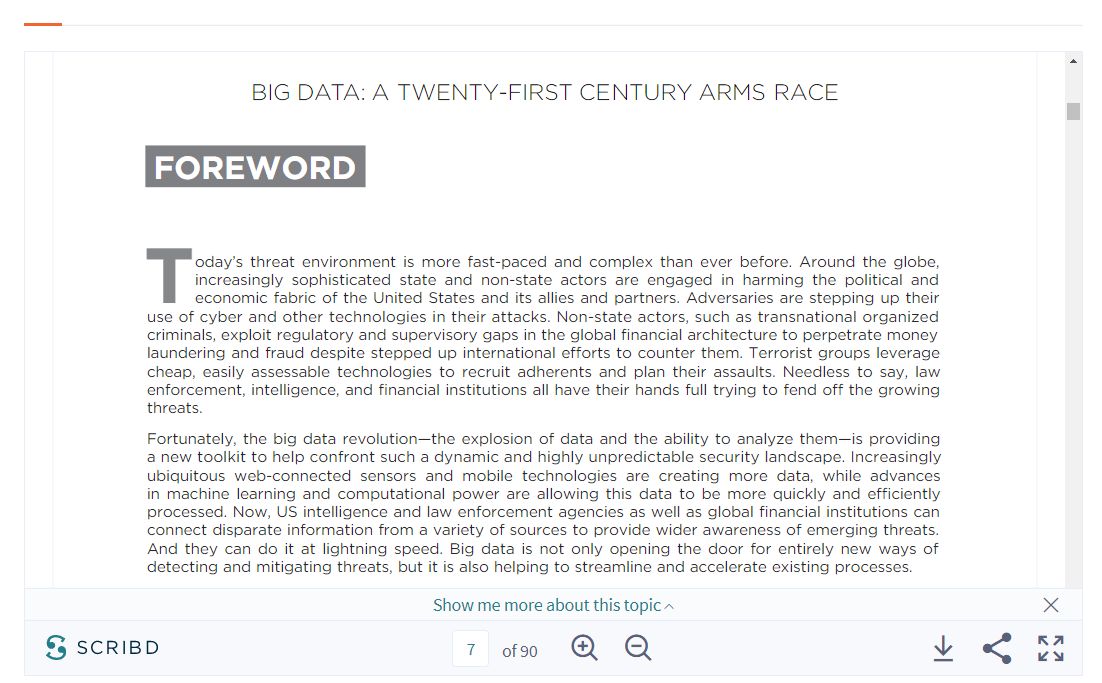 While it's always possible to upload a PDF to WordPress and link to the file URL, a WordPress PDF viewer provides a more user-friendly experience.
With one, readers can view the PDF documents like they would on a Kindle, where they flip the pages, zoom in/zoom out, and save the PDF to a computer if the security settings aren't on.
The market for WordPress PDF viewers is quite saturated, with many solutions to choose from. I tested the most popular ones and seemed to find a problem with each one. While I'll still share a few of those plugins at the end, in my opinion, the most effective way to embed a PDF in WordPress is a service called Scribd.
What's Scribd and why is it the best WordPress PDF viewer?
Scribd is a subscription service. It's kind of like Netflix, but for books, documents, audiobooks, magazines, news, and sheet music.
As a publisher, you can upload any content for free, even PDF documents. And you can also control exactly who can view these files.
To make things easy, Scribd offers a WordPress embed code for each PDF that you upload. Overall, Scribd has the tools needed to display a PDF in WordPress, and, if desired, you also gain access to the large community of Scribd members looking for documents like yours.
How to display PDF in WordPress
As mentioned, we'll be using Scribd to display a PDF in WordPress. It's not a WordPress plugin, but my thorough testing shows that it's the easiest way to get your documents on WordPress, and it supports multiple PDFs on one page–whereas most of the plugins failed in that respect.
Here's how to use it:
Step 1: Create a free Scribd account
Start by going to the Scribd homepage. You'll see a few buttons to sign up for a new account, but the most prominent one is in the middle of the page. It's worth noting that, even for publishing, you still sign up for a regular Scribd user account (no different than someone wanting to read books). The Start Your Free 30 Days button applies to regular users, so you won't have to type in any payment information.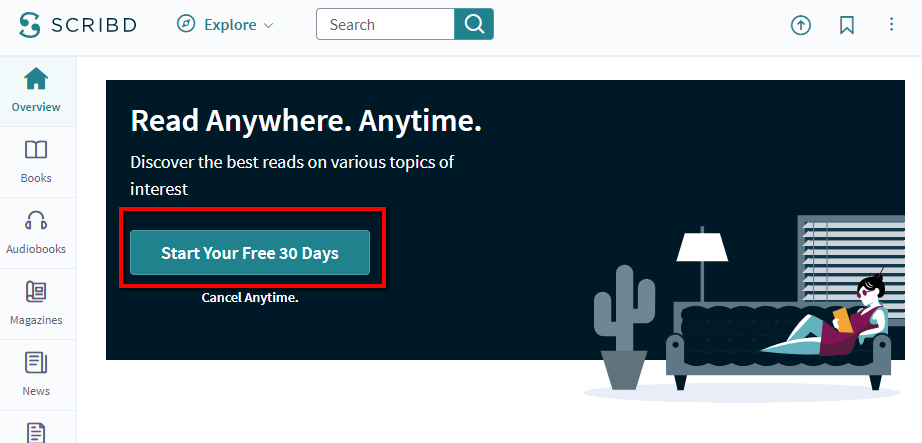 The website initially reveals a popup to sign into an account. Locate the link towards the bottom that reads New to Scribd? Sign Up.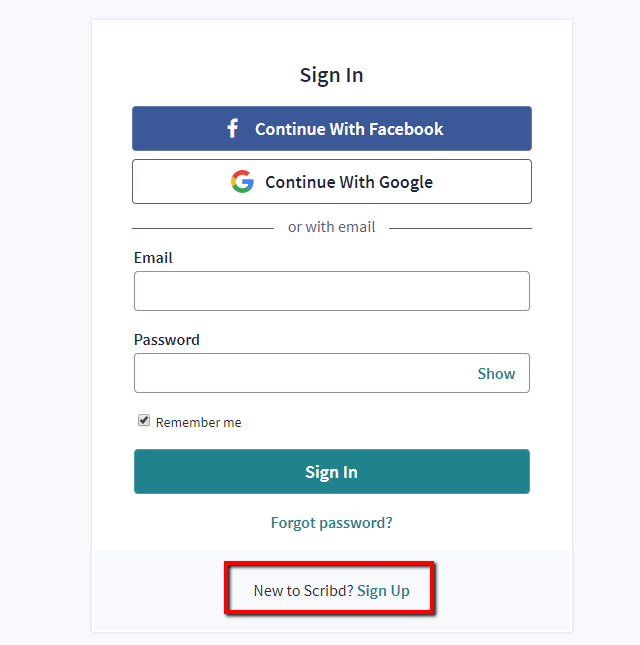 Feel free to sign up with Facebook, Google, or with your personal information. You must also create a password for your account. Click on the Sign Up button when you're done.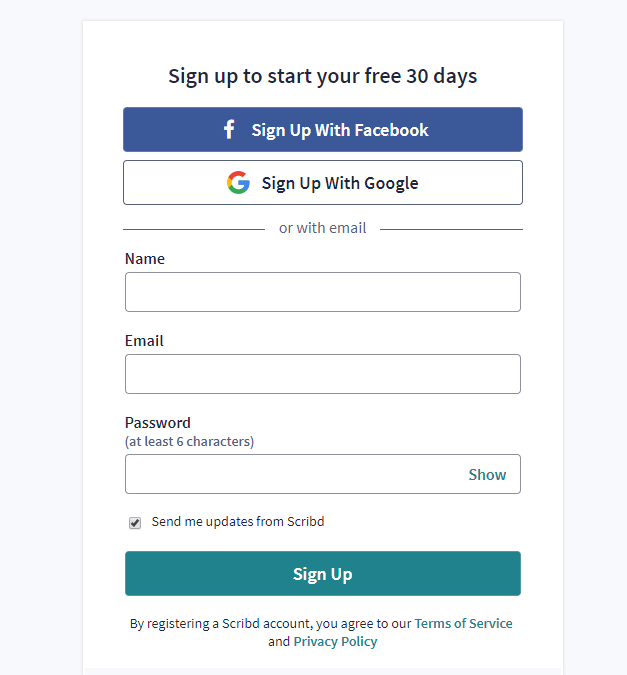 Here's the part that confuses people. It seems like Scribd requires you to give your payment information, but that's not the case. Skip this page by navigating back to the Scribd homepage. This can be done by clicking on the Scribd logo in the upper left-hand corner.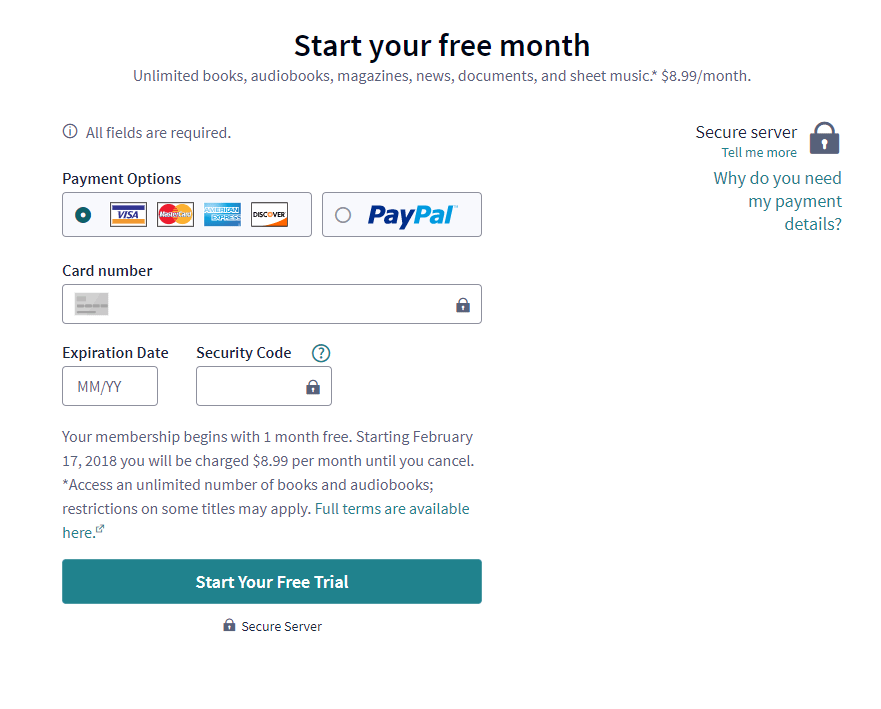 Your profile is now created without the need for any payment details. You won't be able to read any books or listen to any audiobooks, but you have the ability to upload documents. The upper right-hand corner of the page has a drop-down menu for your profile.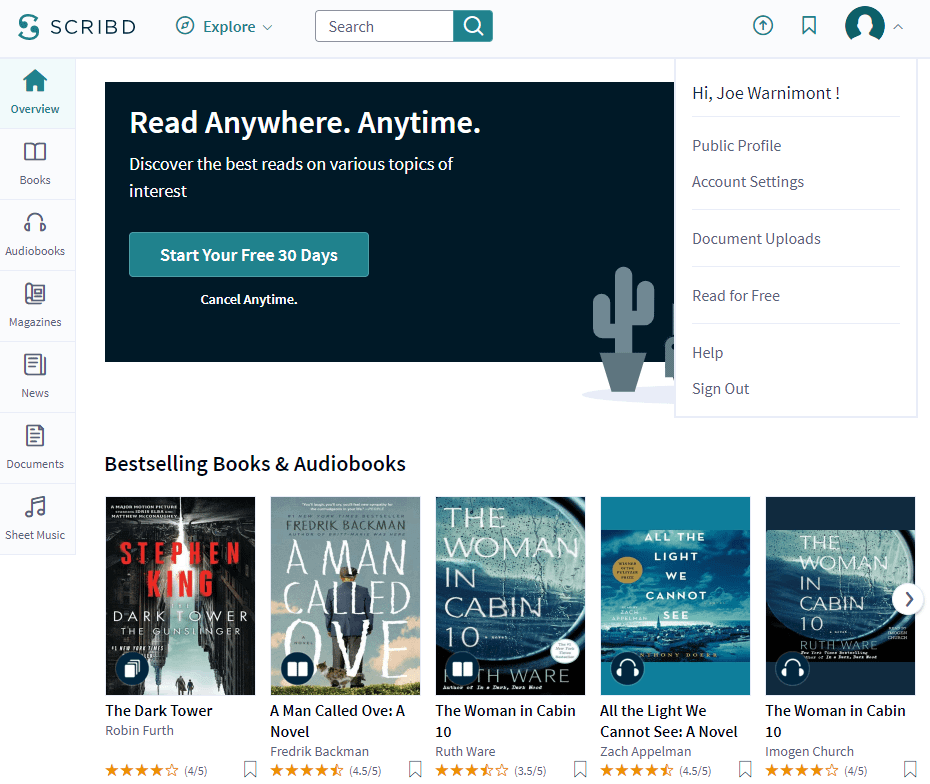 Step 2: Upload a PDF document
To upload your PDF file, click on the Upload button in the top-right corner.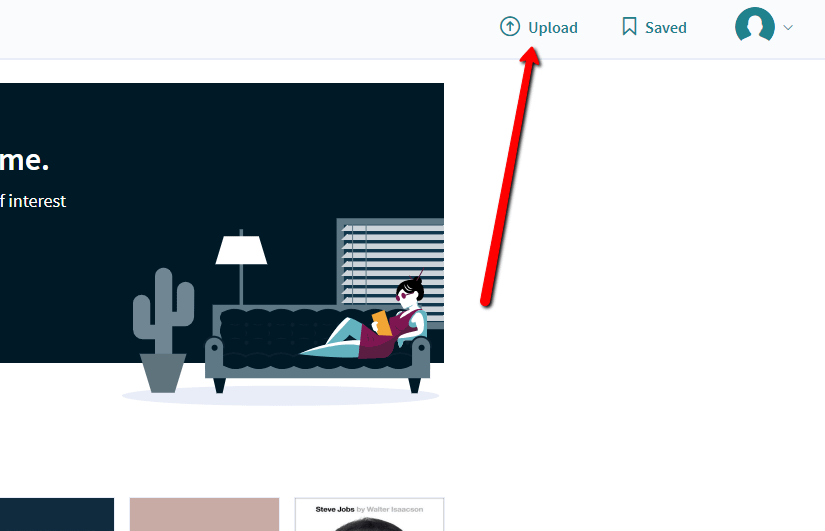 Click on the Select Documents To Upload button. This brings up your local computer files, where you must select the PDF you'd like to upload.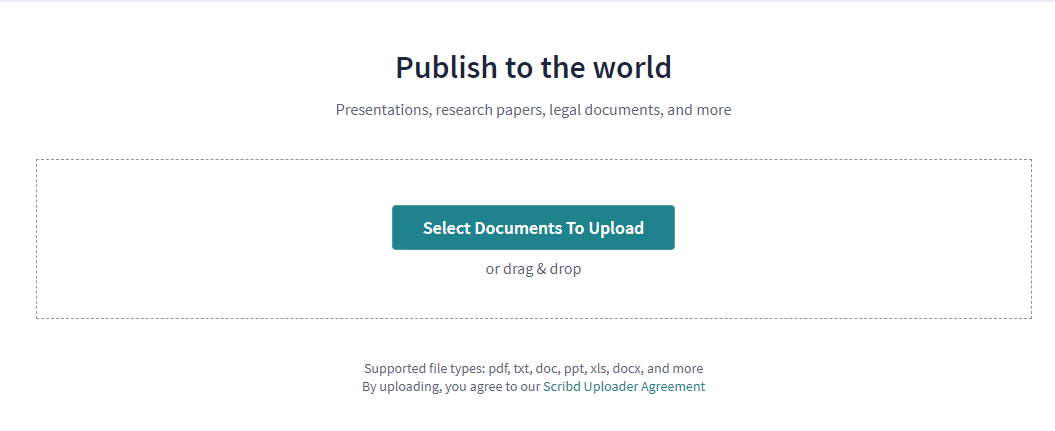 Once the file is uploaded to Scribd, you fill in the document details. Things you'll need to enter include:
Title
Description
User permissions
Make sure that the Make this document private box is unchecked because the document needs to be public in order to embed it in WordPress.
Step 3: Find the WordPress embed code
On the Share it! page, click on the Embed option to generate the WordPress embed code.

Make sure to select the WordPress format. Then, you can also choose:
Size (Autosize is usually best)
Start page
Etc.
Once you've configured everything, copy the embed code.
Step 4: Publish the WordPress PDF viewer
Go to WordPress and open the page or post you want to embed your PDF in. Switch to the Text tab of the editor and paste in the Scribd embed code.
Once you preview or publish the post, you should see the PDF on your frontend site.
Readers have options for zooming in/out, flipping to other pages, downloading, sharing, and switching to fullscreen.
Other respectable WordPress PDF viewers
If you insist on using an actual WordPress PDF viewer plugin, the options are plentiful. Although I still think Scribd offers the best solution, here are some choices that might work for you:
In your attempt to display PDF in WordPress, consider how your users will use the PDF and move around the viewer interface. It's also essential to protect your PDFs if needed.
From menus to technical guides, documents often look and read much better through a WordPress PDF viewer, so use it to your advantage when you have the chance!
If you have any thoughts or questions about how to display a PDF in WordPress, let us know in the comments.
Free guide
5 Essential Tips to Speed Up
Your WordPress Site
Reduce your loading time by even 50-80%
just by following simple tips.